Join us for a fresh installment of Creativity Over Coffee!
Have you ever had a big dream? Have you ever wanted to have a flower farm? Do you wonder what it would be like to tend a "secret garden"? My friends Nikki and Cara had that dream and I'm delighted to share their story with you. I know you'll be so inspired by their beautiful flowers, their friendship, and their "can do" spirit. I know I am. Grab your coffee (or tea) and join me for Creativity Over Coffee with the founders of Cross Street Flower Farm.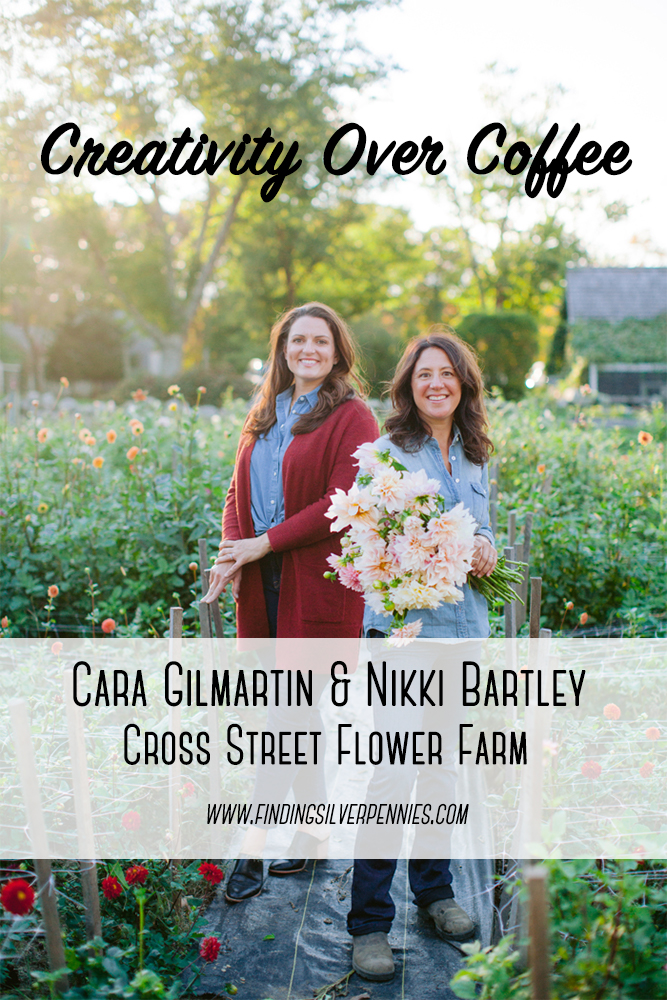 Nikki and Cara, you guys amaze me. Your creativity, your drive, your enthusiasm is all so wonderful to see in small business owners. Can you share with my readers how you started Cross Street Flower Farm?
Nikki: Cross Street Flower Farm grew out of a shared love for farming and being a part of our Norwell community. From 2010-2015- I helped to start and ran the Board of Norwell Farms. Norwell Farms is a 7-acre nonprofit community farm at the historic Jacobs Farm that began with a Town vote to start a CSA on town land in 2009.
As Chair of the Board, I learned how to start a sustainable farm operation from the ground up and fell head over heels for all things farming. In 2014, as a gift to myself for turning 40, I apprenticed in the fields there and finally got to learn how to farm.
In winter 2015, I asked the Farm Manager if I could grow flowers at the farm. He said no, but encouraged me to grow them at my house and put in a standing weekly order for mixed bouquets for the next summer.
That was all the encouragement I needed! That winter, I read every book on flower farming I could get my hands on, filled my dining room with seedling starts, and when Spring came, I hired a friend with a tractor to plow up a big chunk of our front yard.
Cara moved to Norwell around this time and we met when our boys became friends in preschool. She joined the NF Board and we realized that we worked really well together. One day in the Spring of 2015, I was telling her about the trays of flowers seedlings on my front porch that desperately needed to get in the ground. She came over to help, and returned almost every day that summer. We had so much fun that summer!
Cross Street Flower Farm was incorporated that fall as a 50/50 partnership between us. Four years later, Cross Street Flower Farm is now the Farm Manager at Norwell Farms. We are expanding from 2 to 7 acres this season and our 3-season flower CSA share is 300+ members strong and growing. The community support for our farm business has been amazing and we are so thankful for our loyal customers.
Cara: What she said!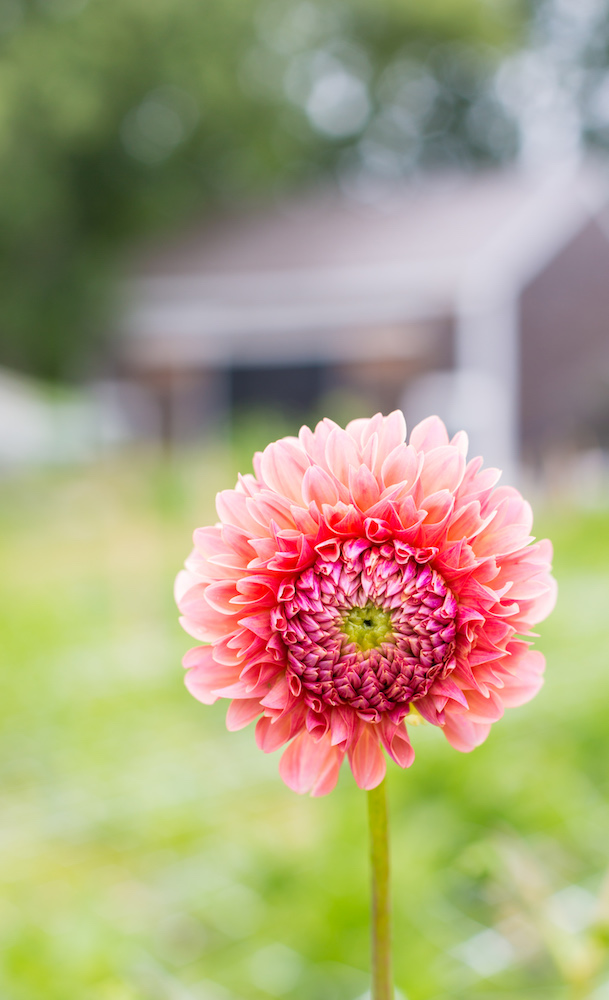 You became friends when your kids were in preschool together did you ever think this is what you'd be doing now? Is it ever hard to be friends and work together?
Nikki: Nope, I never saw our partnership coming, I don't think either of us could have predicted this, but I'm sure glad we both took the chance on one another.
We work really well together, we complement each others strengths and weaknesses. I am a big picture dreamer and am always thinking of our next steps. Cara is very talented and also super organized, budget-minded and pragmatic. She helps me take my big picture ideas and work backwards to make sure we don't miss any steps.
We are both pretty good at trusting each other's instincts and, more often then not, we agree on a strategy/game plan very quickly. We certainly have our disagreements, especially on 100 degree days. But we respect each other and work hard at our relationship and our communication. We have learned how to give each other space and respect boundaries, and we also have learned to celebrate the small accomplishments together (even with just a high five.)
We invest in our partnership just as much, if not more than, the other parts of our business. It's funny, we don't have a lot of extra time these days for our social lives after our kids, families and our business, but when we do go out, we are often out together. Our husbands are also friends and coach football together.
Cara: Not in my wildest dream did I think this is where I would be right now! What I thought was a kind gesture helping a new friend transplant seedlings evolved into an amazing opportunity. Nikki had this wild vision of starting a farm entirely out of flowers that at first I couldn't get my head around. But after that first year, I was sold. She trusted me to be a part of it and while, like she said, we can have our days of headbutting…we both believe in each other so strongly that we always rise to the surface supporting each other!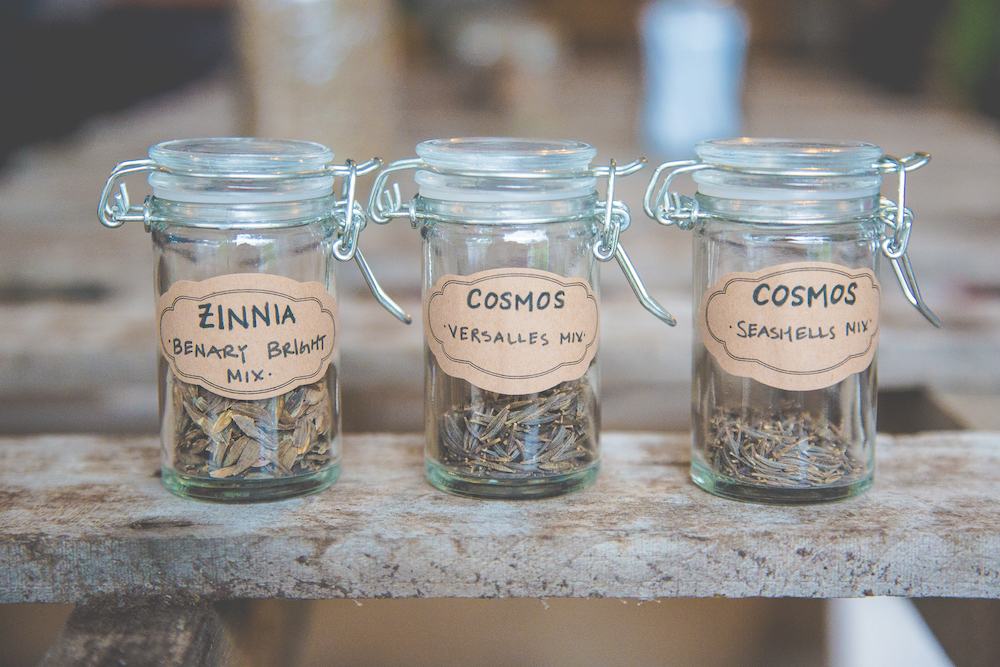 Many of my readers love gardening and arranging flowers. Can you give them any advice on creating their own bed for cut flowers? Or any tips for long lasting cut flowers?
Nikki: Start small. Grow what you love. Pick the sunniest spot in your yard. (After a few frustrated years of growing unsuccessfully in my shady backyard, I finally broke the news to my husband that I needed to grow my garden in the sunniest spot in our front yard – right smack in the middle of his prized lawn. AND IT WORKED!)
Start with raised beds. I started with 4 raised beds. Let your curiosity guide what you plant and start with the easiest things to grow, like sunflowers or zinnias. That first year, I grew 4 Russian Mammoth Sunflowers in one of the raised beds, not a great choice for the space, but I majored in Russian in college and I wanted to see if they would really grow 6 + feet tall, and they did! My boys thought they were trees.
Add more space to your garden each season and try new things. View them as experiments to take the pressure off. Sometimes experiments work and sometimes they don't. Successes are often just dumb luck, and the failures in the garden teach us the most, so watch out for both! Don't fuss too much, benign neglect works wonders in the garden!
If you are a new or intermediate gardener, sign up for Cross Street Flower Farm's Grow Your Own Cut Flower workshops this season. ☺ Be sure to sign up for our e-newsletter here to get our updates from the farm!
I'd let Cara talk to flower arranging!
Cara: There are so many amazing seed companies that offer cut flowers so buy what you love in the colors you love. Just remember that a little goes a long way. Many flowers have more than one stem, like zinnias and snapdragons. Also, mixing styles in your bouquets and arrangements is what makes them interesting. We always try to keep a recipe of a few focals (sunflowers and peonies), rounds (zinnias and calendula), spikes (snapdragons and delphinium), filler (bupleurum and scented geranium), and airy elements for movement (scabiosa and grasses). And don't forget to invest in some great perennials like hydrangea and peonies!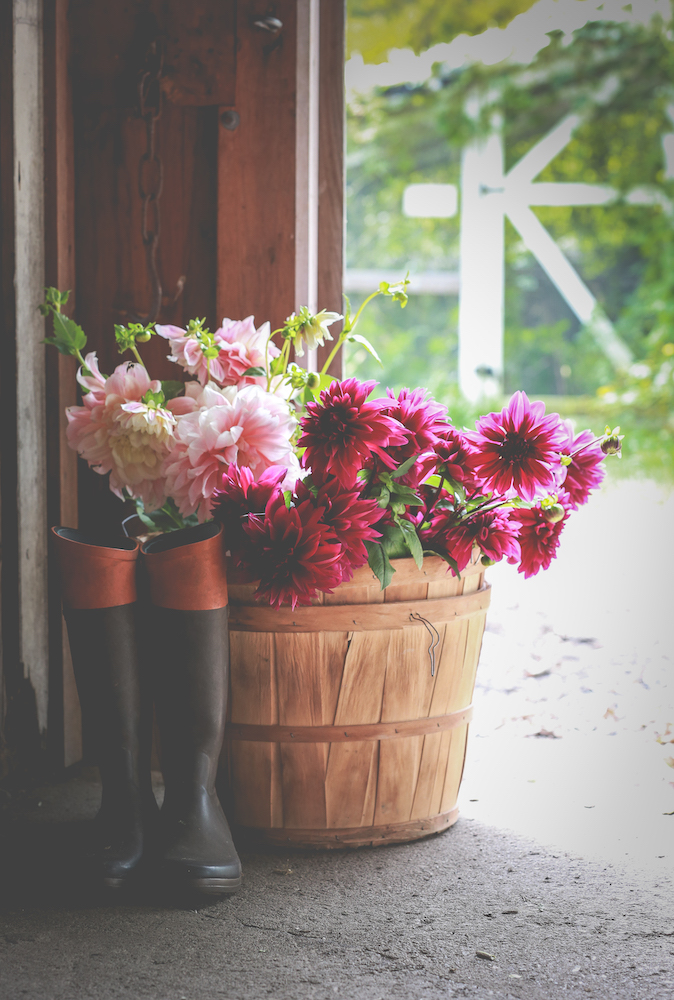 When do you feel most creative or happy?
Nikki: I feel most creative when I am outside- digging in the ground, weeding, planting, or seeding in the greenhouse. Yoga also helps clear my head and I try to go 2-3 times a week. I also love walking my two dogs along the North River or to the cranberry bog down the road. Basically anything that roots me to the earth seems to spur my creativity.
Cara: I feel most creative on Sunday afternoons after my body and brain have had a moment to relax and re-energize. I can catch up with a great magazine, plan out my week, catch up with my family in Maryland, think about what I look forward to most in the coming days and organize myself. Cooking with my daughter or watching my boys play sports always makes me happy!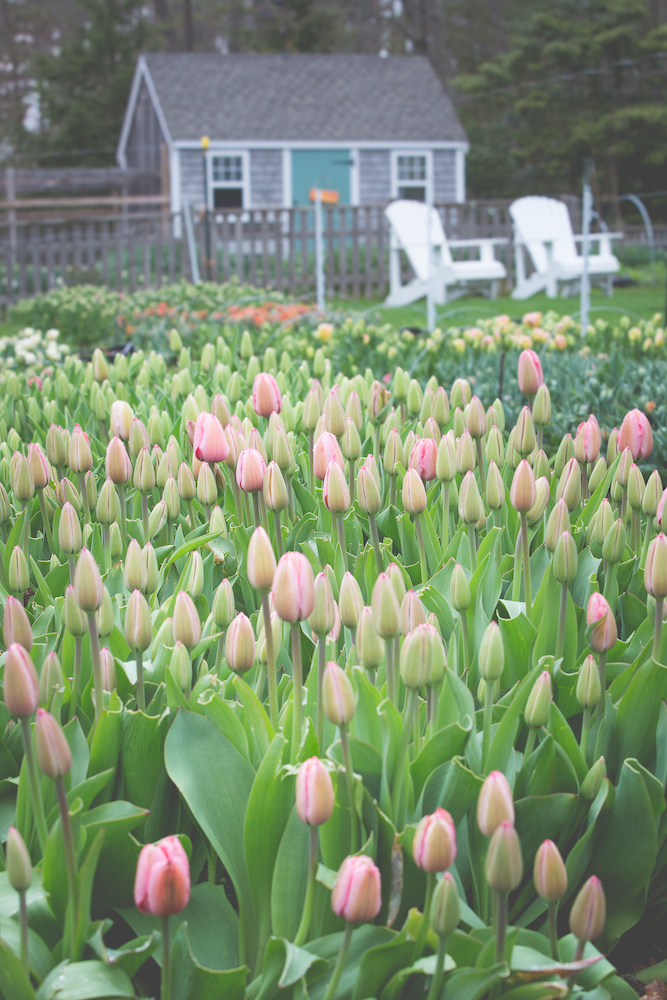 Who, or what, inspires you?
Nikki: People who are happy and are doing what they love. People who aren't afraid of being different, and encourage others around them to do the same. And my three boys. I love to watch them get after life and happiness so naturally, they don't think about it, they just do what makes them happy.
Cara: Well, my kids and husband are top of the list. They are my world! And if that world needed a queen, Martha Stewart is my queen. She has created a lifestyle encouraging creativity, initiative and beauty in every area of life. I remember being 13 buying her magazines when friends were buying Bop! Since I haven't met her (yet!), I find myself leaning into other women and men who are creative and not afraid to take risks. I have met so many women especially, who are diving head first into their passions and it's working! It's so amazing to watch!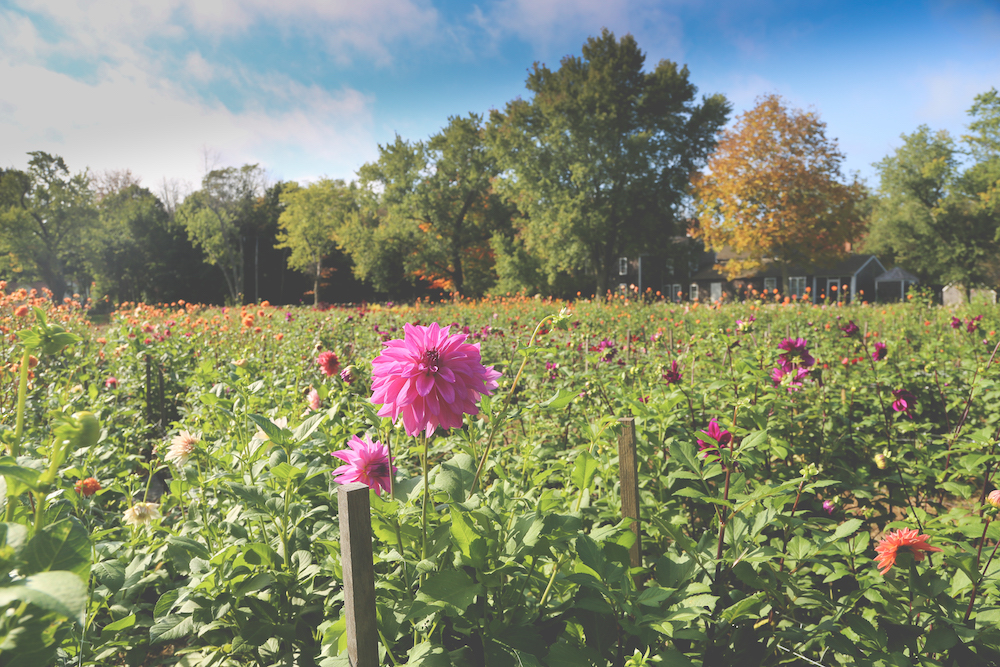 Do you have any funny stories about farming life?
Nikki: We laugh everyday. Something silly always happens at the farm, and we are usually covered in mud and dirt and sweat, so it's hard to stay serious for long.
But probably my favorite story is about my youngest son, Sam, and the time he lost his favorite teddy bear, Tata, when he was 5. Sam told us that he saw our dog, Gus, run out the back door with Tata in his mouth. We didn't believe him, since Sam has a very big imagination and since Gus is good at keeping secrets.
Two months later, I was turning over a bed of Larkspur that had gone by with a tray of sunflowers. My garden fork hit something and I reached down and pulled Tata right out of the ground! Tata was covered in black dirt and had roots growing into him, but was otherwise unharmed. Naturally, we made a chocolate cake and threw a party to celebrate Tata's return.
Cara: So many about quirky visitors to the farm but none that I can share in a public forum like this, lol!
Do you have a favorite color? What colors don't you like at all?
Nikki: Fire engine red. It was the color of my bridesmaids' dresses. I also always paint my toes bright red- OPI- Thrill of Brazil or Big Apple Red.
Red germanium was the first flower I ever grew successfully (i.e. did not kill). I was housesitting in the summer of 2002 at my boss' apartment in Paris and he asked me to care for his balcony garden. I wanted to impress him so I deadheaded and watered those red geraniums every day, and they loved it! I got lucky that time and still do prefer red geraniums in white hanging baskets on my front porch!
Ironically, we don't grow or sell many red cut flowers at Cross Street Flower Farm. They aren't really in fashion right now as cuts. But I think that's about to change. This year, both Cara and I have the urge to grow more red flowers in the field and we noticed our wholesale florist customers asking for it more last season as well.
We grow some beautiful red dahlias, pincushion flower (scabioso) and zinnias. And of course, our new Massey Ferguson tractor is a brilliant shade of red. ☺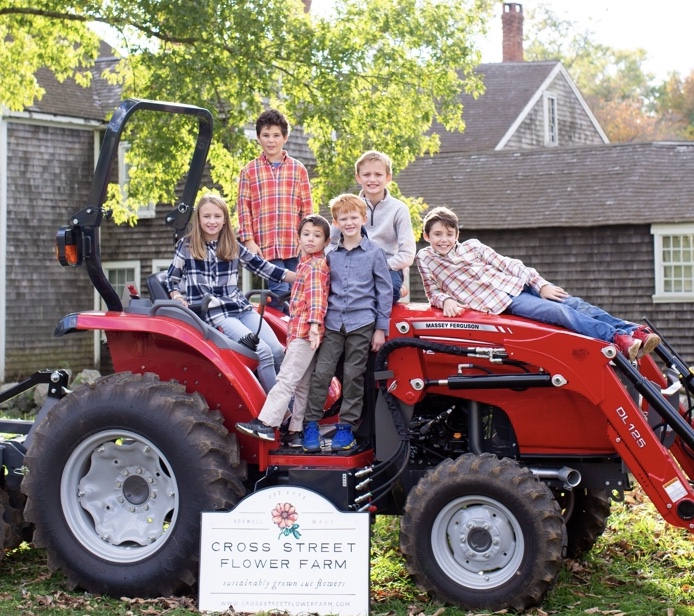 Cara: Oooh, this is a hard one. I love me some deep dark moody blue-green, especially on walls and furniture. But since there aren't flowers in that color, my favorite color in the field would be terracotta peach. It's earthy and in masse, super impressive. Honestly, all the colors are really beautiful when you have huge armloads of them…even the lemon yellow that tends to never be used, lol.
What's it actually like – a day in the life at Cross Street Flower Farm?
Nikki: Every day is predictably unpredictable. This is probably what I love most about farming besides being surrounded by nature. During the summer season, our schedule is usually 6-3. We start every week with a Monday morning meeting around our white board hanging in the barn. We always have a rough game plan for the day.
Mondays are usually harvest days, Tuesdays are bouquet making days, Wednesday and Thursday are for deliveries, fieldwork and more harvesting, etc.
But often the weather changes and something needs to get harvested before a rain, or some piece of equipment breaks, or a customer calls in a big wholesale or design order, etc., and we have to change course.
It keeps me on my toes and forces me to let go of perfection and figure out the best way to get it all done.
We try to do different tasks in the morning and afternoon to avoid doing one repetitive task all day, like- weeding, planting, pinching, harvesting, bunching, washing buckets, etc. But sometimes we are on deadline to get the flowers out the door or seedlings in the ground, so we just have to power through.
We try to have lunch together as a group to relax and recharge. We all sleep pretty well at night during the season and jump out of bed early in the morning. My husband says this is the true sign that I love farming flowers, because he could never before describe me as a morning person.
Cara: What Nikki said is spot on!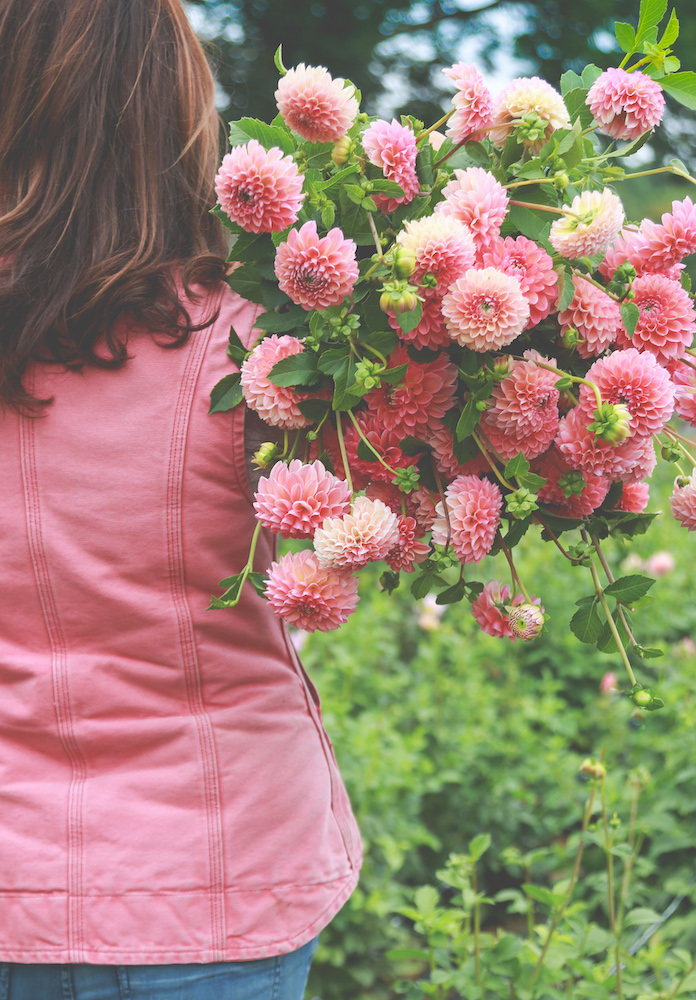 What are your favorite flowers that you grow?
Nikki: Zinnias, dahlias, sweet peas. They are all cut and come again, meaning the more you harvest them, the more flowers the plant produces. It is the most amazing thing to clear harvest a whole bed of flowers and come back the next day to be greeted by a whole new crop. It's like magic.
Cara: Another hard one. Dahlias are shining in my mind at the moment, but then I get my hands on snaps…and sweet peas…and ranunculus…and phlox….and, well, you see where this is going. They are all beautiful!
You guys have so many exciting things and events going on. Can you share these with my readers?
Nikki: Last year we noticed that our customers love coming to the farm to walk through the flower fields, and to buy our flowers. So, we are committed to opening a small flower shop this summer at the farm and we will be offering more events this season! Here's a just a few that things we have in the works:
WORKSHOPS! Last year all of our workshops sold out and we loved hosting them. This year we are hosting 6 workshopsin our Farmer Florist Workshop Series.
We will offer a "Grown Your Own Cut Flowers" 3-Part Workshop series to allow both beginning gardeners and intermediate gardeners to be able to come to the farm a few times during the season to see how we do things at different times of the year.
We will also offer three floral design workshops at the farm that will follow along with our season: one in Spring, Summer and Fall. Attendees will tour the fields, and then be able to design with our flowers and learn our style of loosely, nature inspired, right out of the garden look that our customers love. And everyone gets to take the arrangement home. We are currently lining up some talented floral designers to come and lead a couple of these classes. Registration is now open!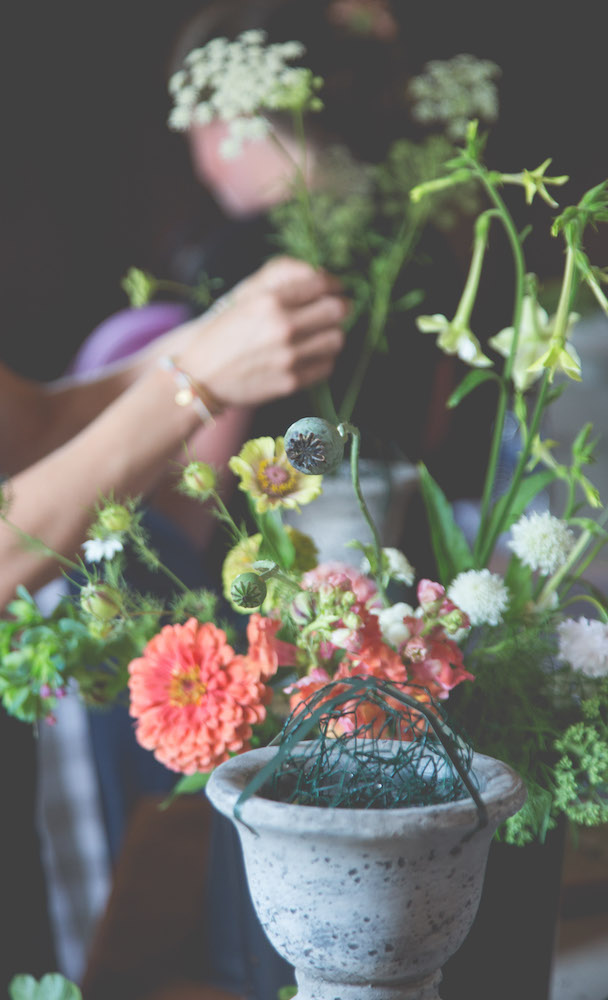 YOGA! We are so excited to offer Yoga at Cross Street Flower Farm every Saturday am 8-9 all summer. Information about our awesome yoga instructor and dates will be posted later this spring.
Thursday Farm Stand Pop Ups at Cross Street Flower Farm Farm- Food Truck Series with Norwell Farms!
Last year, we held 3 Thursday night pop up Farm Stand events with food, beer, live music and our flower stand. We plan to hold these Thursday night Summer Pop Ups at least twice a month this summer! Stay tuned for dates and more information later this spring.
STAY TUNED FOR EVEN MORE NEW COLLABORATIONS AT THE FARM! We are working with some local creatives and artists to hold even more cool events at Cross Street Flower Farm this summer and will release this information later this spring!
Cara: Everything we are doing is a direct result of what the community asks for. Bouquets were great in the beginning, but so many wanted to learn more about how they can do what we are doing in their own backyard. So we added workshops…then floral arranging workshops with really fabulous local florists. We had brides coming to us left and right so we learned how to arrange and create beautiful centerpieces and bouquets. Then florists were asking how they could get their hands on our Italian Poppies, dahlias and unique tulips…things they couldn't ever get at the market. So we introduced our Wholesale Market. It's a constant evolution! This year, we are also adding a small retail presence to the farm to include gift cards, small succulents, aprons and other goodies that customers can purchase in addition to bouquets.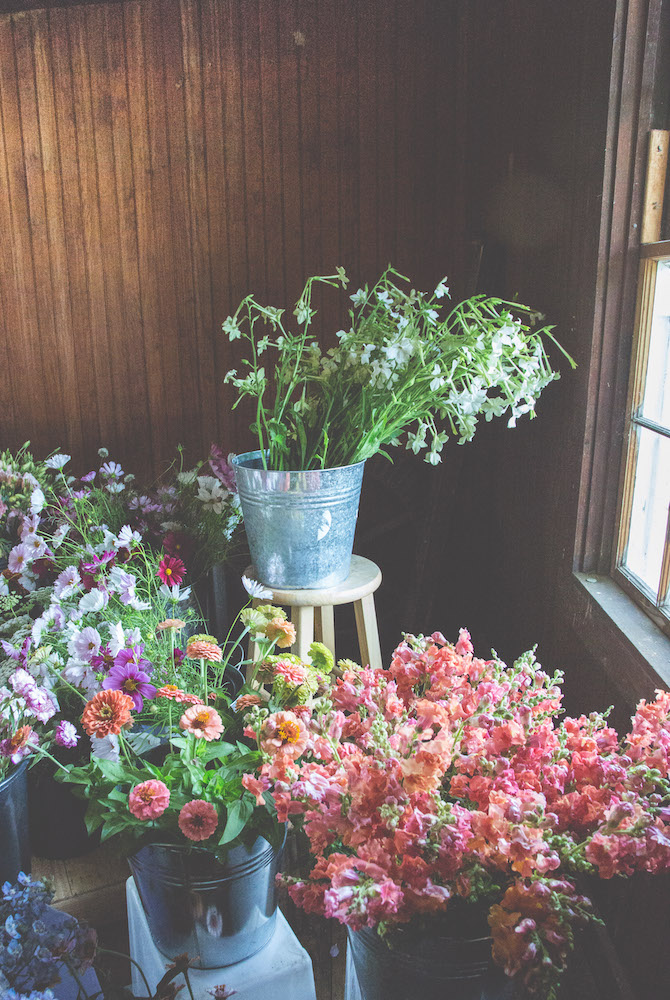 What advice would you give to someone who is interested becoming more creative, or following in your footsteps and starting a creative business?
Nikki: Don't wait for the perfect time, just start small and start NOW! Don't be afraid to learn as you go, be curious, and certainly don't be afraid to make mistakes. We make mistakes ALL THE TIME, and most of the time no one notices but Cara and I.
Trust your instincts and stop doing what you think everyone else wants you to do. Do what you love instead. Also, don't seek advice too early or often when you working on a new big idea- unless the person giving the advice has done exactly what you are trying to do. If you can find that person, don't be afraid to ask for advice. The worst they can say is no.
If not, find yourself a (group of) creative friend(s) and inspire each other with your ideas, dreams and passions. Just be sure to ignore the negative voices both in your head and from well meaning friends and family.
Tuning out the negative voices gets easier with practice! Over time, we have learned to trust ourselves more and more. In fact, the best compliment I received recently was from a friend who said I have a naïve, childlike quality about me.
At a younger age, I would have probably taken this statement personally and negatively. But now, I know it's a true compliment. I'd like to call it having a sense of wonder. Farming has brought back to me a deep sense of wonder about the natural world. That wonder and curiosity has in turn unlocked a deep well of creativity inside of me.
Cara: Honestly, you have nothing to lose! Start small and be sure to scale up as your demand increases. We delivered no more than 5 mason jars, maybe 10 bouquets a week and did one small wedding that first year. But it was enough to cover the costs of all the seed, soil and other supplies. We didn't pay ourselves the first two years, which is also important to accept in the beginning. Any money we made, we rolled right back into the company so we could buy a walk-in cooler, tractor and other tools that were absolutely necessary to expand the following year. Those purchases increased our efficiencies, saved time on labor and ultimately made us tenfold the profits. Pace yourself and don't beat yourself up if you fail. Failing is learning!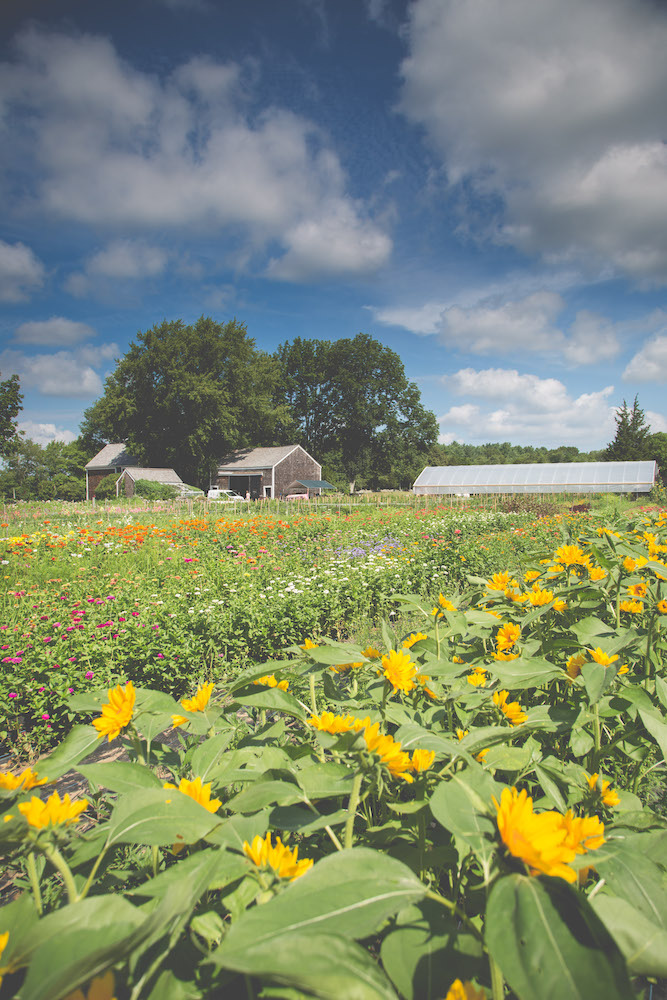 Growing up I was a huge follower of INSIDE THE ACTORS STUDIO. At the end of the program, they would ask the interviewee these questions:
NIKKI
What is your favorite word? YES
What is your least favorite word? LAUNDRY
What turns you on creatively, spiritually or emotionally? Nature. The connection between farming, nature and community. I am endlessly fascinated and excited by the act of farming. I love taking a single seed, bulb or tuber found in Nature, save it over winter, and work it back into the soil the following year. I love the physical labor needed to tend to it. We are constantly inspired by what is blooming in the field, and our bouquets and arrangements mimic what 's best in the fields. Seeing the joy and smiles our bouquets bring to our customers – knowing that our work brightens their day is truly satisfying.
What turns you off? The nightly news. I don't watch or read the news anymore, period. It's not that I don't have political opinions or that I want to stick my head in the sand about the sadness in the world, it's just that I don't feel that the 24 hour news cycle accurately reflects life on earth anymore.
What is your favorite curse word? Mother trucker. I think it's because I really want/need a pick up truck.
What sound or noise do you love? The first time I hear spring peepers (bullfrogs) in the wetlands in my front yard. It's usually at night when I take my dogs out during the last week of February. It's coming up any day now!
What sound or noise do you hate? The sound of fans clapping at a golf tournament on TV. It's so boring! (My Dad loves golf and is a great golfer! I have nothing against golf as a sport and love my Dad, but the sound of golf on TV reminds me of endless Sundays growing up with golf on TV in the background. I wanted to be outside gardening, I just didn't know it yet!
What profession other than your own would you like to attempt? Writing or painting. I can't draw at all, but wish I could. I love to write.
What profession would you not like to do? Any corporate job with a desk and a boss. Running my own business has ruined me forever—in a good way!
If Heaven exists, what would you like to hear God say when you arrive at the Pearly Gates? You followed your heart, that's not easy. I'm proud of you.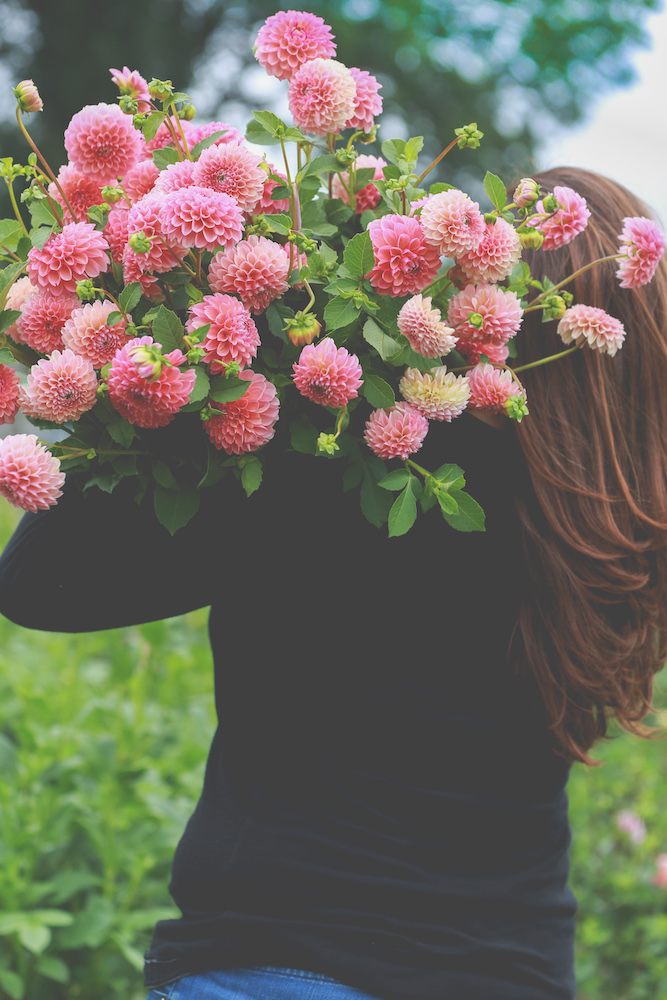 CARA
What is your favorite word? Thankful
What is your least favorite word? stupid
What turns you on creatively, spiritually or emotionally? My family, for sure. The remind me to breathe, be kind and that spontaneity is a really good thing.
What turns you off? Lying
What is your favorite curse word? Douchebag. Is that even a curse word?
What sound or noise do you love? The ocean
What sound or noise do you hate? A waiter saying "last call" when I am out with my girlfriends.
What profession other than your own would you like to attempt? Interior Design
What profession would you not like to do? Personal Attorney to Donald Trump
If Heaven exists, what would you like to hear God say when you arrive at the Pearly Gates? Well that was one hell of an adventure!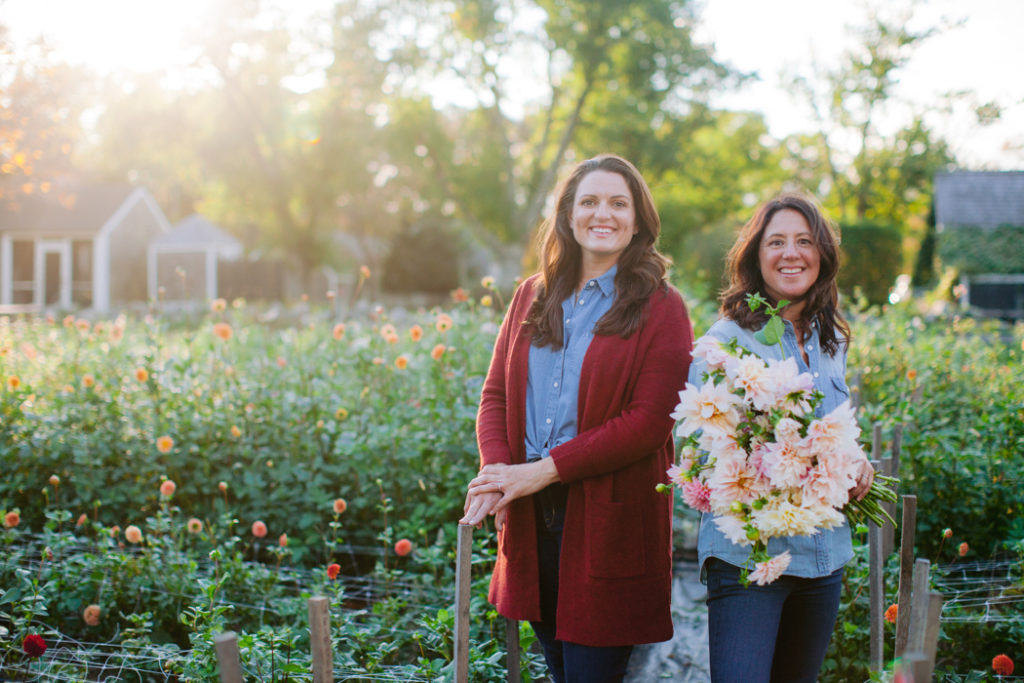 A huge thank you to Nikki and Cara for sharing so much about themselves and their passion for flowers. I love their flowers but they now mean so much more to me knowing their creative journey.
Be sure to follow along with Cross Street Flower Farm:
Website * Instagram * Facebook
If you'd like more Creativity Over Coffee you can read the full series here
* Photos courtesy of Cross Street Flower Farm, Rachel Buckley, and, Shutterbug Sally