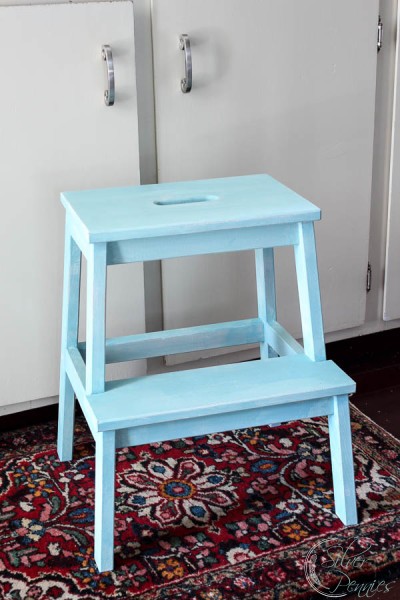 What do you think of my kitchen stool. Would you believe me if I told you it was vintage?!?
Would you?
Well, it isn't…  I picked up this stool and another one just like it from Ikea for $14.99.  I got it in the natural beech.
Do you want to learn how to do this Ikea Hack – Creating a Vintage Stool?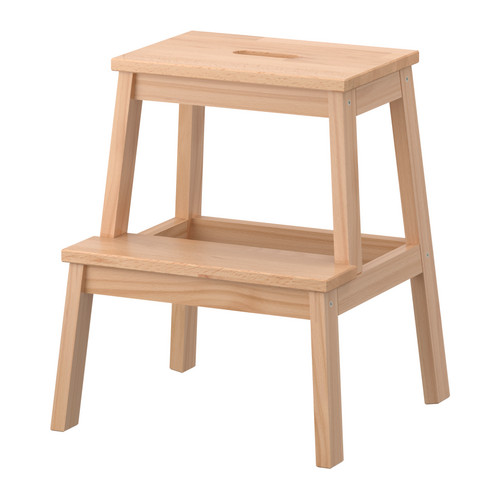 We have super high cabinets in our kitchen and I really needed some help reaching them, so I thought I'd pick up this beauty while were shopping at Ikea.  As an aside, my family loves Ikea and often spends the whole day (a stroll around the store, a feast at the restaurant and a play in smalland) and everyone is happy!
I also did one in green –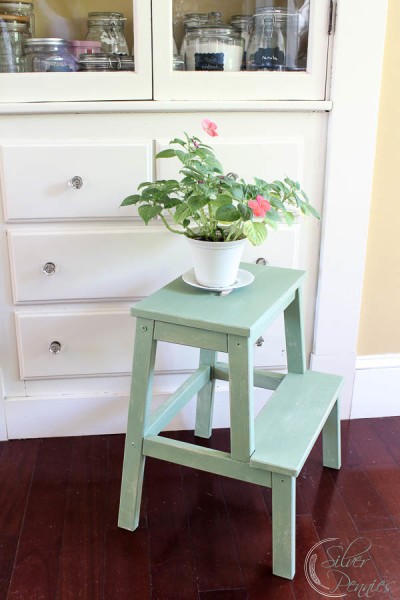 I painted these stools back in June and they are holding up wonderfully to our heavily used kitchen.  Want to learn how to create this look?!? This is what you need:
Materials for Creating a Vintage Looking Stool – Ikea Hack
1 Bevkam Ikea Stool in Beech Finish 2 packets of Miss Mustard Seed Milk Paint 1 Mini Mixer 
(optional)
Paint Brush Sandpaper MMS Milk Paint Tung Oil MMS Solvent Plastic Cups Stir Stick Rags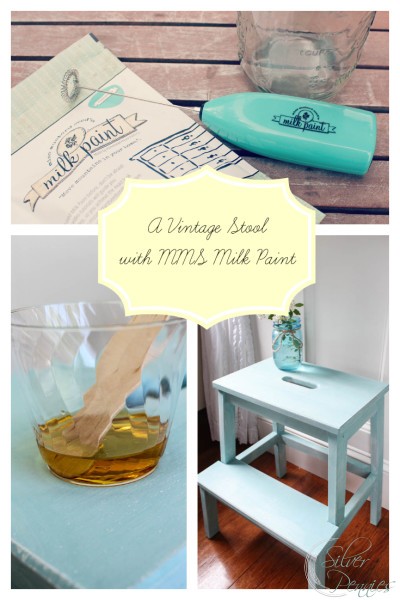 Method
1. Mix together MMS Milk Paint in color of your choice.  For the first stool I used Ironstone under Eulalie's Sky and the other stool I did Grainsack under Luckett's Green.  The two colors give a lovely effect when distressed.
2. Paint a coat of the first color on the stool.  Allow to dry.
3. Paint the second color on the stool.  Allow to dry.  Apply an additional coat if needed.
4. Once dry, take some sandpaper or sanding block and distress.  Wipe clean.
5. To make your stool waterproof, I recommend using Tung Oil Mixed with a Solvent.  It allows for the Tung Oil to glide on smoothly.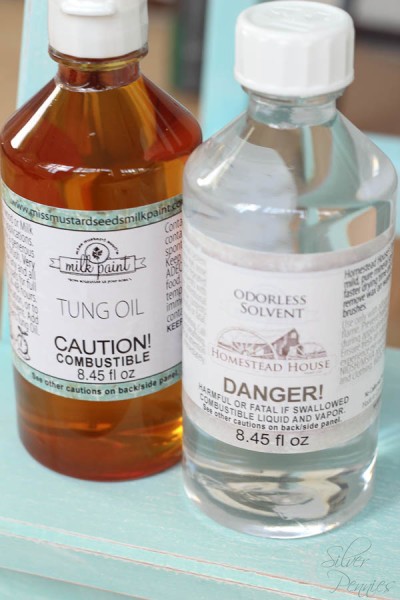 Be sure to follow the package directions for mixing (one part odorless solvent for 2 part tung oil).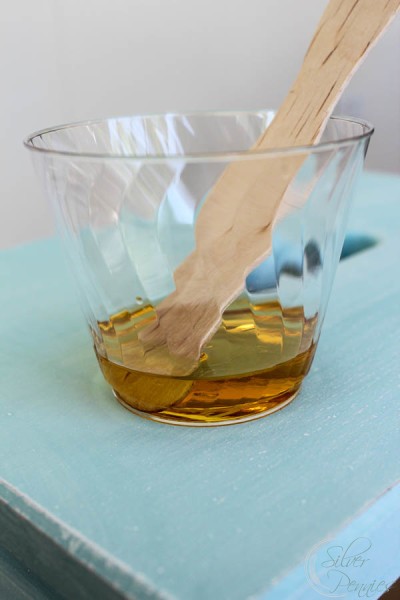 6. Wipe on with a rag and wipe off excess after 15 minutes.  For these stools, I applied three coats of Tung Oil mixture and waited 24 hours between coats and then 24 hours to cure. If you want to use your stool outside then you probably want to do 4 coats.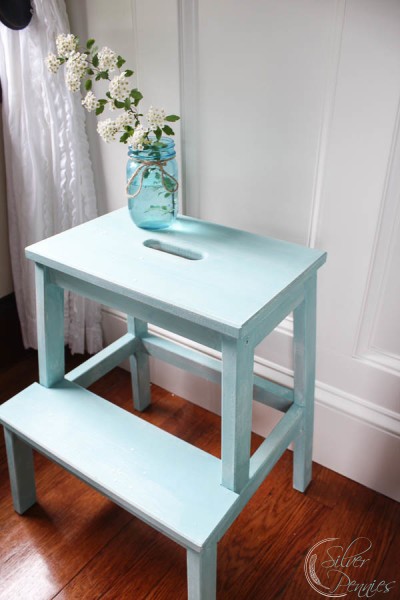 I can wipe them down and don't have to worry about dirty bare feet or if water spills on them.  The blue one is in the kitchen, and gets used by me AND Conor –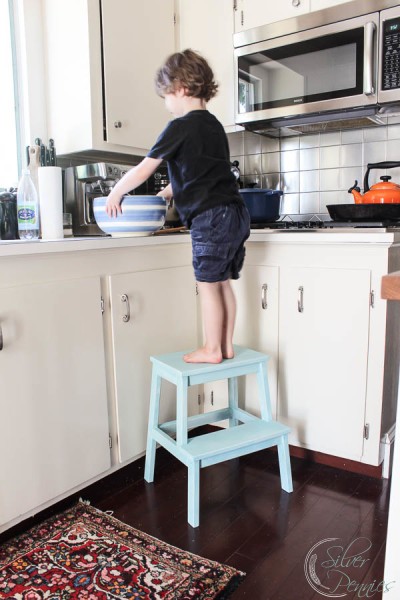 The green one is in the basement, but could also be beautiful in a bedroom as a side table or a little perch out in our sunroom: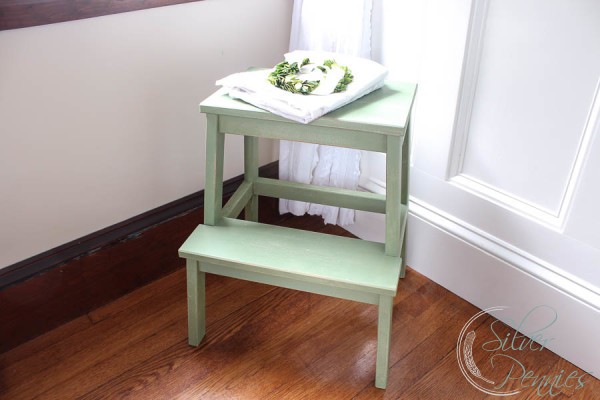 See the lovely gray underneath?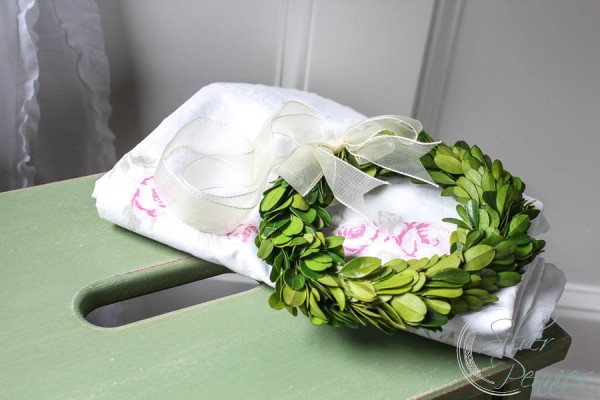 You could also stain them and then apply the milk paint for another look.
I'm happy to report after a few months of use, they are both still looking perfect!
What do you think? Will you give this a try?!?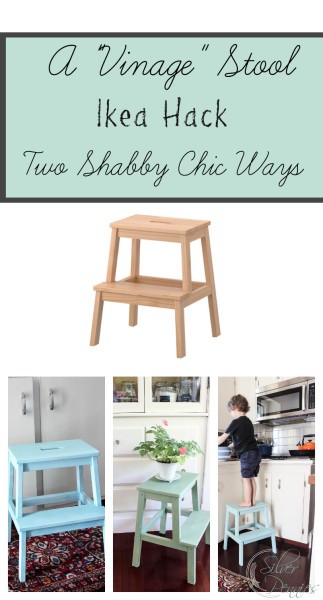 Sharing with: