I partnered with The Home Depot on this project.
Ah, you guys, thank you all so much for all the lovely comments and feedback on the post over on Home Depot's Apron blog.  If you missed it you can click here.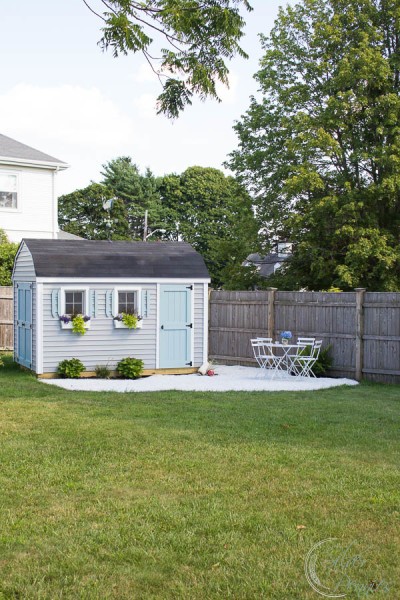 I've been getting a lot of questions on colors and items in the space I'm so excited I can share more information and sources with you today.  For the longest time I've wanted a creative space separate from our home.  I have the basement to paint furniture in but as you can imagine chilling with the spiders doesn't have the same feeling as my She Shed.
We decided the perfect spot for my coastal retreat would be an area that was overgrown with trees. The trees had to come down before we could do anything.  I shared the trees coming down here and the shed went up the very next day here.  We kept the black walnut but got rid of the Norway maples. .
The She Shed Exterior:
Here you can see an example of the before and after in the yard:
The trees coming down made such a huge difference.  What seemed like a small space from all the limbs and shade is actually quite large.
We opted for the Horizon model shed from Sheds USA.  This model has a door on the front and double doors on the left side.  The doors can be opened for cross ventilation which is lovely.  We also opted for fully functioning screened windows. The doors, window boxes, and shutters are cedar which we painted to match our home.  We also selected the gambrel roof which is the same style as our house's roofline.
This is how the shed looked right after the put it up: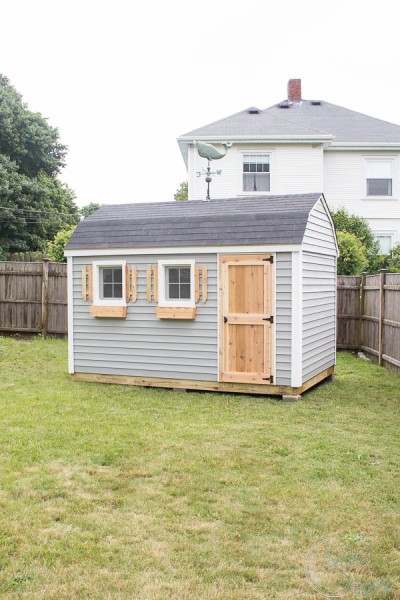 As you can see HUGE changes were made to the outside.  This was taken from our fence near our hydgrangeas to give you an idea of how it is situated.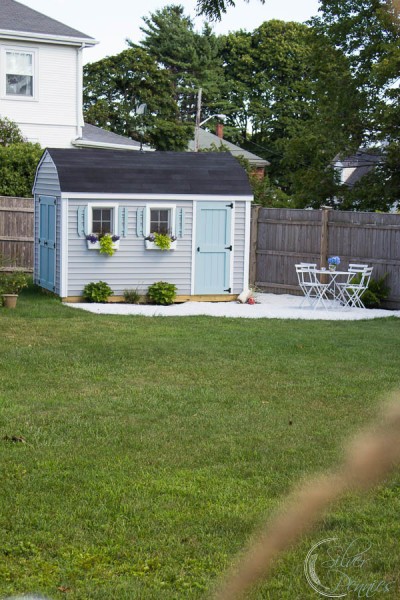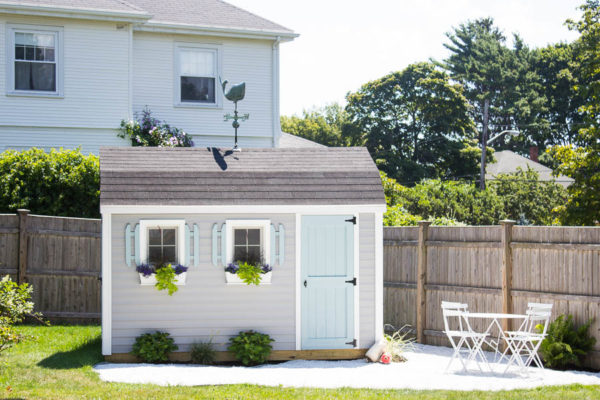 I refreshed an old cafe set that was my mom's with Rustoleum spray paint and we created this gorgeous mini marble chip patio (I'll share how we did it in a later post) and filled the area with lovely coastal plants and nautical accessories.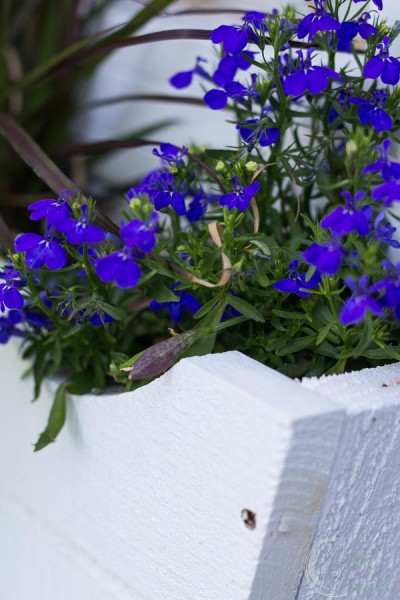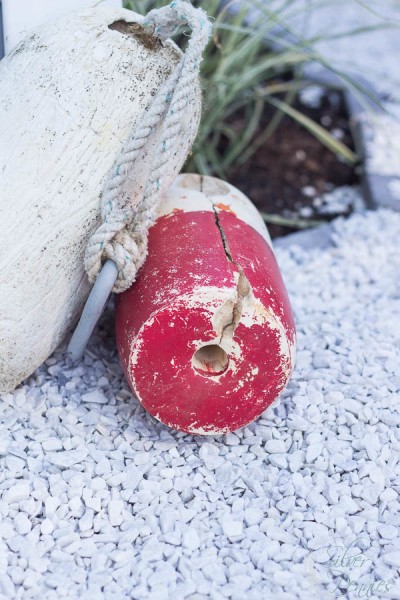 We added a pale pink climbing rose and trellis to the side of the She Shed and I'm excited to watch this rose grow taller and climb up this sweet little cottage.  It will look like something out of Nantucket or a seaside home in Martha's Vineyard.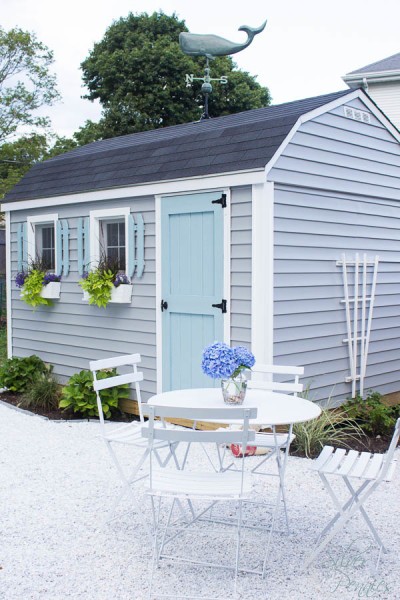 I ordered this lovely whale weathervane from The Home Depot which Sheds USA put on for me.  I have an affinity for whales and I loved the aged patina on this one!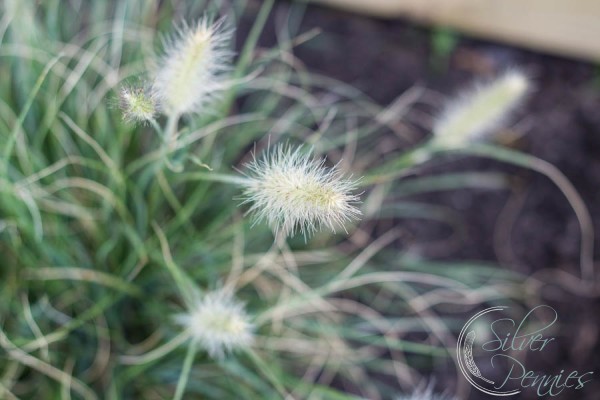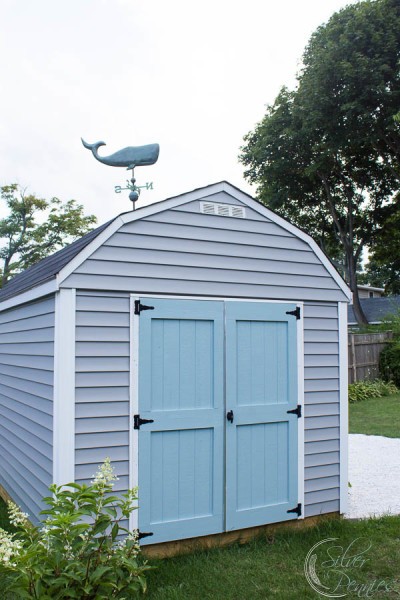 I'm not the only girl who likes this shed.  Poppy, our sweet little dog, loves it too!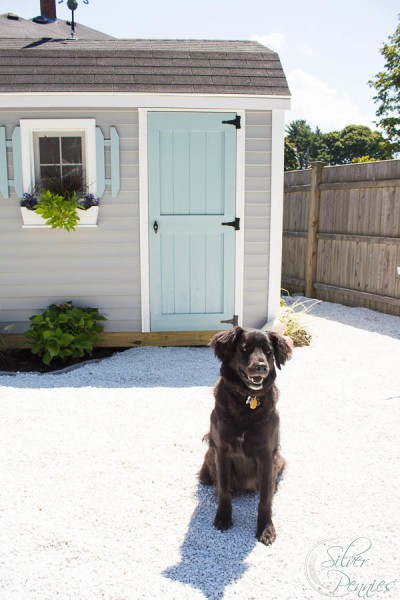 She rolls on the chips and lazes the day with me down there.
Well, come on in. The inside had a HUGE makeover too!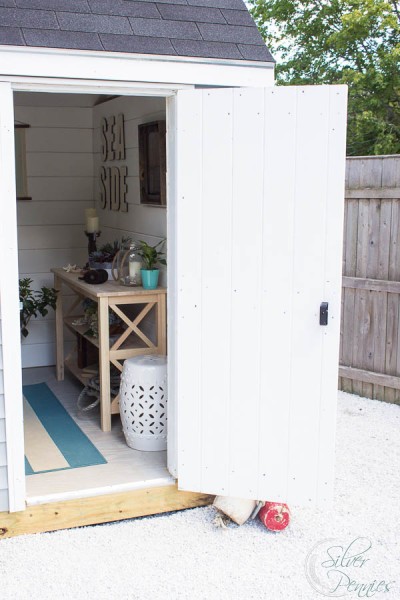 The She Shed Interior:
Here's the before and after of the inside:

As many of you know, we live in Scituate Harbor and I love the coastal look.  Our home is historic and has dark woodwork so I made the interior of this shed my dream interior: LOTS of white from the shiplap walls, to the patio stools, to the bead board ceiling to shells and candles.
This is my coastal oasis.  A place to rest. To think and write and dream.
It is filled with things I love:
Pale sea glass colors, bright and happy walls: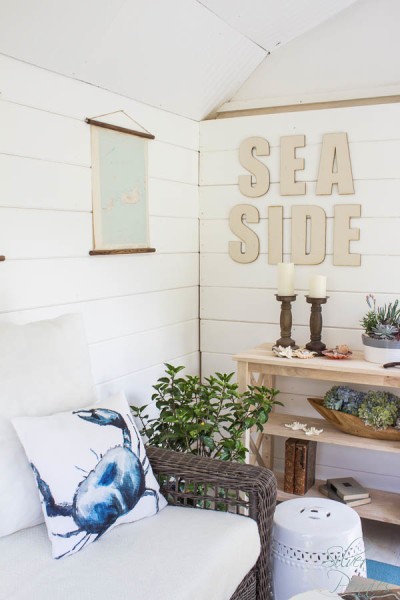 Vintage Nautical Charts we turned into map decor.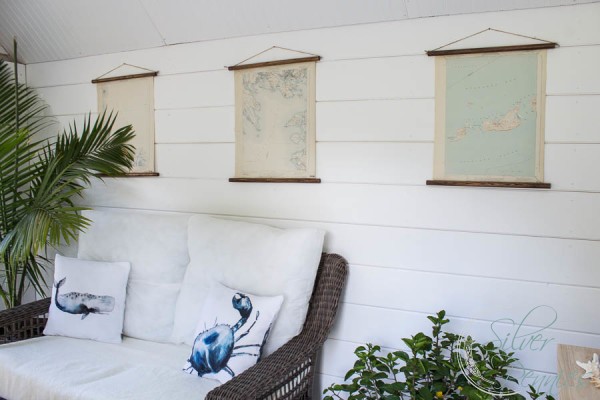 The best little coastal coffee table that my hubby built and designed.  We'll be sharing both tutorials with you soon.  I stained the coffee table with sunbleached stain by Varathane and I have to tell you this is a new favorite stain color.  So beachy!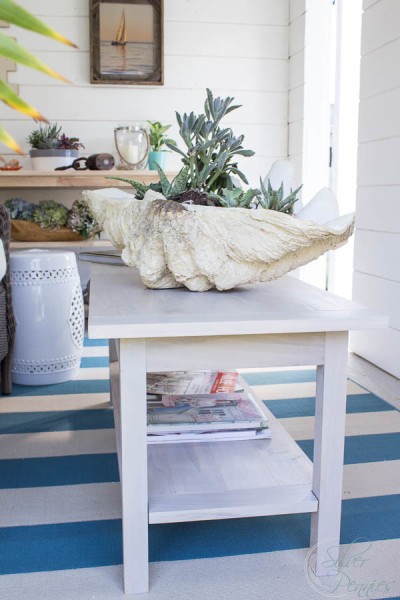 My shed is also filled with art of my friends, all who inspire me daily.
Watercolor pillows from my very talented friend Lucy over at Craftberry Bush.  You can purchase these lovely pillows (and more from her Society 6 shop).  I opted for the whale (to match the weathervane) and the crab.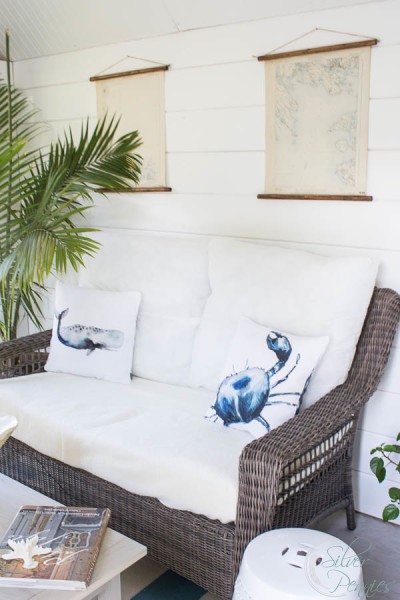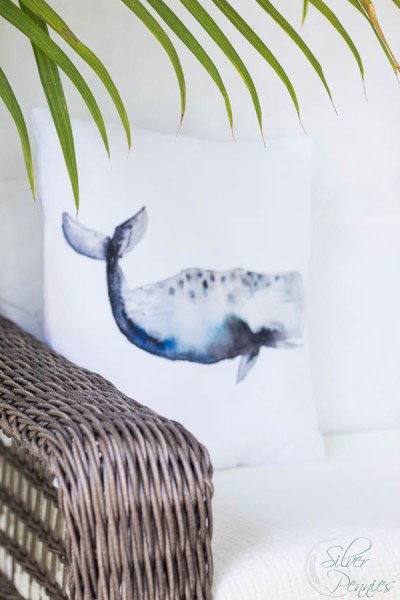 A gorgeous image of a sailboat printed on metal by my friend Kjeld Mahoney hangs on the paneled wall.  The light catches the image and makes the waves appear to move.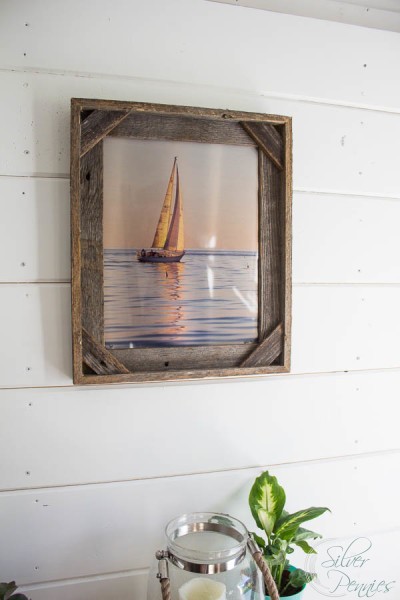 The SEA SIDE letters are from my friend Jennifer's shop 163 Design Company. They are canvas letters cut to perfection and so easy to hang.  I'll share more on these in another post too.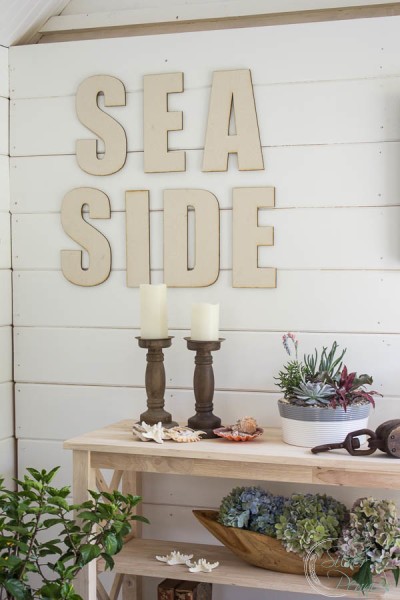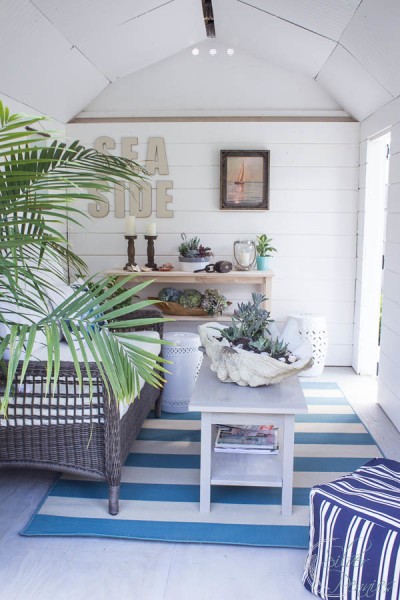 You might also notice that I have loads of plants in this space.  I LOVE plants!  There's succulents, palms and other leafy greens. All the plants came from The Home Depot even the succulents I planted in the giant clam shell.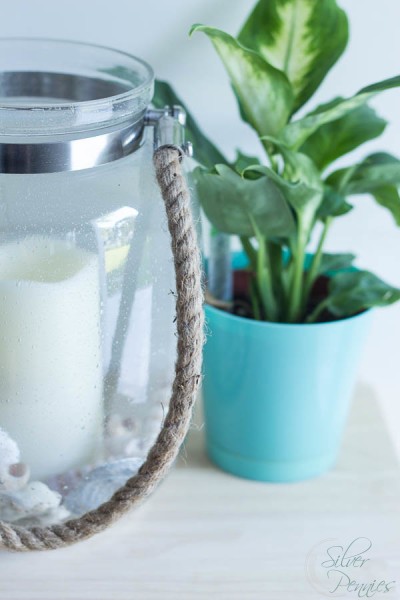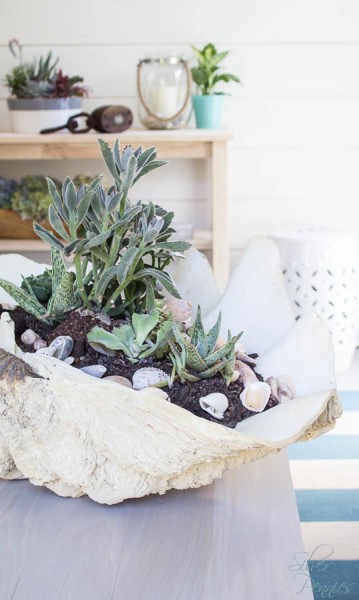 Here's the other end of the shed: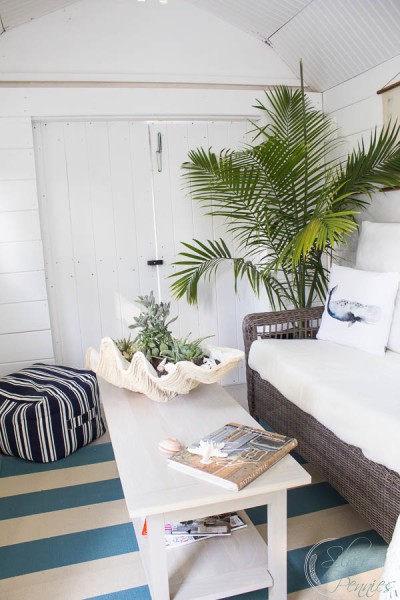 The floors were stained and bead board hung on the ceiling. A striped aqua rug ties it all together.
I've gathered hydgrangeas from the garden and shells we've collected over time: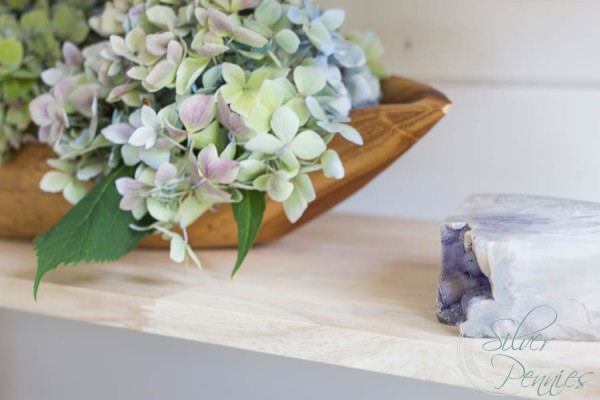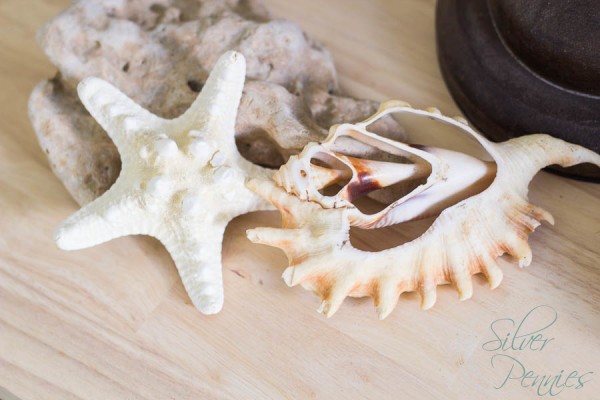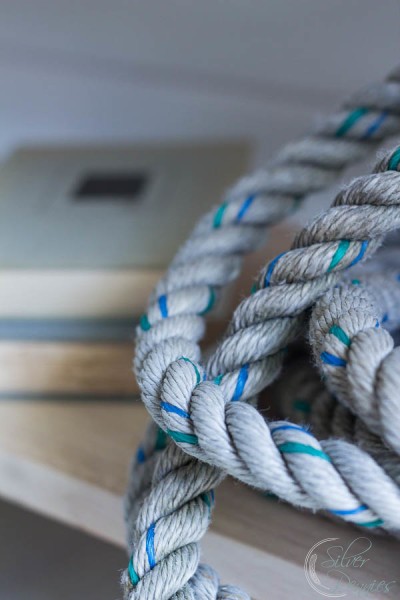 This project really was a dream come true for me.  Luke and I worked so hard on this in extreme heat.  It is an amazing retreat that I'm so grateful for.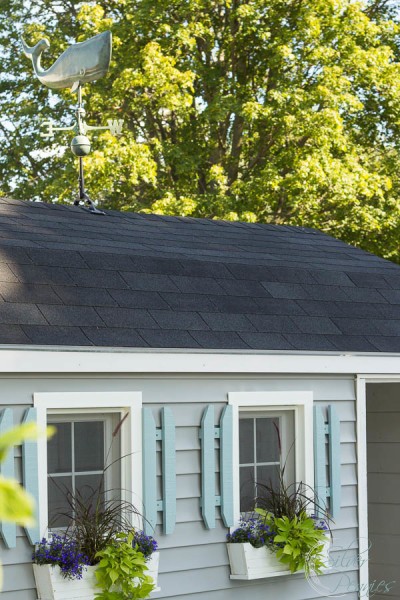 I will tell you I went down there the other day and found my little boys' nerf guns, nerf bows and other toys.  They want it to be the Driscoll Den, but I think Poppy and I will be keeping it for just us girls.  So if you want to join me for a cup of coffee or a refreshing drink, I'll be out in my She Shed.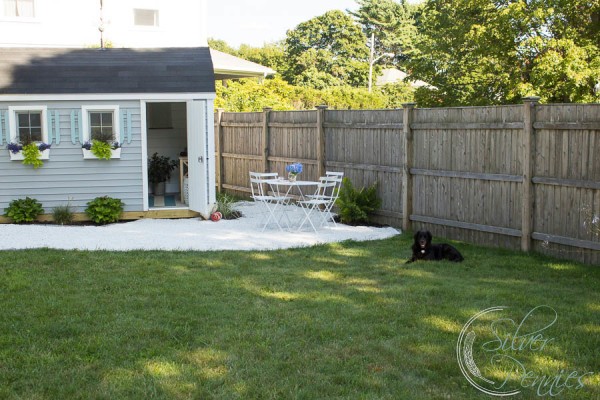 In case you were interested in any of the products or recreating any of the looks from the shed, I've included a source list below. 
This list contains some affiliate links, if you purchase from these affiliate links I receive a percentage of the sale.
Coastal She Shed Source List:
Shed – Horizon model from Sheds USA, with dark grey siding, gambrel roof and cedar doors, shutters and window boxes.
Wall Color – Polar Bear by Behr in Exterior Matte (Home Depot)
Door / Shutter Color – custom color (Home Depot) – can supply code if you'd like
Floor Stain – Behr Exterior Floor Stain in Cape Cod Gray, semi-transulent (Home Depot)
Whale Weathervane – Home Depot
Bead Board Paneling – Home Depot
Shiplap – Home Depot
Rug – Home Decorators Collection Nantucket Aegean from Home Depot
Wicker Loveseat – Spring Haven Grey from Home Depot
Console Table – Home Depot
Plants (interior and exterior) – Home Depot
Vintage Maps – Goodies II in Scituate Harbor – we created the art with them.
Nautical Pulley – Goodies II
Vintage Buoys – Goodies II
Cafe Set – old set I owned, updated with Rustoleum Spray Paint in White Satin
Coffee Table – we built from Home Depot supplies, stained with Varathane's Sunbleached
SEA SIDE canvas letters – 163 Design Company
Sailboat Metal Print – Kjeld Mahoney Photography
Striped Poof – Home Depot
Candlesticks – Home Decorators Collection from Home Depot
Remote Control Candles – Home Depot
Seeded Hurricane – Home Decorators Collection Home Depot
Shells – my own
Giant Clam Shell – gift from my mom
Patio Stone mini marble chips – Home Depot
Paving Bricks – Home Depot
Since posting, I've also shared a few tutorial on my blog click the title to see them:
I acknowledge that The Home Depot is partnering with me to participate in this shed program. As a part of the Program, I am receiving compensation in the form of products and services, for the purpose of promoting The Home Depot.  All expressed opinions and experiences are in my own words.  My post complies with the Word of Mouth Marketing Association (WOMMA) Ethics Code and applicable Federal Trade Commission.