We're enjoying an Indian summer in New England and I thought it would be fun to give you a glimpse at my Autumn She Shed.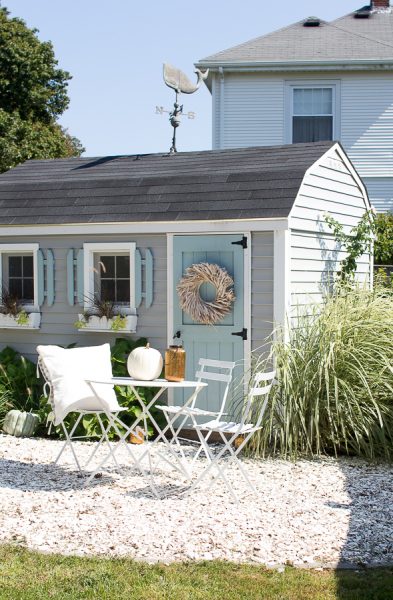 If you've read the blog for a while then you know I enjoy keeping things simple. We live by the sea and life in our coastal town is pretty laid back. Our yard is quiet, and this little corner is my coastal retreat.
This post contains a few affiliate links for sources, click here to read my disclosure policy.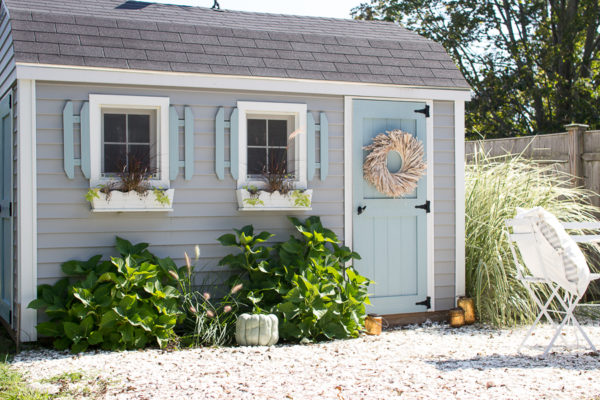 The plants are thriving in the sunshine. Look just how big the pampas grass is! The fountain grass is new this year. Poppy likes to lie there so not great when you want plants to live. These two hydrangeas are so big too but they didn't bloom this year.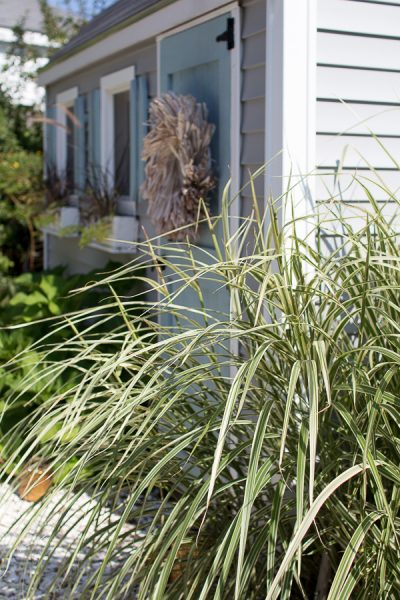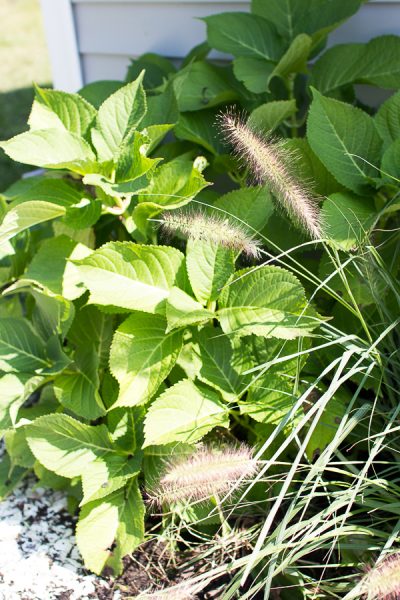 We installed the crushed shells at the beginning of the summer and they still look great. They also make it hard for the weeds to grow 😉
I tried to use items I already had for fall decorating. On the door is a corn husk wreath I found a few years back at HomeGoods. I love the texture it adds to a door or a wall in a room.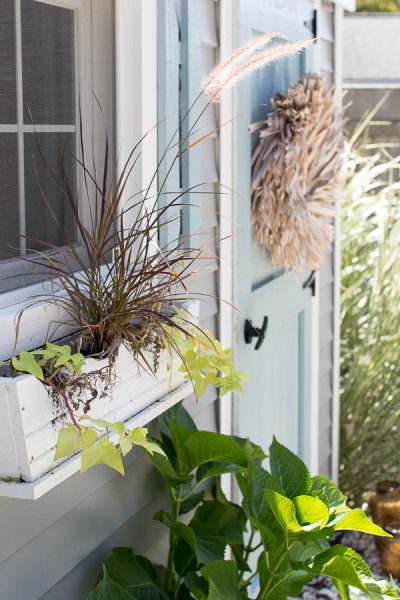 The copper lanterns are from Balsam Hill and I used them on our front entry last fall. They look so pretty glimmering in the sun.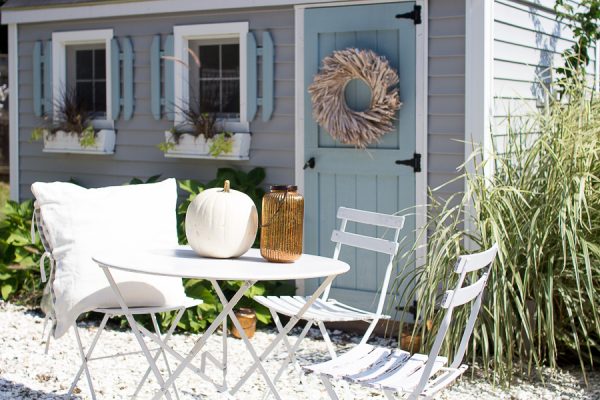 Before I go any further on this tour. I just want to share a few words of how I'm feeling. I just can't pretend things are okay and "happy" when there is so much in the world that just feels wrong. My heart is breaking right now for all the pain and suffering I see in the world – the floods in Texas and Florida, the damage and descruction in the Caribbean and Puerto Rico. My heart breaks for all those in these places as I watch the news and listen to NPR. We've donated money but it just doesn't seem like it is enough. Then when I woke up the other morning and heard about the mass shooting in Las Vegas. So many lives affected. Such tragedy. I always go back to the words of Mr. Rogers. You know the one, "look for the helpers." But what do you say to your children who ask, "Why would someone do that?" I don't know and I don't understand why anyone living in America would need those guns that are made to kill as many people as possible. If you missed Jimmy Kimmel's monologue he really sums up how I'm feeling, click here.
I've really felt like I need quiet time (away from social media) and everything just to think and to give my family the love they need. Then I can't help but think all those people who are missing their mom, their dad, their friend, their child.
I'm sorry to get all emotional on you guys here on the blog. I don't usually share political views and such, but just thought maybe you guys are feeling the same. I listened to Brené Brown speak in Boston last week and she said it's against human nature to hurt each other. We are programmed to help each other because we need each other to survive.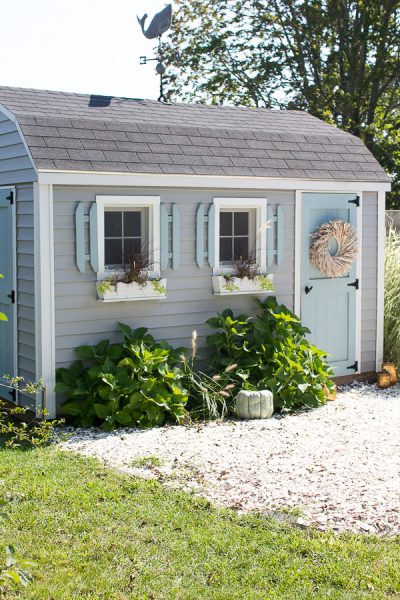 When I need to think this is where I go.
If all the doors are open then the dogs and kids know where I am: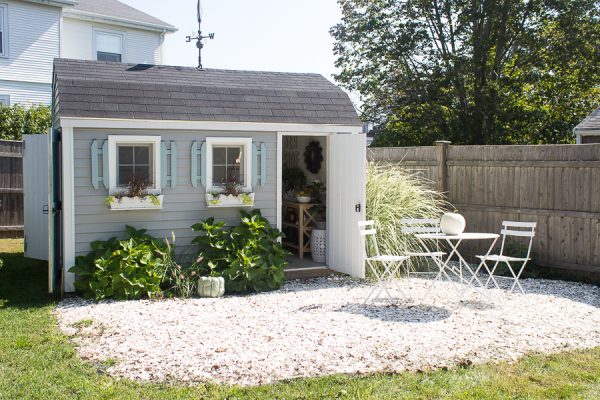 Okay, come on inside: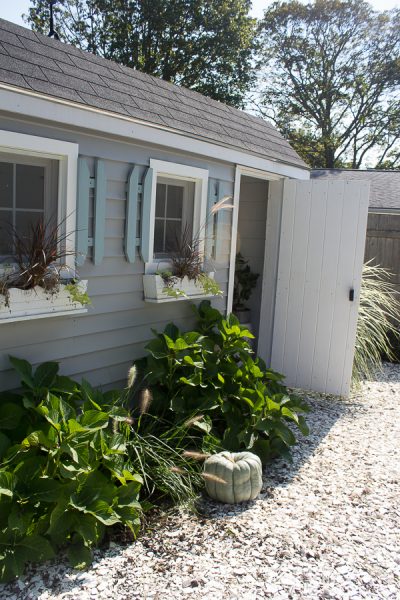 Inside is a mix of natural textures and patterns.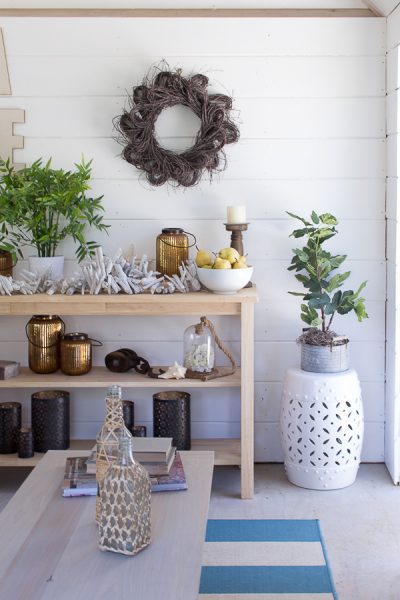 The white shiplap walls make the space appear larger. I love how the twig wreath makes such a statement against it.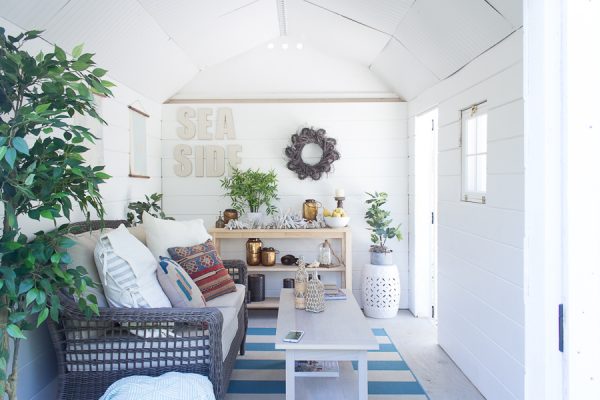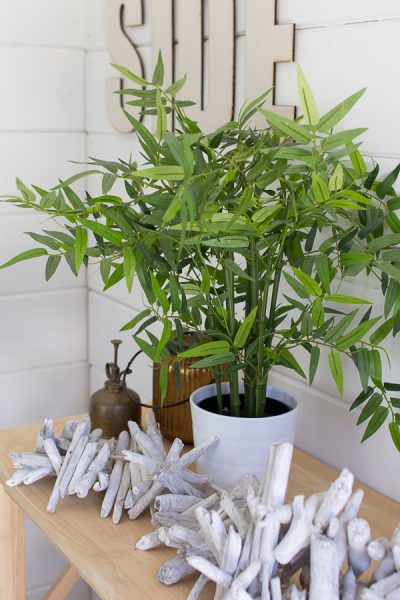 I have a few of these driftwood garlands and they are so versatile. I love them on tables, mantels and nestled in baskets. You'll see more metallics too. The mister was from Brimfield and I have an assorted collection from Balsam Hill.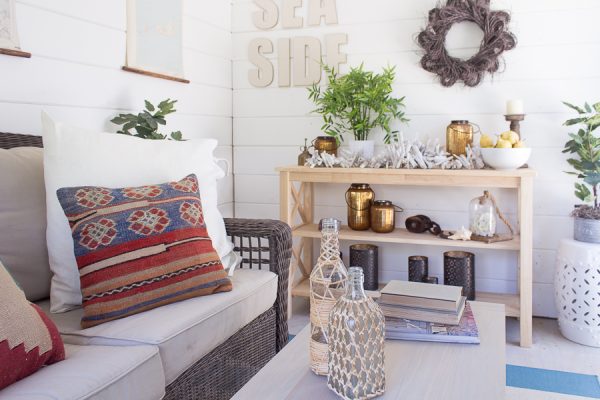 We made the nautical charts and the coffee table.
These bottles add more texture.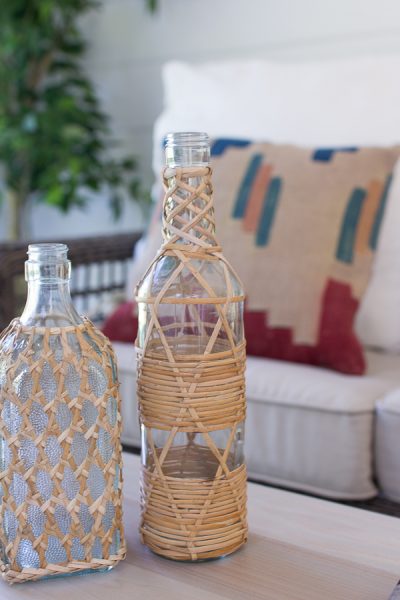 As you may know from our fall home tour I love decorating with nature. I love branches, apples, flowers. The more the merrier. Fresh plants and greenery don't last long down here but I did bring a bowl of pears. I wish I could tell you I picked these in the yard but I bought them at the grocery store.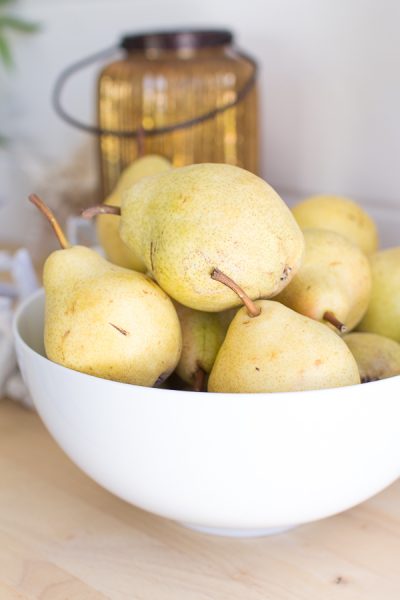 We were pleasantly surprised that Conor LOVES pears. So not only do they make a pretty decor item, they're also a great and healthy snack.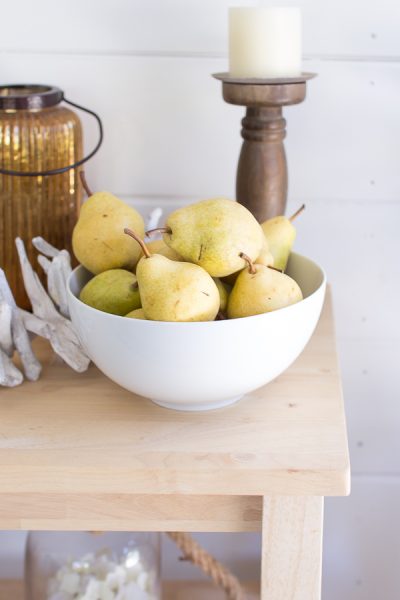 They were so juicy and delicious.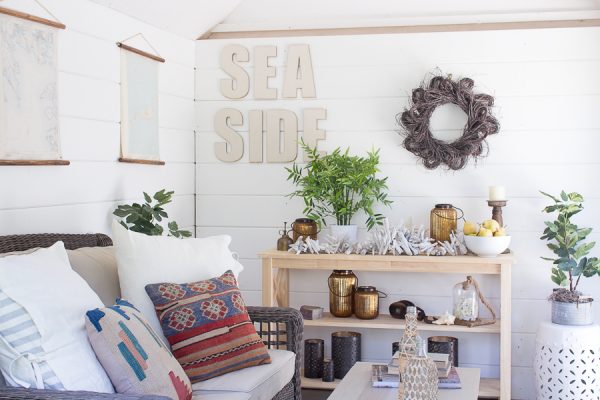 I did add two more things to this space; these gorgeous kilim pillows. They are made from vintage oriental rugs. Aren't they wonderful?!? I actually got a few sets but I think they add so much warmth for fall. I will be sharing a post all about them soon, but they are by Revival Rugs, a brand new company that is launching this month. Stay tuned for more on that.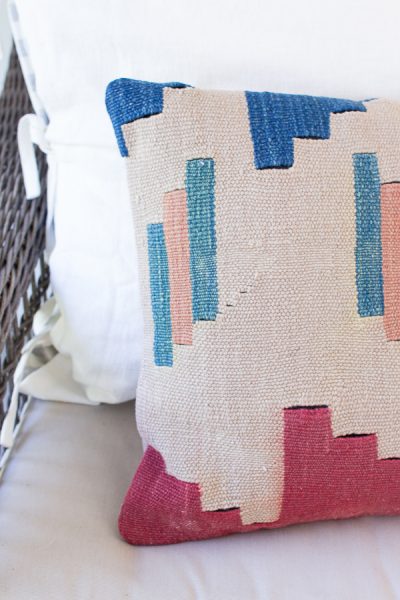 So pretty, right?!?
I actually experimented with them outside the shed too and they look cute there as well.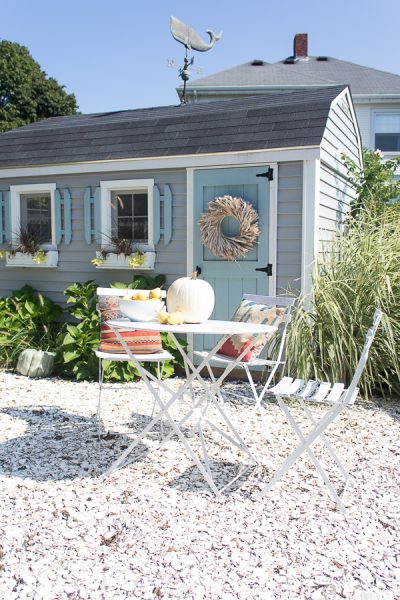 I love the warm tones mixed with the geometric patterns.
I often get asked about sources so I'm including a full source list below.
Source List