I'm humming along to Jack Johnson and dusting off the patio furniture. I'm excited to share some simple outdoor entertaining ideas today.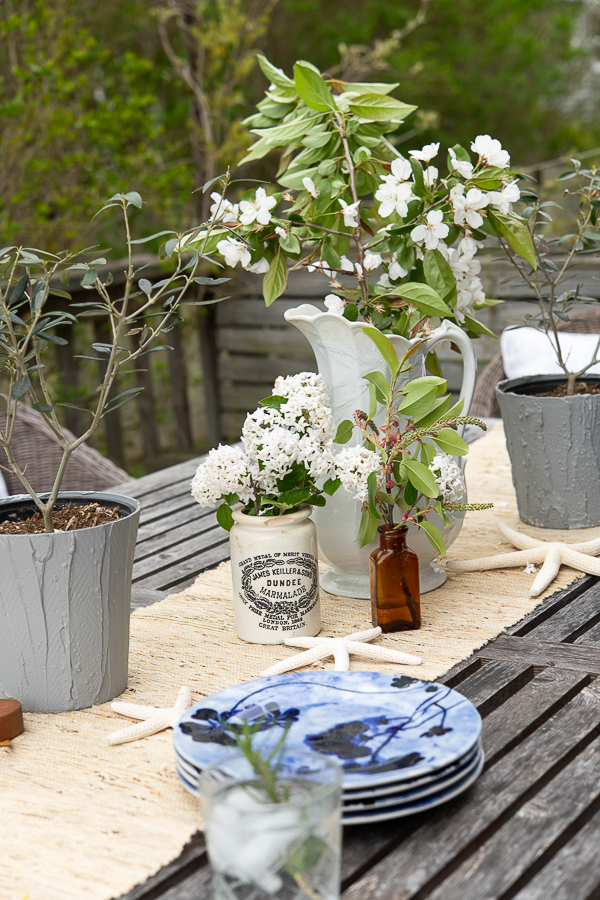 I love how our home seems to double in size in the summer months. We enjoy coffee out here in the morning and dinner on the grill in the evening. As I told you guys it's been a long winter here in New England, and we really didn't have a spring this year, so I'm excited to be enjoying our back deck again. I thought this space would be perfect to highlight for Shauna's Outdoor Extravanganza. Last week I shared our summer entry and some planting tips, click here. This week we're talking about outdoor entertaining and decorating.

I really had my fingers crossed that our wisteria would be in bloom for these photos, but no luck just yet. The beautiful purple flowers will be out soon, though, and when they are it's glorious.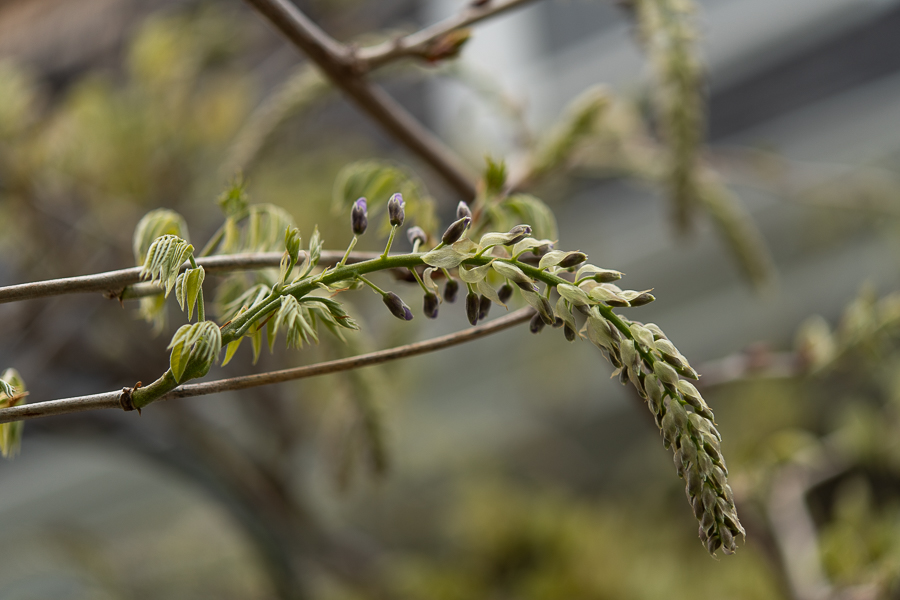 You can see it in full bloom here.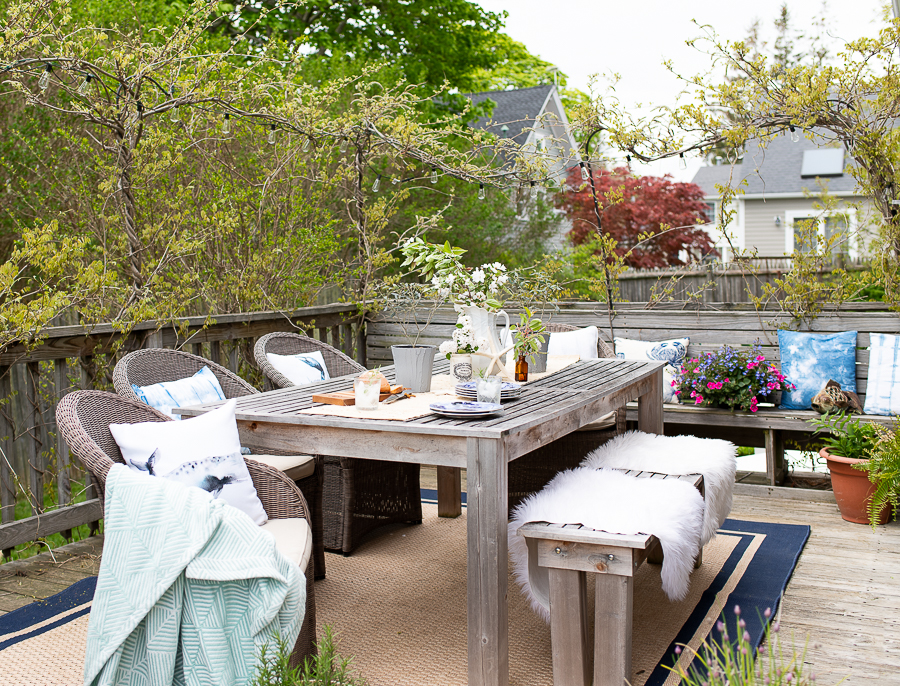 We live just up the hill from the Scituate Harbor. We love to keep it really simple at our home. My goal is to make spaces where our family, friends and dogs feel comfortable to kick back and relax. NOTHING is perfect or too precious. The woods all have that worn and weathered look that I love so much. I mix and match new and old. Oh, and there are lots of plants to make the space feel more inviting. I will be getting a few more at local plant sales next weekend.
I have to tell you this before launching into my tips. As many of you know, we have two dogs who I love very, very much. Sometimes (okay a lot of the time) Max is a rascal. The other day was no exception…. I was trying to set up the deck for photos and I had placed starfish and the garlic bread loaf on the table. I went into the house to get something and, when I came out, Max was ON the table:
He was trying to eat the bread and steal the starfish. He got away with one. Only to get up on the table again: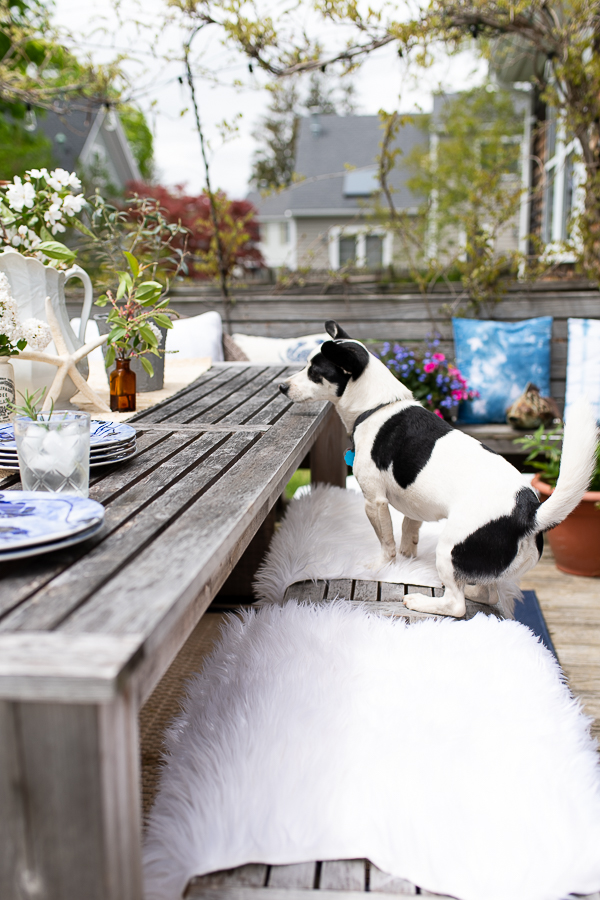 To steal another starfish. (sigh). You know what they say, "Never work with kids and dogs…." Ha! Ha!
Poppy, our lab mix, was mortified by Max's behavior: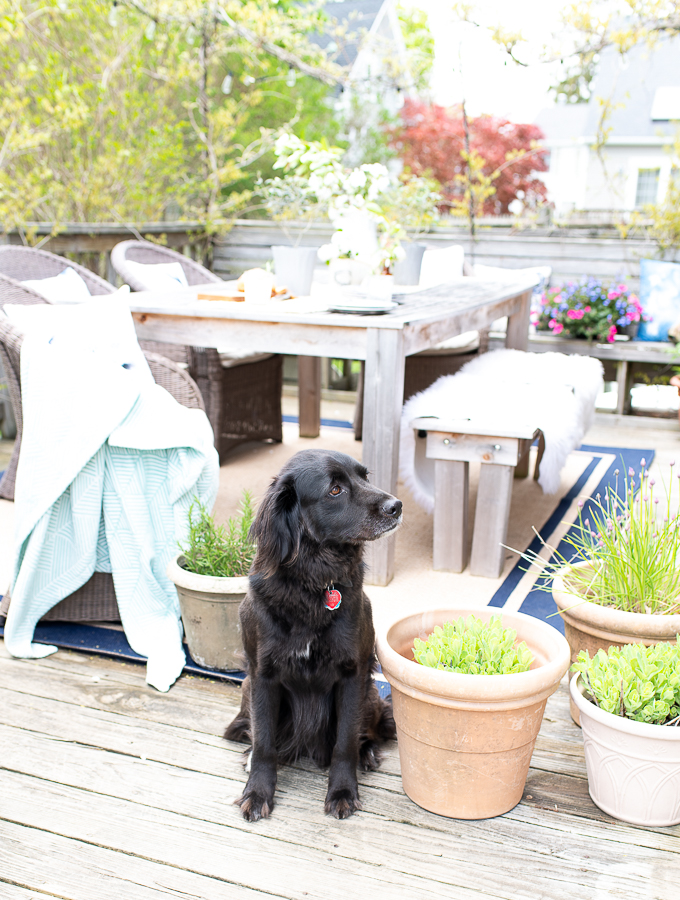 Simple Outdoor Entertaining Ideas
This post contains affiliate links for your convenience. You can read my full disclosure policy here. If you make a purchase via one of the links, I will receive a portion of the sale. Thank you for supporting my blog in this way.
Make Your Deck Feel Welcoming with An Outdoor Rug
I love using durable outdoor rugs to make a space feel more inviting. Wooden decks can also cause splinters so I like that this offers some protection for little feet. This rug is brand new this year. I found it at HomeGoods with the kids. It was an unbelievable price – $130 for an 8 x 10 rug. Conor was certain it had to come home with us!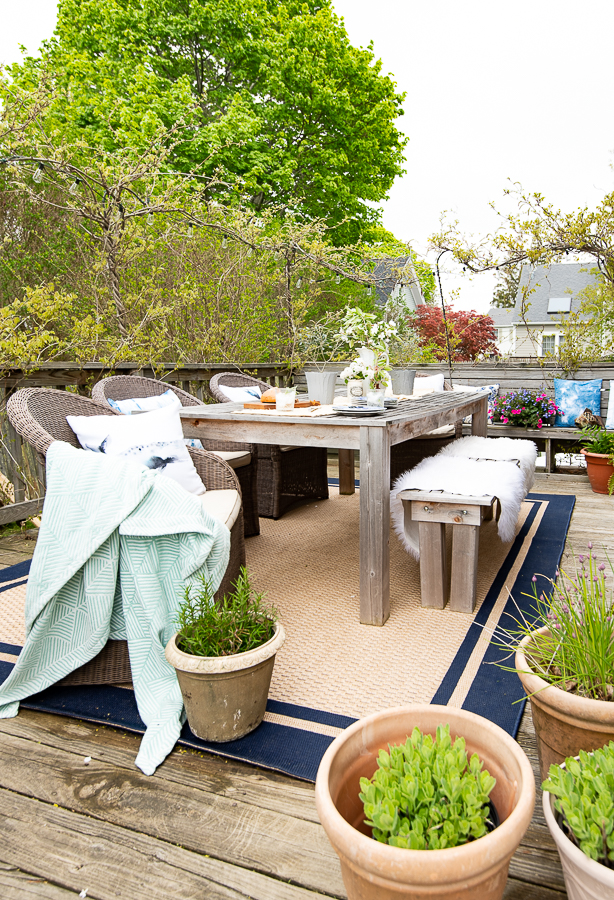 I actually think the woven look with the navy banding makes our deck feel bigger. You can see the previous rug here.
Make An Outdoor Table & Bench
My husband actually made our table and bench out of affordable cedar wood. I really loved the look of teak but it wasn't in the budget. Over the last few years, the warm cedar has mellowed into a gray, weathered finish and I love how it looks well-loved and enjoyed.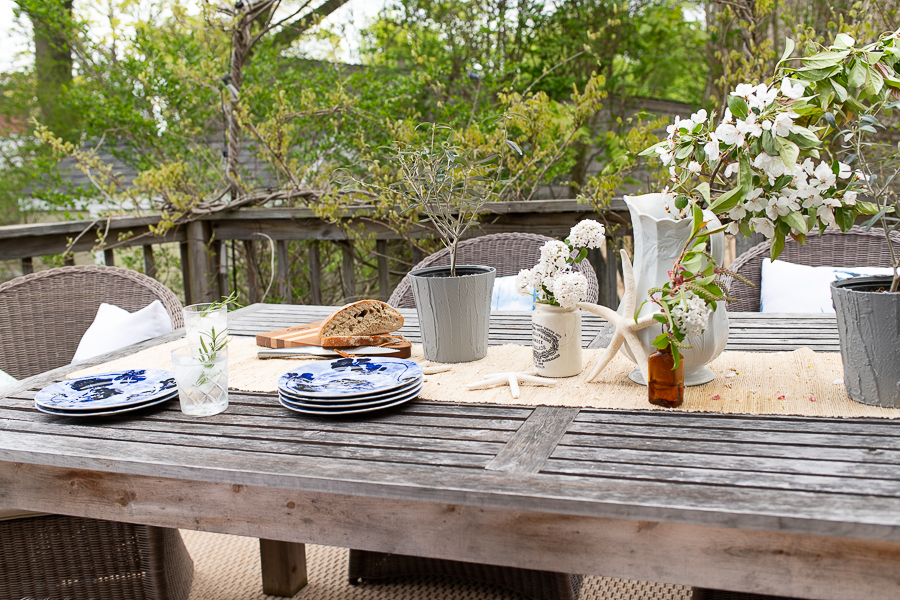 You can find the full build plans here and here.
Add Color and Comfort with Pillows
I love using pillows on chairs and on the built in bench on our deck. It adds color and comfort. I have a few pillows from my friend Lucy's Society6 shop – a whale and a crab. We made the shibori covers last year.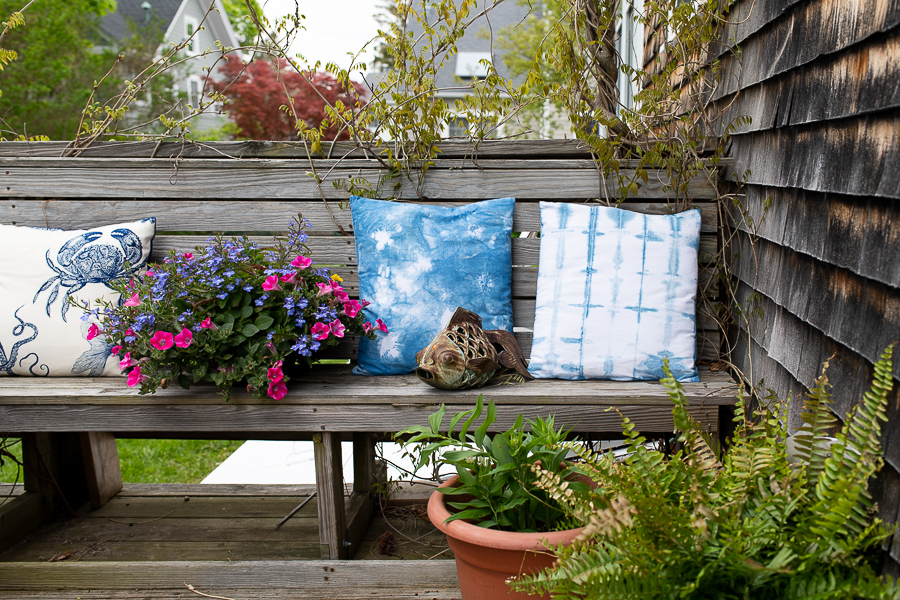 Invest in All Weather Wicker
We love our outdoor dining chairs. We bought two a few years ago and added two more last year. They are from Target and you can find them here. I think they're on sale right now. They've stood up amazingly well. We bring them in during the winter and take the cushions in when not in use, but they look as good as they did when we bought them.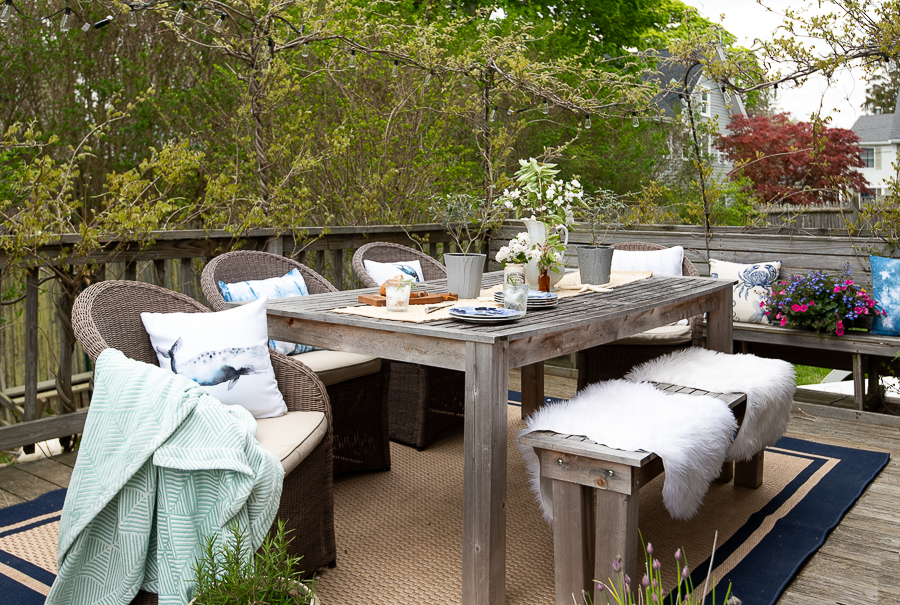 Mix Old and New
The chairs and table runner are from Target but the ironstone pitcher and marmalade jar are antiques. The olive trees are in plastic planters that I painted with Saltwash and paint. You can see the concrete look here.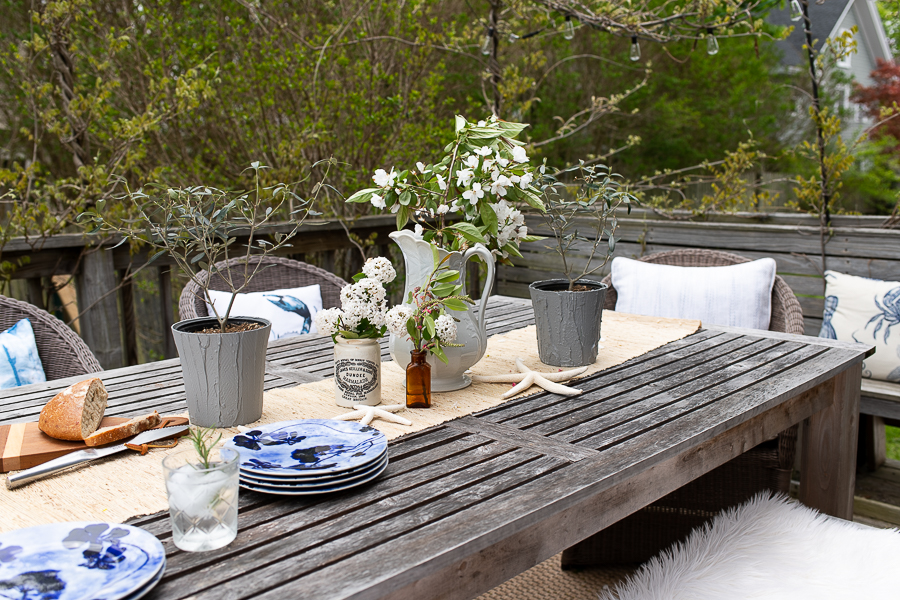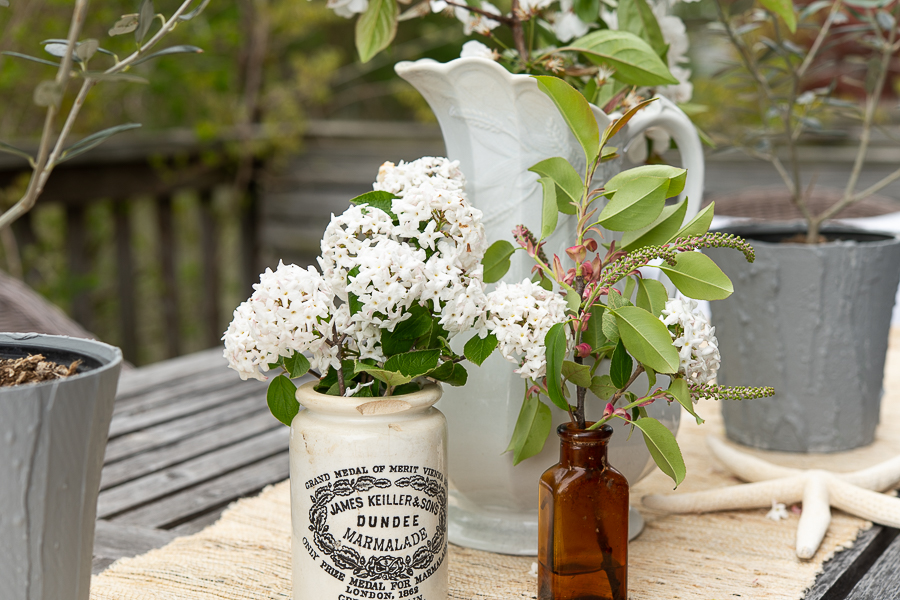 In fact, the little brown bottle Conor found in our yard. Our son's have been digging for treasures with our pool construction.
Use Branches and Flowers from Your Yard
We planted the Korean Spice Bush last year and love it's fragrant blooms. They look so pretty on a table.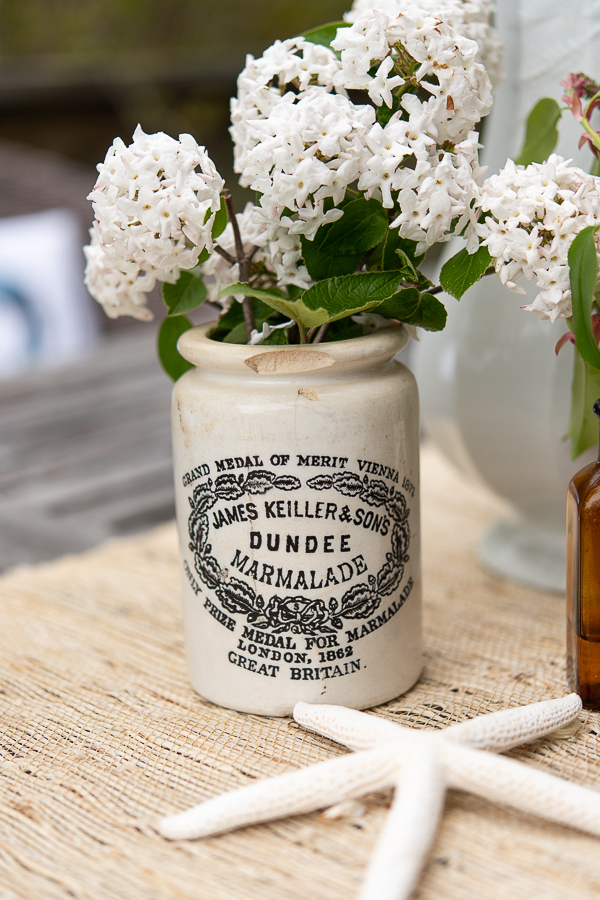 I've also snipped some cherry and apple blossoms.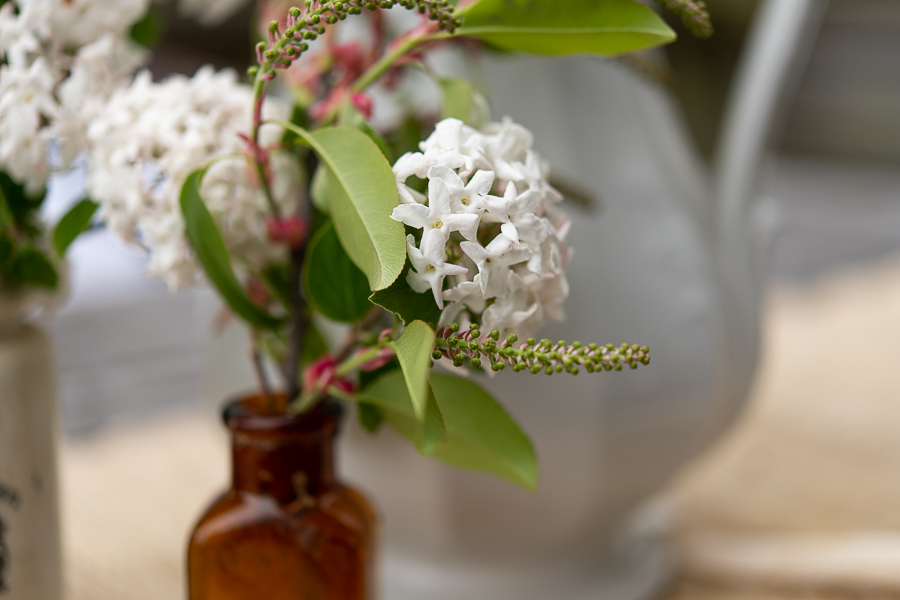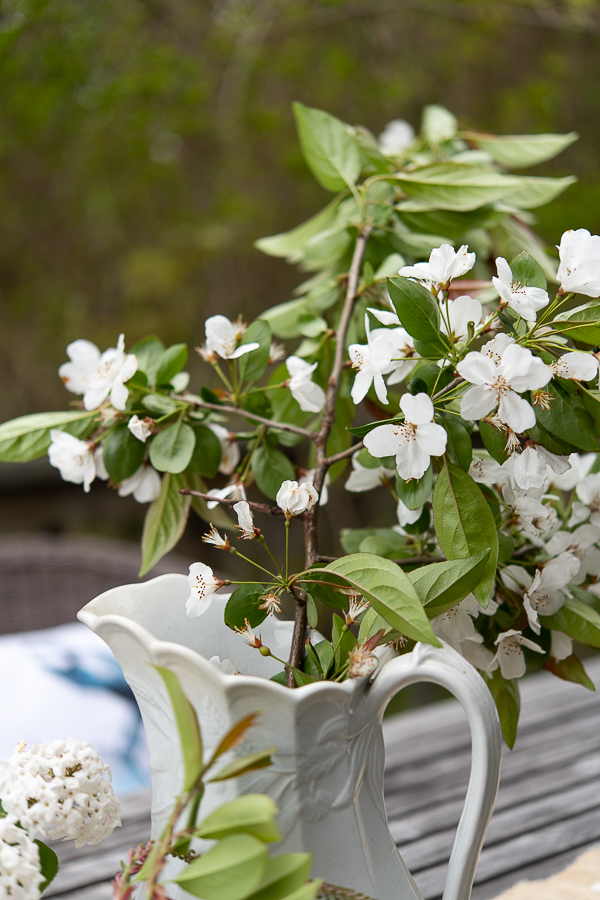 Keep Food Simple
I often like to put out fresh bread and cheeses. Or make a delicious chef's board.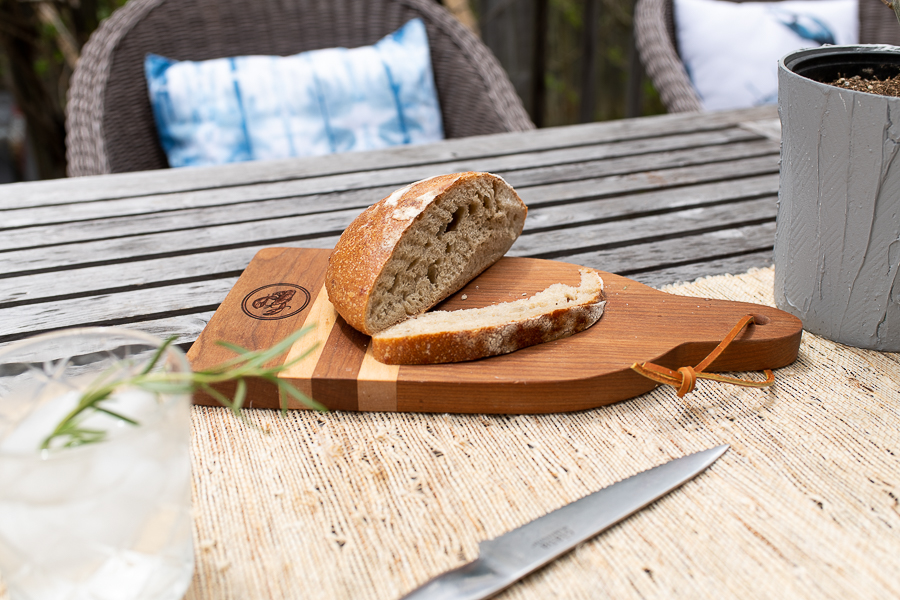 This sweet buoy board was made by friends at 163 Design Company and is perfect for coastal entertaining.
Use Herbs and Chives on Patios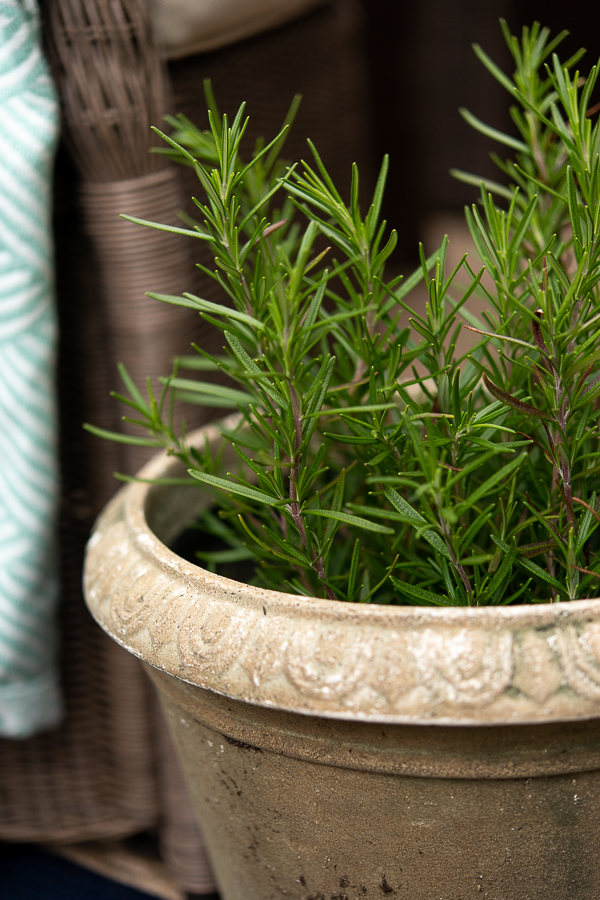 Herbs and chives are not only a pretty plant on our deck, but we also use them in cooking.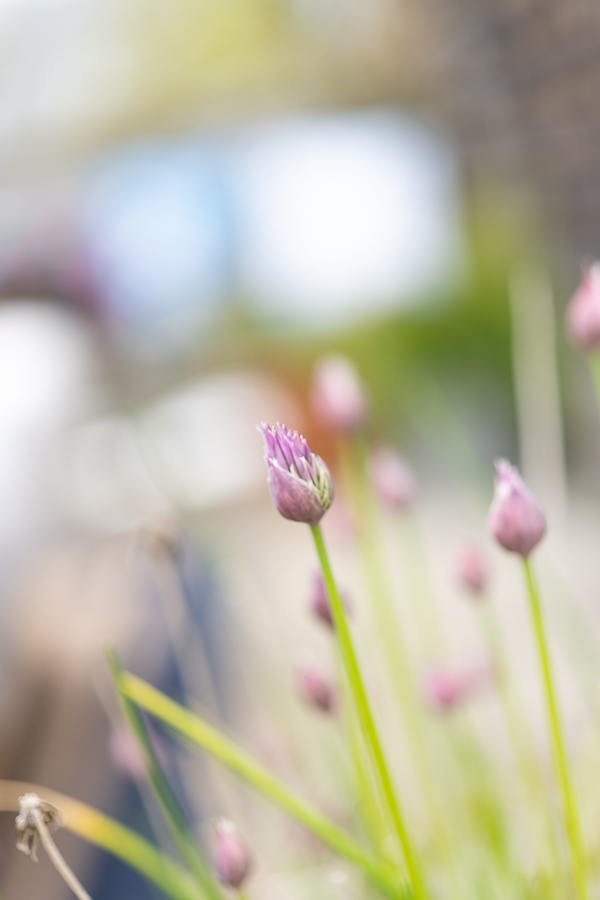 Infuse Water
Water is so refreshing in the summer months, especially when you infuse it with fresh herbs or fruit. I love mixing citrus or mint in water. For this table I've added a sprig of rosemary.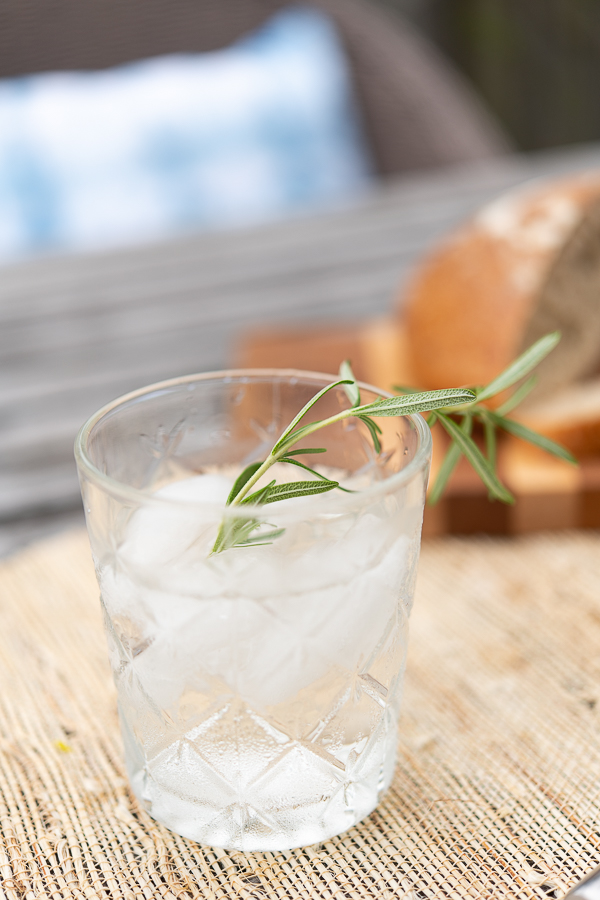 Create Entertaining Zones
Beyond our deck, I've added two Adirondack chairs near our vegetable gardens (which still need to be planted).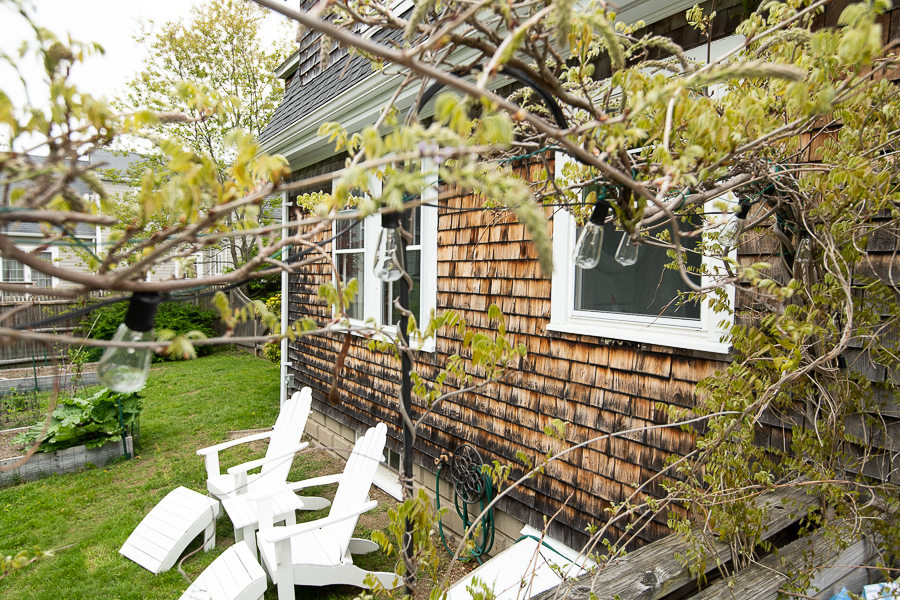 It's very sheltered over there and the perfect place to sit and read design magazines or the paper.
Add Pretty Plates
I found these gorgeous plates at Anthropologie over Mother's Day Weekend with my mom. Aren't they so pretty? They were $4.95 each. I couldn't resist buying them for myself. I think they are perfect for breakfast or informal gatherings. I love the flower silhouette.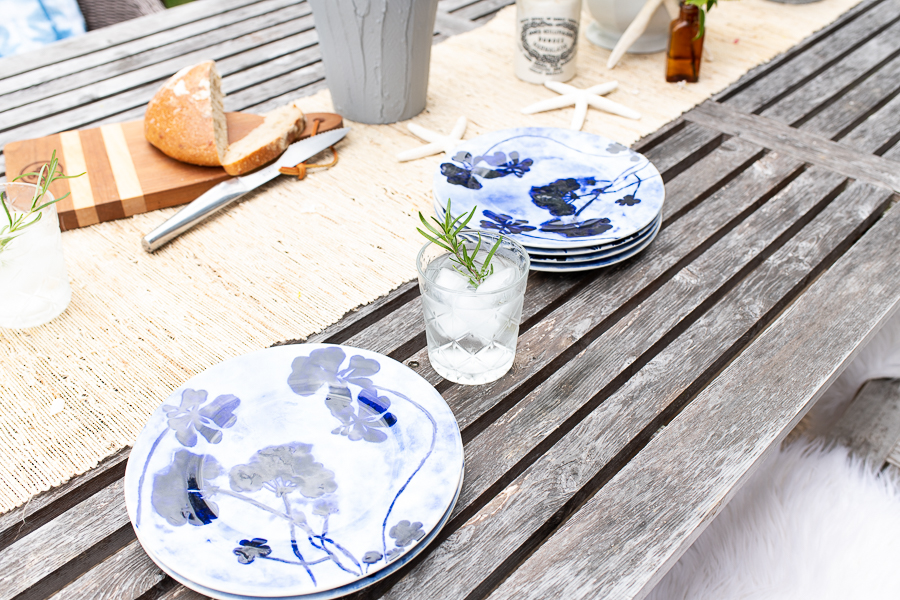 It's almost a modern take on flow blue.
I hope these tips are helpful as you start thinking about decorating your own outdoor spaces for summer.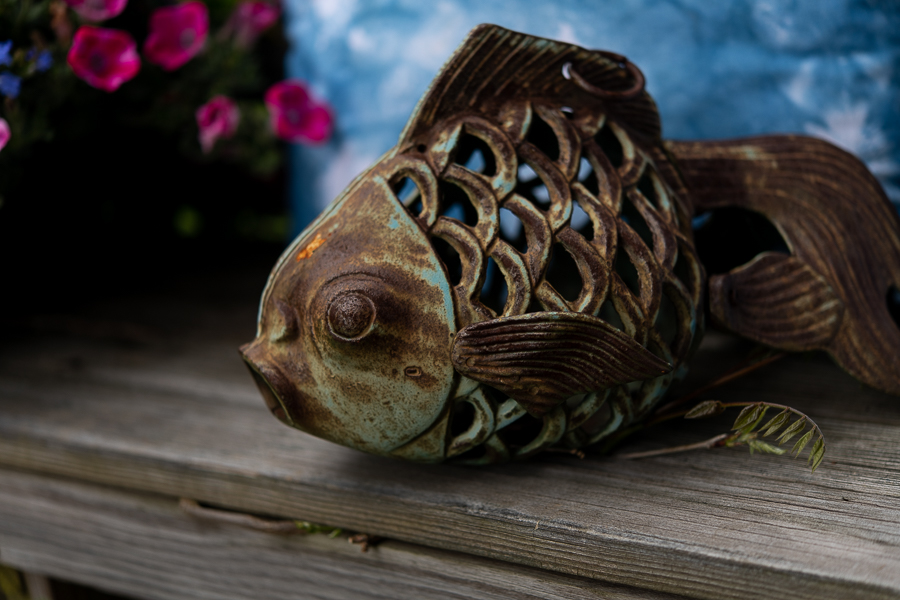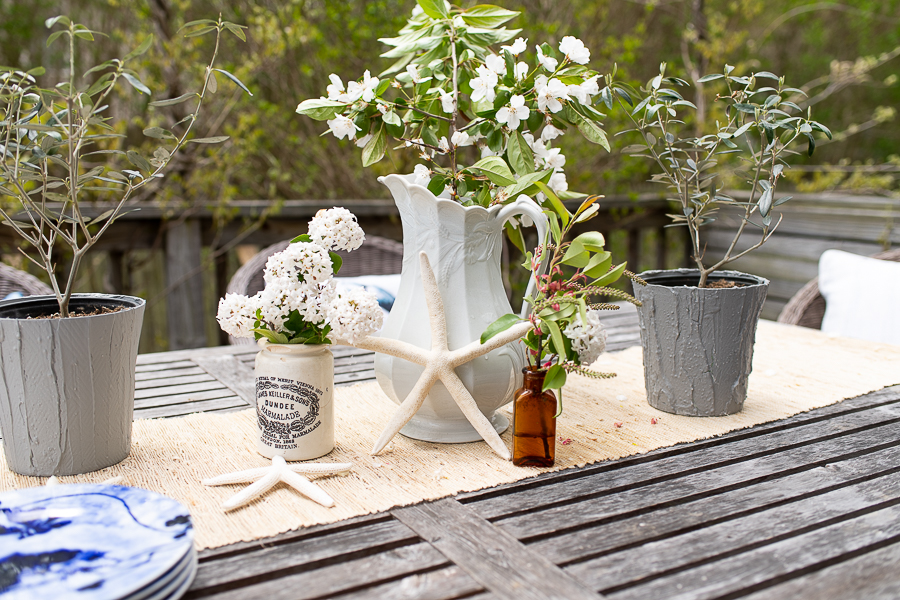 I will include a full source list at the bottom of this post.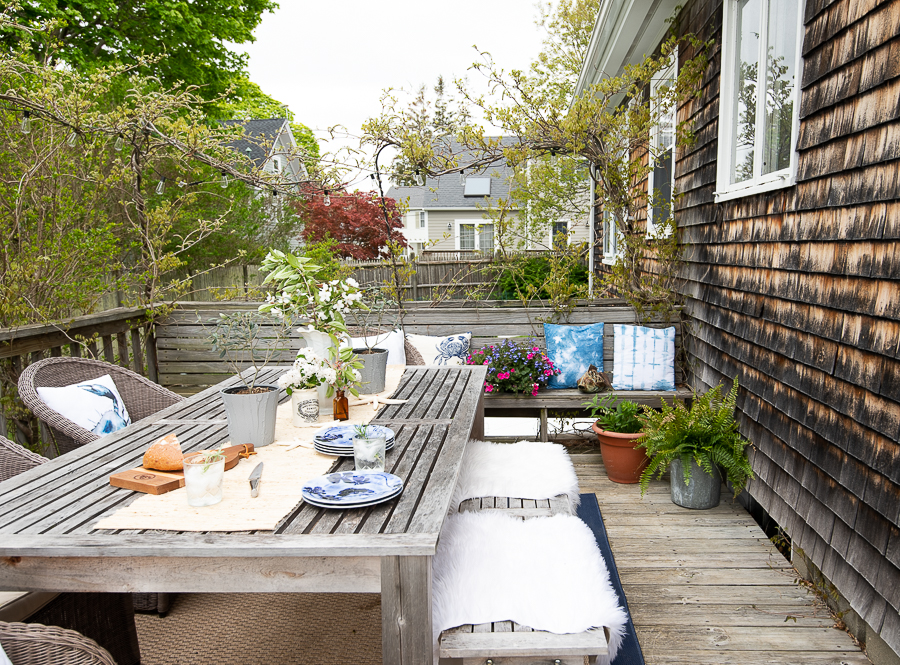 Be sure to visit all my friends below:

Satori Design for Living | Craftberry Bush | Finding Silver Pennies | So Much Better with Age

Zevy Joy | Amber Tysl | Postcards from the Ridge | The Happy Housie

Casa Watkins Living | City Farmhouse | Clean and Scentsible | Vinyet Etc.

Maison de Pax | A Pretty Life | Life on Virginia Street | On Sutton Place | The DIY Mommy
Source List