I LOVE how big our home feels in summer because we do so much entertaining outside. I really feel like the house doubles in size. We keep everything informal but love sipping cool drinks by the fire fountain, reading out in the she shed or entertaining here on the back deck.
I thought it would be fun to share some easy ideas for creating a welcoming space outside. I know it can feel like a pain to lug everything out, but it's perfection once outdoors.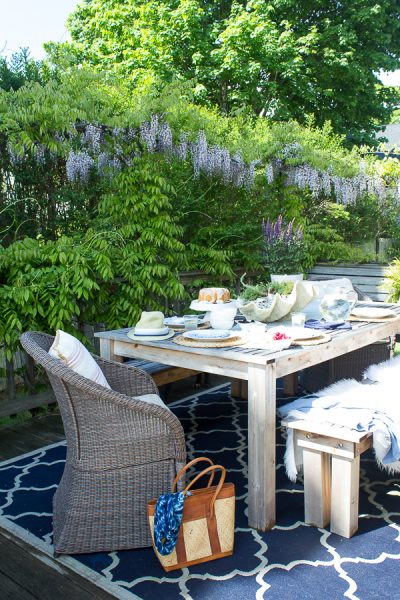 7 Easy Ideas for Outdoor Entertaining
Plants Make a Space Inviting
Our wisteria is in full bloom currently and it makes our deck so lovely. The purple flowers are such a beautiful hue, but their fragrance is even more heavenly. I wish you could scratch and sniff my photos!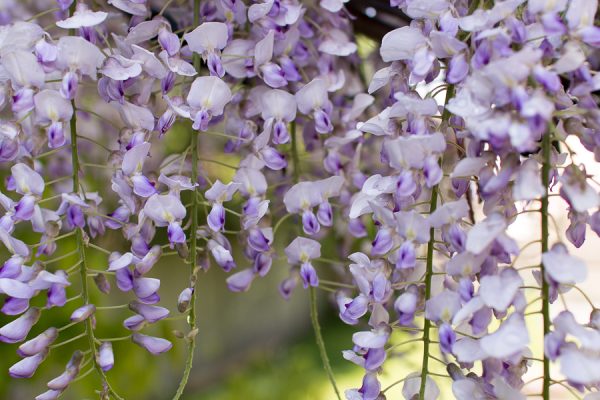 Last year was a bad year for the wisteria. I only had three blooms, but this year it's glorious!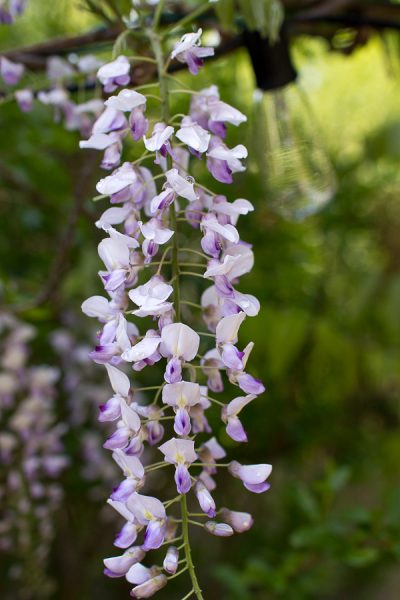 I love the delicate shape. Isn't it pretty?
I've also added many potted plants to the deck. Ferns in galvanized buckets.
Lots of succulents.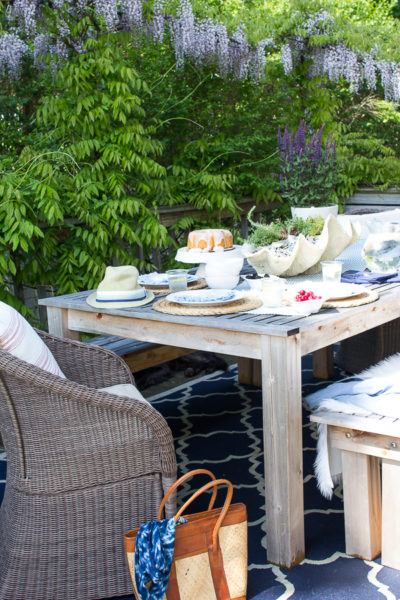 The faux shell is filled with them!
I also love flowers that hang from the stem. They look so graceful in containers.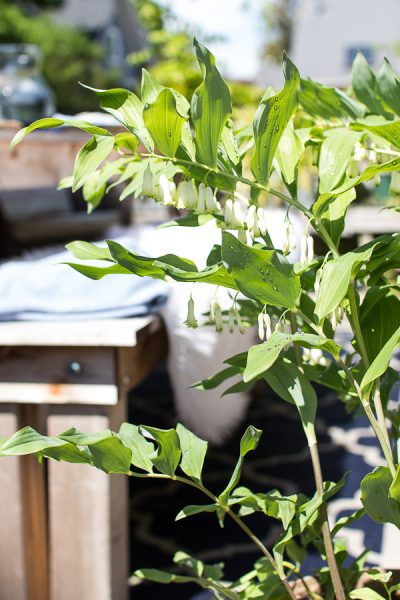 Use an Outdoor Rug to Ground a Space
The navy and white rug grounds the space. This pleasing color combination instantly adds life and makes the cedar table and benches pop.
The rug also makes our old wooden deck safer for bare feet.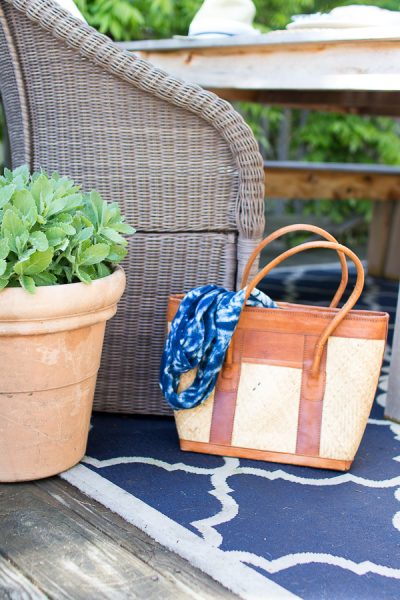 Melamine is Safe and Comes in Pretty Patterns
For safety I like using melamine serving platters. I love these square server bowls. This is the ruffle collection by Q Squared.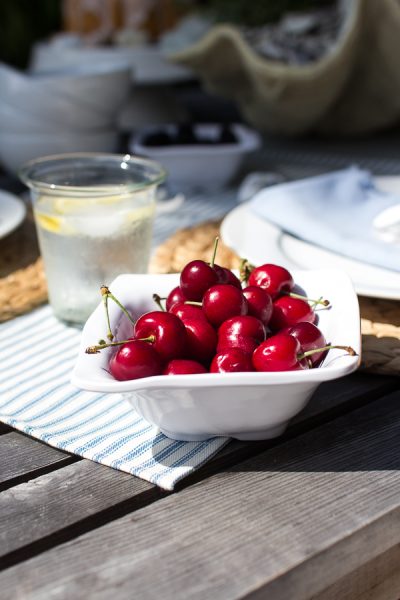 Mix and Match Textures
Varying texture makes for an interesting display. I've used woven placemats, a ticking runner, and gold hued napkins. White plates are always classic. You can easily mix yard sale finds and affordable options from Target, Ikea or other stores.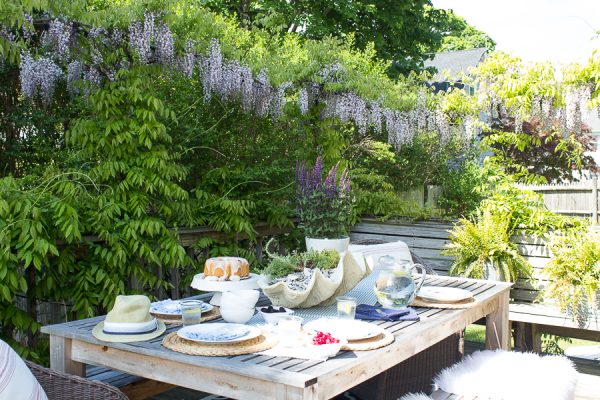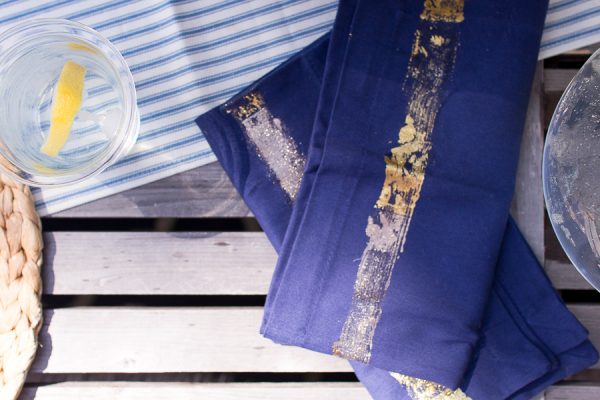 I have a drawer full of cotton napkins that can be pulled out at a moments notice. Placing oyster shells on them adds casual elegance, and also helps keep them in place if it's windy.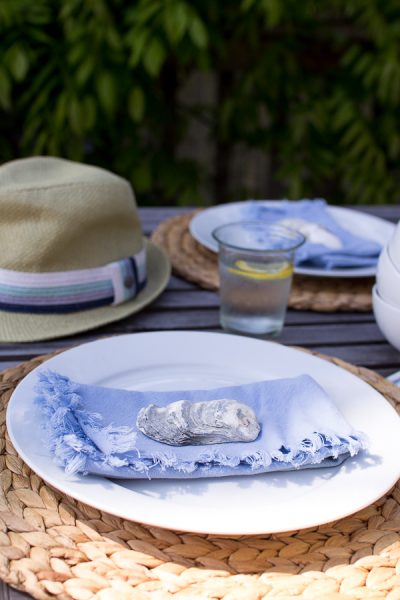 Keep Food Easy
When having friends or family over, I want the focus to be on our company and time together. I don't want to spend lots of time in the kitchen. Before company arrives, I try to do stuff ahead. Sometimes guest arrive unexpectedly or we have an impromptu gathering on the back deck after the beach.
I try to always have fresh fruit in the fridge. It's lovely cut up for fruit salad or pretty placed in bowls.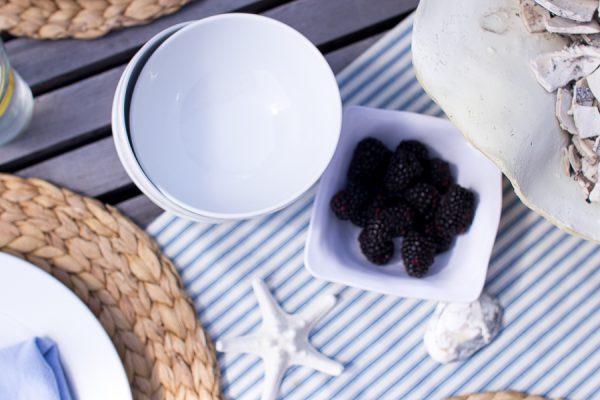 Who can resist a bowl of blackberries?
Not I!
A friend gave us this bundt cake. I always try to have a frozen dessert or baked good in the fridge for just in cases!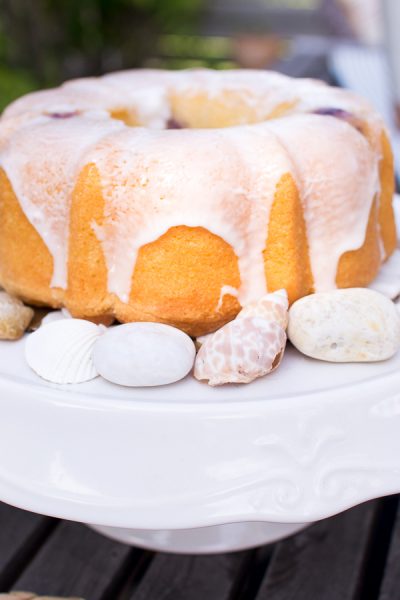 Pretty shells help to camouflage the cardboard circle it's on. Shhhh! It's not homemade.
Fruit infused water is also easy and refreshing on a hot day.
Make Sure You Have Plenty of Room To Spread Out
Luke built our table a few years back. It's cedar but with the look of teak. The table and benches take up most of the deck as I knew I wanted this area to focus on entertaining. There's nothing like gathering around this table. We've celebrated here with Matthew Mead and a bunch of friends from his magazines, kids' birthday parties, neighborhood gatherings and dinner with just the four of us, and two dogs of course!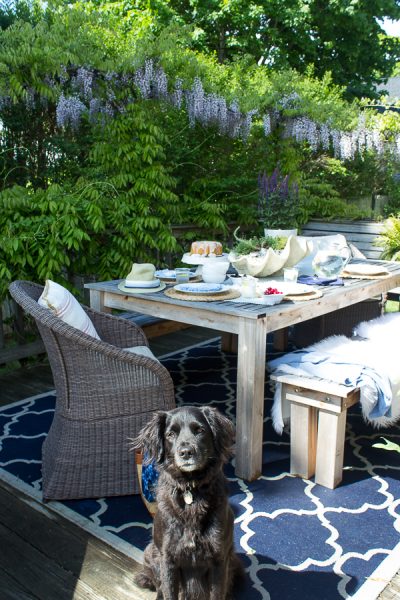 Don't Forget to  Turn on the Lights
During the day this isn't so important but we've added these pretty lights to our deck this year and I love them. They are from Target. They look old and vintage during the day but add so much light if the party stretches into the night, which at our house it usually does.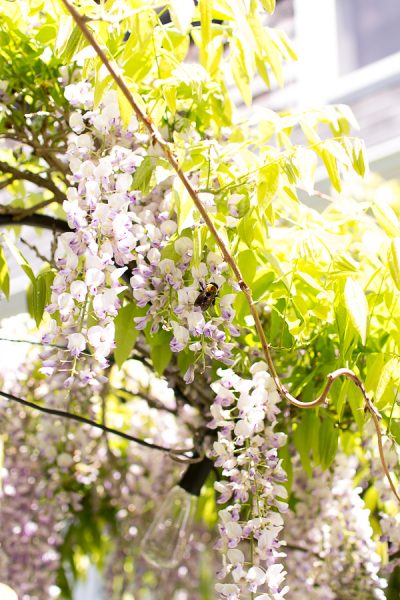 I hope these ideas were helpful!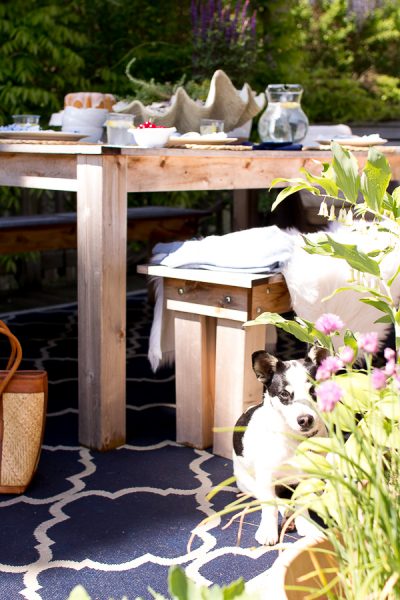 We adore our time out here. I love just sipping coffee under the wisteria with my little Max by my side.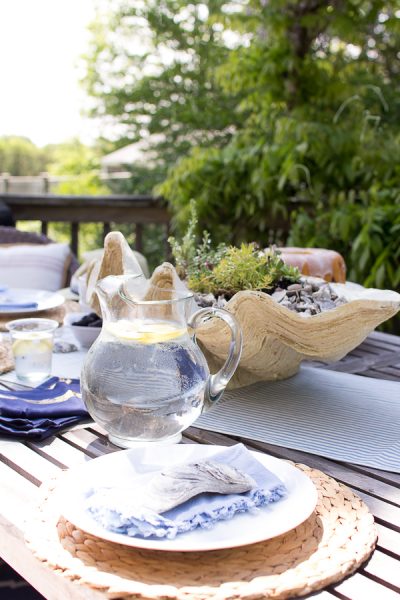 The view of our yard from the deck is just so beautiful!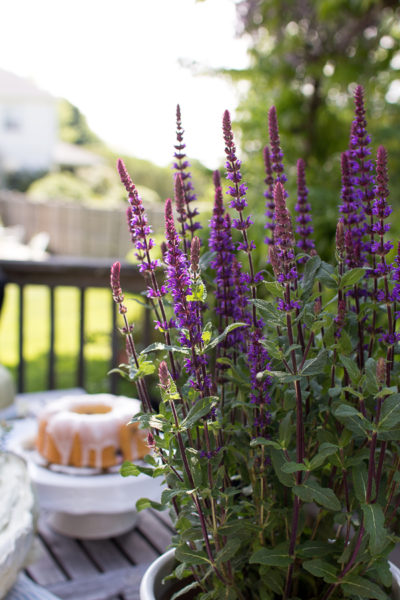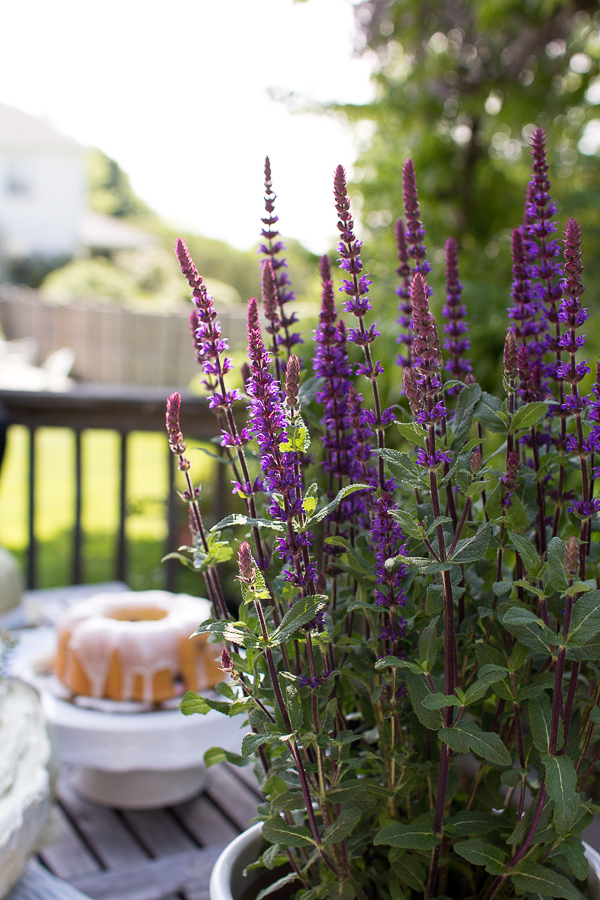 I thought it might helpful to include a full source list below.
This post contains affiliate links and I will be compensated if you make a purchase after clicking on my links.
Source List