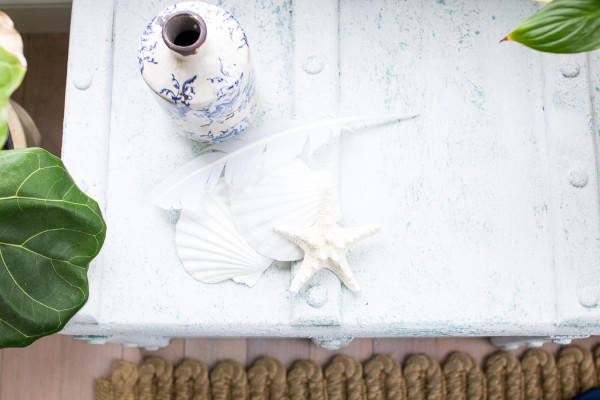 Friends, I'm pretty excited about today's post because today I'm combining my two favorite things – coastal style and painted furniture! Today I have a a trunk named Salty to share!
You may not recognize it but this piece of furniture is one I've had for a very, very long time….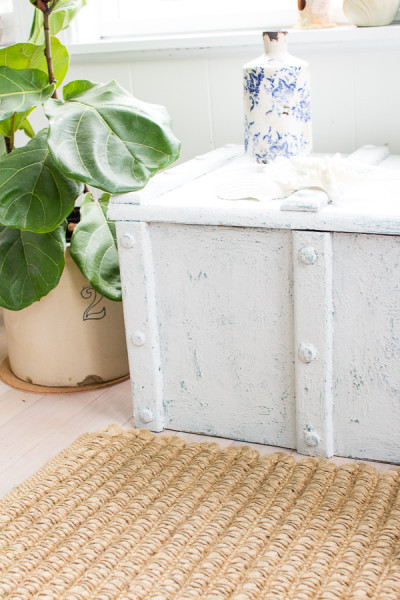 This is the trunk that was out in our sunroom. In fact, it is my childhood toy chest, and I only realized while working on it that my mom enscribed the bottom: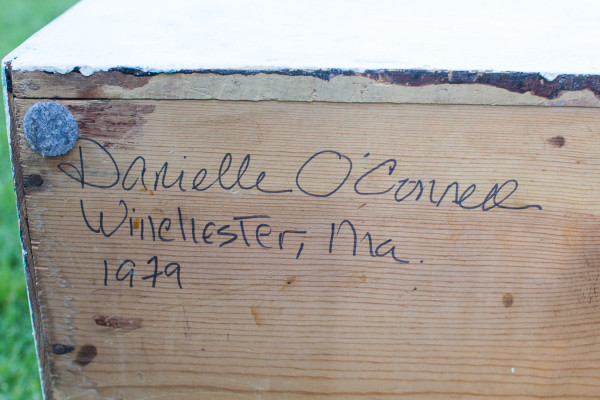 Doesn't my mom have the best writing? I always thought I'd be able to write like her when I grew up.  Nope.
You may remember I painted it a few years back with Fusion's Lamp White. I loved the color but the chest had started to chip.  The problem was the undercoat, I had painted it with milk paint and the surface was too slick so it was pulling away. This is how it was looking in our spring home tour, click here if you missed that.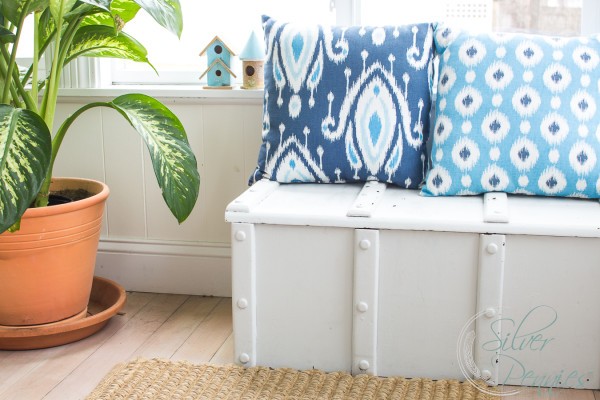 Anyway, you can see the little chips and flakes here: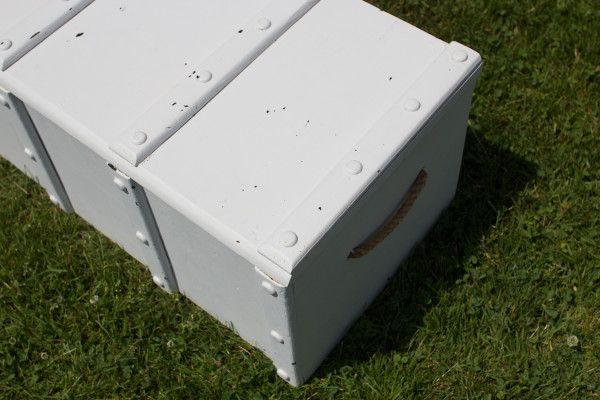 In order to have a proper adherence with any paint, I needed to sand. Upon trying to repaint I realized I had to take the finish off completely, and scuff sand the stain.  It's funny how little projects can become big projects but I'm so happy with how this one turned out.
After trying out Saltwash the other week, on this coastal tray, click here for that makeover, I knew this finish would be fun on our trunk.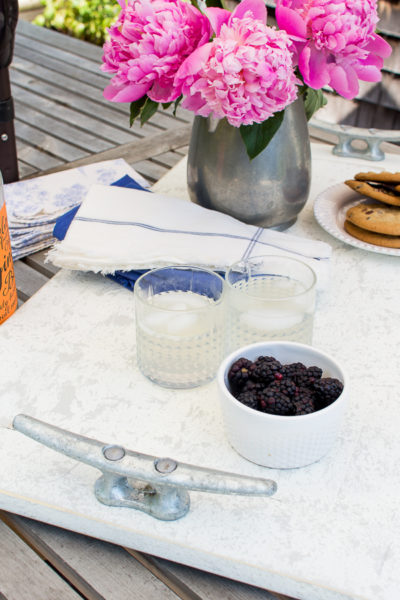 This look fits perfectly with our sunroom.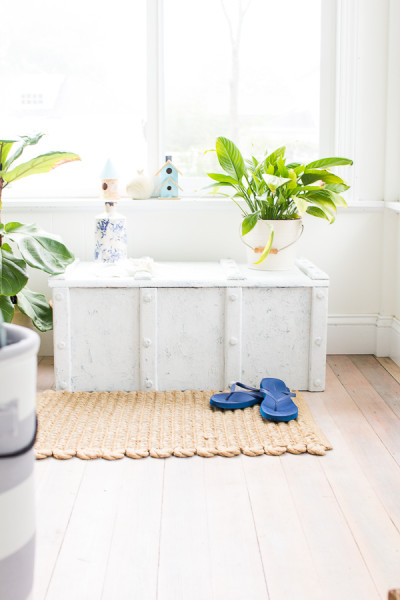 I really loved the color of the chest before but thought it would be fun to bring in a little blue too.  You know me and blue. 😉
Here's how I created this look:
How to Create a Salty Coastal Trunk

Materials
I've included a few affiliate links in the materials section.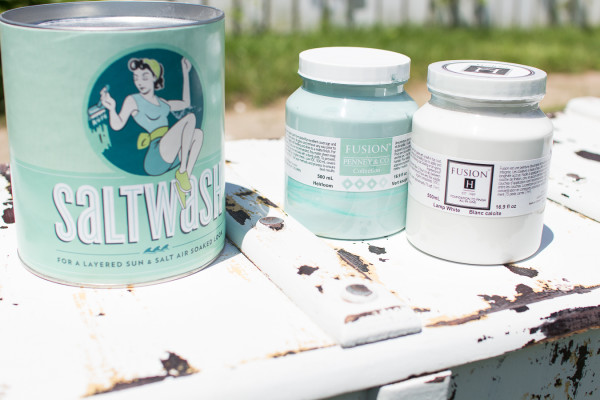 To create this truly coastal finish, I used Saltwash. Saltwash is a paint additive that contains salt, when added to premixed paint it creates a texture which gives an instant beachy look. Here's how to get this look:
Step 1 – Mix your base color with Saltwash.  You want it thick enough to be like cookie dough or really thick cake icing. I mixed mine with Heirloom by Fusion. A favorite blue of mine.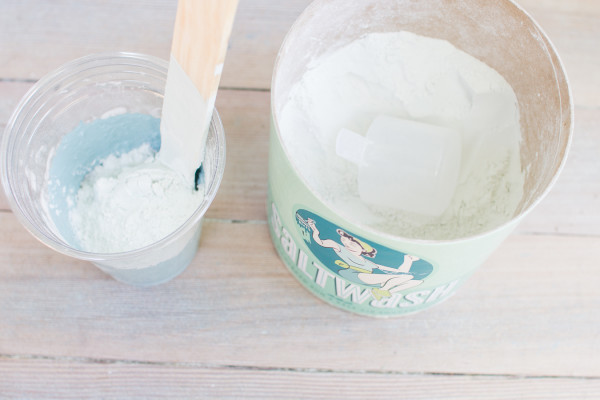 Step 2 – Stipple the paint along your surface and knock down any really steep peeks.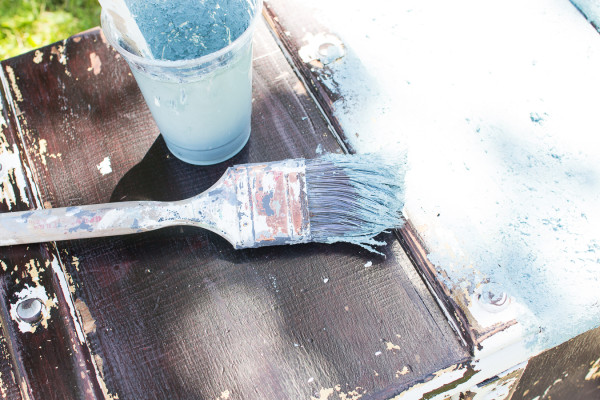 Don't worry…. Your brush will get messy but it washes out…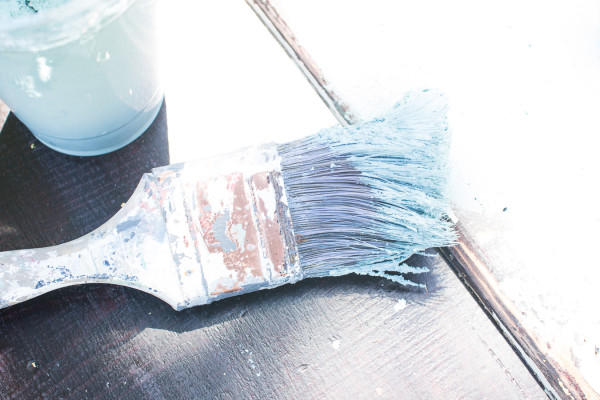 Step 3 – Once dry, apply a different color on top. For this coat I used Lamp White by Fusion. This was the color the chest was.  I really love it, it's a soft gray white. Perfect for the coast!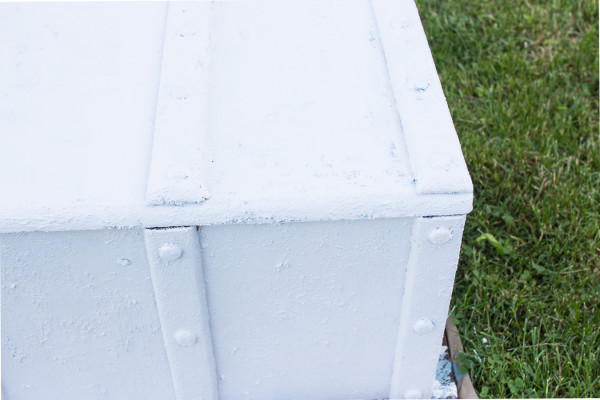 Step 4  – Once dry, sand with palm sander. I used a combination of 220 grit and 120 grit sandpaper.  Clean off sanding dust. I also added a little dry brushing of Picket Fence to add more texture to the piece.
Step 5 – Apply a top coat to seal. I really enjoyed using the Tung Oil on my tray and since this trunk may get wet from boots in the winter or beach towels in the summer, I thought that was a good protection. This room is also not heated and Tung Oil can withstand the cold in the winter.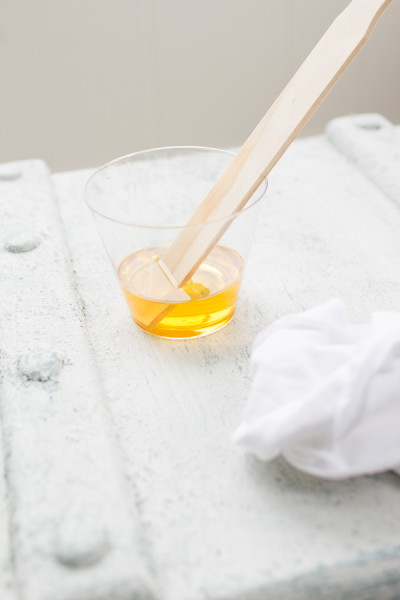 For easier application, I mixed it with Miss Mustard Seed's Odorless Solvent.
That's it!  Isn't that easy???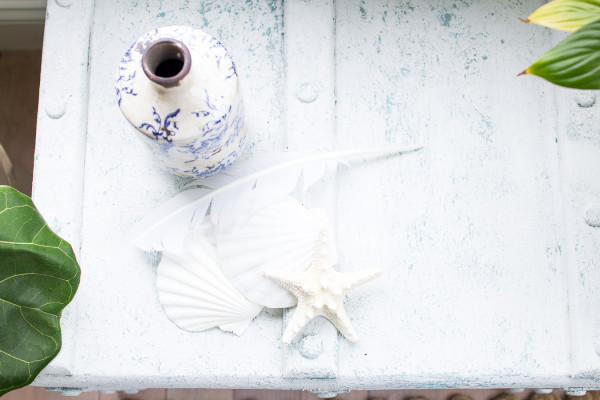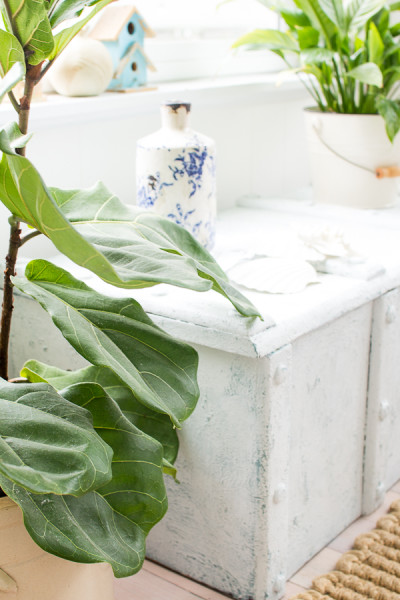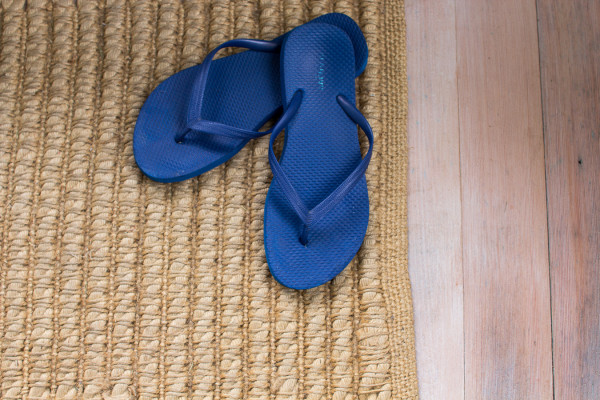 Can you guess my favorite part?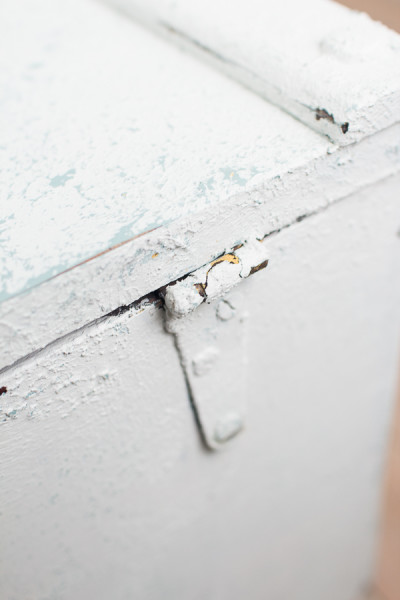 The hinge! I love how authentically old it looks…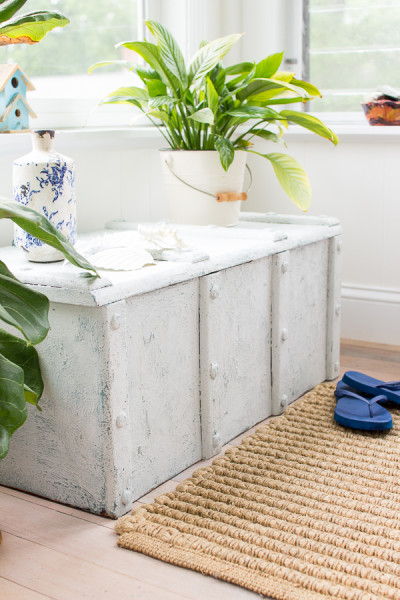 I also love these little bird houses my boys painted last summer. Looking forward to lazy summer afternoons in the garden crafting with them 😉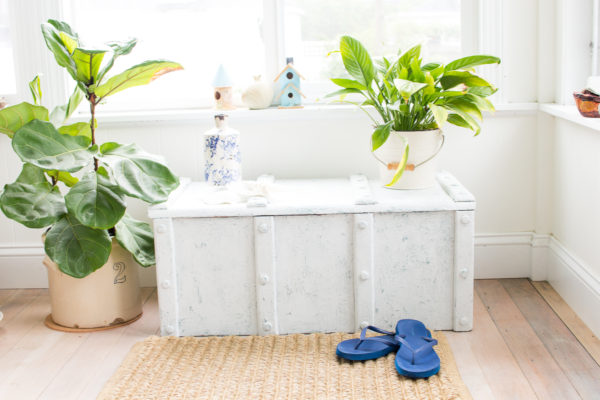 Sharing with: