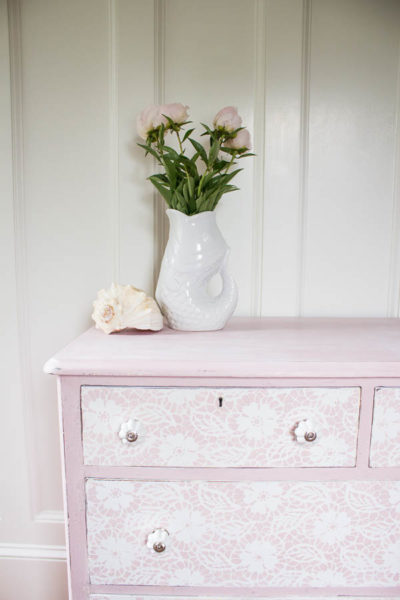 Meet Charlotte!
This dresser was completely inspired by the arrival of the new princess in England.  As many of you know, the only girl in my house is our dog, Poppy, and really she doesn't need a dresser.  If I did have a little girl I would create a dresser just like this.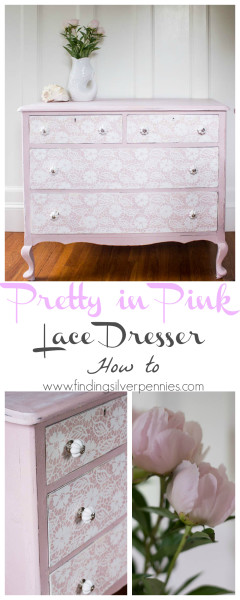 I really love the texture of lace.  Last year we stenciled a feature wall in our guest room with the Parlor Lace Stencil, click here to see the room and here for the tutorial on stenciling the wall.  Since completing that room, I've wanted to do lace on furniture.
I actually shared the full tutorial of this dresser over on Royal Design's Paint + Pattern a few weeks ago, but thought I needed to share here as well.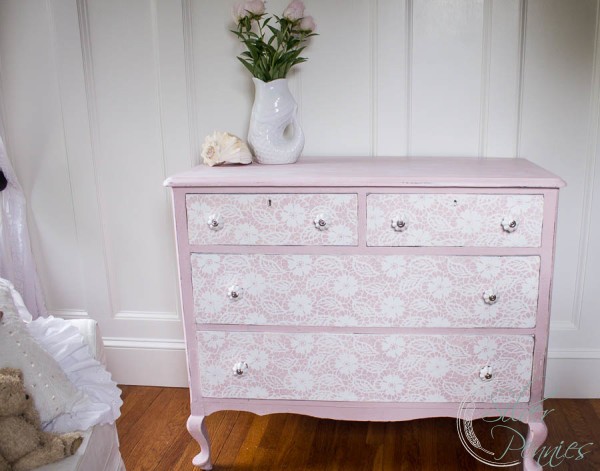 My husband found this dresser and I thought the lines were perfect and feminine for lace.  The "before" picture looks amazing, right?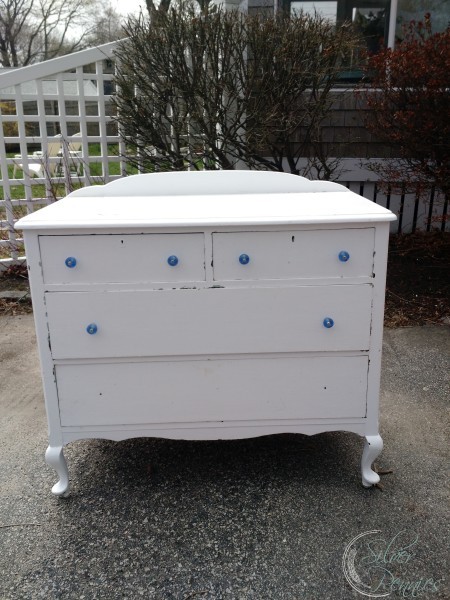 I mean it is white and clean looking, but what you can't see from this picture is layers of paint 🙁  LOTS and LOTS of paint.  It was starting to chip and peel and I knew I had to strip it.  I usually strip the tops of dressers but have only stripped a full dresser with the mermaid one I did.  If you'd like to see how to strip furniture click here for a video tutorial.
So I got Citristrip out: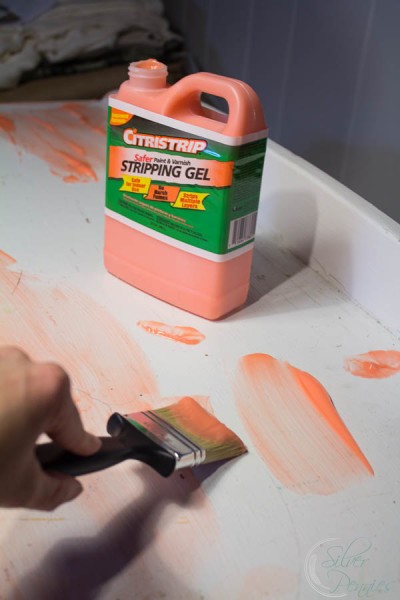 And applied it and and applied more and then this: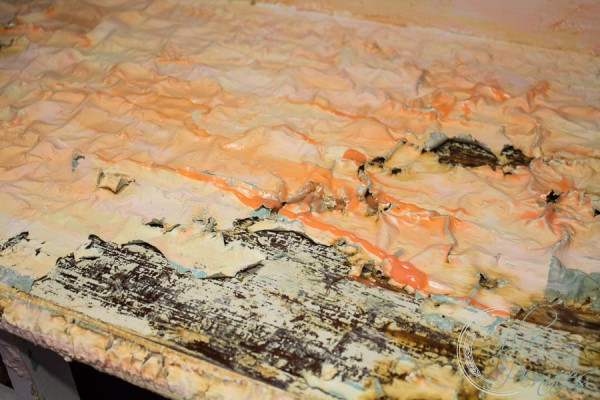 I think I counted 9 layers of paint – there was white, then cream, then blue, then gray and primer. What a mess!  I spent days and days stripping it. The whole time wondering why I was doing all this…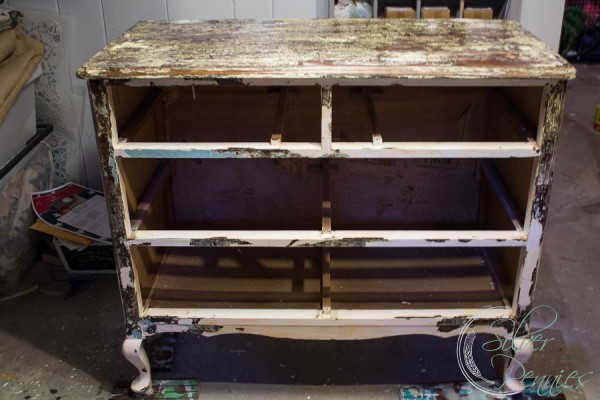 I really wanted to throw this dresser out the window and I never feel this way about furniture. I was so fed up with the stripping process but I knew it would come out nice and be worth it in the end.
I got as much of the paint off as I could. I left some layers of paint on that wouldn't come off and think it gives a nice textured finish.
The dresser was painted in Antoinette Chalk Paint® with Pure White Chalk Paint® for the lace detail.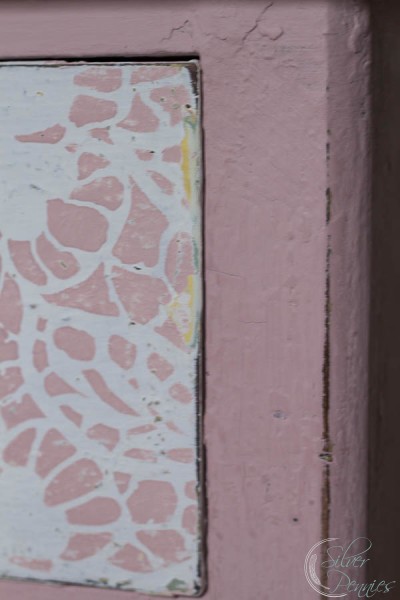 Here you can see the texture and also the colored layers shining through the distressing.  I used the Fleur de Lace furniture stencil by Royal Design.  It is a lovely soft stencil.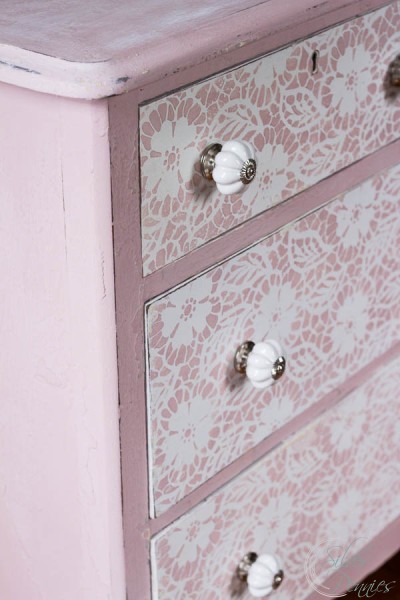 I sealed with clear wax and also tinted the clear wax with Pure White Chalk Paint® for the top of the dresser.  You can see the soft effect here: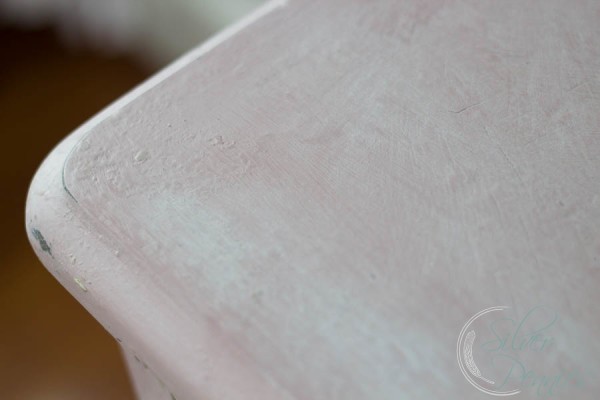 I replaced the hardware with these lovely pulls by Decor Steals.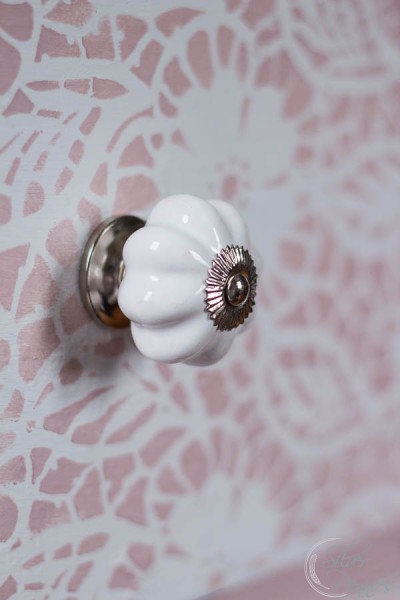 Charlotte just needed a little paint to be pretty again (oh, a lot of paint stripper) but she was worth it!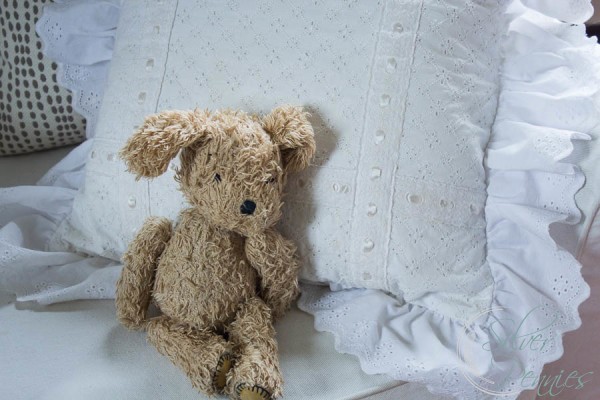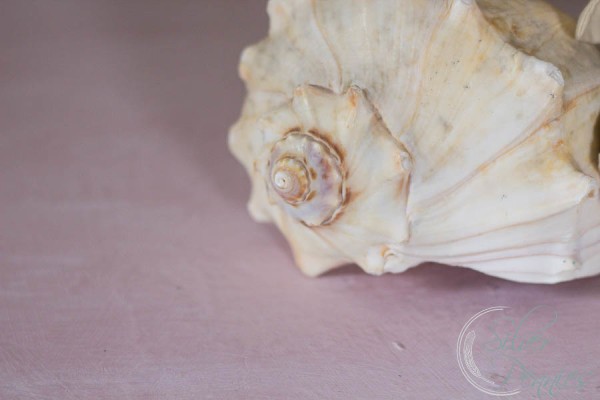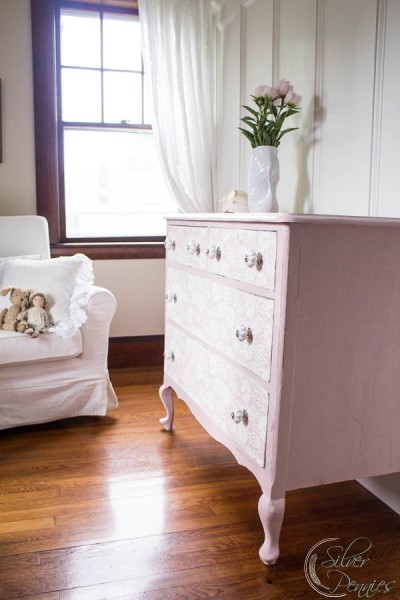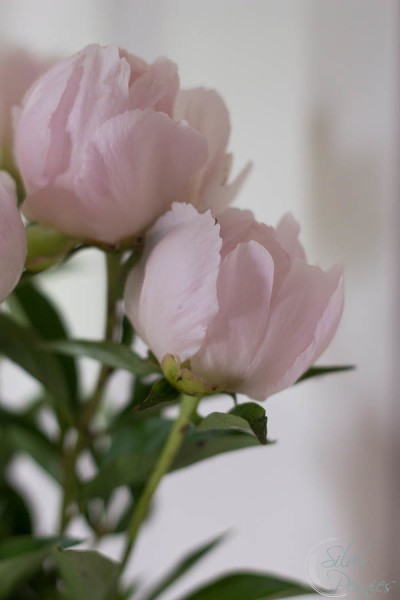 Pretty in pink and perfect for a little princess!  This one will be available at the Kjeld Mahoney Gallery this week.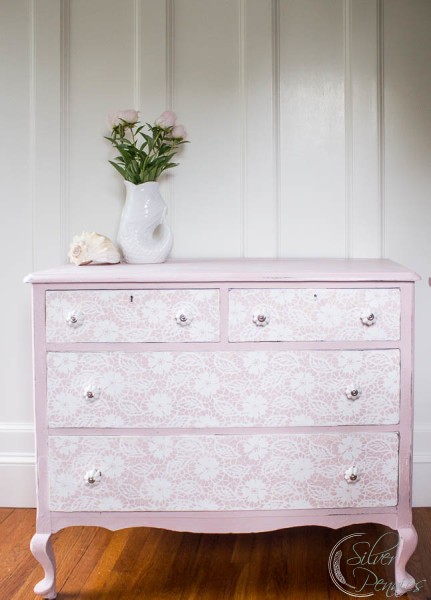 Sharing with: