"If we had no winter then spring would not be so pleasant."
Anne Bradstreet
Friends, I'm so glad you're hear today because I'm shouting it's spring!  I don't like winter, or snow.  Yes, it is pretty when you're cozy inside, but we don't ski and I often feel like winter can go on and on and on. Spring, in my opinion, could last longer! Today I'm sharing my spring home tour along with 16 other amazing bloggers.  I can't wait to visit all their homes. Rachel, from Shades of Blue Interiors organized our Cozy Spring Blog Tour and am so honored to be taking part.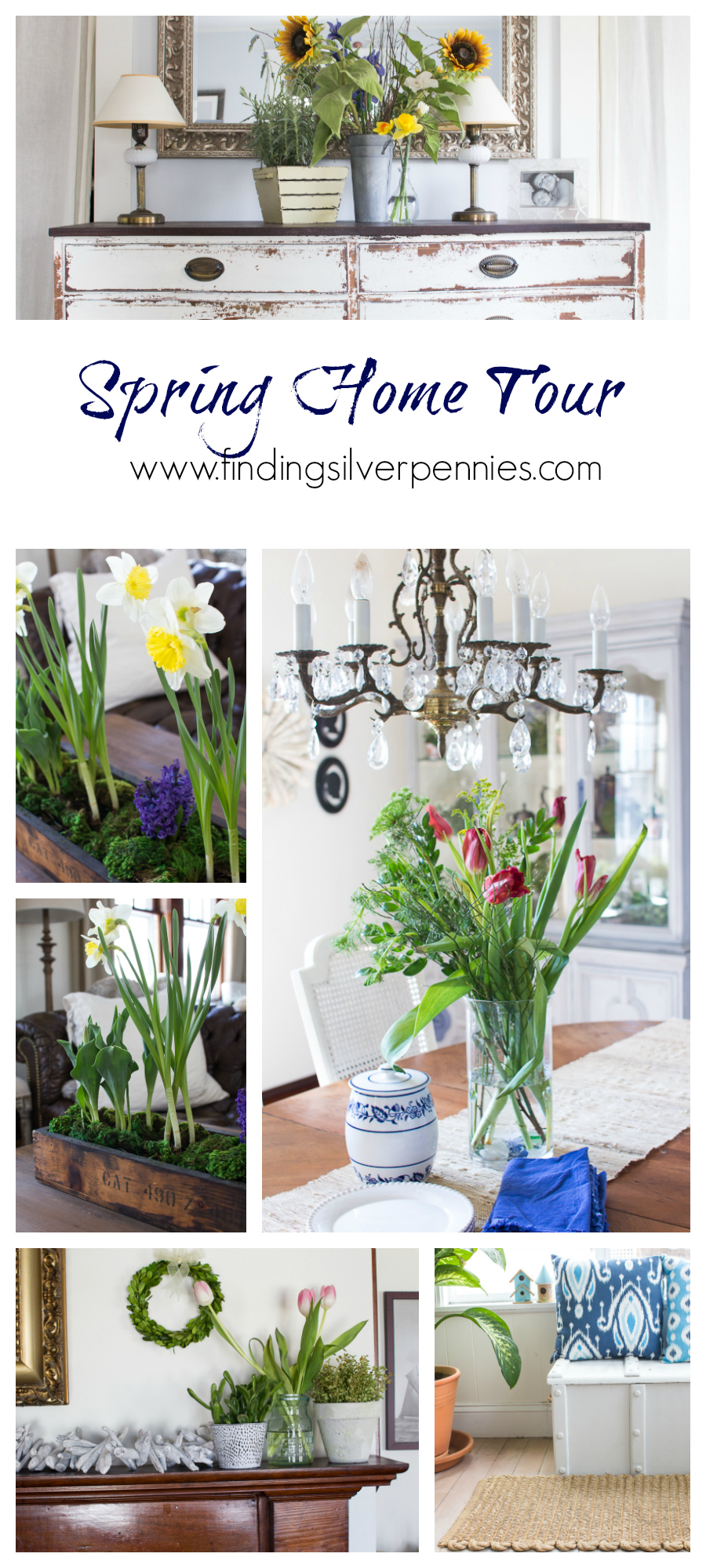 Since I LOVE spring so very much, I decided to take you on a whole house tour (well, almost) this doesn't include a few of our rooms.
I had planned on showing you an in depth tutorial but things started feeling very long. So before we begin the tour, I want to share a few tips.
Spring decorating doesn't have to cost a lot of money!

 
If you're gonna buy something, buy flowers. All the flowers you see are from Trader Joe's. The most I spent was $7.99 and that was on the flowering branches (which will last a long time). Their daffodils are so sweet and only $1.49 a bunch. Who can beat that?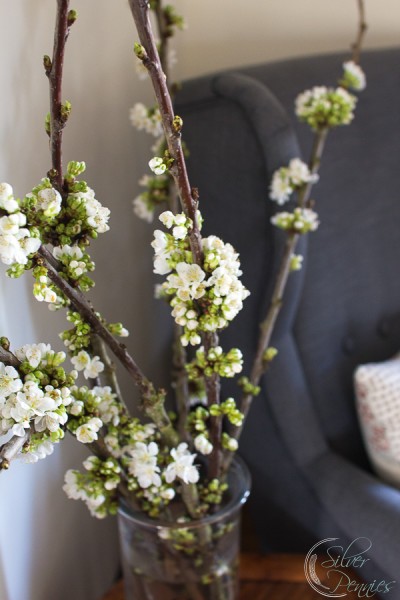 Mix plants, fresh flowers & faux. No one will know.
Can you spot the faux mixed in this post? I'll let you know what was fake at the end 😉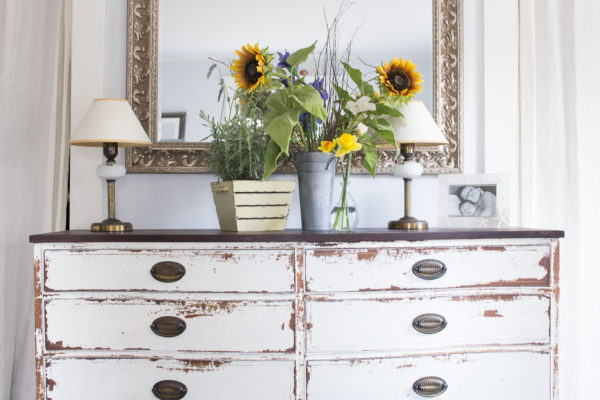 Plants and flowers look gorgeous in assorted containers.
Vases are great! I have lots of them, but what about thinking "outside the vase" and into something else.  I've used baskets, industrial crates, ball jars, old chemistry bottles. This mix gives a casual, relaxed feel. Our home is lived in, and loved, and I hope that comes across in our tour.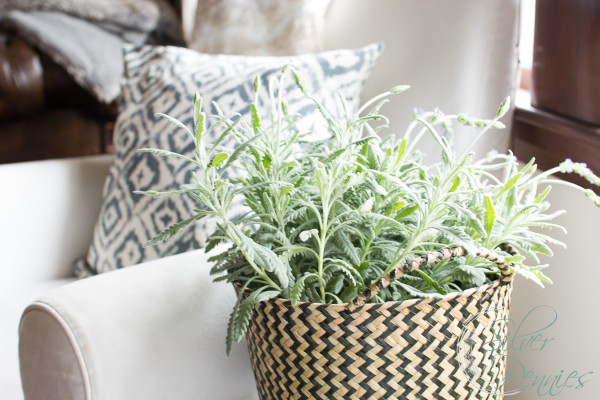 So come on in:
Our Entry
This is the first spot you see when you walk into our home and so I'd like it to be as inviting as possible, even though it is where my kids drop their bags, coats and tear off their shoes when they get home from school. This sweet bench is painted in milk paint and has a "found" look. I added some fresh lavender in a basket, some books and daffodils in assorted containers.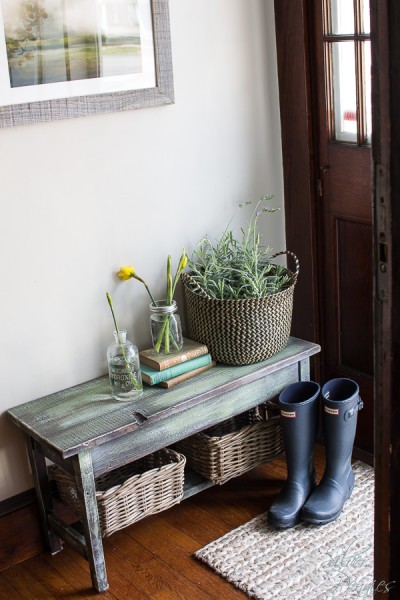 They say spring showers bring May flowers but we just had snow, so I guess we're a little confused here in New England.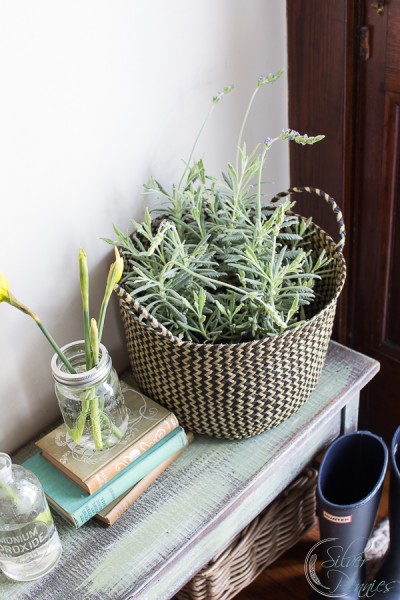 Just next to the bench is this dresser.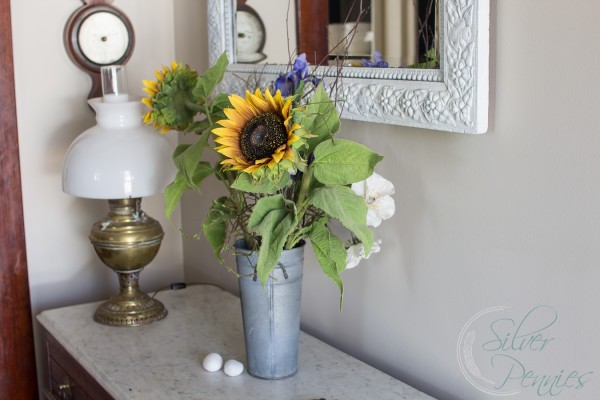 It is an antique marble topped piece that I love, just the way it is.  These flowers above are fake, would you have guessed?!?
Living Room
Right off our entry to the right is our living room and it is ready for spring!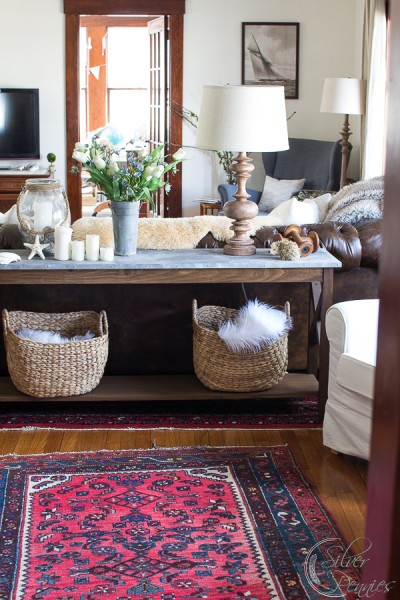 We're still loving our faux galvanized table we created. It looks pretty in any season.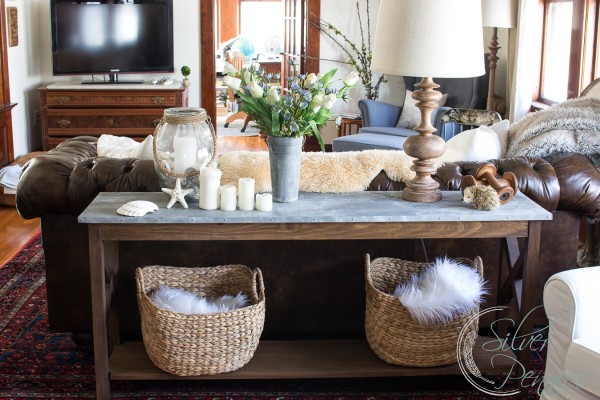 I moved the white chairs into here and added new pillows. Aren't they pretty?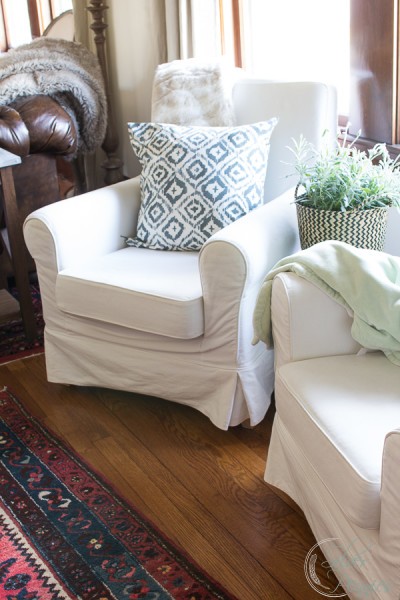 Again more lavender!  LOVING it this year and I have a plan to plant it along our brick walkway once the weather warms up, so you know those are real ;).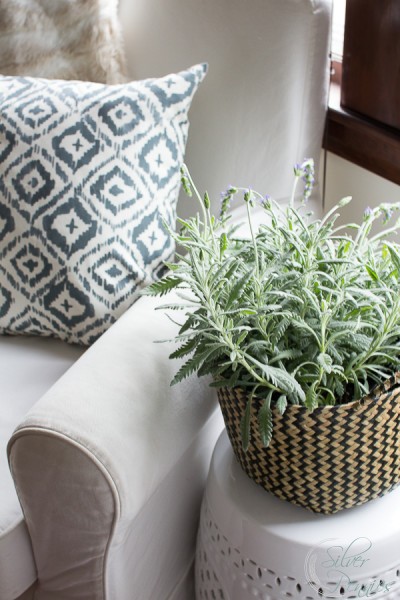 The mantel is simple with driftwood and some real tulips and other faux plants.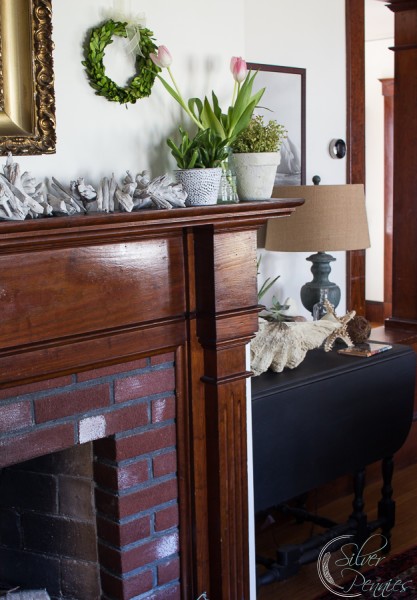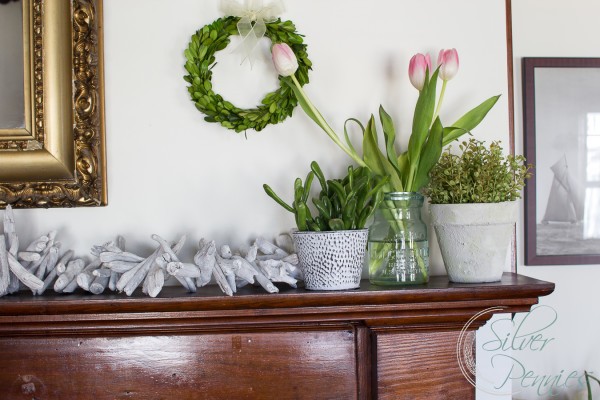 The boxwoods add a pretty green as do the faux plants in these textured pots I created last year, click here.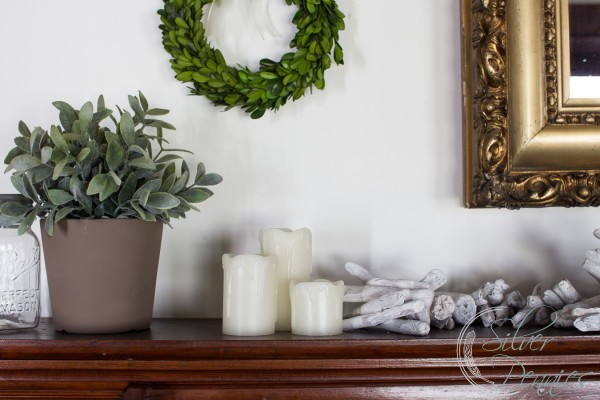 On the other side of the living room is our couch, where we spend a lot family time. We just watch this movie the other night about nature and I  think you guys would love it.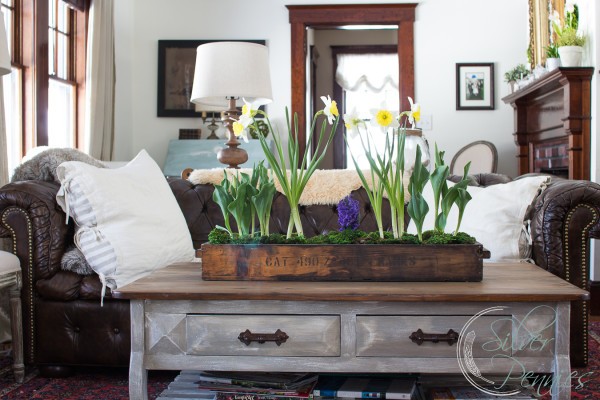 Click here to see how I upcycled this great industrial crate.
This hyacinth smells amazing! Like heaven!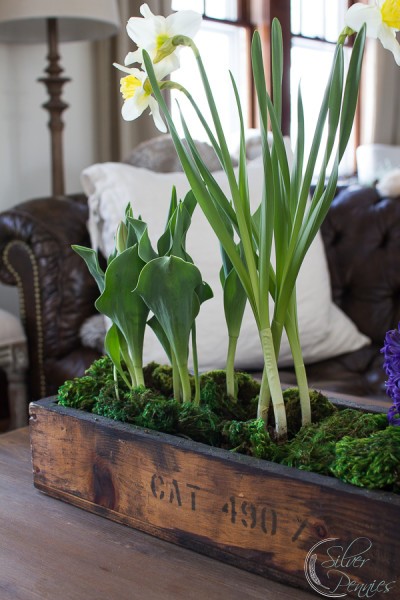 Over in the corner of this room are flowering branches. I sit here often to read and love seeing them next to me.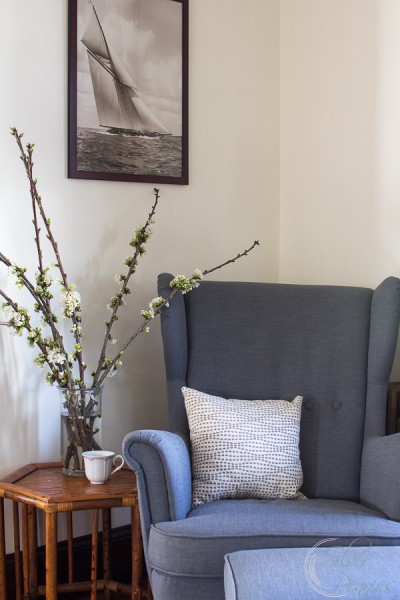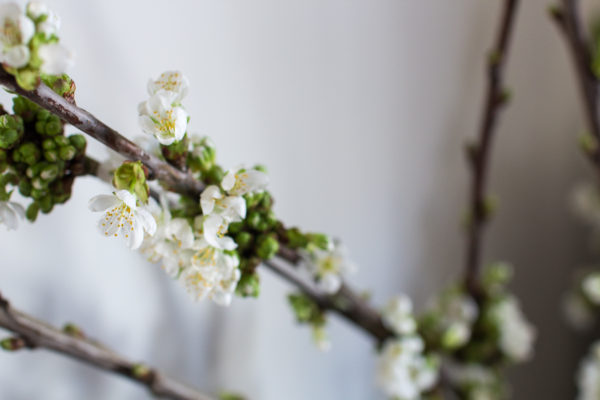 Dining Room
Through columns is our dining room. This room is a much enjoyed space. It's where we celebrate Easter and other family meals.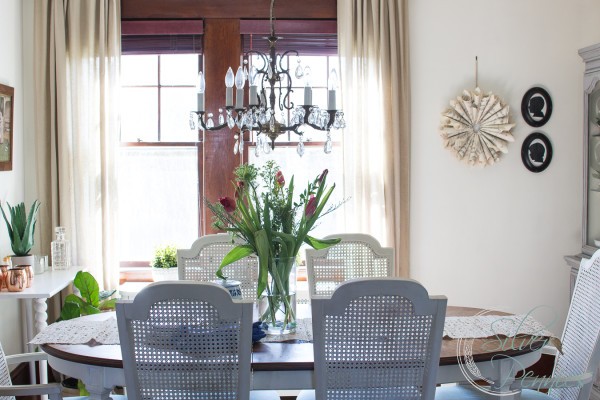 I kept the table simple with just a woven runner and some plates and napkins so the beautiful flowers could take center stage.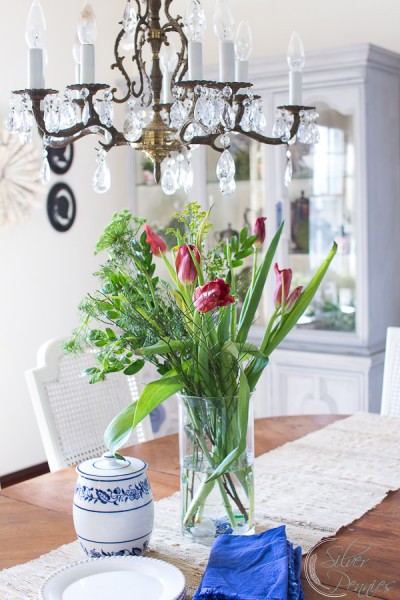 These French long stem tulips with a wild flower bouquet are so beautiful and simple. The vase is actually a candle holder and I put sea glass in with the water.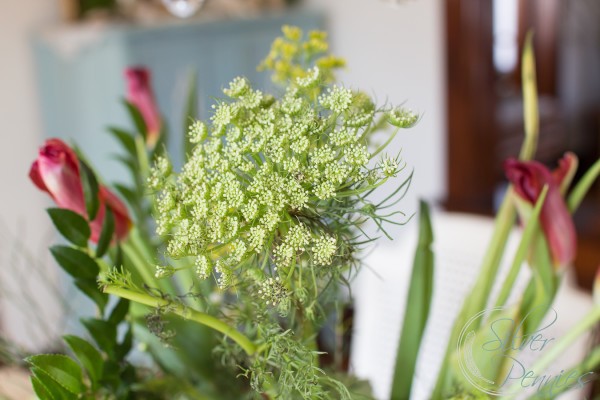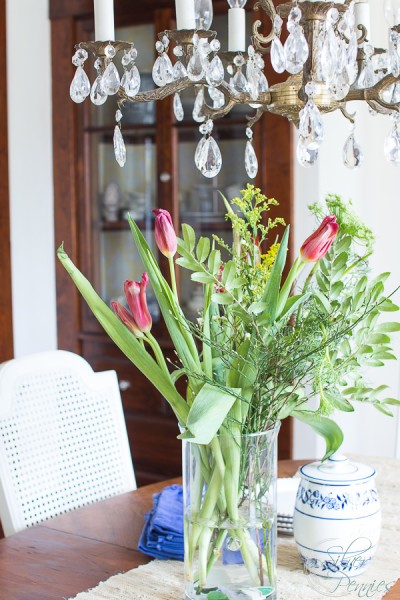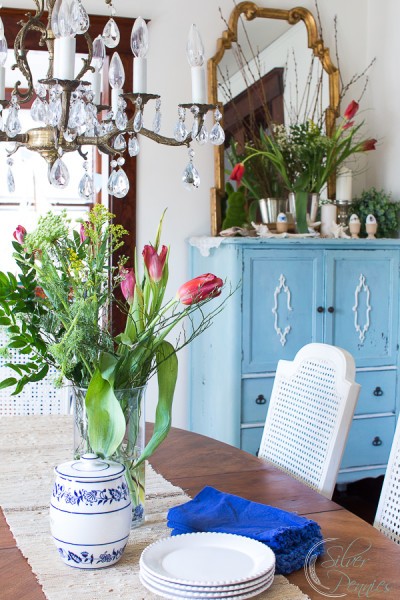 I'll be sharing more about these little flowers in the hutch in a later post: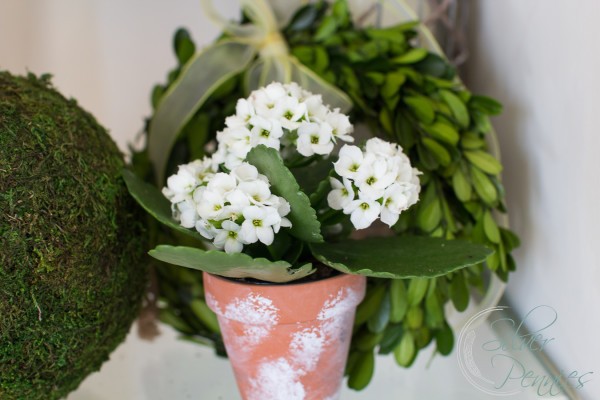 This sweet armoire was a yard sale find and I love decorating it differently for each season.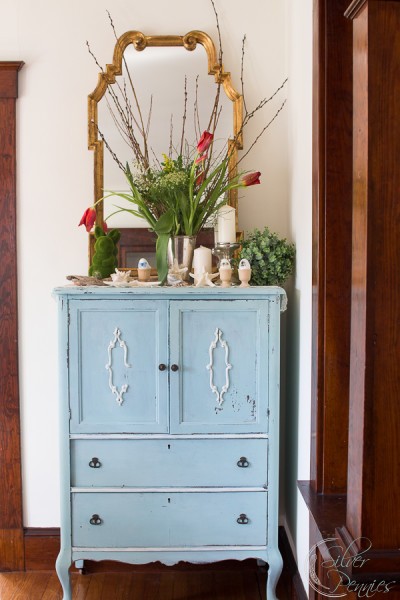 Right now it's decorated for Easter with the easy decoupaged eggs I shared the other week: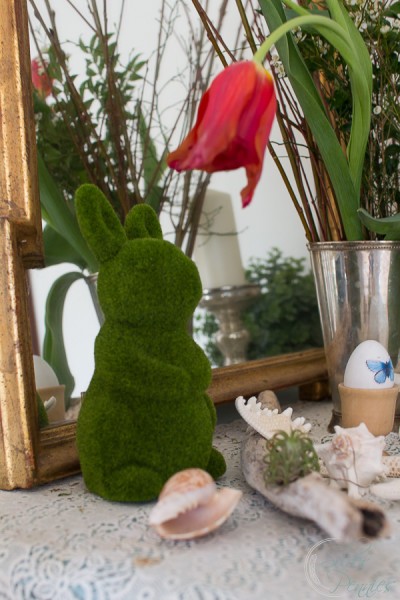 Oh, I shared this the other day, but thought you might like it for your Easter tablescapes.  My bunny free printable: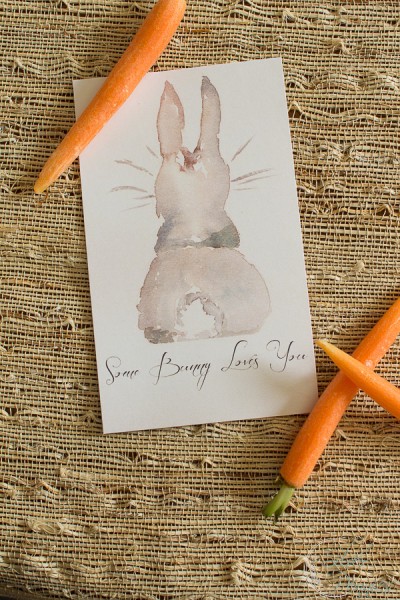 Let's move passed the kitchen because it is a real mess right now with school papers, dishes in the sink and muddy dog prints on the floor.
Sunroom
Ah, our sunroom! This room is completely coastal and I love coming out here with all the light that floods in through the windows. It is a great room for breakfast, lunch, casual dinners, watercolor painting and reading. We spend so much time out here.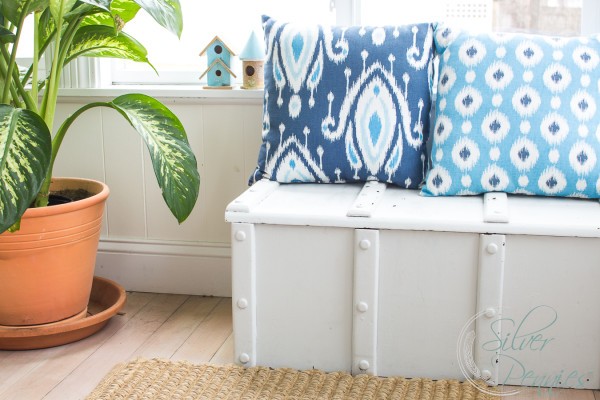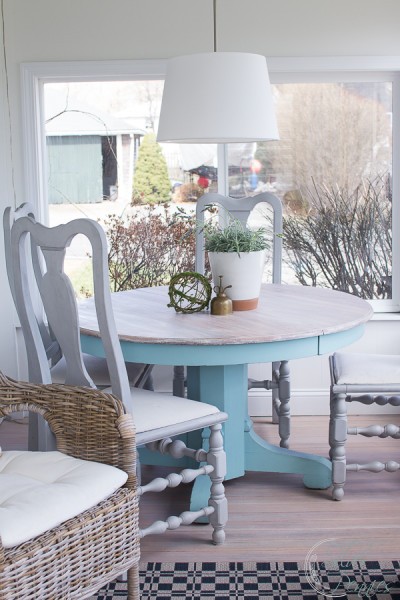 Surprise, surprise! More lavender.  The little mister was a treasure we found at Brimfield last year.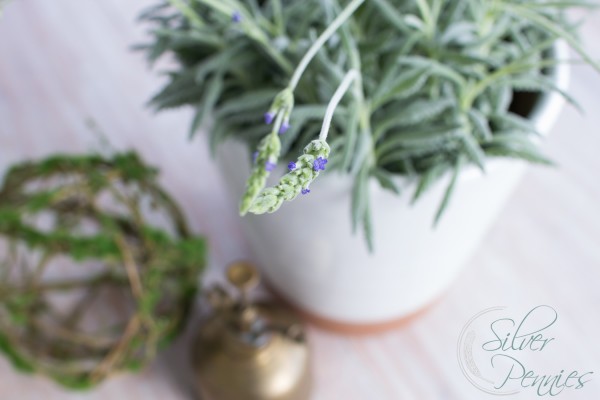 This is an unheated room, and now that things are warming up, we'll be out here even more.
Oh, here's one more free printable – a blue jay in watercolors: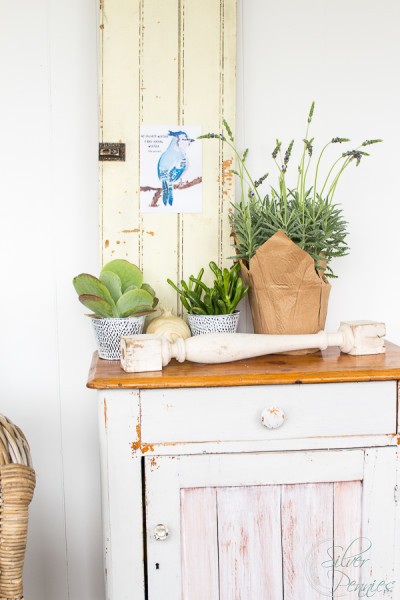 Let's move upstairs.
Guest Room
We redid this room about a year ago and it has become our dog's bedroom. Kid you not!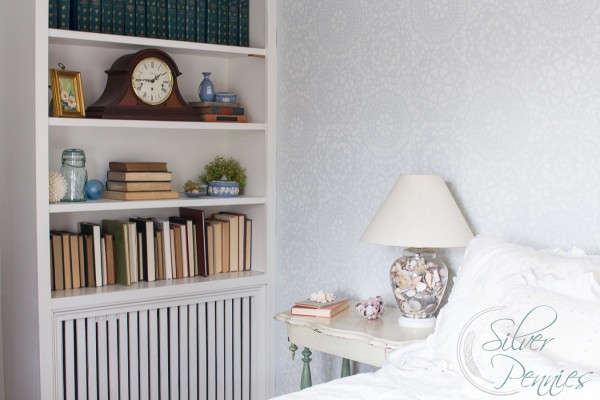 Simple pops of greenery make this a welcoming spot: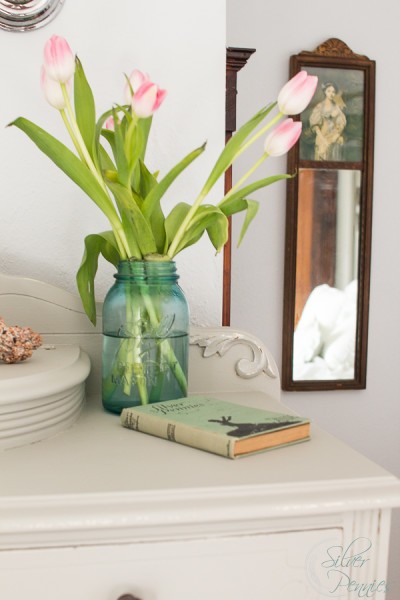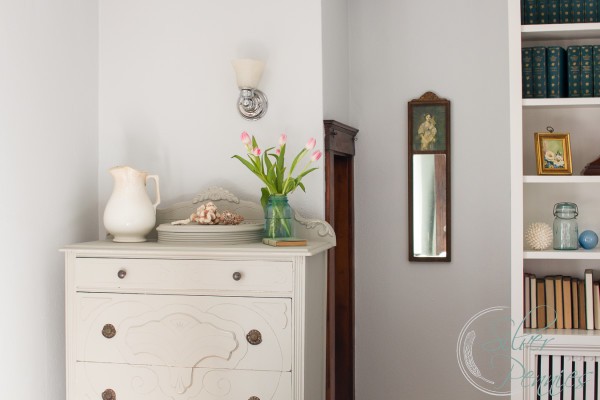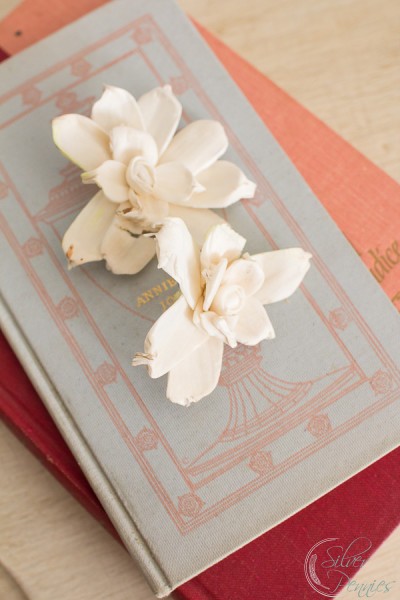 Well, Poppy seems happy here!
Further down the hall is our bedroom.
Master Bedroom
This is our room decorated in all vintage finds that I've painted and refinished.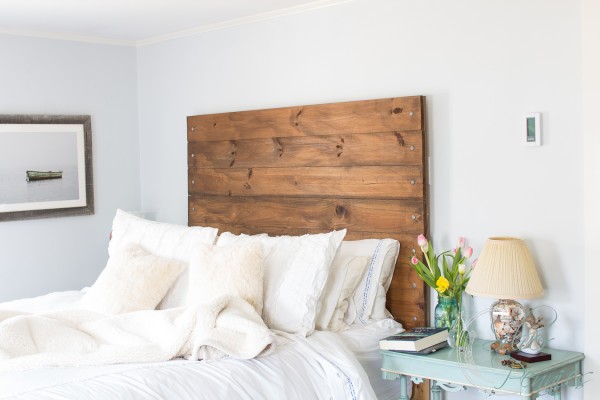 The DIY "reclaimed" wood headboard was one of our first projects and I still love it today! The little blue table was a project from our last house, it has a crackled top.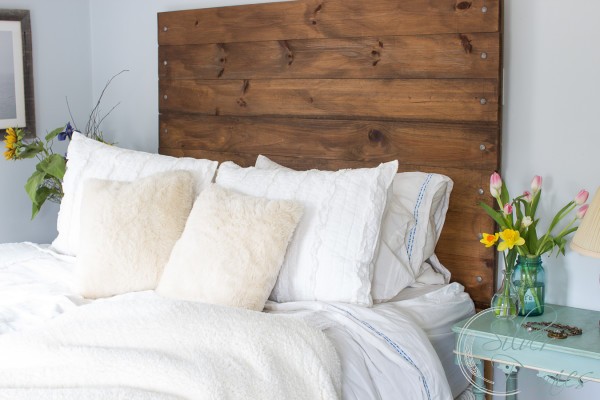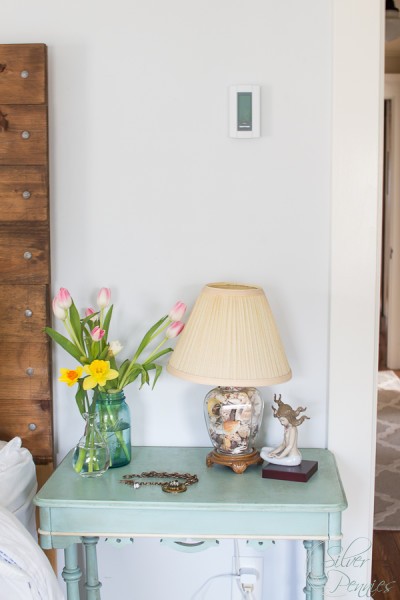 The hooks are lily of the valley which is my favorite flower (I carried a bouquet of them in our wedding) and the hats I bought for our trip to Spain last summer. The print is a favorite I found at a local thrift store: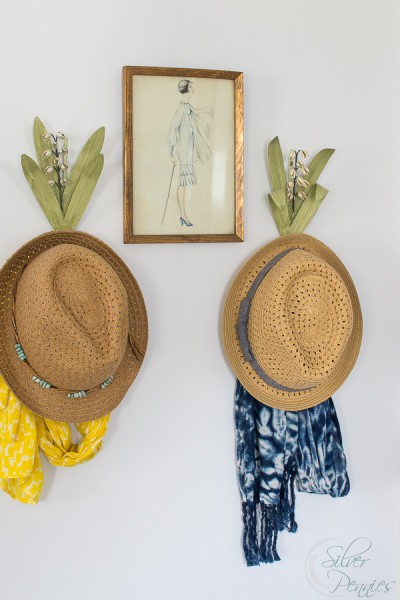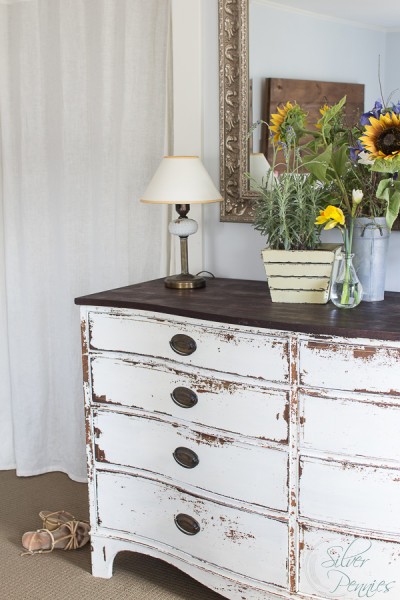 The above dresser, Isla, is one of my favorites and I shared a good way to revive the top a few weeks ago.
Well, that's it our home tour for spring! I hope you can see just how amazing flowers are to add spring into your home. Oh, and in case you were wondering I had some fake flowers and plants mixed into all the rooms. Could you tell? In the entry was a fake bouquet on the marble table.  In the living room there was two faux pots on the mantel and a fake bouquet on our galvanized table. The hutch in the dining room has faux balls of greenery and the small armoire has a faux bunny and ball.  There is also a faux plant on our faux marble console. The sunroom had a fern ball. Our bedroom had an artificial bouquet and the guest room had a faux ball along with potpourri flowers.
Interested in our sources for spring & home decor – click here for our full source list.
Be sure to visit all my amazing friends!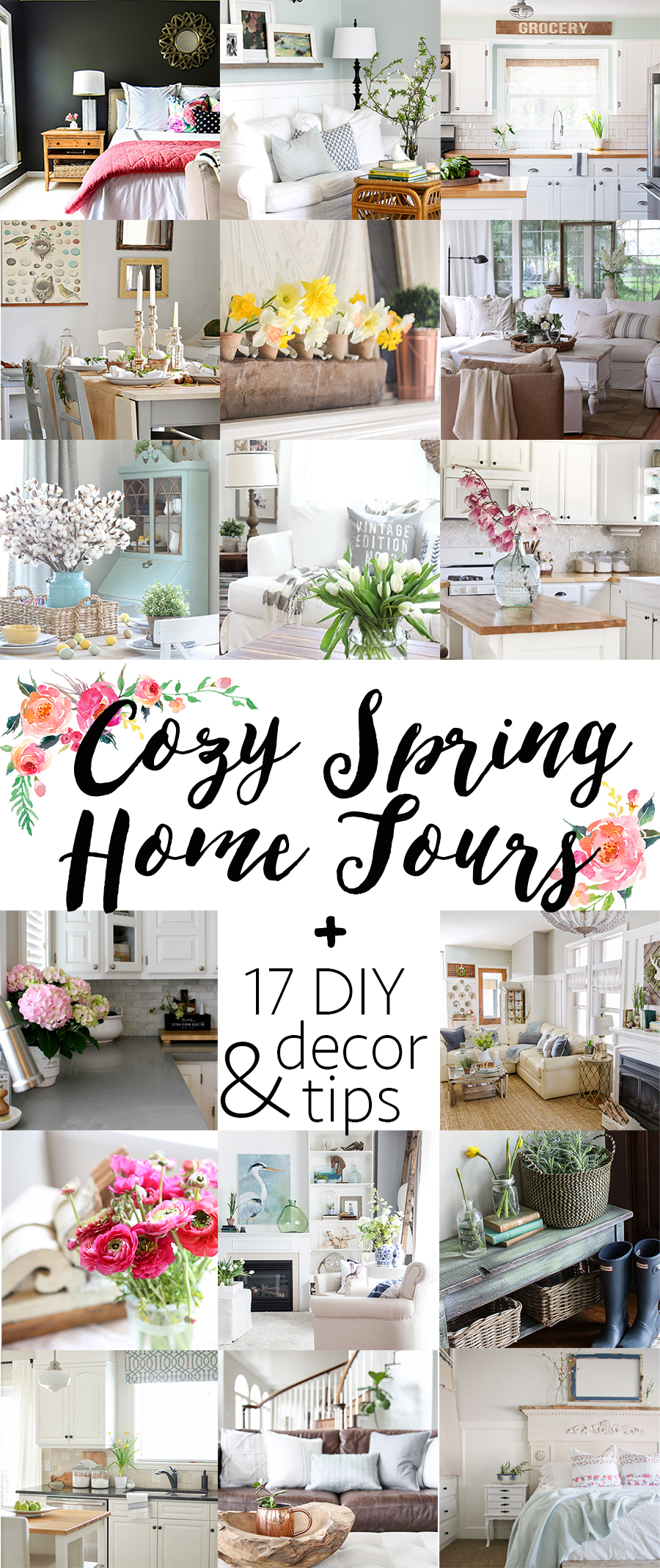 Jen, House of Wood — Emily, The Wicker House — Ashley, Cherished Bliss
Jennifer, Town and Country Living — Beth, Unskinny Boppy — Annie, Zevy Joy
Allison, The Golden Sycamore — Bre, Rooms FOR Rent — Rachel, Shades of Blue Interiors
Jennifer, Clean and Scentsible — Beth, Home Stories A to Z
Kristen, Ella Claire Blog — Lucy, Craftberry Bush — Danielle, Finding Silver Pennies
Alicia, A Burst of Beautiful — Rachel, Maison de Pax — Cami, TIDBITS
Sharing with: