You guys for 3 1/2 years my bathroom has looked like this: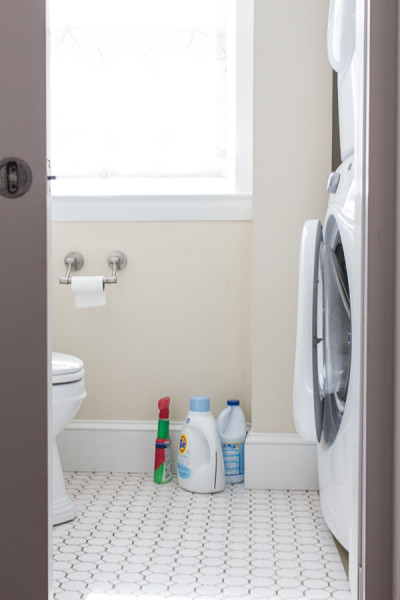 Yes, the bleach and laundry detergent just sat on the floor next to the toilet and the washer and dryer.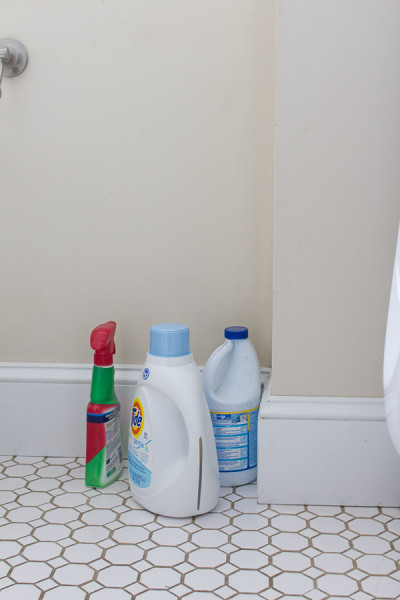 I'd sit at the counter which is right outside the bathroom and this was my view. You may remember me telling you just how small our little bathroom / laundry room is. It is so small that we need a corner sink and corner toilet. Anyway, I was so tired of seeing the laundry necessities that Luke and I hatched a plan. The beadboard bathroom cabinet plan! We decided to design and build our own tiny cabinet that is the perfect size for our small bathroom but also the perfect size to accommodate all the washing essentials.
This post is sponsored by Kreg Tool Company and BuildSomething. BuildSomething is Kreg Jig's new DIY project plan site, you may remember that we shared our kids picnic table and benches there over the summer. This post also contains a few affiliate links for your convenience. The product does not cost you more but I get a percentage of the sale. Thank you for supporting our blog in this way.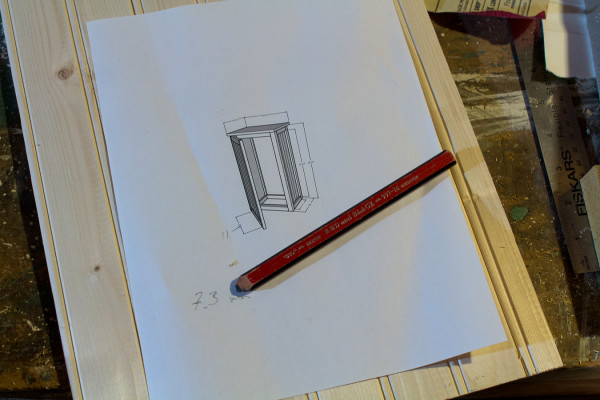 Here's how the cabinet came out!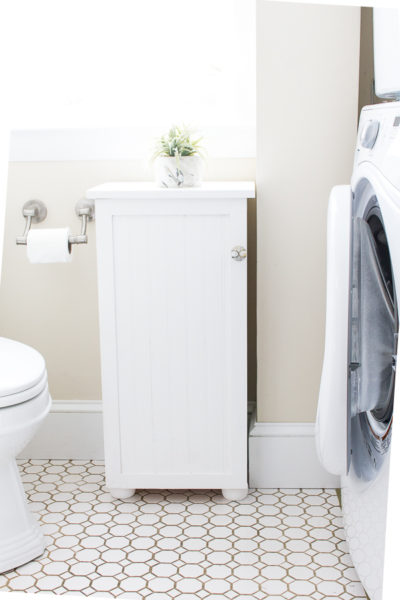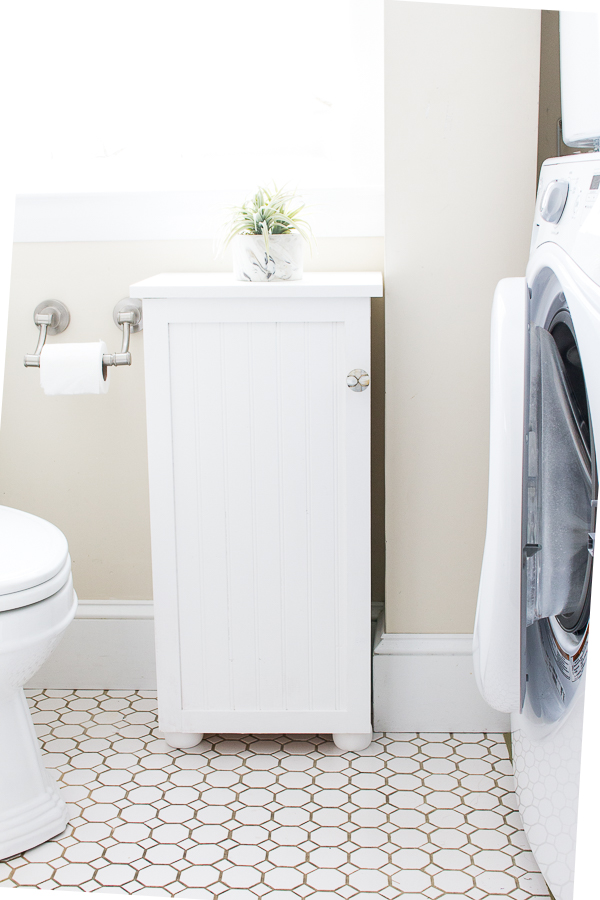 I actually have to take a second to tell you guys how much my hubby rocks! He is just such an amazing and supportive husband. He's always trying to make this home of our's a little better and I really love all the things he builds for us.
Since we live on the coast, beadboard seemed to be a "no brainer" option for creating the coastal look in our bathroom. We already have beautiful starfish blinds and now this stunning white beadboard cabinet. Beadboard is thin beaded trim and is usually used as wainscoting on walls or ceilings. Our bathroom is much too small for this so having it on a cabinet was the next best thing.
This cabinet looks so sweet in our little bathroom.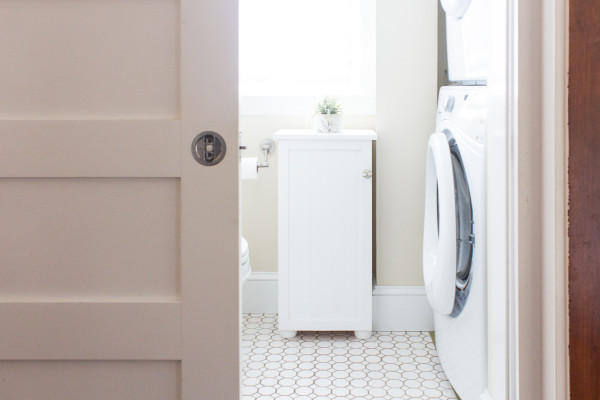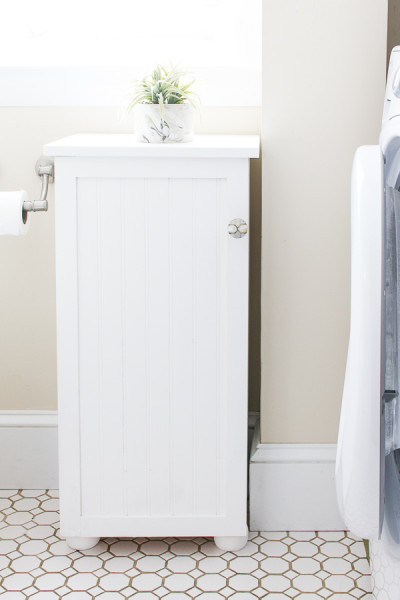 We used the Kreg Jig K5 and the Kreg Concealed Hinge Jig to create this piece of furniture. These jigs made the construction so much faster and easier. Bun feet were added to the bottom of the cupboard and give it a farmhouse / cottage feel.
Okay, now for the finishing touches. I briefly thought about staining the cabinet a weathered gray or sunbleached stain but I wanted this cabinet to look super clean and fresh. I decided to use Pure White Chalk Paint® and sealed it with wax.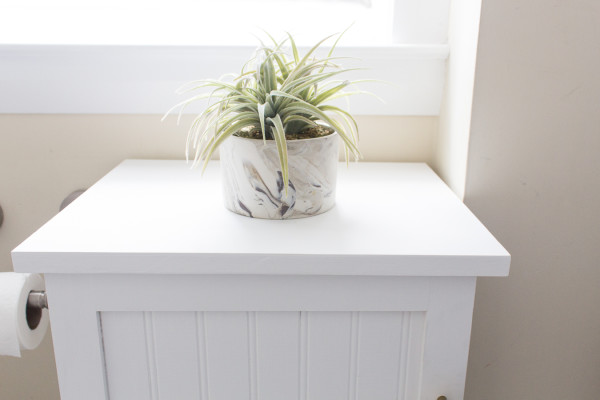 I decided to leave the bare wood inside because it just looks so pretty (Luke turned the beadboard inside on the back panel).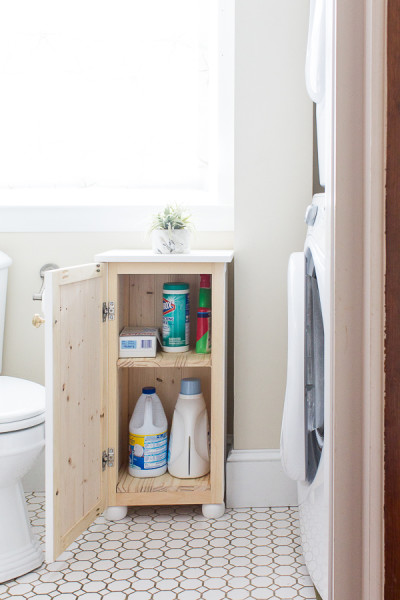 The knob is just lovely. It is mother of pearl and brass by Antropologie. I thought it added a little modern into the coastal mix. It's fresh and fun.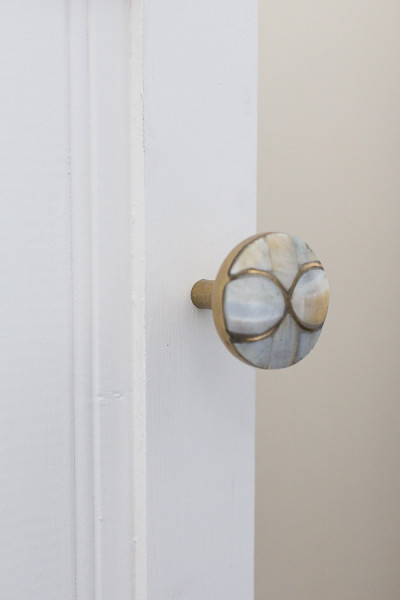 Now, when I look in the bathroom I always have a smile on my face.
It is actually a pleasure to do the laundry and tidy everything away after!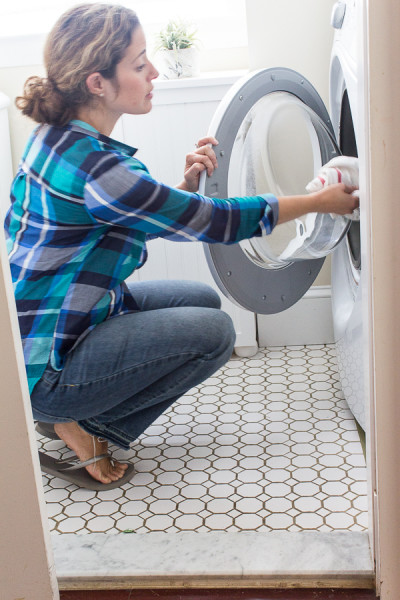 Oh, yes, still rocking the flip flops for as long as possible here in New England (even on torrential days as it was yesterday)!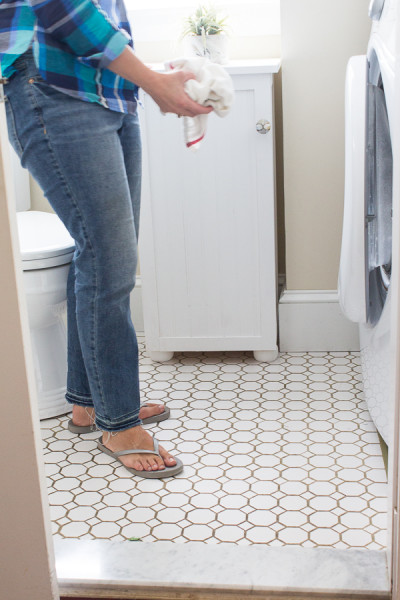 Here's a full source list for our bathroom:
What do you think of our new cabinet? Will you build one for your own home? Be sure to check out all the great plans over on BuildSomething. Also check out more of Luke's plans here.

Sharing with: