The count down for summer to begin is on….
Only 3 and half days.
Well, actually, you can't count today because it's already started so two and a half days. My two boys get out Thursday and I'm just so excited for summer to start.
In celebration, I thought I'd share how our home is looking for summer. My friend Nina over at Nina Hendrick Design is hosting a fun blog hop this week – The Simply Summer Home Tour!
I took part last year and had so much fun.
If you're popping by from the Happy Housie welcome!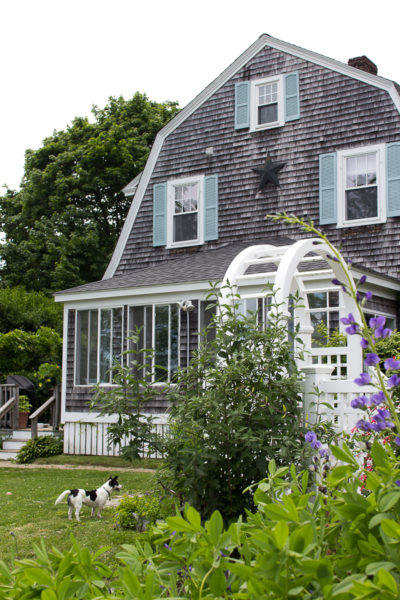 If this is your first time visiting, we live on Boston's South Shore in a little coastal town called Scituate (Sit-u-it). Our sleepy fishing town comes alive in summer with the harbor full of boats and tourists, restaurants and ice cream parlors over flowing with patrons. We live just up the hill from the harbor and feel so blessed to live in this beautiful town. We dreamed of our children growing up by the sea and our wish came true. We have two boys, John (11) and Conor (7) and two dogs, Max (10 months, pictured above) and Poppy (almost 7).
I'll start outside as that is where we spend the majority of our time in the summer months.
Summer Deck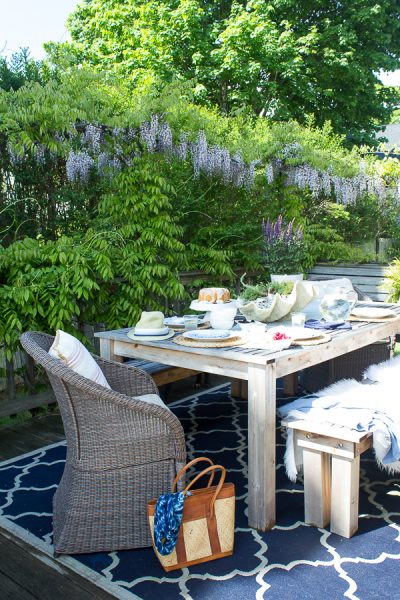 Our back deck is the perfect spot for entertaining and BBQ-ing.
I've used succulents as an easy centerpiece.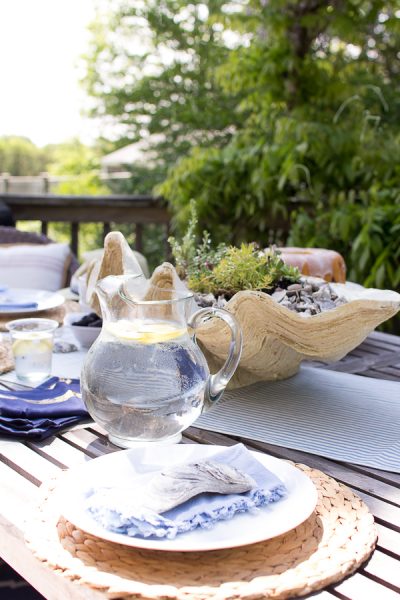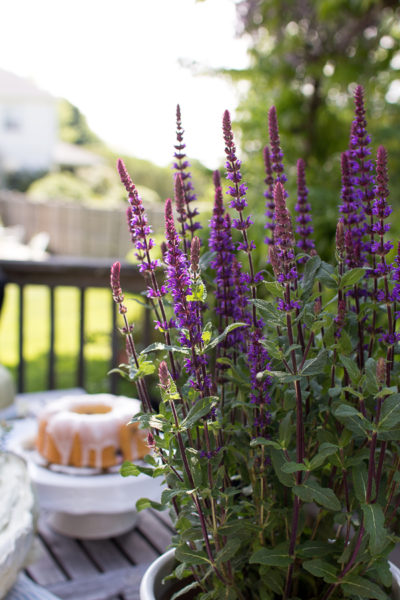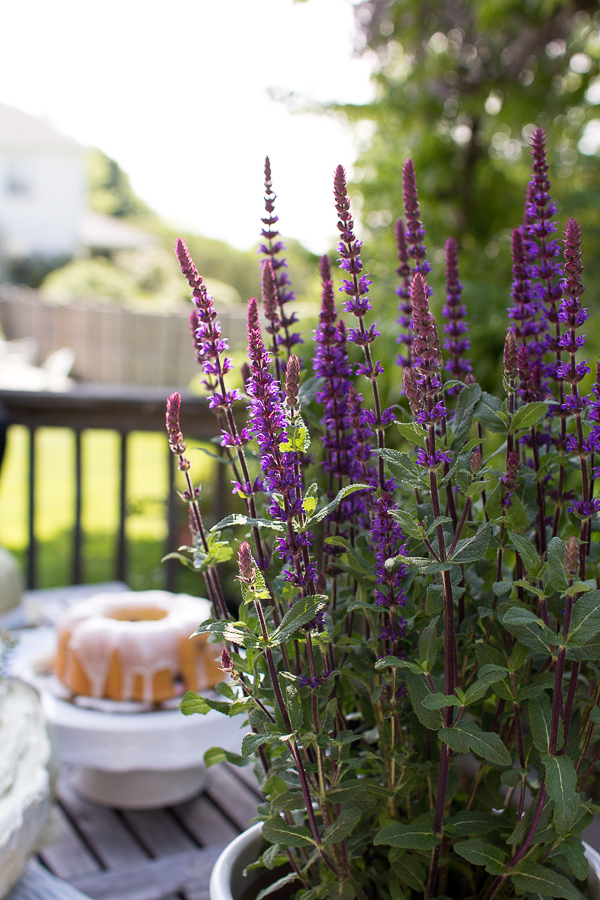 My husband built the table and benches two years ago and we enjoy this space so much. It's perfect for entertaining but also just for a quiet coffee in the morning.
My favorite part of the deck is our wisteria. It's now died back but it was so beautiful and fragrant while it lasted!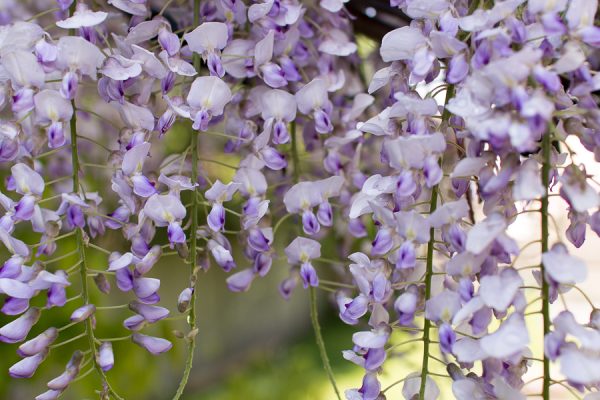 Sometimes life can be hectic and loud with two boys and two dogs.
When the video games go on, I head to the she shed, or my summer house!
Summer She Shed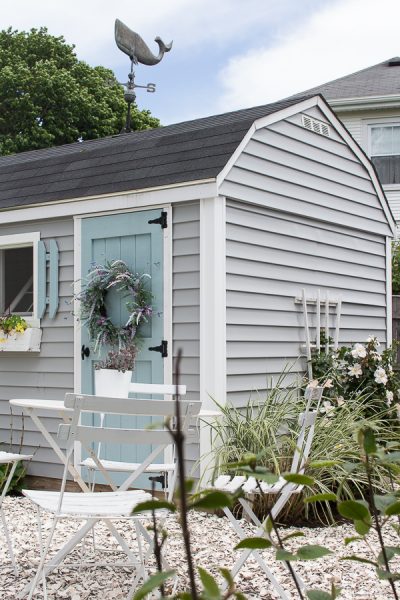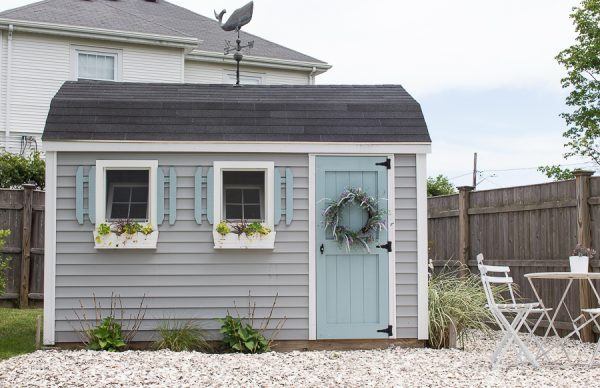 The hydrangeas are only just starting to grow, but soon they will be full of beautiful blue blossoms.
The climbing rose is doing so well this year!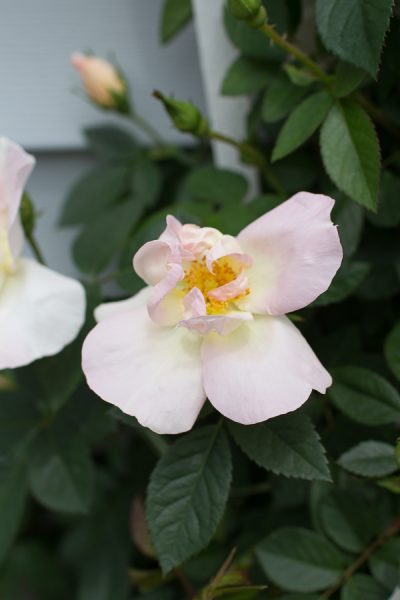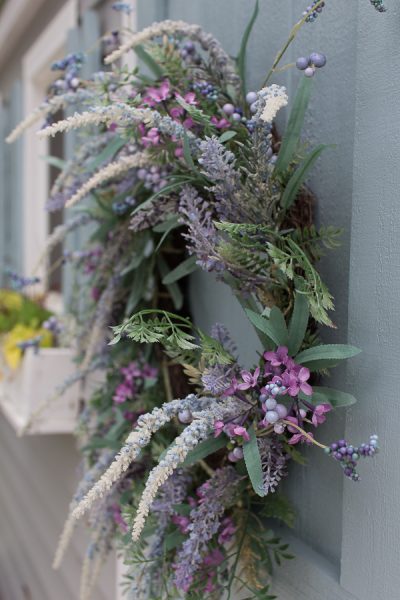 I tried to decorate with items we already had in the house / basement this year. Summer calls for a simpler, slower pace and I'm embracing that this year.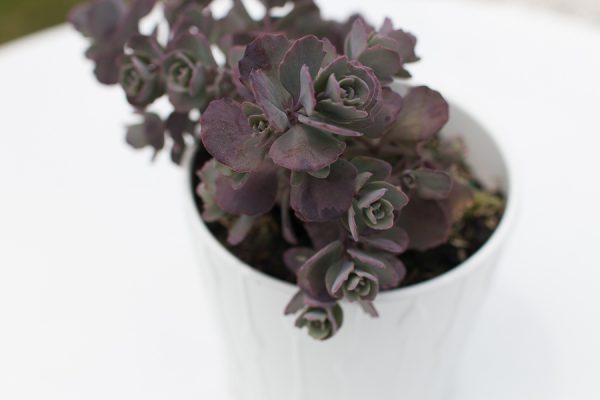 Shall we take a peek inside?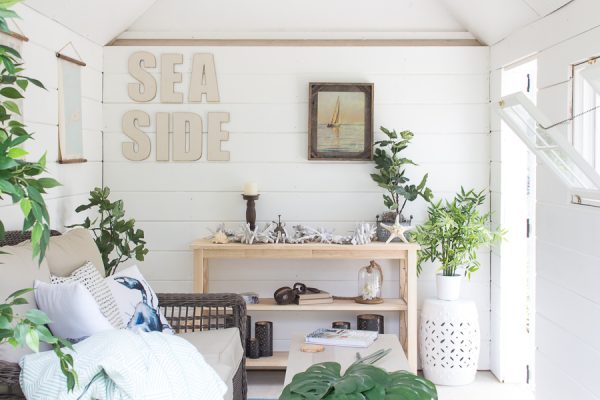 My quiet space!
Shiplap offers a calming background as I read or write down here.
The windows are thrown open to allow for coastal breezes to enter.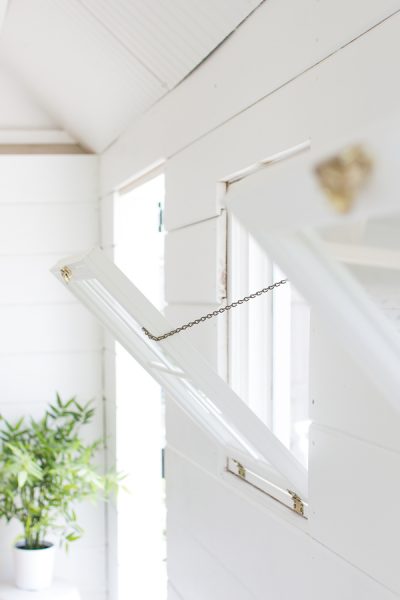 I've used faux plants and greenery. There isn't enough air or light when it's closed up for plants to survive very long. Plus with these I don't have to remember to water 😉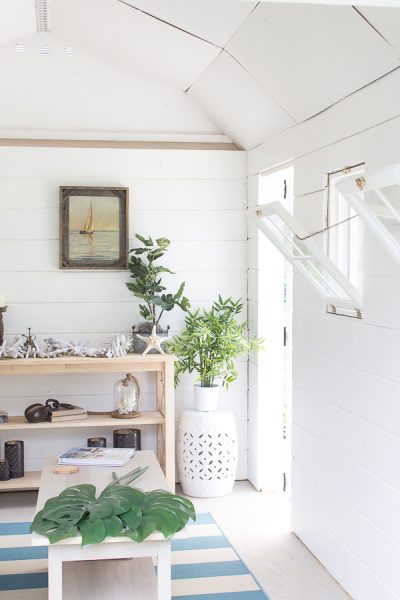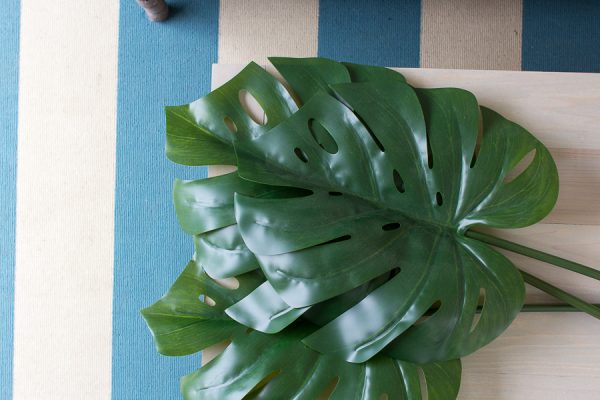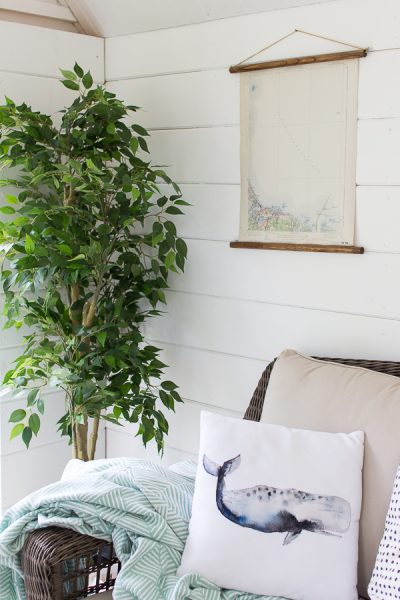 I could stay in here all day!
But I want to show you the rest of our home.
Why don't you take a look at our fire fountain before we head inside.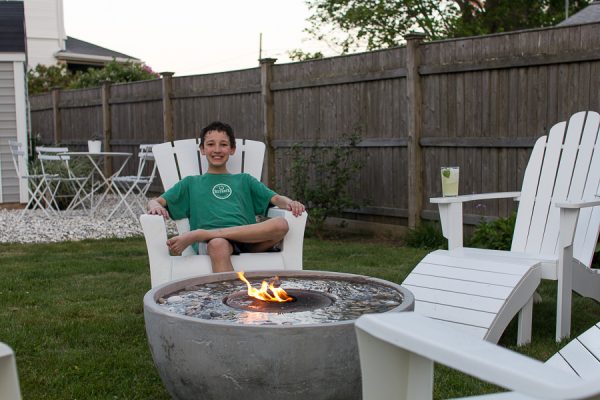 We love to sit out here after the beach, in fact this photo was taken post beach. We let the kids swim until 7 and then mixed up some dark and stormies while we waited for the grill to heat up.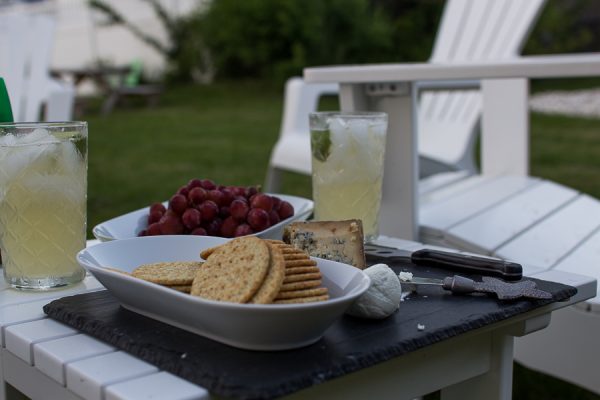 We LOVE cheese in our house!
Okay, let's step inside.
Summer Sunroom
Our sunroom is pretty much an extension of our backyard. It has so many windows you feel like you're outside when in it.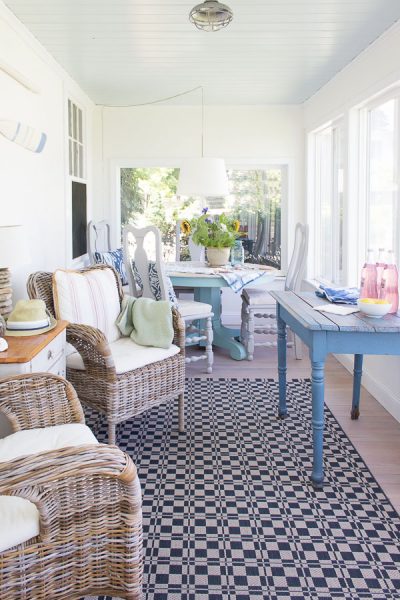 It is one of my favorite rooms in our home because it's so beachy.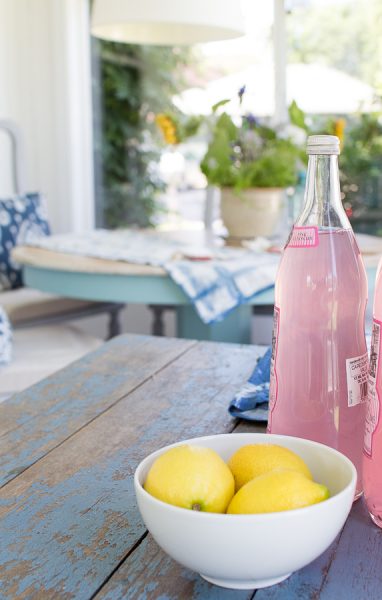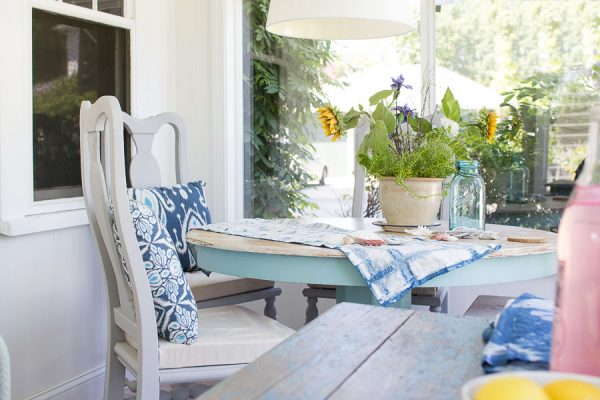 I love painting watercolors out here and in the summer I also sit with my laptop and write.
It's the perfect place to escape with a book too.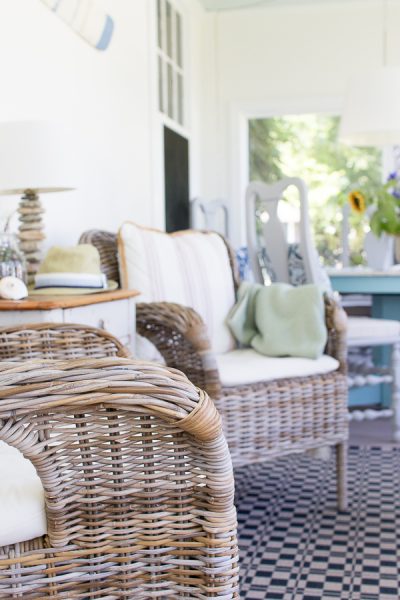 Just last week we experimented with indigo dye and shared how to shibori.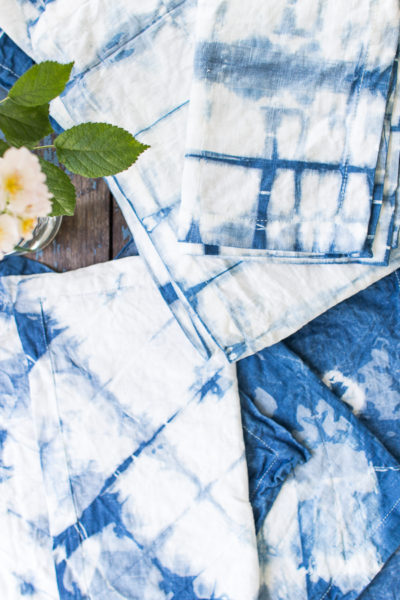 The runner on the table is one we did: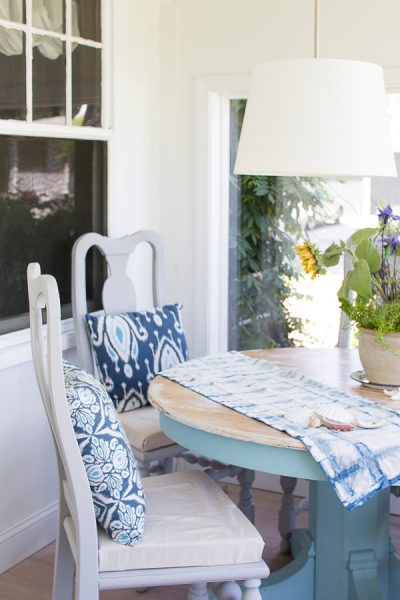 My old toy chest got an upcycle last summer with Saltwash® Powder.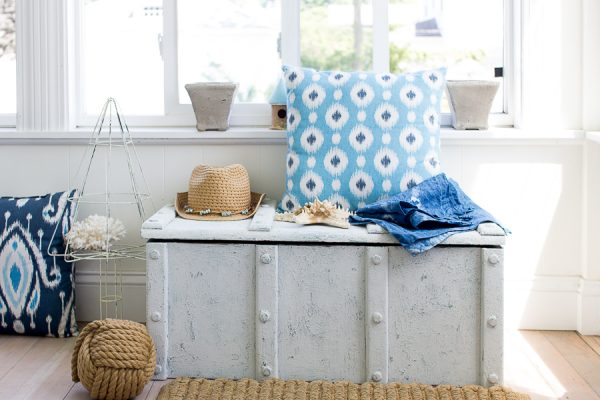 It now has a great coastal texture and I can hide away boots and games 😉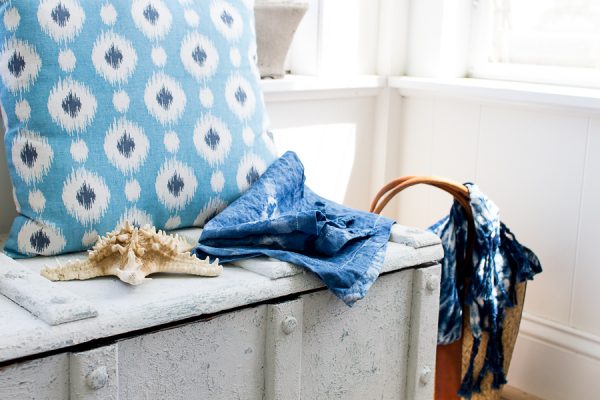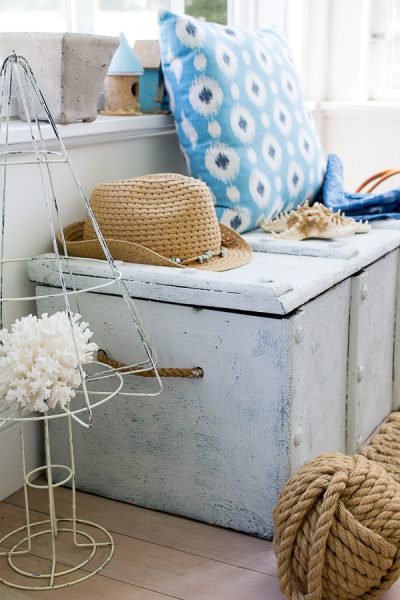 Summer Kitchen
Our sunroom leads right into our kitchen.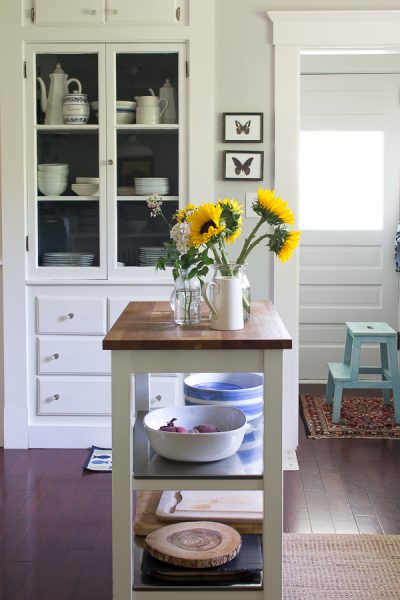 We've just walked through that white door with the window.
I didn't too much for summer here just added some fresh flowers.
The bright white cabinets were an update from last month.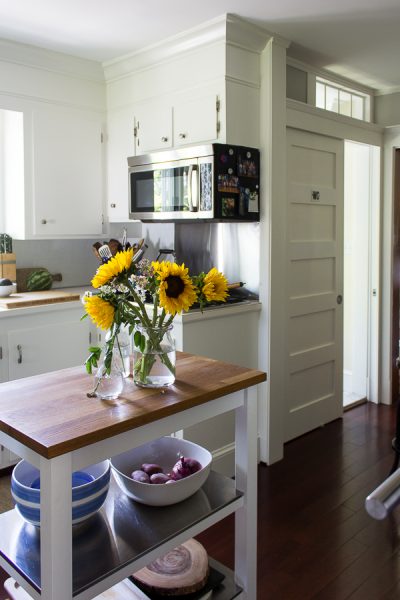 The white cabinets have made our kitchen feel so much brighter and bigger.
We're currently obsessed with this lemonade from Trader Joe's: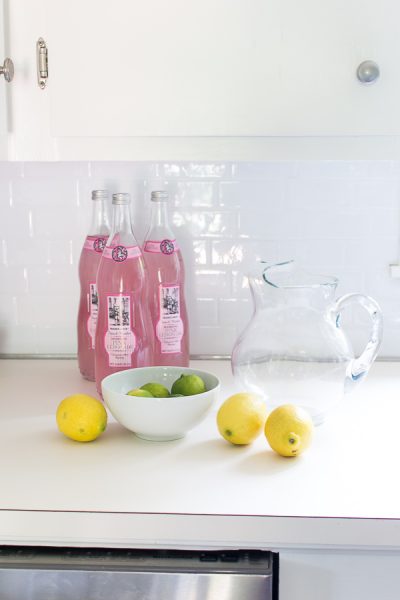 Would you like some?
Or I could whip up a batch of watermelon slushies?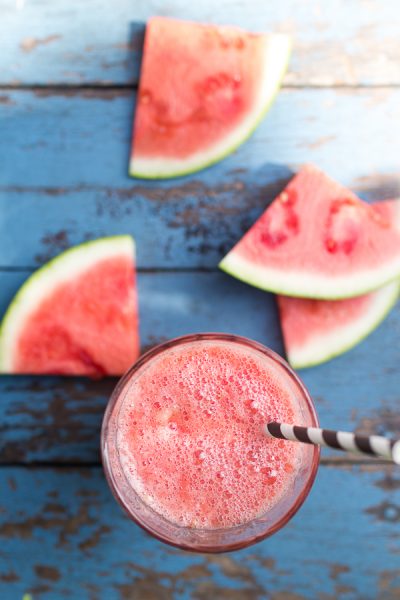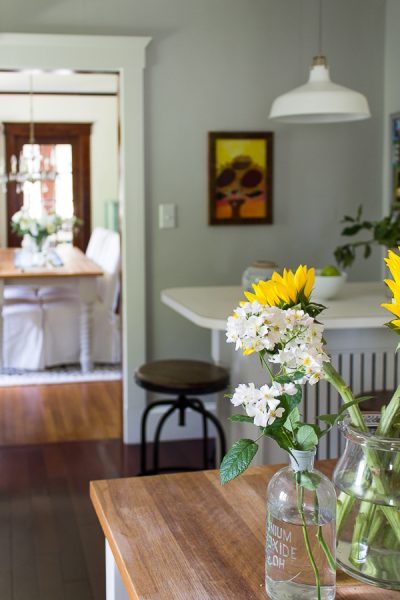 Those our wild roses from our garden.
I added this sunflower painting last week: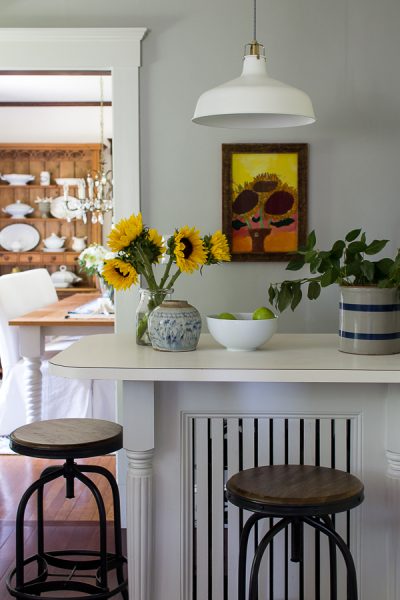 Conor painted it for me.
We both love sunflowers and plant a garden of them for Conor each year.
Didn't he do a great job?
When I look at Conor's sunflowers I can't help but smile.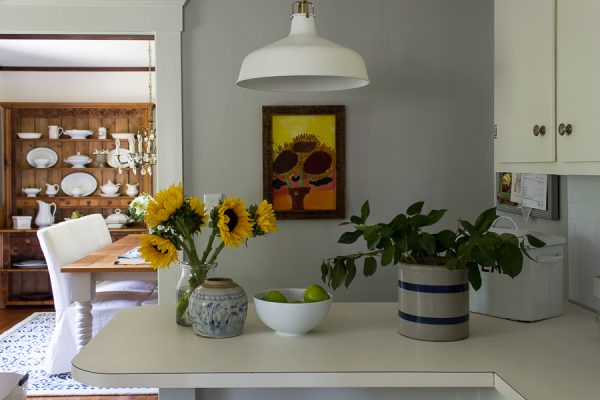 This room leads into our dining room, that's next up on our tour!
Summer Dining Room
I shared a few months back the new and improved dining room. Luke built the farmhouse table out of reclaimed heart pine. My heart skips a beat each time I see it. I still can't believe he built this for us. He's one talented guy.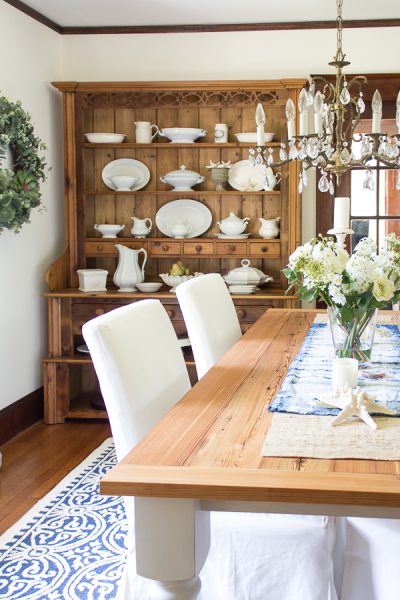 I've kept things very simple in here.
A shibori runner (another one!) and some shells.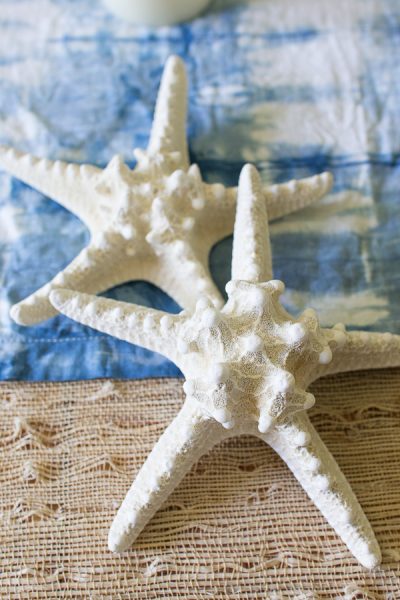 Lots of Ironstone 😉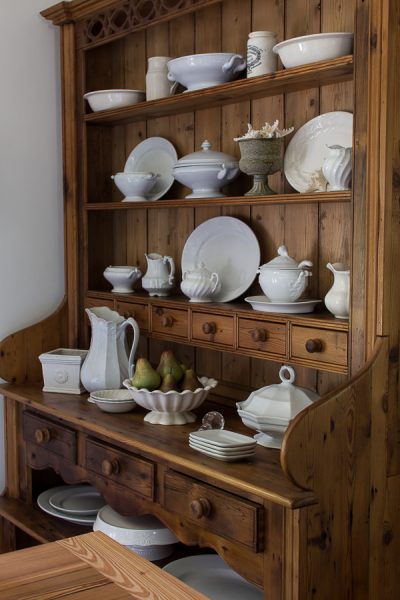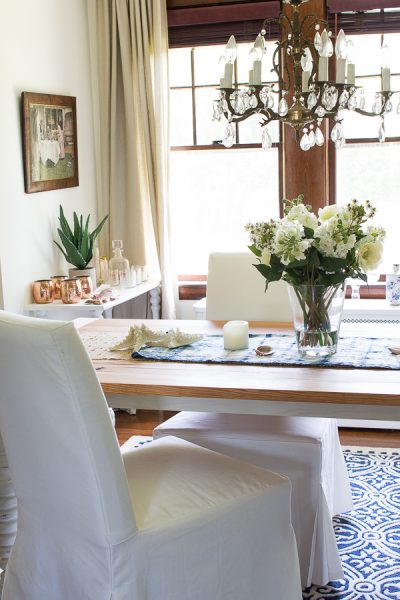 The sunlight looks so pretty in here on a summer's day.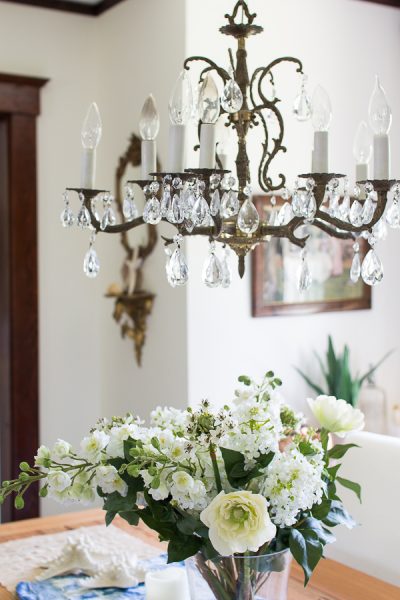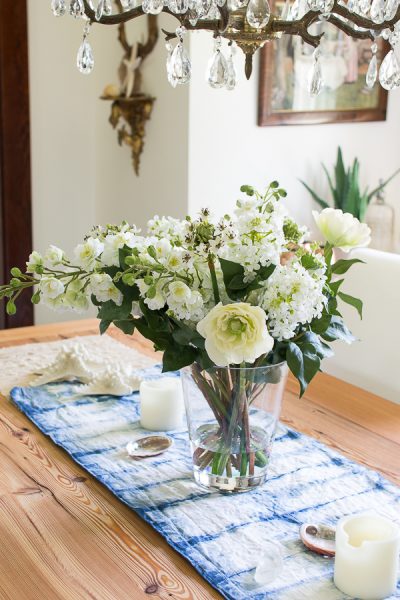 A simple arrangement of bottles over on my milk paint cabinet.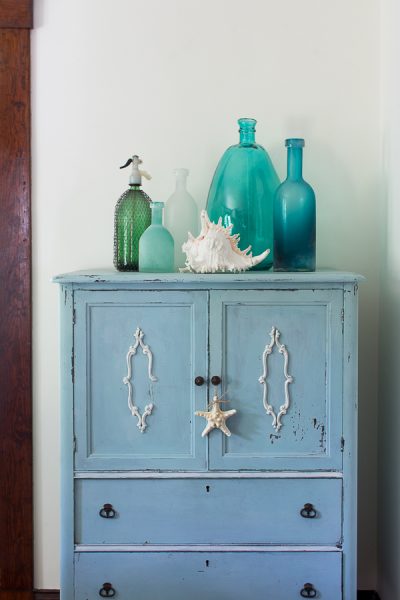 All my favorite colors in one spot!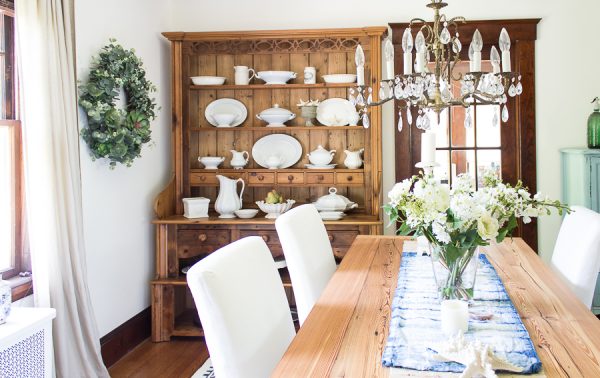 Adjacent to our dining room is our living room.
This is where we snuggle up with the kids for Friday movie nights or board games.
Summer Living Room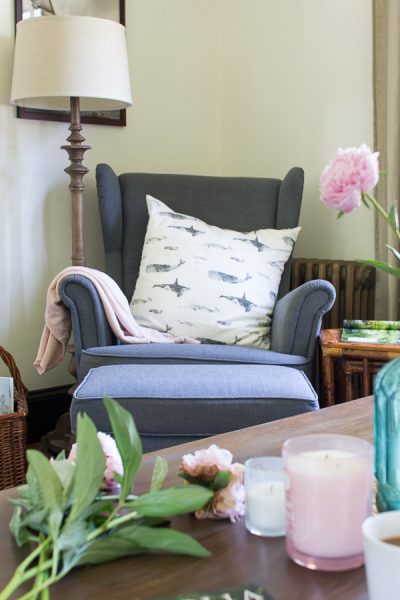 This is such a comfy spot to read. The pillows are actually from the boys' playroom but I borrowed them.
I just thought the watercolor whales were perfect for summer decor.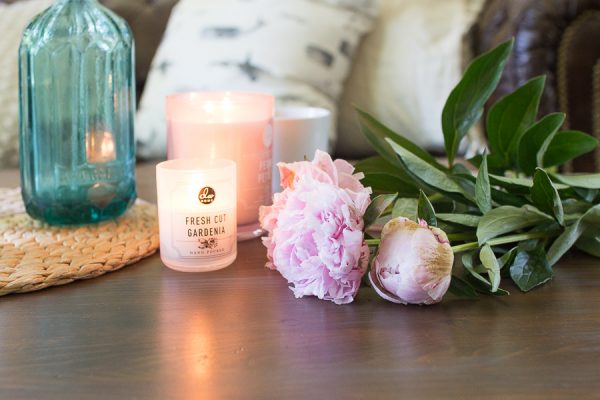 Oh, and I have a candle obsession.
Do you?
Every time I go to Marshall's or HomeGoods I pick up these candles. I love the Fresh Cut Gardenia and the Peony for summer. I had one lit when Fifi was here and she said she buys them too!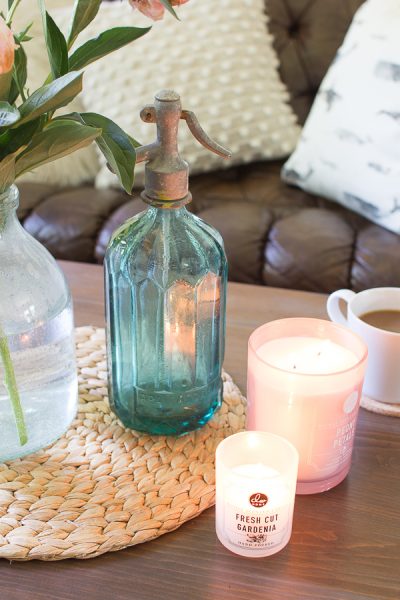 I love peonies. They remind me of my grandmother.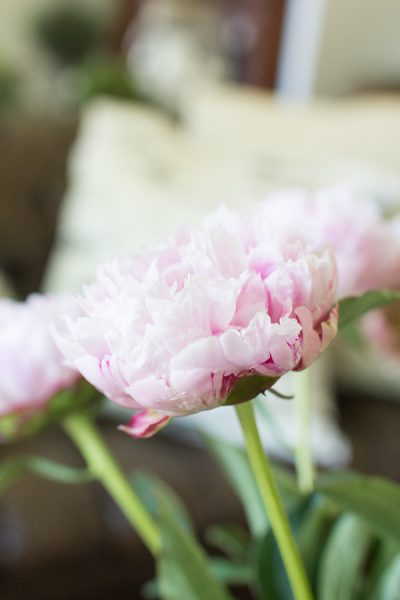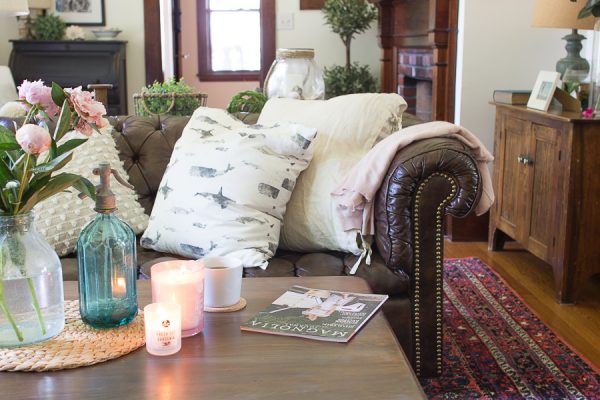 I also love the smell of blowing candles out.
It reminds me of blowing out birthday candles and making a million wishes.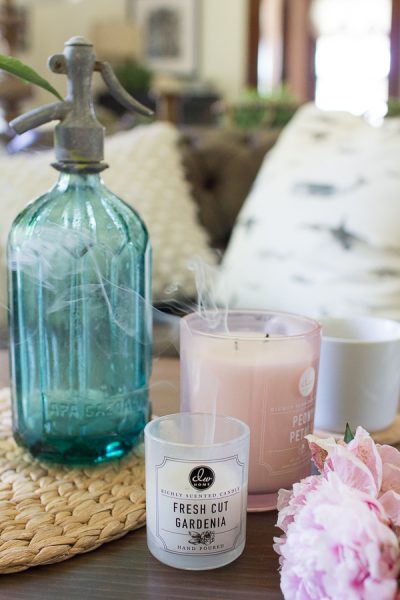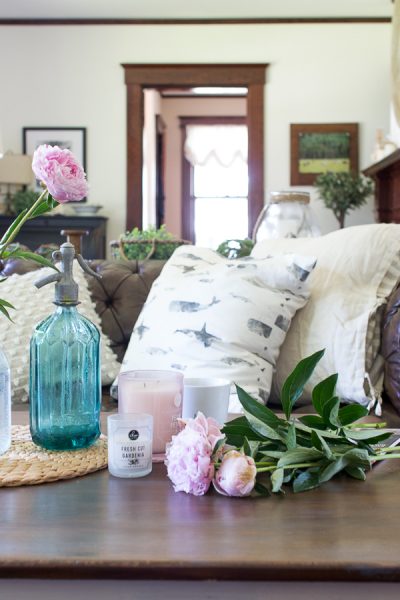 The other side of our living room is where the fireplace is.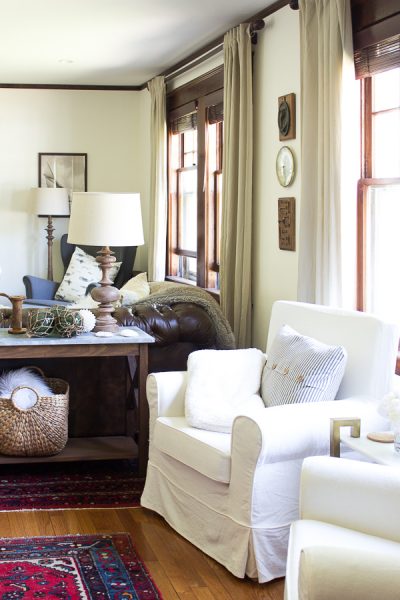 My summer mantel is very simple with bottles and branches.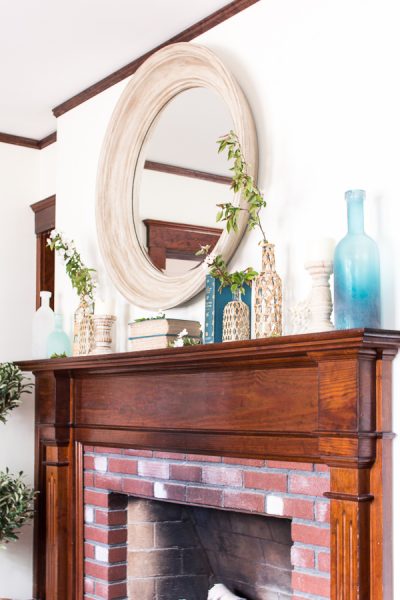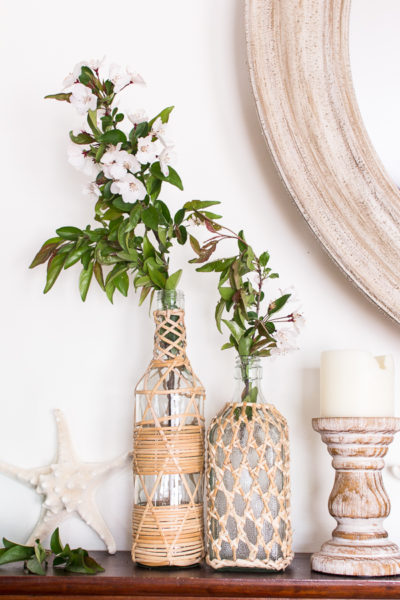 The perfect place to relax with a cup of tea.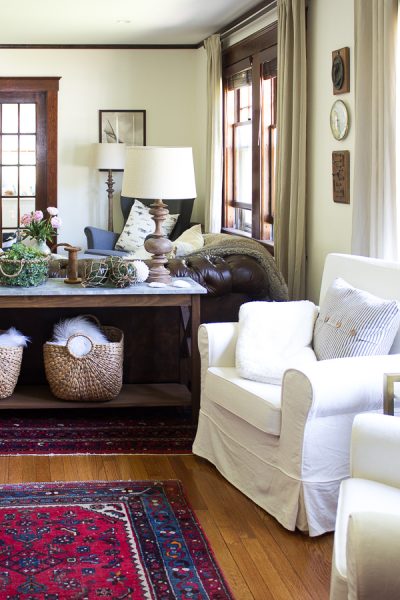 I haven't done much in the office, guest room or boys' bedroom for summer so the next and final stop is our bedroom.
Summer Master Bedroom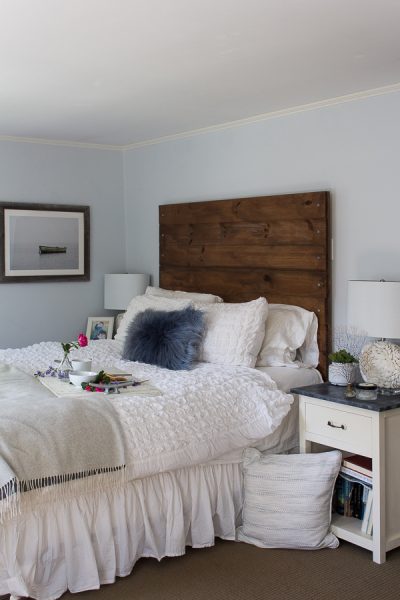 I love white bedding. It is so easy to look after. I throw it in the wash with bleach and it always comes out sparkling white. I also like this textured duvet cover because it never has to be ironed 😉
One of my favorite things in summer is sleeping in.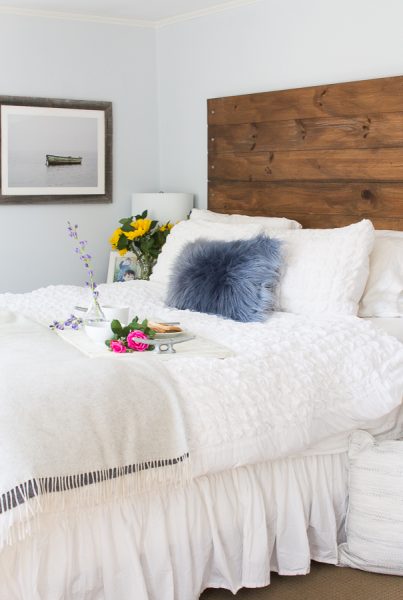 I love the more relaxed vibe.
I love that I don't have to get up early, pack lunches and walk the boys and dogs to school.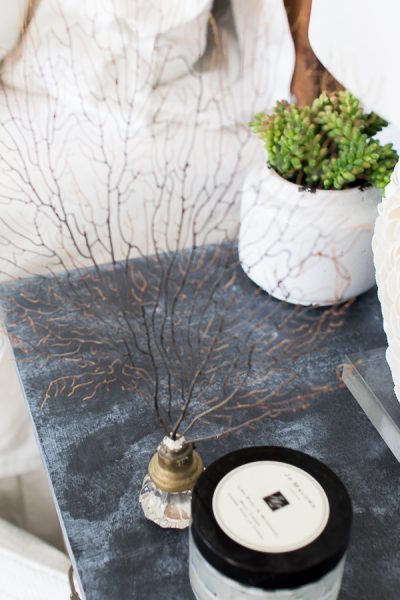 Don't get me wrong. I love walking the kids to school, but I also like the idea of lazy mornings.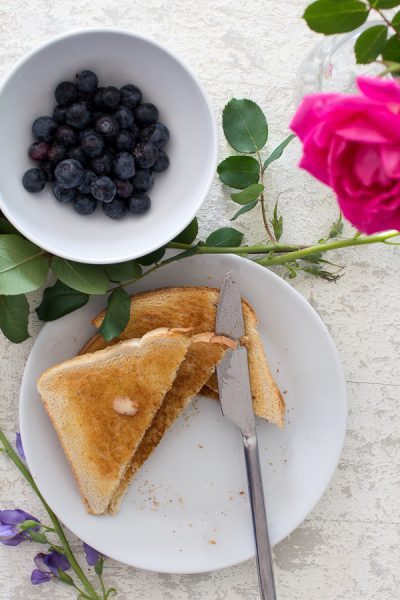 Warm toast and berries.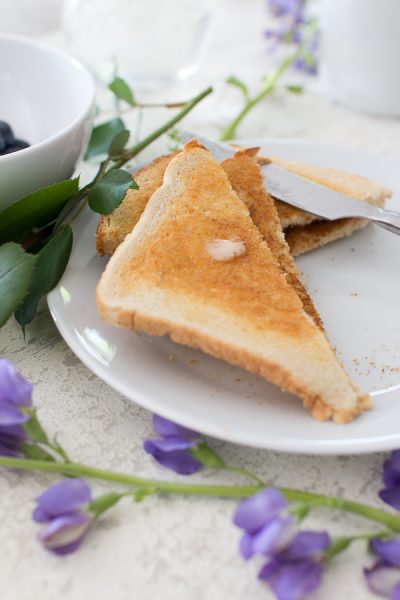 And, of course, coffee.
Nothing happens here without coffee.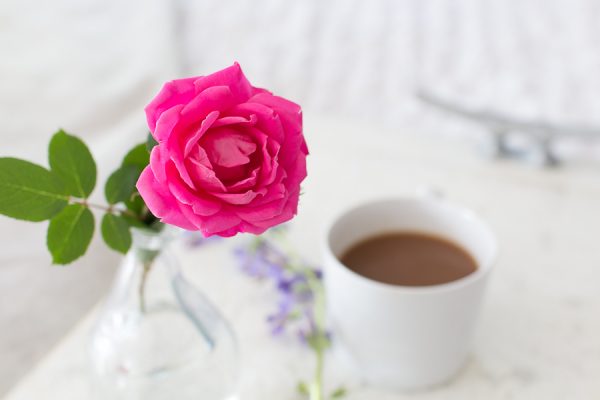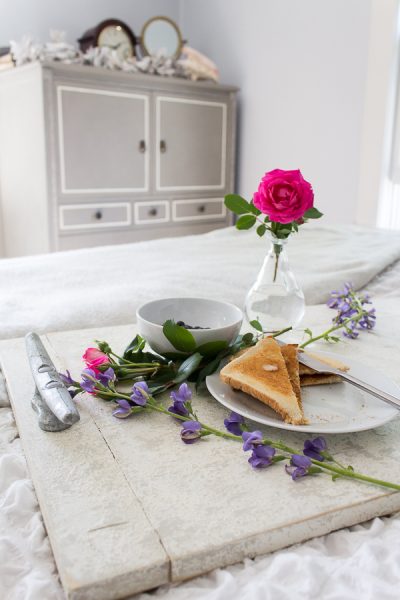 I used Saltwash® Powder on this coastal tray.
I painted this dresser for Luke a few years ago.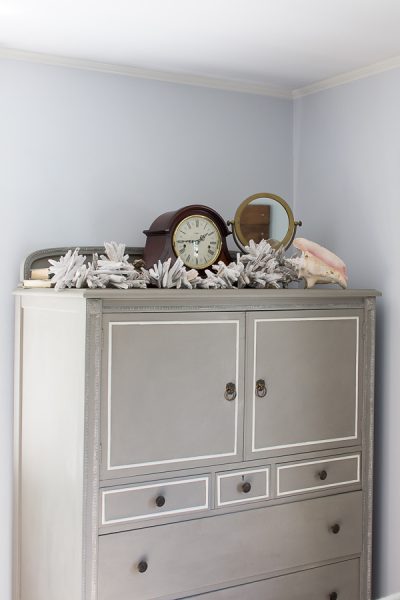 Our bedroom is very simple. Just lots of muted grays, blues and tans. The colors of the sea.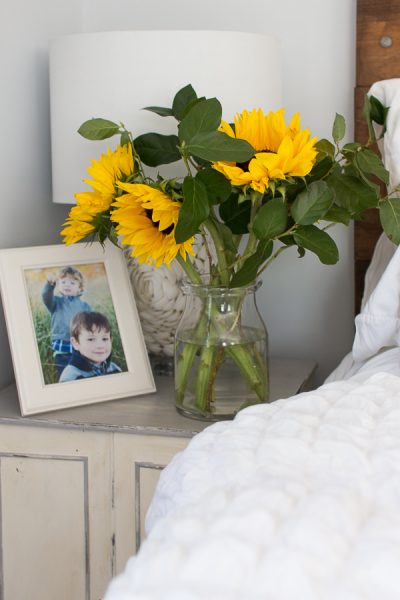 I can't believe how little the boys were in this photo. It's a favorite of Luke's.
We actually have some changes planned for this room.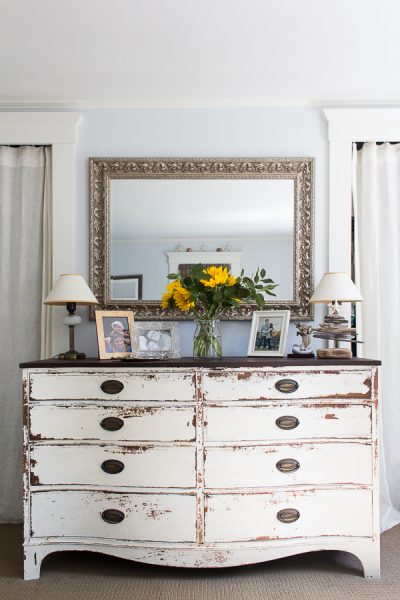 This dresser, one of my favorites, will be staying.
But exciting to share my ideas with you soon.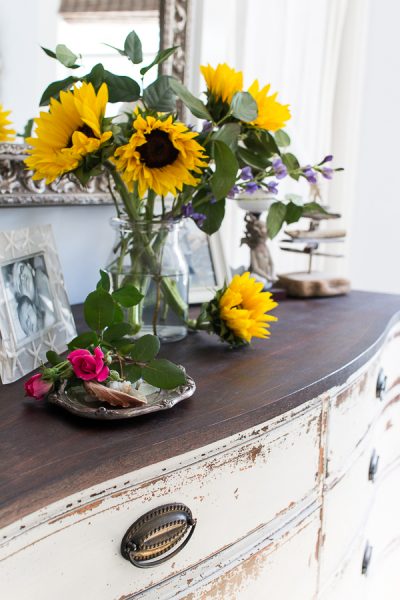 Fresh flowers from our garden and summer light make it perfect in here.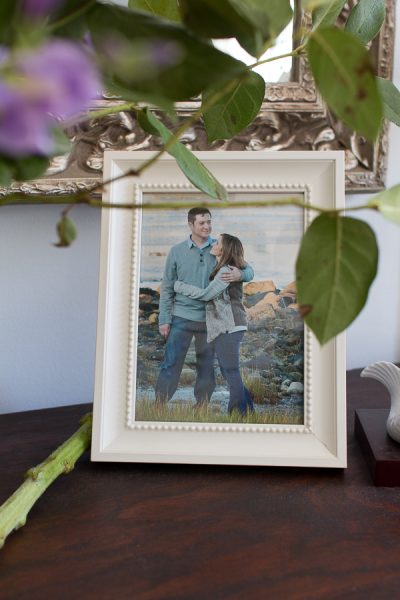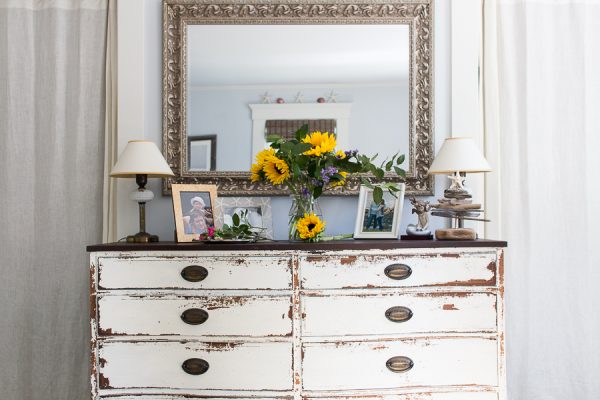 Well, that concludes the tour of our home! I shared our home colors the other week and I'll post a full source list at the end of this post if you're wondering about any sources or items.
Next up on the tour is Cami over at Tidbits. Can't wait to see what she has in store for you!
Thank you for joining me!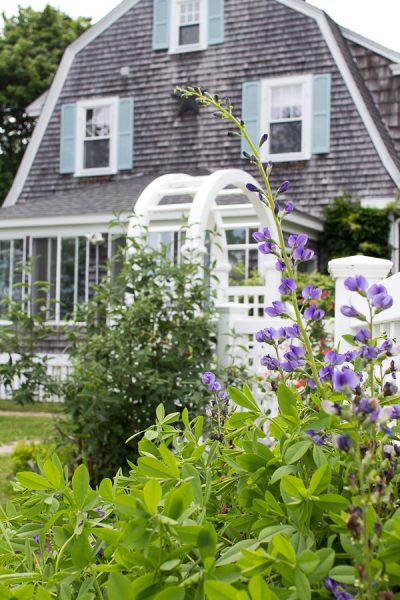 Source List
This list contains affiliate links, if you purchase via one of my links I receive a percentage of the sale.
Deck
She Shed
Outdoor
Sun Room
Kitchen
Dining Room
Living Room
Master Bedroom
Be Sure to Visit All the Bloggers Taking Part:

MONDAY
Nina Hendrick | The Happy Housie | Finding Silver Pennies | TIDBITS | So Much Better With Age

TUESDAY
Zevy Joy | A Burst of Beautiful | House by Hoff | Migonis Home | Just a Girl and Her Blog

WEDNESDAY
Nesting with Grace | Design, Dining, and Diapers | Bless'er House | The Wicker House

THURSDAY
Life on Virginia Street | Craftberry Bush | The Blissful Bee | Boxwood Avenue | The Chronicles of Home

FRIDAY
Love Grows Wild | The Wood Grain Cottage | Cherished Bliss | Making Home Base | The Turquoise Home