I partnered with Fusion Mineral Paint on this post.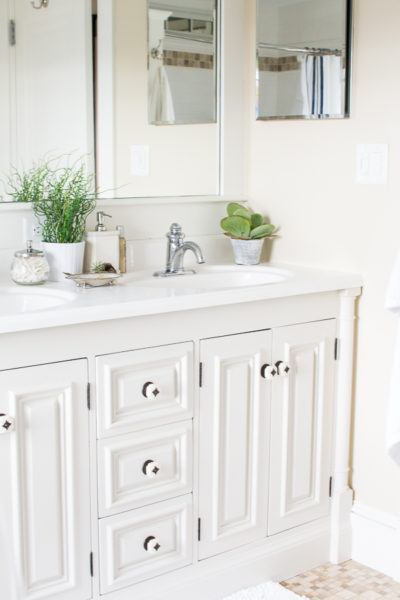 Good Bye, Gold Vanity!
This is how our bathroom vanity is looking now, but for nearly three years it's looked like this: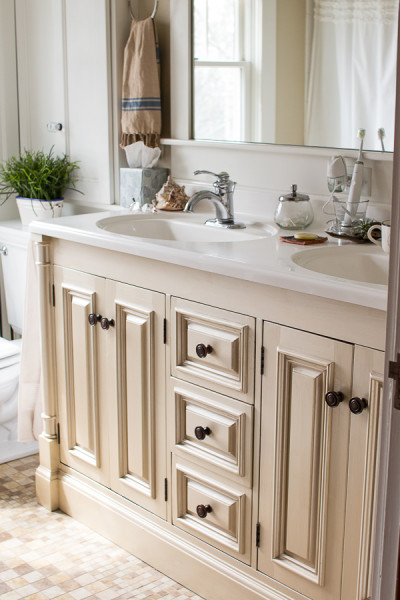 If you've been following the blog then you know my style is more shabby chic and coastal than metallic, so painting this gold vanity has been on my "To Do List" since the day we moved in. For some reason or other, I continued to paint other parts of the house and other pieces of furniture to sell, while this remained gold.
I think the idea of painting it was actually worse than actually doing it.
We share this bathroom with our children and this is where the action happens – showering, teeth brushing, hair straightening.  Well you get it.
Downstairs we have a bathroom, but it is teeny, tiny.  You may remember I showed you a picture, here: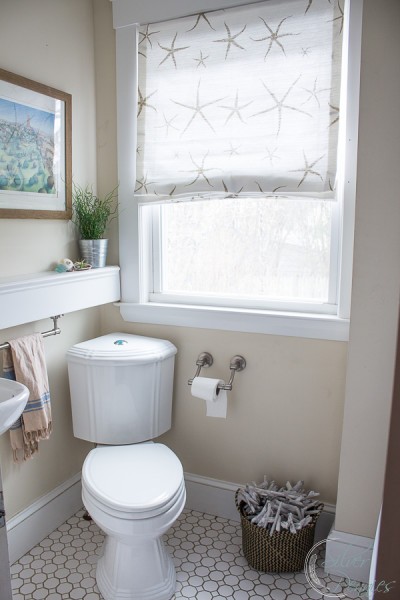 It's very small and to paint this vanity I knew I'd need to relocate all teeth brushing and bathroom stuff downstairs. It really wasn't as bad as I thought it would be! But you know how you talk yourself (continually) out of a project because you think it's going to be a hassle?!?!? Well, now I'm kicking myself. Ha! Ha!
This vanity had tooth paste from my boys gunked on it and it was starting to chip.  Not so pretty, huh?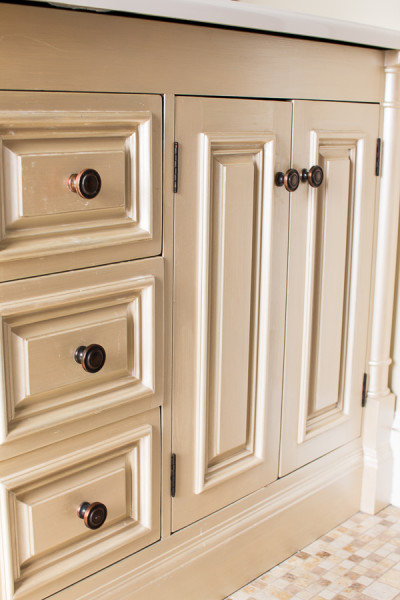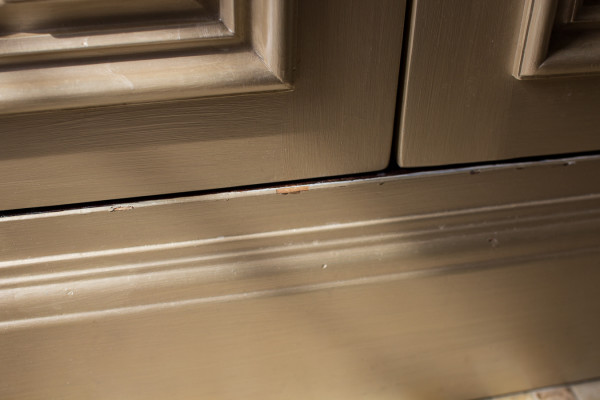 Time to paint at last!!!!!  Hooray!
How to Paint a Vanity

I decided to paint the vanity with Fusion Mineral Paint: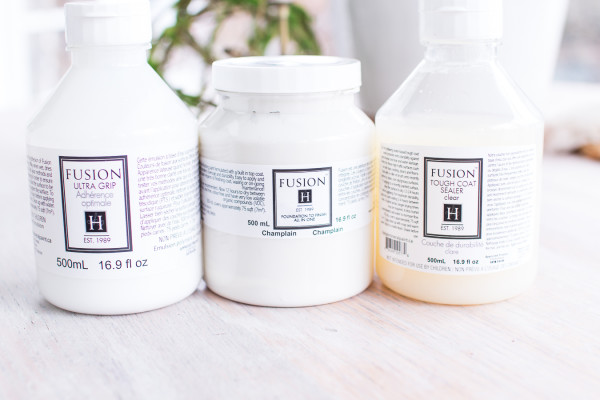 Note: Some of the links in this post are affiliate links, which allows me to make a small commission from your purchase, but your purchase price stays the same. Thank you for helping support our blog!

Materials:
Method
I decided that I wanted this vanity to look like a piece of furniture that I maybe found and turned into a vanity.  I love the white counter but didn't want the vanity to blend into it too much. We have a lot of white in the bathroom with trim and subway tiles and the walls are tan. I was this close to doing the vanity blue (as you know how much I love blue), but decided a classic warm white would give this bathroom the refresh I was craving!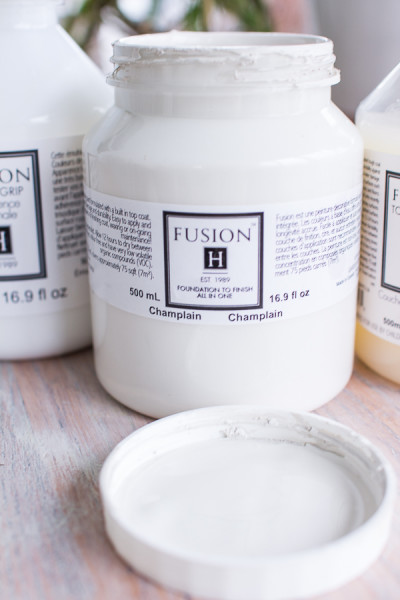 Champlain to the rescue! This is a warm white which looks perfect with the bright white trim, the warm tiled floor and the tan walls.
Step 1  – Prepping is important when painting furniture. I know we want to get on with projects but trust me you'll save time in the end by properly prepping. This piece needed to be cleaned because of all the tooth paste (I mentioned before).  I lightly sanded the entire piece with a sanding block. Then I vacuumed off and washed with TSP. I followed up with rinsing with warm water.
Step 2 – Once dry. I removed the doors and hardware and drawers.  I worked on the doors and drawer fronts in the basement.  I taped off the edges over the drawers and also along the floor and walls as I didn't want to paint those areas!  I applied two coats of the Ultra Grip. This piece felt slick and I really wanted to make sure the paint could adhere properly. I applied this with a foam brush.
Step 3 – Time to paint!  I painted three coats of Champlain by Fusion Mineral Paint.  I really wanted to cover that metallic! Two coats was probably good, but I did three to be on the safe side 🙂
Step 4 – Fusion has a built in top coat but since my boys are messy in here and we use lots of water and spray cleaners I wanted to give this surface a bit extra protection. This was my first time using Fusion's Tough Coat. I applied with a foam brush and did two coats.  It was great to work with but thicker than polys.  I recommend applying in an area and going back and double check and catching any drips.  I found it dripped a little bit on the side where I hang my towel.
Step 5 – Reassemble vanity and put on new hardware!
The new, clean color has made a world of difference; our bathroom feels twice as large.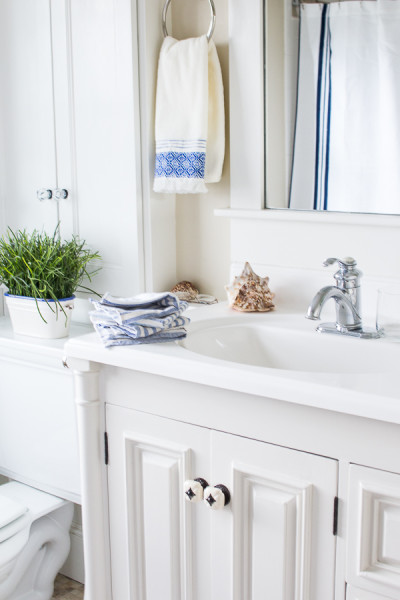 Oh, and let's just linger over the hardware.  I do LOVE collecting beautiful hardware.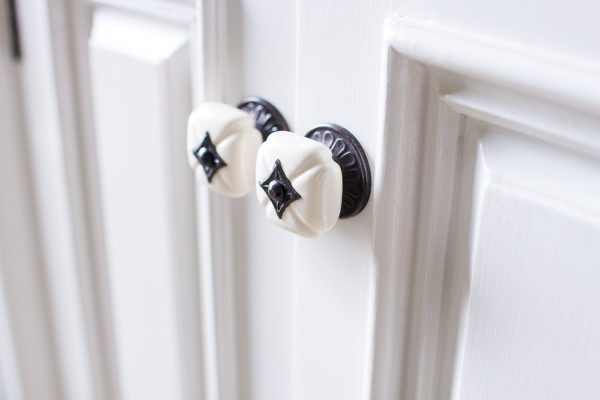 These knobs are from Anthropologie. They cost $8 a piece and they are nice and heavy.  I knew I wanted something chunky and well made for such a high traffic area.  I also wanted to give the look of old and vintage.  The brass and porcelain does just that. The Highland Knob is sophisticated and would go well on any piece of furniture.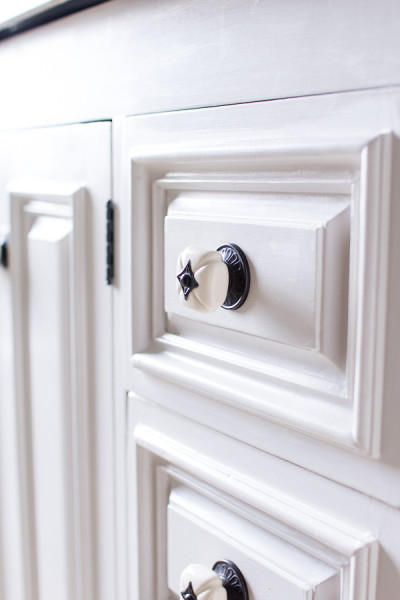 They make quite the statement don't you think?
I'm happy to report the vanity is standing up so well, even with my little guys brushing their teeth and slamming drawers. Painting it and waving good bye to the gold was the best thing I did. So glad our vanity no longer has the midas touch 😉
I'll share some more updates to this room soon!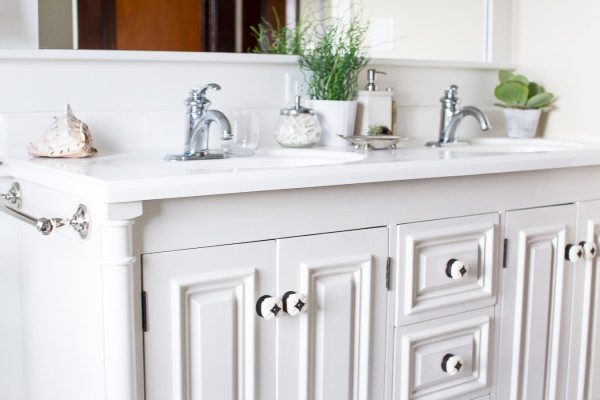 Sharing with: