Every year around this time I start to crave green in our home. Today I have some fun (and easy) craft projects. We're decorating with moss!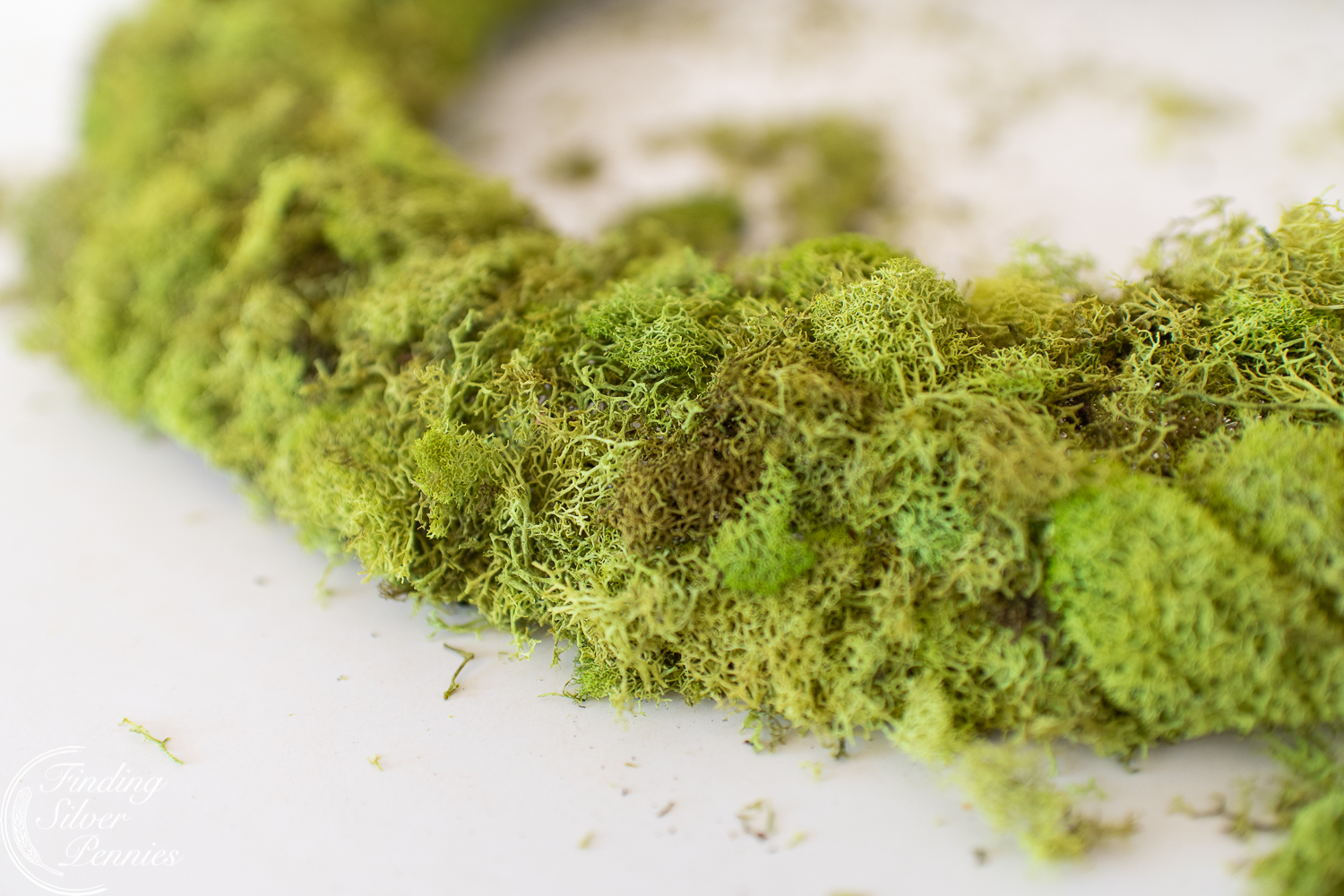 It's the first Saturday of the month which also means it's time for our monthly Cozy Living Series hosted by my sweet friend Jennifer. There will be loads of cozy living posts linked up at the bottom so be sure to check them out.
This post contains a few affiliate links for your convenience. If you purchase via a link I may receive a portion of the sale.
The other week I was up at Crate & Barrel looking at lighting for the boys' bedroom and I came across a pretty moss wreath. I always love to see their styling when I visit the store. I couldn't seem to get this moss wreath out of my mind. I had a simple wire wreath form I picked up at the dollar store and thought if I grabbed some moss, I could make my own moss wreath 🙂 at a fraction of the cost.
How to Make a Moss Wreath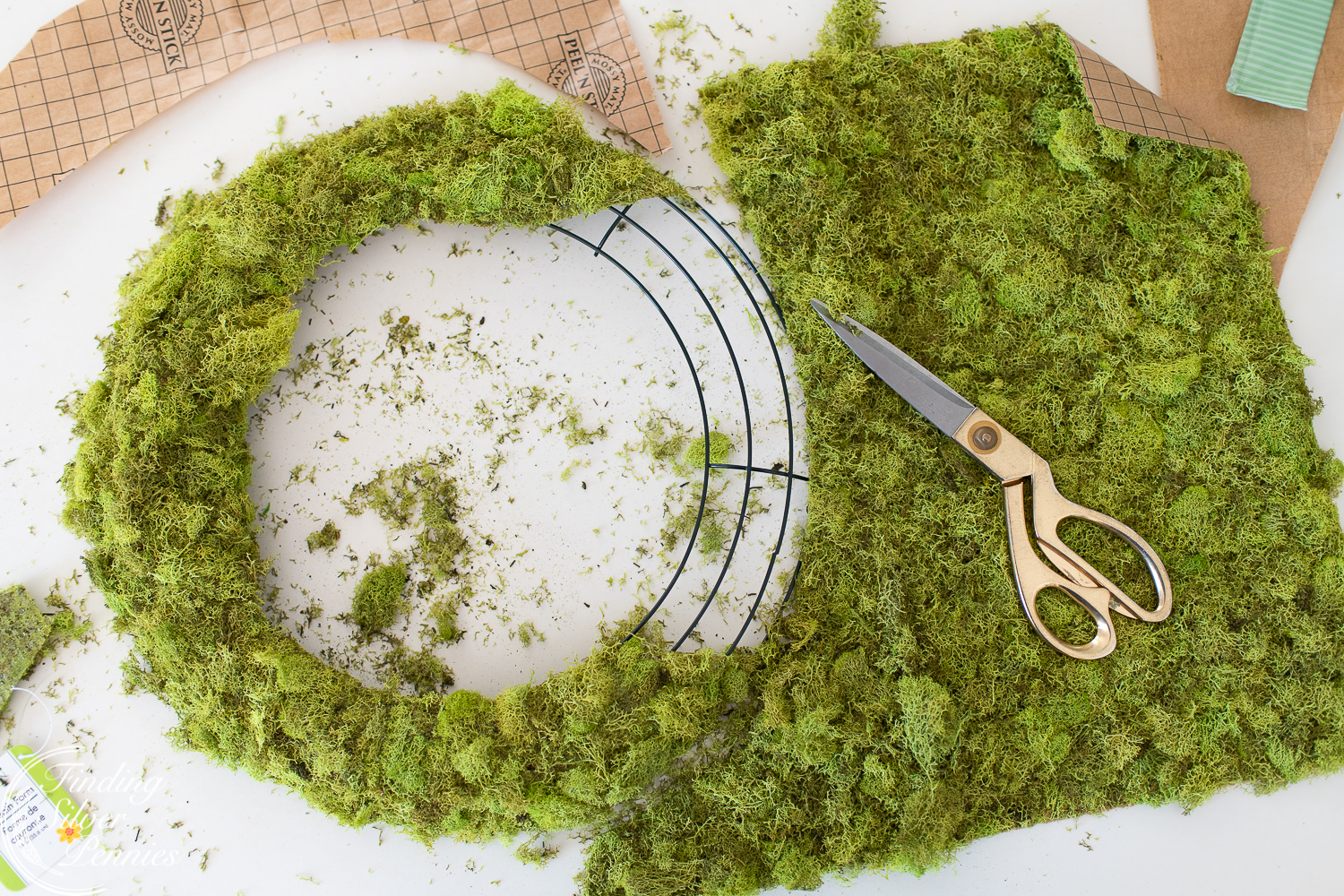 What You'll Need
Method
I'm not a big measuring person. I like to do it by eye. So I took my moss sheet out and lined it up with the wreath form. Simply cut the moss, remove backing and stick on.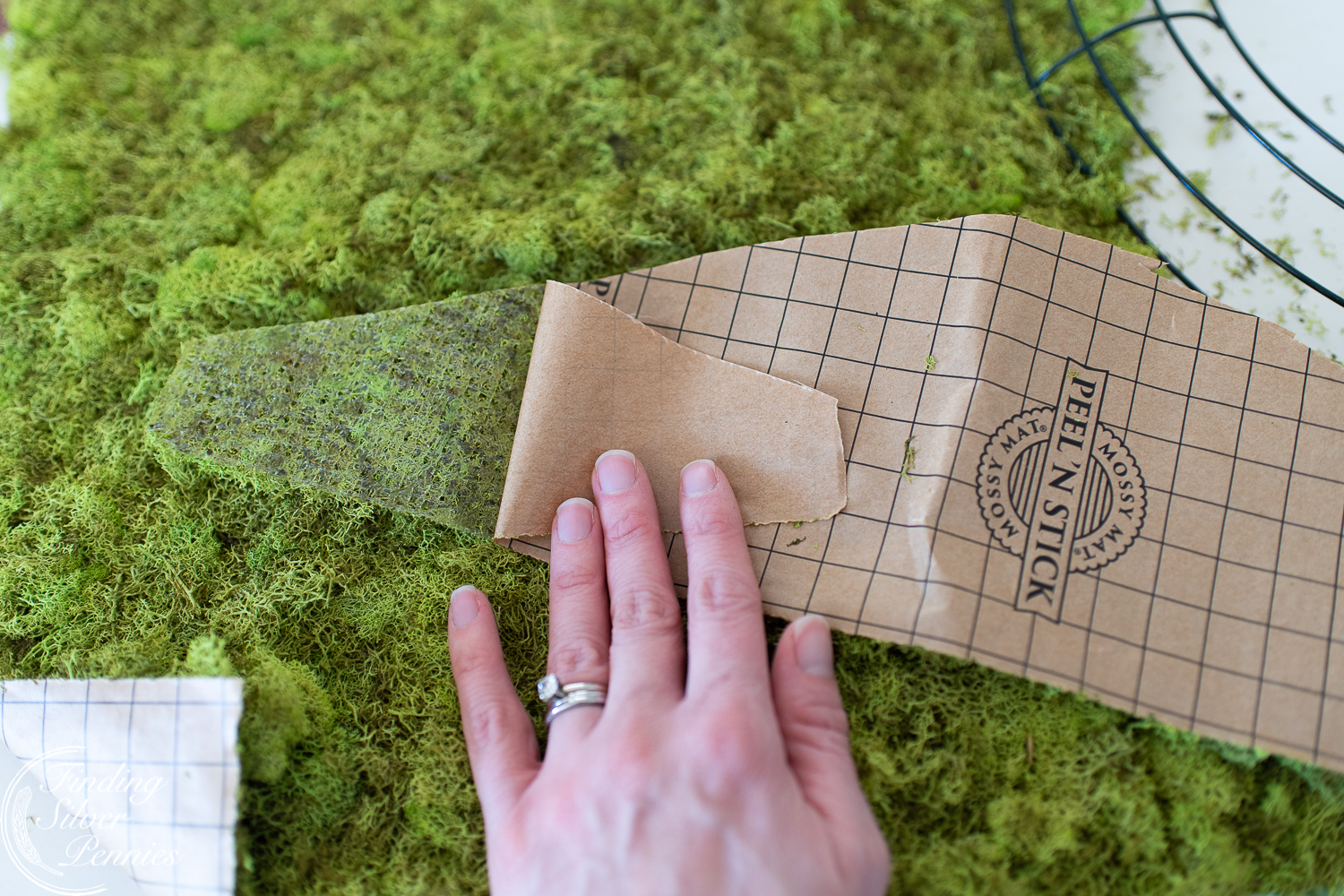 You'll need to trim off excess, but save trimmed pieces to use to layer over missing spots. It gives a more 3 dimensional look.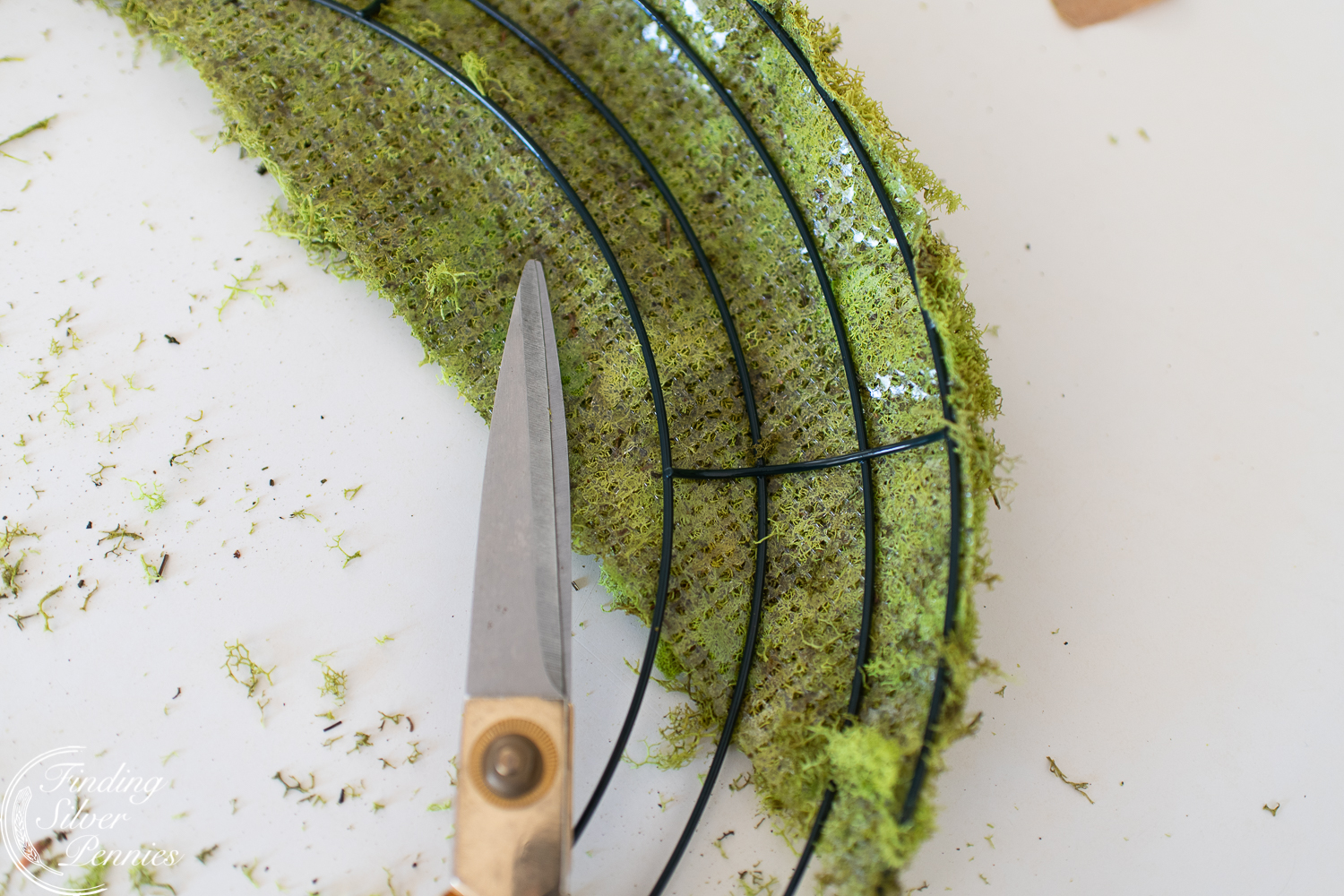 I couldn't believe how quick and easy it was to make this wreath. I full anticipated hot gluing little bits of moss to a form. This was much quicker and the bonus was I didn't burn my fingers 😉
Here's how the wreath came out, only a few minutes later.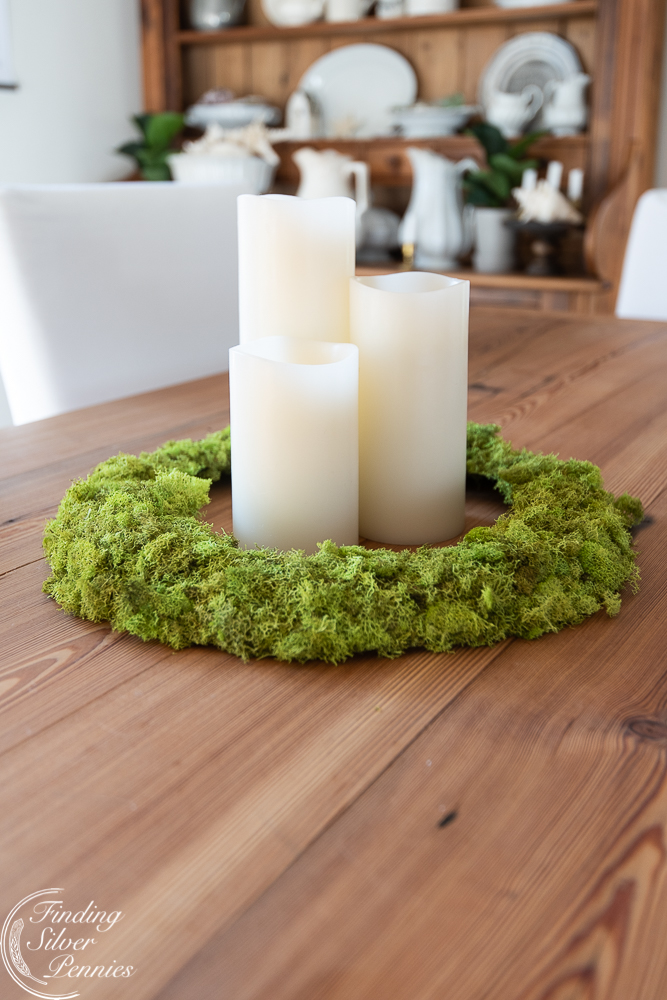 Don't you just love simple craft projects?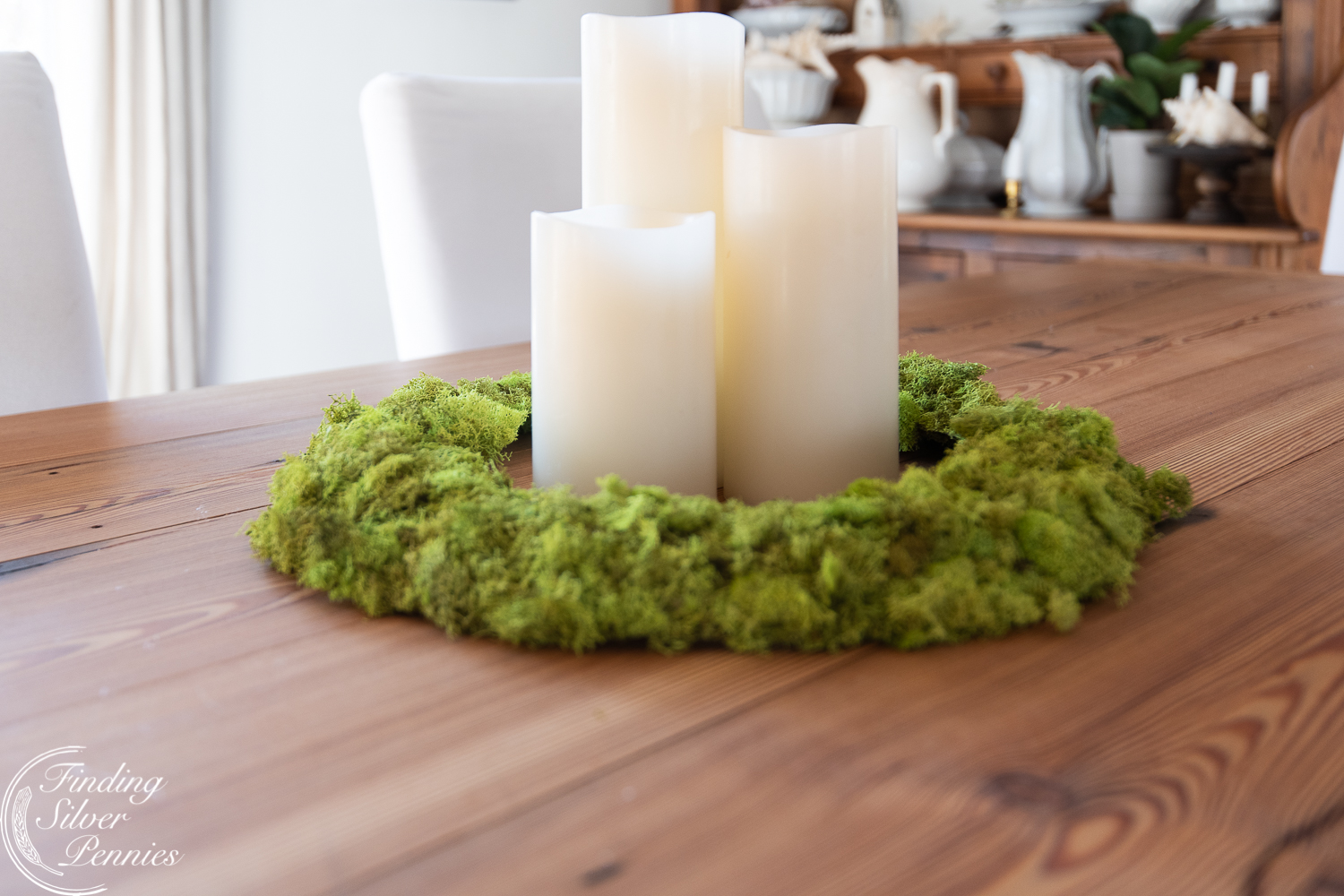 The moss, I got for 40% off so it ended up costing me approximately $7 and the form was $1. So my wreath cost $8 with moss leftover compared to the $100 moss wreath.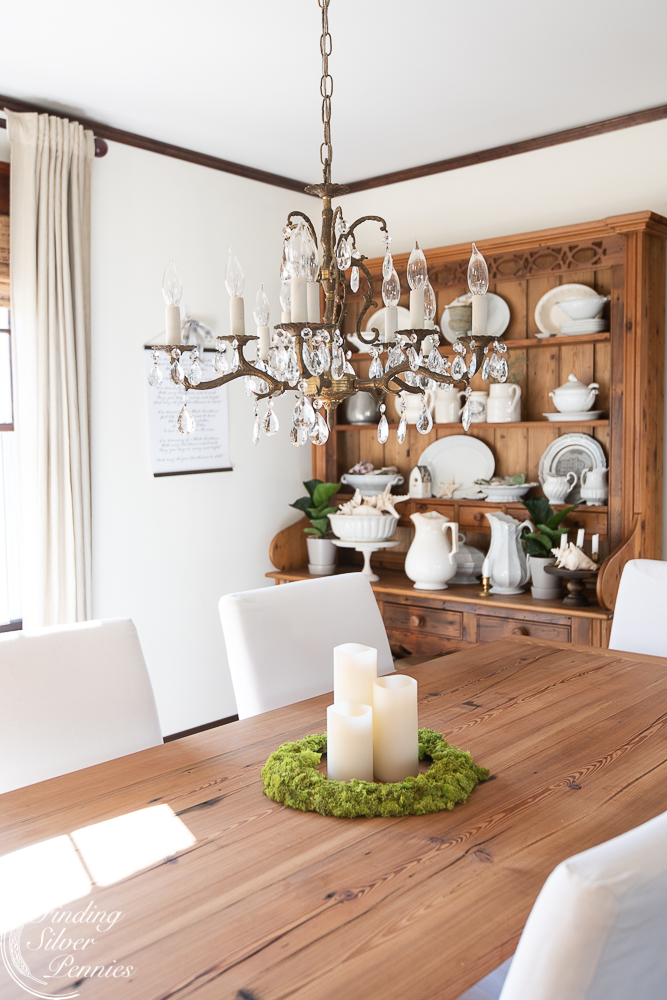 It looks so pretty on the table just with these candles from Balsam Hill.
Then I thought it would be fun to see how it looked on the door in our entry. A little too small and didn't pop against the dark wood as much as I thought it would.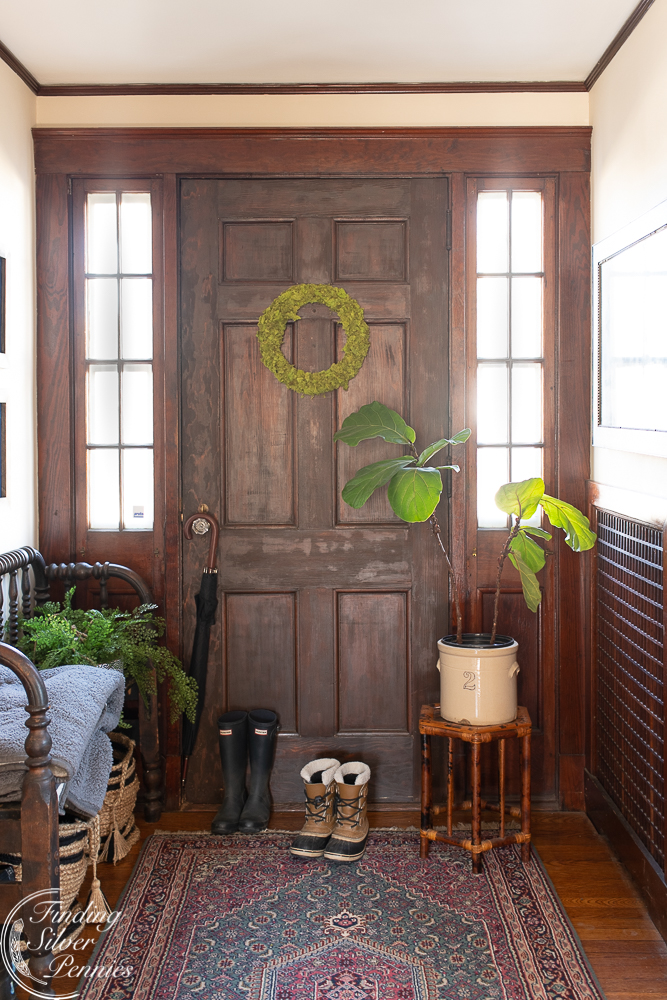 That didn't stop me from snapping a cute photo of Max, though.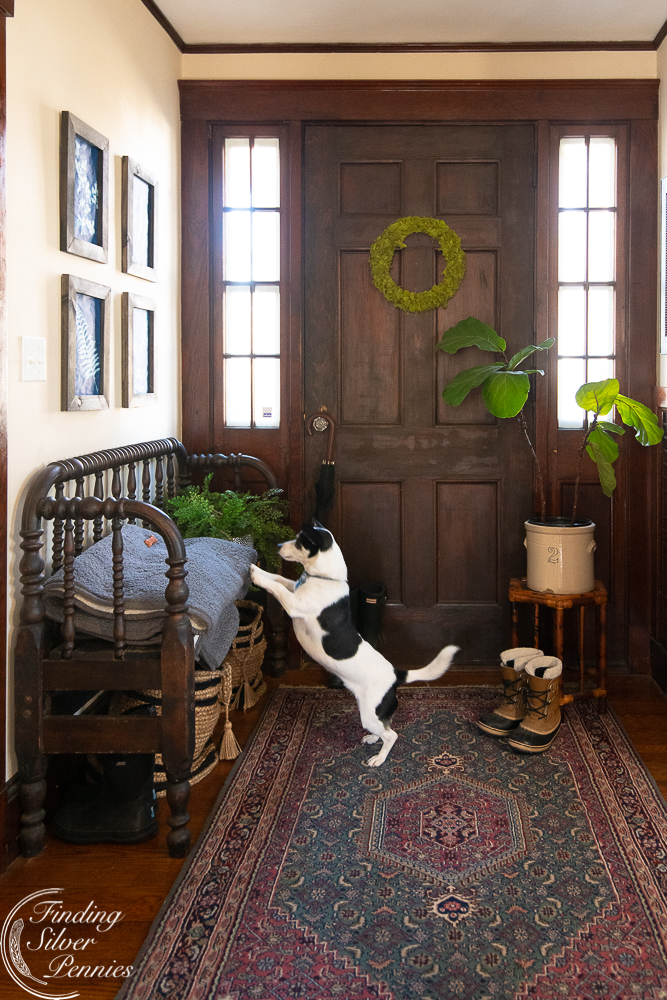 Okay, back into the dining room. I started to layer in some ironstone, cake stands and simple green apples, red and green pears, and green grapes from the supermarket.
This got me thinking about the leftover moss in the kitchen and maybe making some napkin rings.
Moss Napkin Rings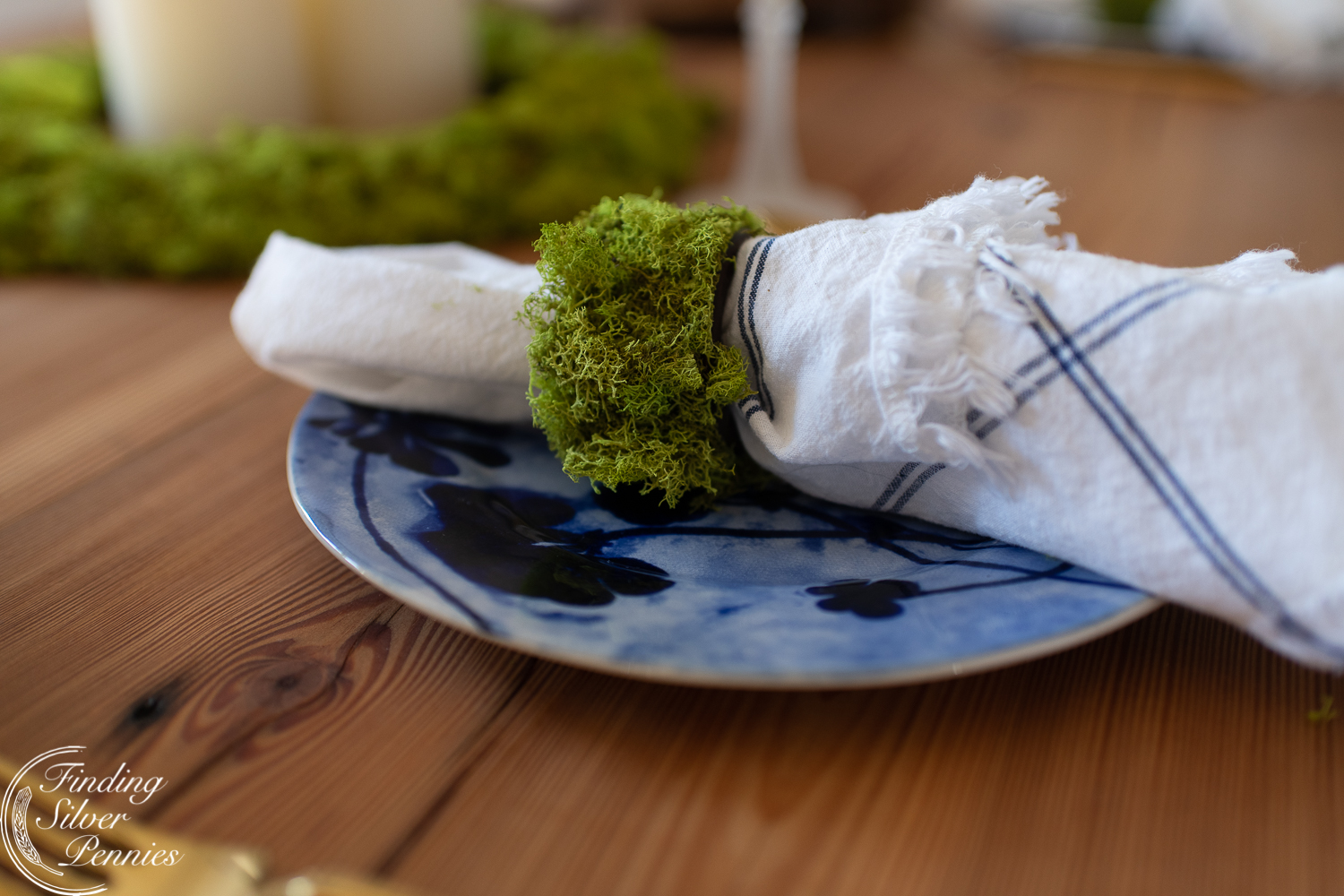 What You'll Need:
Method
I used some wooden rings from another project.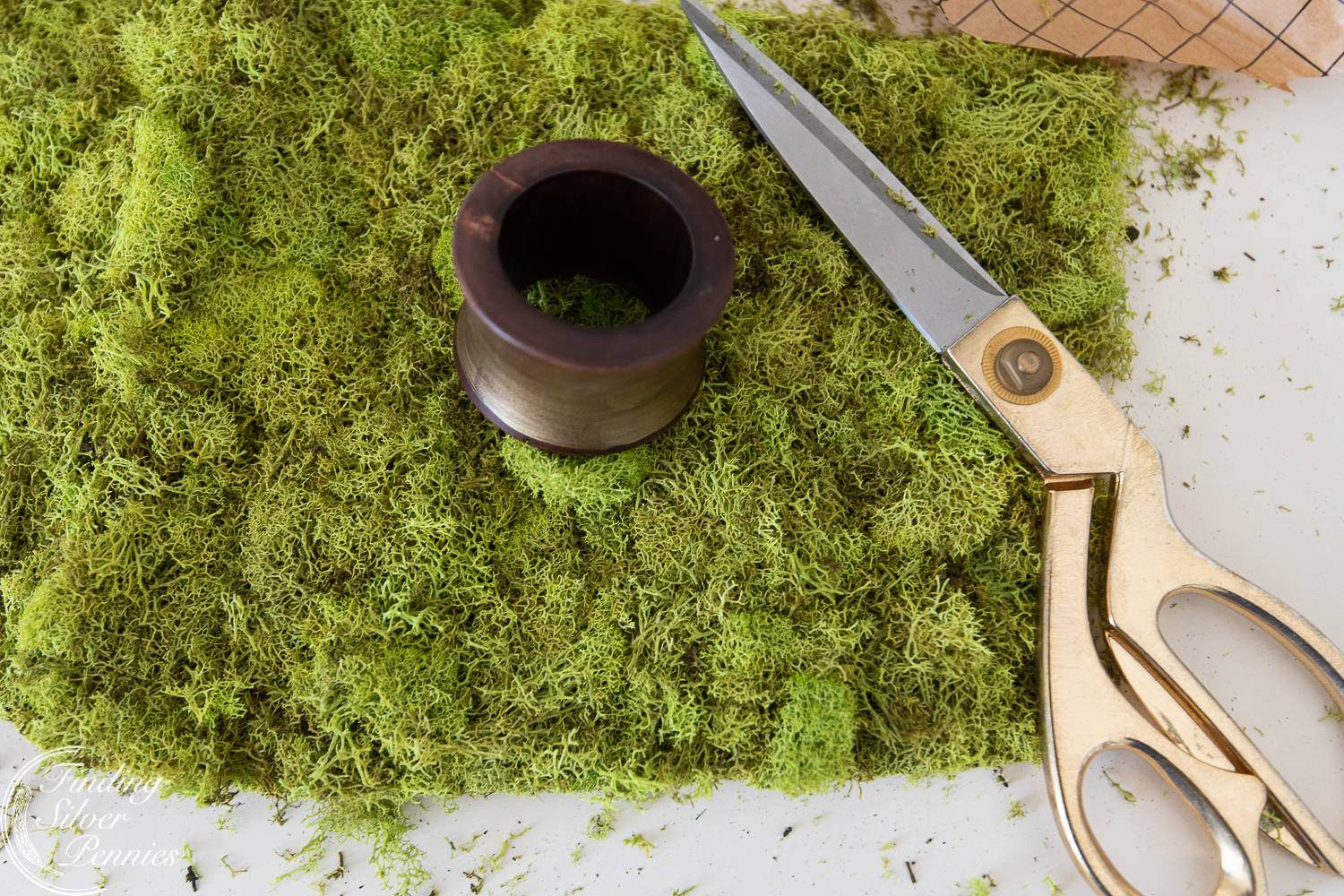 Cut strips of moss to fit onto the napkin rings.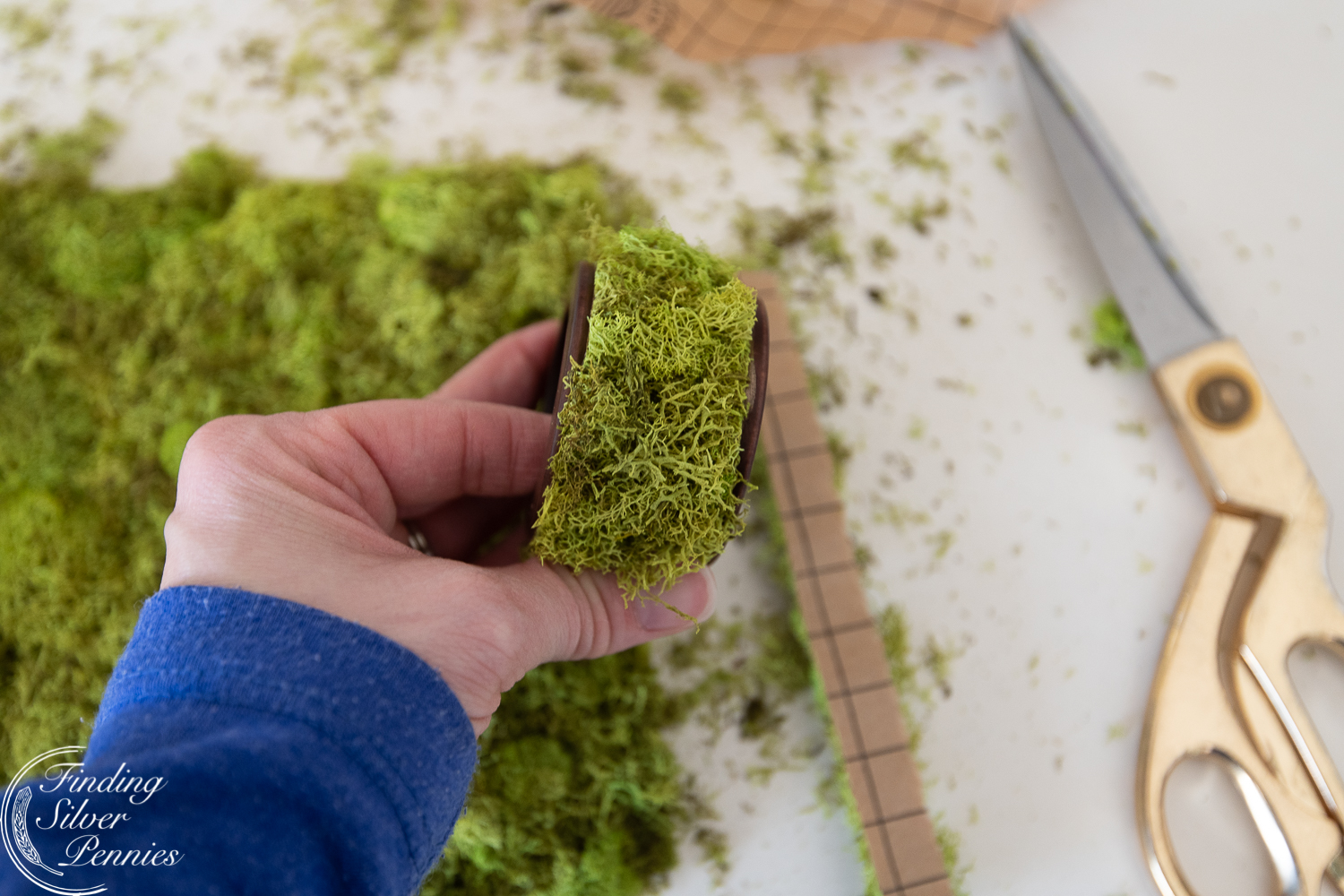 Peel off the backing and stick on.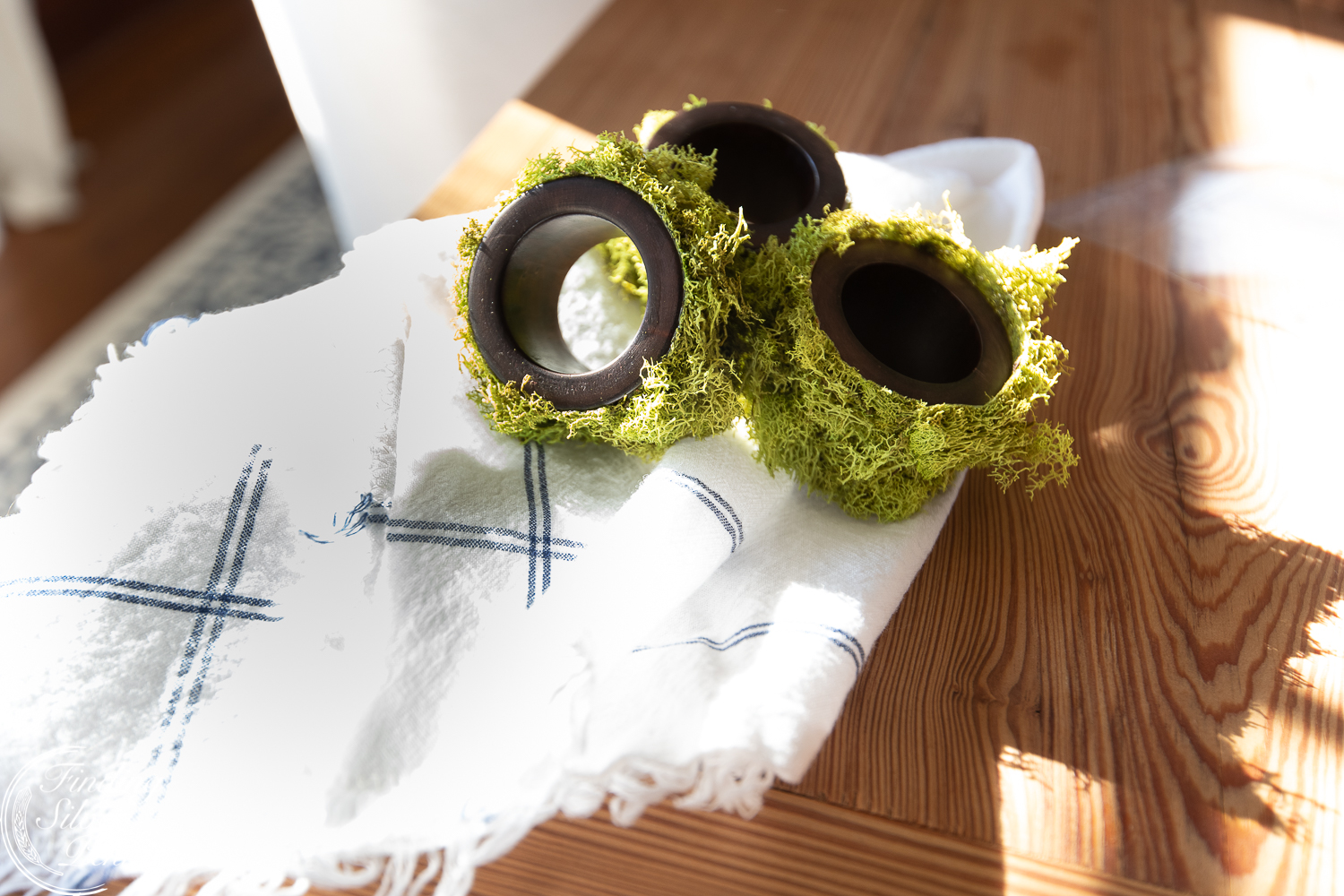 Adorable moss napkin rings! Oh, and here's a tip. If you don't have wooden napkin rings you can use toilet paper rolls and cut them to size. I actually couldn't find one of my wooden ones and replaced the missing one with paper.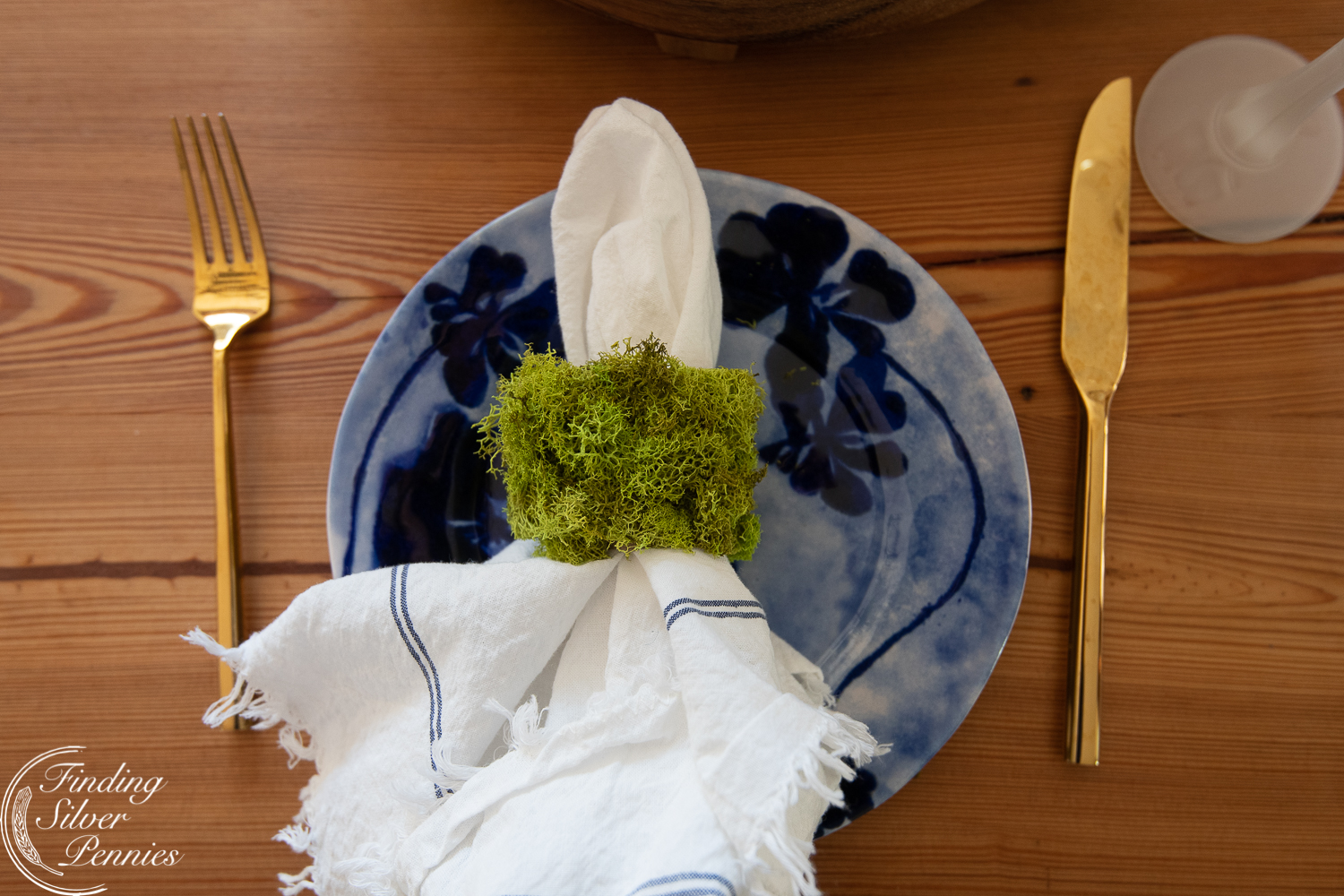 This got me thinking how cute these little napkin holders would look for a little girls' tea party or fairy garden party. Can't you see it? Making fairy houses and having cupcakes and tea with moss covered wreaths and napkin holders?
I thought you guys might want to see how the whole tablescape looks together:
Moss Covered Tablescape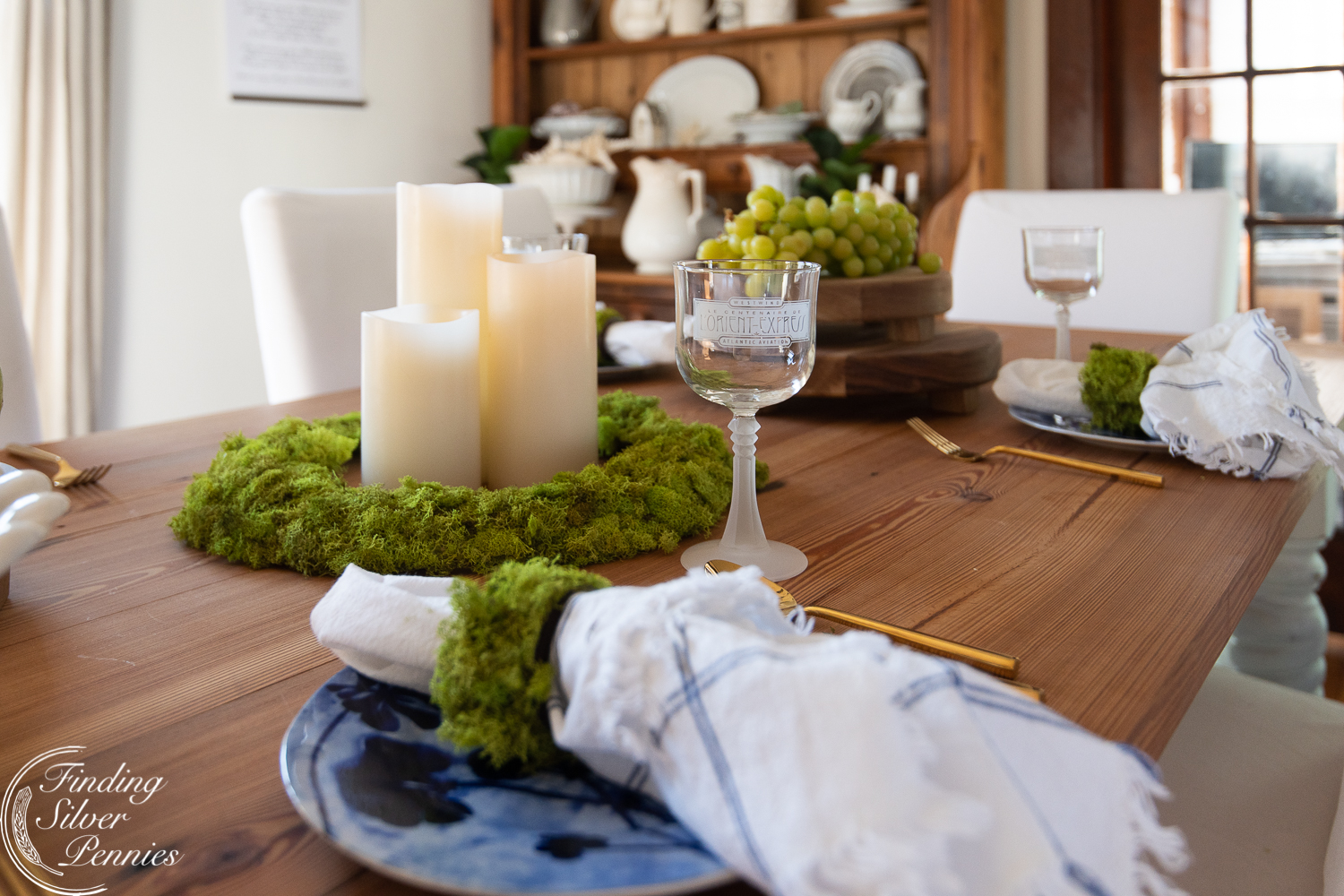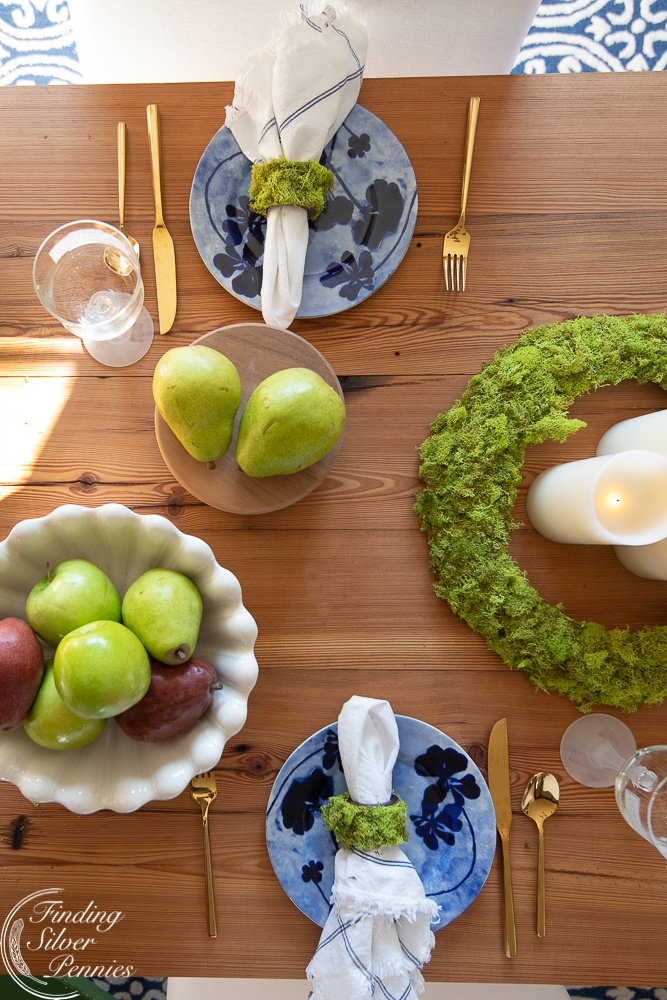 Did you know there are red pears? I only just saw them at the supermarket for the first time!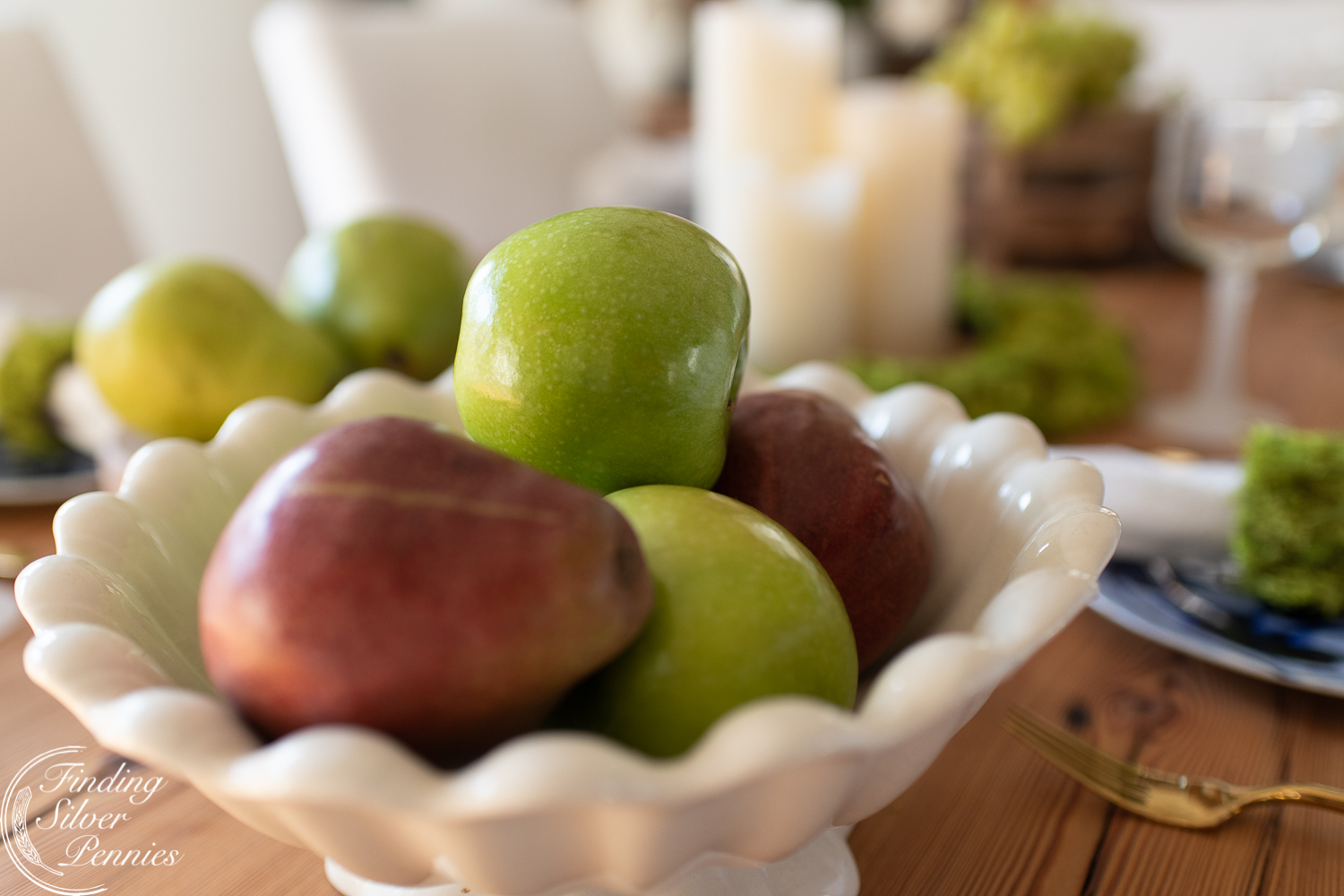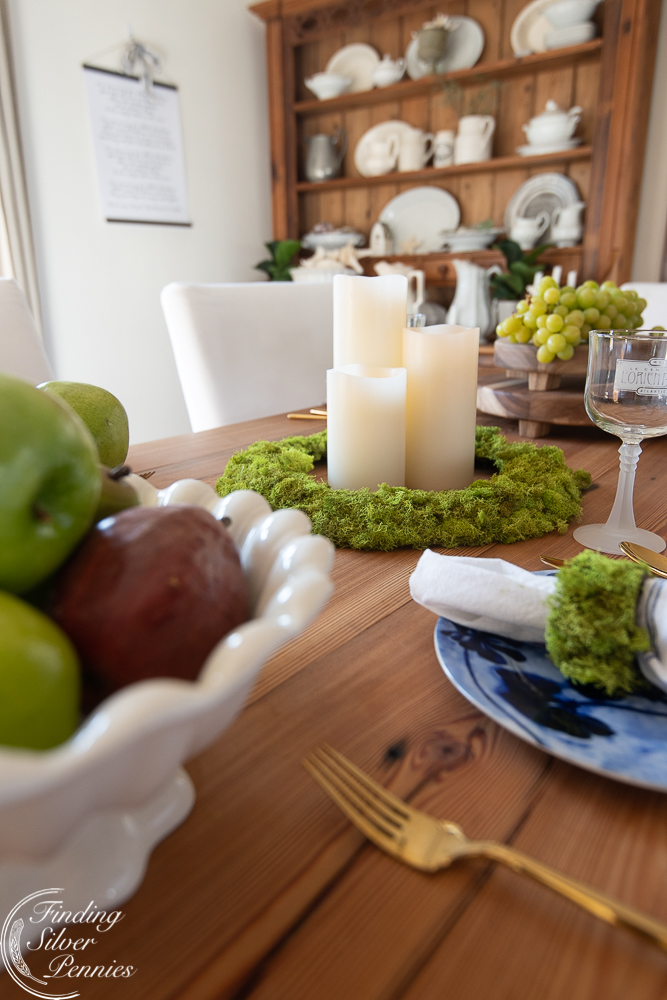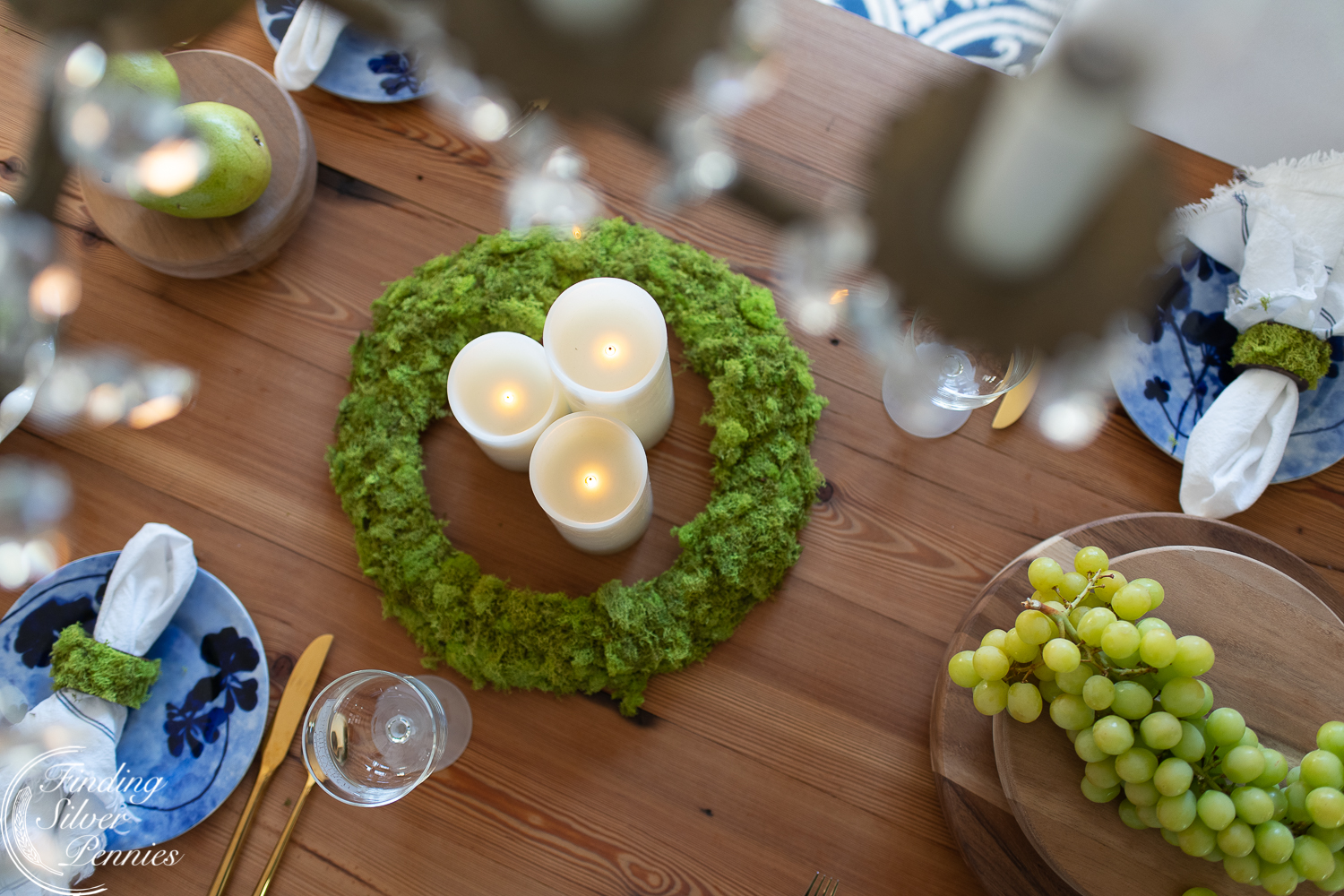 Anyone love Agatha Christie and Murder on the Orient Express? These glasses were actually from the 1950s film! My mom gave them to Luke at Christmas.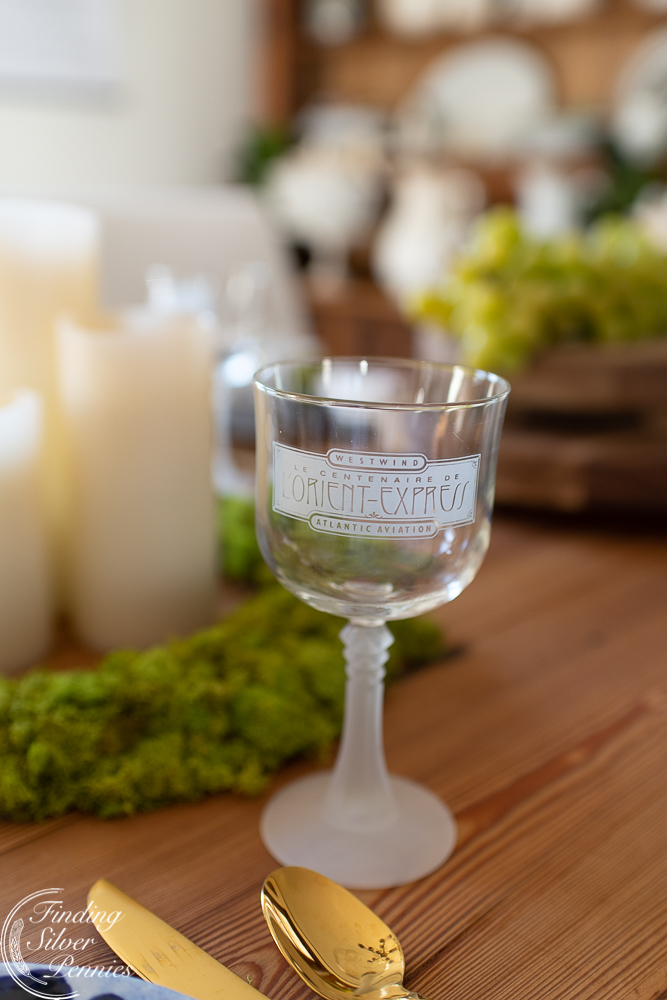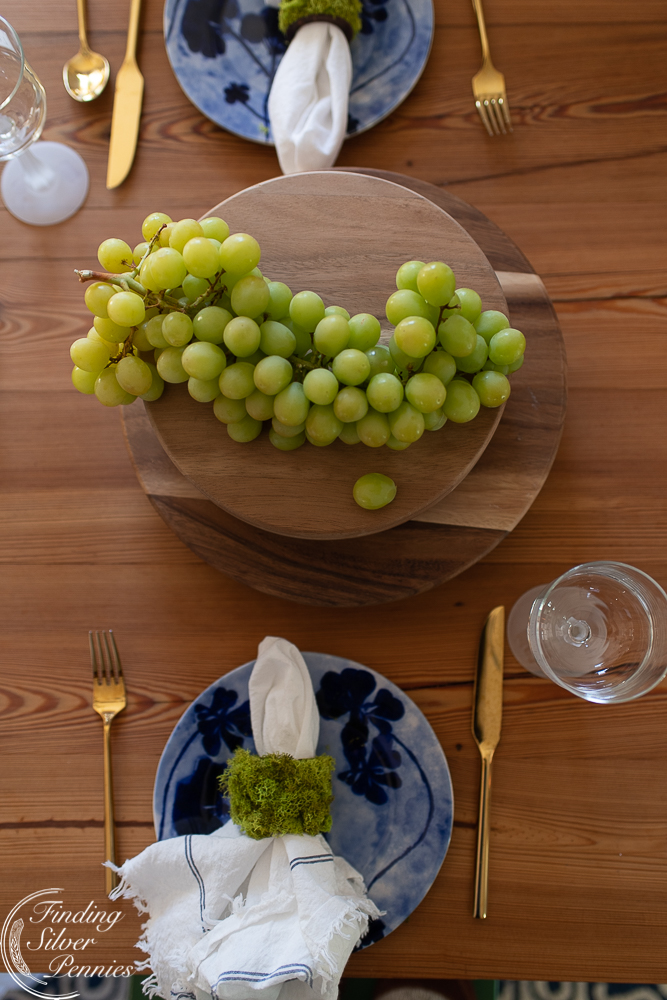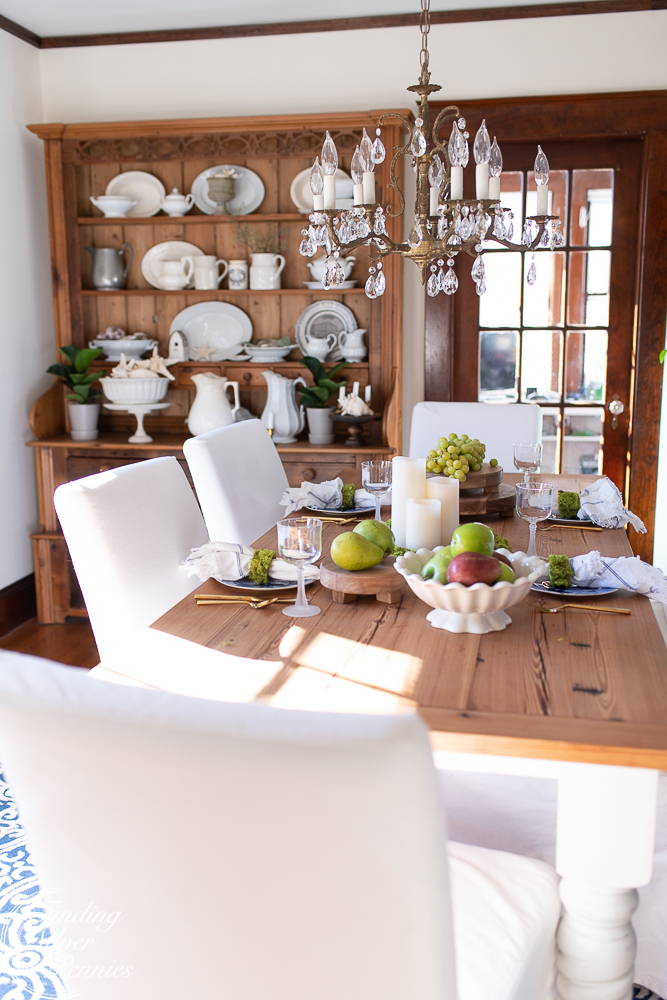 I hope you enjoyed this post decorating with moss as much as I did creating it? I'm really excited about using this new type of moss. It will be so cute on so many different craft projects.
I often get asked about room sources so will include a full source list for this space.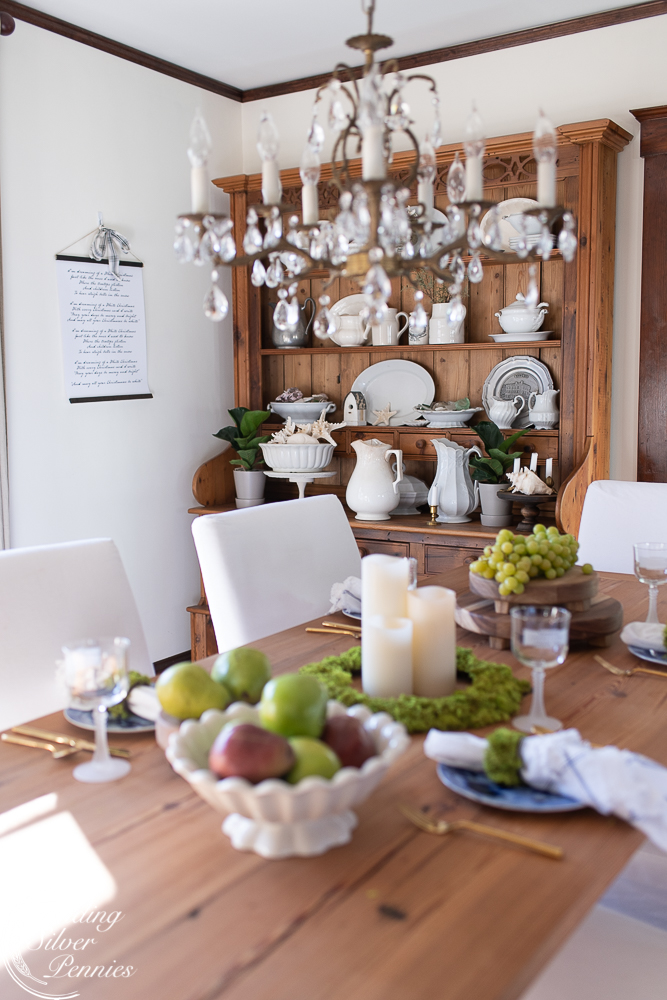 Source List
Wall color – Benjamin Moore Mascarpone in matte
Dining Table – Built by my husband see more about that here
Chandelier – Antique
Dining Chairs – Ikea
Safavieh Rug – Overstock
Plates – Anthropologie
Gold Silverware – Target
Ironstone – Antique
Cake Stands – Target
Welsh Dresser – Antique
Glasses – Vintage
Wall Hanging – DIY here
Cake Stands (on Welsh Dresser) – DIY here
Cozy Living Ideas for February
I can't wait to see all the fun & cozy living ideas my friends have. Stop by to see there links below:
Finding Silver Pennies / Creative Cain Cabin / Duke Manor Farm / Town and Country Living
Hymns and Verses / Sincerely Marie Designs / Vinyet Etc. / Making It In the Mountains