Last week we celebrated family and the last moments of summer with a stay-cation. We visited a place I've always wanted to visit – P-Town. I'm still in denial that my kids start school a week from today. I thought you might want to see our day trip to Provincetown.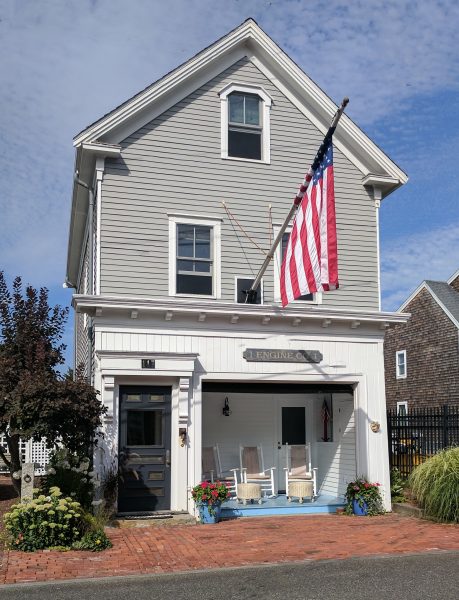 This was in the West End part of town.
It was an old fire station that someone has converted into a home and I absolutely adore the front porch. The blue paint, the front door, the easy rocking chairs. It instantly says: "Come sit here with a glass of lemonade and enjoy the day."
We walked so much, I could have easily sat here to rest my weary feet.
Summer is a favorite time for our family. Though I'm a morning person, I really embrace the "let's not rush" morning time. I love that I can have a second cup of coffee and not have to race out the door. As I told you before we took the week off, I've been feeling rushed, frazzled and super tired lately. This staycation, but specifically, this day trip to Provincetown is what our family needed to reconnect.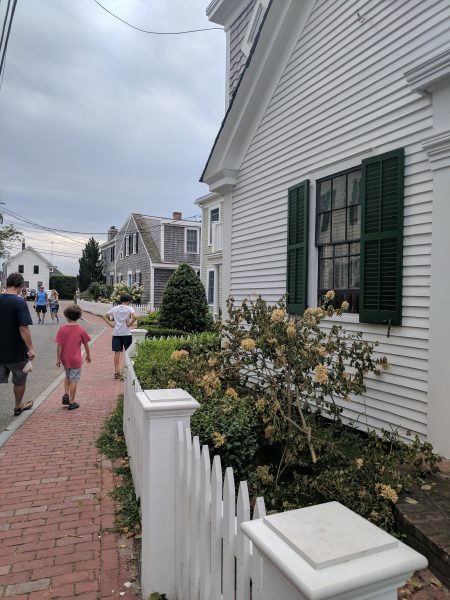 We didn't plan too much for the day. We got on the road about 8am (just after, actually) and headed down the Cape. I'm now 40  years old and had never been to Provincetown. It's a town on the outer most point of the Cape. In fact, the furthest out I'd been is Chatham, Luke surprised me with a trip to Chatham Bars Inn when I was pregnant with Conor (eight years ago). Anyway, I was quite excited that we'd be taking Route 6 through places on the Cape I'd never seen. It is always fun to take an adventure!
I snapped all these photos with my Pixel
 (affiliate link). I just didn't want to carry my big camera bag while we were sightseeing.
It took us about two hours to drive down and we read Kenny and The Dragon
 (affiliate link) on the way down. That is on Conor's school reading list and it is cute book with wonderful illustrations.
We decided to park at Pilgrim Monument. Parking is $15 and an adult ticket to climb the monument is included.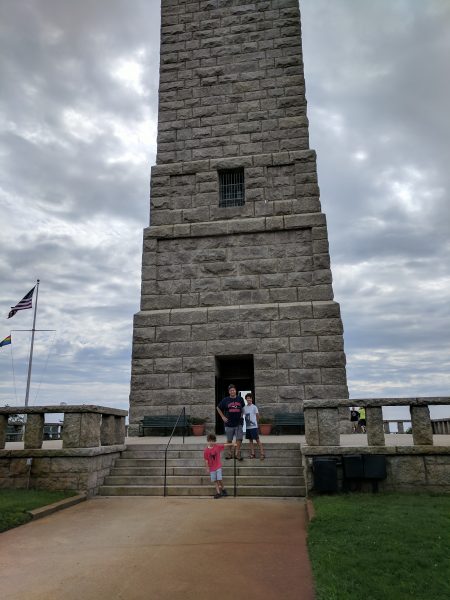 The views were spectacular. It's the highest point on the Cape and the museum was really fun to walk around.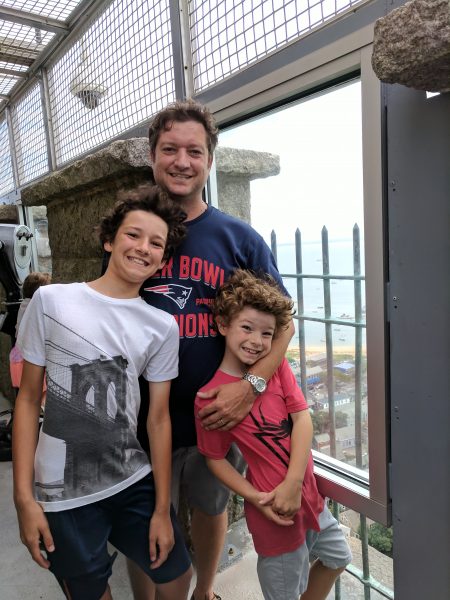 It was a little breezy up there! Ha! Ha! My boys' windblown hair makes me laugh in this photo. They've since had haircuts for back to school 😉
We walked around Commercial Street after our climb. Conor enjoyed the candy shop while I enjoyed looking at all the shells in The Shell Shop.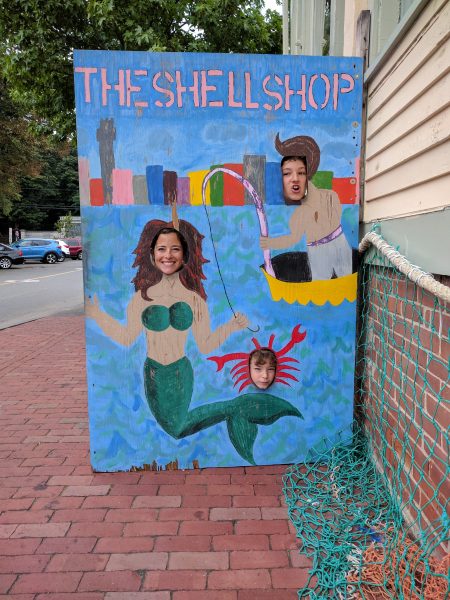 I didn't take long for the boys to get hungry so we stopped at The Canteen.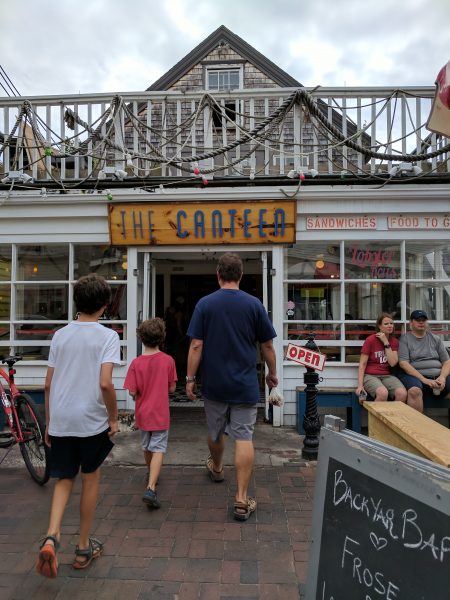 This place was so adorable and perfect for any beach lover. You walked up to the counter and ordered and then sat out back on the beach to eat. I really love the design and the food is so delicious. They even had a brass bed out back with a striped mattress.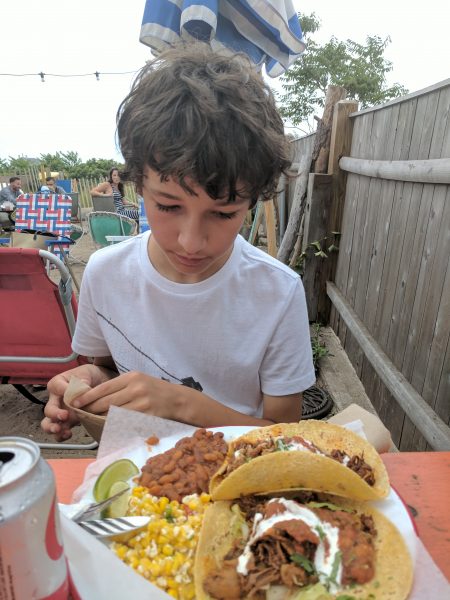 John enjoyed the tacos.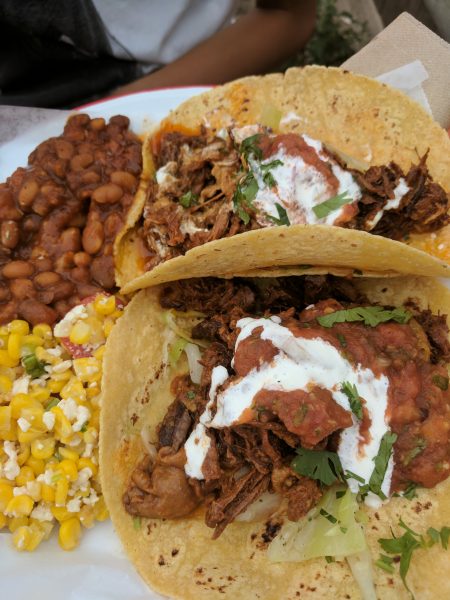 The corn served with them was phenomenal. I LOVED the caesar salad. The dressing had miso paste in it.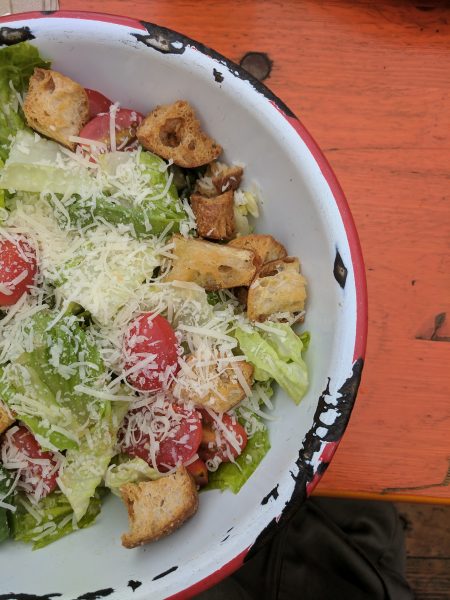 Food is served in enamelware which I love.
My favorite, though, was the Brussels' Sprouts. Soooooooo good!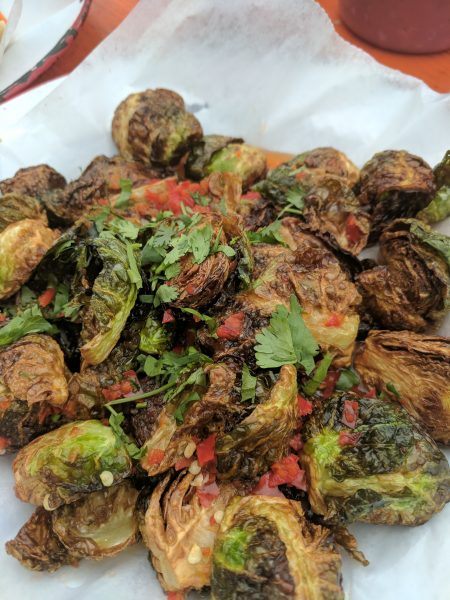 These were so good. They were perfectly caramelized and crispy in a very tangy fish sauce. I'm still dreaming about them.
We walked all over Commercial Street, in and out of galleries, antique shops and other gift shops. A favorite gallery was Room 68. They had the most amazing chairs that looked like they were made out of sea glass but were in fact made from recycled plastic and resin. The boys found some cool solar powered watches for back to school.
My favorite part was walking around the West End. It was so quiet over here.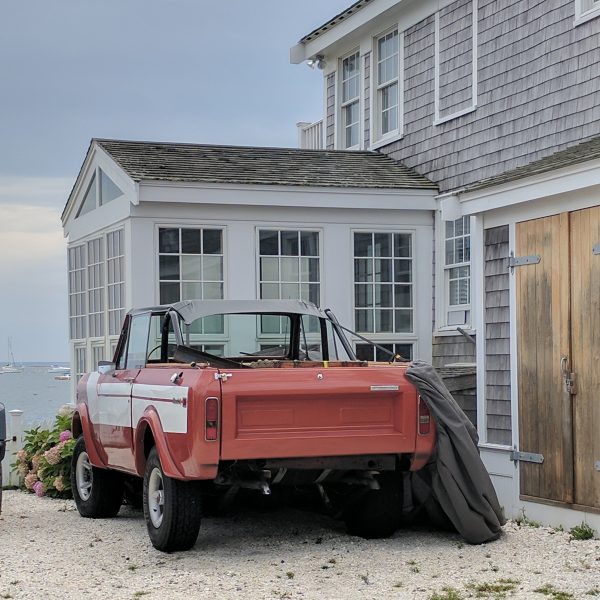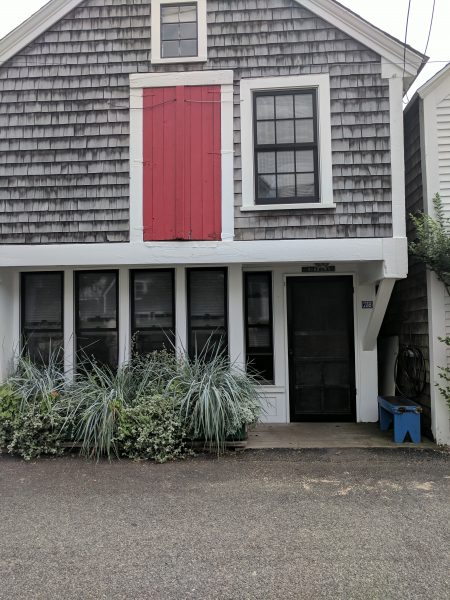 This simple coastal New England style is my favorite.
I love the weathered cedar shingles, the crisp white trim.
The old beach cars.
The chippy blue bench that maybe needs a new coat of paint, but is actually perfect just the way it is.
Window boxes wild with green plants and sea grasses.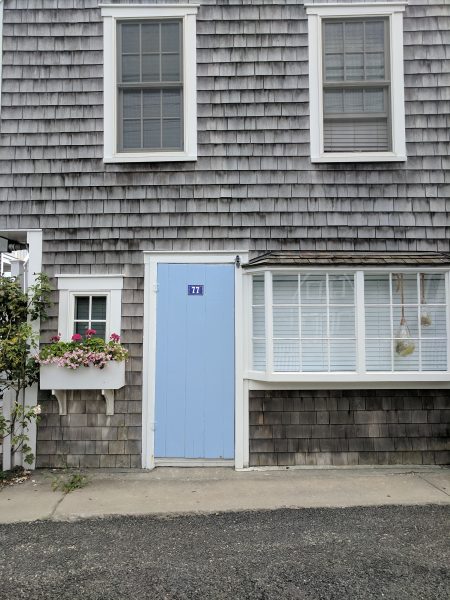 That blue door with the french numbers has my heart. Look at the air plants hanging in the window.
Soaking all this up with the tangy smell of the sea was the perfect getaway day.
Our favorite part though was walking out on the Jetty to the breakwater.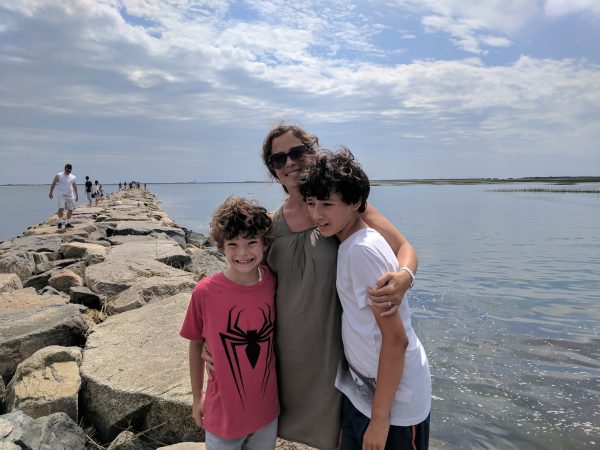 It doesn't look long here (this was the beginning), but it ended up being a mile. 😉
We walked the whole thing.
My kids are fearless and have way better balance then me. It was so sweet when Conor would take my head and reassure me that it was okay, that I wasn't going to fall in the water.
On the other side we dipped our toes in the water.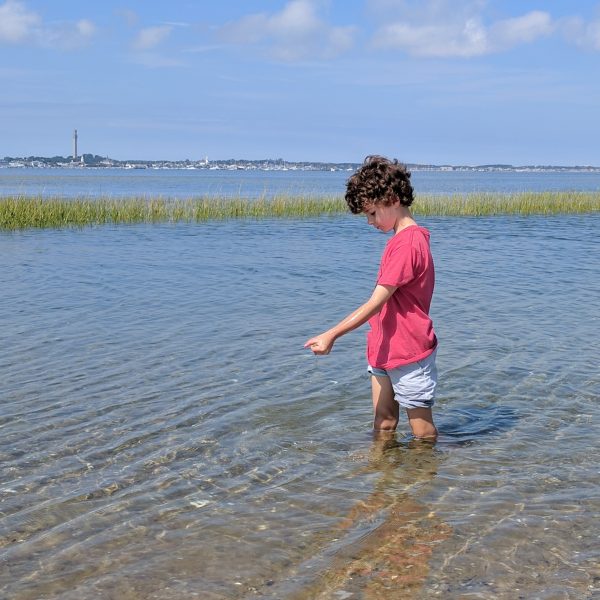 The water was is so much warmer there than in Scituate where we live. We had left the bathing suits in the car not expecting to find the beach on our walk.
We all could have stayed there forever. It was the perfect day. We've chatted about it and I think (collectively) this was our favorite day of the summer, especially walking the jetty and being in nature.
On the way home, we stopped in Wellfleet and had dinner at Mac's On the Pier. Fried seafood right on the beach. I love no frills dining, especially right on the beach. We also stopped at The Frying Pan Gallery and loved all there cool stuff.
We definitely plan on going back and maybe staying over night next time.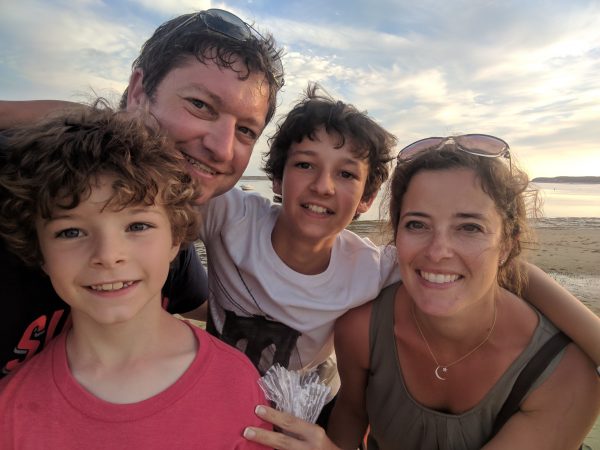 Hope you guys are enjoying these last few days of summer (if your kids haven't already gone back to school).
Do you have places in Provincetown you love? Please leave them in the comments because we'd love to check them out next time we visit.
I'll be back tomorrow with a bedroom DIY – how to install board and batten (it's looking so good!) can't wait for you to see.