Many of you have asked to see more of our seaside town here in Scituate.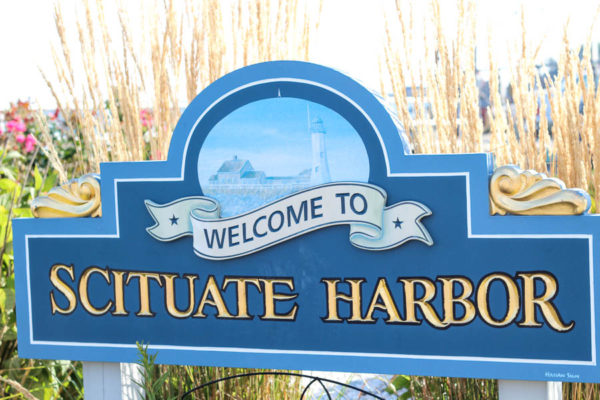 For all those who wonder how to pronounce the name of my town it is: sit-u-it.  It is a native american word meaning: cold brook.  Our town was founded in 1627 by people from Plymouth (originally from Kent, England, and they were known as the Men of Kent).
Luke and I fell in love with this town while we visited my parents (who retired to Lighthouse Road).  We were living in London at the time and during our two week stay decided we had to move here.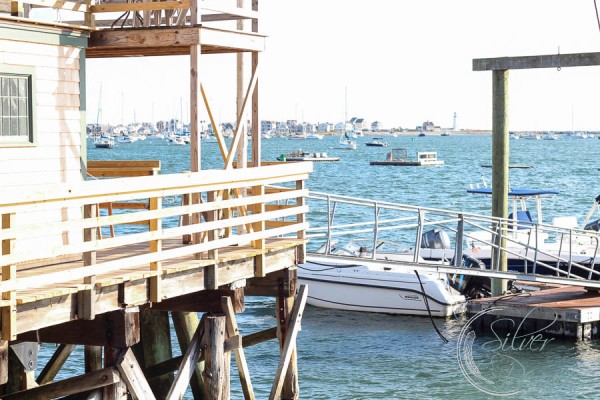 Even though London was super fun.  We loved it with all the museums, pubs etc. We just really wanted a more relaxed life and we wanted a life by the sea.  As some of you know, we quit our jobs and stayed with my parents on Lighthouse Road until we could find jobs and a place of our own.  We had to leave this town for a few years because our work was west of Boston, but moved back when John was a toddler.
We are so happy to be back in this beautiful spot and feel so blessed that we live right up the street from this: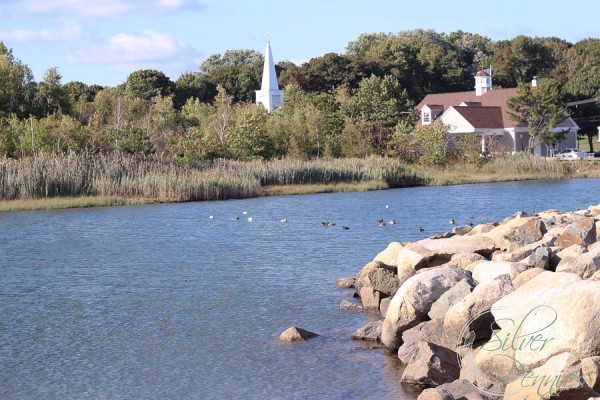 Sharon over at Elizabeth and Co. has been asking to see more of our town.  So, Sharon, this post is for you and for anyone else who wanted a little tour.  Most mornings Poppy and I walk the harbor, after dropping the boys at school.  Some days we go up to 1st and 2nd cliff and look at all the pretty houses, but other days we head to the lighthouse.  This is our stroll to the lighthouse.
On this particular morning we met a swan: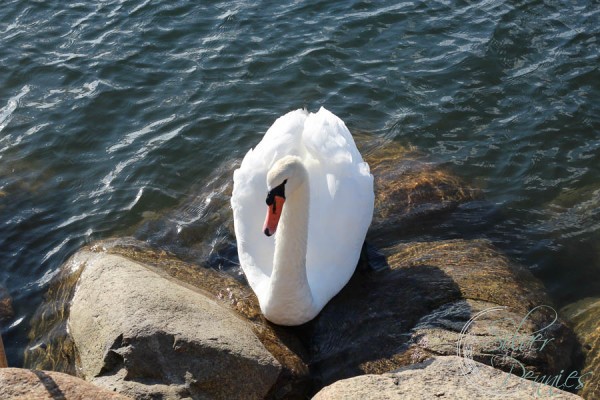 Of course, Poppy's tail was wagging like crazy and she was trying to figure out a way of playing with this beautiful creature.
Poppy LOVES the hardware store because they give her treats, while the boys love the bowling alley (Scituate Bowl-a-way) which is right above the hardware store.  You can hear the bowling pins crashing and balls rolling in the hardware store.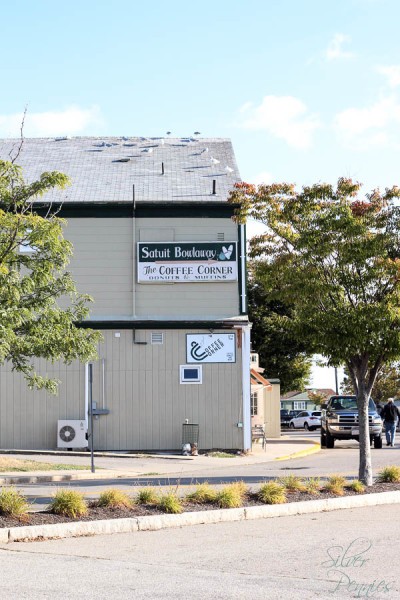 The walkway along the water is beautiful.  There are tiny bits of colored glass that look like sea glass and imprints of sand dollars and starfish.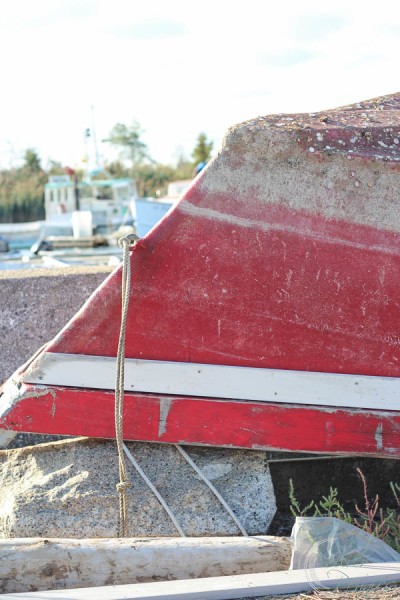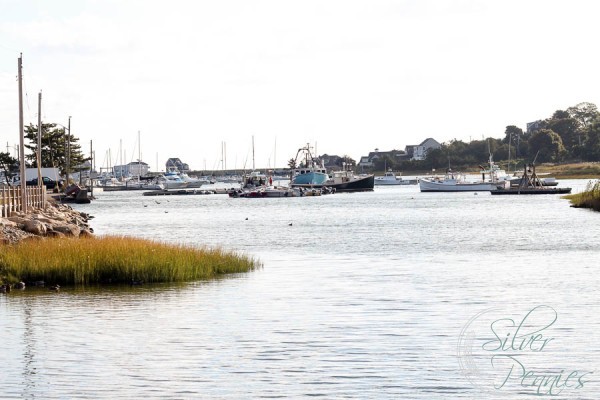 In this part of the harbor, you see many fishing boats and fishermen bringing in their daily catch.
The Main Street in Scituate is called Front Street and it is lined with beautiful shops, galleries and restaurants.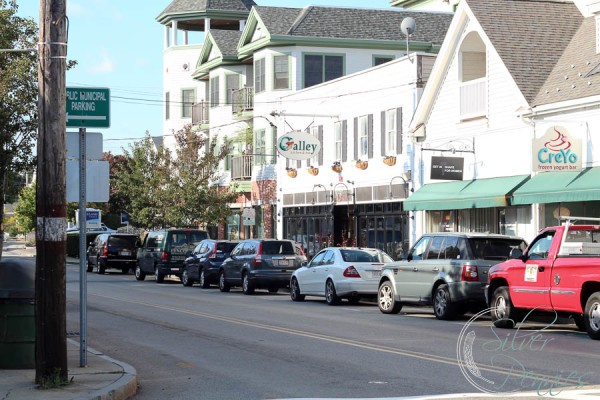 Scituate is known as the Irish Riviera and always has an amazing St. Patrick's Day parade.  I usually share photos around St. Patrick's Day!
Luke had a t-shirt from TK O'Malley's, the local bar, that reads,
"Scituate – a small drinking town with a big fishing problem."
There are certainly LOADS of lovely places for a bite to eat and sip some delicious cocktails.  We love Galley – I love the food and decor.  I really want to do an oyster wall in our house.
Scituate is a pretty town but the local merchants, on Front Street, make the town with their unique shops, delicious foods, fine talents and friendly personalities.  I love shopping local and it is so easy to do here in our town.  I thought I'd highlight a few places that I enjoy:
Riva's is a favorite; they specialize in Italian cuisine.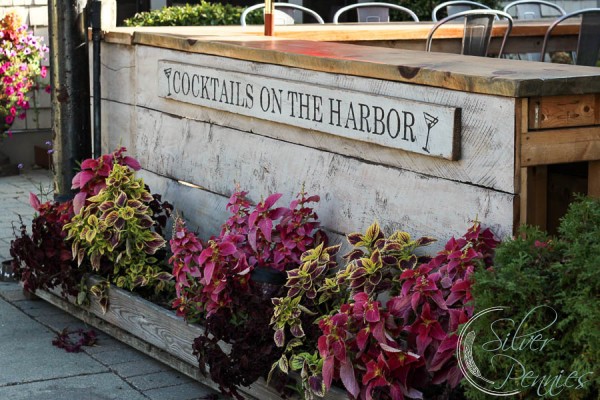 In the warmer weather we love eating out here with the dog. They also do a great breakfast.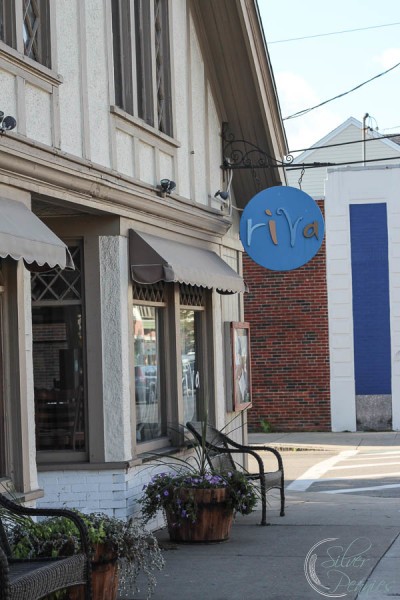 Down the street is my friend, Kjeld Mahoney's Gallery.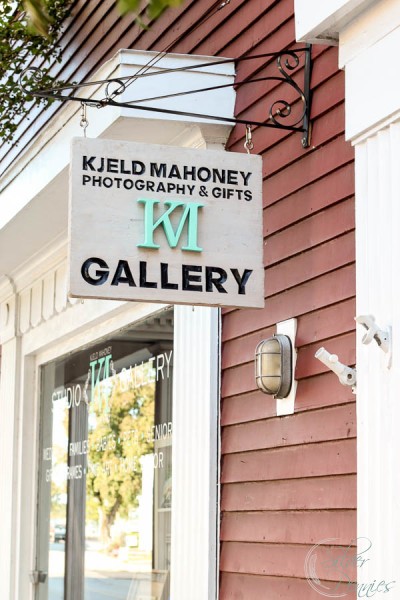 You may remember he took these lovely photos of our family:
I love this one of John and Conor:
His images of Scituate are breathtaking.  I also have a few painted pieces and oars in his gallery.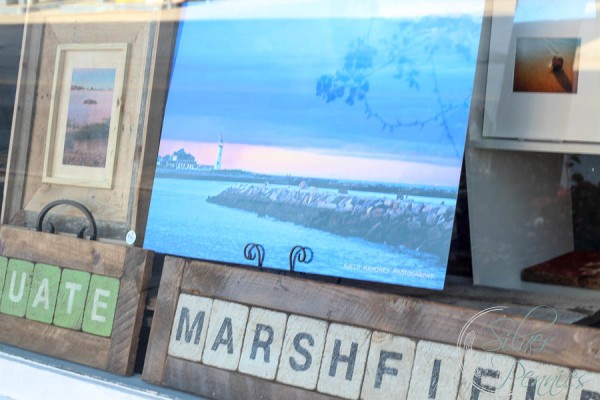 Close by, Oro is wonderful, with some lovely cocktails and fresh seafood.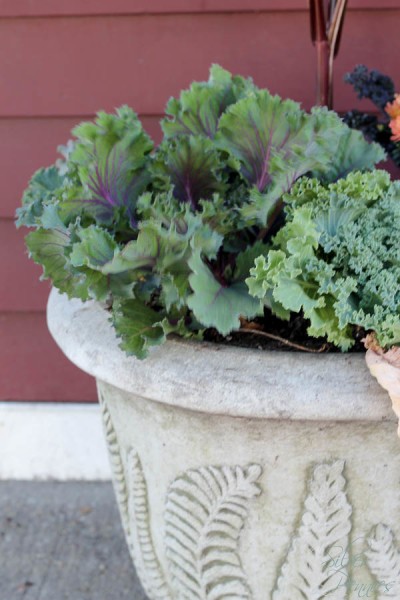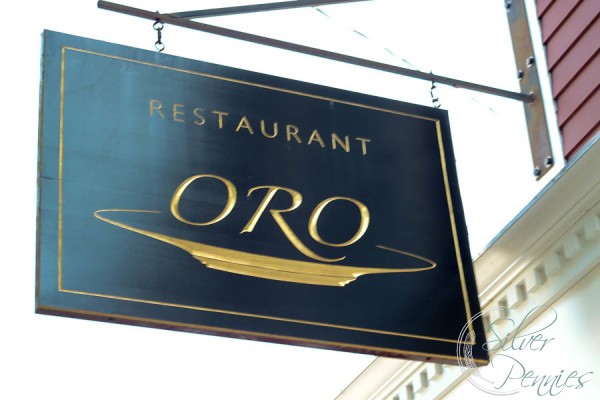 You can always find neat gifts in Joye – I love their jewelry and handmade items: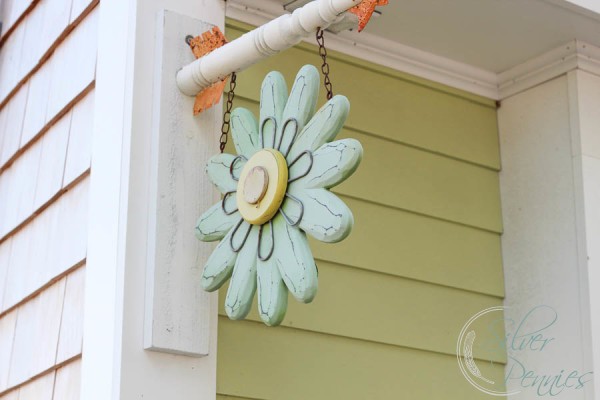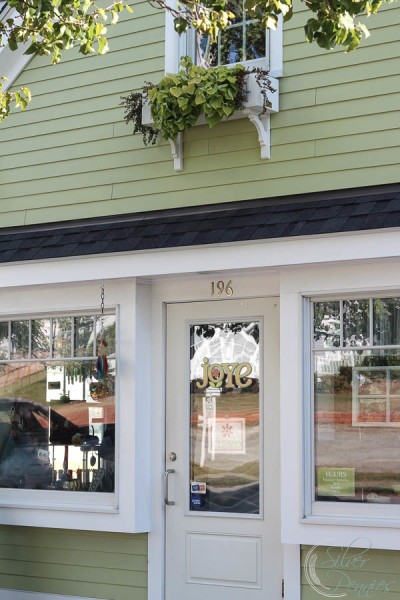 If you love Italian olive oils and pottery then you need to stop by my friend, Cindy's shop The Roman Table.  I've taken a few cooking classes and love her flavored oils and balsamics.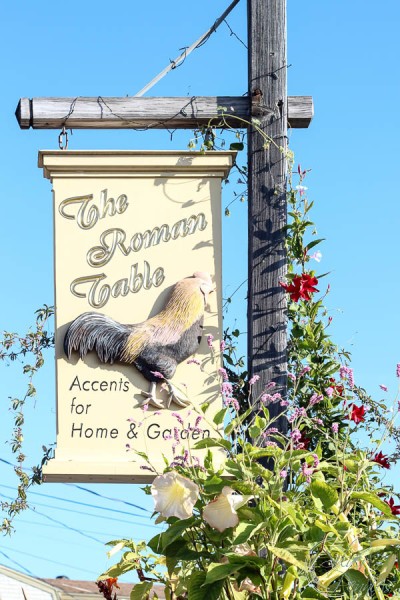 The Tuscan Olive Oil is my favorite (and my secret ingredient in my spag bol).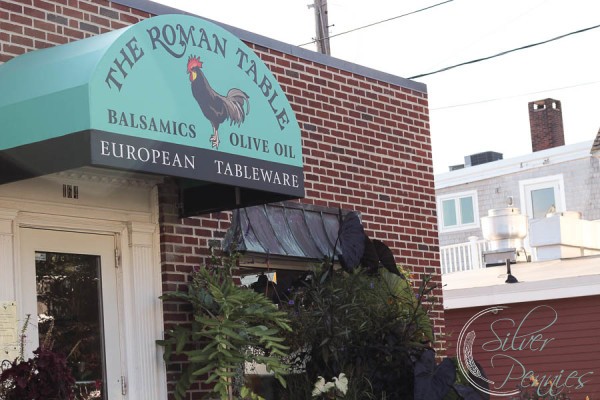 The newest spot in town is the Lucky Finn Cafe and I'm in LOVE with their delicious lattes and the boys love the grilled cheese. We're also in love with the seaside decor and beautiful paintings by Michael Coyne.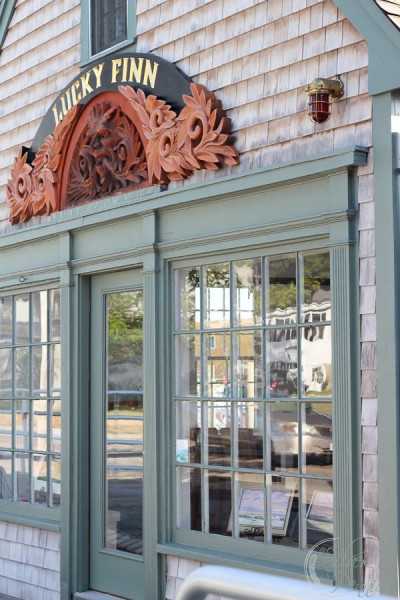 Even John was saying, "Mom, you need to check out the bathroom, you'll love how it is is decorated." He was right!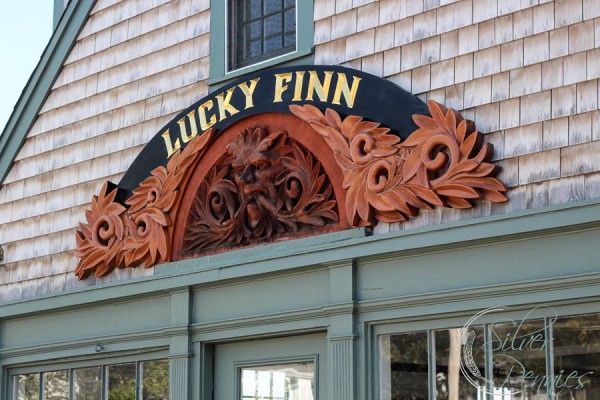 I also love the muted green trim with the cedar and I have to tell you this is the best view on Front Street: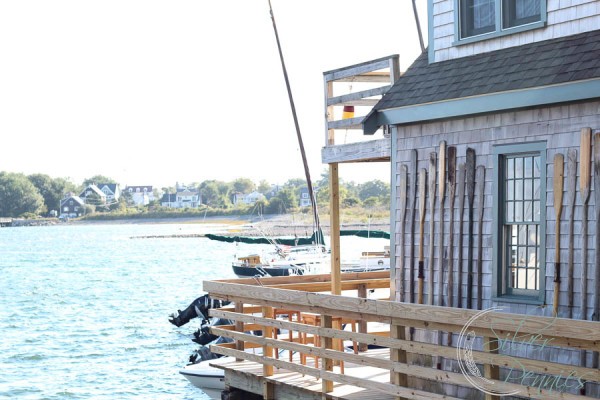 There is the "Lucky Finn" in the back.  It is now in for winter, but we're hoping to sail on it next summer.  Oh, also check out the oars on the side of the building.  Isn't that neat?!?
So that is a little glimpse of Front Street.  There are so many shops that I didn't have space to mention in this post like Goodies II and others.  For a full listing of merchants go here!  It is hard to take photos while Poppy is pulling my arm.  She is pulling when she sees a dog or wants to walk.
So on we walk to Museum Beach!
Here you can see the view of the lighthouse and Lighthouse Road where my parents lived: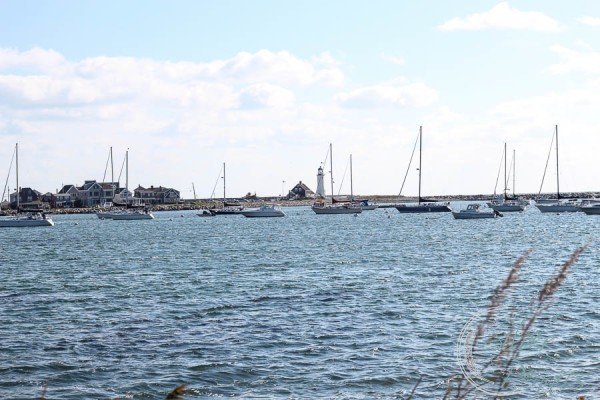 I love this beach and have spent time searching for treasures with the boys.
You may recognize these boats from our family photos: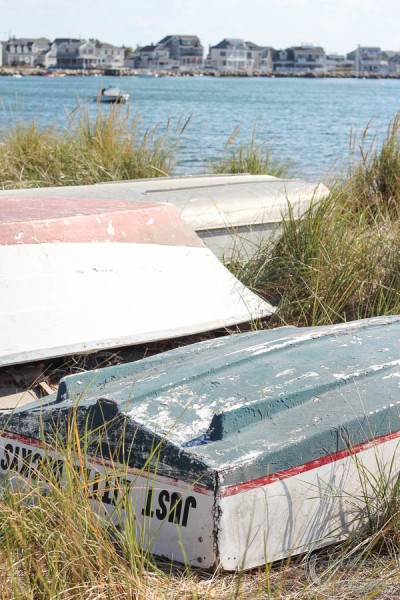 There is nothing more exhilarating than the sun on your face, the smell of the fresh salt air and sound of the lapping tide.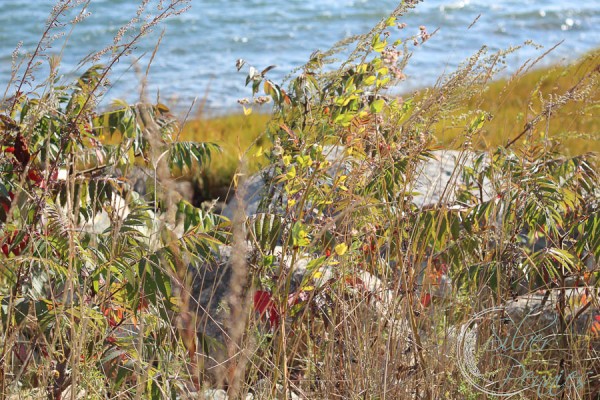 When I'm feeling down or tired, all I have to do is look out at the sea.
It reminds me how lucky I am.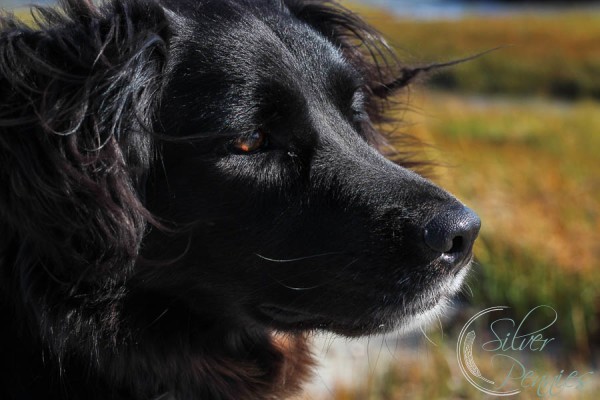 How blessed I am to have this sweetheart by my side and my boys at home.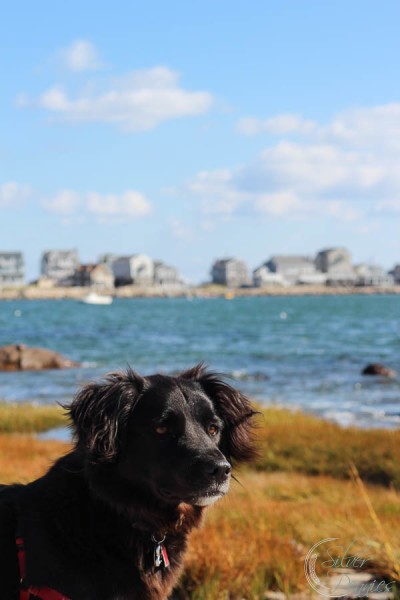 Thank you for joining us on one of our morning strolls.  Hope you felt like you were here with us and you enjoyed the fresh and tangy smell of the sea.