I partnered with Benjamin Moore & Royal Design Studio for this post. I received supplies from them.  Their products are fabulous and helped me create the look I was dreaming of.
Okay, today is the day!  Today you get to see the guest room.  I feel like we've been working on it for ages with the calcimine ceiling issue and few other DIYs.  Grab your coffee and settle down because I have a few pictures to share!
DRUM ROLL, PLEASE…..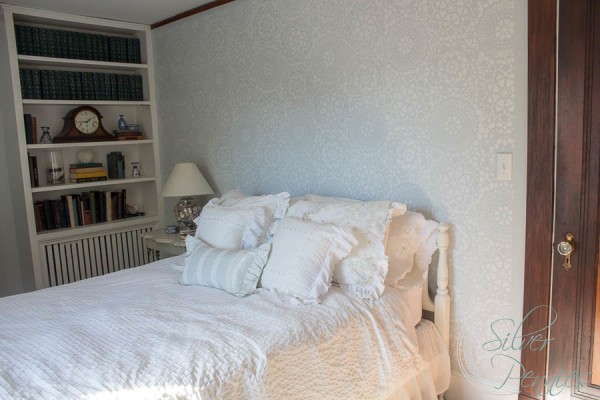 Our Shabby Chic Guestroom is complete.  Just as a reminder the before: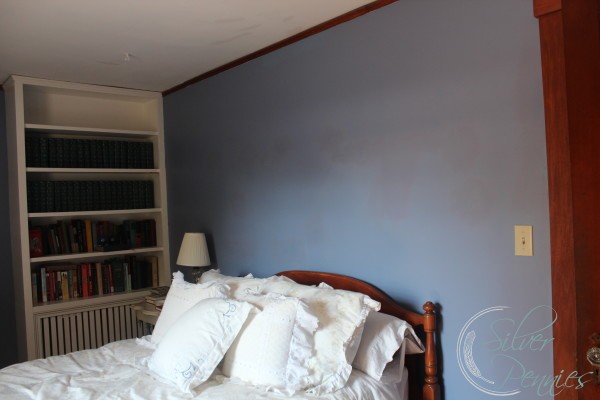 And from another angle.  Before: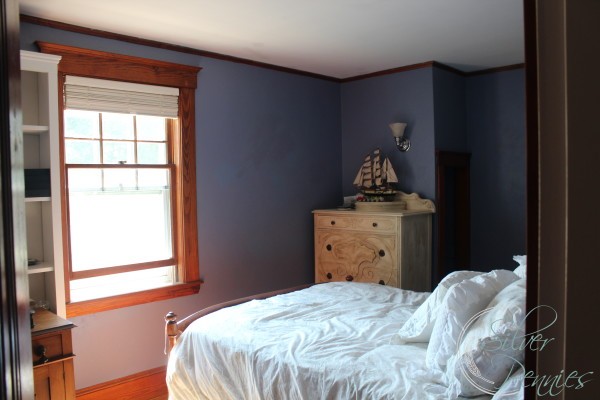 And after: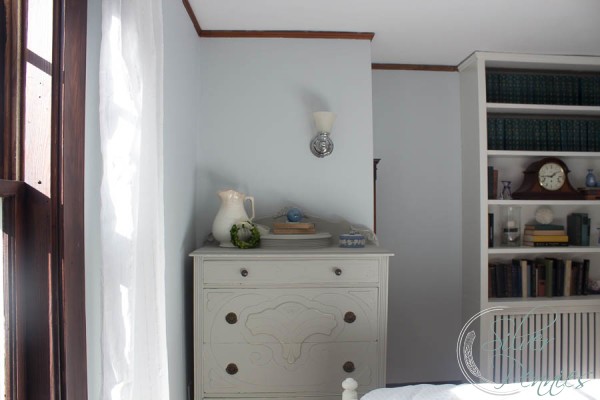 Before we did anything we removed this extra bookshelf.  This room had been a child's room for the last two owners and we thought one book shelf was sufficient for guests.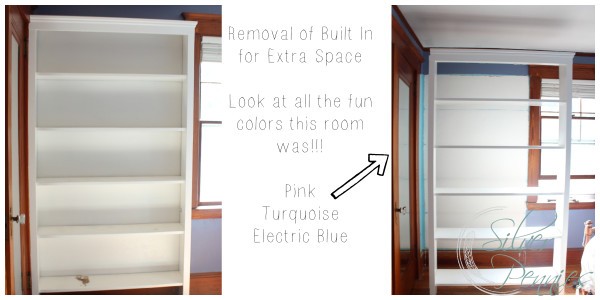 Here's how that wall looks now!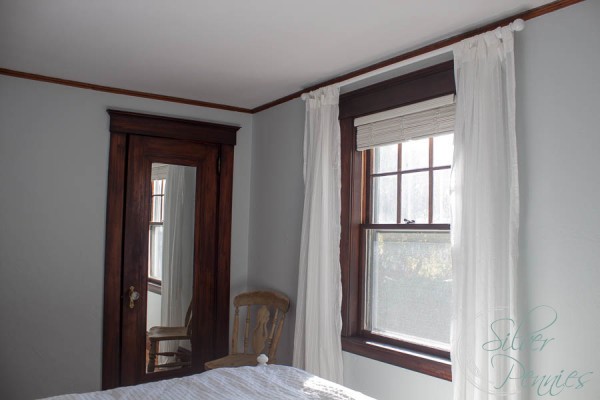 No bookshelf also meant I could have some lovely, airy curtains.  Just think how lovely it will be in the summer with the windows open and the sea breeze coming into the room!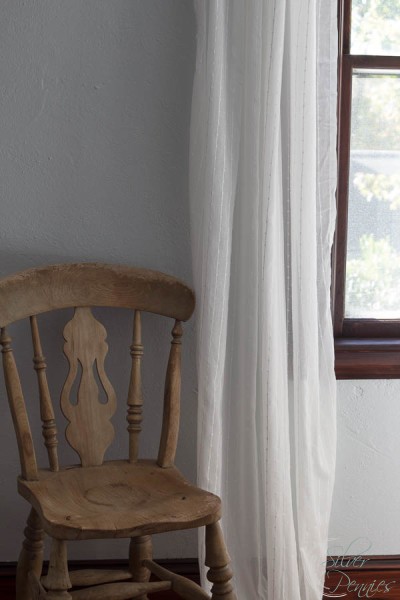 I'm actually dreaming of an oil painting to go above this chair. I want an oil painting of a woman, but I haven't found the right one yet. I want her to be pretty and happy, so keep your eyes peeled for me.
Before we could get to painting we had to do the ceiling, which if you've been following along, then you know this wasn't a simple paint job as we thought it would be.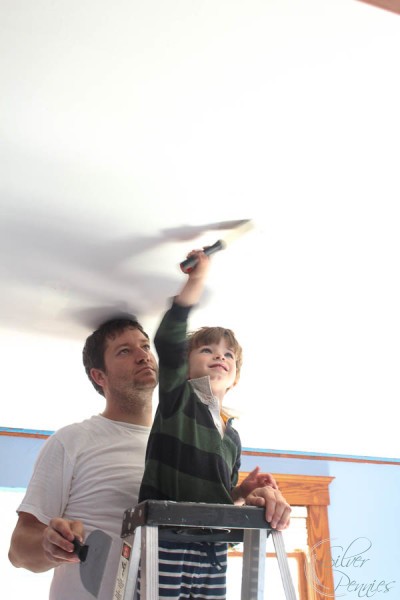 Our home is old (1927 and the ceilings had been painted with calcimine paint) so it was several paint jobs, paint peeling off the ceiling and priming with Benjamin Moore Oil Based Primer and then the ceiling paint.  You can read all about it here.
I darkened the trim with stain which I'll share in a future post.
Then, it was time to pain the walls!  I was so excited about this!  Luke was at work, the boys were at school, so I turned the radio up and painted, and painted and painted.
The walls in the "before" were an electric blue but I wanted something a little more soothing and restful.  I chose Benjamin Moore's Glass Slipper in Matte Finish.  In some lights this color looks light blue and some lights it looks light gray.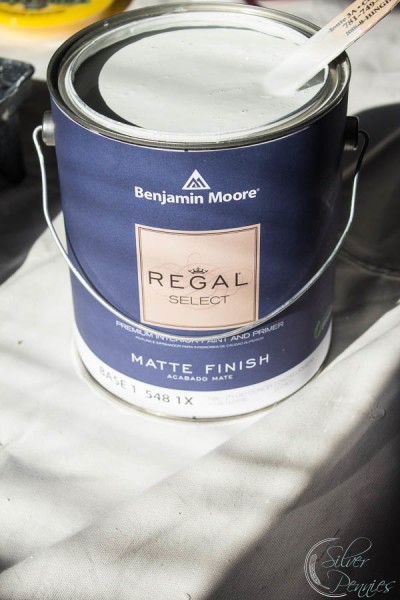 You can see how much lighter it makes the walls: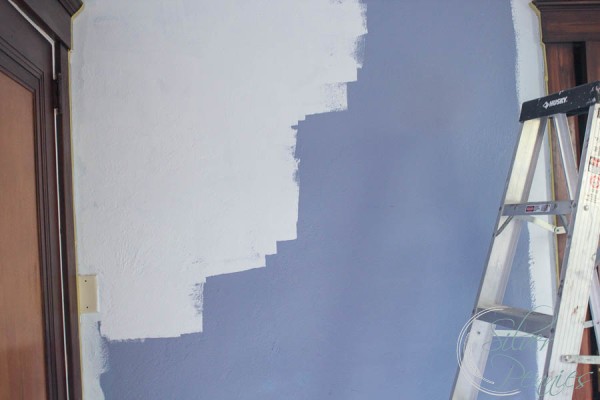 Glass Slipper almost has a Scandinavian appeal to the color.  Anything looks great against this color – dark woodwork, whites, blues, tans, greens.  It is a gorgeous, gorgeous color and I'm so happy how it looks on the walls.
For the stencil wall and the baseboard on that wall we used Benjamin Moore Simply White in Satin in the Aura line.  You may remember that I also painted our sunroom walls this color.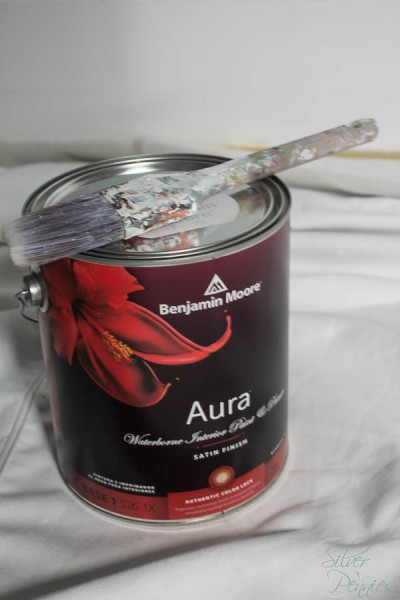 I had heard this was the best for stenciling and I LOVE the light shimmer: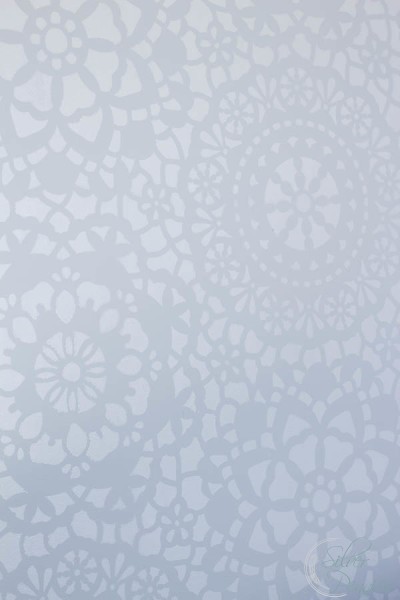 I'm going to go in depth at how we did the stencil wall.  There were many steps and it was a learning process and I can't wait to share all I learned and some tips with you soon!  This is the stencil we used by Royal Design Studio – Parlor Lace Stencil.
I guess you could think of this as a room I'd decorate for a girl (if I had one), but hey, Poppy has been enjoying the bed and I guess that is the closest I'll get to a little girl.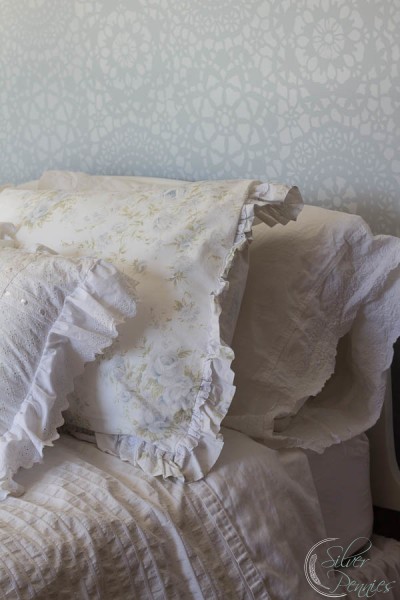 This room is filled with the things I love.  Shabby Chic bedding, soft lace and ribbon.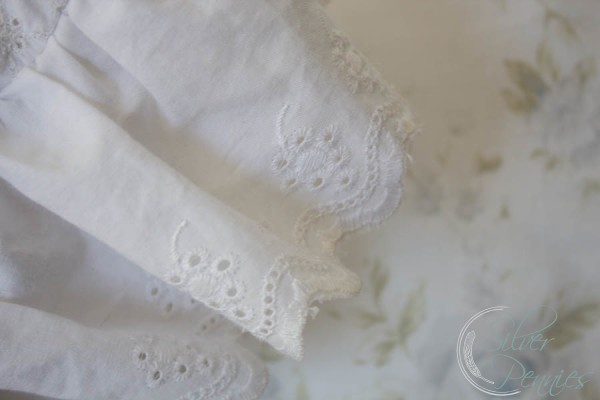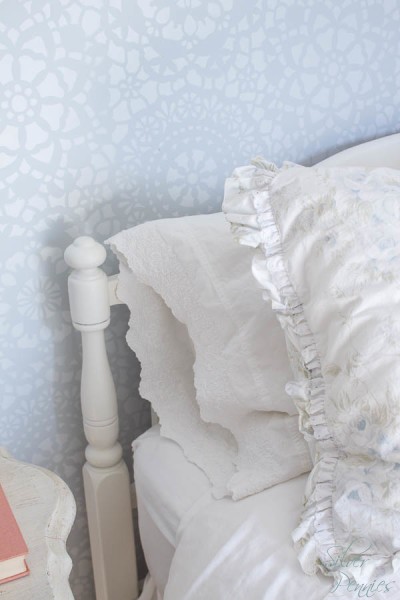 Sea shells: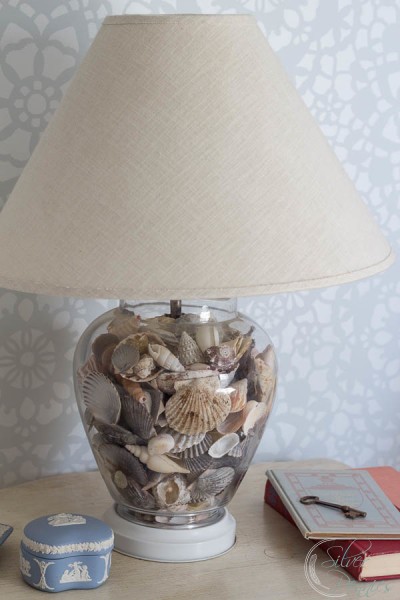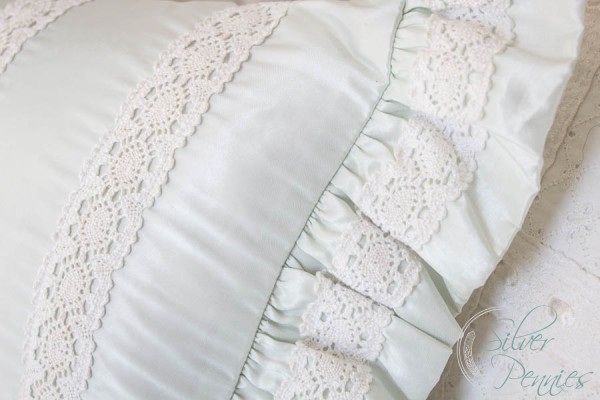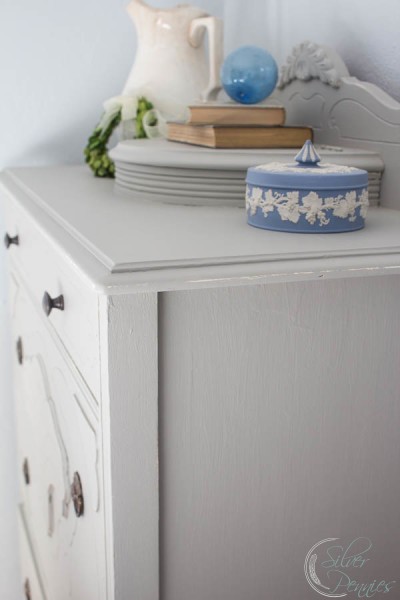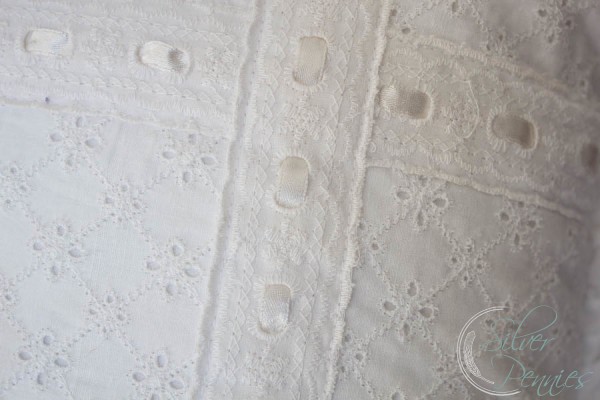 My favorite books.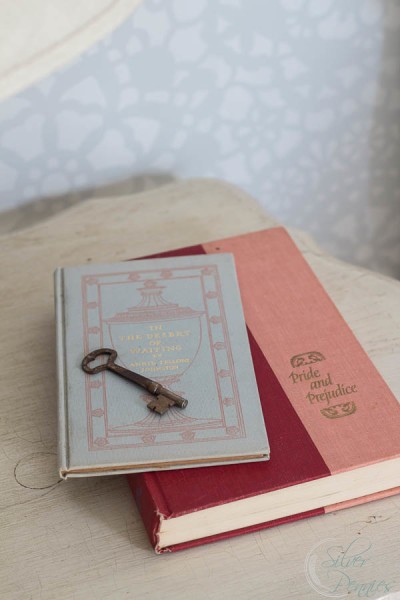 And more books in the built in: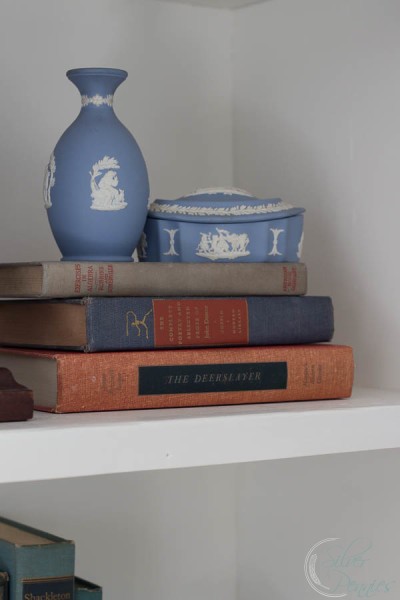 This room is for guests so I want this room to be light and airy.  A breath of fresh air.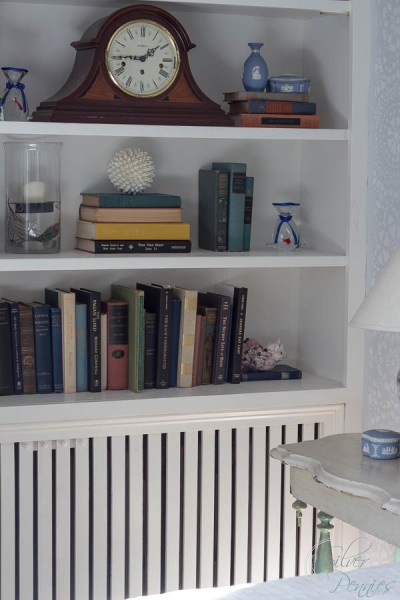 I love curling up in bed surrounded by books.  I often did this when I was younger.  I would disappear into Jane Austen novels or stories by Edith Wharton.  Now, well, now I still read but I usually fall asleep after a few pages.  I'm looking forward to doing more reading.  Maybe I'll get the chance in this room.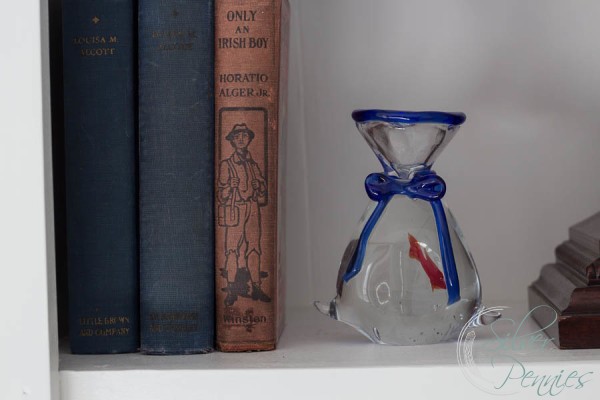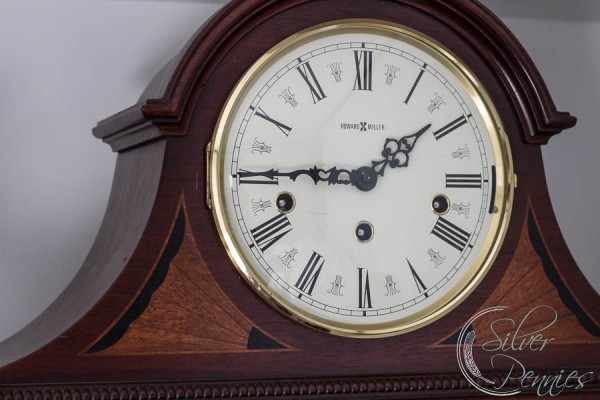 The clock was a gift from my parents, as were the Persian rugs, which are on either side of the bed.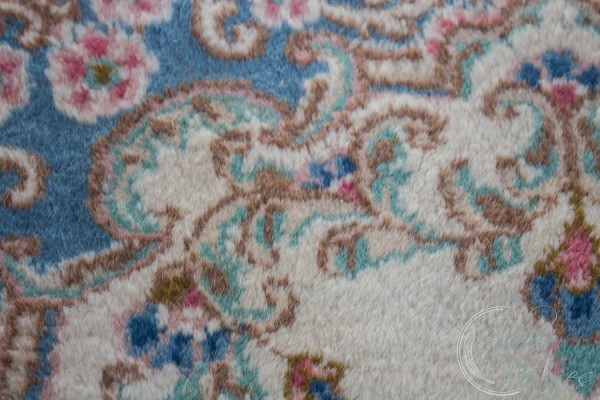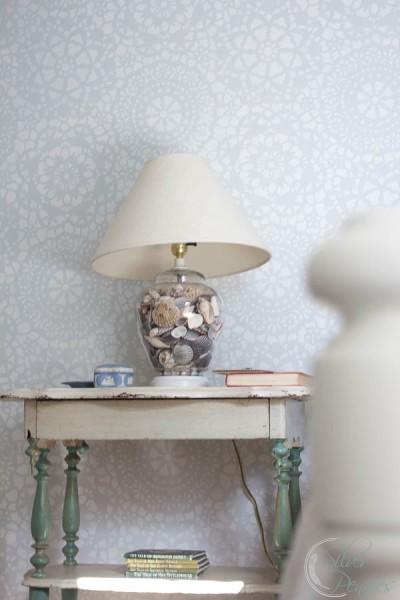 The Wedgwood is my mother's collection and it looks perfect in this room.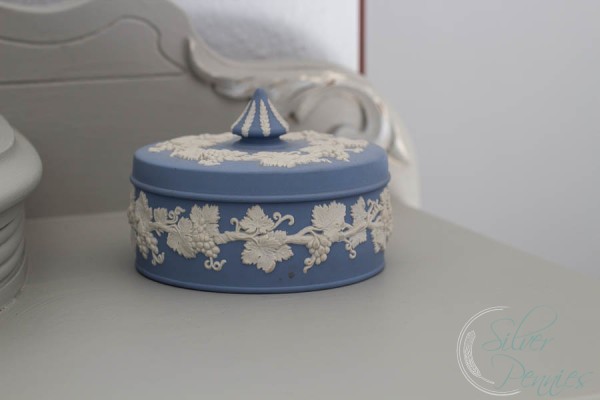 The bed was mine from childhood.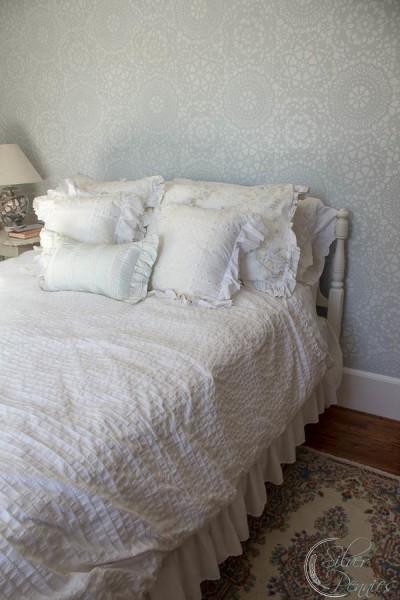 A space where dreams can come freely.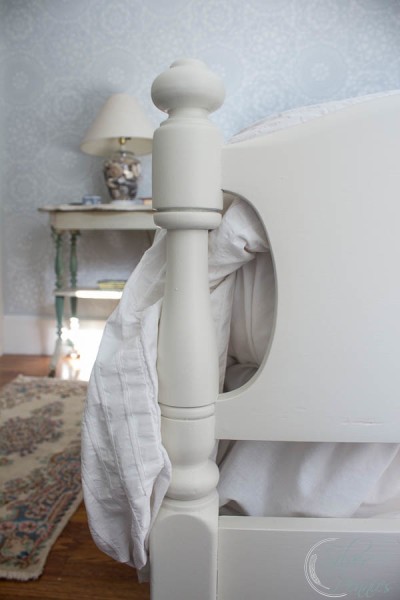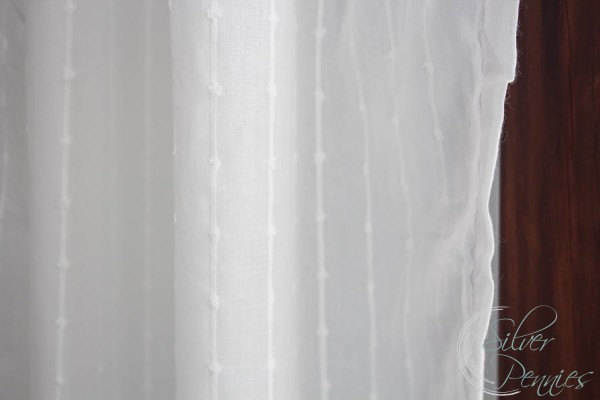 Crystal knobs and dark wood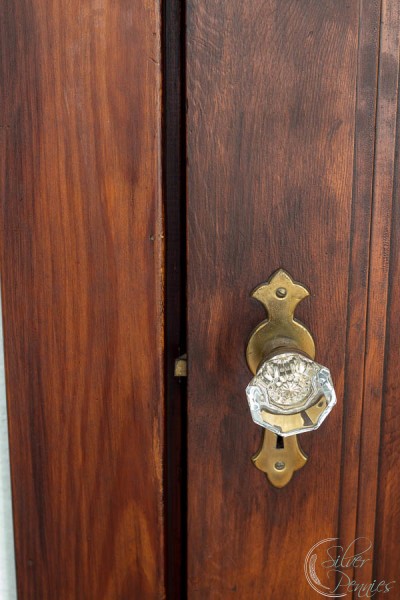 look so amazing with lace and cracked china, don't you think?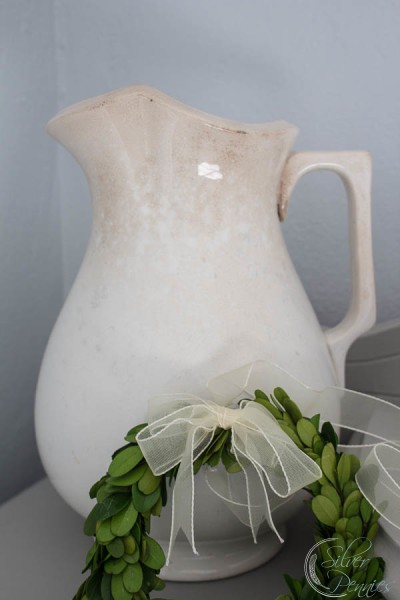 Oh, and some pretty flowers too!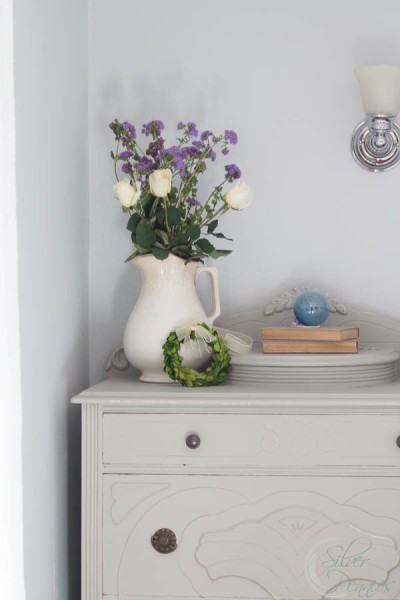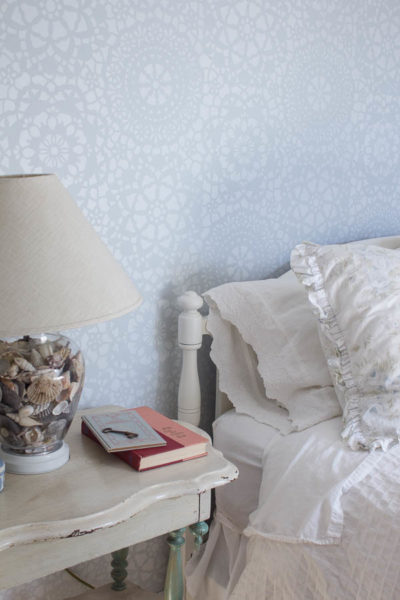 So, what do you think of our shabby chic guestroom?!?
Here's a source list if you want to find anything in the room:
Source List
Ceiling Paint-
Waterbourne Ceiling Paint by Benjamin Moore
Ceiling Primer –
Fresh Start Oil Based Primer by Benjamin Moore
Wall Color –
Glass Slipper
by Benjamin Moore, Regal Select in Matte Stencil Color –
Simply White
by Benjamin Moore, Aura in Satin Stencil –
Parlor Lace Stencil
by Royal Design Studio Persian Rugs – antique Sheer Curtains – Ikea Curtain Rod – Lowe's Bedding – combination of Ikea and Shabby Chic for Target English Wooden Chair – antique Dresser – Charity Sale find, upcycled Bed – Childhood Bed White Pitcher – Antique Fair Boxwood Wreath – Decor Steals Wedgwood – My mother's collection Clock – Antique (from my parents) Shell lamp – consignment store Bedside Table – thrift store Books – consignment shops and library book sales Glass Candle Holder – Target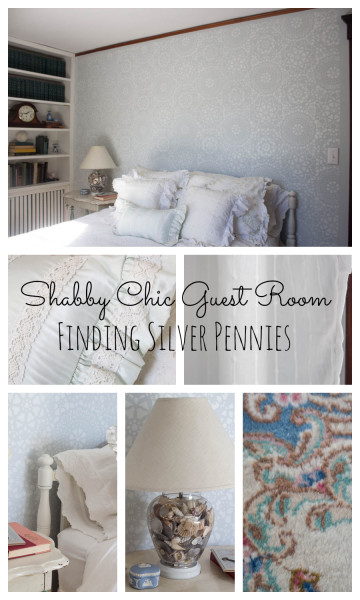 Sharing with: