I'm putting the finishing touches on our guest room.  Everything is painted and the wall is stenciled 🙂  I decorated a bit yesterday. I can't wait for you all to see it and I'm hoping to do a big reveal very soon!
I realized I haven't really shared our entry with you.  When we first step inside our home it looked like this: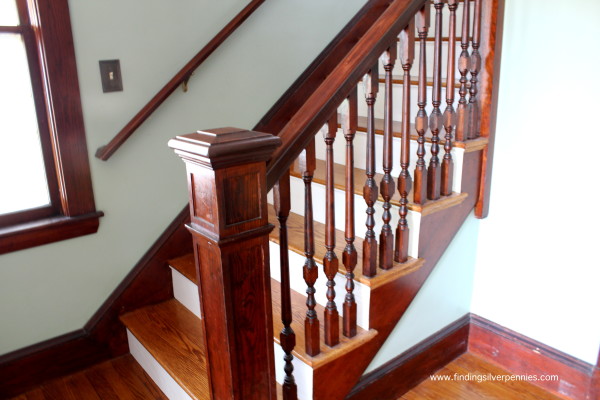 I knew standing here on this very spot that this was our home.  I hadn't seen any other parts of the house but fell in love with all the charm and the warm woodwork; I mean look at this detailing on the radiator cover. The radiator runs between the entry and the walk in hall closet.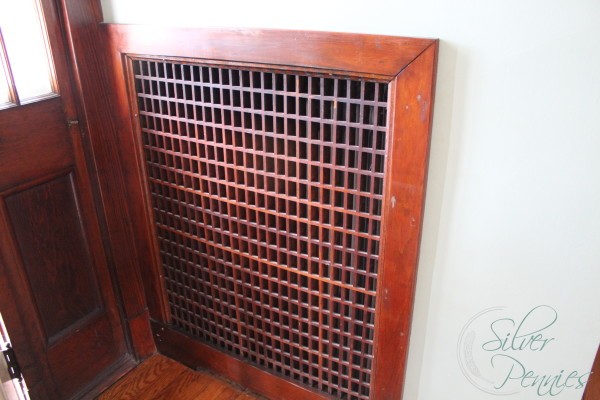 Oh, and every door in the whole house has these beautiful crystal knobs: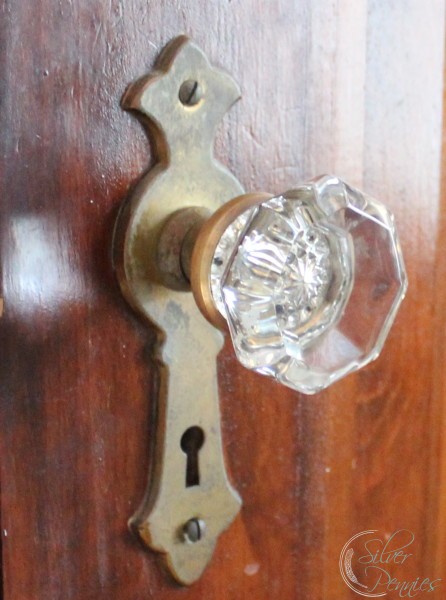 This one is on the closet door. So I fell madly and deeply in love with this space.  Standing there in awe, trying to hold a normal conversation with our realtor and the home owner, I knew this was the home I was dreaming of.  Luke and I had never had a proper entry – ever.  Our first house together was a raised ranch where you walked into a staircase.  All the other flats in England and the apartment in Newton had no real entry either.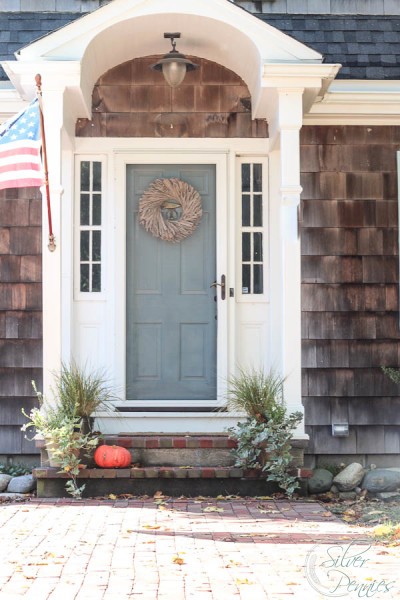 So this is special and this is how we've decorated it.  As soon as you come through our pale blue front door, you are greeted by this: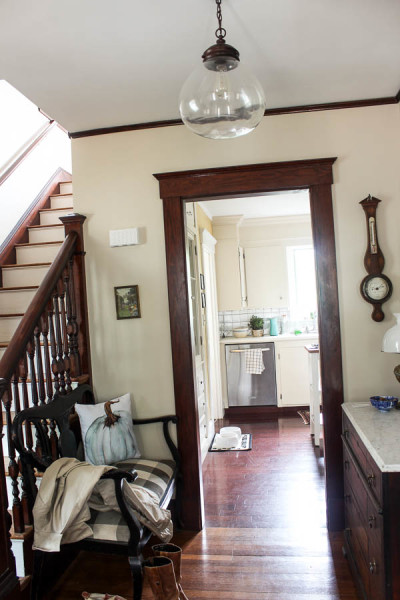 You can see straight through into the kitchen from our entry and to the right is our living room: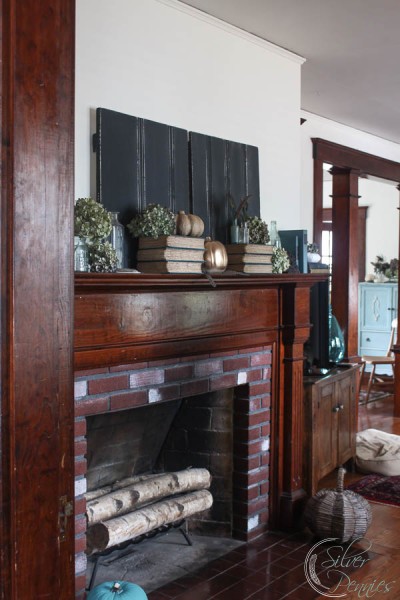 Here you can see more of the entry from the living room: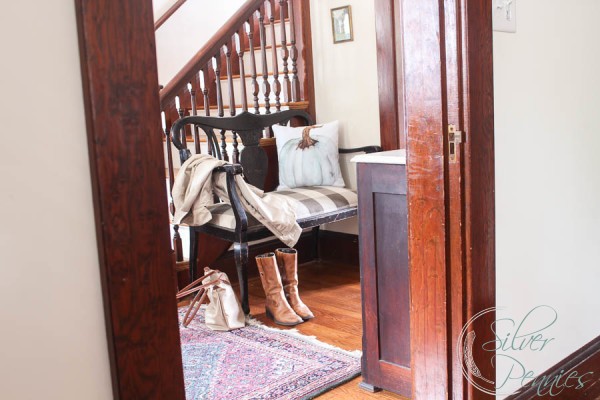 One blog reader wrote to me shortly after we moved into the house and politely said, "I think you should paint the dark wood." I thanked her for her email but told her that I thought that was what makes this house so special and different. This wood was milled up Maine and the house was built in 1927 by a builder and the home's original owner, Murray Trefry. We found a letter address to him, which you can read more about here.  We've also found some of Murray's architectural drawings for other projects in the 1930s, they are actually blueprints and are on the most beautiful blue paper.  I'm hoping to have these framed for our home office.
I wish you could all see this beautiful woodwork in person because it is even prettier in real life.  The balusters are so ornate and were hand carved.  I don't think we could ever replace them.  So I will never ever ever paint the wood. We DID paint the walls though.  I'm not sure if you can see in the before photo but the walls were a mossy, garden green.  They are now Muslin by Benjamin Moore.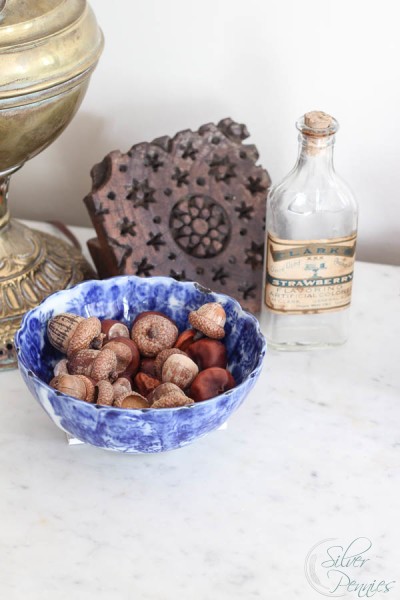 We replaced the light which was a heavy iron fixture.  A simple clear glass and filament bulb have taken its place: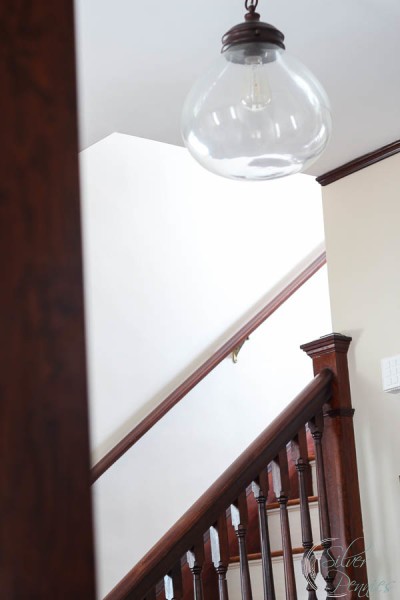 I LOVE the light and it is so much more us! I've taken my time decorating.  Decorating slowly allows you to find charming pieces that are perfect for your home.  I first bought this little settee with buffalo check.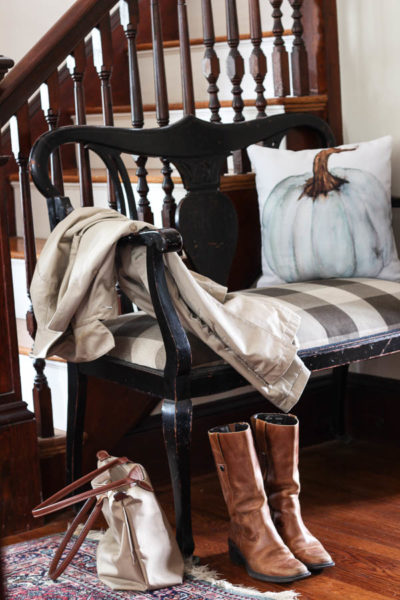 It is the perfect spot to pull on boots and get ready for a walk with Poppy.  The pumpkin pillow is from my friend Lucy's Society6 shop.  Lucy is an amazingly creative and loving soul.  Her blog, Craftberry Bush, is filled with crafts and gorgeous inspiration.  I'm so happy to have some of her artwork in our home.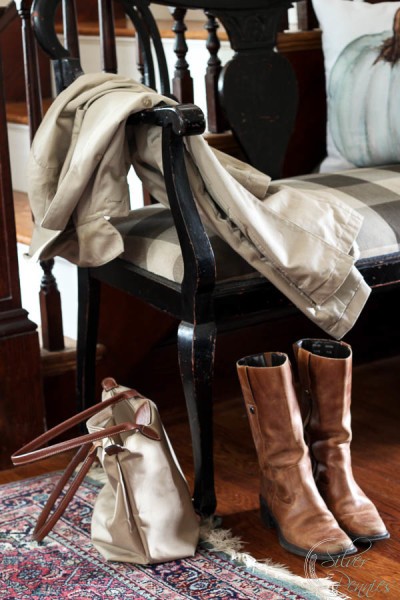 I found the oriental at a yard sale in Scituate.  It is in perfect shape and goes so nicely with our neutral walls.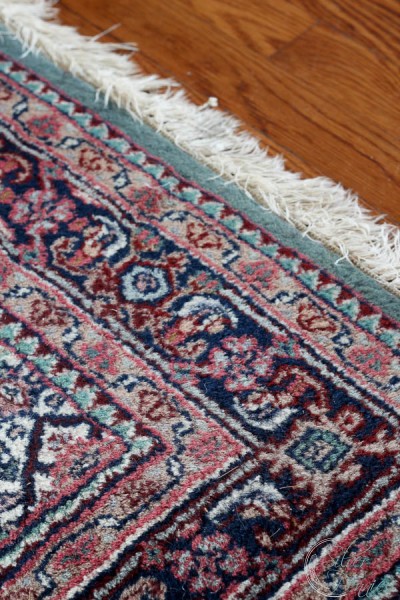 Opposite the settee is this gorgeous Victorian dresser I found at my friend Dan's shop – Gentleman & Daughter Antiques! We each have a drawer for our hats, gloves and mittens.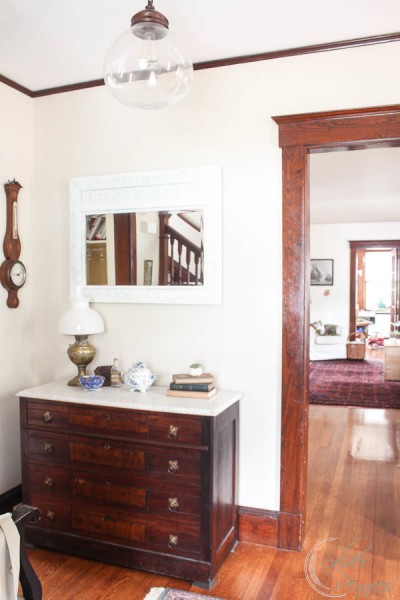 The marble top is beautiful and lets the light bounce around our room: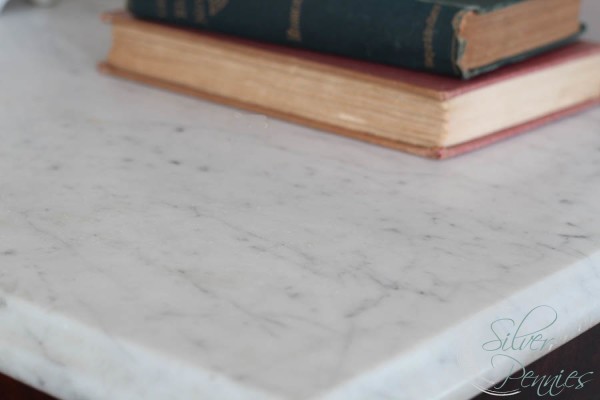 I've decorated it with antiques and finds from nature and a fabric pumpkin from my etsy shop.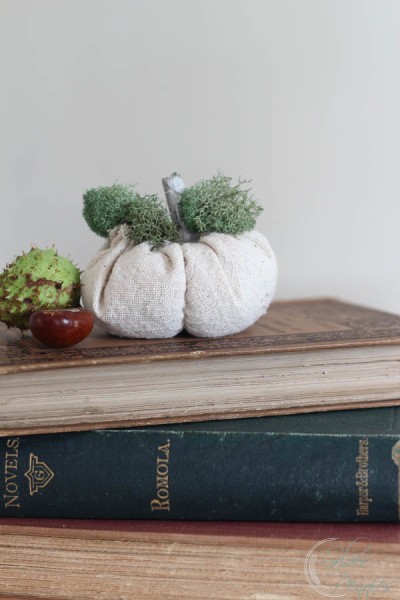 It is a lovely room to come home to!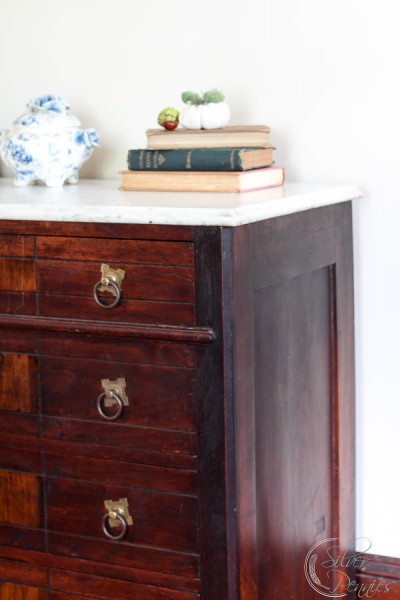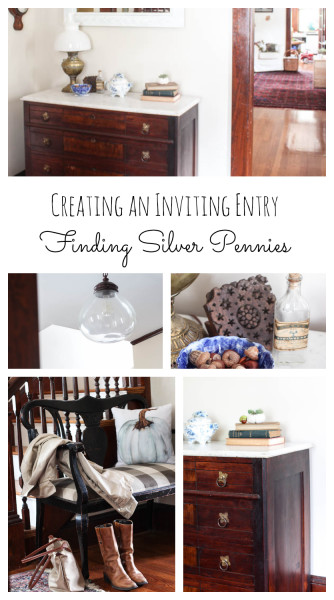 If you're interested in creating this look.  Here's my sources.
Source List
Wall Color –
Muslin by Benjamin Moore
Light Fixture –
Lowes
Settee – Antique found at Kit and Kaboodle Pumpkin Pillow –
Craftberry Bush on Society6
Oriental Rug – Yard Sale find Victorian Marble Topped Dresser –
Gentleman & Daughter Antiques
Fabric Pumpkin – from my Etsy Shop Brass Lamp –
Bent Nail Farm Antiques
Mirror, Barometer, and English Print – from my childhood home Stamp and bowl – Brimfield Antique Show Italian Lidded Bowl – Thrift Store Vintage bottle – Toronto Flea Market  
Sharing with: