I think you all know I LOVE to paint.
Furniture, accessories, watercolor…
I've even painted pumpkins!
I'm thinking since you read my blog you probably like paint lots too!
I thought it would be fun to highlight a few books I LOVE that are in the painting genre. Books are such a wonderful resource. They are wonderful to borrow from the library or buy for your own collection. These are ones I go back to again and again.
Painterly Books I LOVE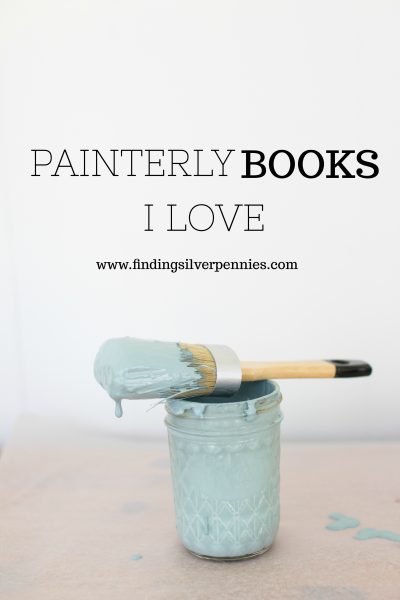 I'm going to share a handful.
All are beautifully photographed, written and staged.
All will give you so much enthusiasm and many ideas.
This post contains affiliate links, if you purchase a book via the link I will get a percentage of the sale. See my full disclosure policy here. Thank you for supporting my blog in this way.
This is the very first book I bought when I started my blog 6 years ago. It's currently on Amazon for $12 which is a bargain. I've had the pleasure of meeting Annie Sloan when she toured America and made a stop in Boston. I actually got her to sign my book! I watched her paint and listened to her. She is so funny and this humor and love for life comes out in this book. I go back to it again and again.
She includes fun ideas, like using a potato as a stamp, or decoupaging found images onto the surface of a dresser.
It's a great book if you're new to painting because it offers wonderful step by step tips.
My favorite projects are a white and gray dresser and the cow parsley chest. You can see the cow parsley here on the back cover. Isn't it sweet?
Annie has written many, many books. I also have Color Recipes for Painted Furniture which is wonderful if you want to learn more about the color wheel and custom color mixing.
This book is so fun!
If you're stuck in a rut and want some imaginative techniques and ideas this is the book for you!
One of my favorite projects is Warehouse Rustic Dresser.
Isn't that gorgeous. She shares step by step how she did this in the book. Texturing the paint, scraping with edge of a mixing stick, adding bleach. This one stopped me in my tracks.
She paints EVERYTHING in this book – furniture, walls, floors, fabrics, lamp shades etc.
One gets the feeling that the possibilities are endless.
She uses bolts as stamps and also her stencil collection. She dyes fabric in shibori style using her paint.
Here's a few more beautiful images from this book.
I love this wall! I wish I had a space to do it! I think it would be fab in a studio or retail space!
Love the look of ombre? Then I think you'll adore this table in this beautiful shade:
A stencil adds wow factor to this simple rug:
I was feeling in a bit of a rut right after the holidays and I flipped through Annie's book and was instantly inspired. I think you'll love it.
I've been friends with Barb now for some time. I found her beautiful blog Knack and was instantly inspired. She has a great style and mixes old and new with ease.
Her transformations are amazing – oversized knobs, unusual color selections, nature inspired and sometimes she'll leave areas of wood exposed. All for making a true Barb Blair creation.
Barb is such a giving person. I've sent her many emails about advice on painting, shipping furniture and pricing. All are hard to know the right answer but Barb has always been supportive and helpful. It's nice to have someone you can talk to about furniture. This book very much deals with sourcing product, how to's on paint techniques (including some of Barb's favorite techniques) and also includes a section of before & afters which is always fun!
This is Barb's second book. I pre-ordered it and got all these goodies with the book. A truly inspiring book!
I believe, as does Barb, that furniture has a story all it's own. Pieces get reloved and revalued and can make a room. In this book she tells the story of each piece and shows some in new homes, but she gives ideas for repurposing many furniture items in different ways. For example, she shows this scalloped buffet (pictured above) in many rooms including a nursery as a changing table. In every room each piece looks spectacular.
I love Shikoba Armoir which she used gold feathers on (pictured below) and the Feratoria Stripped Indigo Chair (I have a thing for Indigo).
LOVE every single project and there's some great tutorials in the back to recreate the looks at home.
Barb also teaches over on Creative Bug another site I love, so you may want to check that out.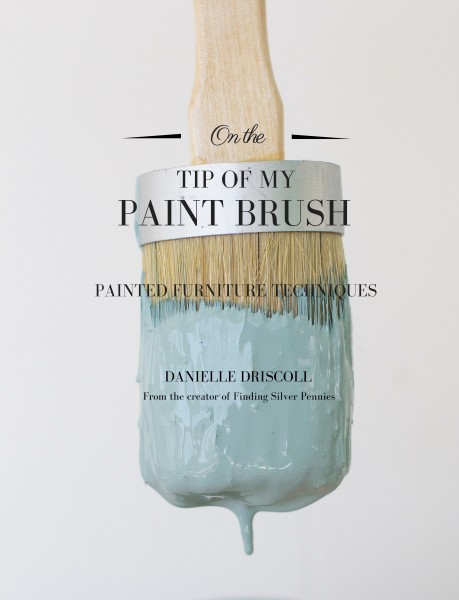 Of course, I couldn't tell you about painterly books I love without including my own!
I shared more about why I wrote this book here. It truly was a dream to write my own book. In over 150 pages I've tried to include everything I know about painting furniture from staining, stripping, sourcing to lovely colors and custom mixing. I share things that have gone wrong and how you can avoid making the same mistakes I have. I share the stories behind my furniture.
Here's a few images and projects from the book: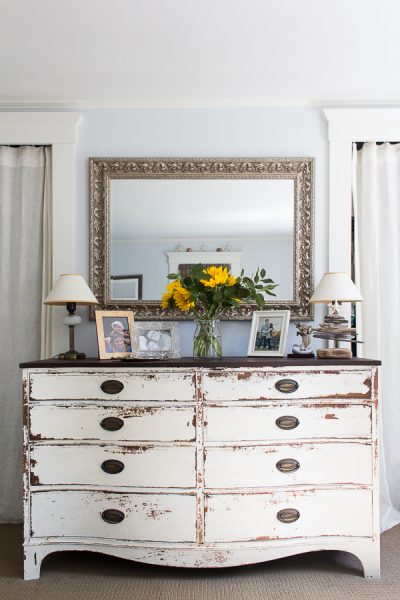 How to achieve a chippy milk paint finish like on our bedroom dresser, a roadside find!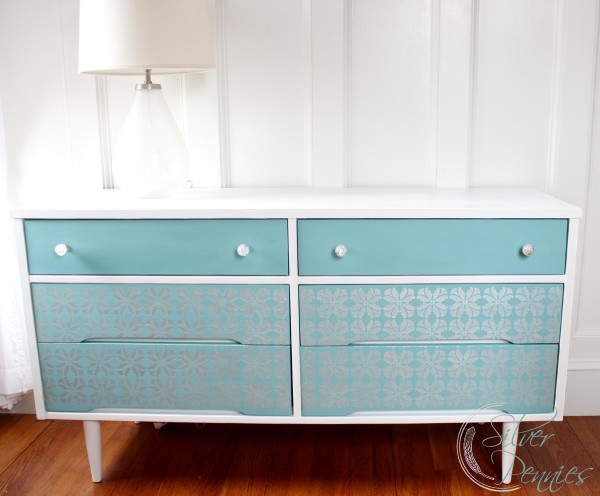 My first attempt at stenciling and how it can make a huge impact on furniture!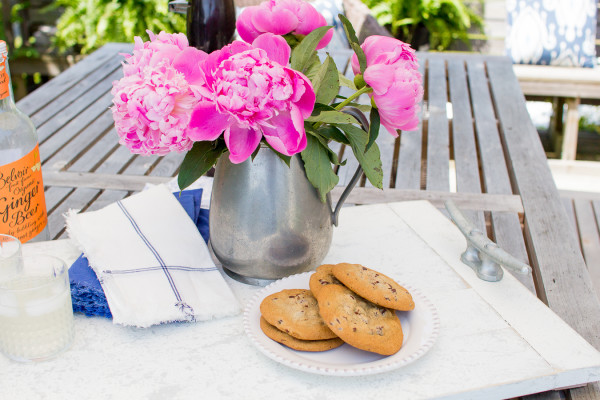 Using Saltwash® Powder to create a textured coastal finish, like on this tray.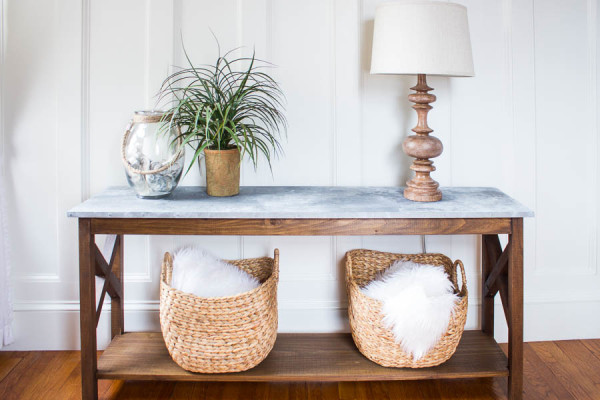 I also share a lot of faux finishing techniques, including this faux galvanized table. It's actually a wood top made to look like wood.
I offer just the book or the book and online Facebook group which is a wonderful forum of painted furniture enthusiasts!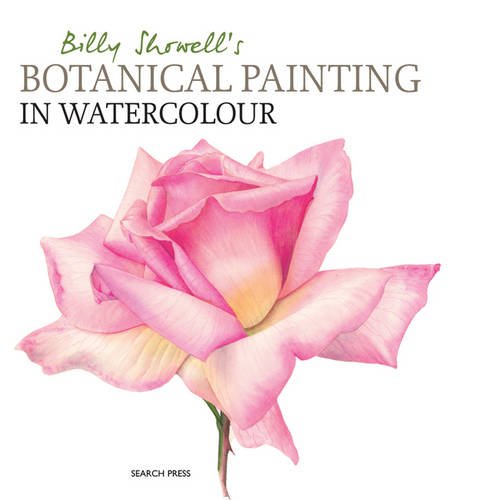 As many of you know, I've been painting watercolor for a two years now and this passed year I took a Botanical Watercolor class at my local art center, I loved this class and I learned about the artist Billy Showell in the class. For my birthday I asked for two of her books. Billy is an English botanical artist. This book is dedicated to the materials you'll need for botanical watercolor, including Billy's favorite colors and supplies. She also shares basic drawing tips on symmetry and observing the pattern in plants. She shares how to achieve pitted surfaces, textured leaves and everything in between.
The other book I asked for for my birthday was one on fruits and vegetables.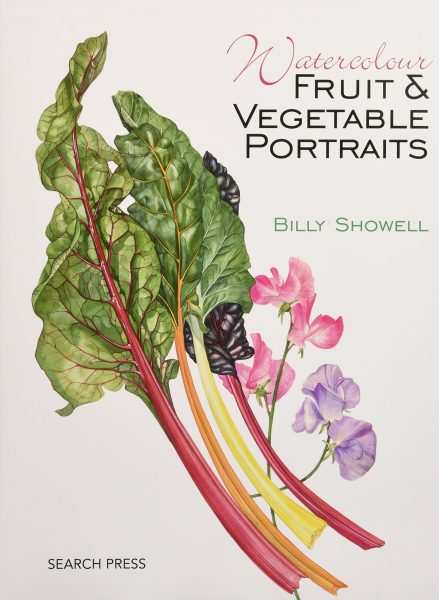 This book is dedicate to fruits and vegetables.
The knobby skin of a lemon, painting the details of small fruits, glazing and dark washes.
Watercolor can be tricky but Billy shares some of her secrets to get beautiful results.
Annie, Barb and Billy are all inspiring women doing what they love!
Their enthusiasm flows off the pages of every single book mentioned.
If you're looking for more information on painting watercolor or furniture, I hope you'll check these books out. I think you'll find them inspiring. I reference them again and again in my own practice.