This one is for those of you who have an adventurer in you, a world traveller, a dreamer, a lover of literature and love the exhilarating feeling of the wind in your sails!  I think you are going to love the Grantham Bedroom Set.
I'm delighted for you to meet the Grantham Dresser today: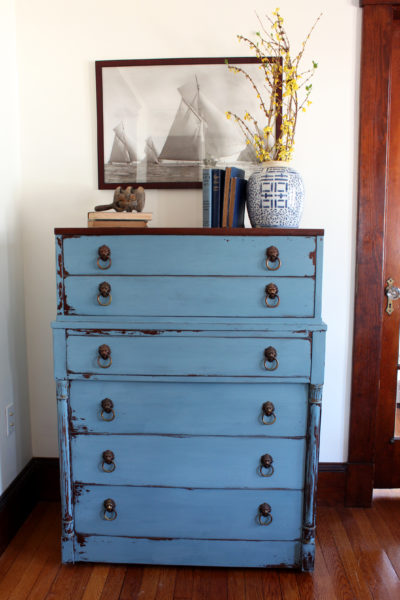 and the matching nightstands: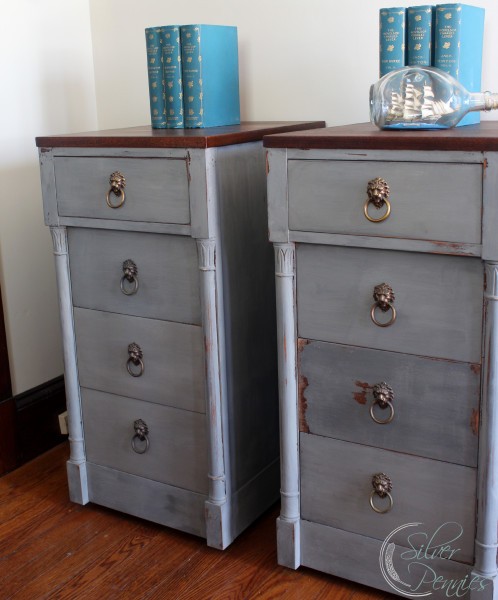 I painted them in different colors just in case someone only wants the nightstands or the dresser.
These pieces are absolutely stunning.  They are very heavy wood and from R.Way Furniture Co.  I believe they are from either the 1940s or 50s despite having 1924 and 1938 on the backs.  I think those may be the model numbers.  While working on the furniture I found the original delivery slip inside the drawer made out to Ed Madson.  I really love finding bits of history in furniture.
I guess you want to see how the Grantham set was looking "before", right?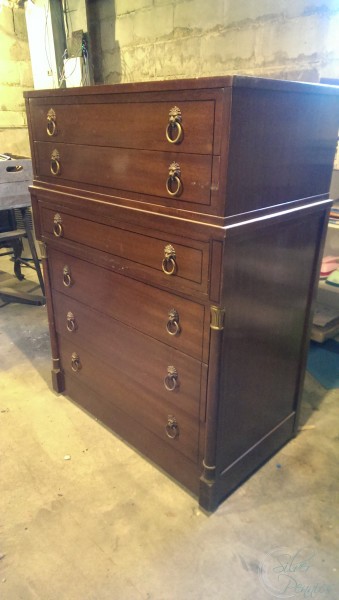 There were some dings and the top was all scratched up.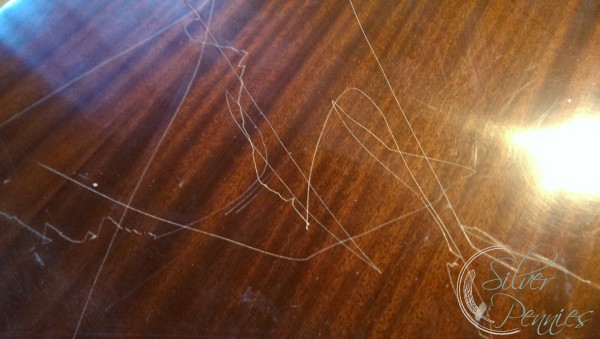 So sad.  So I stripped all the tops with Citristrip and then sanded until super smooth and then stained with Minwax's Dark Walnut stain and sealed with three coats of hemp oil.
You may remember me sharing this photo with you.  Luke patched some holes on the sides.  I'm thinking the nightstands may actually have been part of a dressing table.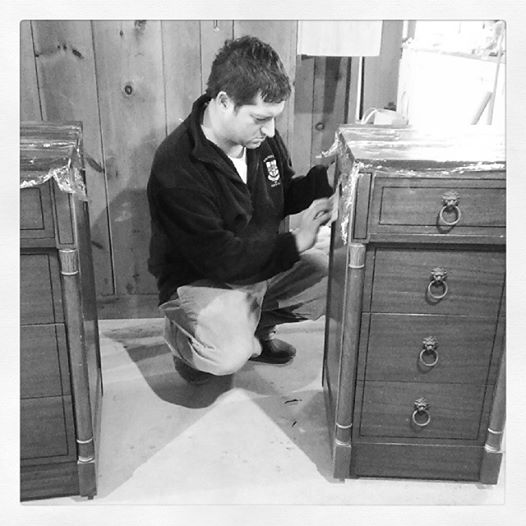 I sanded all the pieces down with a palm sander as they had a high shine.  Then I painted the night stands in Miss Mustard Seed Trophy with bonding agent and the dresser in Miss Mustard Seed Milk Paint in French Enamel without bonding agent.  I tried doing the hemp oil resist on the bedside tables (which has worked before) but it didn't work as well as I'd hoped which is why I just did without bonding agent on the dresser.
I am in love with the French Enamel – it is the prettiest blue and goes so well with the taupe for the bedside tables.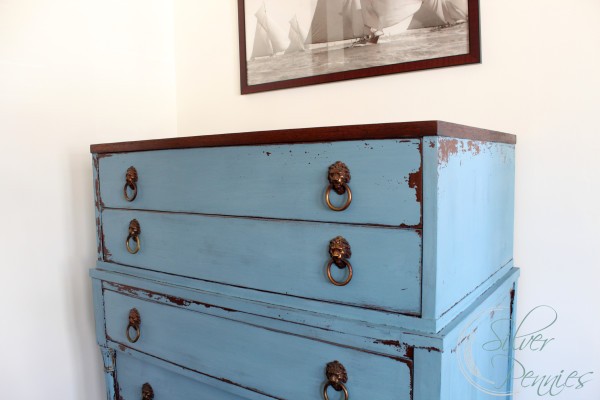 The original brass lions head pulls look stunning against both.  See what I mean?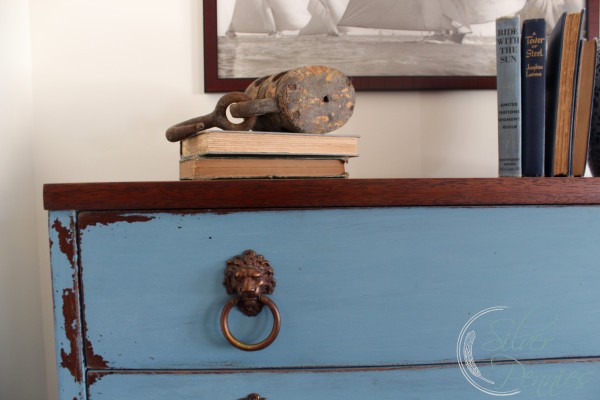 The shape of these pieces are also so masculine.  I love the columns and the chippy paint and the rich tops.  I sealed all the pieces with two coats of Miss Mustard Seeds clear wax.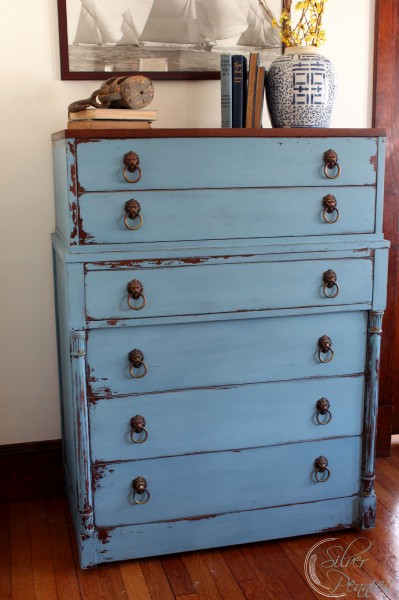 Here's how the side tables came out: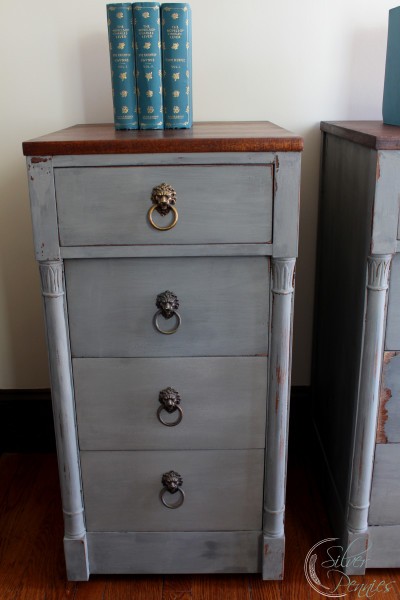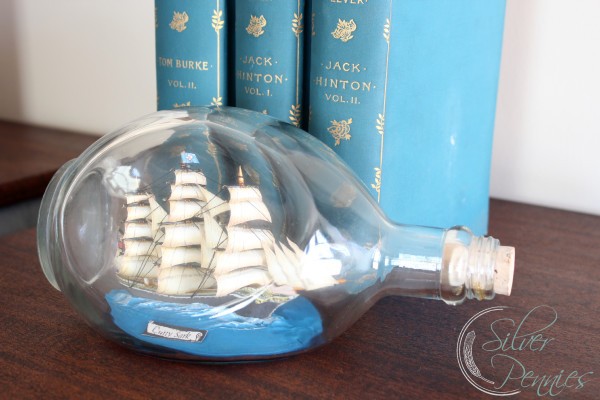 The same gorgeous hardware (slightly smaller on the side tables):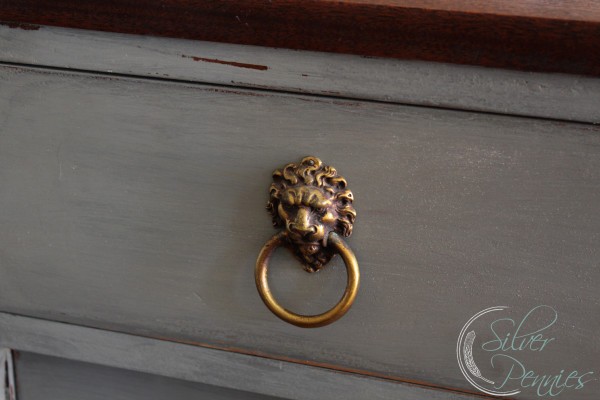 Also, the same gorgeous carved columns: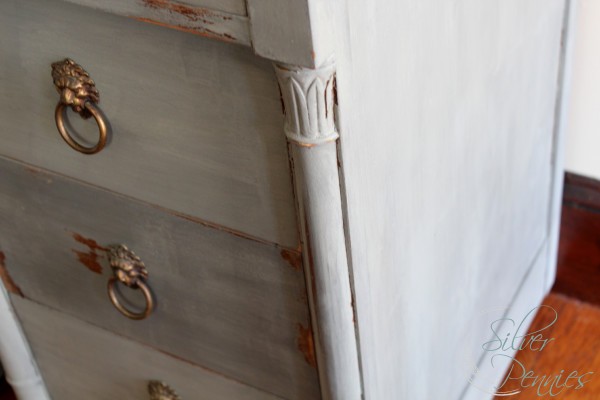 The best part is they are all on wheels!  Yes, their portable!  And, they will all be available for sale at The Duxbury Antique Show this weekend.  Be sure to stop by booth 39 to say hi!  We are bringing so much great stuff – antiques and painted pieces.  I can't wait!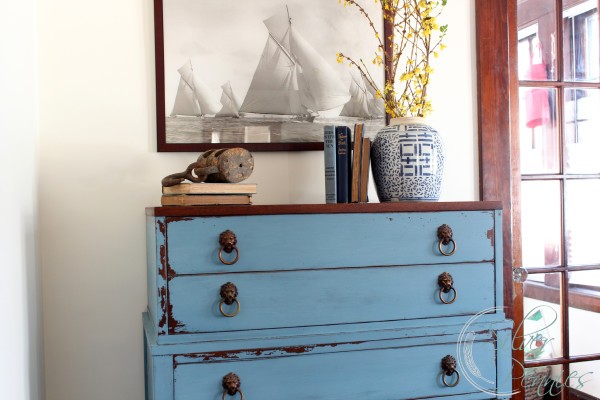 Sharing with: