Good Morning, Everyone!  I'm excited for you to meet Jocasta today: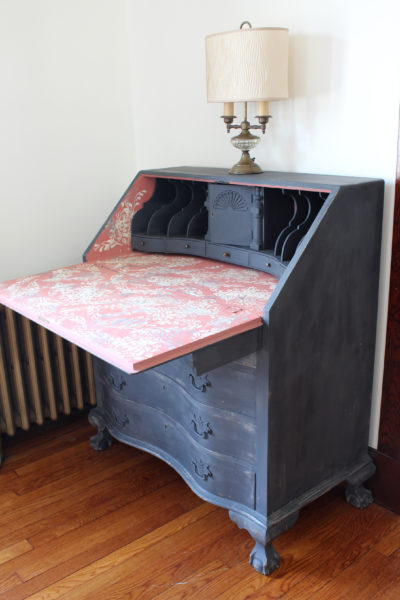 She's a pretty Governor Winthrop desk with serpentine drawers and lovely feet.  Here's what she was looking like when I got her.  The front was broken off: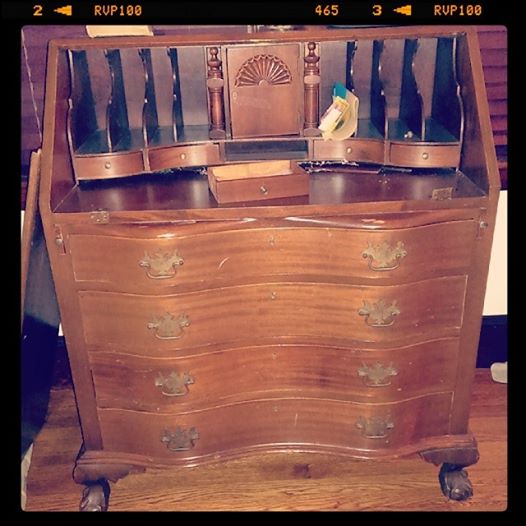 I could see her inner beauty?  Can you?  Luke repaired the top for me and here's how she's looking now: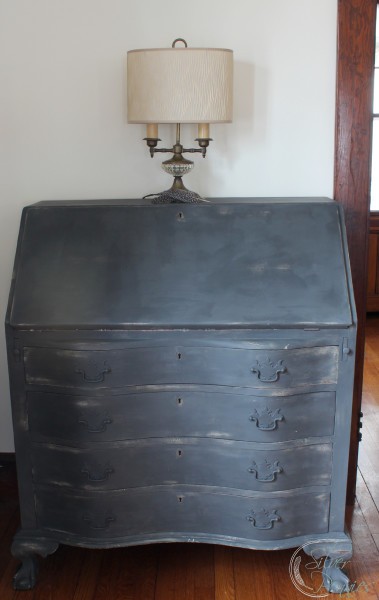 The exterior is painted in Country Grey Chalk Paint® with Graphite on top.  I used the wet rag method to wipe back the paint to show the lovely grey through it.  Here was after the first coat: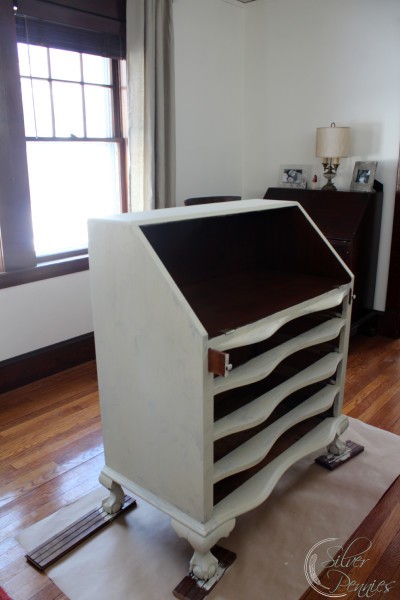 For the inside, I used a method I learned from Annie Sloan when I went to the training in Boston.  I painted the interior Scandinavian Pink then I filled a tray (one side with Old White and one side with Country Grey).  I made sure the roller wasn't too loaded by wiping on towels and then haphazardly placed the stencil all over the desk.  This was so much fun.  Don't worry if it is looking kind of weird at first.  Annie has a tutorial on this in her book too!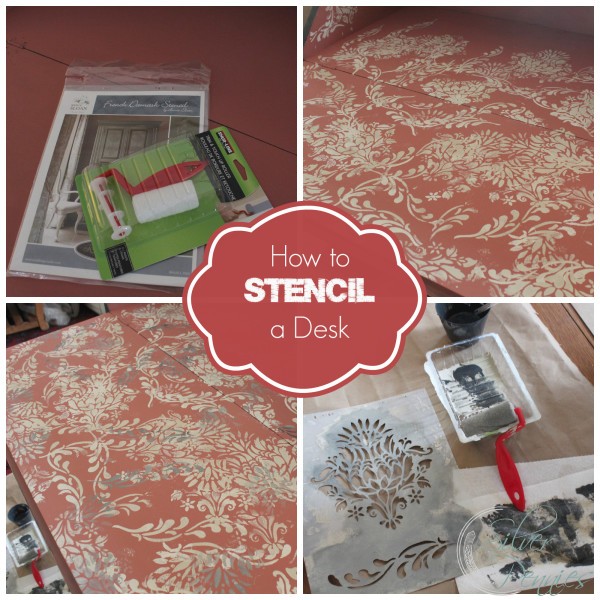 I felt like I needed to add a bit of graphite which I poured into the paint tray after and it made a lovely soft grey and darker grey on the stencil.  I lightly sanded the stencile and then I waxed inside and out with clear wax.
So while Jocasta is quiet and demure on the outside: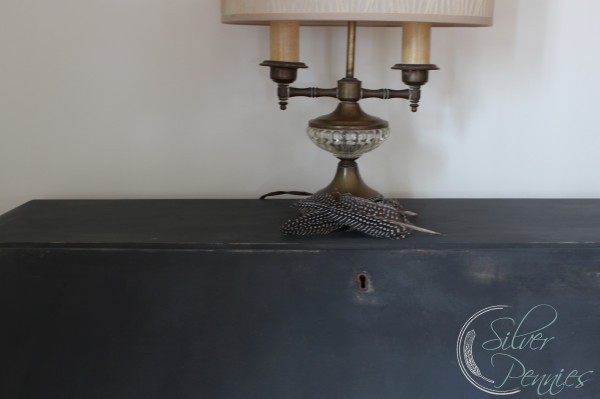 She's a "riot" on the inside, the real life of the party!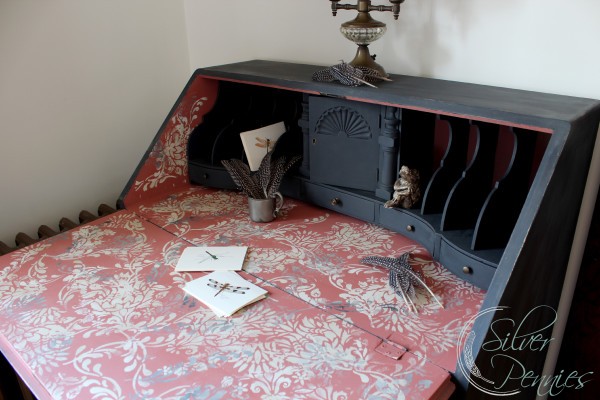 She's perfect for sitting and writing at or to hide away your laptop!  There are so many pretty details to love about her.
Her ball and claw feet: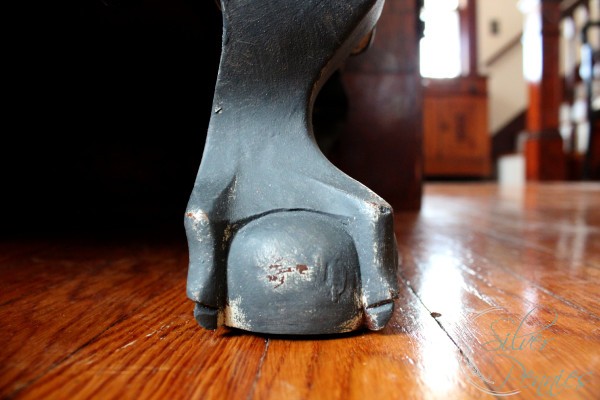 The soft curve of her drawers: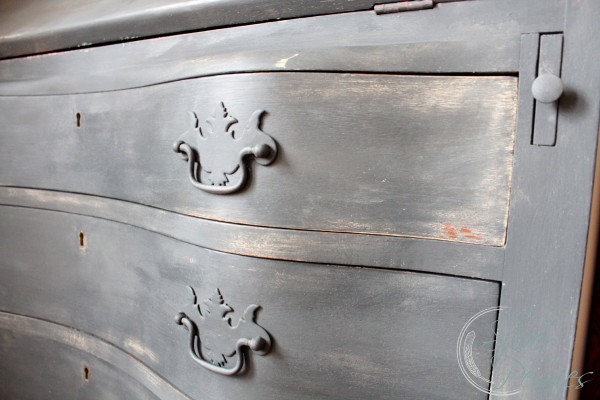 Even the original keys: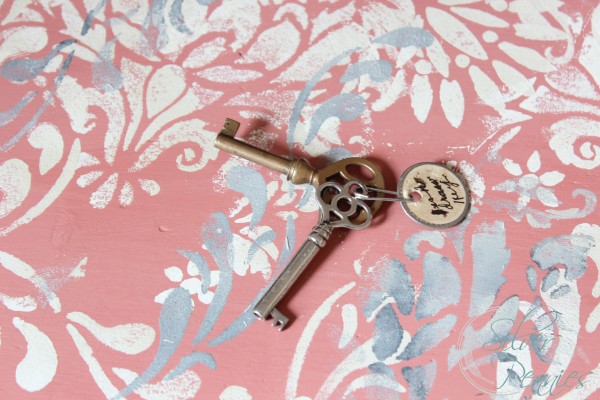 Jocasta can't wait to make your acquaintance at the Duxbury Antique Show this weekend.  If you want to take a closer look at her, join us at booth 39!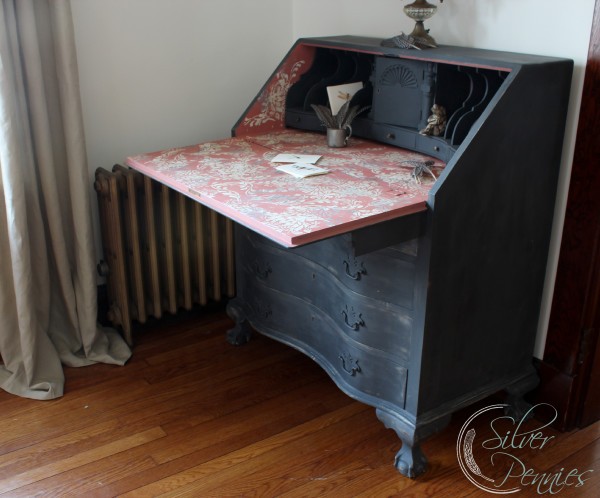 Sharing with: