Meet Margaux! She loves Paris in springtime and feels the best in bright colors.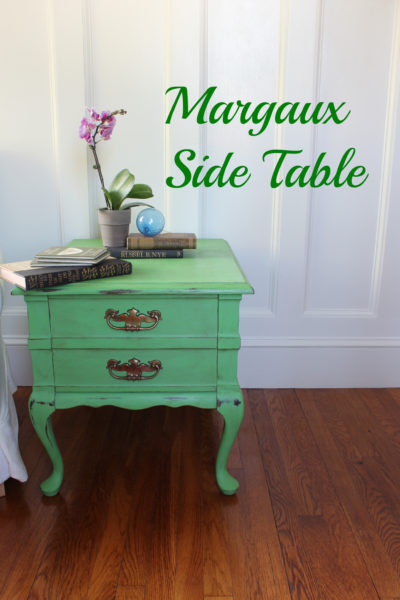 Her favorite color is green (if you hadn't already guessed!).  When I first met Margaux she looked like this.  Actually she wasn't so dusty that was just from our basement:
Sorry about the lighting down in the basement.  But as you can see she's solid, just a bit dated and dusty.  I gave her a good wash and prepped her in my usual way and then I got my Antibes Green Chalk Paint out!  I love  this color.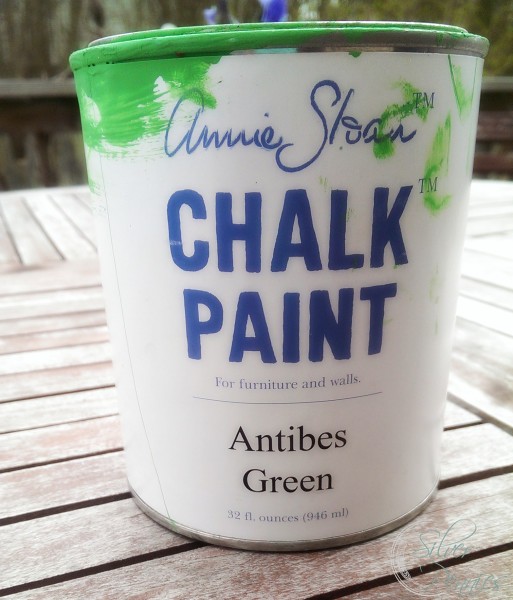 I did the kids' chalkboard table in this color and a also a fantastic 60s table.  This is such a happy color, especially with the winter we've had!  It reminds me of all that is spring – lush grass, vegetation and flowers!
The table got a few coats of the green and some distressing with clear wax to seal.  Here is the table with just the clear wax: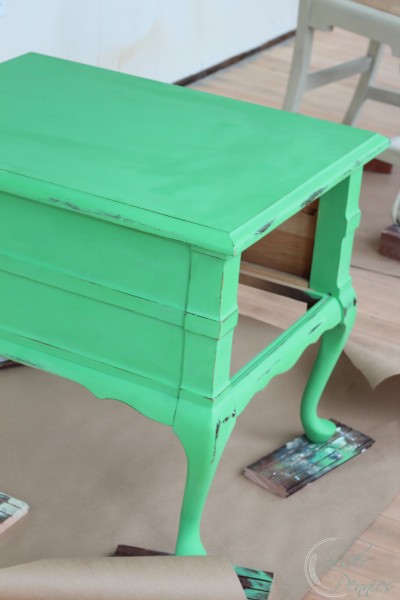 I added dark wax to the piece as I wanted to give an aged patina.  I mixed together clear wax, dark wax and mineral spirits to apply it easier.  I know you all really want tips on apply the dark wax and I took step by step photos with this piece which I'll be share soon!
The dark wax really picks up the texture and adds some depth to the piece – giving Margaux a bit of history.  Here's a close up of the freshly applied dark wax: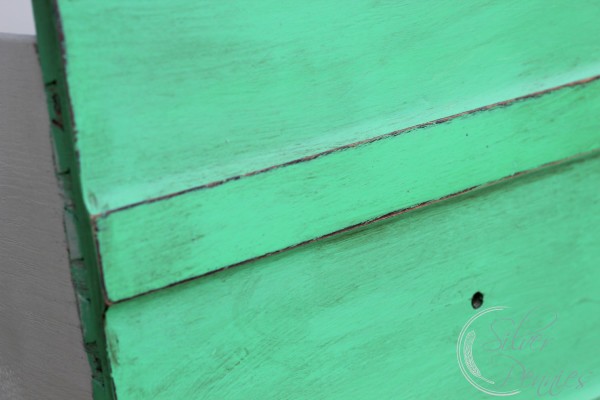 The green looks so wonderful with brass.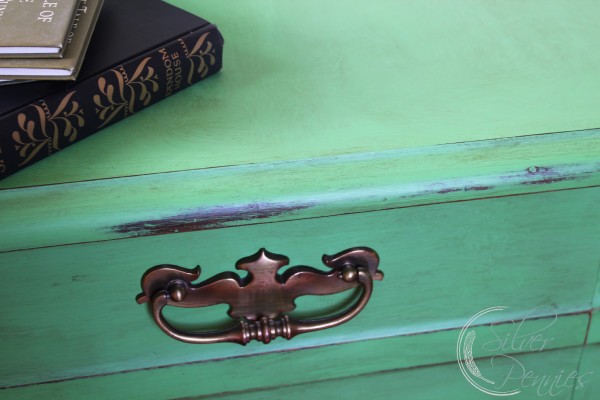 Isn't she fun?!?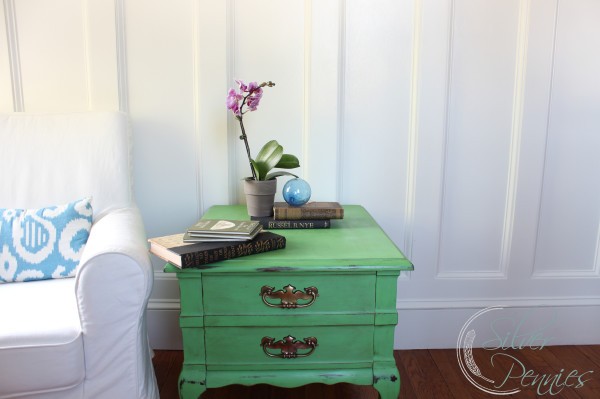 But she's fun on the inside too!  Her deep drawer (perfect for magazines or your favorite knick knacks or junk) is painted in Country Grey Chalk Paint® and decoupaged with my favorite Rifle paper.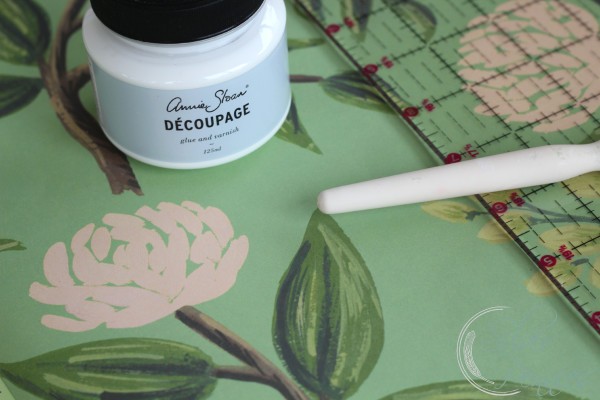 The peonies are luscious and just starting to come out in my garden.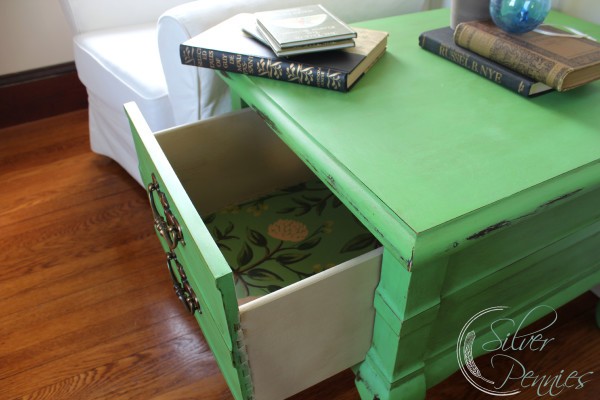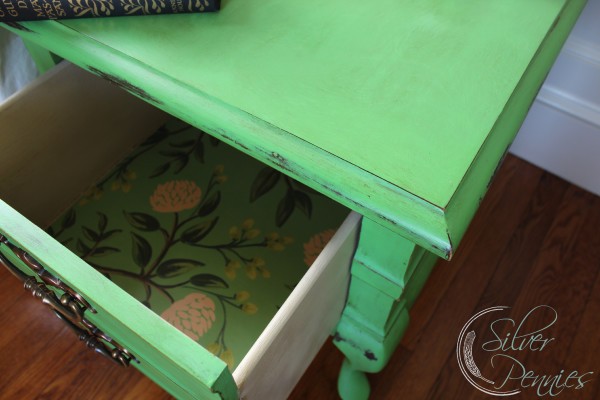 The best part of Margaux is I'm donating her to the Scituate Food Pantry Benefit which is happening this Saturday evening (May 17th at the Maritime Center). She will be auctioned off to raise money to benefit local families in need.  This is my third year donating a piece.  You may remember Colette and Annabel!  Margaux is excited to join this bunch!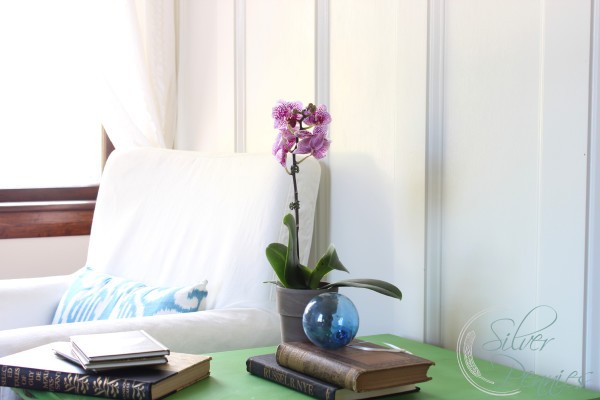 If you're interested in attending the benefit, there are a few more tickets available and you can email my friend Susannah Adams (Susannah.adams1@gmail.com) for more details about the event or if you'd like to make a donation.
If you're going to the event, I can't wait for you to meet Margaux in person (who knows maybe you'll be taking her home)!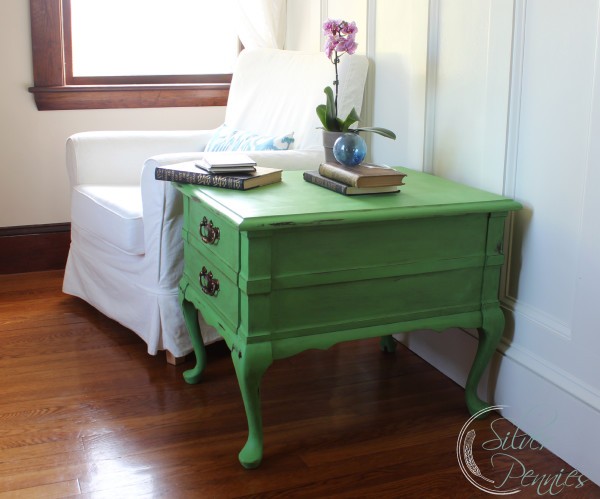 Sharing with: