I partnered with some pretty awesome bloggers and Modern Masters for this post.
You all know, I LOVE flea markets, yard sales and antiques.  Luckily, so do my friends, so when Charlotte asked if I'd be up for a little flea market swap I just couldn't say no.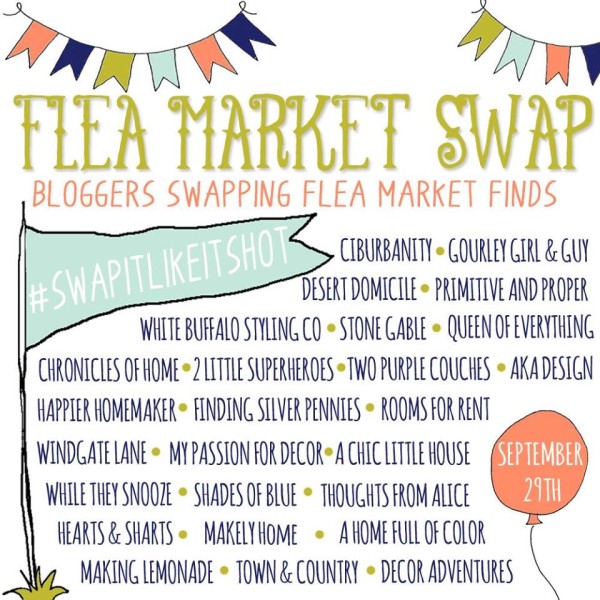 She said to make sure your partner didn't get a macrame g-string but other than that anything under $15 was fair game.  I sent Emily over at Two Purple Couches some woven chargers and a macrame plant holder (well, it wasn't a g-string).  I thought my items were pretty neutral and could be transformed into many things.  I can't wait to see what she did with them.
Cassie over at Primitive and Proper sent me a little box with a sweet note, saying she tried to stick to my coastal style. I couldn't wait to tear open the box.  This was inside: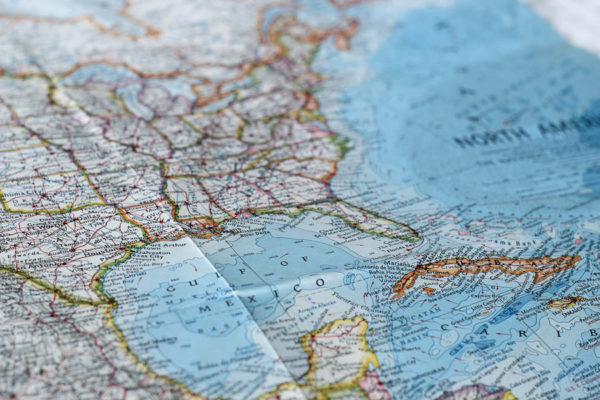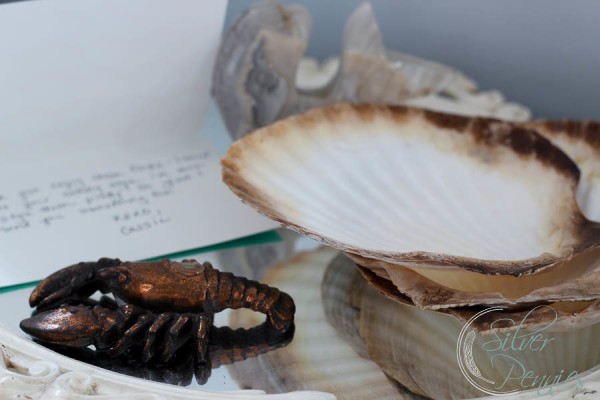 Cassie, certainly knows my style.  I LOVED it all.  The gorgeous map, the brass lobsters, the shells.  The only thing that stumped me was that marble whale.  Hmmm.
I toyed with the idea of doing something with our bedroom or the sunroom, but knew Conor would love these elements in his bedroom: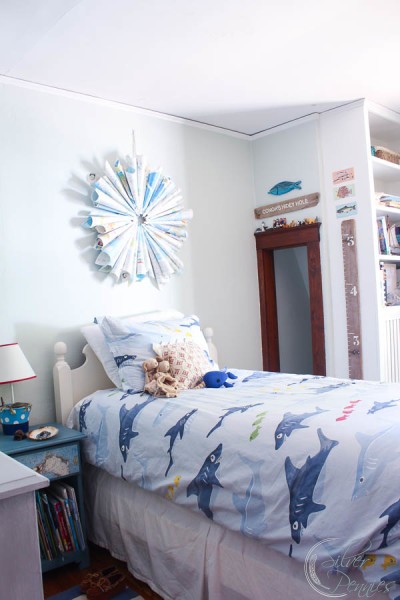 I LOVED the idea of taking natural elements like shells and marble and giving them a different aged look.  I used Modern Masters Oxidized Metal Finishes for this.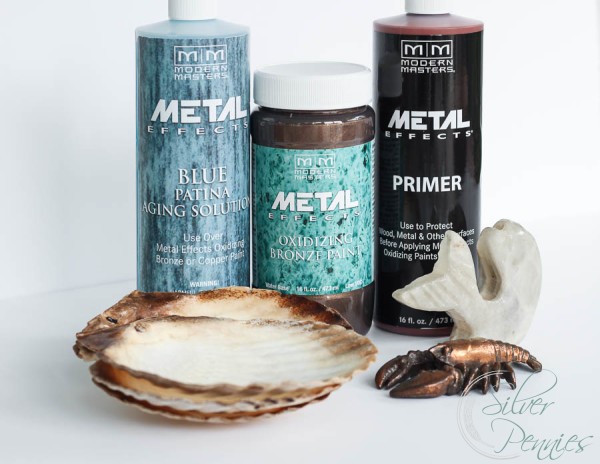 The first step is to use the primer solution to protect your object.  Two coats of that.  The primer was looking very copper-y on the lobster: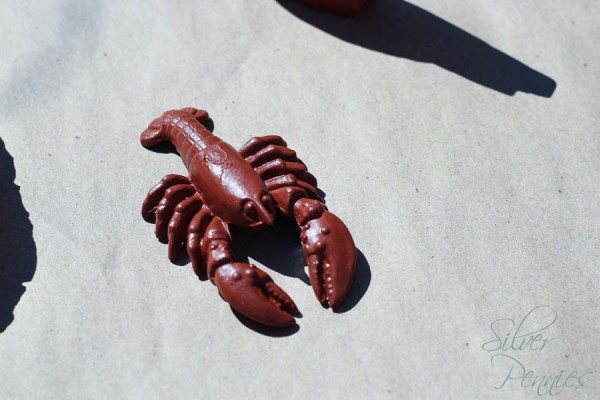 Then two coats of the reactive paint color.  I chose copper because I wanted a blue color for this sweet little guy. When the second coat is still wet you apply the patina aging solution.  It is really cool to see it react while it dries.  For the shells and whale I brushed it on and got a light effect.  I think working outside made it dry pretty quickly so would suggest doing this inside in a well-ventilated area or outside on not such a warm day.  On the lobster I waited about a minute to apply the solution and really sprayed it all over and it got a really aged look.
Here's how the little lobster came out: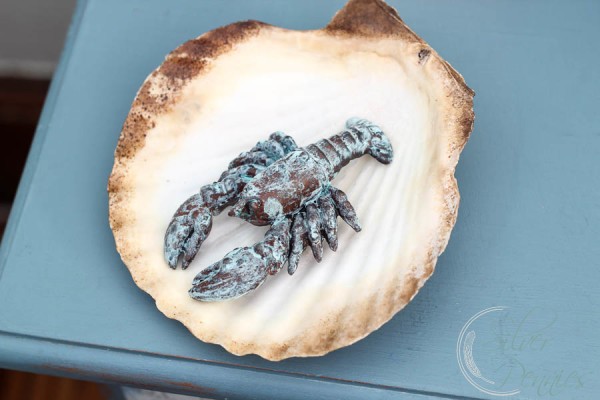 It reminds me of the lobsters you see in the water here in Scituate. They aren't red until you cook them!
The shells and whale came out great too!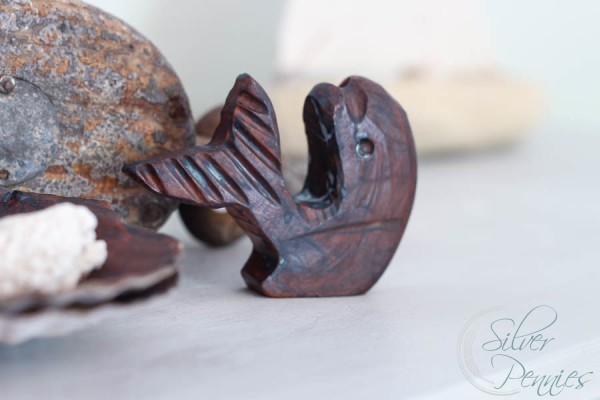 The effect is a little more subtle on the whale and shells but I LOVE it.  The shells act as a little catch all for Conor's treasures: coral, coins I brought back from Toronto –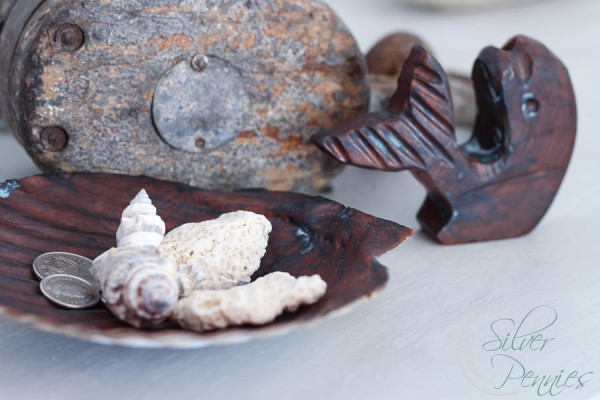 They look so cute on Conor's Sailor Dresser the patina goes perfect with the rusty hook and driftwood sailboat we made.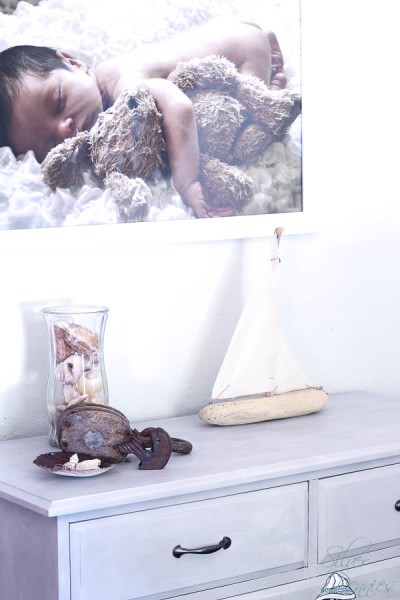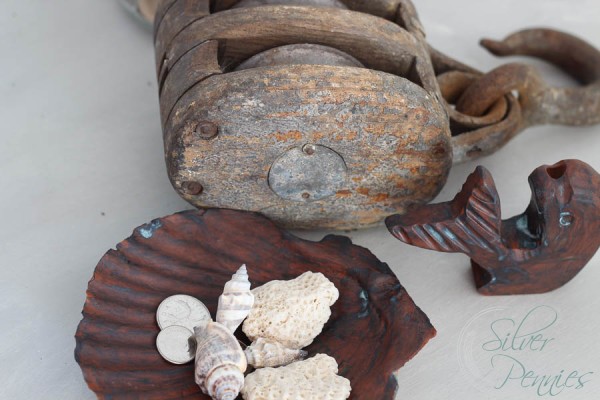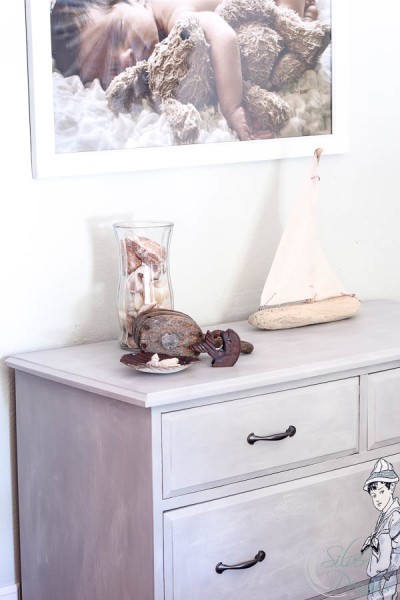 Oh, the map, you wanna know what I did with that?  I almost forgot!  Conor LOVES maps.  He has a few in his room already.
I've been wanting to do this for awhile.
I painted the inside of his bedside table gray and decoupaged the map on the front AND inside.  Here it is drying in the sunshine in our sunroom: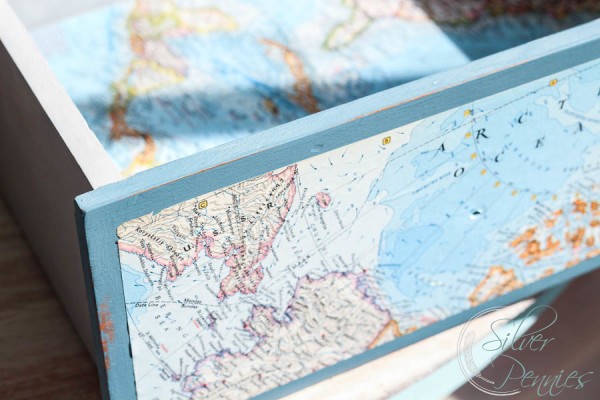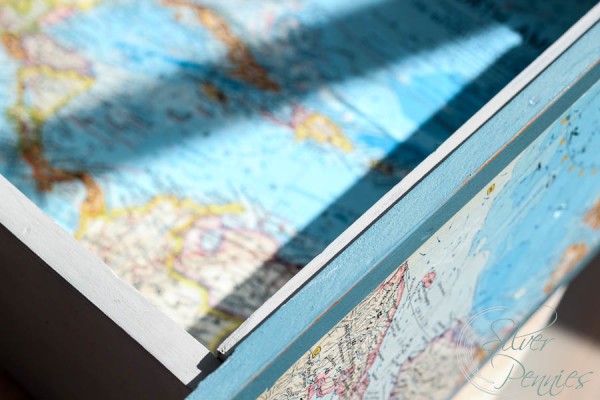 I put a rope pull on to complete the coastal look and here's how it is looking in Conor's bedroom: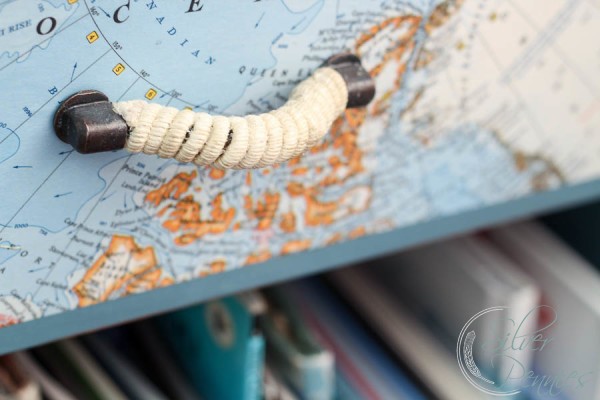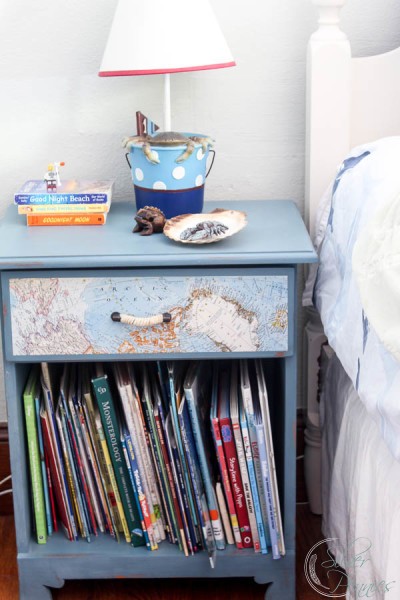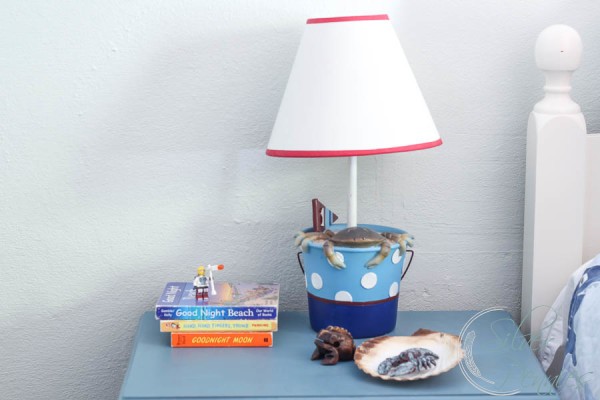 He loves the lobster: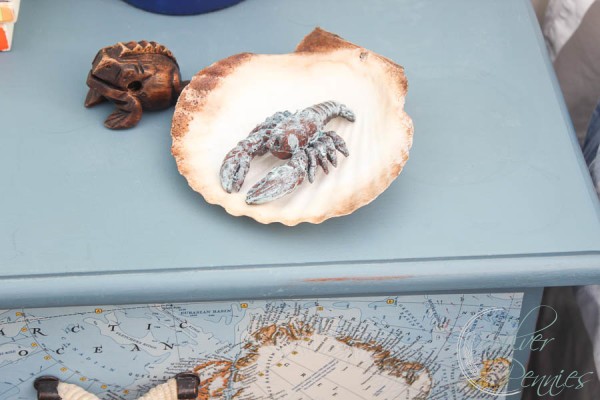 And is already filling up his bedside table with lego: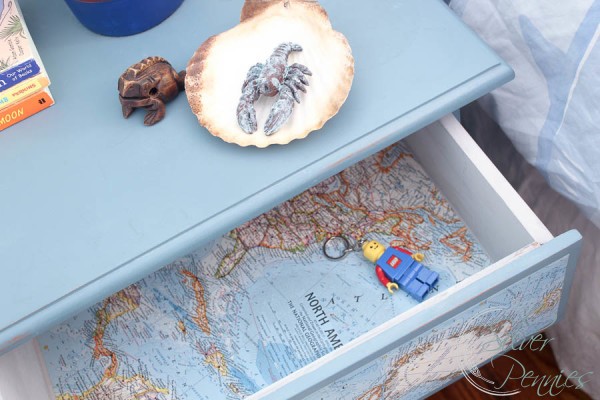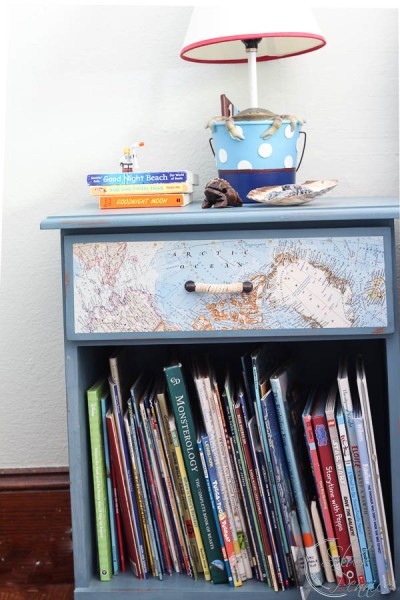 What would you have done with this junk?!?  I think it has been a great addition to his room!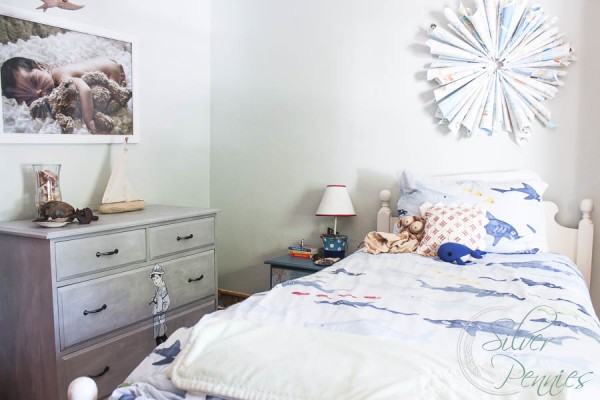 We can never have too much junk, right?!?  We'd love you to get in on the action.  So please link up your "trash to treasure" projects below!  I can't wait to see what my friends have done with all their junk, be sure to stop by everyone's blogs!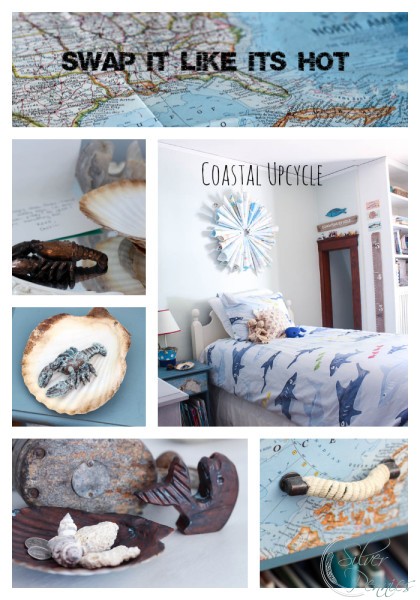 2 Little Superheroes
AKA Design + Life
A Chic Little House
The Chronicles of Home
Ciburbanity
Decor Adventures
Desert Domicile
Finding Silver Pennies
Gourley Girl & Guy
The Happier Homemaker
Hearts and Sharts
A Home Full of Color
Makely Home
Making Lemonade
My Passion For Decor
Primitive and Proper
Queen of Everything
Rooms For Rent
Shades of Blue
Stone Gable
Thoughts From Alice
Town and Country Living
Two Purple Couches
While They Snooze
White Buffalo Styling Co.
Windgate Lane
Sharing with: