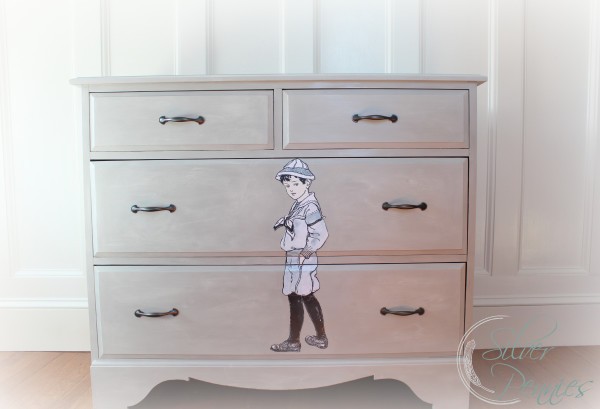 Today I'm sharing a dresser I painted for my sweet little Conor.  It is whimsical, it is a beach lover and he named it himself: Conor The Sailor Dresser.  I know I shared the Conor side table with you a few weeks ago.  But I guess it is such a sweet name and such a sweet boy.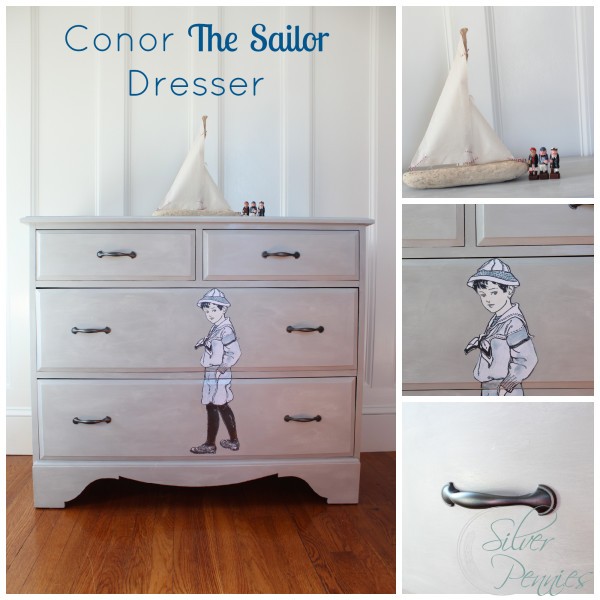 Conor's dresser started off white.  I had painted it when we were living in the old house for our guest room and it still had crystal knobs.  Too girly for my sweet beach boy!  I mean he couldn't bare to be in a pink room when we first moved in!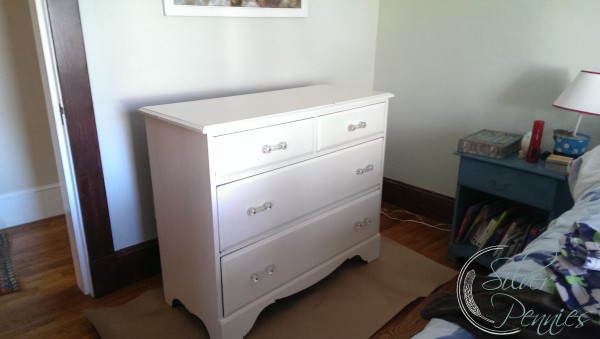 See?  Too girlie!  Anyway, my good friend Nancy over at the Sea Rose Cottage sent me some of Annie Sloan's Decoupage to try out.  For a while it sat down next to all my paints.  I just didn't know what to do with it.  That was until I saw this spectacular dresser from Dovetails Vintage over in the UK.
How sweet is that?  It is Perry's daughter and he wrote a tutorial on the one he did with his son.  After that I was inspired and I wanted to use the decoupage!
This vintage image from the Graphics Fairy has always been a favorite.  LOVE it. I even made Conor a pillow a while back with it.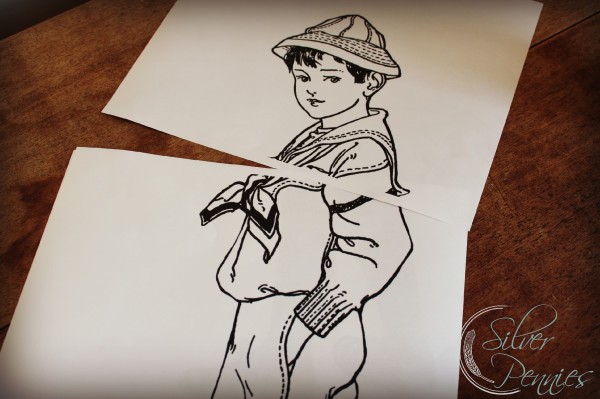 But I knew this sweet sailor needed to be on Conor's dresser.  I first painted the entire dresser in a few coats of Paris Grey Chalk Paint®.  Then we enlarged the image so it would fit across a few drawers.  Then I carefully cut out the image with my Ikea kitchen scissors.  I highly recommend investing in smaller scissors or exacto knives.  I have some but still can't find them in boxes in the basement.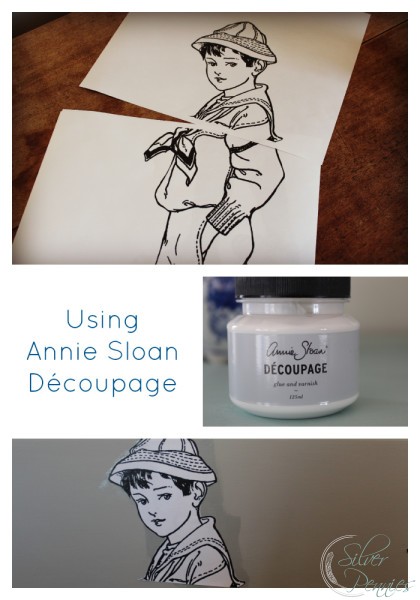 The Annie Sloan Decoupage was wonderful to work with.  I lined up each piece of the little sailor boy and applied the decoupage to the dresser and then pressed out the air bubbles.  Then I did four coats of decoupage on top, allowing them to dry between coats.  Once, that was dry, it was time to turn Chalk Paint® into watercolors.  I decided to water down Old Ochre for the skin and Aubusson and Louis Blue for the sailor outfit.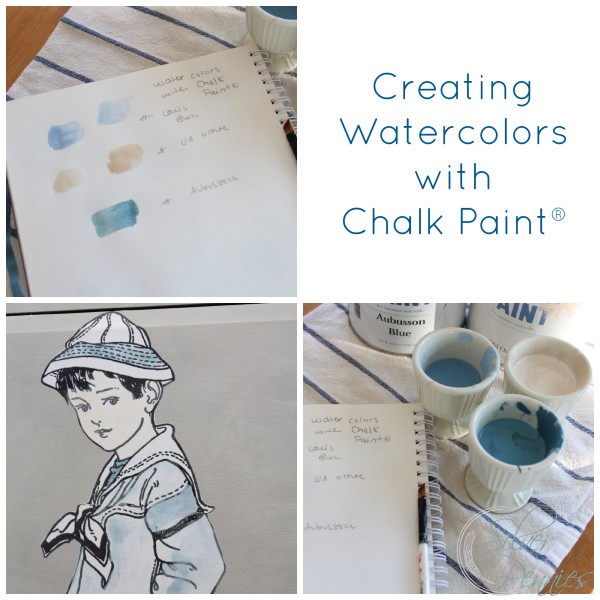 The colors are just gorgeous, but watering them down gives a whimsical, hand painted effect.  Can you see what I mean?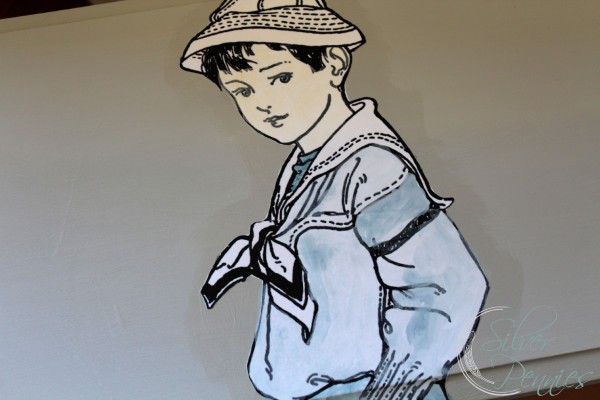 Perry recommended laying the drawers flat while painting and I found this to be helpful.  I then applied Annie Sloan's Craqueleur over the entire dresser.  I wanted to get rid of that little halo around the decoupaged image.  I then used tinted white wax across the whole thing to make it look a bit more beachy and white washed.
Conor picked out the pulls himself.  He was quite proud of his design sense.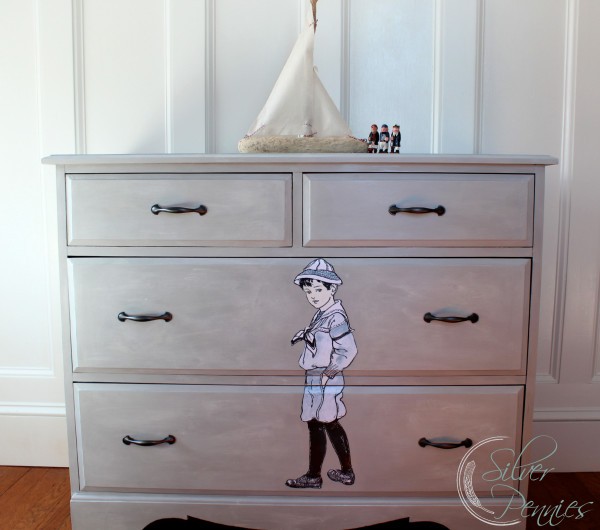 And this is how it looks in his bedroom.  I'm almost to the point where I can share his room, almost.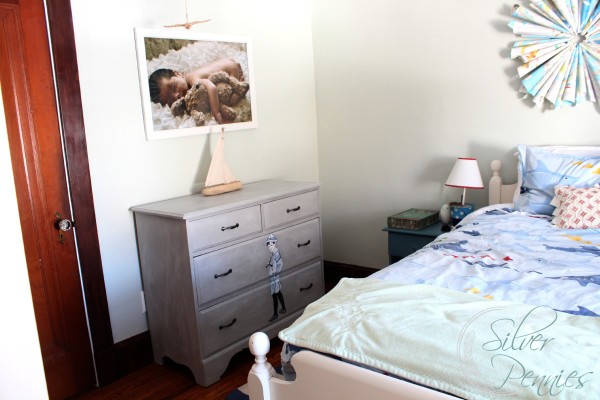 When he saw his finished dresser, he was so excited.  He jumped up and down and told me how much he loves it.
What do you think of Conor "The Sailor" Dresser?
Sharing with: