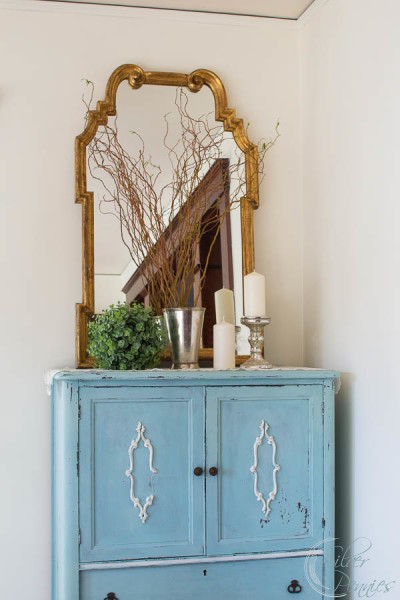 Sooooo, we're all on a budget right?  I've been trying to think of some money saving tips and tricks for you guys.  I was at the supermarket (where I am quite often nowadays) because my boys like to eat.
Honestly. I can't believe how quickly we go through food.
Sigh. 
Growing boys!
Anyway, I'm getting off subject.  Well, I was pushing my trolley up and down the aisles. Filling it with fresh veggies and fruits, snacks for the kids and, I think it was in the cereal aisle, that an idea popped into my head. A new series for the blog – Supermarket Styling!  There is so much great things you can get at the grocery store for your home.  I often am inspired by fresh flowers, foods, colors, and little jars and such they have in the super market.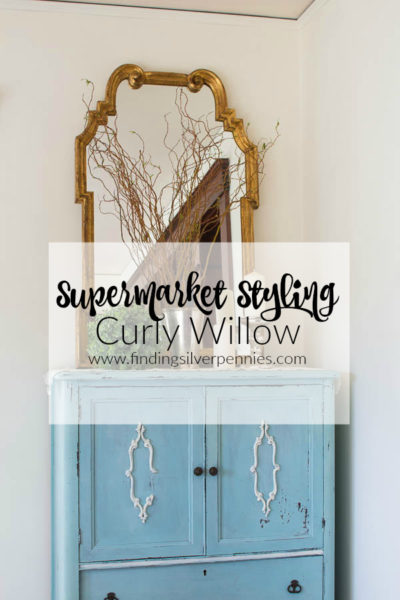 I spotted these curly willow branches while at the supermarket and scooped them up without hesitation. Actually, I bought two bunches. They were only $4.99 a bunch!
The branches add so much styling for not much cost.
You can put them in water or you can keep them dry in containers.  I've put them in water because I love the little green buds that are growing.  The person at the grocery store told me you can actually plant curly willow in the yard in the spring, but then I read that this plant can go after your pipes.  🙁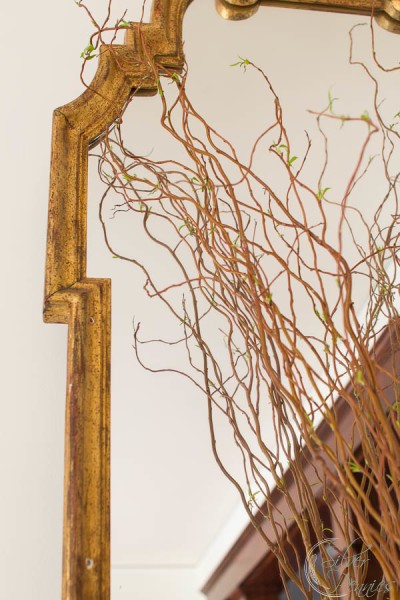 See how delicate they are?  I love them against the gold mirror.
Oh, where's the other bunch your thinking???
I put them in the living room and I think they add an elegance to both rooms.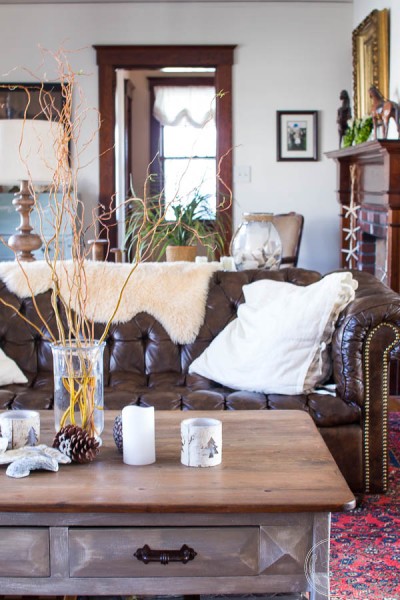 My boys are also loving watching the root system grow.  It really is so fun to watch.
These will hopefully last all winter and then I can buy some spring flowers when the time comes for this room.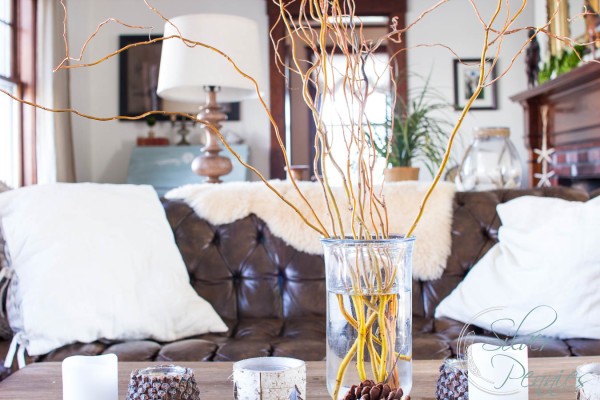 I'm really loving these delicate branches with a slight hint of greenery.  The holidays were so busy it is nice to scale back a bit and keep things simple.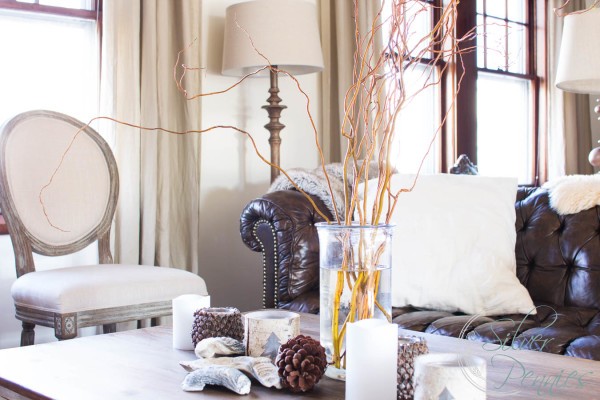 I hope this helped you see that you can get some lovely decor items from the grocery store and it doesn't have to cost a lot.  I'll be sharing more in this series from arrangements to crafts! So excited!  I'll also be sharing more of our living room winter decor next week on the blog.  Keeping it very simple.
I often get asked about sources for other items in our home.  Below is a source list with some affiliate links, click here for my full disclosure policy:
Decorating Source List
Dining Room:
Gold Mirror – Vintage
Lace – Vintage
Armoire – yard sale find painted in Miss Mustard Seed Eulalie's Sky – Tutorial here.
Silver Container – Vintage
Candle Sticks – Crate & Barrel
Candles – Ikea
Wall Color- Benjamin Moore Mascarpone
Living Room:
Oriental Rug – Vintage
French Chair – World Market
Coffee Table – Consignment Store – tutorial here.
Floor Lamp – Target
Table Lamp – Target
Shells – the beach
Throw Pillows – Ikea
Fur Throw – Frontgate
Lambskin – similar this one from domino
Chesterfield Sofa – Craiglist find, Pottery Barn and domino have ones that are similar.
Linen Curtains – Ikea
Wall Color – Benjamin Moore Mascarpone
Sharing with: