I think you all know my favorite style is coastal and if you like this style, too, then you're in for a treat today. I have a little makeover for you! My favorite kind of post to write! This one is special because this used to be my bedside table. It didn't look like this "before". What do you think of my coastal bedside table named Bodie?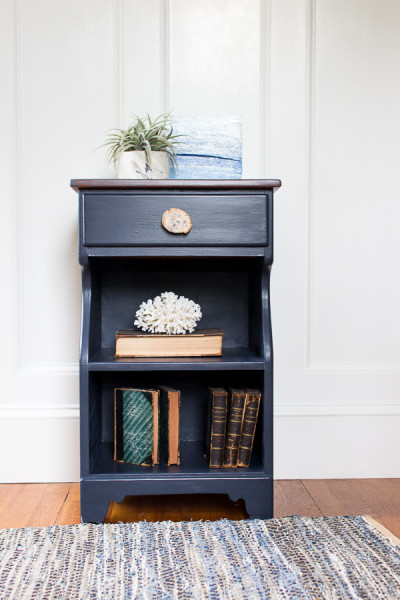 Does it look familiar? I originally finished it for John's room years ago in red milk paint by Miss Mustard Seed with a stained top and this gorgeous pull, but since we did the boys' bedroom over we no longer need bedside tables.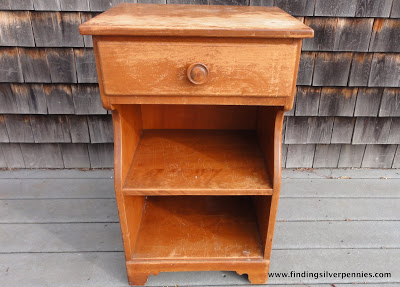 This was it in his old bedroom: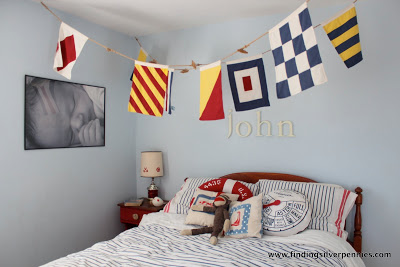 Wow! I can't believe that was 4 years ago!
I thought it would be really fun to give it a completely different makeover and look!
This is one heavy nightstand. I think it weighs 50 lbs and is old Ethan Allen. It's solid.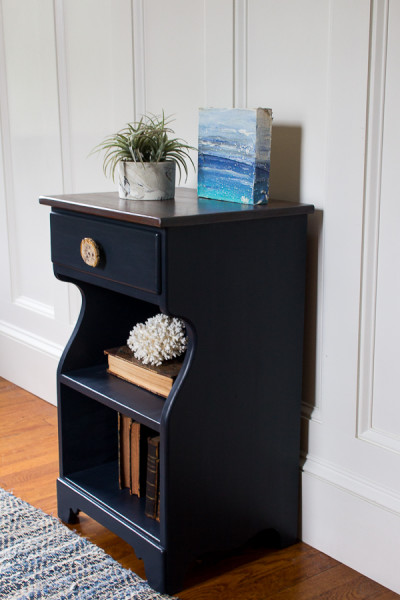 I love how rich it looks, don't you?
I decided to use General Finishes products on this piece. I'm getting very excited to present at their conference next month, click here for more on that! I had some paint leftover in the basement that I used.
I'm including a few affiliate links in this post for your convenience. If you purchase any of the products, it doesn't cost you more but I get a percentage for referring you. Thank you for helping support my blog in this way.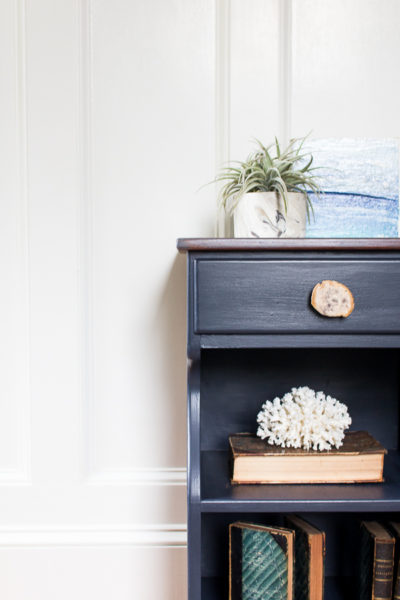 The color on the body of the dresser is Midnight Blue Chalk Style Paint. It is wonderful. It is a very deep, deep blue, almost black. A very rich and sophisticated color which I think works nicely on modern furniture or traditional. I applied two coats of this color. The paint is self leveling so you can't see brush marks. To seal I applied three coats of Gray Gel Stain by General Finishes. A little of this goes a LONG way. I still am on my first can. I like how easy it is to apply. When applying it looks white but when dry it crystal clear. The finish is flat but has a higher sheen than wax.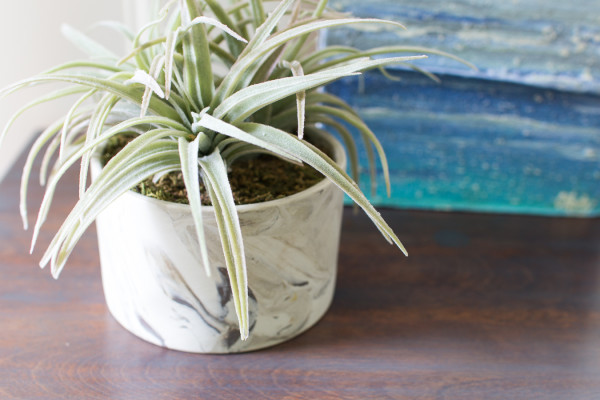 I couldn't resist this little faux air plant Target. The person in line thought it was real and so did the person checking me out!
Which brings me to the top of this nightstand. The original one had special walnut by Minwax but I thought it needed to be freshened up so I gave it a little Gray Gel Stain by General Finishes. I just scuff sanded and removed sanding dust and wiped on.
Here's another angle. It was really hard to capture the true color of the top: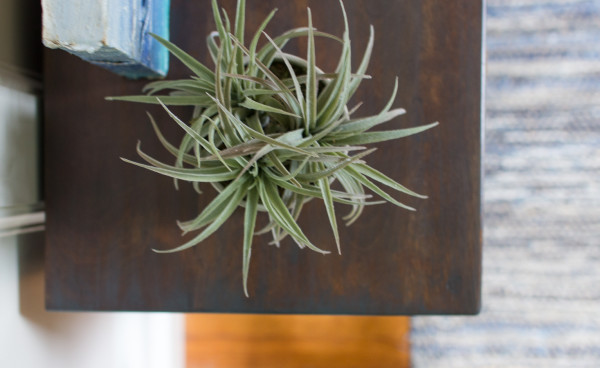 I sealed the gel stain with wipe on gel top coat. This was the first time I used this stuff and I loved it. I wiped it on with a clean t shirt and wiped off. I like that it gave the top a little sheen.
To decorate this little night stand I used some old books but I also included this beautiful abstract painting by my friend Carol over at Saltwater Salvage. She sent me this gorgeous seascape as a surprise gift in the mail. Isn't it gorgeous?!? All my favorite colors too! I'm really so grateful for all the thoughtful people and friends I've made through this little blog.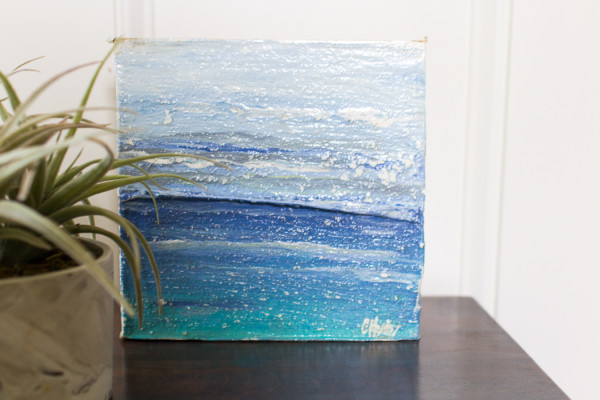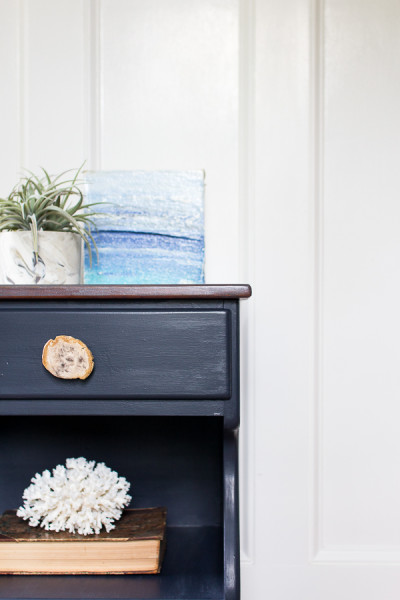 Perfectly coastal, right?
The amazing knob is by Anthropologie. John picked it out for his very first bedroom. It is petrified wood. Sadly, I don't think they have it in stock any more.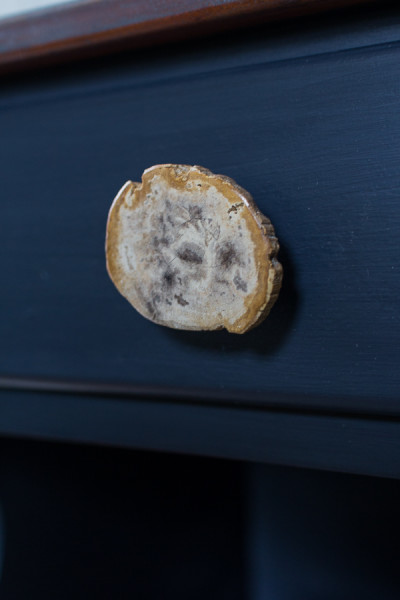 Well, what do you think of the new look? I love it! I also photographed it with a simple willow branch too.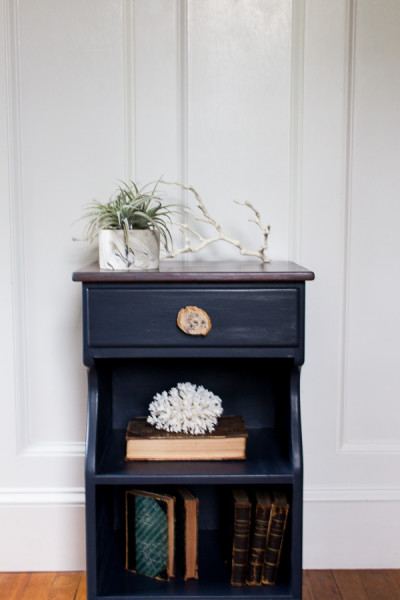 The Bodie nightstand will be available at my Open Studio, which is scheduled for this Sunday, October 2nd but we also have a rain date for the following week. A Nor'Easter is blowing through so we'll see how it goes.

If you enjoyed this post you might also like my eBook on Painted Furniture, click here to get your own copy!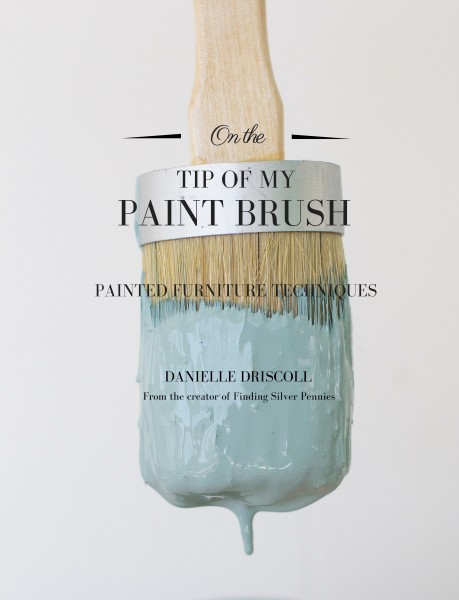 Sharing with: