For some reason, I'm really drawn to moss this fall. I shared a little of our home tour last week, but promised I'd share more about the moss covered fall mantel this week.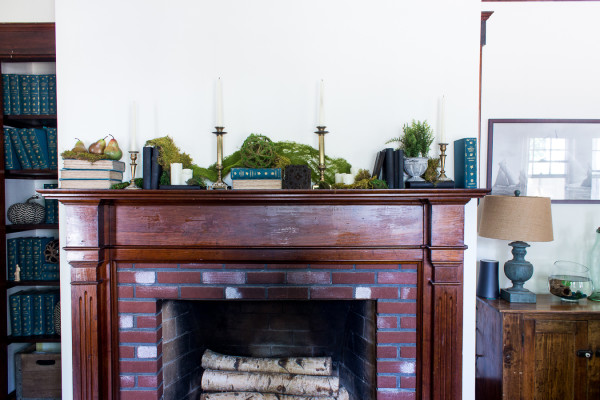 This mantel was really easy to pull together and I used many elements I already had. It's all about grays, greens, and browns for me this fall.
Our mantel is inspired by a walk in the woods.
Can you picture an old English cottage in the middle of the woods with moss growing on the roof, across the planters, along every nook and cranny?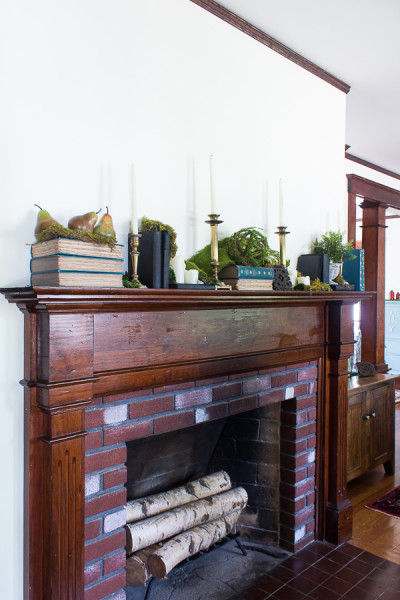 Let's take a closer look!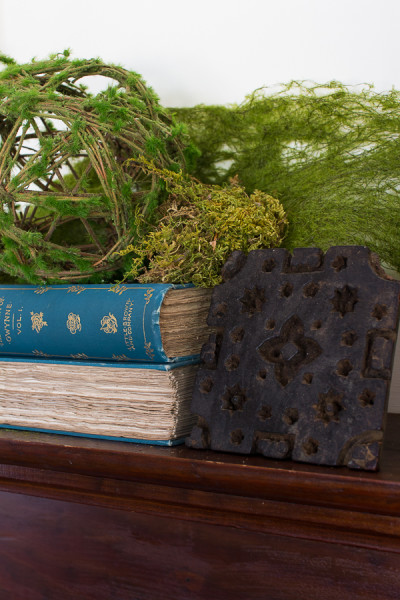 When decorating a mantel I try to create different layers and levels. To create layers I used a mixture of teal books which are part of an antique collection that is now in our bookshelf right next to the fireplace.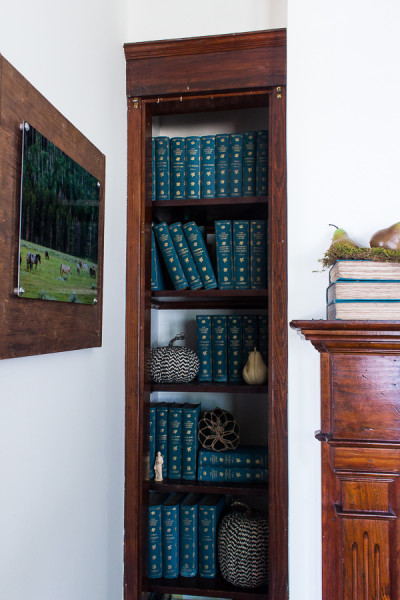 I'm IN LOVE with the color. I also used books from our Halloween Mantel from last fall that I spray painted black. I love the matte look of them.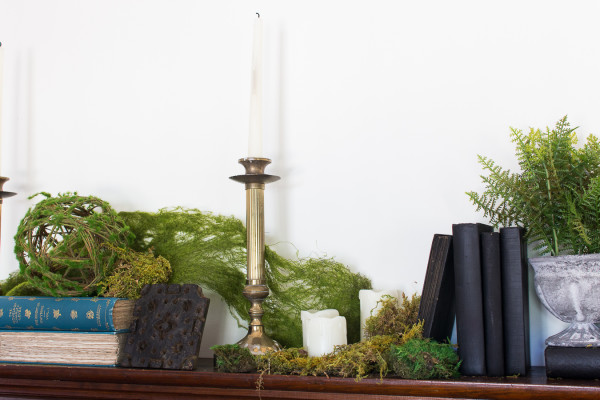 I used a mixture of mosses to create this effect, some preserved and some faux. The ribbon moss is from Save On Crafts and it came in a roll. It was very easy to use. The broken up preserved sheet moss is from Save on Crafts and Michaels. The moss ball came from a local florist.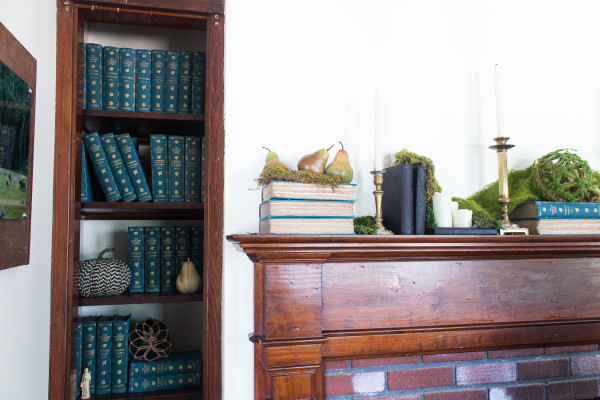 The pears are faux and I found them at a local thrift store over the spring. I love them because they look so realistic but will last a lot longer than real ones!
The brass candlesticks are antique that my mom gave me. They are so nice and heavy and I love the two contrasting styles.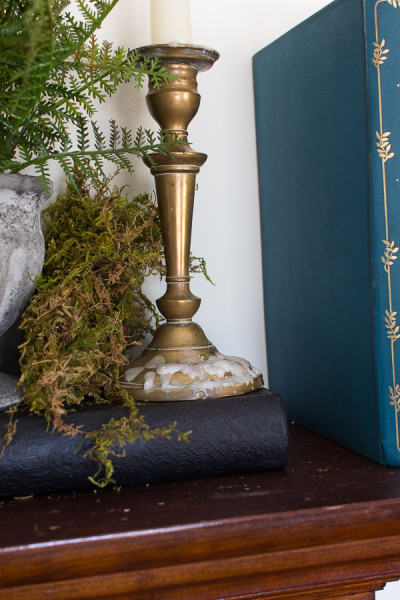 If you look closely you'll see I dripped additional wax on the candle sticks. I did this using a lit candle and dripping the melting wax. I think it adds a nice, romantic touch.
Can't you just picture candles burning down to the wick as people sit nestled by the fire in a cottage in the woods?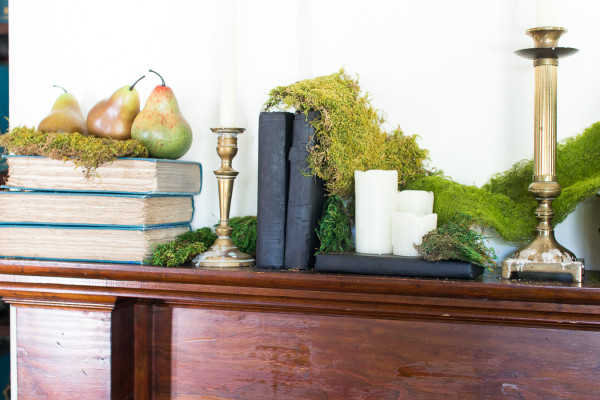 The smaller drippy candles are by World Market and I used them last year.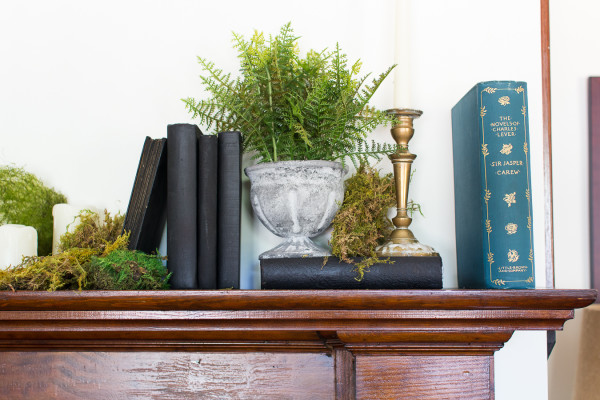 I've included a few sources in case you were interested in recreating a similar look in your own home! Some of the links below are affiliate links which means I get a percentage of the sale but the price stays them same for you. I so appreciate you supporting our blog in this way.

Drippy Candles / Vintage Brass Candlesticks / Tall Candlesticks / Fern / Sheet Moss / Faux Pears
I'm having someone come and give me a quote for a gas fireplace next week which I'm really excited about. It might not be in the budget yet but I feel like once I speak to a professional I'll have more of an idea of how much room the gas insert will take up and if we need to repair the inside of the fireplace.
Here's a few mantels from previous years: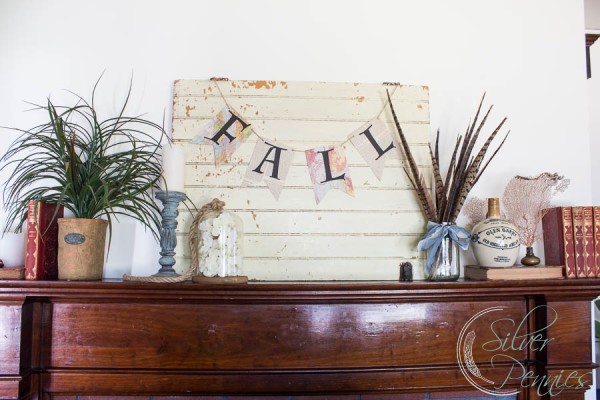 Fall Mantel 2015 with Free Banner Printable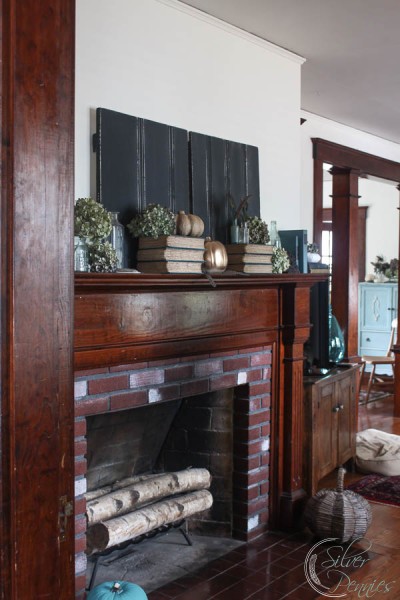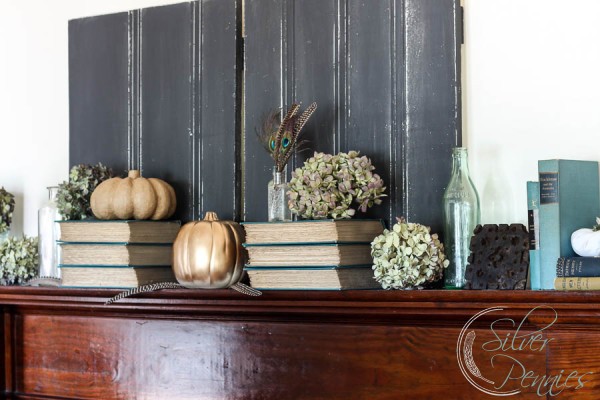 Mantel from 2014 with Dried Hydrangeas and Gold Pumpkins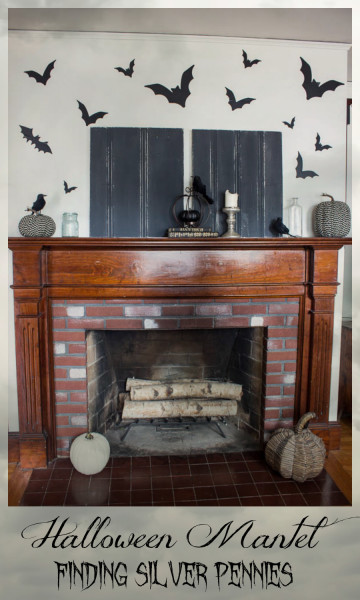 Oh, and here's a blast from the past! An old mantel in our first home!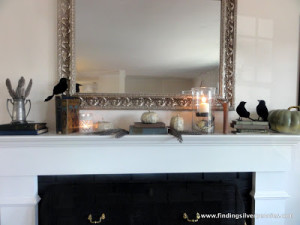 I hope you got some ideas on how you can use things you have around the house or reuse from previous years. I really love decorating our mantel for the seasons. It reminds me of my mom in my family's restaurant; she used to decorate several mantels for each holiday.
Sharing with: