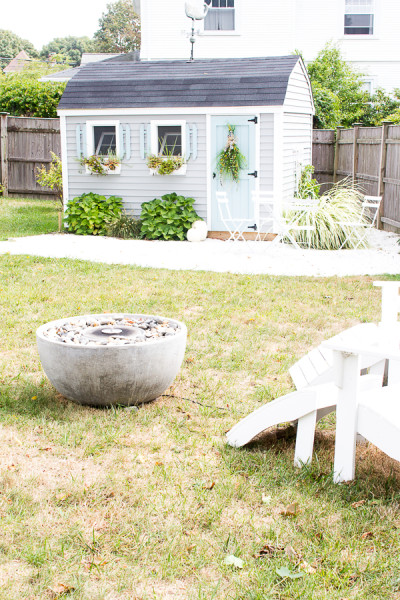 Nestled down in the corner of our yard sits my she shed. It was a wonderful retreat this summer with a large glass of lemonade and stack of design magazines or Carly Simon's biography (which I LOVED). The weather is still nice enough to spend many moments down there. I decorated it for the change in season with items I had around the house. Come on down to see how pretty it looks! Fall in the She Shed!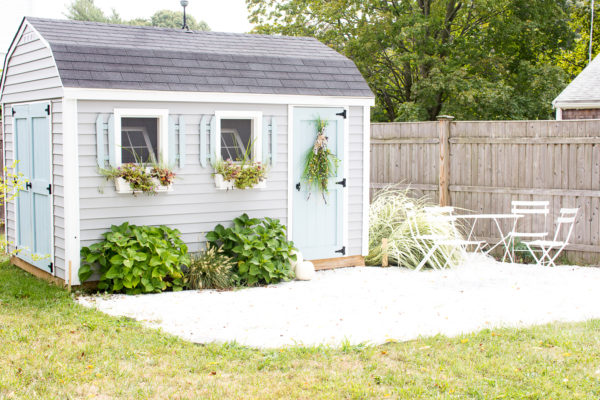 The grasses and hydrangeas are doing so well despite the drought!
You may recognize the fall swag (it was on our front door last year).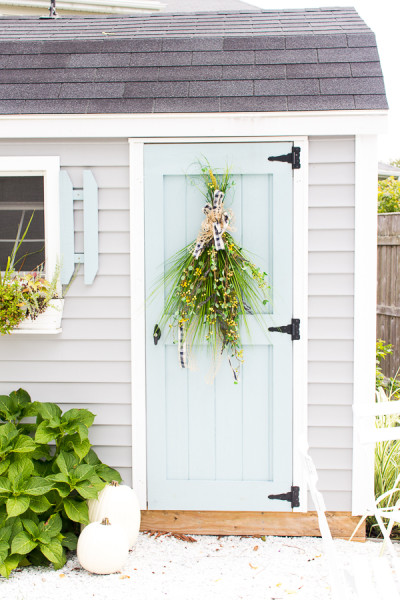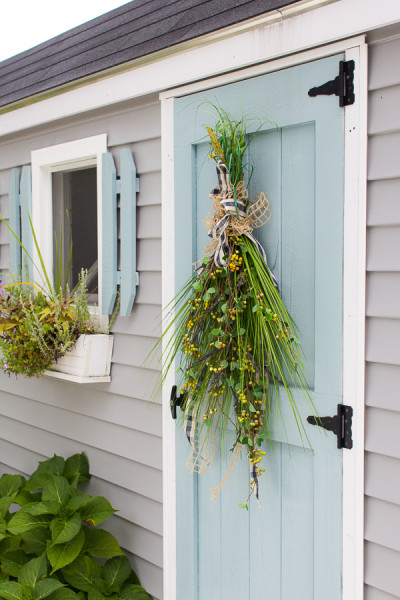 The yellows and blues look so pretty against the pale blue door.
For your convenience I've included a few affiliate links in this post and a full source list at the bottom. Affiliate links don't cost you any more but I receive a percent of the sale if you buy something. Thank you for supporting our blog in this way.
Let's step inside, shall we?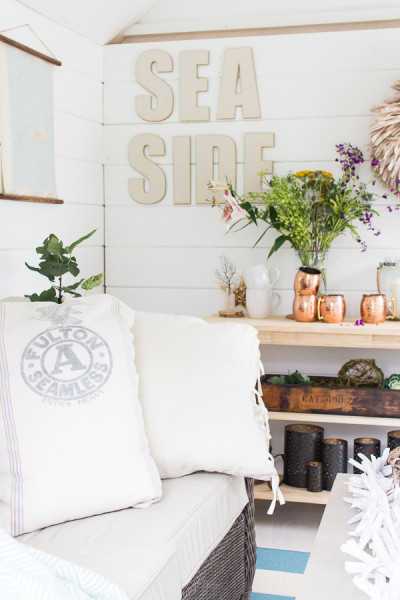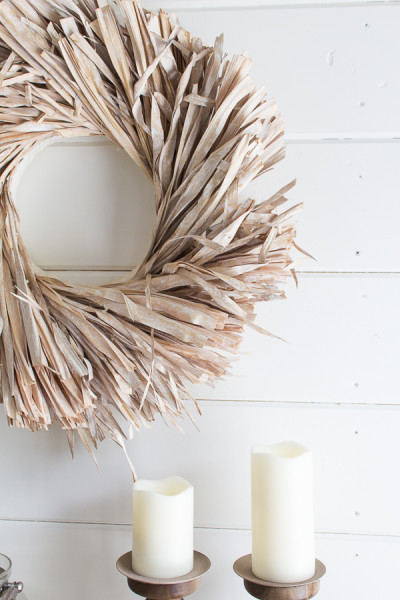 The grass wreath is from HomeGoods, I got it when were in the old house and these candlesticks and candles are from Home Decorators Collection.
You will see that fall is very muted in here with a few pops of color – some turquoise, some orange (in pumpkins), but LOTS of texture from grasses, driftwood, shiplap and sack pillows.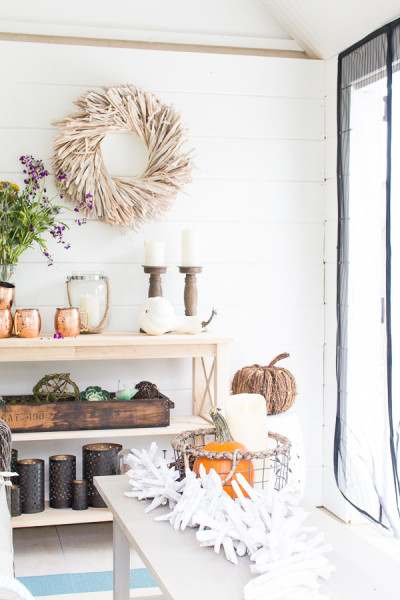 You will see we added some screens this summer. This cross ventilation made for lovely coastal breezes and no bugs 😉 They were pretty easy to hang up. We used a bigger version on the double door.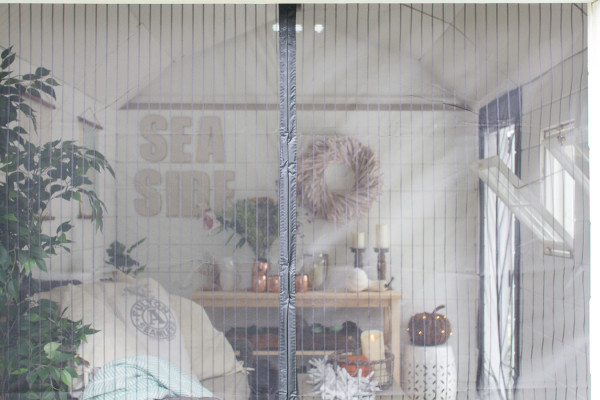 The are pinned and secured with Velcro, and have magnets down the middle, so they open and close easily.
Here's the view with the screen pulled back: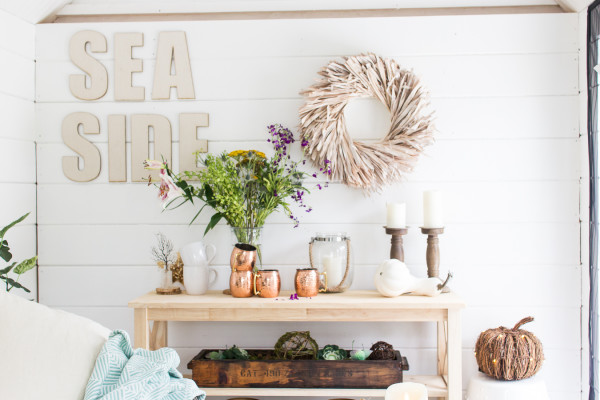 You will see the decor is very simple. I still have my Seaside sign from 163 Design Company but hung the wreath for fall. I also brought some cups and Moscow Mule mugs down – would you care for a pumpkin spice latte or a Moscow Mule?
Now that you have your drink, let me share the rest of the space.
That old factory cart is filled with moss (just like my mantel inside the house). I also added some moss balls and faux kale & succulents.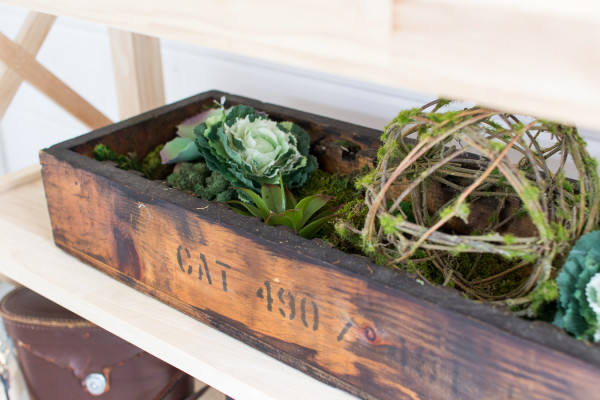 The flowers were from Trader Joe's. I just can't resist wild flower bouquets! I usually buy bunches of the $2.99 flowers and mix them together.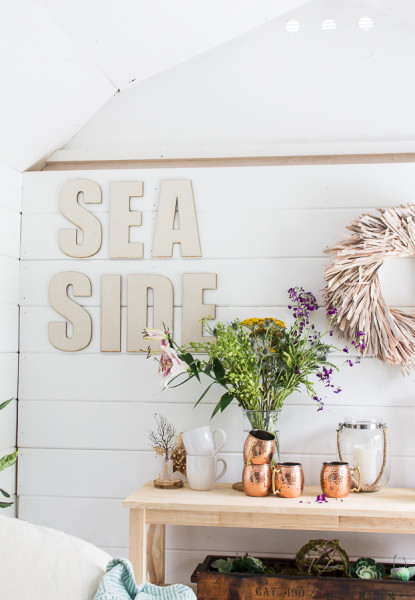 Those pops of purple and yellow make me so happy!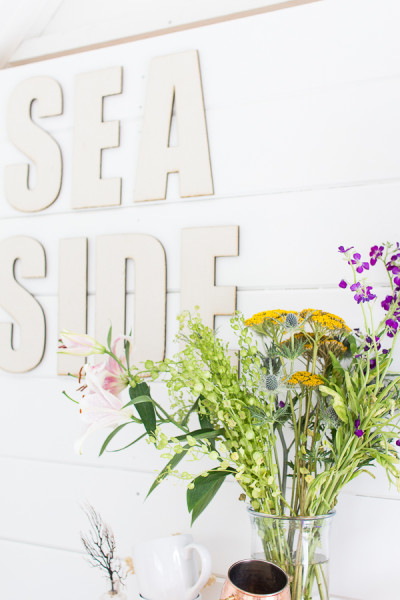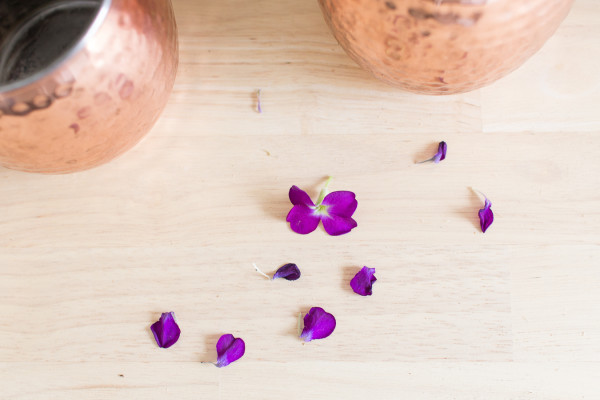 These twig pumpkins are just so pretty and festive!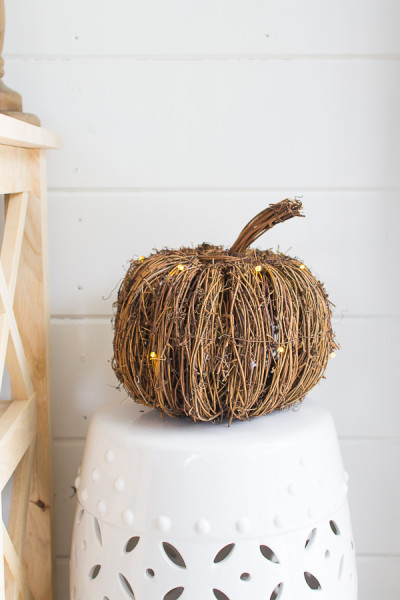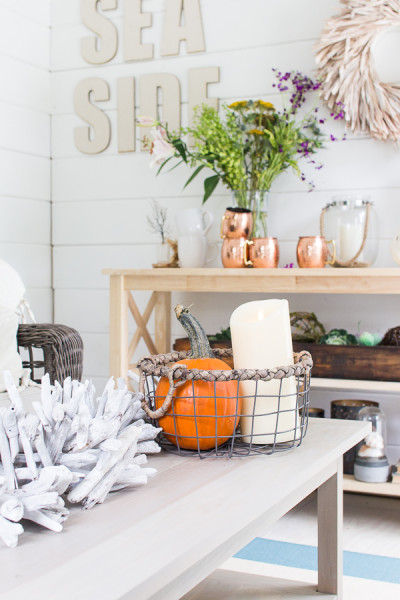 You may recognize the basket and the driftwood garland. I used the garlands over the summer and have used those wire baskets through out our home this fall.
Luke built this table for me and I still love it so much!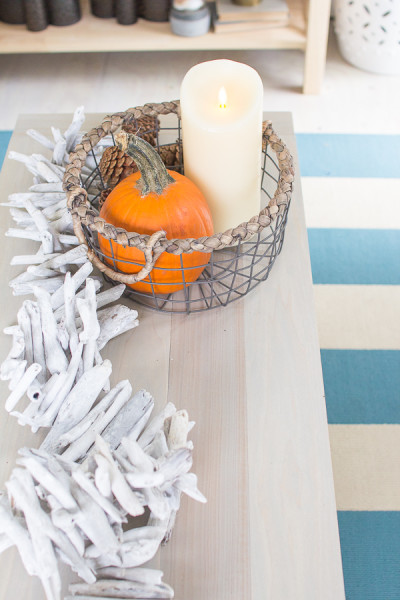 The rug is indoor outdoor and still looks brand new!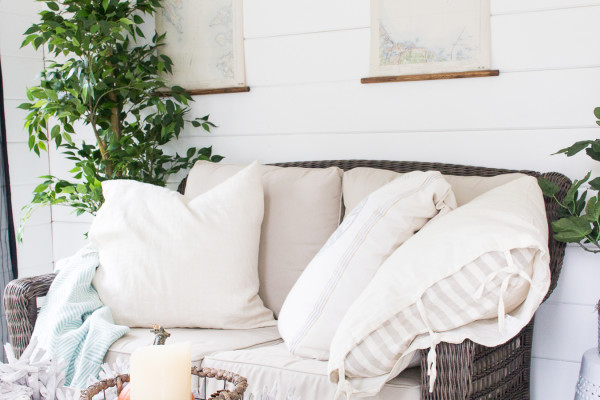 I replaced the the coastal watercolor pillows with these linen ones from Ikea and a vintage grain sack turned into a pillow.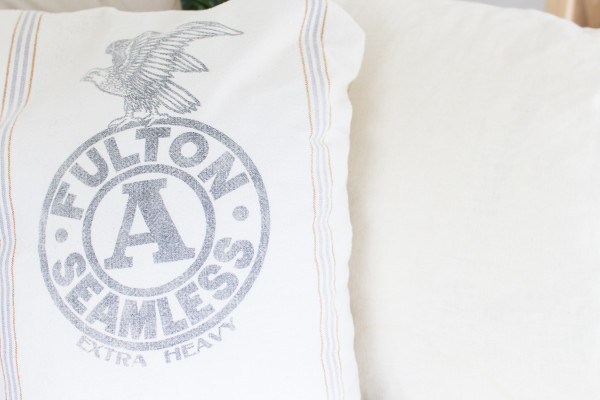 Lots of of overstuffed pillows make this the perfect spot to read, brainstorm and write. I love my time out here.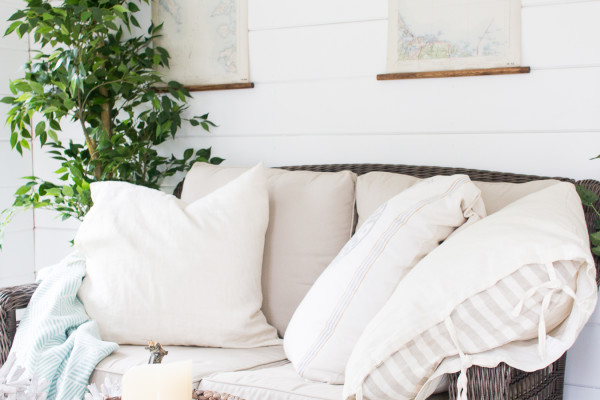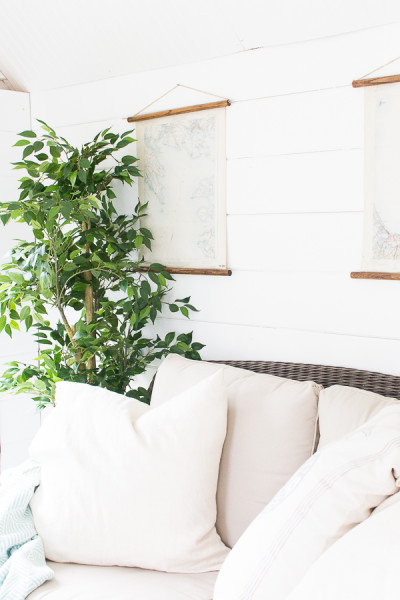 The nautical chart art looks perfect for every season by the sea!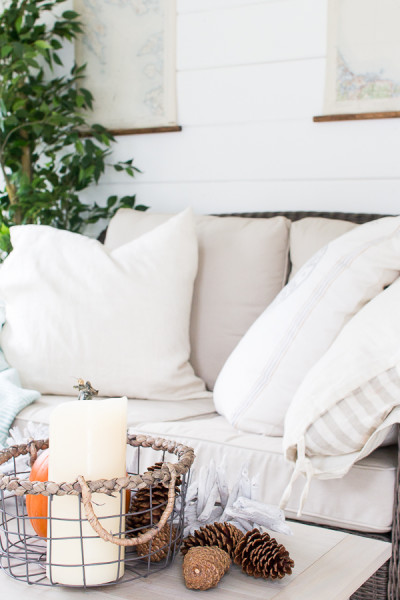 What do you think of my coastal oasis?
It certainly is the perfect spot to day dream.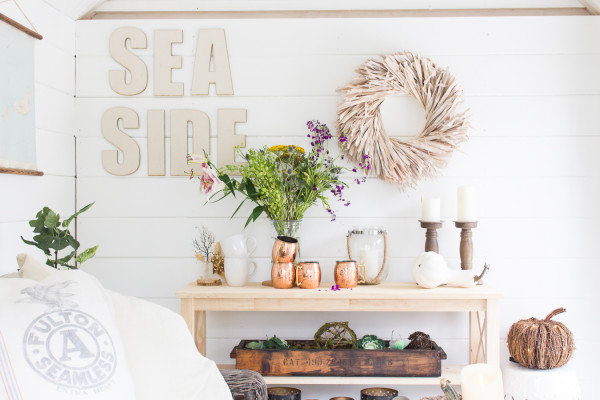 Source List
To see more posts about the she shed and the full makeover click here.