I adore pumpkins – in lattes, pretty heirloom ones piled high or simple pumpkin pie. Get ready for Pumpkins 5 Ways!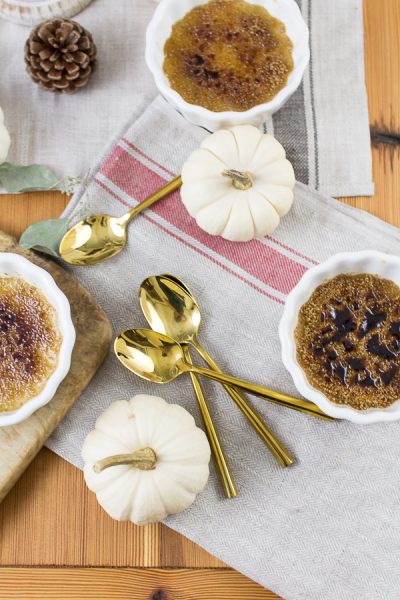 Jen Rizzo loves pumpkins so much too so we're teaming up to share five ideas for pumpkins with you each, so that's a total ten fun ideas for pumpkins!
I don't know about you but I always get excited when I see my first white pumpkins (kind of like the first flakes of snow in winter). That smell of pumpkin spice lattes while I stroll the aisle at Target makes our shopping so much more festive. I remember when I lived in England I made a pumpkin pie and brought it to work. My boss scoffed at it. Why would he want to eat squash pie. Oh, my goodness, pumpkin pie is my favorite.
This post contains a few affiliate links, you can read my full disclosure policy here.
Pumpkins 5 Ways
Pumpkin Creme Brulee
First up a delicious dessert! Creme Brulee is my favorite dessert. I remember having it for the first time at The Ritz Carlton in Boston. I think I was about 8 (Conor's current age). I sat with my aunt and we had Caesar Salad (also a first time). The made it in front of us. I remember sitting under all the crystal chandeliers watching the dressing, the freshly grated parmesan cheese, the little teeny tiny anchovies…. To this day Caesar Salad is still a favorite. The Creme Brulee was like taking a spoonful of heaven! There's nothing quite like breaking that hard, sugar shell to the creamy vanilla filling. I did mine with pumpkin, of course.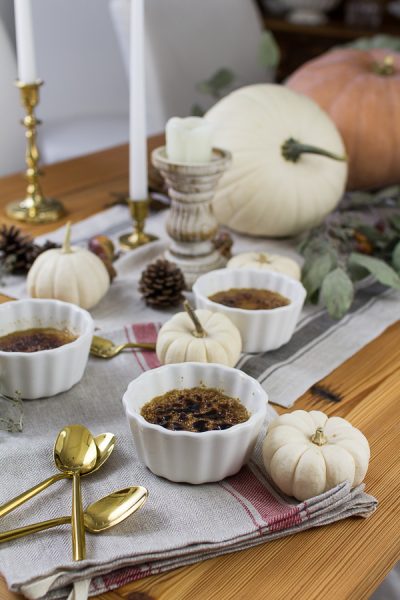 This was our first attempt and really I was so surprised how easy it was to create these little desserts. Aren't the cups adorable? I found the ruffled ramekins at Ikea along with the tea towels.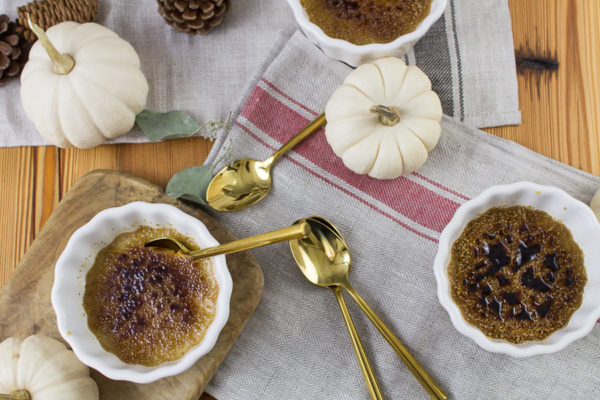 I found the gold spoons at Target. Aren't they festive for fall and creme brulee eating?
Pumpkin Creme Brulee Recipe
1 1/2 cups heavy cream
1/2 cup whole milk
1/8 teaspoon cinnamon
2 pinches nutmeg
1 pinch ginger
1 pinch ground cloves
4 egg yolks
1/2 cup granulated sugar
1/4 cup canned pumpkin puree
1/3 cup coarse sugar or raw sugar
*Instead of all the different spices, you can use the mixed pumpkin pie spice blend.
Preheat the oven to 300 degrees F.
In a medium saucepan, heat the cream, milk, cinnamon, nutmeg, ginger, and cloves over medium heat, stirring occasionally, just until it comes to a boil. Immediately turn off the heat and set aside to infuse at least 15 minutes. In a large bowl, whisk the egg yolks with the granulated sugar. Whisking constantly, gradually pour in the hot cream mixture. Whisk in the pumpkin puree.
Pour the mixture into 4 ovenproof ramekins and arrange in a hot water bath (make sure the water is boiling). Bake in the center of the oven until almost set but still a bit soft in the center, 30 to 40 minutes. I think our oven temperature is slightly off because it took closer to an hour to cook. The custard should "shimmy" a bit when you shake the pan; it will firm up more as it cools. Remove from the water bath and let cool 15 minutes. Tightly cover each ramekin with plastic wrap, making sure the plastic does not touch the surface of the custard.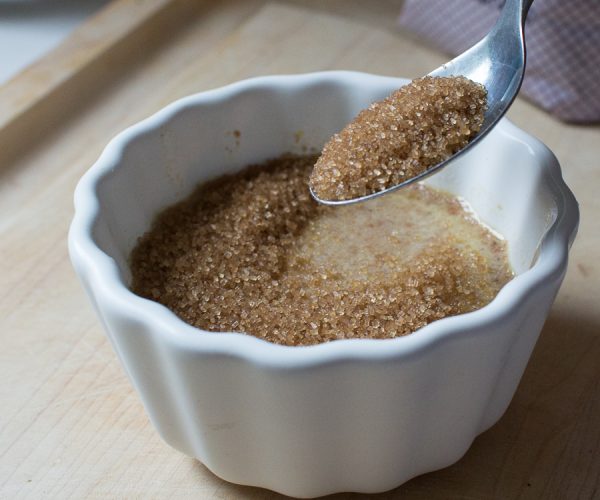 Refrigerate at least 2 hours, and up to 24 hours. When ready to serve uncover the chilled custards. Pour as much coarse sugar as will fit onto the top of of each of the custards then fire up  your kitchen torch. We got our's from Amazon and I've been wanting one for so long! Be careful with it. Use the torch to melt the sugar, 1 to 2 minutes. Let cool 1 minute before serving.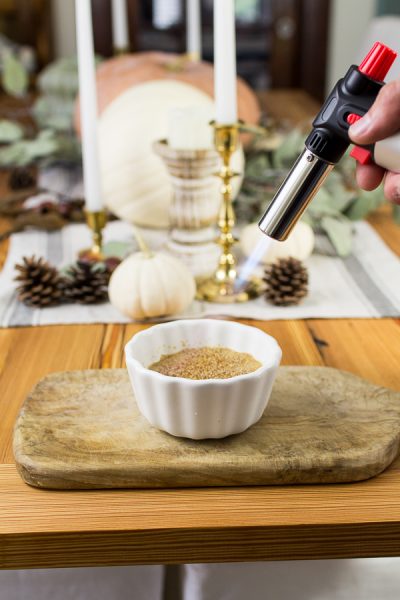 It was so fun watching the sugar melt and caramelize.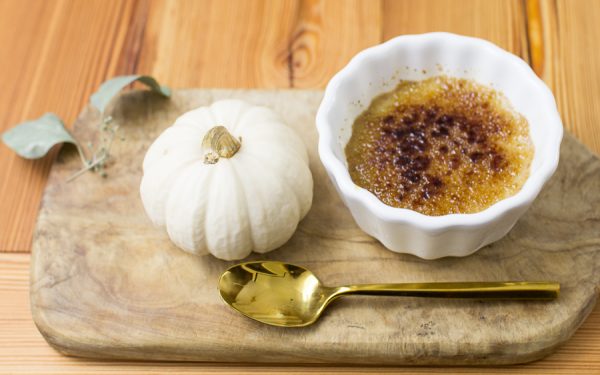 Under that crispy, toasted sugar shell it tastes just like pumpkin pie. We enjoyed them as a decadent after school snack but these would be lovely for Thanksgiving or a fall gathering at your home.
Saltwash Pumpkins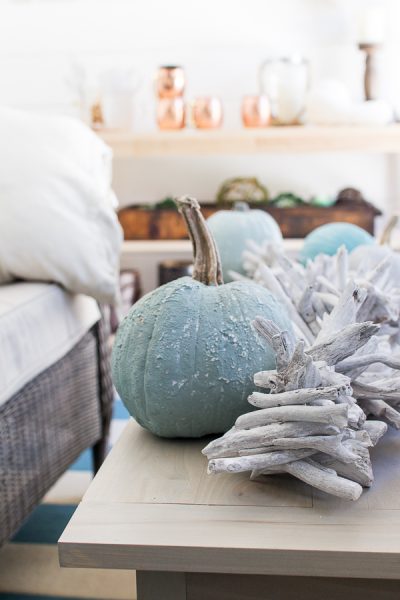 Saltwash
is a great way to add a coastal feel to orange pumpkins from the grocery store. I used various blues and grays and mixed the paint additive into the first layer of paint. These were so easy and can also be done on faux pumpkins. You can see the full tutorial here. My readers can also get a discount over on the ad on my sidebar for Saltwash Powder.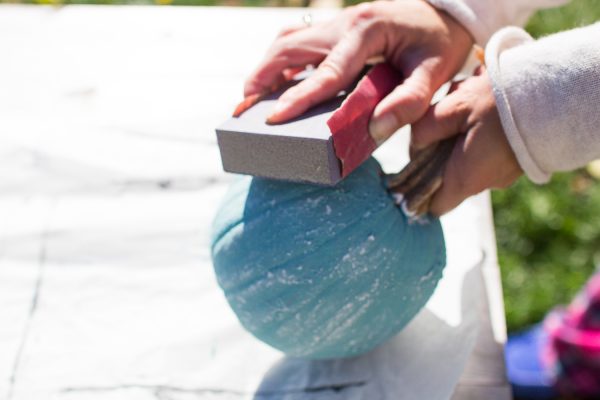 Aren't they cute?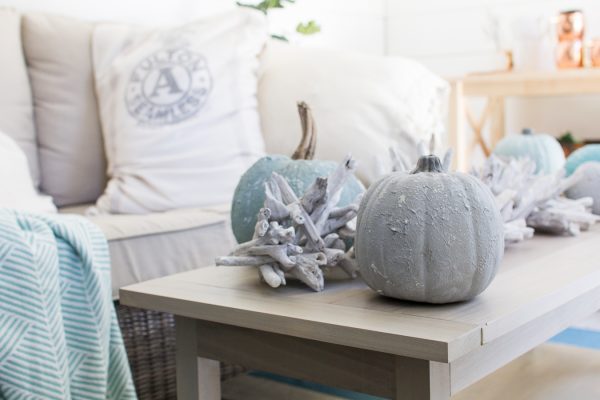 White Pumpkin Tablescape
Even through the autumn we try to spend as much time out on the deck as possible. This easy and relaxed tablescape is perfect for an informal meal out on the deck.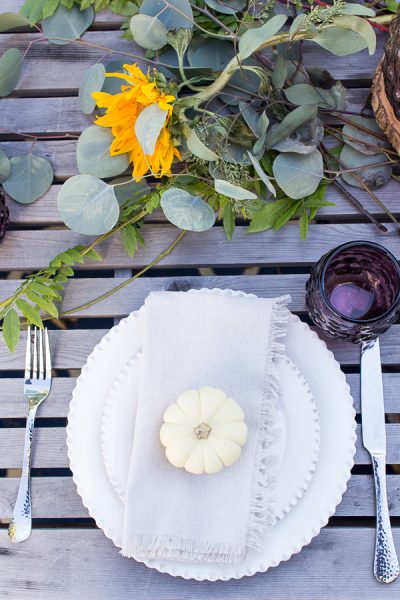 Pretty mini white pumpkins look adorable on each table setting.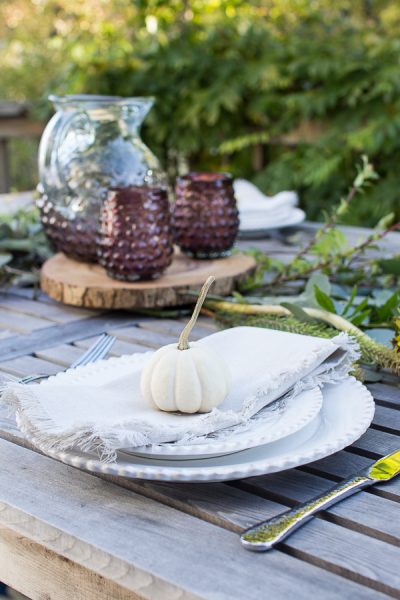 I love finding some with long stems too.
Woven Wicker Pumpkins with Fairy Lights
There's something so beautiful about fairy lights. They really add a little touch of magic to any home.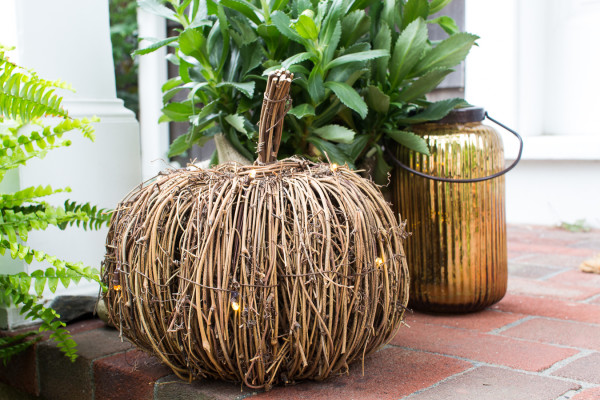 Especially when you mix them with woven natural textures like in the pumpkin above.
This was our entry last fall and I think it's so warm and welcoming.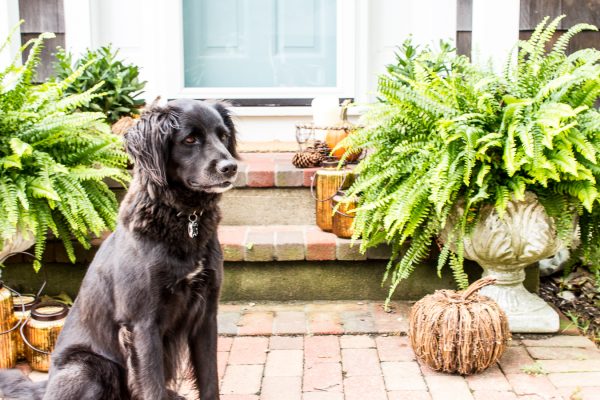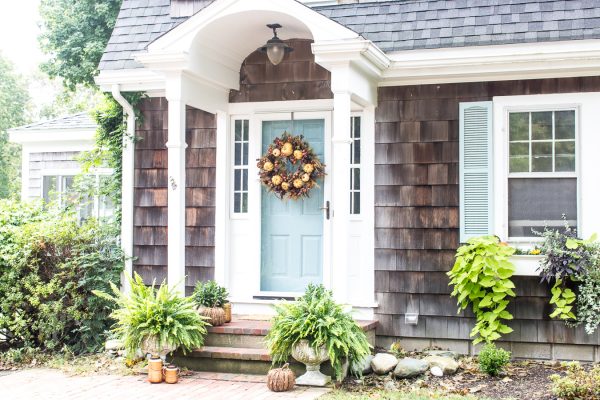 Heirloom Pumpkin Tablescape
Heirloom pumpkins are my favorite. I love the shapes and the textures and the muted tones.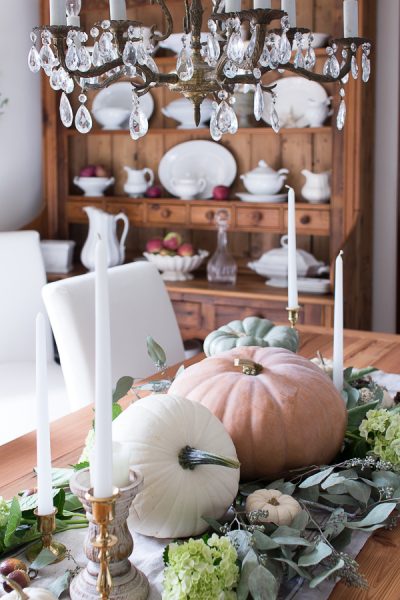 Creating a table with fresh greenery and a few heirlooms is festive and fun for your home.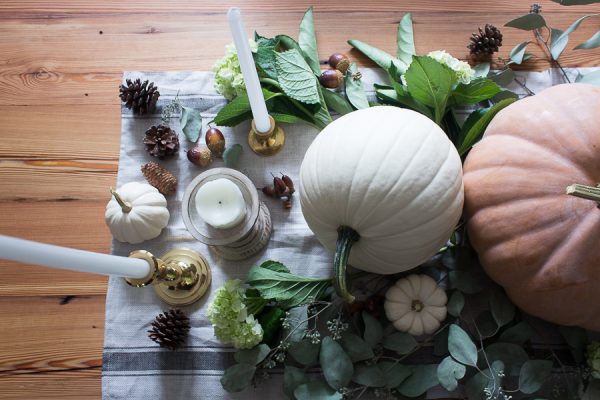 Oh, and here's a bonus.
I just added this heirloom pumpkin watercolor to my Society6 shop yesterday, click here to see the pillows.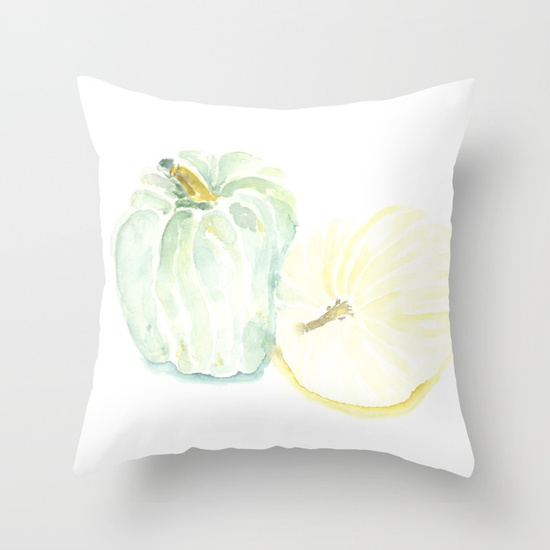 For a few more pumpkin ideas check out Jen's blog!