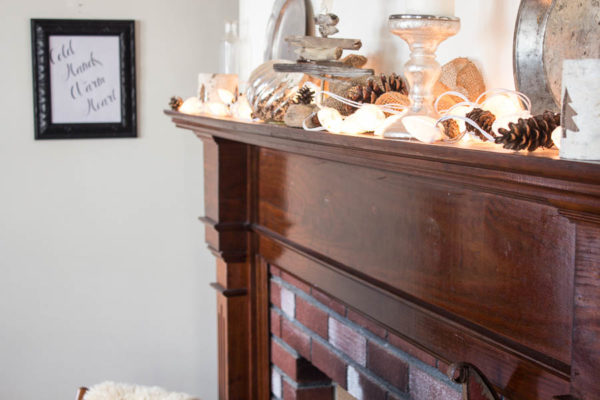 Ever since I was little I was a collector.  My mom started me antiquing and thrift shopping very young.  I even found a gold heart for my mom among the jars and bowls filled with junk in one of the thrift stores we used to frequent.  We would drive hours to get to these places.  To this day, I collect, whether it be on the beach, in the woods or at yard sales and antique stores.  I'm always "on the hunt".  To me old pieces, hold so much meaning in them.  I just read Nate Berkus' book, The Things That Matter.  The book really resonated for me.  I decorate with the things that matter in my own life.  The things that tell a story.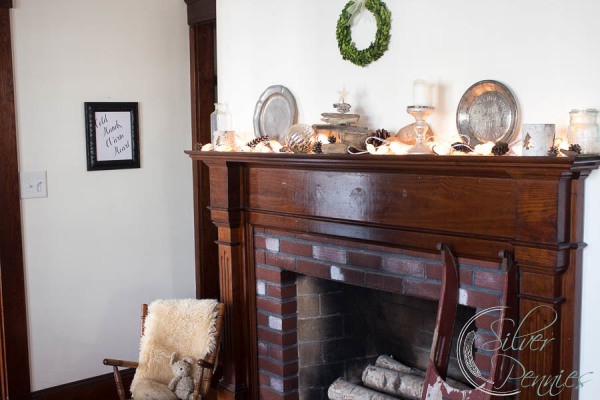 My friend Alice had this brilliant idea to share ideas for decorating with vintage pieces and thrift store finds.  Today I'm sharing my vintage mantel for winter.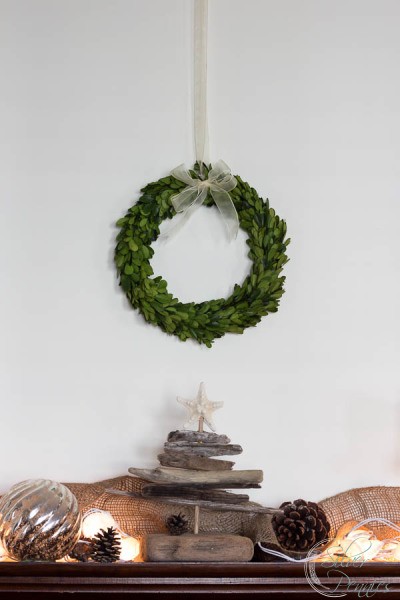 My mantel is simple, elegant, and (of course) coastal.  Luke and I made the driftwood tree you see and I have a few available in my etsy shop for sale.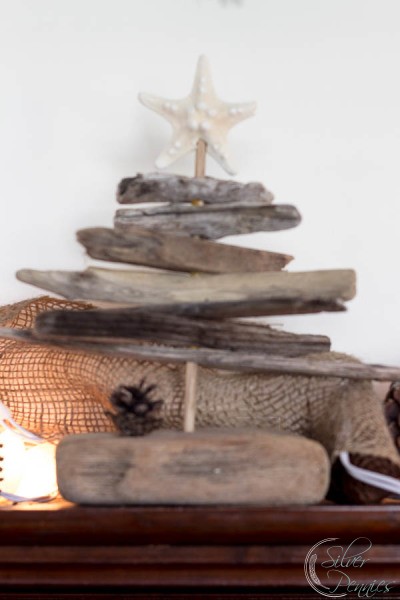 The kids found the pine cones in the woods and on the way home from school. They are also collectors. They can't help it!  It is in their blood.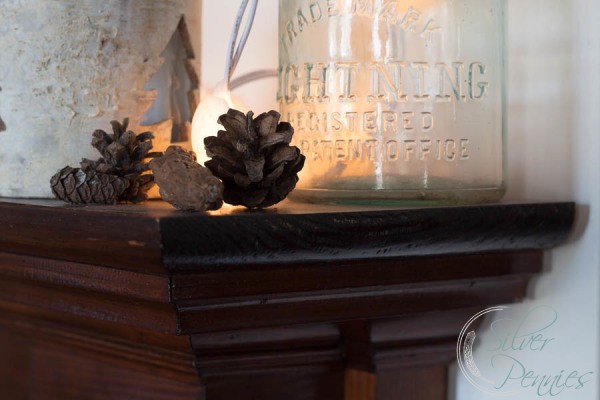 The antique bottles and jars are from Brimfield and I think I got them for a $1 a piece. The lights are shells.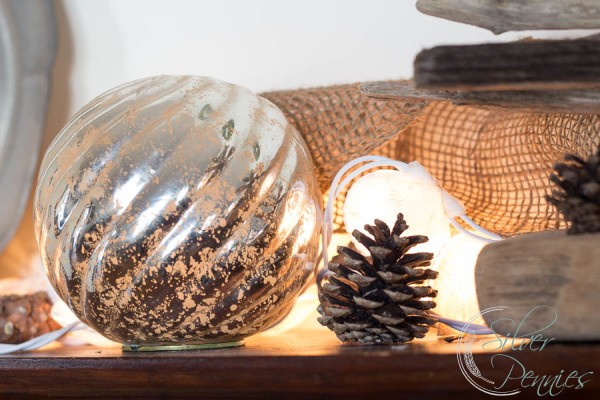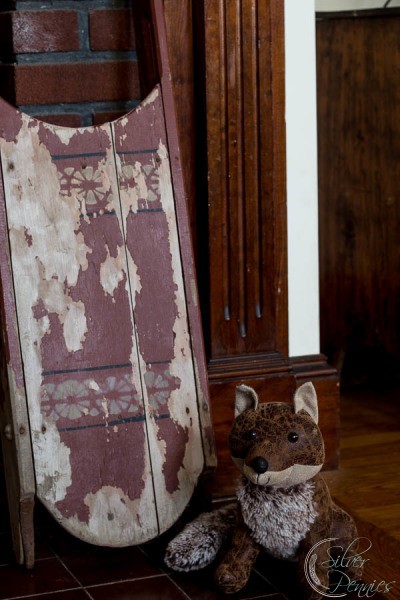 You may recognized this chippy sled.  I had it on our front porch last year. I got it at Bent Nail Farm Antiques.  I love how chippy it is.
Conor found this sweet leather fox at Home Goods last year.  He's not vintage but super cute.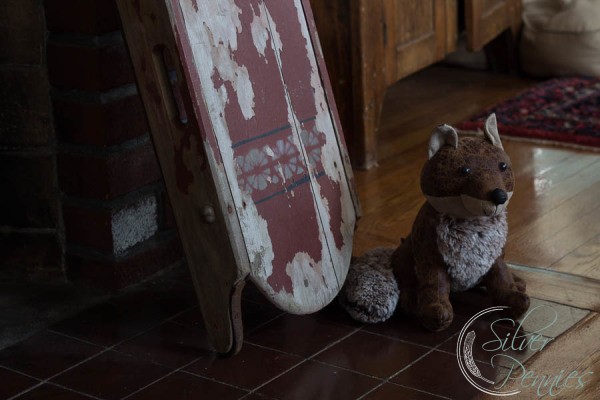 The other week, I went antiquing with my friend Pat.  It was a glorious sunny day and we enjoyed a lovely lunch down in Sandwich (which is on the Cape). While we were there I found this sweet vintage pie plate for $4.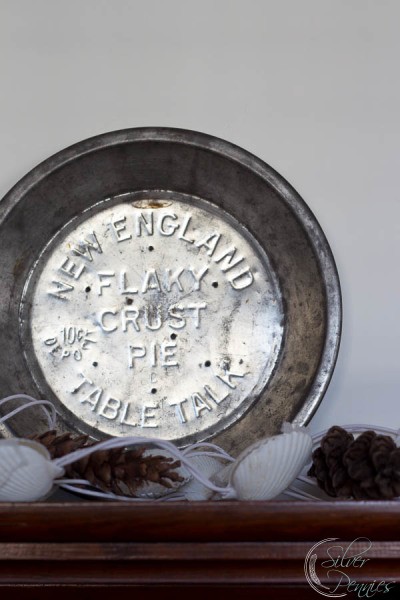 It says, "New England Flaky Crust Pie Table Talk" with a 10 cent deposit.  I knew I had to have it.  I used to eat Table Talk Lemon Pies like they were going out of style. Do you remember them?!?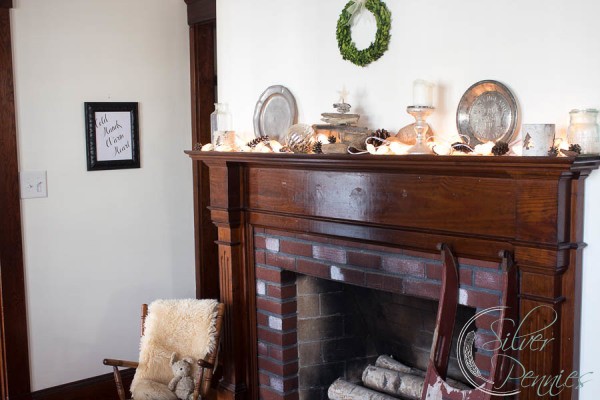 You may recognize the Cold Hands Warm Heart printable I shared earlier this week!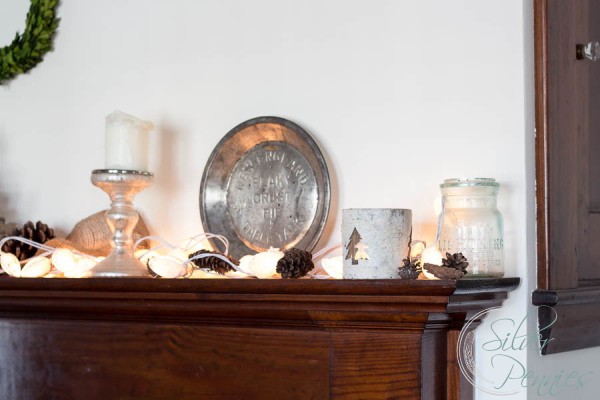 On the other side of the mantel is a pewter plate (also an old piece) that my mom gave me.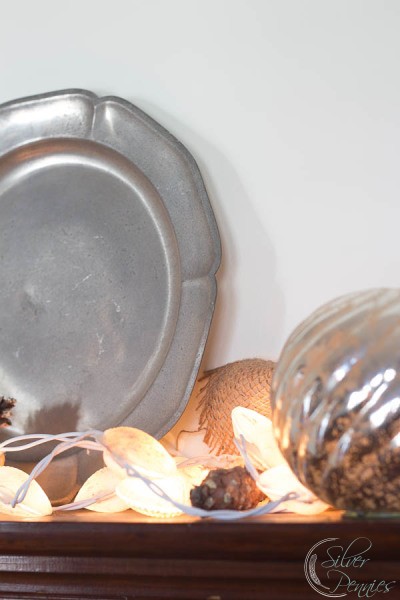 The rocking chair was my mom's when she was little so it is probably 72 years old.  The kids still use it and I love having it in the house.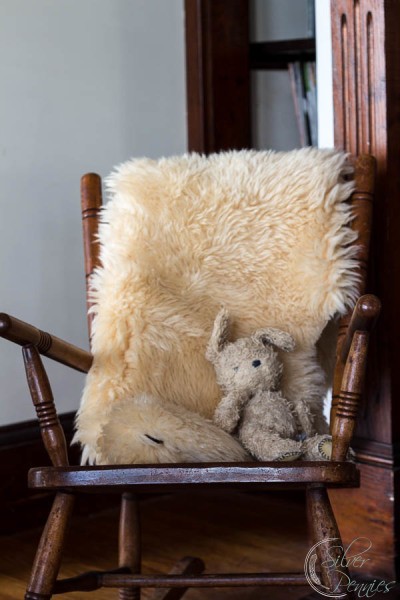 The wood has that wonderful aged patina and it creaks when it rocks. This dog has been cherished by both my children and the fur behind it was a gift when Conor was born.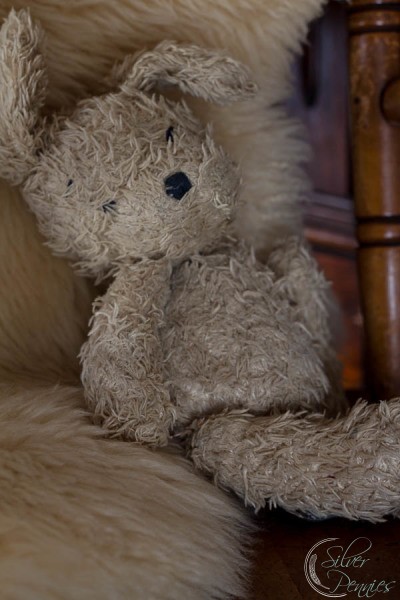 This little doggie looks so cozy by the fire.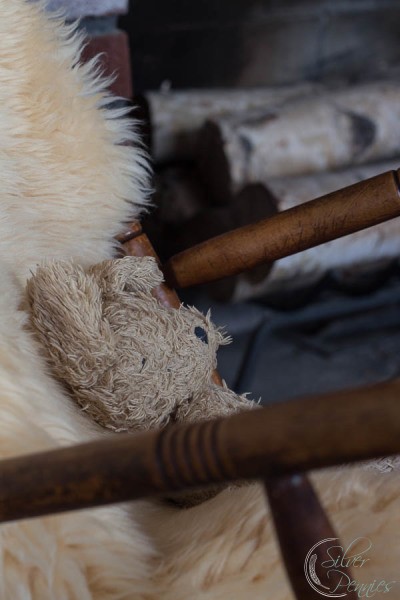 I wanted this mantel to embody the joy of vintage and the holidays.  I always think of Christmas time as a magical time.  A time for childhood and dreams coming true.  Each afternoon I turn the lights on and it fills our home with a little Christmas spirit and joy.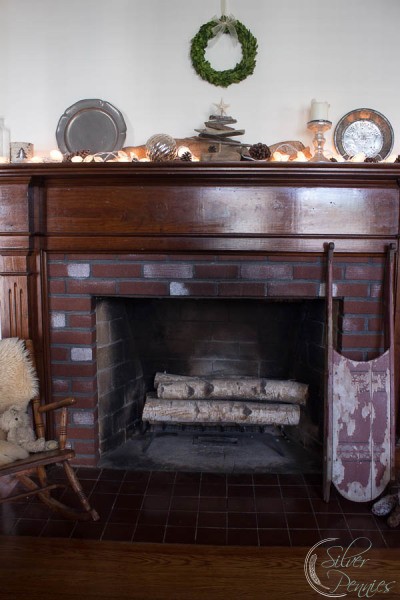 It doesn't take a lot of money to decorate for the holidays.  It takes joy in your heart and "treasures" you hold dear.  Wishing you all so much happiness this holiday season.
Oh, and here is how it looks at night: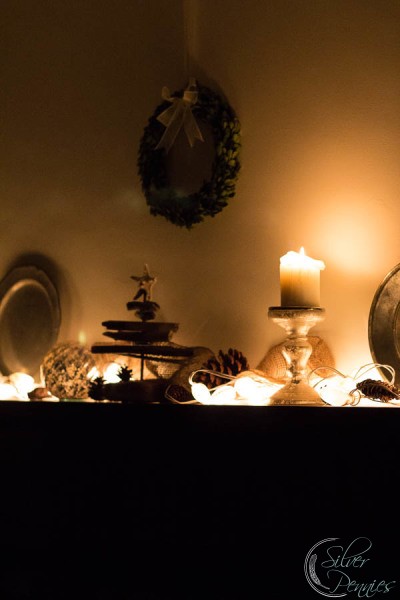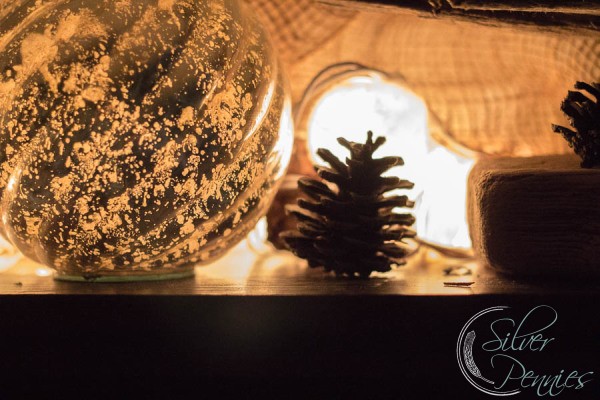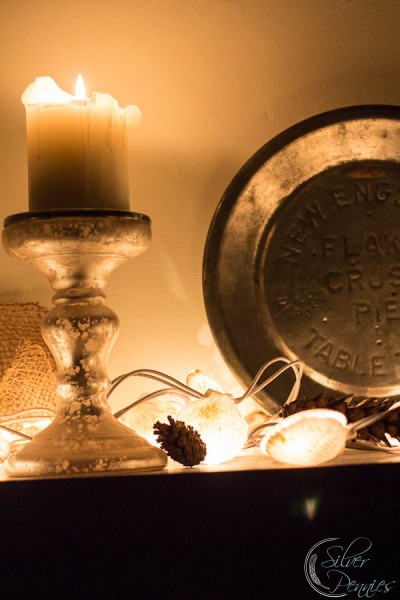 I hope this gives you some ideas for incorporating treasured items into your own holiday decor!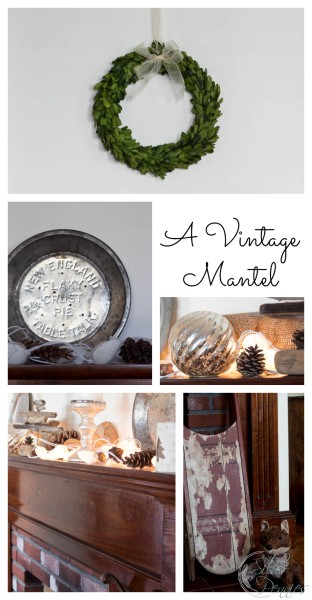 Be sure to check out these other fabulous blogs (29 other bloggers!!!) for more thrift store decorating ideas!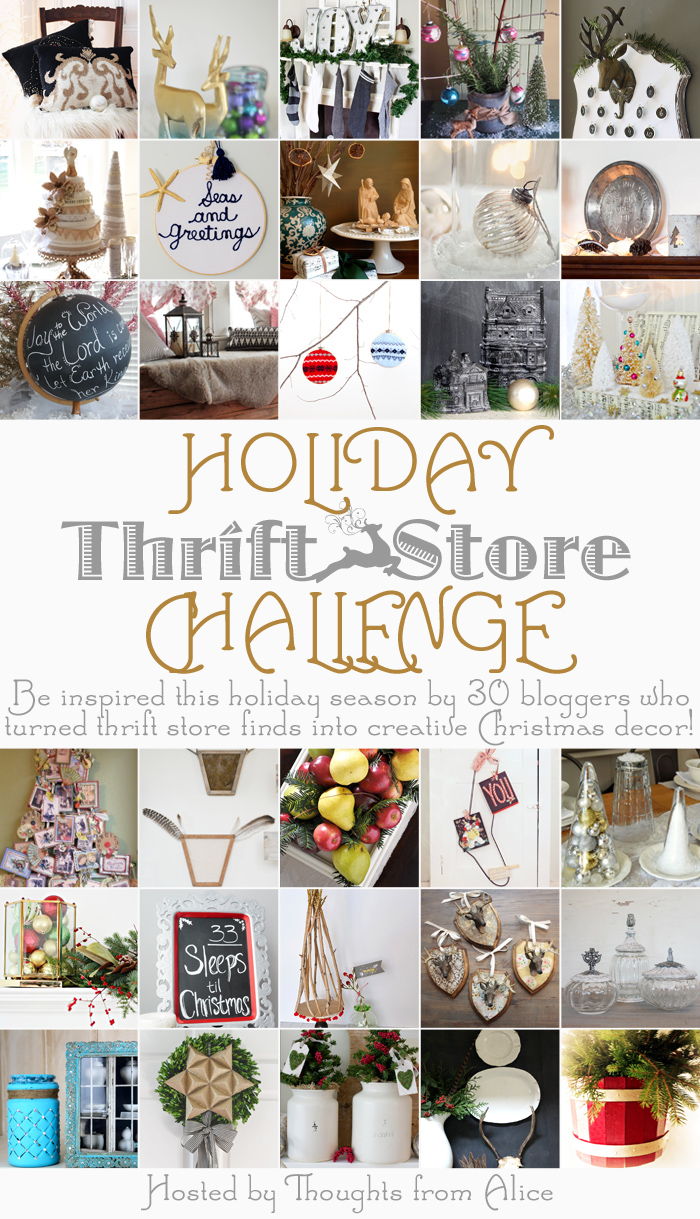 Sharing with: