Meet Gemma!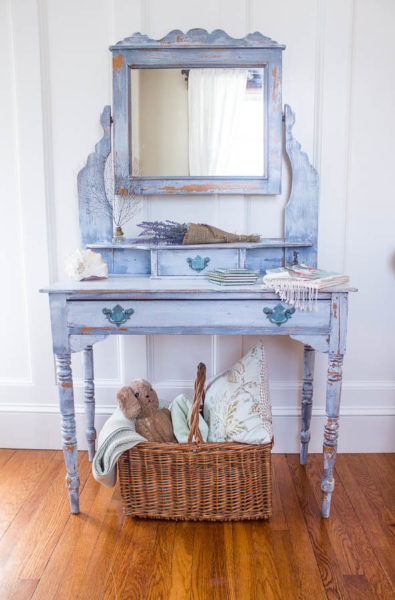 Before I start sharing this before and after let me just tell you how much I wished for one of these when I was little.  I wanted a one in the worst way.  I imagined sitting at a little dressing table just like this English antique  – writing poetry in my journal, applying make up and dressing up.  I was always putting on shows at the house when I was little because I had wanted to be an actress.
Well, I never got that little dressing table, BUT if I had I would have wanted it to look just like this one!  This is how the dressing table looked when I got it: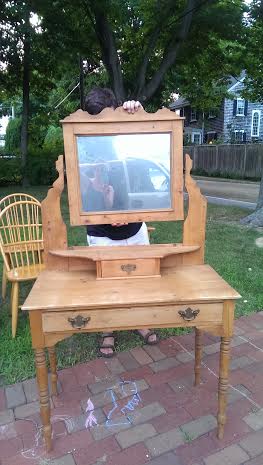 Luke is holding it together because it was in pieces.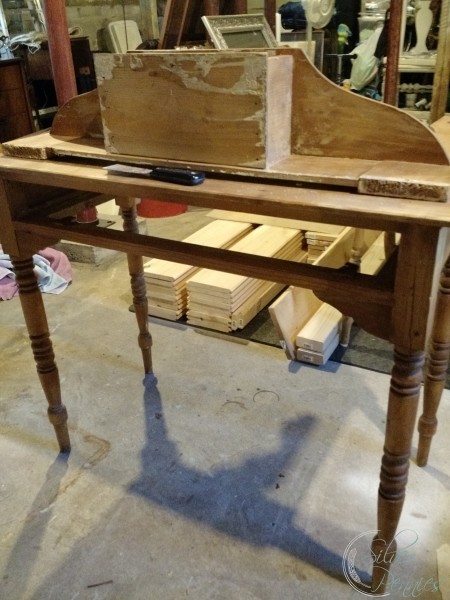 Here it is in my basement in pieces.  I have known all along that I wanted to paint this in Miss Mustard Seed Milk Paint and I knew I wanted it to be chippy!  You all know I like that look 😉
I sanded the entire piece down and mixed up some MMS Milk Paint in Dried Lavender (without bonding agent).  This is a smoky, gray lavender.  It is definitely not purple per se.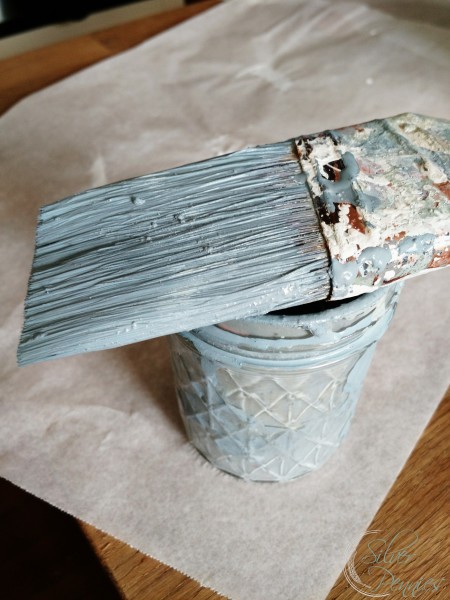 I did two coats in Dried Lavender.  Then I mixed up Ironstone.  I dry brushed the Ironstone on as I wanted it to look like layers of paint.
The piece really peeled and flaked in some areas. Like the back leg.  Not really sure why.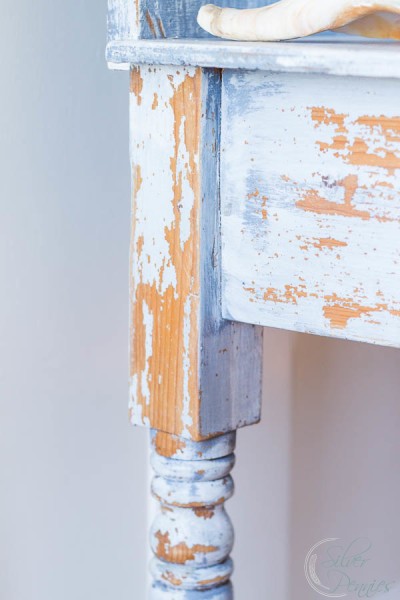 I took a paint scrapper and scraped all the peeling paint.  Then I used fine grit sandpaper and sanded all over.  I vaccuumed and wiped the piece down.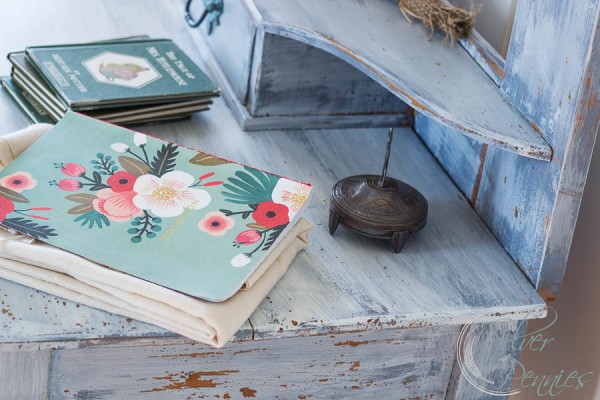 This piece is super smooth which might be a surprise because it looks so chippy.
I sealed the entire piece with two coats of Tough Coat.  I first learned about his product on Miss Mustard Seed's website here.  I am amazed at how it seals in the chippy paint and is non yellowing.  I would advise using a foam applicator.  I used a brush and after I washed with soap and water it was hard as a rock (live and learn!).
I've decorated this piece with bits and bobs from my childhood -sea shells, my grandmothers make up tin and even my bunny!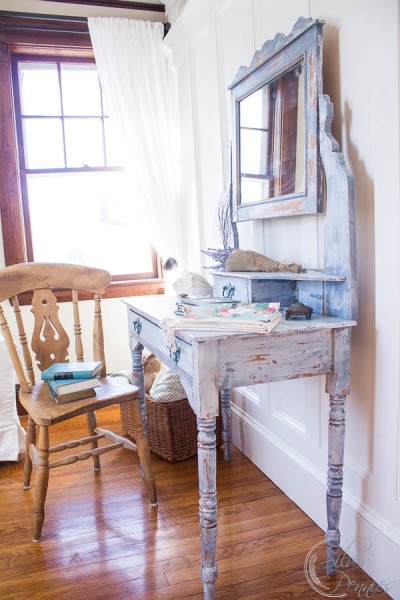 I wanted to give the feeling of a girl's bedroom: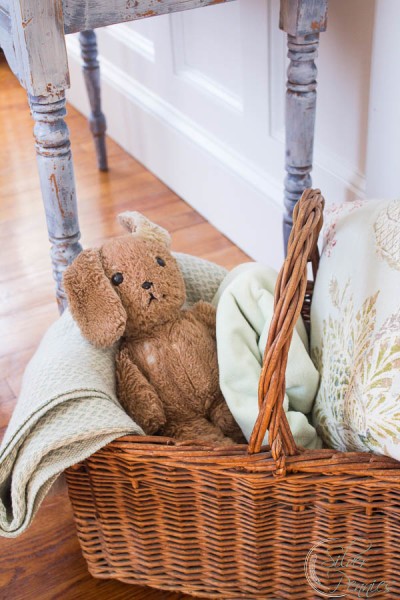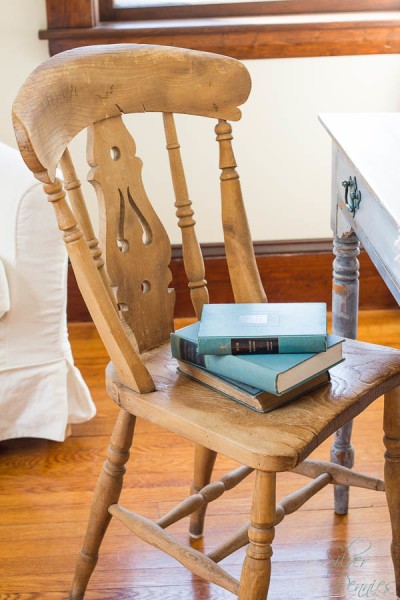 The chair is also an English antique and I love the patina and how it is a little wonky.
I staged this for a little girl, but it could most certainly be for a big girl too!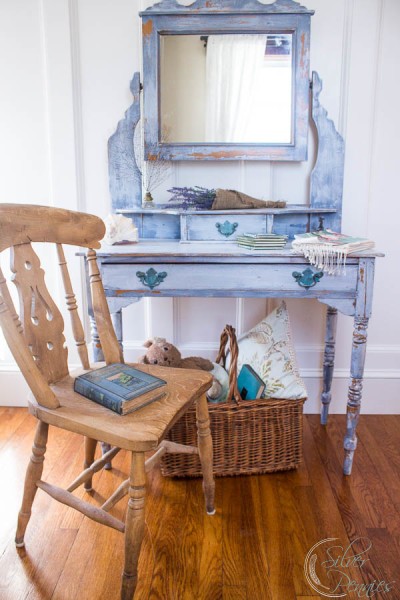 The aged hardware was done with Gilder's Paste. A new to me product that my friend Nancy at the Sea Rose Cottage recommended.  Actually, all of the products used on this piece I got from her lovely shop. You can check out her site here.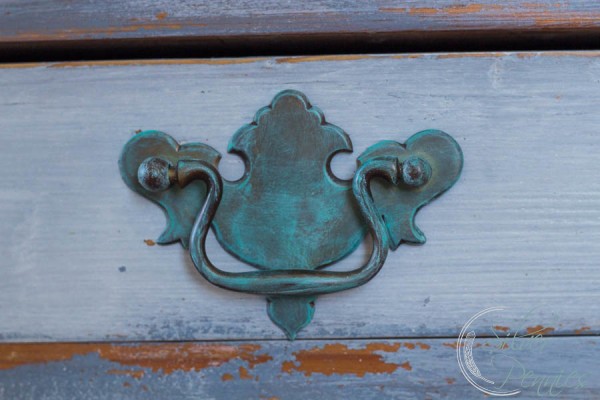 Ooooh, don't you love the color of them?!?
I will definitely share how I created this look after the show!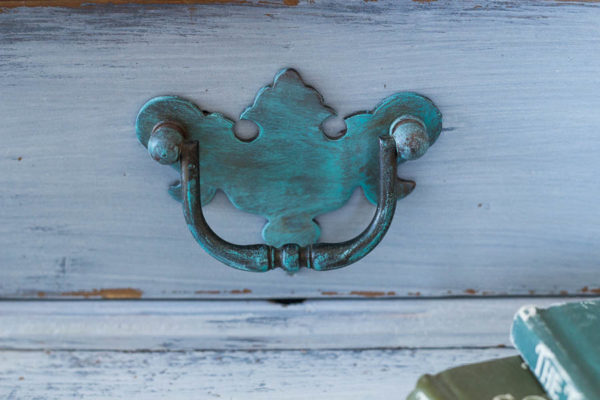 There is so much to love about the Gemma Dressing Table –
Aged hardware: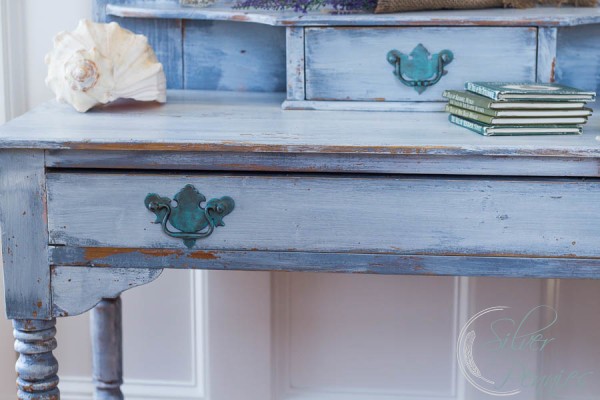 The soft graceful shape of the mirror and the legs: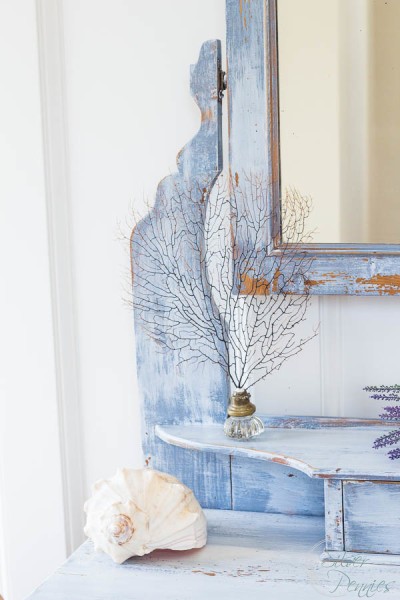 Layers of paint that have chipped off:
Gemma will be coming to The Duxbury Show and so will this little wonky English chair.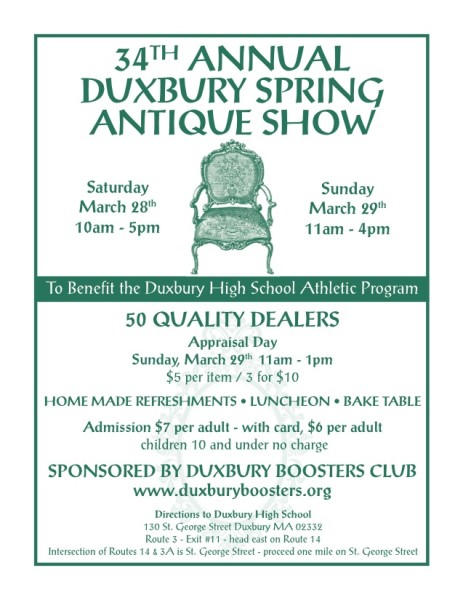 Hope you get a chance to stop by and visit us at Booth 12.
Sharing with: