Meet Joyce!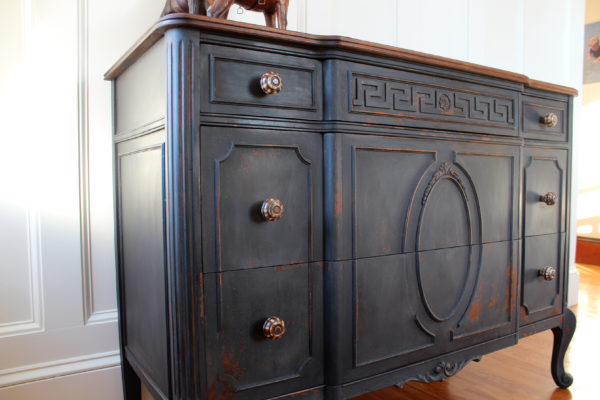 She may look a little familiar.  She matches Jameson who I painted before Christmas for my friends (Dan & Kristin).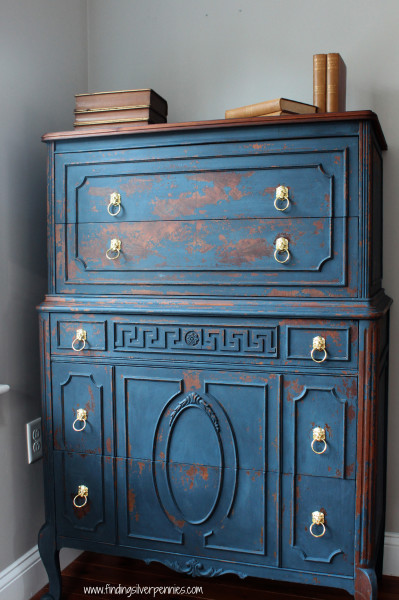 You remember him, right?  Such a classy chap!  Both are wonderful pieces and very solid.  They were made by Paine & Co. and are truly a pleasure to paint with their beautiful detail, heavy drawers and lovely curves. Joyce was a little damaged and worse for wear than her match.
Dan asked if I could paint this one for his mom, Joyce. This is how the dresser was looking before: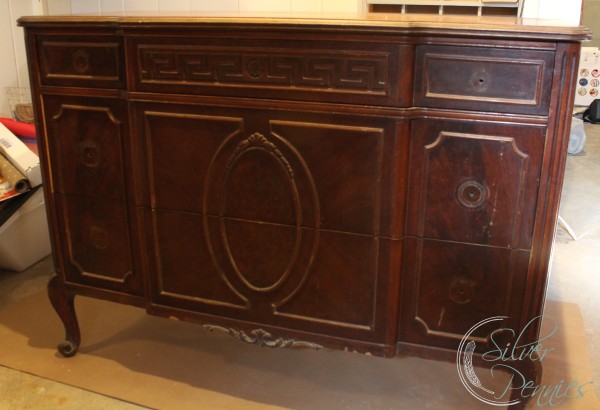 Lots of damage –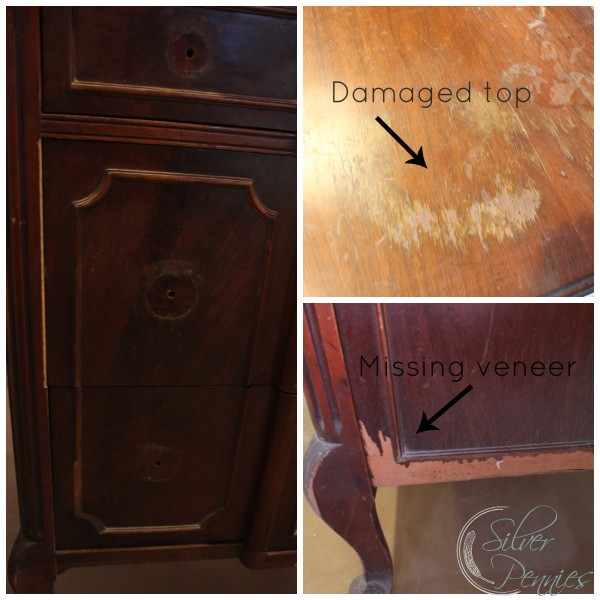 Drawers needed gluing and patching.  Then I applied Citristrip to the top and stripped it.  There was so much damage, but the wood underneath was in great condition, such a beautiful color I didn't need to stain the top.  There were a few marks but I think that adds to the patina and so does Dan.  I applied three coats of hemp oil to the top to seal it.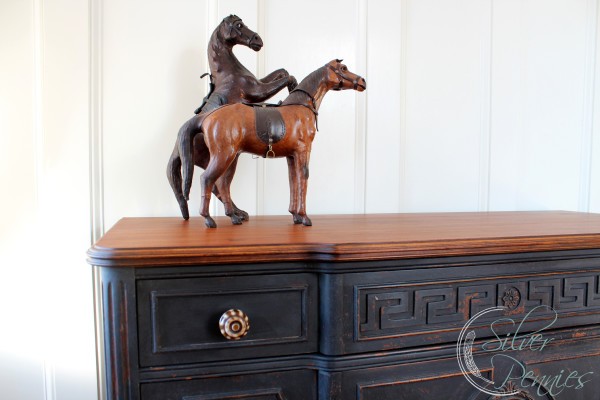 The dresser is painted in Miss Mustard Seed Milk Paint in Typewriter.  I added bonding agent to the sides as I didn't want it to chip and flake where the veneer was missing.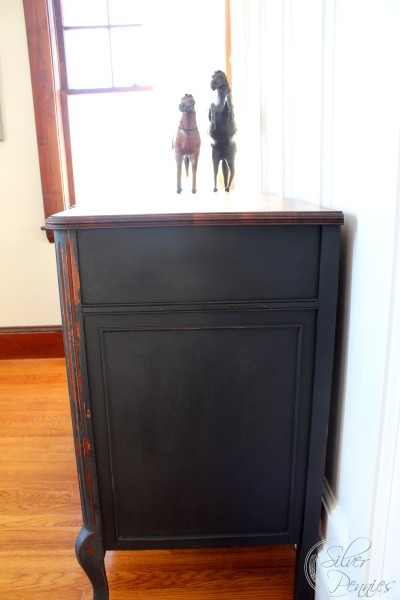 I lightly sanded around the molding on the side to give that distressed look, but see you would never know how damaged she was in the before now.
The drawers and front were painted without bonding agent and they chipped and flaked with perfection.  After sanding and vacuuming, I sealed the entire piece with three coats of MMS Milk Paint Wax –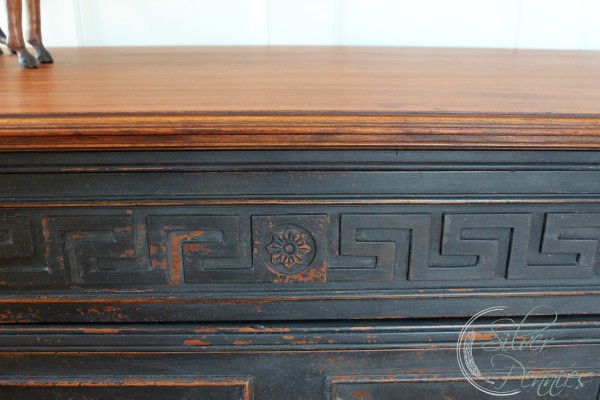 I love these little details and her dainty legs most of all.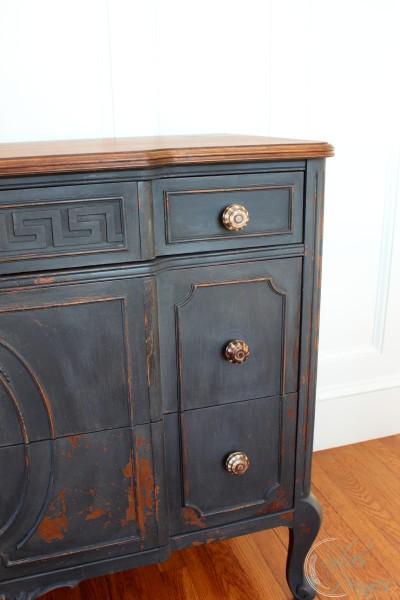 Doesn't she look like she belongs in an old English country estate?  Possibly like Downton where cordials are served and horse riding through the countryside is expected.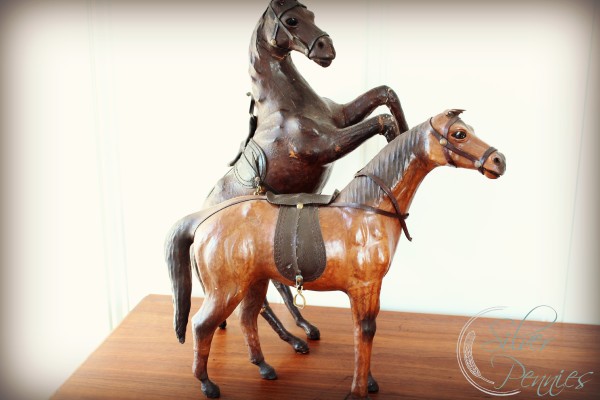 I borrowed the antique leather horses from my son.  I actually purchased both of these beauties at Dan's antique shop, Gentleman & Daughter Antiques.  His shop is filled to the brim with lovely treasures of the past.
The knobs are tortoise shell by Anthropologie and give an unexpected twist but pick up the lovely warm tones of the wood.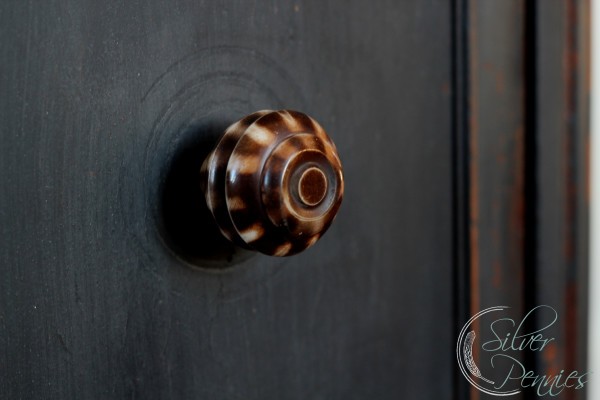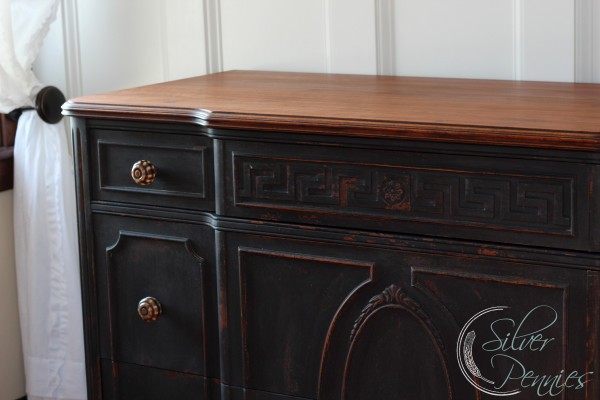 Here is Joyce in all her glory!  Do you think Dan's mom will love her?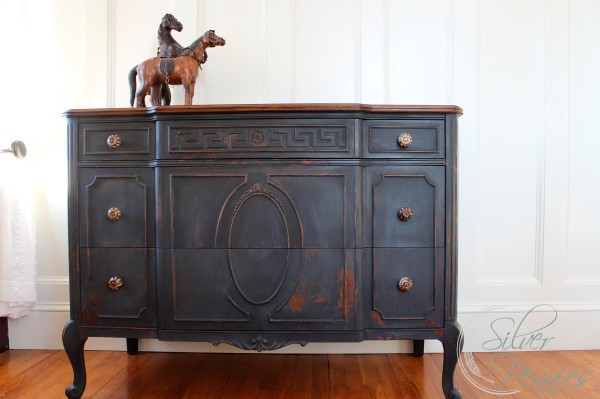 I hope so!  I wish I could keep her!