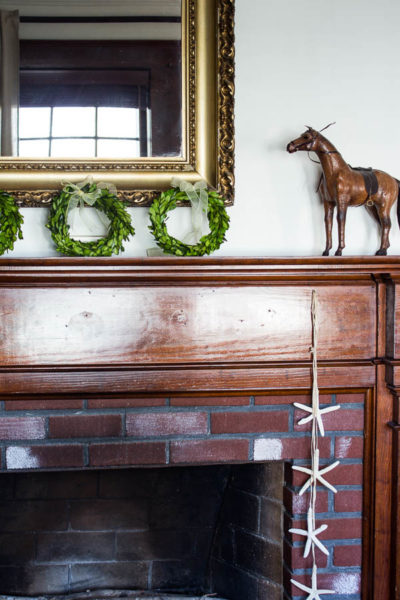 "We tend to forget that happiness doesn't come as a result of getting something we don't have, but rather of recognizing and appreciating what we do have." – Frederick Keonig
Happy first day of February!  In today's post I'm talking about simple decorating in the living room.  We boxed the Christmas decorations up by 12th night (no bad luck here) and I've decided to keep our winter decorating very simple.  I told you I'm focusing on the word "slow" this year and focusing on all the blessings.  My husband, my children, our dog and warm memories made in our home make me so happy. We spend so much time in the living room.  It is our pizza / movie night hang out, the place where we slump down after long walks on the beach with Poppy, board games are usually spread out on the coffee table and it also become a minefield full of legos most days.  Oh, and stepping on legos really hurts by the way!!!! I usually keep my slippers on at all time to prevent this. I'm pretty sure there were a few legos on the rug when I took these photos but oriental rugs hide them, a little too well.
I decided to only use items I already had in the house for my winter decorating.  The mantel is simple with boxwood wreaths and starfish garlands.  The antique leather horses I borrowed from my son's room.
 
The horses go so well with the dark woodwork.  I love their rich leather and their glass eyes.  I'm planning on doing something to the brick in the fireplace this year but still figuring that out.
The faux galvanized table Luke built is decorated simply with candles and oyster shells.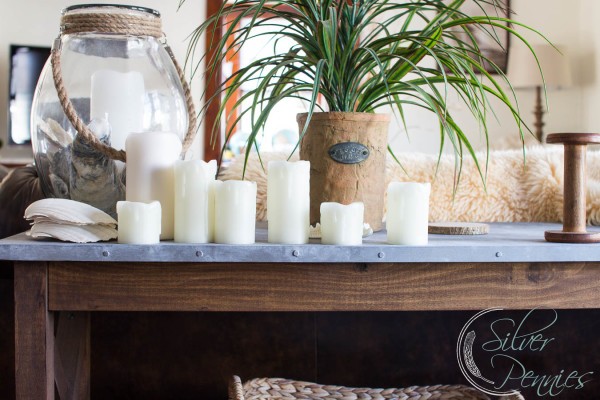 The plant is actually faux and I got it from HomeGoods while the spools were a find at Brimfield last year.  You might remember Luke took me for my birthday. You can see highlights here if you missed them.
Conor found this sweet little guy over a year ago and I love using him to help decorate.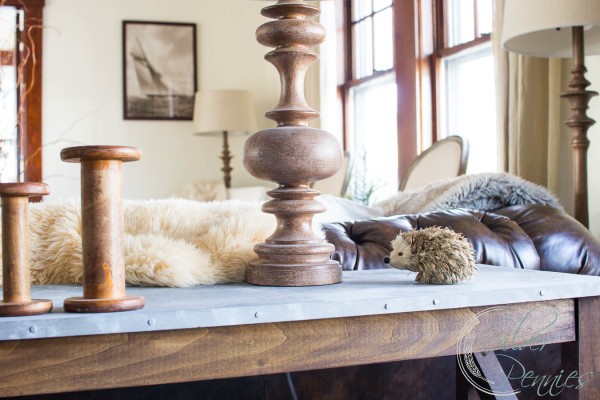 These beautiful faux fur rugs add so much texture in the woven baskets: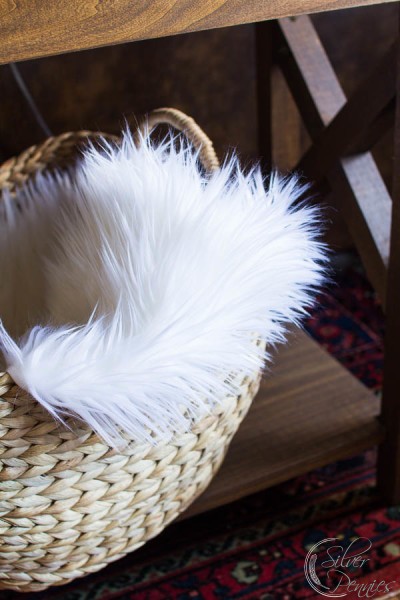 I love playing with my kids in here but I also love sitting in here with my parents chatting or having some quiet time curled up with a good book or magazine.
I shared how the other half of the living room is looking last week.
Branches from the supermarket help to elevate the elegance.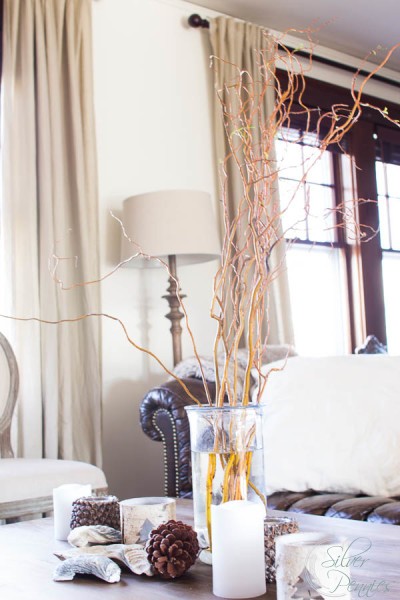 The colors are muted while the focus is more on comfort and varying texture – warm leather, nubby linen pillows and chairs, rough oyster shells and soft faux fur throws.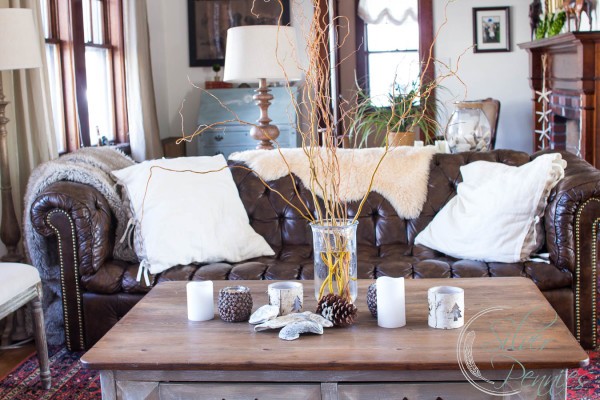 I think we often think we need more, and more, and more when in actuality we already have so very much.  This year I'm embracing this notion.  I'm so grateful for our home and the things we have. More important than all the stuff is the time we have together.  I'm loving the simple decorating we're celebrating this winter.  Are you decorating more simply this year?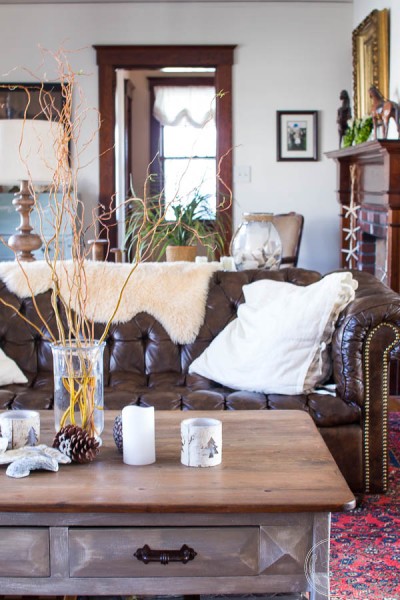 I often get asked to share sources, here is complete source list for the living room:
Source List
Living Room:
Oriental Rug – Vintage
French Chair – World Market
Coffee Table – Consignment Store – tutorial here.
Floor Lamp – Target
Table Lamp – Target
Shells – the beach
Throw Pillows – Ikea
Fur Throw – Frontgate
Lambskin – similar this one from domino
Chesterfield Sofa – Craiglist find, Pottery Barn and domino have ones that are similar.
Linen Curtains – Ikea
Roman Shades – Smith & Noble
Wall Color – Benjamin Moore Mascarpone
Sofa Table – made tutorial here
Boxwood Wreaths – Amazon
Faux Fur – Safavieh
Small Candles – World Market
Sharing with:
Sharing with: