Good Morning, Friends!  Grab your coffee or tea because I have a beautiful buffet to introduce you to.  Meet Patricia!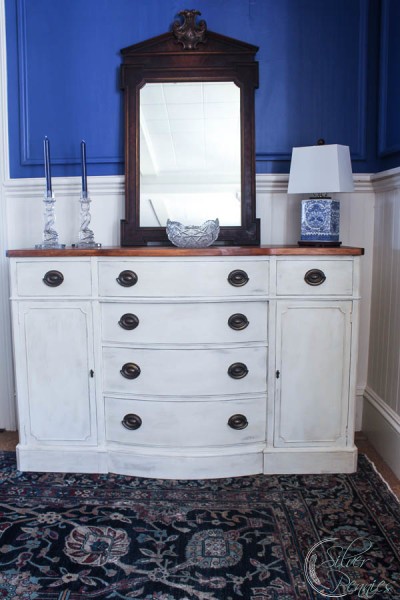 Isn't she pretty!  I painted her for my friend, Pat, who I met a few years ago in my seaside town.  I actually got my Isla dresser (who lives in our bedroom) and the gateleg table that is in my living room from Pat.  She likes to be known as Isla's grandmother.
Pat asked if I could take a look at her buffet.  She wanted to lighten her up a bit.  Here's what the buffet was looking like before: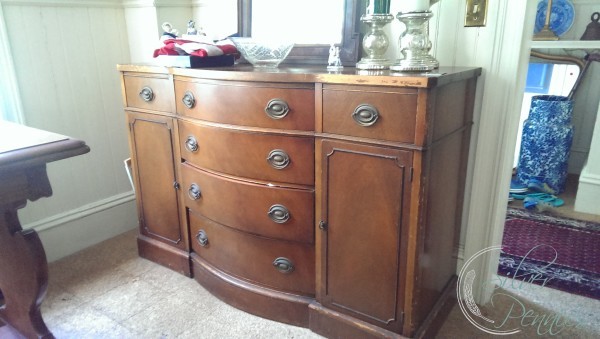 I'm not sure if you can see the damage in this photo.  From year's of seaside living (salt air, open windows and just age) there were scratches: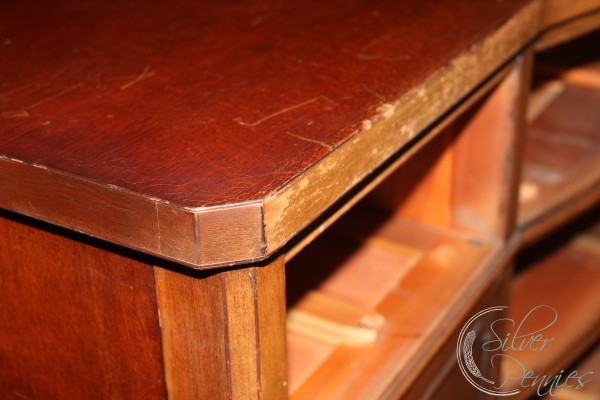 Flaking finish: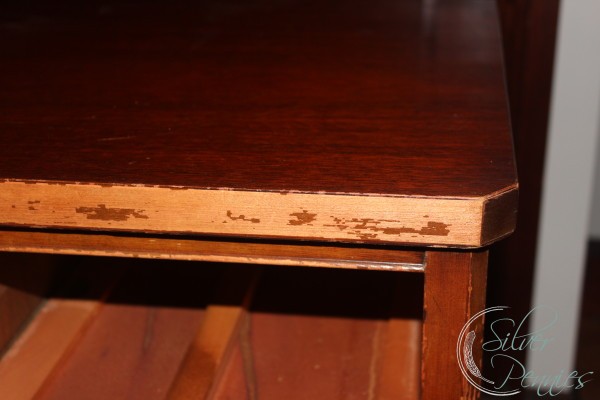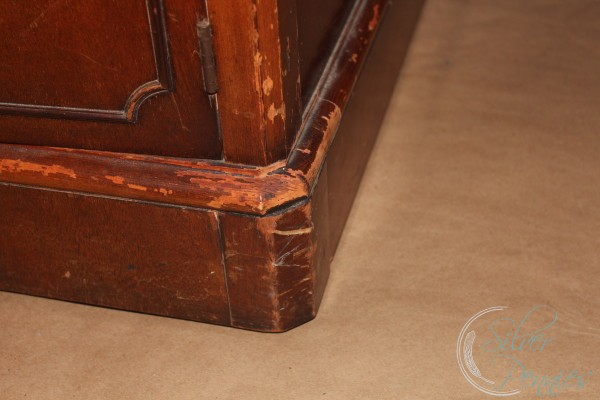 and some other imperfections.  I'm showing you the above photos because some people out there really love wood and get mad when I paint it.  I love wood that is in good shape, but this piece was damaged so was a great candidate to paint.
Before, I could start painting I had to repair and glue.  That meant wood glue and clamps.  Once that was dry I could start, prepping for painting.  I usually wash my pieces down thoroughly and use clear shellac to prevent any bleed through.  I used white tinted shellac on the drawers.  I also stripped the top with citristrip and then stained the top with Minwax's stain in Natural.  Here's how the top came out: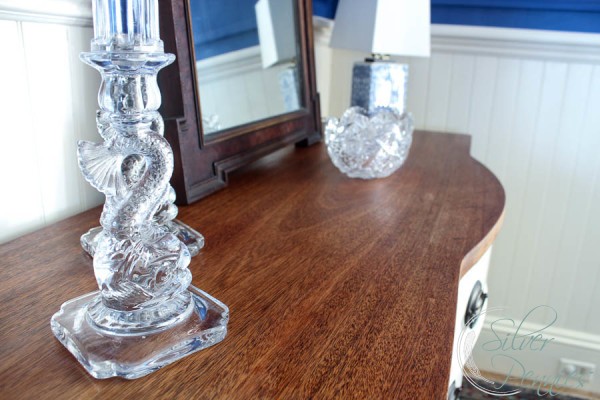 So pretty and it blends nicely with the dining room set in Pat's gorgeous seaside dining room.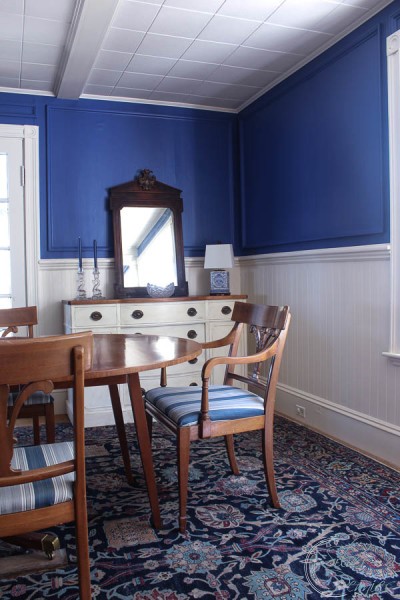 If you hadn't guessed from these photos Pat, like me, has an intense love for the color blue and seaside living. Her gorgeous home overlooks the ocean, and is filled with family treasures, like this beautiful oriental, furniture and the buffet (itself). The buffet belonged to Pat's husband's grandmother, Katherine, and is from the 1950s.
We decided to use Annie Sloan's Country Grey under Old White Chalk Paint®.  This is a beautiful color combination, a little more interesting than just using one color.  I painted it with my Annie Sloan brush to add some texture too.  Here you can see the texture and the Country Grey shining through.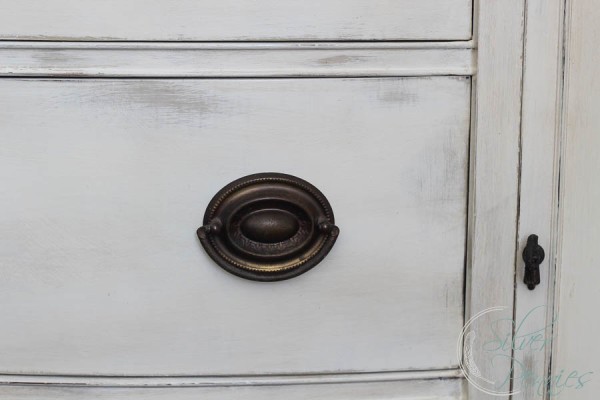 For distressing I like to use "wet distressing".  If you allow the paint to just dry, then you can go back and wipe with a damp cloth and not have to use sandpaper.  This gives you a little more control especially if you don't want to see a lot of wood coming through.  I also used sandpaper on this piece to give more distressing.  I try to distress where a dresser would get wear (around the edges of the drawer, high points etc).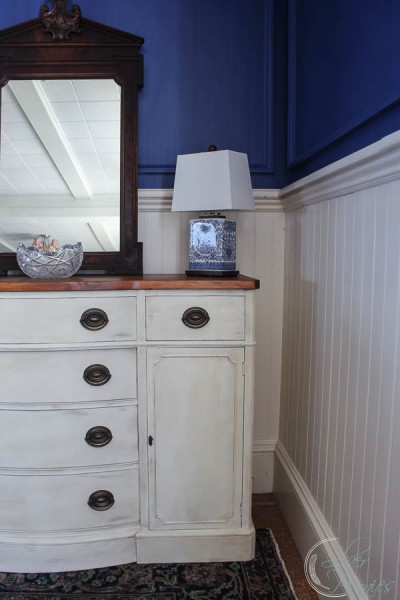 The original brass hardware was left tarnished.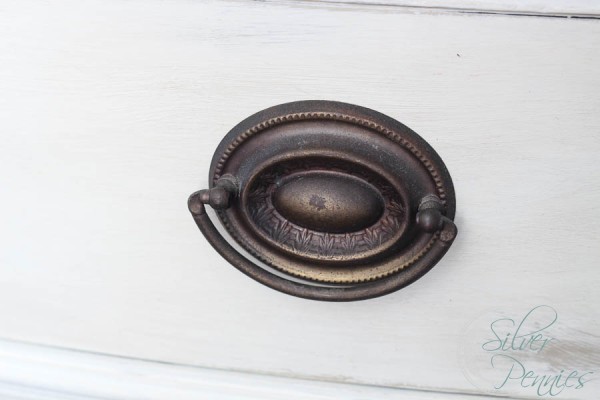 I wanted this piece to look like it had always been that way.  It had been loved and cherished for years (which it had) but now was freshened up.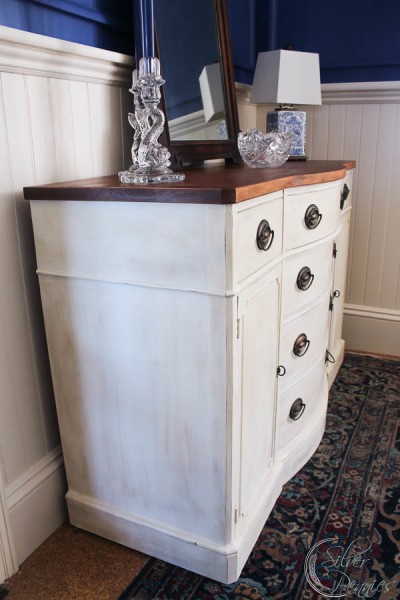 I sealed with Minwax wipe on poly on the top, and two coats of Annie Sloan's Clear wax to seal the painted finish.  I also used some dark wax on this piece.  I used this method for the dark wax.
You can see some of the dark wax detailing her: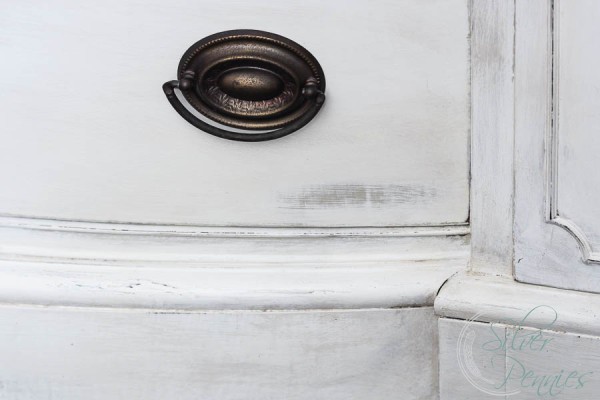 Pat did such a lovely job styling her.  I love this blue and white lamp: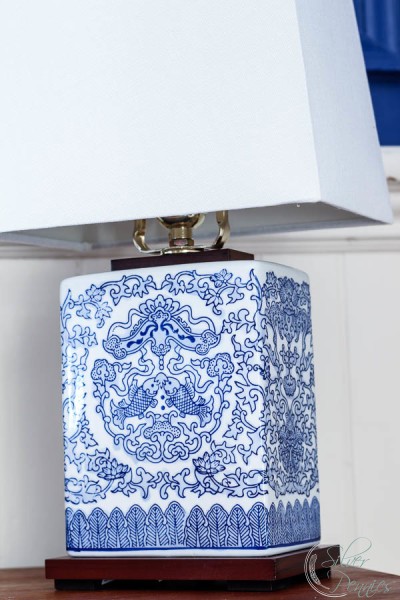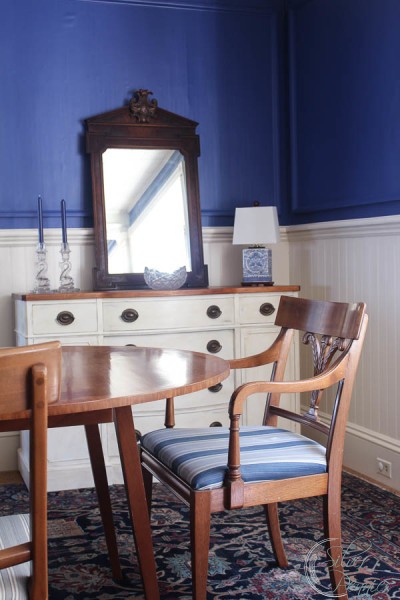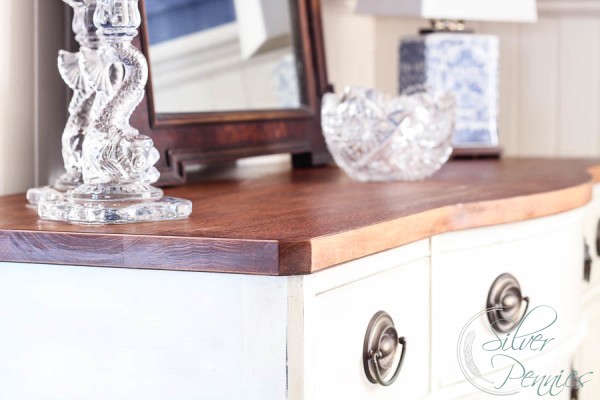 The gorgeous candlesticks and crystal bowl: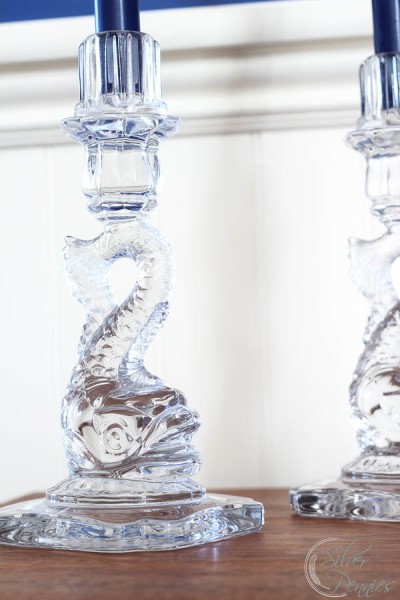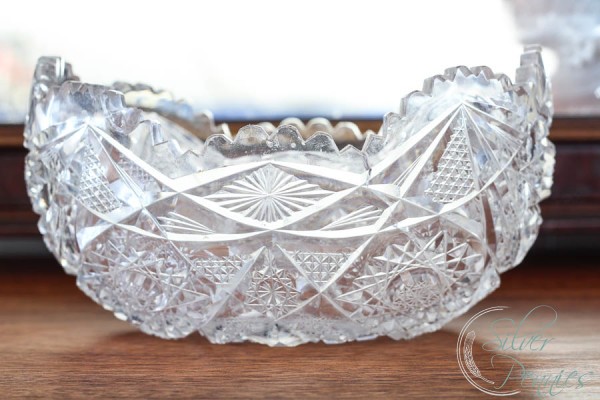 It is almost as if this piece is shining and as happy as the crystal that sits upon it.
When I stopped by to take these photos she told me many people have asked if she bought a new piece of furniture.  This news makes me so very happy.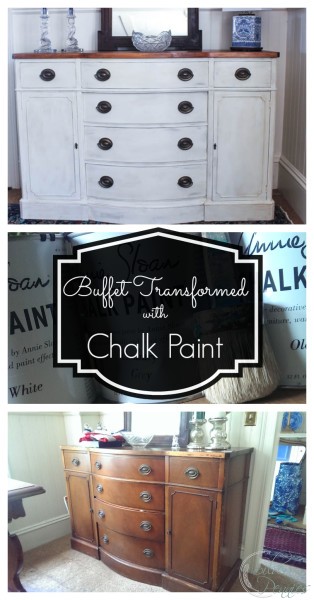 I love when pieces can be re-loved with a little bit of effort and some paint.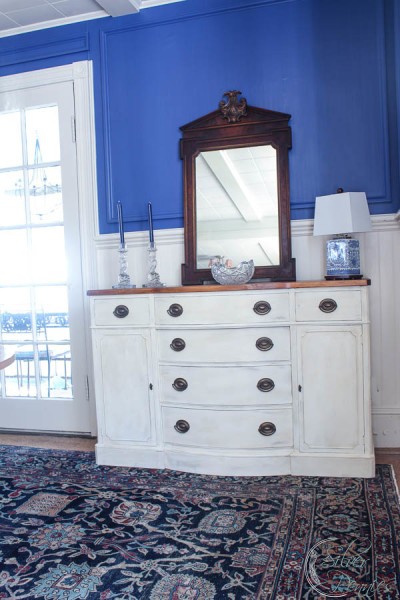 What do you think of the Patricia Buffet?  Can't wait to hear!
I'm also planning more technique tutorials, please email me or comment on any you're interested in seeing. I may also try to do some more videos.
I'm so grateful to Pat for trusting me with this family piece.  I'm so happy with how she came out!
Sharing with: