I partnered with Royal Design Studio on this project and this post contains a few affiliate links.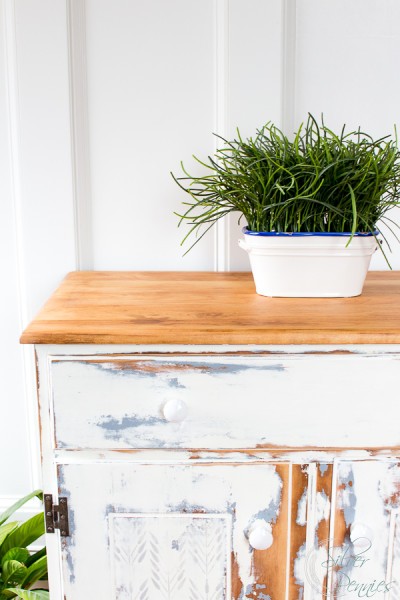 I can't lie.  I really, really love the ultra distressed look.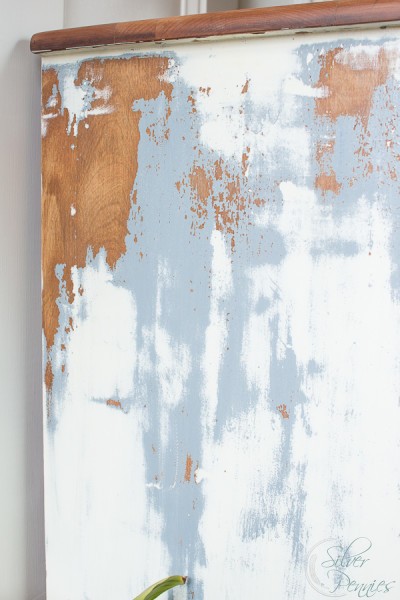 Super chippy makes my heart happy.
Today, I'm sharing Lila, a heavily distressed farmhouse cabinet.
I realize this look isn't for everyone BUT this cabinet wanted to be distressed. Here's her story….This is how I found her, the BEFORE: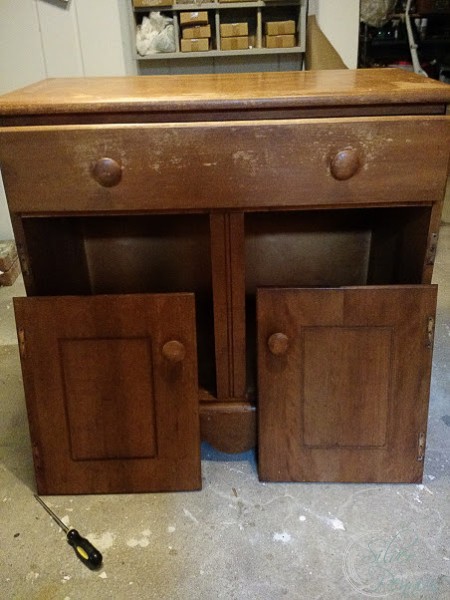 I found her last June at Todd Farm Antiques.  Luke and I got up quite early (before sunrise) and headed up, just the two of us. It was so fun to walk around the field and talk to all the vendors while sipping coffee. We found so much great stuff – chippy windows, drawers with original paint and brass pulls, vintage prints from England. We had a great and very productive morning.
Anyway, I found this rock maple cabinet that is solid wood but just needed a little TLC.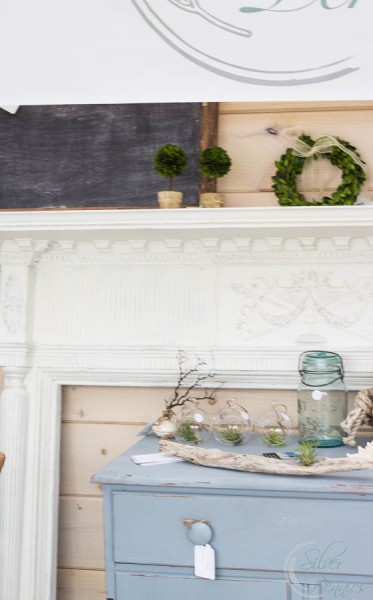 I painted her for The Vintage Bazaar quickly with Miss Mustard Seed Milk Paint in Shutter Gray as I thought it would look "found" with solid milk paint. If you can remember back to that weekend, we had A LOT of rain and this little cabinet got wet and started to peel etc.  So I brought her home and left her chipping in the basement, not really sure how I wanted to proceed.
I spotted the Picaya Quiver Feather Wall Stencil on Royal Design Studio's site and thought this just might be perfect on my little cabinet.  I hadn't intended on making her so distressed but just felt like she had to be.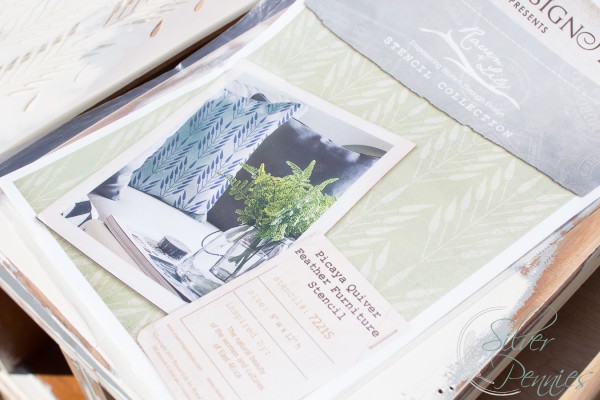 Here's how I created this look.
Creating a Heavily Distressed Farmhouse Cabinet

Materials
Miss Mustard Seed Milk Paint in Shutter Gray
Annie Sloan Chalk Paint in Paris Grey, Old White and Pure White
Vacuum
Paper Towels
Miss Mustard Seed Tough Coat
Bee's Wax Finish by Fusion Mineral Paint
Method
Prepping the piece – Since the original cabinet was flaking and peeling, I needed to get the surface stable.  I sanded the whole piece with a palm sander to remove the current finish, vacuumed all the sanding dust and chipping paint and then I washed the piece down with denatured alcohol followed by water.  Once dry, I wiped on two coats of clear shellac.  Clear shellac prevents the dreaded bleed through.  Rock maple bleeds a yellow-y color and it's horrible, especially coming through white paint. Blech.
Painting Surface – I decided I wanted white. To create a farmhouse or coastal white, I like to mix equal parts of Pure White and Old White Chalk Paint®.  I painted the entire surface with this, even the the top. (I hadn't originally intended on chippy, I was going to paint the whole thing white and lightly distress, but this cabinet had other plans).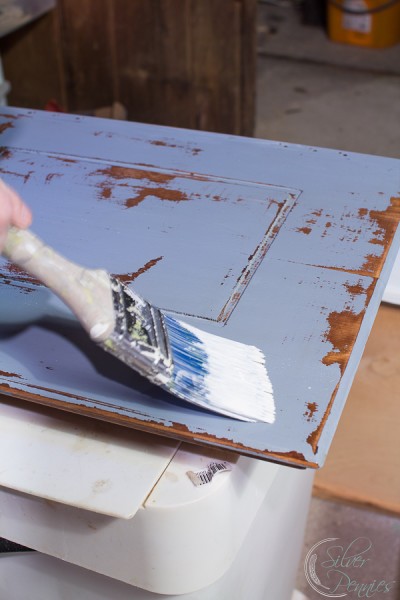 I allowed the paint to dry and after two coats I found the paint started lifting especially on the top where there was some milk paint remaining, so I decide to change my plans – heavy distressing with a revived wood top!
Reviving the Wood on Top – We're having gorgeous warm weather so I brought this cabinet outside and sanded the top down with my palm sander, going with the grain of the wood. I first used 80 grit to remove all the paint from the surface. Then 120 grit and finally 220 grit to finish it off.  When doing this you want to really feel that the top is nice and smooth. I run my hand over it to check. It if it isn't smooth, I sand some more. Once clean, I realized I actually loved the wood I that was under all that poly and stain. It reminds me of butcher block. If you wanted to you could apply stain at this point instead but I left the wood bare and I applied three coats of Fusion's Bee's Wax Finish. This top coat has hemp oil and bee's wax and revived the wood while creating a nice top coat too.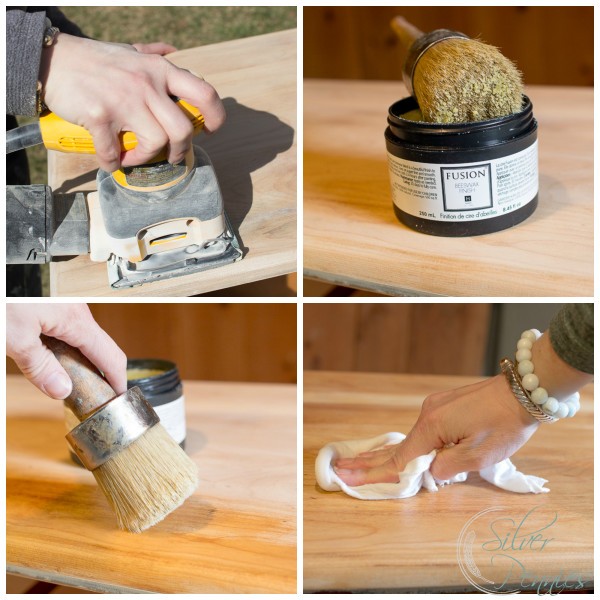 The top now gleams in the sunshine: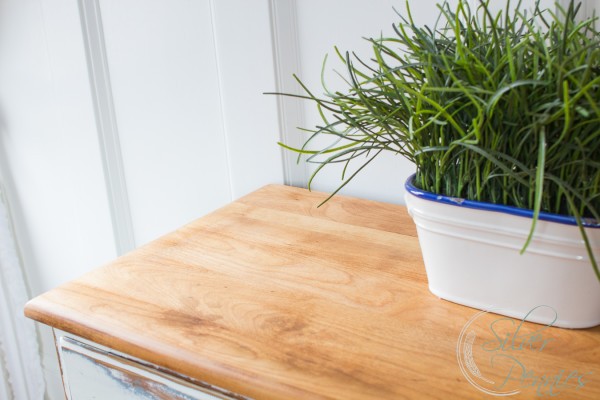 Adding a Stencil to the Recesses
I thought a stencil would look great on the door recesses of this little cabinet. I wanted Lila to have a "found" look and, though the Picaya Quiver Feather Furniture Stencil, could look modern the Paris Grey I chose gave a cohessive look to this piece.  To apply, I lined up my stencil and held it down with delicate surface tape. I like frog tape.  Then I used my stencil brush and off loaded the extra paint on a paper towel and swirled the brush around the stencil in a circular motion. Voilà. Stenciling is that easy.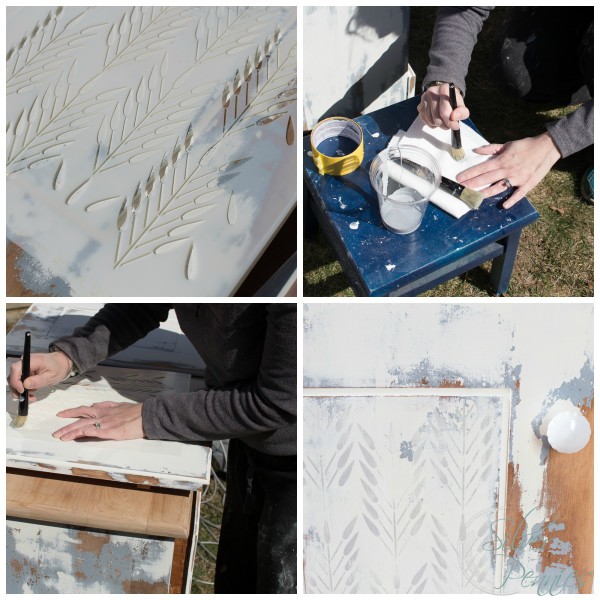 To add to the distressed nature, I used the palm sander again to sand over the the stenciled area and the rest of the cabinet.  I also went back over with a sanding block to even out the sanding and knock back and marks from the palm sander.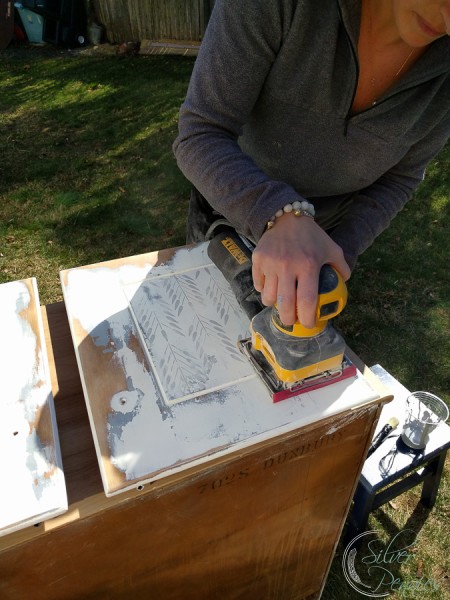 Adding a Protective Coating
I had planned on using Clear Wax on this piece but I was worried that the chippy paint might continue to chip off.  To "seal it in" I like to use Miss Mustard Seed's Tough Coat.  I applied two coats of this with a foam brush. It dries crystal clear and is great for high traffic surfaces.
Here's pretty Lila now all ready for her close up!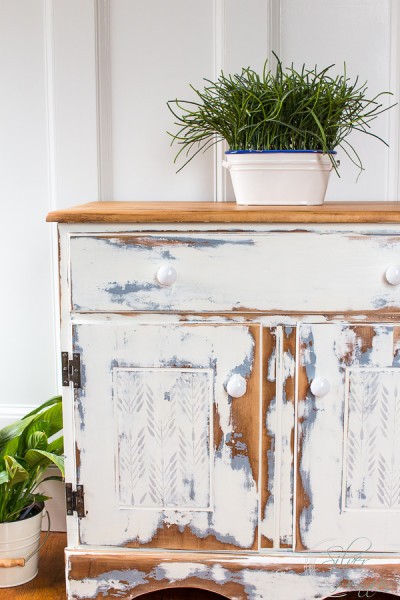 I added pretty knobs from Hobby Lobby. I love the glossy white ceramic with this finish.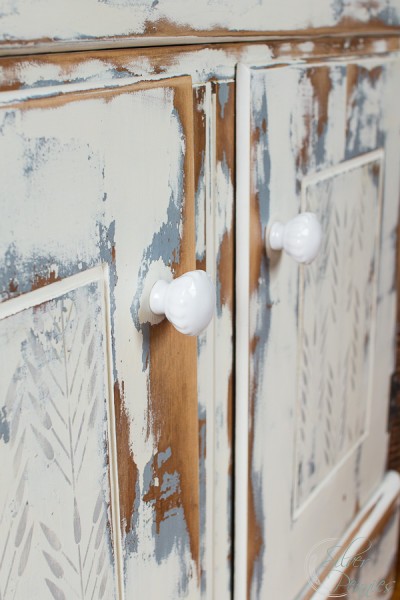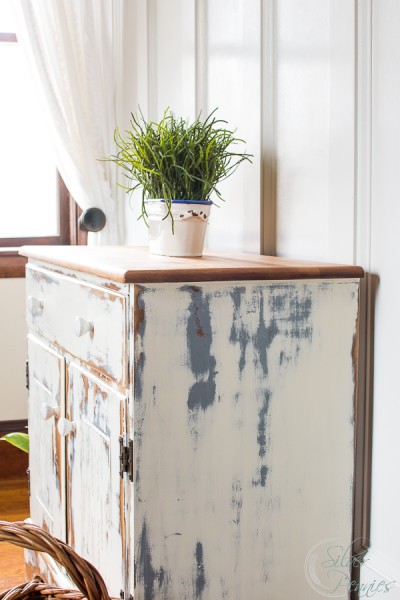 What do you think of this little chippy cabinet?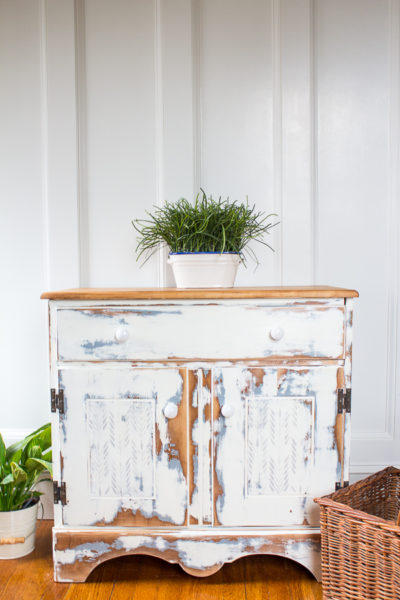 Lila will be available at my Open Studio this spring. I'm still nailing down the date but will keep you all posted. Hoping to do an outdoor yard sale and open studio complete with my little guys serving lemonade and brownies!
Sharing with: