I always knew this day would come.
Every Mother does…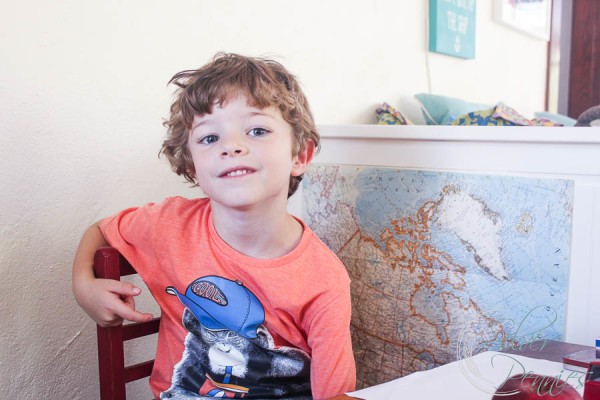 The first day of Kindergarten!!!!
At first mothers want their kids to go to school so they can get more done around the house or grocery shop in peace , BUT (and here is the big BUT) it is hard to let them go.  You see, when I look at my boys, I still see them the way I did when I first saw them.  I see them as swaddled newborns, taking their first breaths.  I see that twinkle in their eyes that says, "miracles do happen".  Please, forgive any typos as tears are falling upon my hands as I try to put my feelings into words.
John went to kindergarten soon after I started the blog.  Here are my feelings on that very day.
Conor is my baby.  My little one, who has grown up before my eyes. TODAY is his first day of kindergarten.  I thought we'd have longer to enjoy joy rides, hunt for antiques, walk in the woods, but now he, too, will be at school for the majority of the day. He's so excited to join his brother at BIG school!
To celebrate I thought I'd share his "new to him" School House Desk!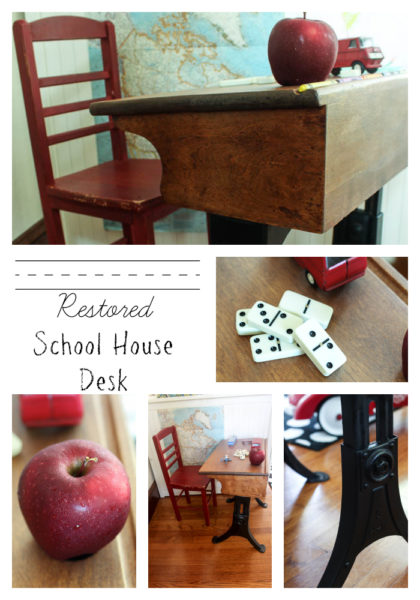 I don't think you've seen their playroom (except for the home tour  when we first moved in).  I've turned one side of the playroom, which is a room right off of our Living Room and Dining Room into a homework / study area.
Here you can see the corner from our Living Room.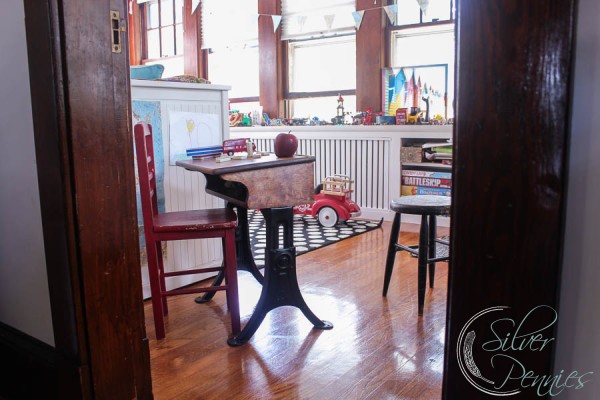 John already had a desk –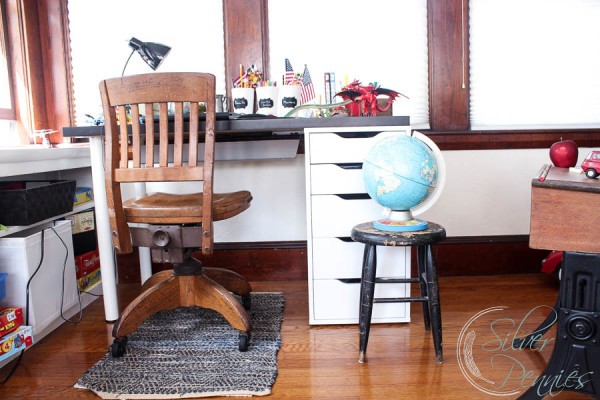 It is an Ikea one with plenty of storage and space to spread out.  The vintage chair I found at the Marshfield Flea Market.
Conor has been wanting a desk forever.  Then I spotted one on Scituate Yard Sale's Facebook Page and you want to know what?!?  I can't for the life of me find the "before" picture anywhere. Sigh.  Well, the wood surface had been painted with brown paint ad the legs were a bit rusty.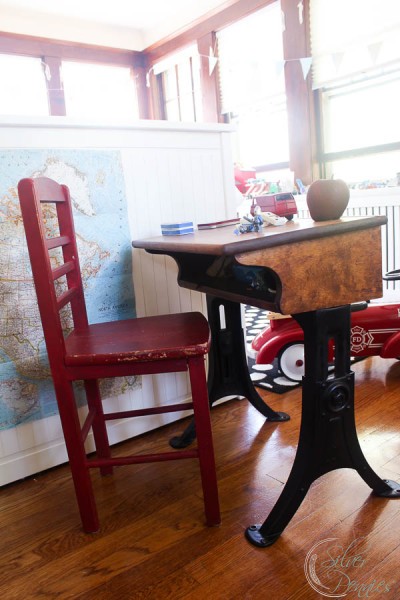 To revive this sweet 1930s desk, I started off with stripping the top.  Here is a tutorial on stripping with Citristrip.  Once I got all the brown paint and residue off the top, I stained it with Minwax's Special Walnut.  I then sealed with three coats of Wipe On Poly.  I love Minwax's products and have always had great results.  I used wipe on poly because I wanted a really protective surface since Conor will be using this desk heavily.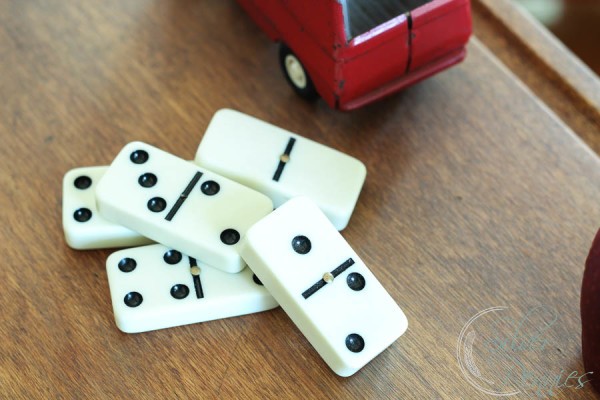 The wood has a gorgeous luster now!
I painted the legs with General Finishes' Lamp Black and sealed with their flat top coat.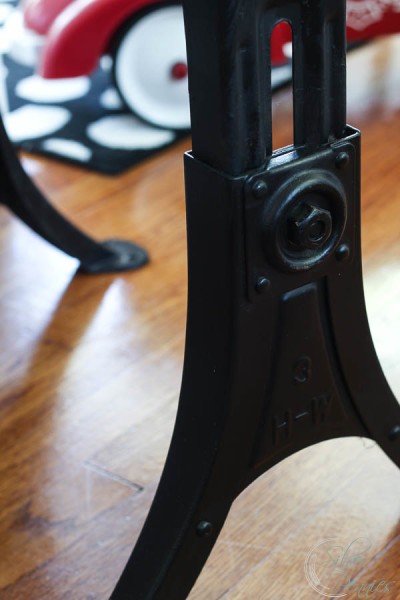 I am in love with Lamp Black.  It is such a rich, deep black.  The perfect black for this school house desk!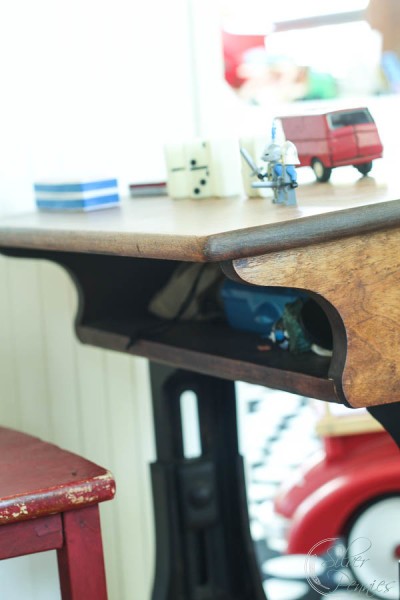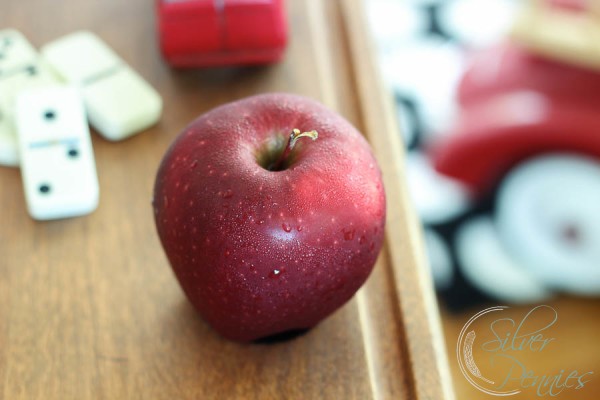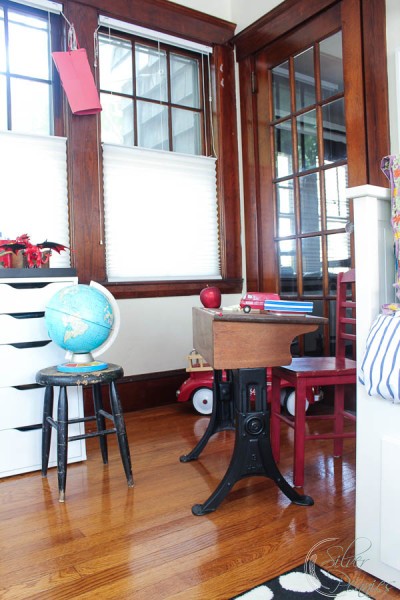 I'm not sure if you can tell, but Conor adores his new desk.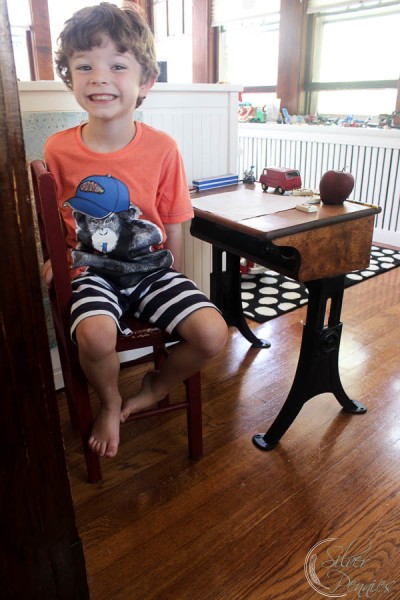 He actually kissed it when I brought it up from the basement and told me he loved it!  As you can imagine this made me so happy.  Not only did we save a piece of furniture but it is going to be cherished by him and hopefully his children.  I like working on furniture for friends and clients but I LOVE doing furniture for my children.
He proceeded to style it: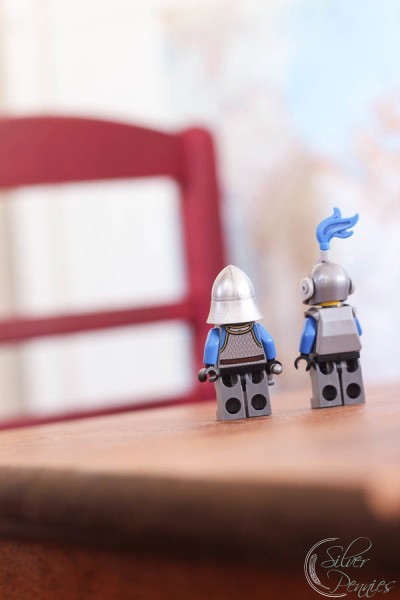 with all the essentials. Oh, while we were taking photos, he wanted to make a video.  Here he is: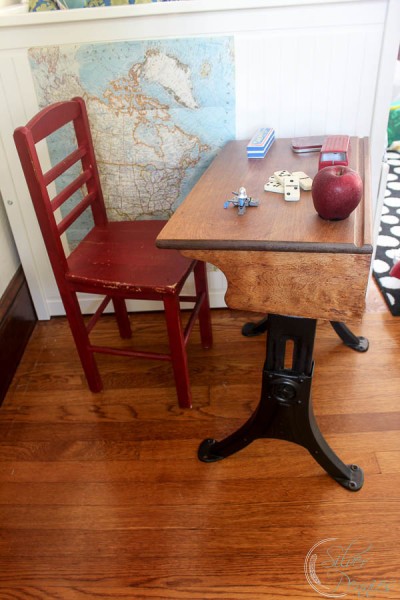 Please think of us today as Conor, my very BIG 5 year old, starts Kindergarden (you know I'm crying a little, but in a good way)….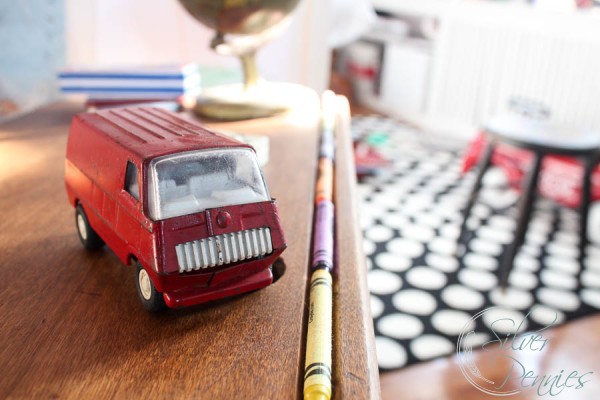 Sharing with: