This post was sponsored by Blue Apron.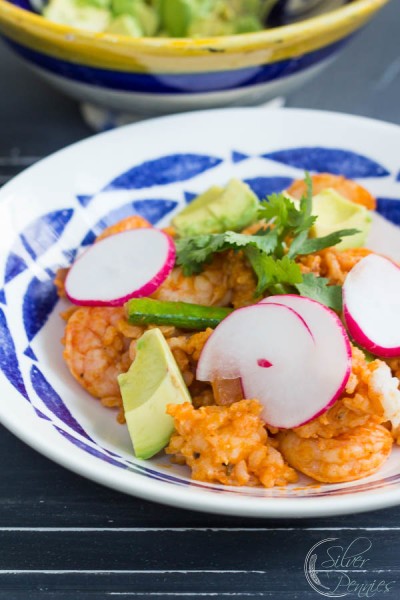 As many of you know, last week was quite stressful and hectic as I prepared for The Vintage Bazaar.  I was crazily painting and making and really didn't want to have to think about what was for dinner, let alone go grocery shopping.  Blue Apron to the rescue!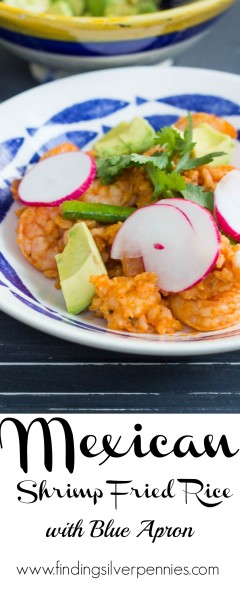 Do you know about Blue Apron?!?  It is an amazing service which delivers healthy and nutritious meals directly to your door and delivery is free.  All the ingredients are fresh, local and some made by artisans. They come in a refrigerated box with easy to follow step-by-step recipe cards for each meal and most ingredients are pre-measured.  The full recipe cards come with it so you can always make these dishes on your own too.  Since we're a family of four with two growing boys, I opted for the family plan and was pleasantly surprised by the portion sizes and also the recipes.  They also offer a 2-Person meal plan.  I really felt like I just prepared chef quality meals for my family with the ingredients provided.
I'm excited because Blue Apron is offering a great deal to my readers:
First 25 readers will get two meals off their first Blue Apron order free!

Just click here.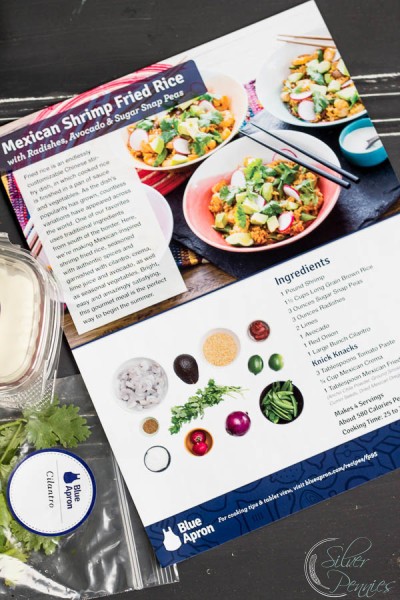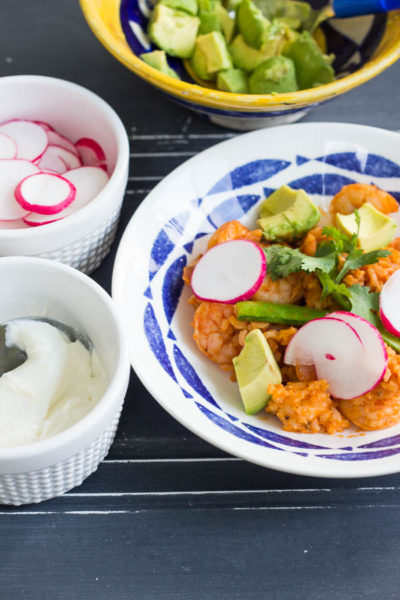 The first meal I cooked was Mexican Shrimp Fried Rice.  Boy, was it delicious!  I LOVE shrimp and this shrimp was so fresh and delicious.  My kids love Mexican and tried shrimp for the first time. They really enjoyed this dish.  I thought I'd share the recipe here with you.
Mexican Shrimp Fried Rice with Radishes, Avocado & Sugar Snap Peas
Click here for more tips from Blue Apron
Ingredients
16 Ounces Shrimp
1½ Cups Long Grain Brown Rice
3 Ounces Sugar Snap Peas
3 Ounces Radishes
2 Limes
1 Avocado
1 Red Onion
1 Large Bunch Cilantro
3 Tablespoons Tomato Paste
¼ Cup Mexican Crema
1 Tablespoon Mexican Fried Rice Spice Blend (Ancho Chile Powder, Ground Smoked Sweet Paprika, Ground Cumin Seeds, Dried Mexican Oregano & Garlic Powder)
Method
1 Cook the rice:
In a medium pot, combine the rice, a big pinch of salt and 2 cups of water. Heat to boiling on high. Once boiling, cover and reduce the heat to low. Simmer 23 to 25 minutes, or until the water has been absorbed and the rice is tender. Remove from heat and fluff the cooked rice with a fork.
2 Prepare the ingredients:
While the rice cooks, wash and dry the fresh produce. Peel the onion and cut into 1-inch-wide wedges; separate the layers. Quarter the limes. Trim off and discard the root ends of the radishes; thinly slice the radishes into rounds. Pit, peel and medium dice the avocado; toss with the juice of 2 lime wedges to prevent browning. Snap off and discard the stems of the sugar snap peas; pull off and discard the tough string that runs the length of each pod. Cut the snap peas in half on an angle. Pick the cilantro leaves off the stems; discard the stems. Pulling off the string in sugar snap peas was a great tip, I didn't know about this.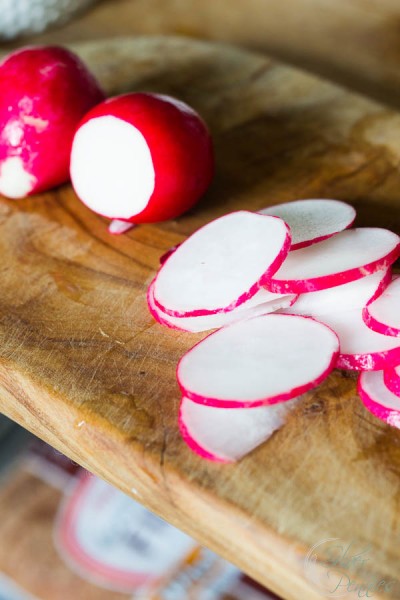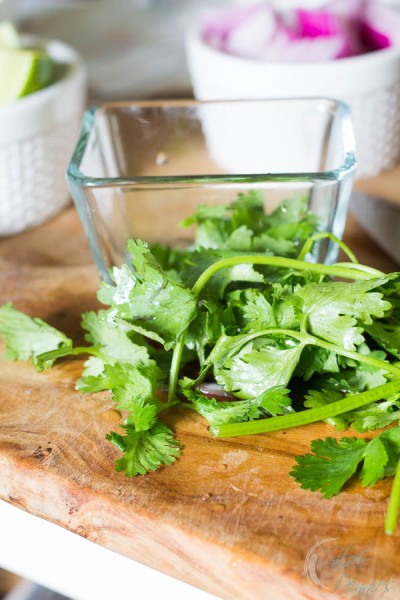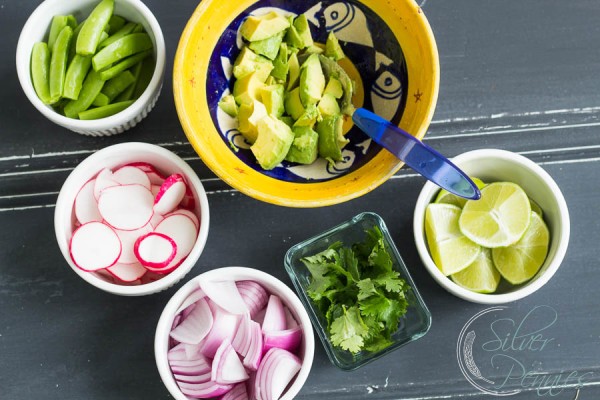 3.  Start the fried rice:
In a large pan, heat 1 tablespoon of olive oil on medium-high until hot. Add the onion and as much of the spice blend as you'd like, depending on how spicy you'd like the dish to be; season with salt and pepper. Cook, stirring occasionally, 3 to 4 minutes, or until softened and fragrant. Add the tomato paste and cook, stirring frequently, 1 to 2 minutes, or until dark red. Add ½ cup of water and cook, stirring constantly, 30 seconds to 1 minute, or until thoroughly combined.
4.  Add the shrimp:
Add the shrimp and the juice of 2 lime wedges to the pan; season with salt and pepper. Cook, stirring occasionally, 2 to 3 minutes, or until the shrimp are opaque and cooked through.
5.  Finish the fried rice:
Add the sugar snap peas and cooked rice to the pan. Cook, stirring frequently, 2 to 4 minutes, or until well combined and the sugar snap peas are bright green. Remove from heat and season with salt and pepper to taste.
Divide the finished fried rice between 4 dishes. Garnish with the radishes, avocado, cilantro and remaining lime wedges. Serve with the Mexican crema on the side. Enjoy!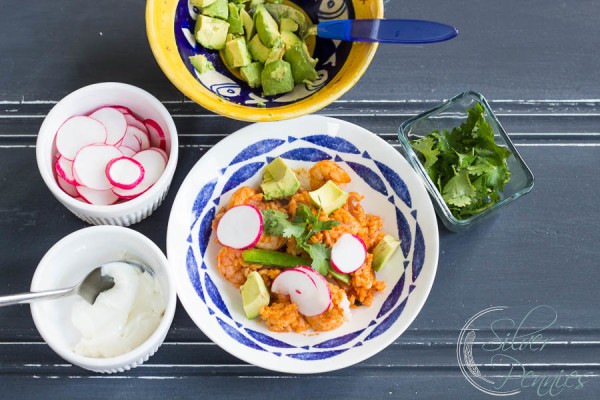 I loved the crema and because I wasn't sure how spicy it was going to be I didn't add the whole seasoning packet; I didn't want it to be too spicy for John and Conor.  This meal was so delicious and just what I needed at the end of a busy day.  I think this one was my favorite.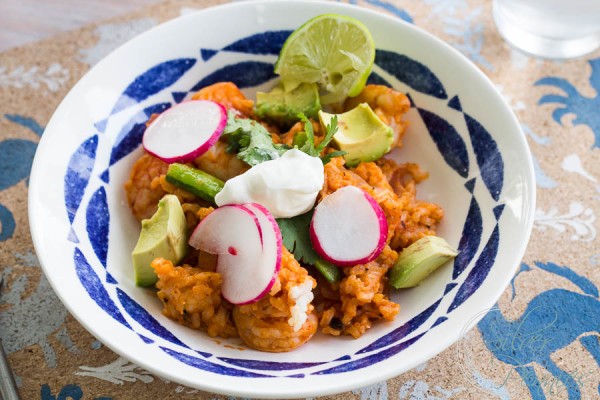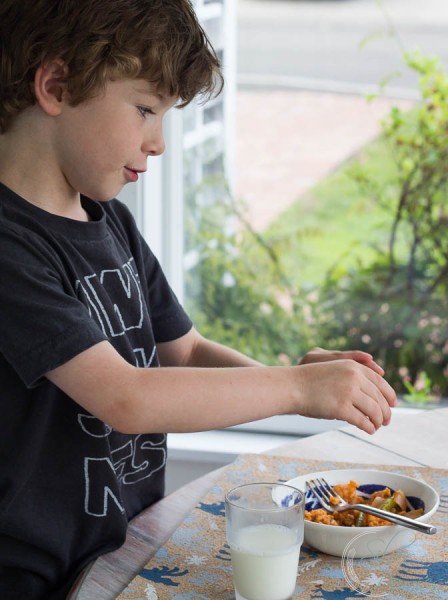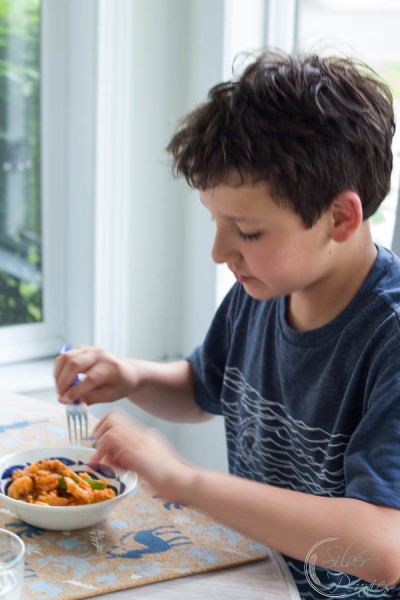 My boys loved it but their favorite was the meatball subs we had the next night.  Now these were proper subs!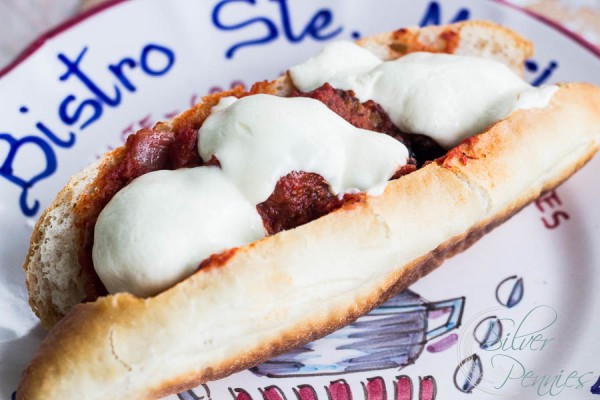 So delicious.  My oldest's favorite is meatballs and I have promised him we'll do these on a weekly basis.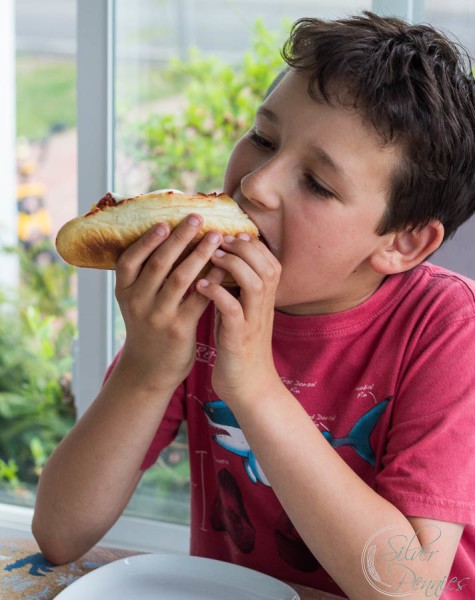 My youngest LOVES Caesar salad and now I know how to mix our own dressing.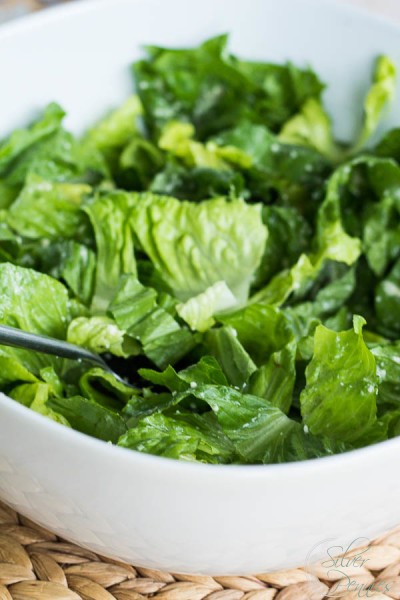 Thank you to Blue Apron for letting me try this wonderful service!
I'm looking forward to trying a few other recipes, especially the Manhattan-style Fish Chowder and the Chicken Mole. Click here to check out their recipes. They are always adding more recipes and you can let them know if you have any food allergies or dislikes.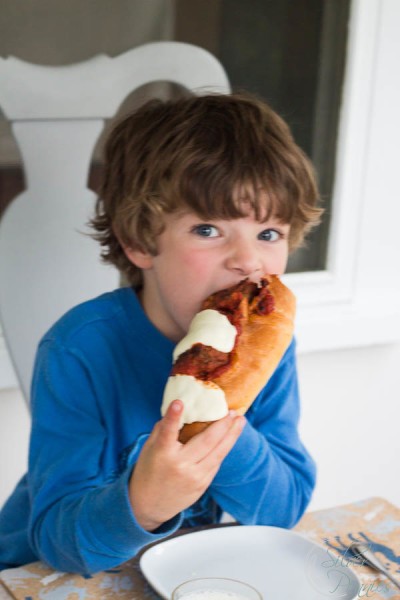 We're excited for more Blue Apron meals in our house!
This post was sponsored by Blue Apron.