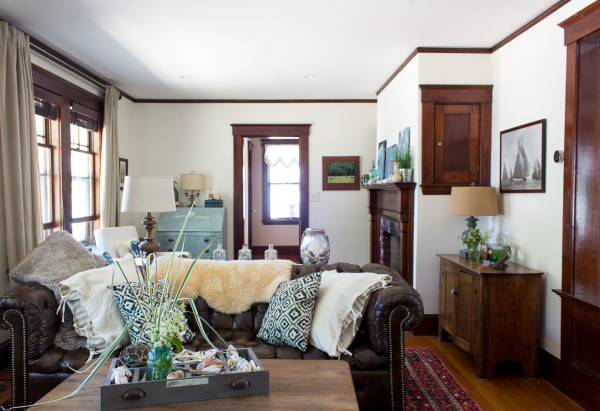 I didn't know how much I LOVED this room until we couldn't use it! I hardly sit here watching TV during the day but this is where Luke and I crash at night. For 6 weeks during the spring this room was like this: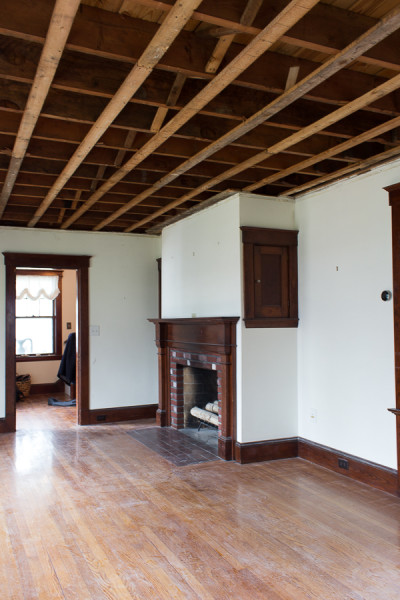 Our home is old. It was built in the 1927 and the ceilings were in a terrible state. We just couldn't wait any longer. So decided to have the ceilings taken down and replaced.
Here's a before and after:

I honestly can't believe it's taken me this LONG to share these photos with you. We moved the furniture straight back in after they completed the work but I was so tired. Renovations are exhausting! I don't know how people renovate whole houses while living in them. I took my time decorating and hanging art back up.
Having ceilings that aren't cracked is HUGE! I remember friends of John and Conor's coming in and asking why we had so many cracks. Can you believe that? 6 and 10 year olds were noticing the state of the ceilings? Well, they're fixed now.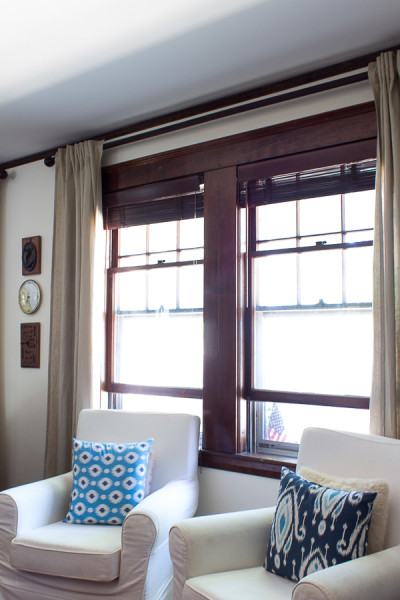 As part of the renovations we had recessed lighting added which makes this darker room bright an airy no matter the time of day.
We also opted for dark wood picture rail. At some point in this home's history it was painted. I love the warmth the dark molding adds. What do you think?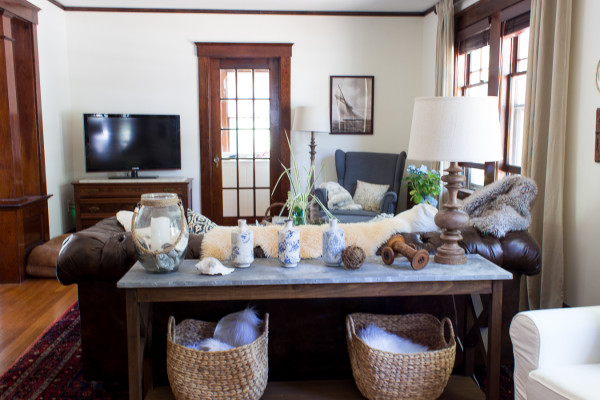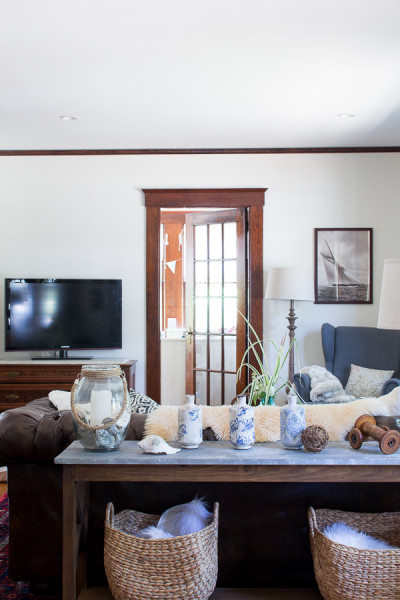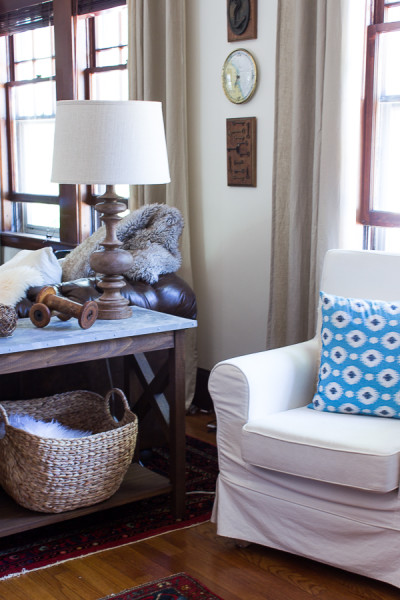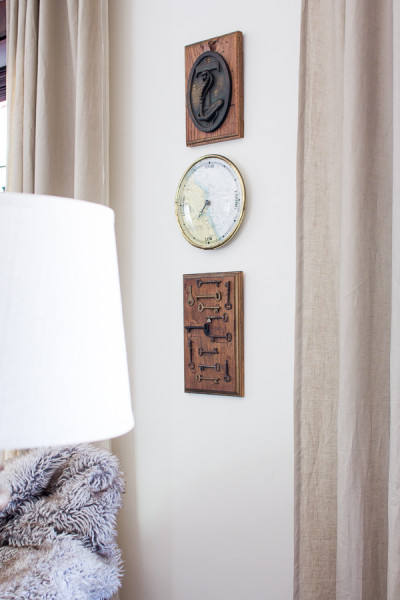 We decided to hang the pieces between the windows. The stained wood with the ship's emblem and the keys belonged to my grandfather. I never had the chance of meeting him as he passed away before I was born but having a little bit of him hanging in our living room means so much!
The tide clock was a gift to Luke almost 12 years ago when we first moved to Scituate. The map is the location of our first home. This has come in handy for the beach.
I kept the decor quite simple. Antiques on this painted desk.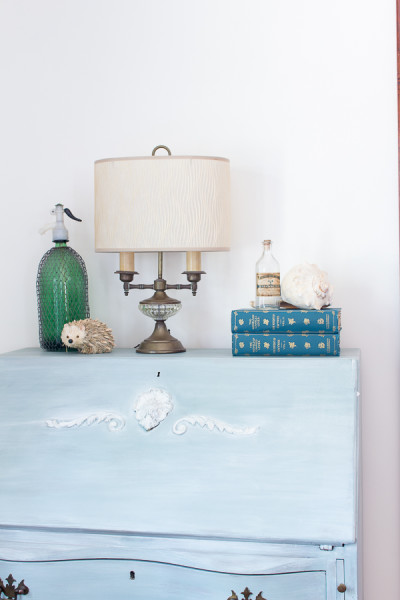 I LOVE decorating with old books and bottles.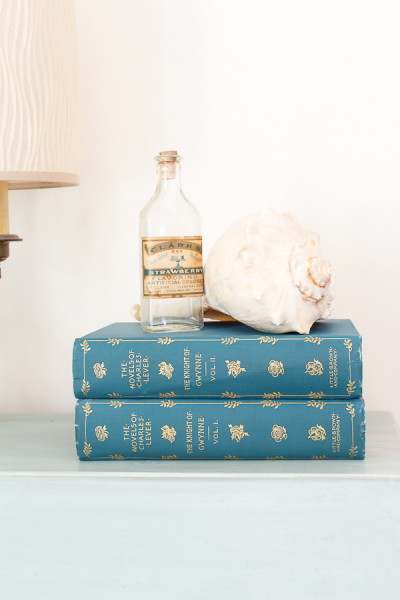 This is a custom piece created by Kjeld Mahoney and it used to be in John's room. I LOVE how it looks here next to the fireplace. It really picks up the green hues of the books, floats and bottles.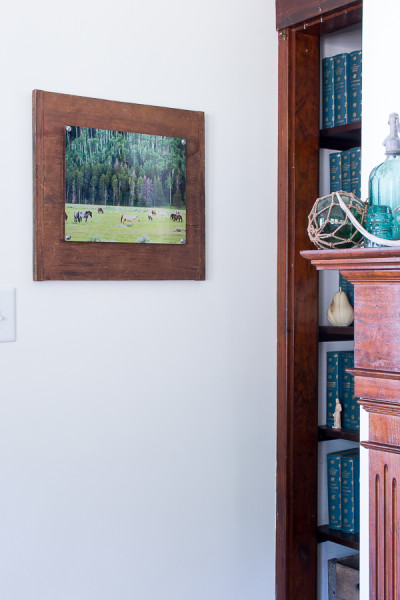 I shared the textured abstract art the boys and I created last month.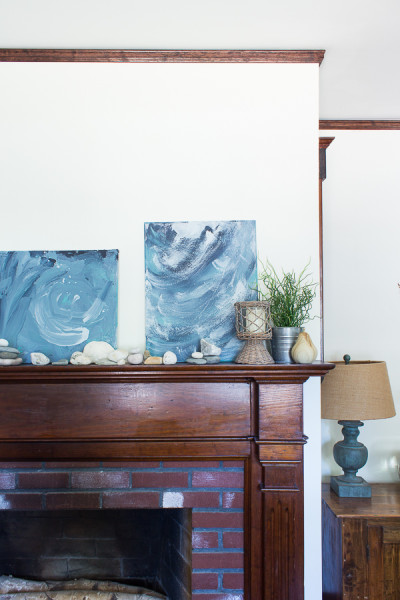 I'm still dying to change the brick and add a gas fireplace but it isn't in our budget right now. I might paint the brick for the time being but not sure. What do you guys think?
Oh, this wooden cabinet is new in here too!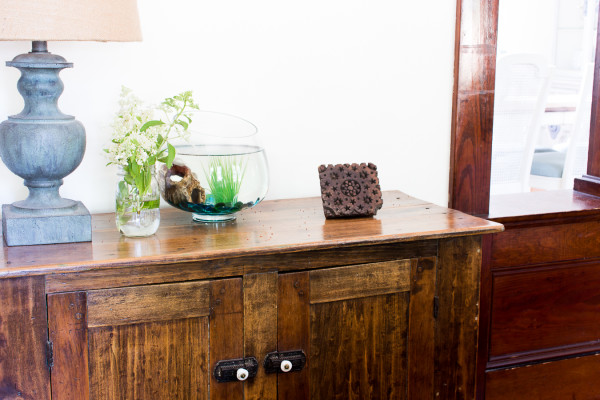 I only realized when editing the photos that Conor spilled fish food all over the table. Ooops. Real life! I'm so happy he's taking car of his fish, Cherry, who seems to be hiding in this photo. Anyway, this cabinet is from my childhood. My mom found it antiquing and she used to store all my school work and book reports in here.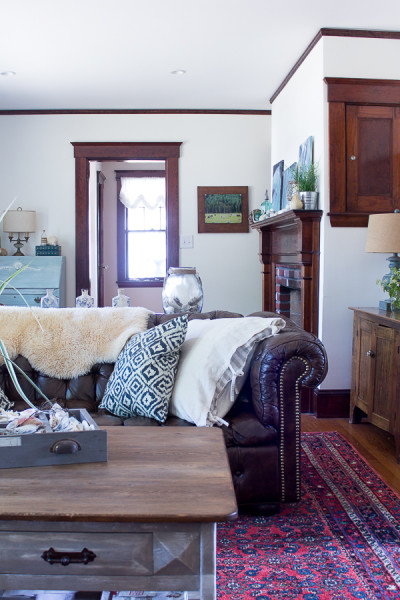 I think the rest of the room is how it was before. The same couch, the same coffee table, the same wingback arm chair.
Here's an angle you don't often see (the view from our dining room). It's just hard to get the lighting right from this angle.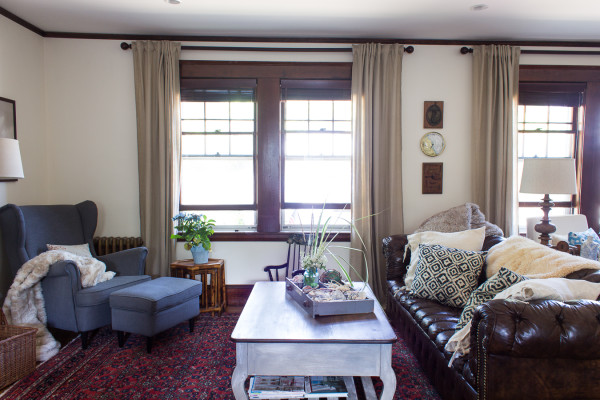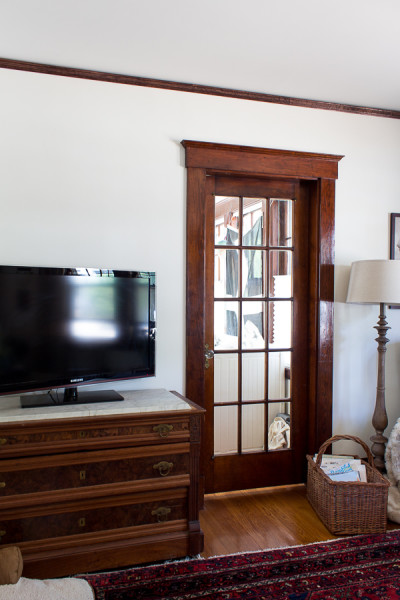 I don't think you've ever seen a close up picture of our TV console, a beautiful old dresser with a marble top that is too small. I love it just the way it is though.
Like many homes, ours isn't perfect, but you know I think it's the imperfections that make it endearing. Well, except for imperfections in the ceilings, but now our ceilings ARE perfect!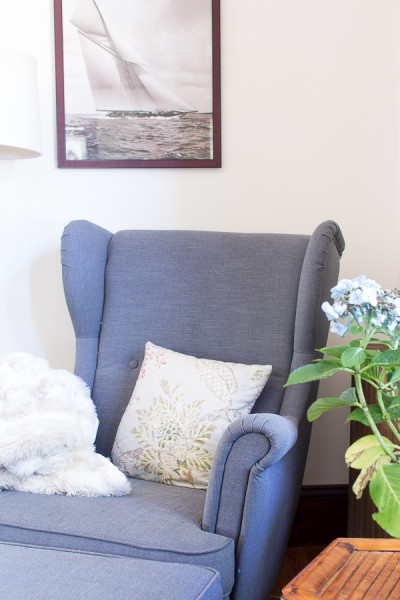 Now we can enjoy this room and not have to worry.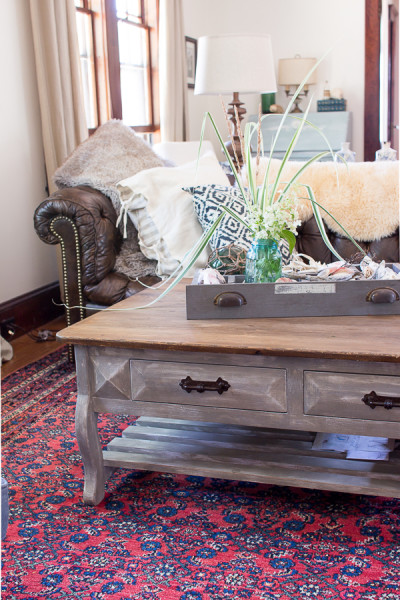 Thank you all for reading and for taking the home renovation journey with us. Phew. It was stressful.
I'm including a source list in this post in case you have any questions about wall color or decor.
This source list contains affiliate links, the product won't cost you more if you purchase it but I'll get a percentage of the sale. Thanks for helping support our blog.
Living Room Source List
Wall Color – Mascarpone in Matte by Benjamin Moore
Dark Woodwork – Original
Linen Curtains – Ikea
Hydrangeas – Whole Foods
White Chairs – Ikea
White Fur Throw – World Market
Painterly Ikat Pillows (on white chairs) – Minted
White Pillows – Ikea
Ikat Pillows and Fur Pillows – Christmas Tree Shop and Michaels
Oriental Rugs – Antiques
Galvanized Table – Painted Tutorial and Build Plans
Tommy Bahama Baskets – HomeGoods
Safavieh Faux Fur Rugs – Wayfair
Standing lamps and table lamp – Target
Chesterfield Sofa – Craigslist find,   domino has ones that are similar.
 Coffee Table – Painted Furniture Tutorial
Bamboo side table – antique
Faux Plants – Ikea
Books, bottles – Antiques
Textured Abstract Art – Tutorial Here
Cabinet with fish and Dresser with TV – Antiques
Blue and White Bottles – Birch Lane
Horse Photography – Kjeld Mahoney Photography
Drawer as centerpiece – Todd Farm, shared tutorial here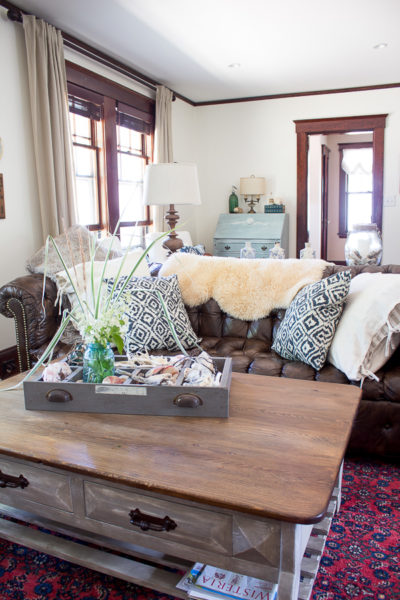 I also need to recognize the people who helped us with this renovation – Fitzsimmons Construction, Doug Rodriguez Plastering, MJ Carr Electrical and  AJ Lane for painting. These craftsmen did such a wonderful job and I recommend them if you're on Boston's South Shore.
It's Luke's birthday this Sunday and he's taking next week off. So we decided to take the week off from the computers and technology, so things will be quiet on the blog. I just want to spend lots of time as a family together before the kids go back to school (gulp) only a few weeks left with them at home.