I'm sitting here, the cursor blinking on my monitor and my cold brew beading with condensation next to me. How can I put into one blog post all I felt and learned from the conference I attended over the weekend? Three days later and I'm still sleep deprived, ideas whirling around my head at a dizzying speed and I'm still thinking of the many laughs from this weekend.
Today we're talking about Imposter Syndrome & Haven recap.
I shared a few photos on social media and Insta Stories, I will share a few more here.
For some reason, I'm having a hard time putting everything into words.
Perhaps it's because I stayed up way too late. I'm a morning person and I roomed with my good friend Rachel (Shades of Blue Interiors) and she's a night owl. We taught an advanced painting class last year together. I only get to see my friends once a year so it always seems reasonable at the time to stay up, cuz you know I won't see them again for another year.
This year I had the honor of being a Haven Mentor.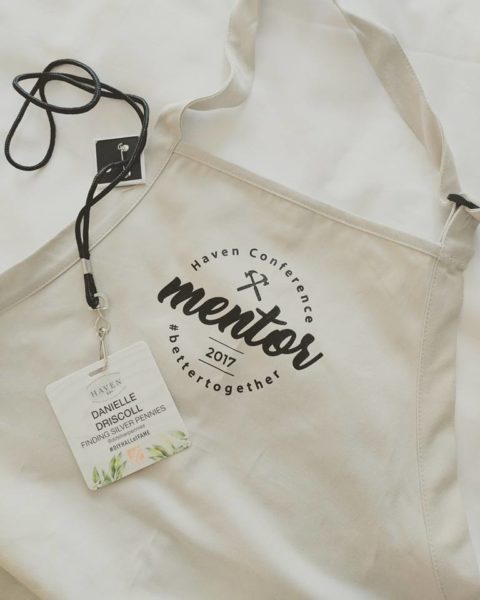 A mentor is someone who guides people on their way. As I walked into the cocktail reception for our first meeting, I found out my name had already been called and I'd missed the group photo with the Haven Mentors.
Sigh
The one thing about me is I hate being late. Being late is the worst and I was late for my very first meeting with my mentees. They seemed okay about it. I had a carefully crafted speech and I painted them a watercolor oyster shell with the inscription. The World is Your Oyster.
I tried to explain to them over the sound of chatter and music that anything is possible with a blog. Your dreams can take wing. Ideas can become a reality.
I still don't consider myself an artist but sharing my watercolors is something I'm working on.
One thing I learned at the conference is everyone has Imposter Syndrome. We all feel like we aren't expert enough to (fill in the blank) ____________. I'm sure even you at home feel this way about things in your own life. You want to know what? It's okay if you have Imposter Syndrome too because everyone, me included, does too!
Every year I go, I learn more (I have over 30 pages of notes).
Here are a few more things I learned at Haven Conference 2017
This post contains a few affiliate links, if you purchase a product though the link, I will receive a percentage of the sale. Thank you for supporting our blog in this way.
The importance of Face to Face meetings. Rachel Kate was the keynote speaker. You may know her from HGTV Design Star. She was really inspiring and shared so much about her own story. Many of the opportunities were from face to face meetings. She also admitted that she'd love to learn more about social media. I thought it was so refreshing to hear someone with such an amazing career share they still want to learn.
Continue to learn new things. We only grow by trying new things and failing and trying again.
Read. Read. Read. I chatted, when I first got there, to my friend Jen Rizzo, who is opening a shop and makery. She gave me so many great book recommendations. I told her about Hunch which I just read on the way down, it's really an amazing book. Jen also recommended Start with Why and Grit. 
SEO is important. I took an SEO class a few years ago (I think at my first blog conference and it made my head hurt). This class was taught by Sabrina over at Dinner, then Dessert. She is a food blogger and had such a fresh perspective. SEO stands for Search Engine Optimization, which really means how your site gets found via keywords and image searches. The more accessible your site, the more people can find you.
Ways to Grow Your Instagram Account. My favorite social media is Instagram. I love all the pretty pictures. Sarah Hollingshead (@OurVintageFarmhouse) taught this class. She has a huge insta following. She shared so much of her story, the first time she shared it, at the conference. She has amazing farmhouse style, but I had the chance to connect with her over dinner and drinks both nights after. She's just so funny. She said Instagram is about telling a story. It's about painting a picture of your life. I hope I do this anyway here in my coastal town, but she recommended not using many # and to reach out with brands via direct message. So if you're on IG, please stop by and say hi!
Photoshop isn't as scary as I thought. Well, I say that after watching two pros at Photoshop. My friends Rachel (mentioned above) and Layla (The Lettered Cottage) taught this class.I always get so confused when using Photoshop as so many layers pop up that I don't mean to create. Rachel shared her tips for editing photos in Photoshop. I currently edit in Lightroom and it was like magic watching her lighten her rug with the spot healing brush tool. Layla is famous for Pic My Presto, you may remember she did our fireplace! Well, she taught us how to do this in her class, even how to manipulate items so they look like they're in the room. Layla recommended taking the picture from straight on as it's easier. She's offering a class on this right now on her site. I'm gonna play with Photoshop now that I've had some tips from the pros.
Pinterest is a discovery tool. Remember when Pinterest was an amazing place to get lost in? Before all the long pins and algorithms? Well, if you're trying to use Pinterest to grow your business or blog you need to know that Pinterest favors profiles that share the content of others more than their own. This class was taught by Alex Evjen of (AVE Styles). Her feed is gorgeous by the way!
A few of her recommendations –
don't have more than 25-35 boards
It takes 30 days to appear in searches so you need to pin seasonal ahead of time, start pinning for October in August. Kind of like magazines shoot and plan ahead of time.
Vertical Images pin better
Use key search words in descriptions
Apply for Rich Pins if you're a business (I have this already)
Group boards don't work as well as they used to
Pin 10% your work and 90% others – don't SPAM
Podcasts are growing fast! Did you know in 2008 only 8% of people were listening to podcasts? Now 24% of people are listening to them. It's such a fast growing medium because of phones. Many people can listen to them using Autoplay in their cars or listen on their phones while doing work. I love to listen while I'm folding laundry, editing photos or working on furniture in the basement. Karen June Grant and Zandra Zuraw of the Style Matters Podcast taught this class. The crazy thing is they are local to me! Both are based in Massachusetts and I'm really enjoying catching up on their podcasts in the basement. They shared what is needed to record and broadcast a podcast and I was really surprised that the start up costs are very low. I'm not sure I'll be starting my own but it is surely something to think about. Many bloggers have podcasts.
It's okay to admit your not good at things. My friend KariAnne (Thistlewood Farms) was the closing speaker and boy was she inspiring. She was the first to admit she can't do it all. She said she wasn't good at graphics and it was okay. Focus on what you enjoy and what you're good at.
I can't wait to read KariAnne's new book. KariAnne's new book, So Close to Amazing, is filled with stories. KariAnne is the best story teller she had us in tears and laughing our heads off. When she had photos taken for her first blog post she forgot to put the skirt on her Christmas tree, only to realize when she was writing the post. I can't wait to read this book cover to cover!
Catching up with friends and supporting each other is important. The blogging community is full of creative and sensitive souls, myself included. It's hard to put yourself out there. Sometimes it's scary. But in the end you'll be so glad you did. I still remember my first Haven. I was so nervous. I shared this with my mentees. It was the first time I left Luke and the boys. I was taking big gulping breathes and then I saw KariAnne and she gave me a big hug and smile. That fear melted away.
Follow your dreams and think bigger. I LOVE my blog and I love you guys reading at home, but what else would I like to explore in addition to it? Are their product lines or brands I'd like to partner with to create something amazing? Yes! Yes, I think there are.
Here are my dreams right now, I'm going to just shout them out and maybe someone somewhere is listening:
I'd love to create a coastal color palette for furniture
I'd love to share my designs in watercolor to be put on notepads, wallpaper and cards (maybe more)
I'd love to write a book. Actually two books – one focusing on coastal style – DIYs / Entertaining and the other focusing on a memoir style featuring my life growing up in a restaurant (this is why I started my blog in the first place)
I'd love to design hardware for furniture
I'd love to design Coastal Furniture and Vintage Inspired Accessories for the Home
This conference has me so inspired and next year it's gonna be in Charleston, South Carolina. We're thinking of making a family trip down there.
So if you have Imposter Syndrome.
Guess, what?!?
So do I!
So do so many bloggers you all know and love.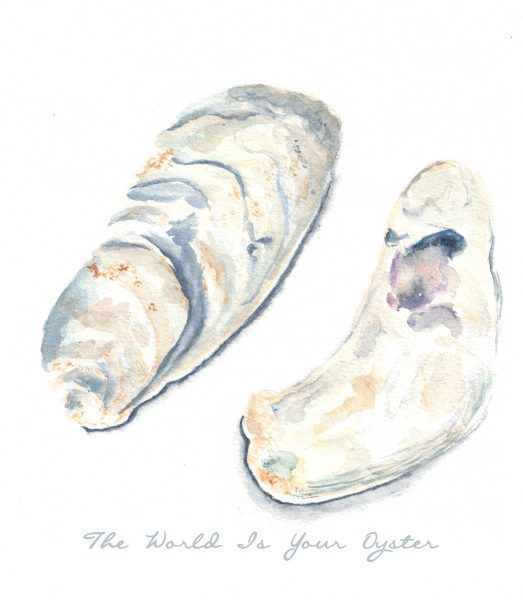 The world is your oyster.
I guess I better take my own advice!
You can read my recap from last year here.