This year I've really experimented a lot with faux finishes to mimic nature. I love taking MDF or simple pieces of wood and making it look distressed, aged or a completely different material all together. Actually as you're reading this, I'm currently on a plane on my way to Atlanta for the Haven Blog Conference. I'm going to be teaching a class about natural and weathered finishes with my good friend, Rachel over at Shades of Blue Interiors.
I put these sample boards in my bag last night. We're teaching a faux galvanized finish, a weathered technique and tinting wax to age wood. Don't they all look dreamy together?!? I just snapped this quickly on my phone.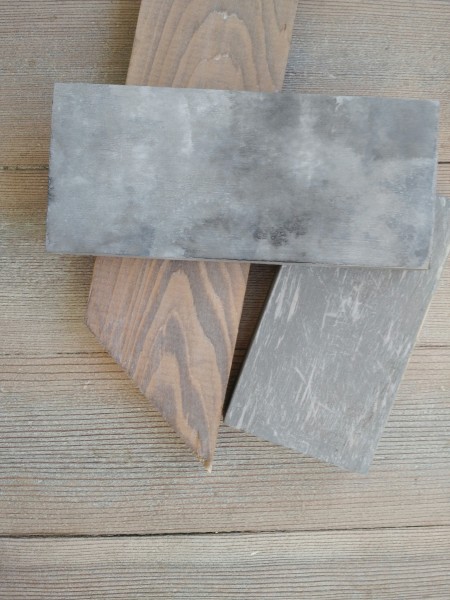 If you're heading to Haven, I hope you'll think about taking our class. It's gonna be lots of fun. For those of you at home, I thought it would be fun to share a few more techniques here today on the blog. I will also be sharing some highlights of the conference once I get back. Fingers crossed all goes well!

One of my favorite pieces is the faux galvanized table in our living room. Click here for more on that and how to build the table.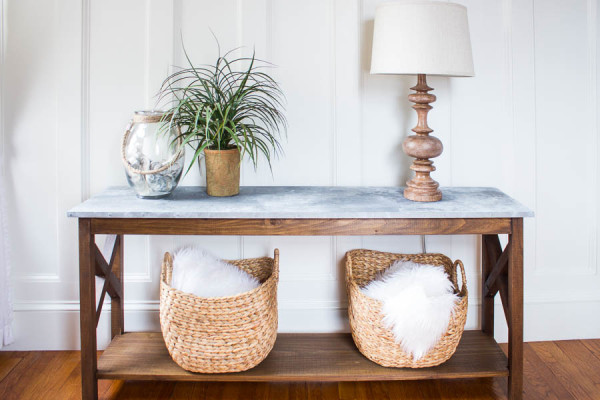 Here is a close up of the top and also how it looks in our living room: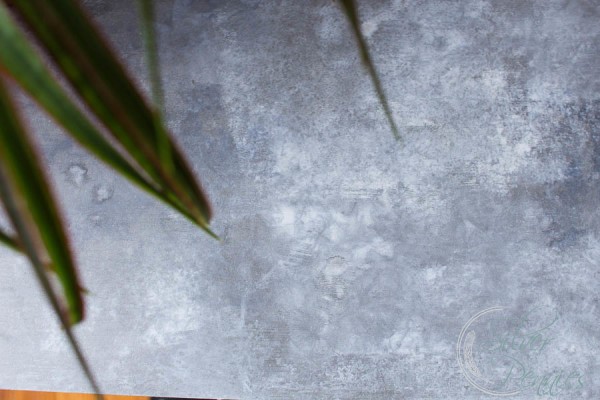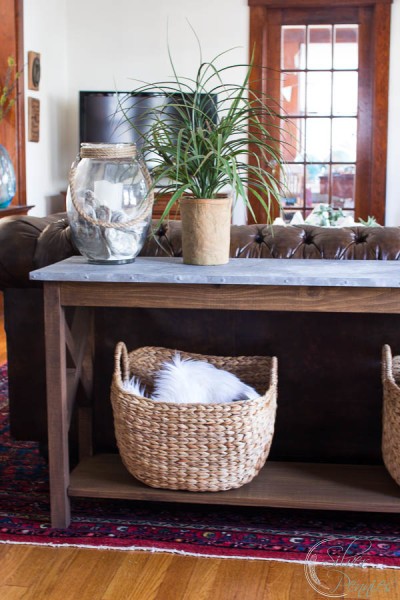 It seriously is one of my favorite pieces of furniture in our home! People are so surprised it isn't really metal.
The weathered effect (similar to what we're teaching in class) is on our coffee table, just the other side of this console. I did it in French Linen with Pure White and some distressing and dry brushing.
It's such a fun technique. Click here to learn about that.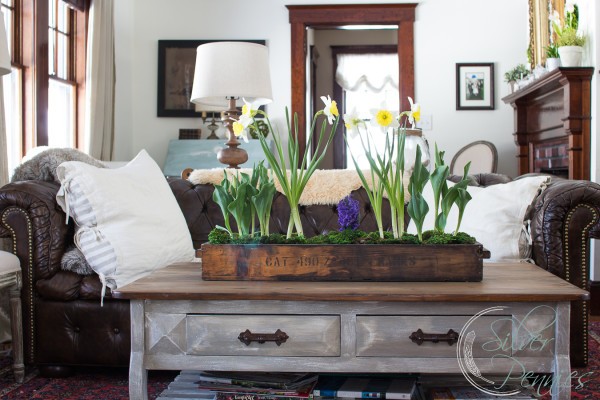 Saltwash can give a natural, textured look. I've used this on a tray for a very neutral finish and also on a chest for a more textured finish with a pretty blue paint peeking through!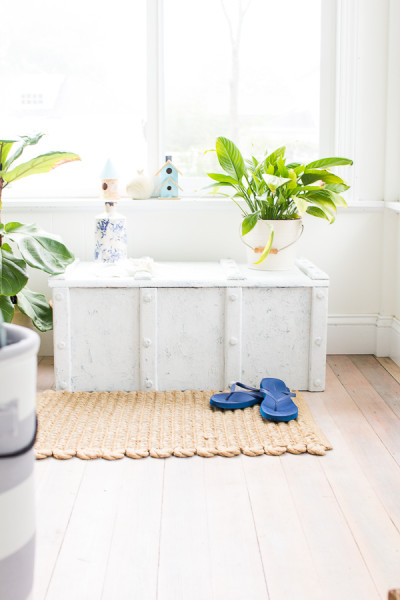 Saltwash is actually made with sea salt. Simply stir into paint and paint on wood, metal, or glass and it creates texture. Cover with another color and distress and you instantly have a coastal, salty finish!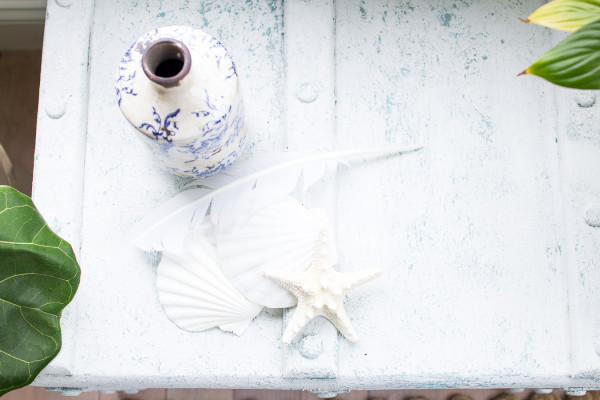 Click here to see the chest tutorial and here for my tray tutorial.
In our dining room, I really wanted a bar cart and I ADORE the look of marble but couldn't afford a large slab of it. Instead I created my own marble with MDF, some feathers and paint. It's soft and perfect for this room. Here are some sample boards: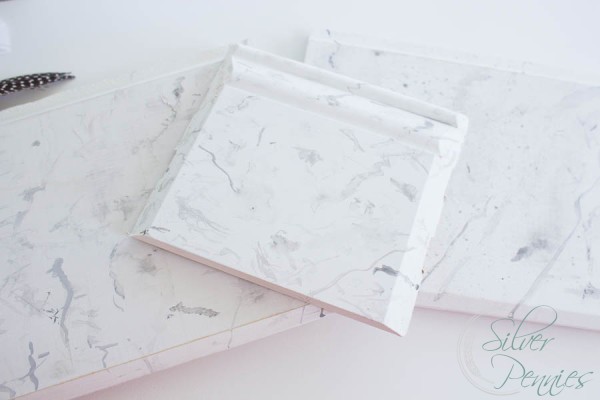 How the bar came out:

So pretty, right? Click here for the faux marble technique.
I recently shared another technique that mimics soapstone. Luke still needs to build the other bedside table, but we have one done! It has allowed for so much more storage and I love the natural texture this bedside table gave to our coastal bedroom.
Would you believe me if I told you the top was MDF? Well, it is!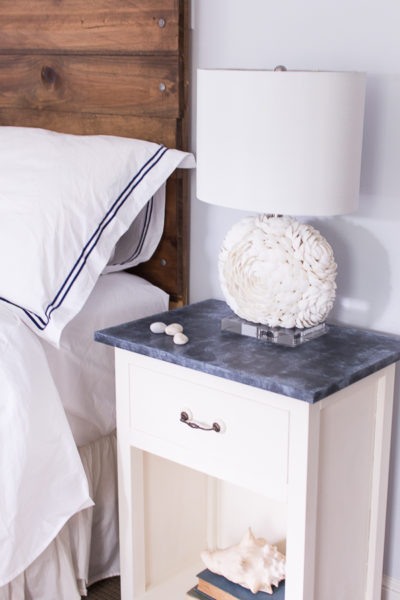 Here's a closer look: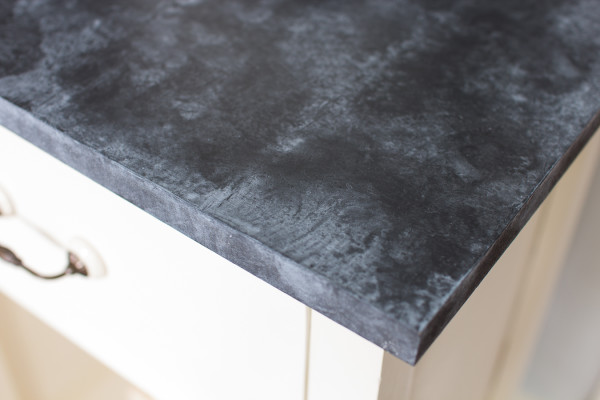 Here's the full tutorial on that finish.
I've so enjoyed creating all these rustic and painted finishes inspired by nature in our own home. The best part is I've done it all within a tight budget but have gotten great furniture that I'm so proud of.
I hope you'll think about trying one of these techniques and would love to hear if you do.
If you're interested in learning more about painting furniture or want more hands on advice with step by step tutorials you might want to think about purchasing my eBook which is filled with ideas and so many different styles of furniture.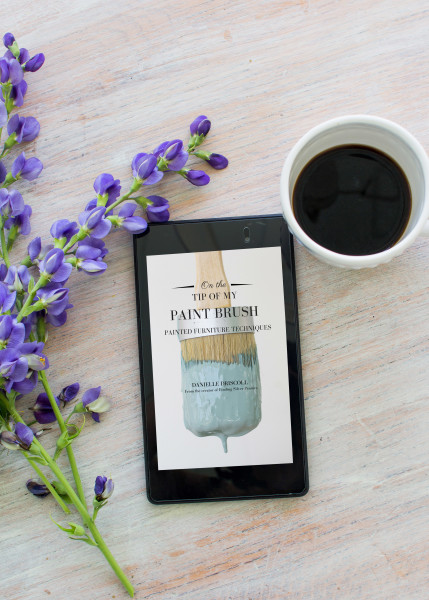 Keep your fingers crossed our classes at Haven go well and I'll see you on Sunday for the link party and give you all the details when I get back!