I had many questions about our window boxes and the greenery I used so I thought I'd share. How to decorate your window boxes for Christmas.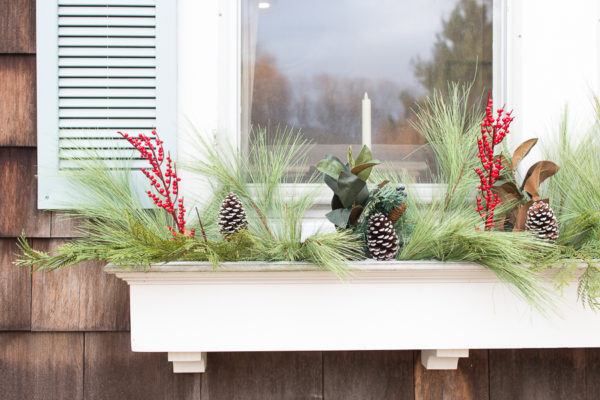 Thank you all for your lovely comments and emails about our Christmas home tour, click here if you missed it.
I USED to always be a real greenery kind of girl. I don't know I never liked the fake stuff. I always thought it looked artificial. Our window boxes are very long so fresh greenery always cost me an arm and a leg. That was until last year.
Last year I decided to buy faux greenery. I bought everything from a local place called Garden Craft, sadly it just closed it's doors after being in business for over 50 years. The greenery is so authentic looking and it stood up really well. Each branch I think was $3.99 or less which sounds like a lot, I know, but I can use it year after year. I used the same branches last year and they still look perfect.
Why I like faux greenery for Exteriors
It's durable and will last the whole season. I've had some years where everything looked so dead.
I can always bend and shape it so it curves just right. You can't always do that with real.
Diversity – I can mix and match all different greenery.
It lasts season and after season.
How to Decorate Your Window Boxes for Christmas
Step 1 – Remove any old plants and wipe down the window boxes.
Step 2  – Lay your greenery and decor items out and have a loose plan how you want to use them. I have pine, evergreen, holly berries, a few magnolia branches and pine cones.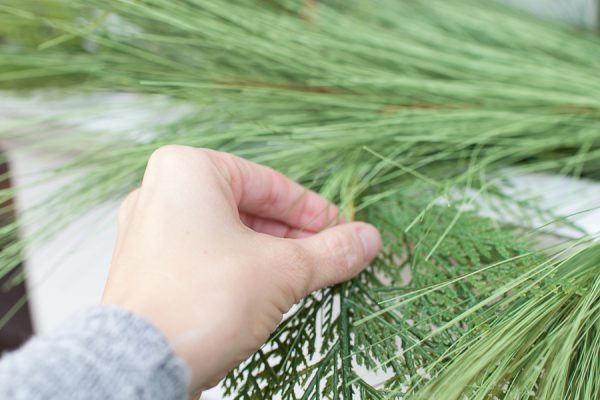 Step 3 – Fill out with greenery first. You want to have some high, some low and some filling the boxes themselves. Make sure to stick the ends right in the dirt.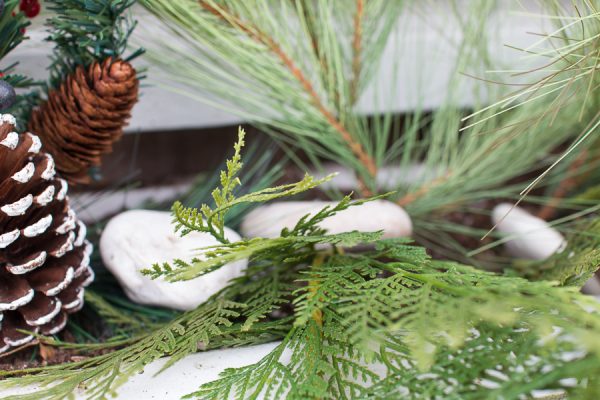 Step 4 – We get a lot of wind here by the sea so I like to use beach rocks to weigh the greenery down. When it freezes the greenery will be frozen in the dirt but for now the rocks are keeping them in place.
Step 5– I thought about just doing greenery and pinecones this year but the red berries really pop against the green.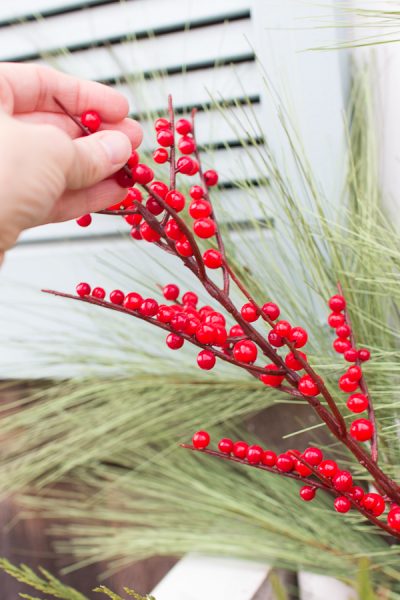 They also look great with our blue shutters.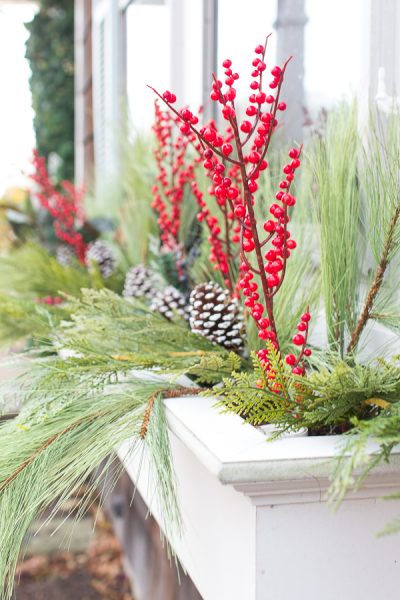 Step 6 – Fill in gaps with pinecones. I bought these frosted ones at Home Depot last year. They were on long sticks and I snapped them to the length that I wanted.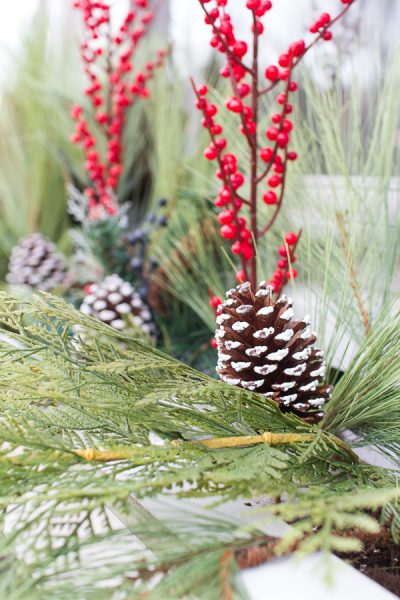 These window boxes took no time at all and will last the entire season. Let me know if you have any questions about my method or materials.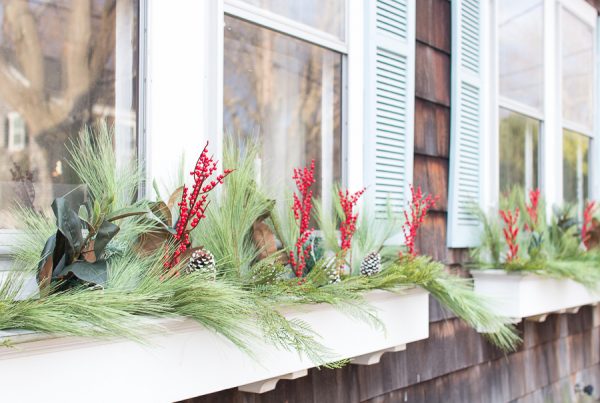 The great thing with faux is you can add the odd real branch here and there.
Here's how the house is looking at night.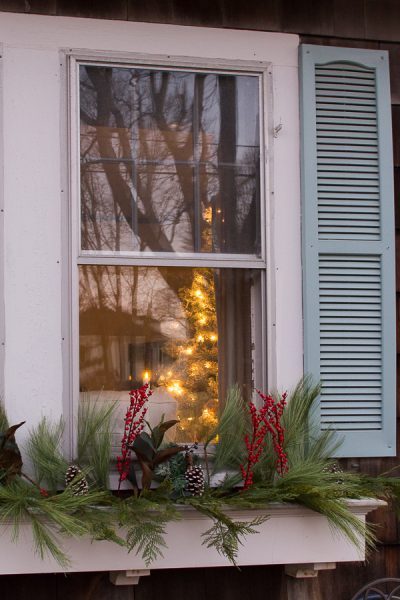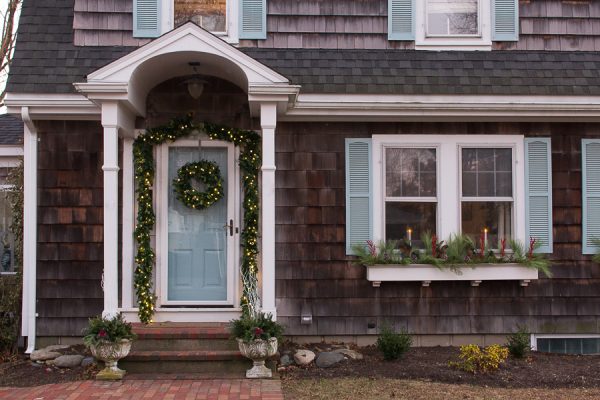 Oh, and one more tip! See my urns? They took no time at all because I got some hanging baskets from Home Depot that were already done and plopped them right in (removing the handle of course) 😉 I added the white branches to give more height.
I can't resist sharing one more photo of Max, Poppy and Conor.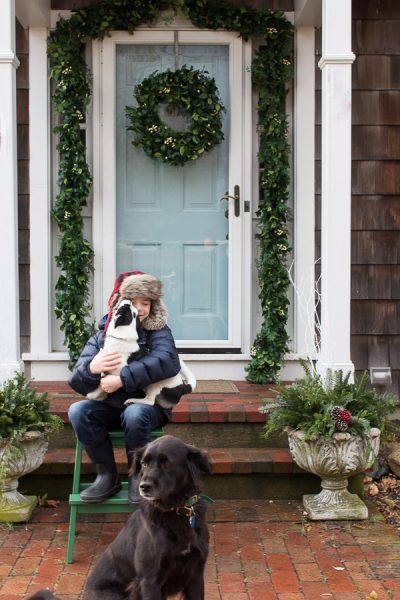 If you want to decorate with real greenery I have a simple tablescape I shared the other day click here.