As the weather gets cooler, I like to replace my lunchtime salad with hearty ratatouille. This easy one pot meal is a crowd pleaser.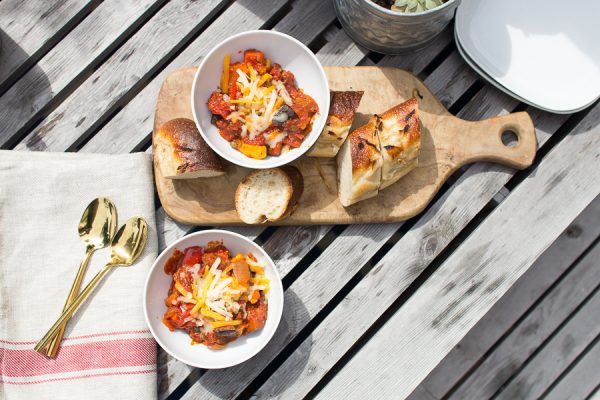 This is a dish I grew up with. The smell of it simmering on the stove takes me right back to my childhood, the warm herbs filling the air. Luke works from home so we usually eat lunch together either on the deck (if it's warm) or inside.
I really love connecting over lunch.
It's so important to have a break in one's day.
I feel so lucky to have someone to share this lovely meal with.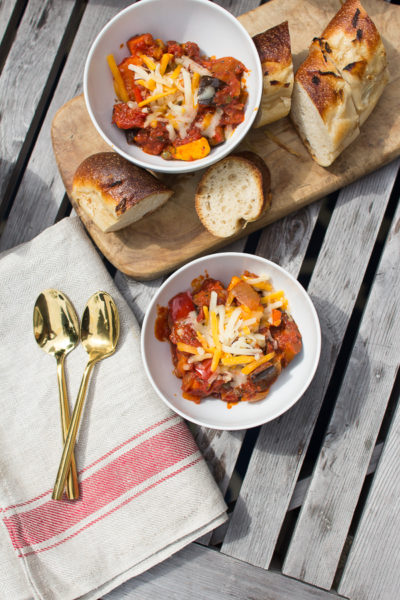 What I love about Ratatouille, other than it being fool proof, is that you can pretty much throw in whatever vegetables you have on hand. For this particular batch I used a whole eggplant (or aubergine as my husband calls it), peppers, onions, sauce and my secret ingredient is capers.
I usually do a big batch in my Le Creuset Dutch Oven . (affiliate link)
It lasts all week.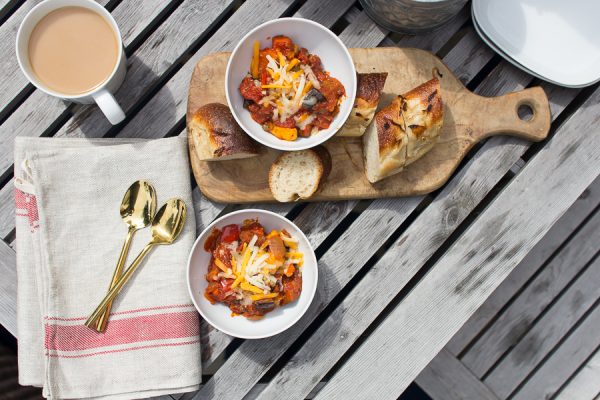 We're back on the Whole30 (day 4 today) so will be refraining from bread and cheese but this is whole30 and Paleo approved 😉
I love having it in small bowls as a main course, but it is also lovely in sandwiches (cold) with grated cheese. A Ratatouille sandwich brings me back to Uni days in Bristol, England. We used to go to this fabulous shop called A La Bonne Bouche. They made these Ratatouille Sandwiches. I'd always crave them.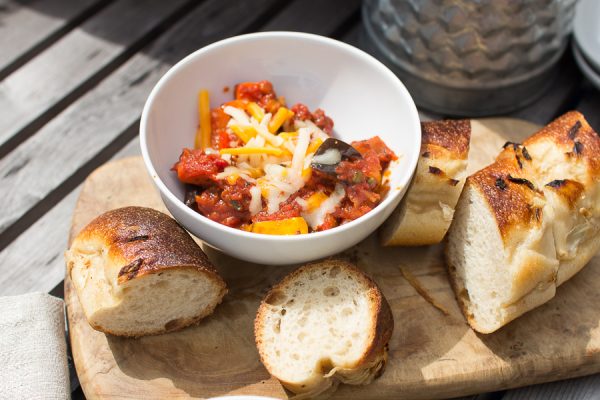 It's lovely over spaghetti squash or pasta and is also delicious with grilled meats or fish. Yum!
How do you make it? Here's there recipe card:
Hearty Ratatouille
Recipe Type
:
Main Course or Side
Author:
Prep time:
Cook time:
Total time:
Ingredients
1 Eggplant – Roughly cubed
2 Peppers – Roughly chopped
1 onion – chopped
2 cloves of garlic – chopped
1 jar of sauce – I Love Rao's
2 tablespoons Capers
Herbs to taste – I use pepper, salt, oregano, basil, parsley, herbs de provence
Olive Oil
Instructions
Heat Olive Oil in a Dutch oven while chopping the vegetables.
Chop the Eggplant and pat dry. Cook eggplant until lightly browned. Add chopped onions, garlic and peppers. You can add any other vegetables you love or have on hand.
Once the vegetables are softened add a jar of sauce.
Add herbs and capers.
Simmer for about 40 minutes.
Serve with warm crusty bread or top pasta with it or serve it with grilled fish or meats.
Enjoy!
I wish I could tell you our boys love this recipe but there's just too many veggies in there right now for them.
Please let me know if you try it at home!