I think everyone is trying to be more healthy as a new year starts. I know we are. Two years ago we did the Whole30 and it was amazing! We did it twice and I lost 15 pounds and Luke lost over 30. We felt so good but somehow we got off the Whole30 wagon. I will be 40 in May so I really want to be fit and healthy for that milestone.
I'm not sure it is possible to stay on the Whole30 for an indefinite period – I like a cocktail here and there and some dairy 😉 BUT we're going to try to be more paleo and eat more vegetables. We're also going to be mindful of sugar and being more active with our kids and dogs.
I know it's a lot….
But one day at a time.
Today, I wanted to share a simple salad recipe that works from fall through winer and is packed with delicious flavors of winter.
Healthy Winter Salad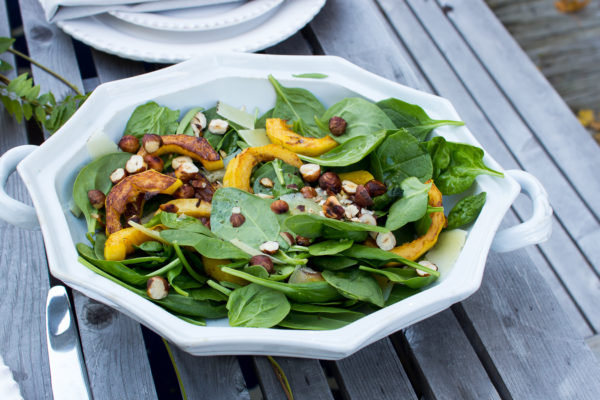 I took these photos back in the fall but I often eat this for lunch or as a side for dinner. If you're having company it is so easy to pull it together too.
As I write this, our deck is buried under over a foot of snow. I'm longing for lazy days out here on the deck.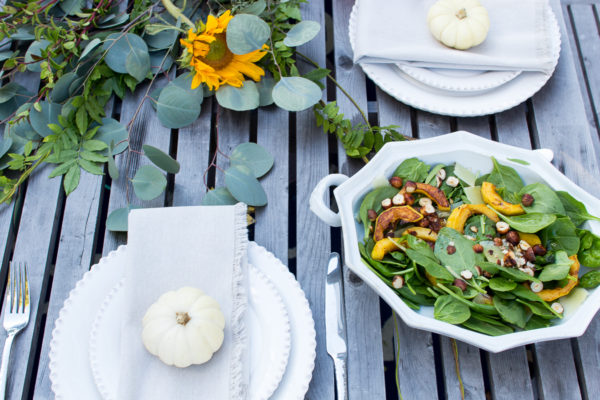 Here's how to make this easy and healthy salad:

Healthy Winter Salad
Easy and healthy salad to celebrate winter.
Author:
Danielle Driscoll
Ingredients
Baby Spinach or Baby Kale
Toasted Hazelnuts
Manchego Cheese
Garlic Expressions Classic Vinaigrette
Delicata Squash
Instructions
Wash salad greens. I love using baby kale for this recipe. Once washed place in serving bowl.
Toast and chop hazelnuts, put aside
Skin and seed a delicata squash. Slice and either grill or cook in olive oil in a cast iron pan until golden.
Slice Manchego cheese into thin pieces.
Layer cheese, squash and nuts into salad.
Toss with the dressing.
Optional - add grilled chicken or fish.
Serve and Enjoy!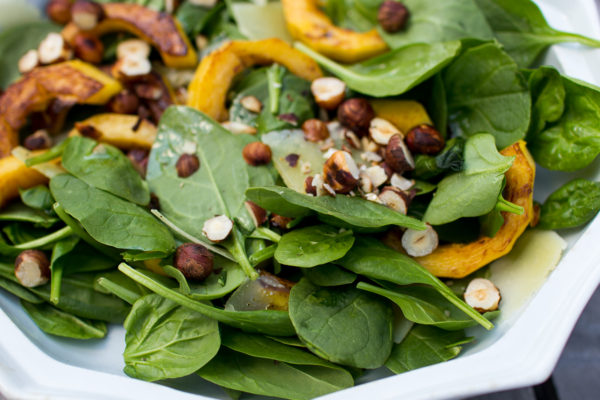 Aren't the colors fabulous?
I LOVE making my own dressings but sometimes it's easier to use ready made.
This post contains affiliate links to shop the look of our home which allows us to make small percentage from the sale. To read our full disclosure policy click here. Thank you for supporting our blog this way.
I'm loving this salad dressing. It has whole garlic cloves in it and it is phenomenal. It does have a little sugar in it. It is also great as marinade for grilled meats or fish.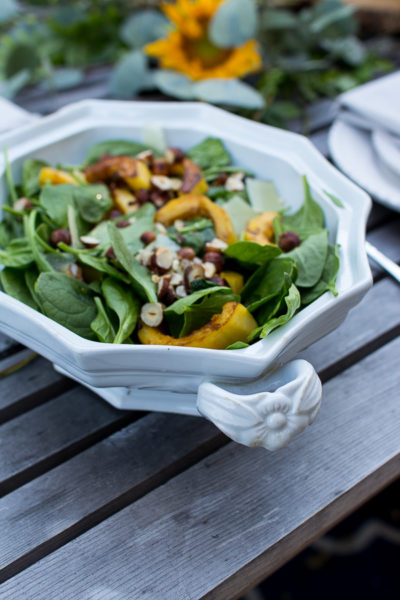 The flavors are wonderful. The grilled squash has an almost caramelized quality while the nuts give a meaty texture. The Manchego cheese takes me right back to Spain, and the tapas we enjoyed there. You can read about our trip here and here. I can't believe that trip was a year and a half ago. Wow. Time goes so quickly…
Here's a glimpse of the full tablescape: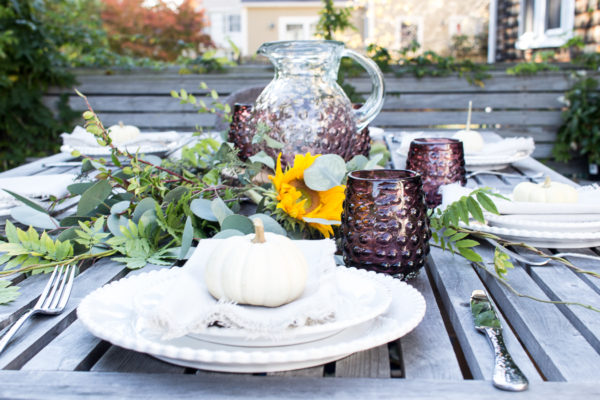 Shop The Look


If you're looking for some more healthy recipes, you might like these:



Coronation Chicken with Homemade Mayo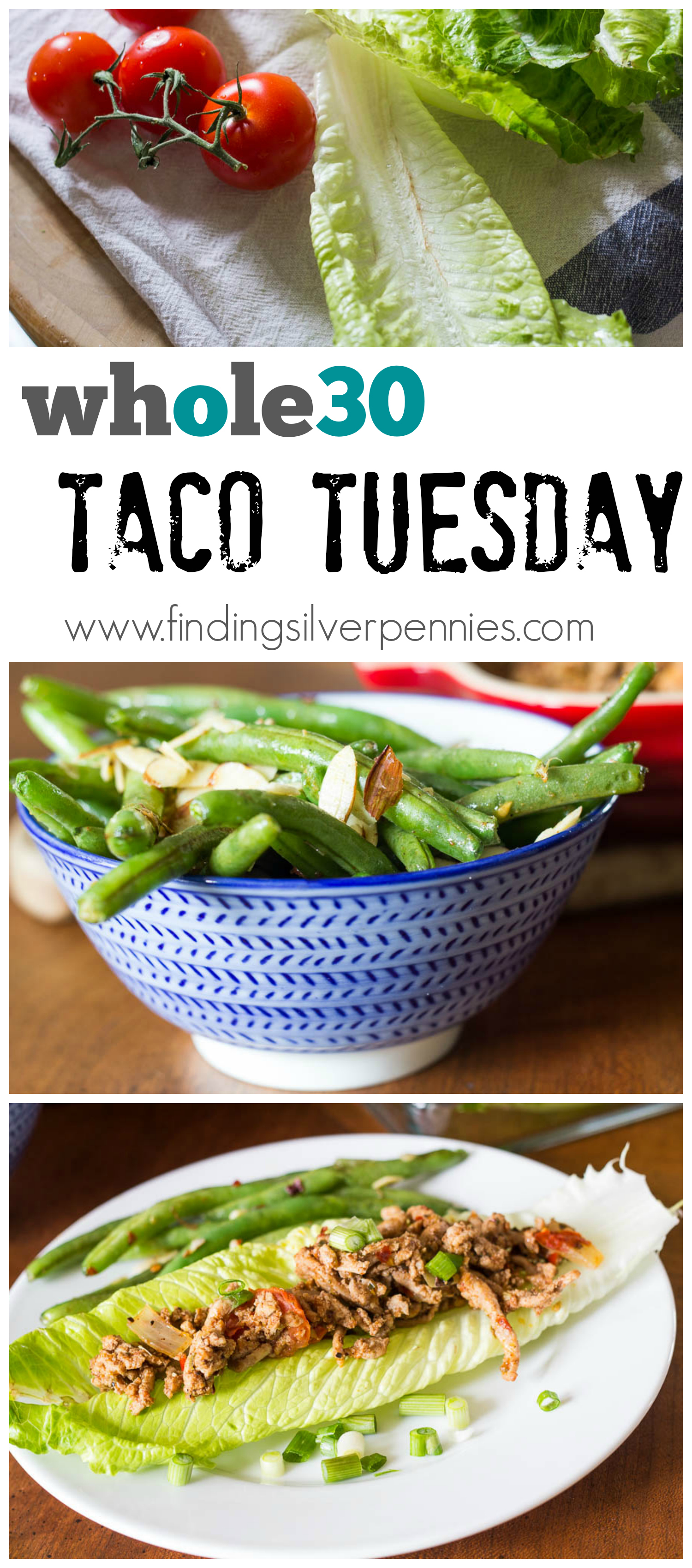 Hope you enjoy them as much as we do!
Sharing with:
Home Stories A to Z * French Country Cottage * Shabby Art Boutique * The Inspiration Exchange