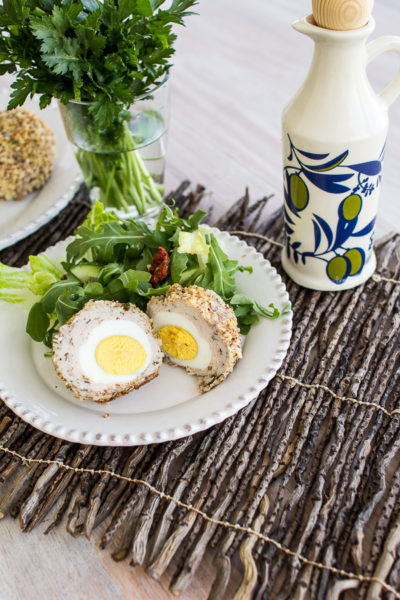 If you aren't from the UK or never been to England you may be scratching your head at today's blog post.
Who may be wondering what exactly a Scotch Egg is!
I must admit before I tried one, I thought to myself, "Yuck, that sounds gross!" My hubby LOVES them and I was introduced to this lovely food when I studied abroad and we consumed many Scotch Eggs over the years (at parties, picnics and lunches). For those who don't know, a Scotch Egg is a hard boiled egg wrapped in sausage meat and coated in breadcrumbs baked or fried. One can eat them cold or warm – delicious either way.  Fortnum & Mason, the London department store, claims to have created them in 1738 but they may even be older than that.  In Victorian times they were quite popular on picnics.  Can you picture Jane Austen eating them?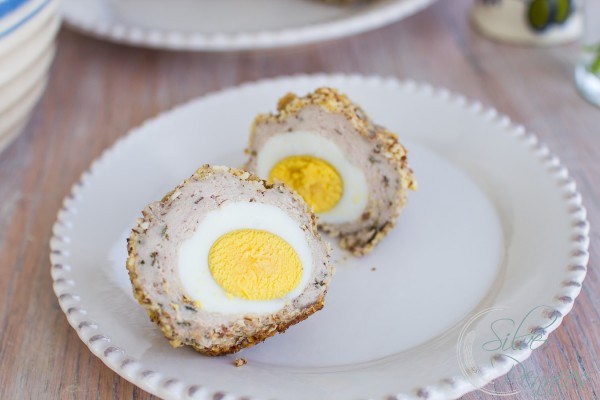 Anyway, we've decided to go back on the Whole30 (Well, kind of), we may have a glass of wine here or there but really trying to get fit as beach season is swiftly approaching.  I thought It would be fun to make Paleo Scotch Eggs which would be fine for the Whole30 too. These make the perfect lunch as they are so filling and have so much protein, especially with the meat, egg and added almonds.
Want to learn how to make them?
Here's the recipe!

Paleo Scotch Eggs
Healthy variation on the traditional English Scotch Egg.
Author:
Danielle Driscoll
Ingredients
2 lbs Ground Pork
Pinch of Salt
Pinch of Cinnamon
Pinch of Nutmeg
2 Cloves of Garlic, minced
2 Tablespoons Bouquet Garni
8 Large Eggs, hard boiled and peeled
3 Cups Almond Flakes (Optional)
2 Large Eggs, raw (Optional)
Instructions
Hard boil 8 eggs and remove shells once cooled.
Preheat oven to 350 degrees F and line a baking sheet with parchment.
Mix 2 lbs of ground pork with all the spices and garlic, mix with your hands until well combined.
Divide the pork mixture into eight equal parts. Wrap the meat around each hard boiled egg.
Grind up almond slivers to make coating and place in a shallow bowl.
Beat two eggs in shallow bowl and dip the the uncoated Scotch Egg into the egg and roll into the almonds to coat.
Place on lined baking sheet, bake in the oven for 25 minutes. Turn the oven up to 400 and cook for an additional 5 to 10 minutes to crisp up the almond coating.
Serve warm or cold with salad!
I love having mine with a fresh green salad. I like to use romain, arugula, diced cucumber and sun dried tomatoes. I also like to make my own dressing.  I mix olive oil, lemon juice, a touch of balsamic and fresh chopped parsley.  It is so delicious.  I'm loving the cold pressed unfiltered olive oil from Trader Joe's that is from Tunisia. It is so rich and thick. I love it.
Will you try our Scotch Eggs?  I think you might just love them!

Sharing with: