In the summer, when it's hot, so hot you want to jump in the freezing Atlantic, I crave salads.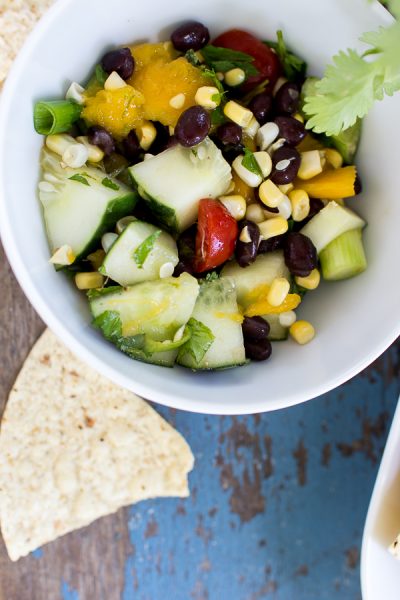 This corn summer salad is one Conor and I made up. We love to experiment in the kitchen, he tells me he wants to be a chef one day.
I realize his desires might change as he grows, he's only 7 after all, but I try to let him help me as much as he wants to.
This salad is a great one for little helpers, if your children or grandchildren like to help out too.
It's super easy and can be thrown together with stuff you have on hand.
The base of the salad is sweet corn, straight off the cob.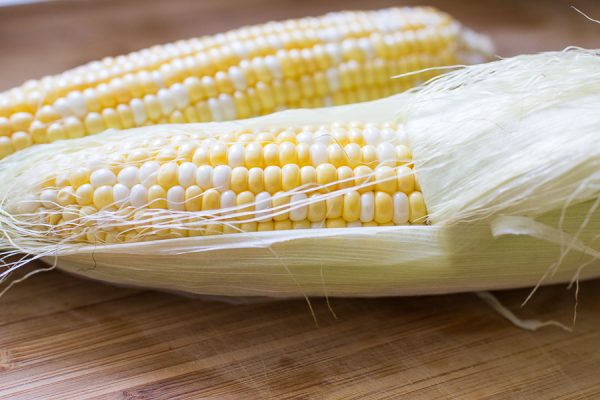 Corn always reminds me of summertime.
When I was just a little girl, and we lived out in the country, the closest we had for fruits and veg, was a farm stand. I remember my excitement each time my mom said we were gonna pick up sweet corn from this stand. I can still taste this salt and pepper corn. She used to boil it in a big pot and I'd load it with butter. I still have the plastic corn on the cob holders and we use these for our own corn on the cob with the kids. I wish we had a little farm stand like that one in West Andover. I try and take our kids to the farmers' market as much as possible and we're growing vegetables in our backyard garden.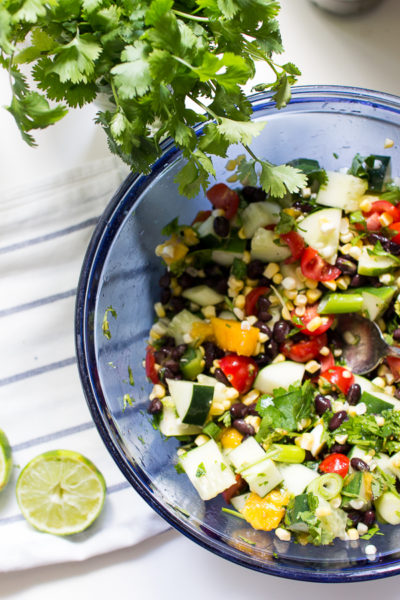 I always thought you needed to cook corn, but I was reading The Magnolia Journal (affiliate link) and there was a corn salad in it and you didn't have to cook the corn. You can take it right off the cob, raw, and let it sit in the salad during the day and marinate. That salad had cheese and tomatoes and dill and was delicious so you should try and pick up a copy.
My salad has no cheese so if you're gonna take it on a picnic, or have it at a BBQ, where it could sit in the hot sun there's no worries about it going bad.
The boys and I love cilantro, and Tex-Mex flavors.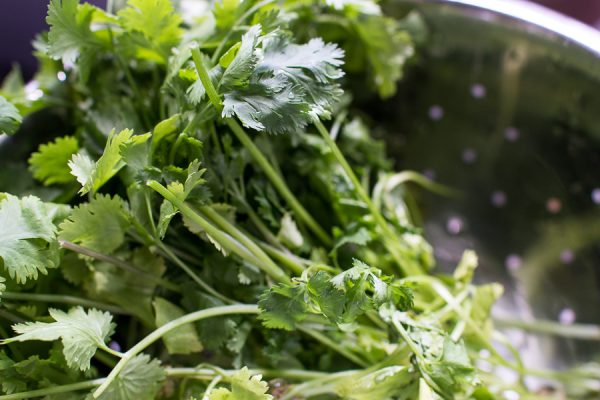 So Conor and I thought it would be fun to include this fresh herb and some fruit juices.
I'm delighted how this recipe turned out.
I made a huge bowl in the morning, with Conor, and we brought it out on our friend's boat, for that night. The corn was tender after marinating in mango, lime and cucumber. It's a refreshing side with grilled meats or fish, but equally tastes great with tortilla chips.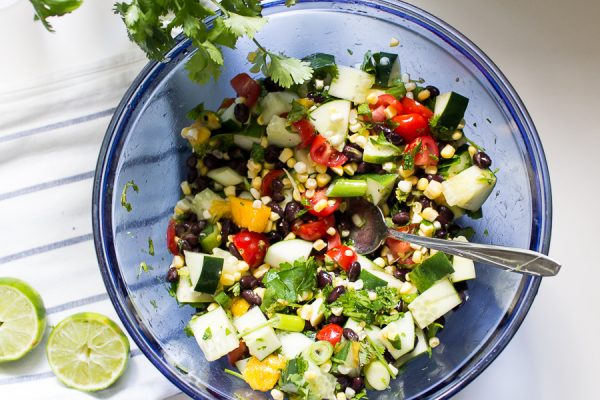 We like it both ways!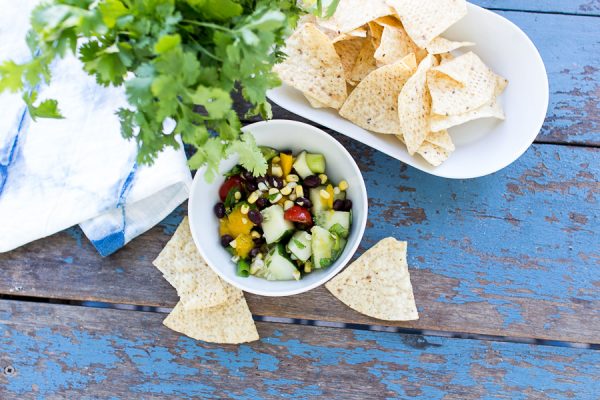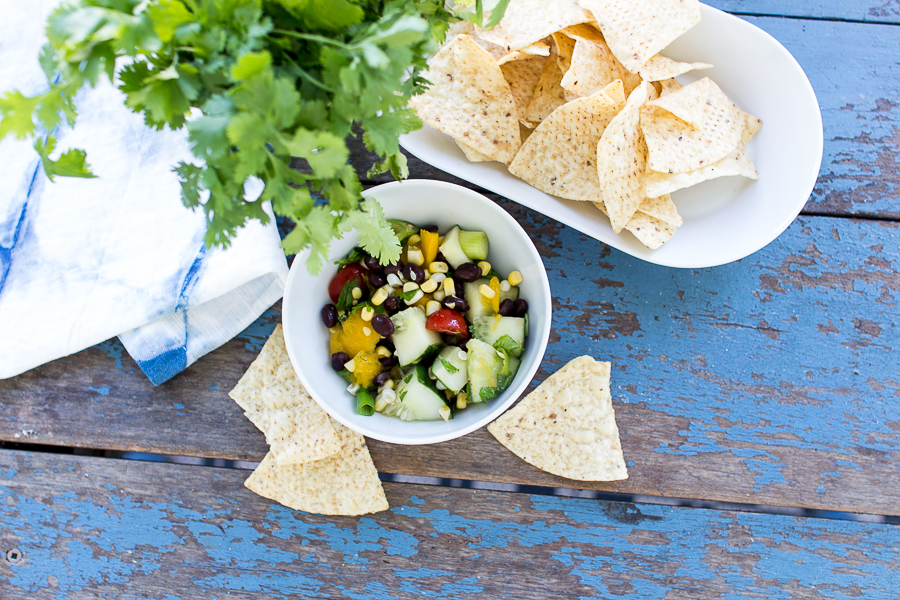 Here's the recipe below.
Corn Summer Salad
A refreshing corn salad! Take corn straight off the cob and pair it with fresh citrus, sweet mango and flavorful cilantro. Great as a side with grilled meats or fish. Perfect with chips too!
Author:
Danielle Driscoll
Ingredients
4 ears of corn (raw)
1 cucumber (chopped)
2 Scallions (chopped)
1 Can of Black Beans
Juice and Zest of a Lime
Chopped Mango (plus the juice)
1 pint of grape tomatoes (slice in half)
1 Bunch of Cilantro (roughly chopped)
Salt and Pepper, To Taste
Instructions
Remove the husk and silk from the corn, cut the corn off the cob and put it in a large bowl.
Chop cucumber, scallions and cilantro and place in the bowl.
Zest and Juice a lime.
Chop mango and place into bowl. Try and squeeze some of the juice in your bowl.
Slice tomatoes in halves and place into bowl with the rest of the ingredients.
Drain a can of black beans and place into the salad.
Season with salt and pepper, to taste.
Stir until combined. Place the salad in the fridge to cool for a few hours and serve with grilled meats, fish or as a side with chips.
The juice of the mango and the lime make it so refreshing. Adding fresh lime zest also intensified the flavor. We've already made it so much this summer.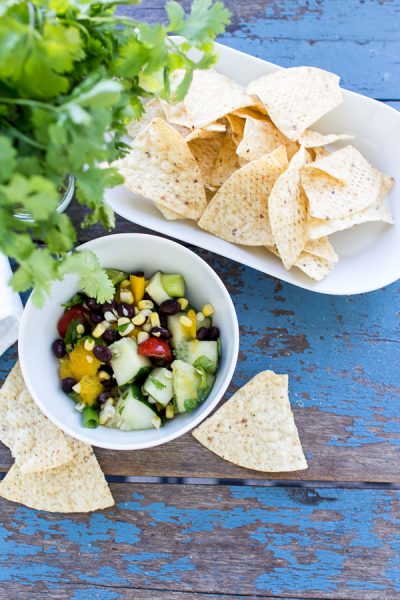 I hope you guys will give this one a try!
I'm packing up and heading to Atlanta early tomorrow morning for the Haven Blog Conference. I'm so honored to be a mentor this year. I'll be sure to share more when I get home!
You'll see some posts on social media, but the blog will probably be very quiet until I'm back (except for the link party on Sunday which will be scheduled as normal).
I might try and make a batch of this so Luke and the kids can enjoy it while I'm away.