There are so many ways to style affordably for summer. I thought it would be fun to share my easy summer styling tips today!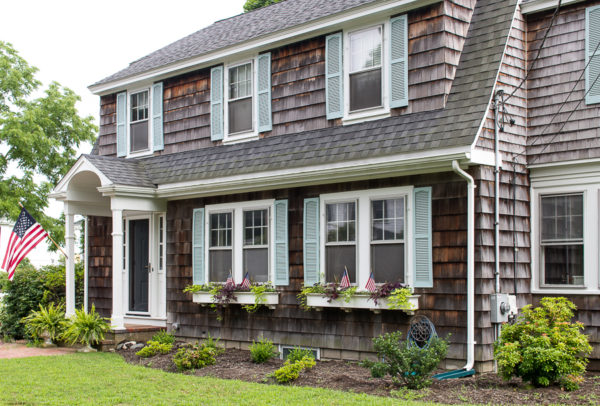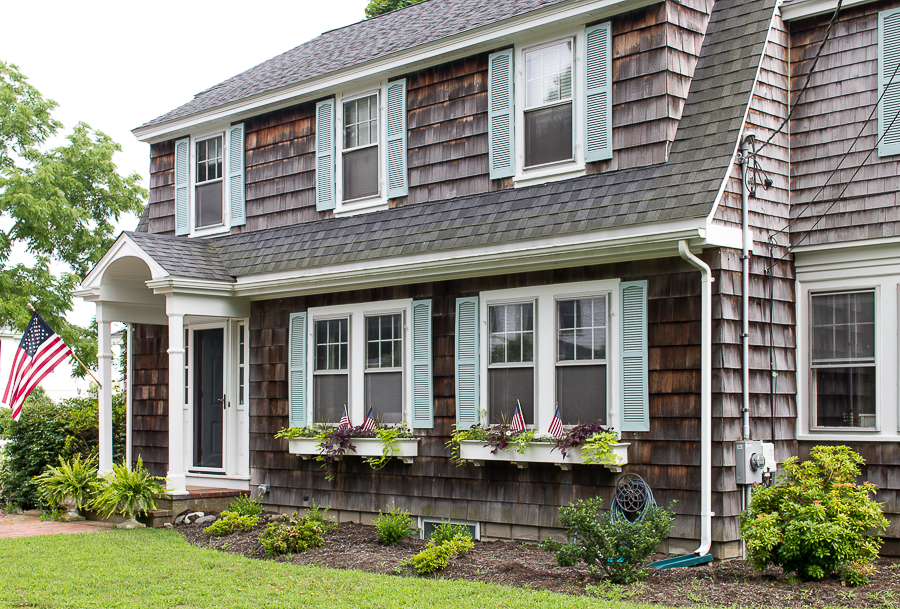 It was a whirlwind of a weekend in Atlanta at the Haven Conference, I'll share more about that later in the week. Today, I'm excited to be taking part in a summer home tour with my friend Kelly over at The Tattered Pew.
We thought it would be fun to share some easy summer ideas now that we're in the middle of summer, and boy, it's hot here in our coastal town.
If this is your first time to my blog, I'm Danielle and I live on Boston's South Shore with my husband, our two little boys and two rescue dogs. We live in an old shingled home that I fell in love with the moment we saw it!
I shared a Summer Home Tour, earlier in the season, click here to see that post.
I thought it would be fun to share some helpful tips for some easy summer styling which I'll share throughout the post.
Window Boxes Can Dress Up a Home's Exterior
I love to dress up the front of our home with window boxes. Our's are very long so I always have to buy many plants to fill them. I always do some sea grass for height, trailing vines (these are sweet potato vines) and some flowers. I love when the vines grow long by fall they will be trailing on the ground. I think it looks so romantic.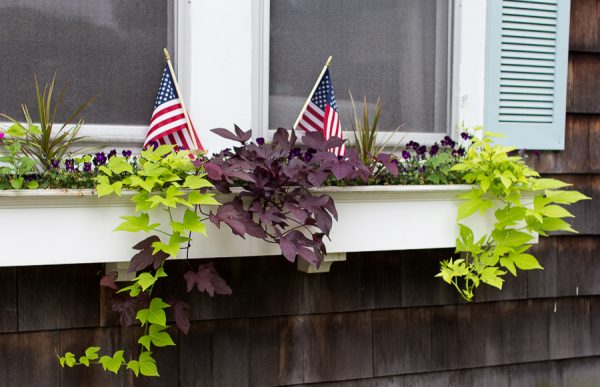 Affordable Flags Add a Patriotic Touch
I think the flags were a $1 a piece. I put them in for the 4th of July but they'll probably stay there all summer.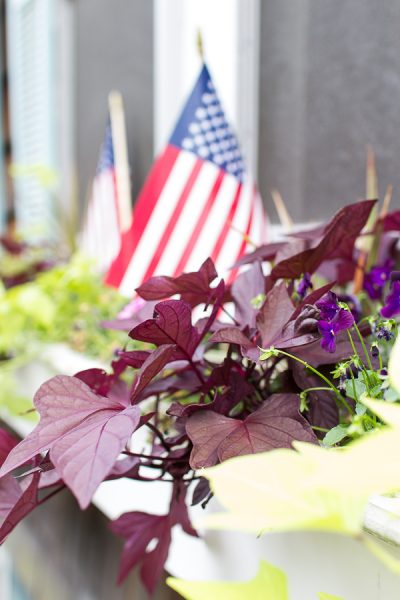 Blue is a Welcoming Color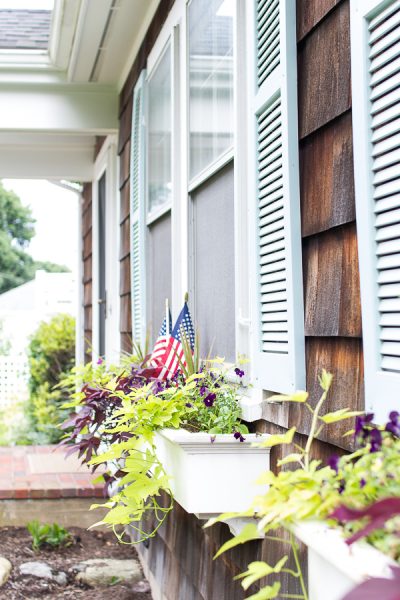 I painted our front door and shutters a beautiful shade of blue. It's Buxton Blue by Benjamin Moore. I get so many questions about this hue. It truly is the perfect blue. It's such a happy color! I shared more of my favorite colors for homes the other month.
Use Hydrangea as a Border Plant
Our driveway is lined with pretty blue hydrangeas. I love clip them to use for beautiful arrangements in our home.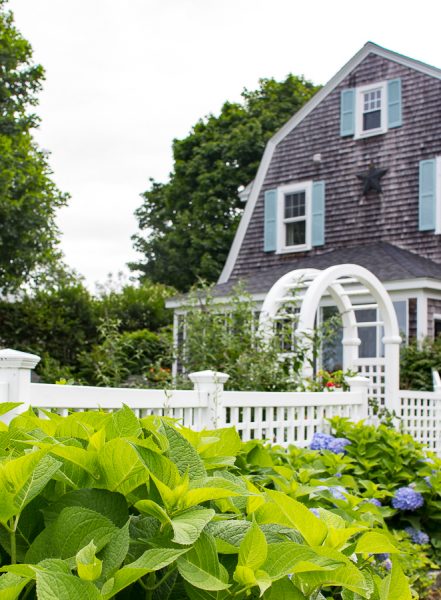 Hydrangeas can be tricky, but they really love this part of our yard. You can read some of my growing tips here.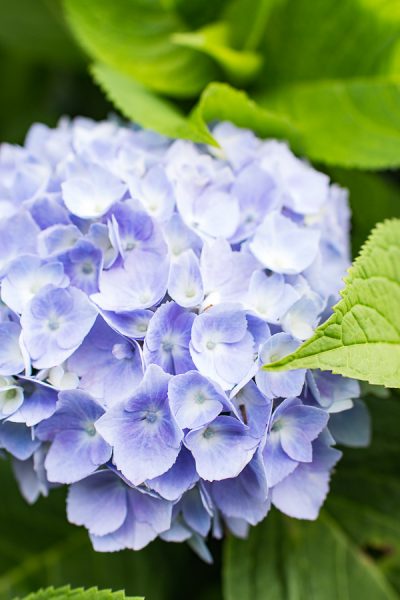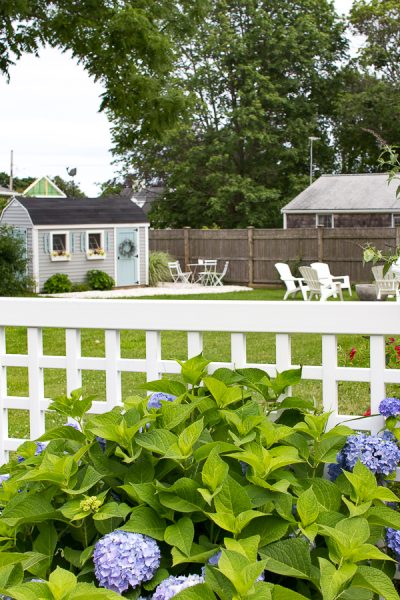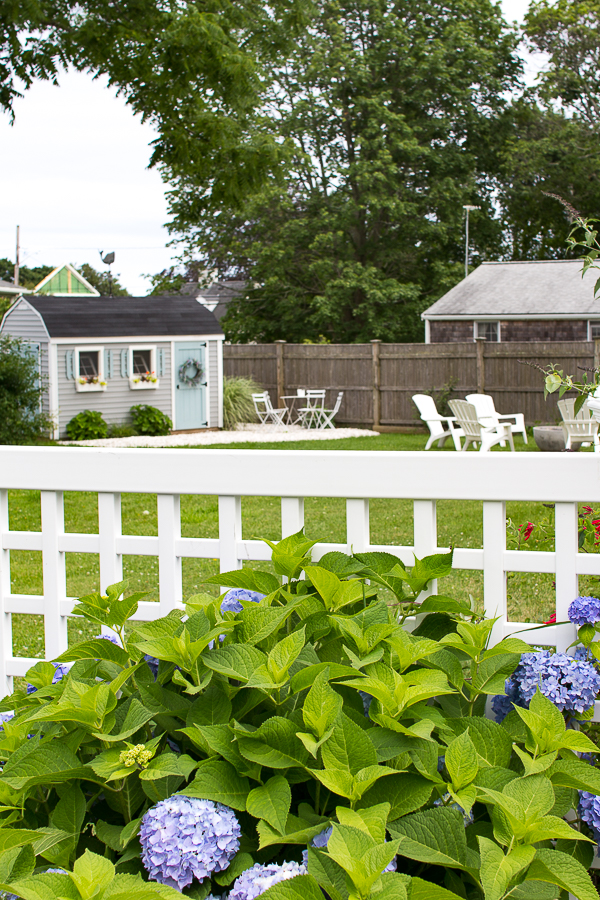 It's been sweltering here by the sea recently. Phew. Hot, hot, hot.
So hot that we've been spending time outside in the ocean air (we don't have air conditioning).
Come on outside and see some of outdoor spaces.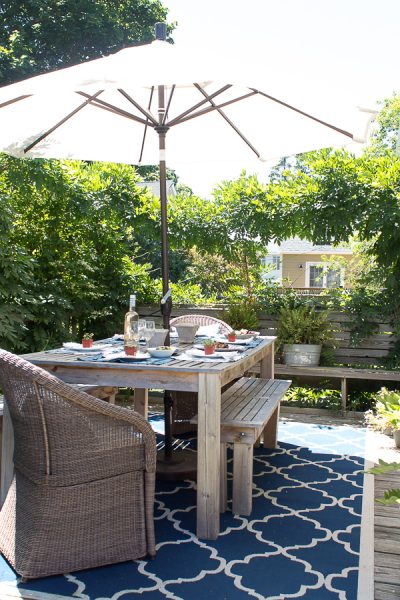 Our deck is the perfect spot for a coffee break or an informal gathering. We love entertaining out here.
Succulents Are Fun Party Favors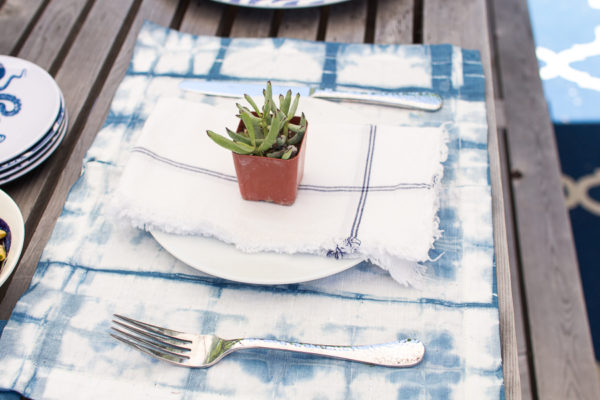 These easy to care for plants look adorable a top a napkin waiting for your guests to arrive.
Don't Turn on the Oven
It's hot enough as it is without having to turn the oven on. Keep it simple and carefree by grilling meats and fish. Have your guest bring sides and you can whip up my Easy Corn Summer Salad in the morning. You probably already have all the ingredients and this one is so healthy!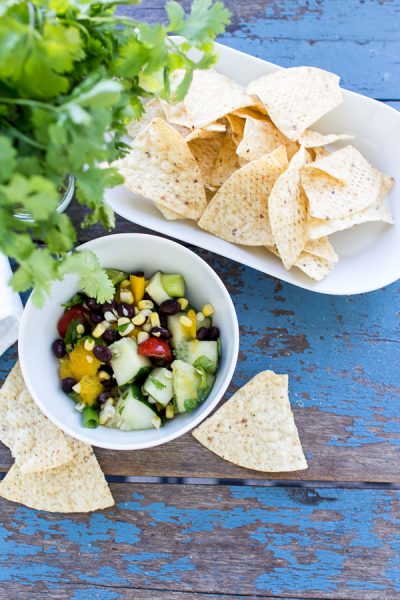 Mix and Match

 
I don't like matchy matchy. Instead I think it's more fun to mix textures and patterns. I made my own DIY shibori placemats. Mixing the different styles made my tablescape fun. There's an understated elegance to it.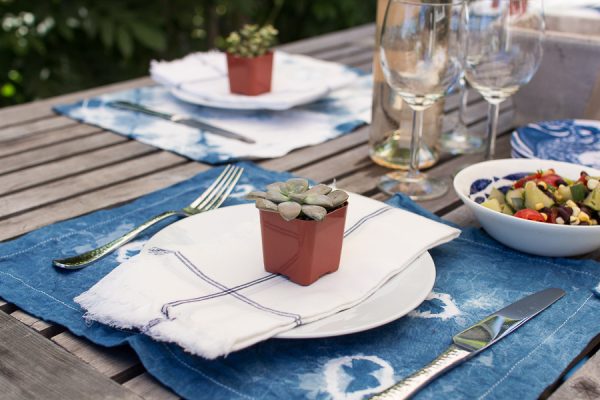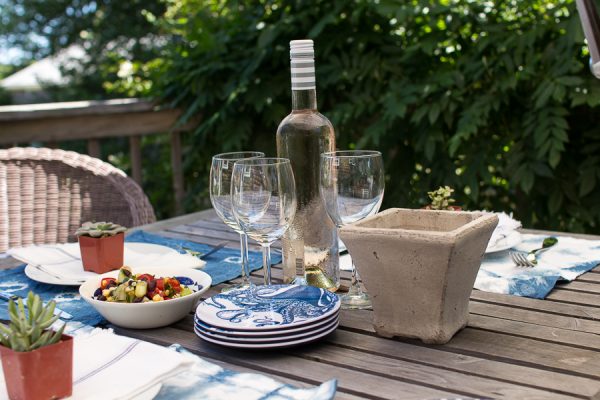 Rhubarb Infused Is Always Good
We love tending our garden. Conor, our youngest, is always eating cherry tomatoes straight from the bed! Another hit is our rhubarb.
So far this summer we've made Rhubarb infused cocktails: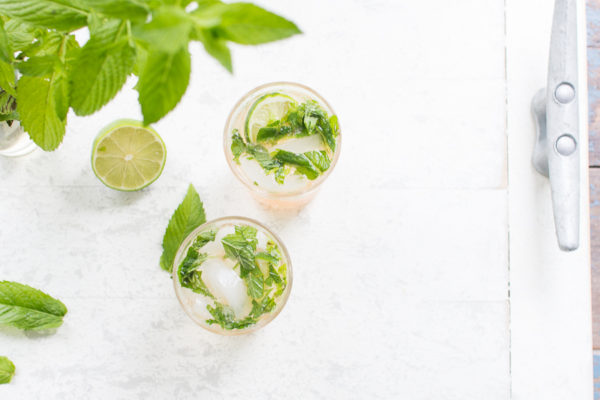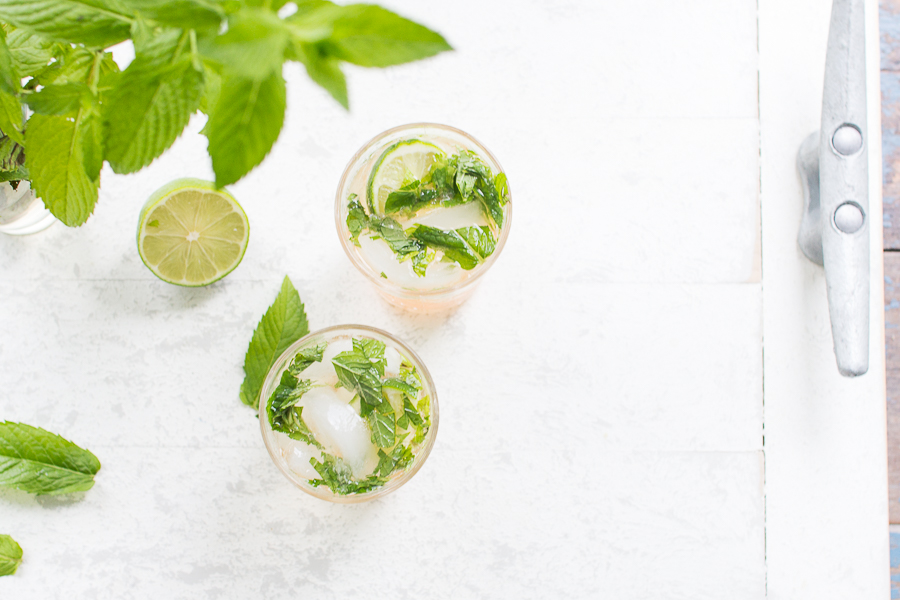 Grown ups will love them! But if you're looking for a treat with rhubarb for the kids, try our Strawberry and Rhubarb Crumble. Our boys loved it!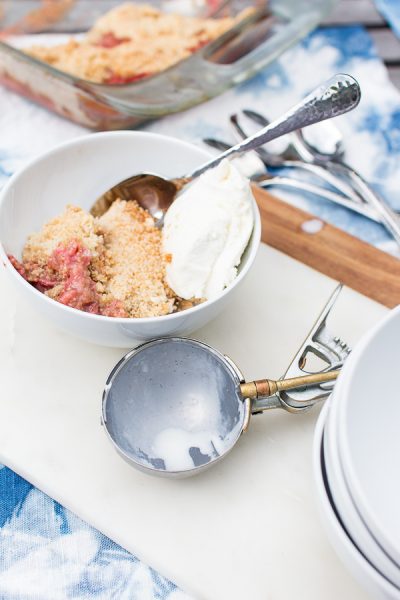 Summer is Time to Relax
I love the slower pace of summer; the lazy days with the boys and the dogs. I like making time for treasure hunts or building forts on the beach. Life is hectic enough. When I'm looking for relaxation, I look to our own back yard. We've created many spaces that are perfect for rest and relaxation.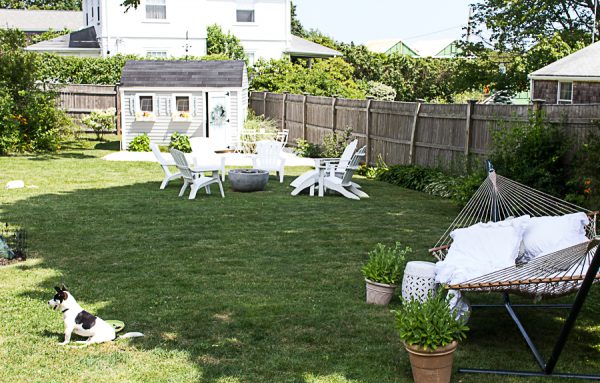 A few years ago we gave Luke a hammock from LL Bean for Father's Day. I love how hammocks look swung from trees but we only have one large tree in our yard.
Swing in a Hammock
I'm actually going to write a post about this pretty shabby chic hammock but I couldn't resist sharing a few photos with you today! It truly is so relaxing to swing in a hammock. I love bringing some seltzer water out and a stack of magazines. It's heaven!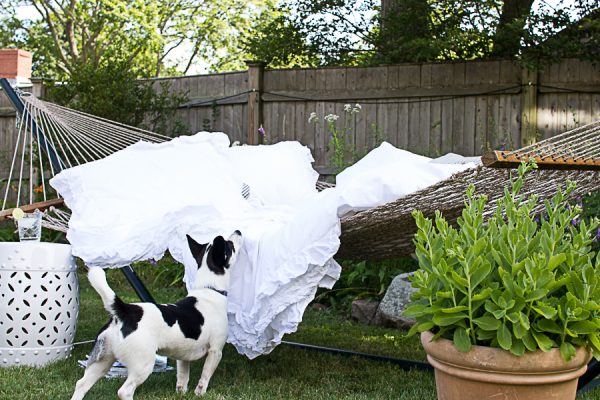 Use Bedding and Throw Pillows Outside
Our shabby chic bedding and living room pillows were repurposed outside for the most comfy spot! Throwing a duvet on a hammock makes you feel like you're floating on heaven, especially if you're duvet is filled with feathers.

Add a Slice of Lime
A slice of fruit can amp up boring seltzer water any day.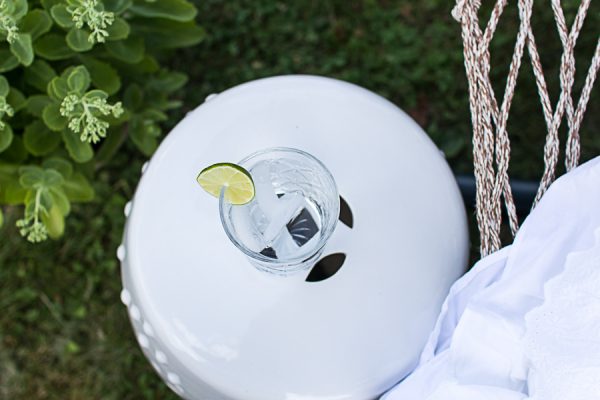 My "go to" summer sip! So refreshing and hydrating.
Last but not least on my little tour is my She Shed.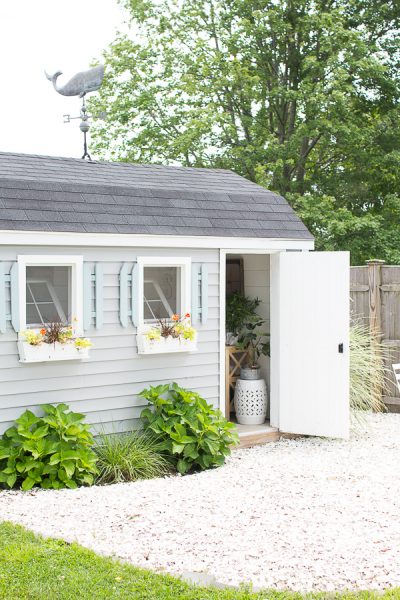 Quiet Time is Important
Many mornings before anyone is up, you can find me out here. Reading or writing. I'm a morning person and love the tranquility of my she shed.
Crushed Shells Add Texture
We added the crushed shell patio in the spring and I love the coastal touch it adds to our seaside back yard. The shells just look so pretty out there.
Do you want to take a peek inside?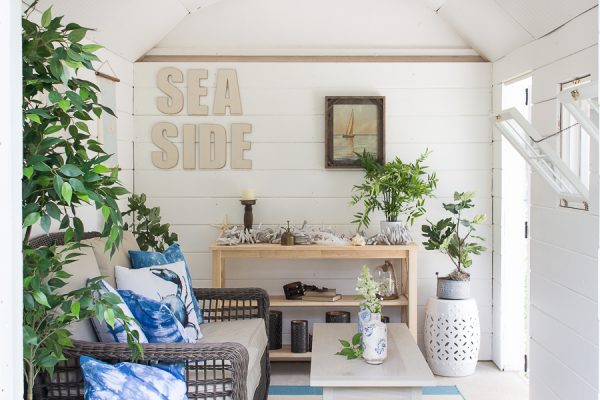 Shiplap Walls are Always Fun
Our shed is from The Home Depot and it was pretty basic on the inside with pressure treated wood. We added shiplap panels to the wall to make this space feel larger but also add visual interest. I painted the shiplap in white, a color that reminds me of sailcloths, but I also love planks in wood stains and black.
Using Text and Fonts in Decorating
I'm a huge fan of quotes and text in room decor. I love my Sea Side sign that is done in burlap letters. These simply stick on the wall.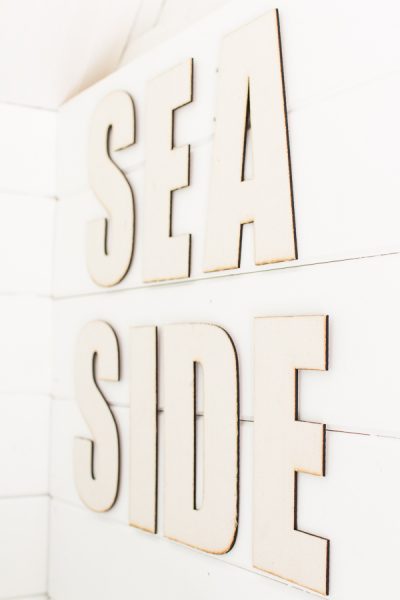 Style with Flowers from Your Garden
Never underestimate the wonders that are in your own yard. I style with flowers, branches, rocks, sometimes even weeds (ha! ha! yup, weeds).
These aren't weeds but pretty mountain hydrangea.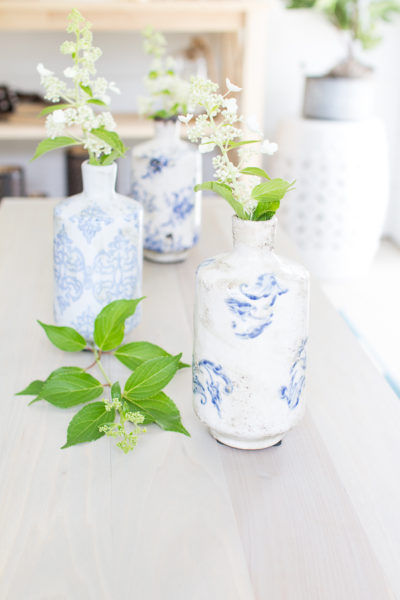 Aren't they pretty in simple blue and white bottles?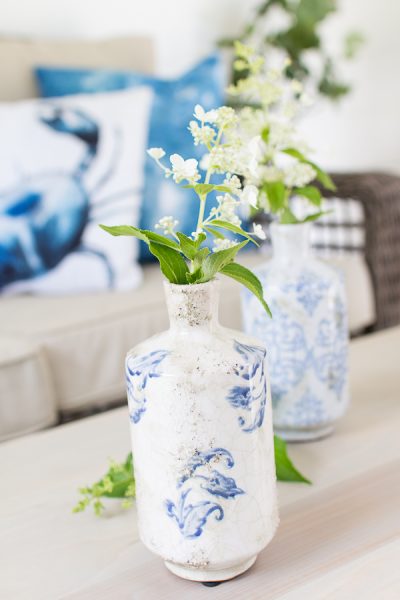 I also did shibori on these simple pillow covers. I'll be sharing more about them in a later post. 😉 I can't get enough of shibori this summer as a fun project with my kids.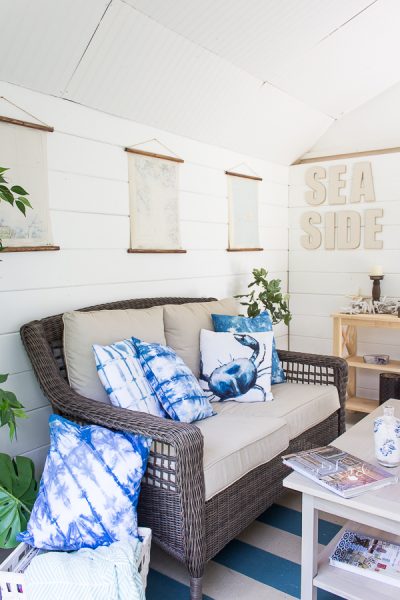 As I write this, I'm so excited to share that our butterfly bush is in full bloom.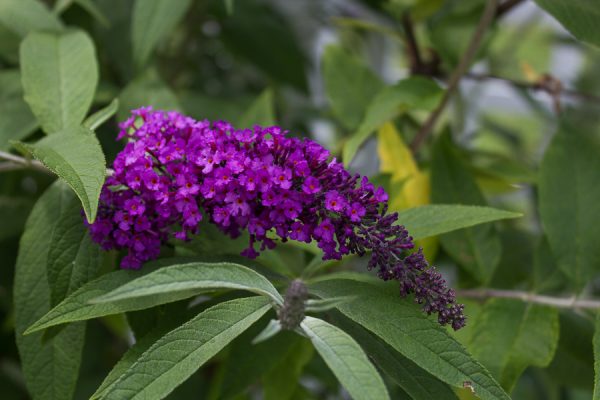 We had such a strange spring here in New England. It started growing early. I thought it wasn't going to bloom at all.
But now it has.
We're getting so many beautiful butterflies flying in our garden.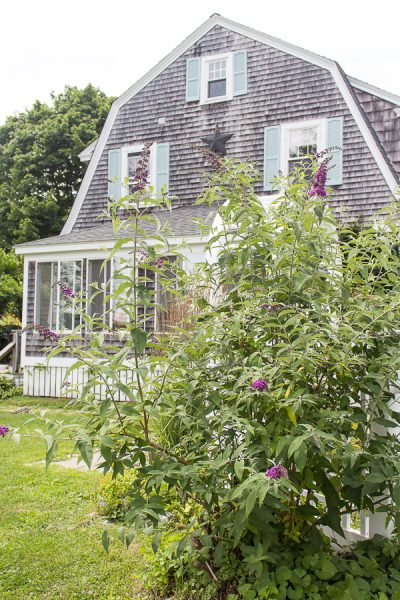 Thank you so much for joining me today for some easy summer styling ideas. Be sure to visit all the bloggers taking part below: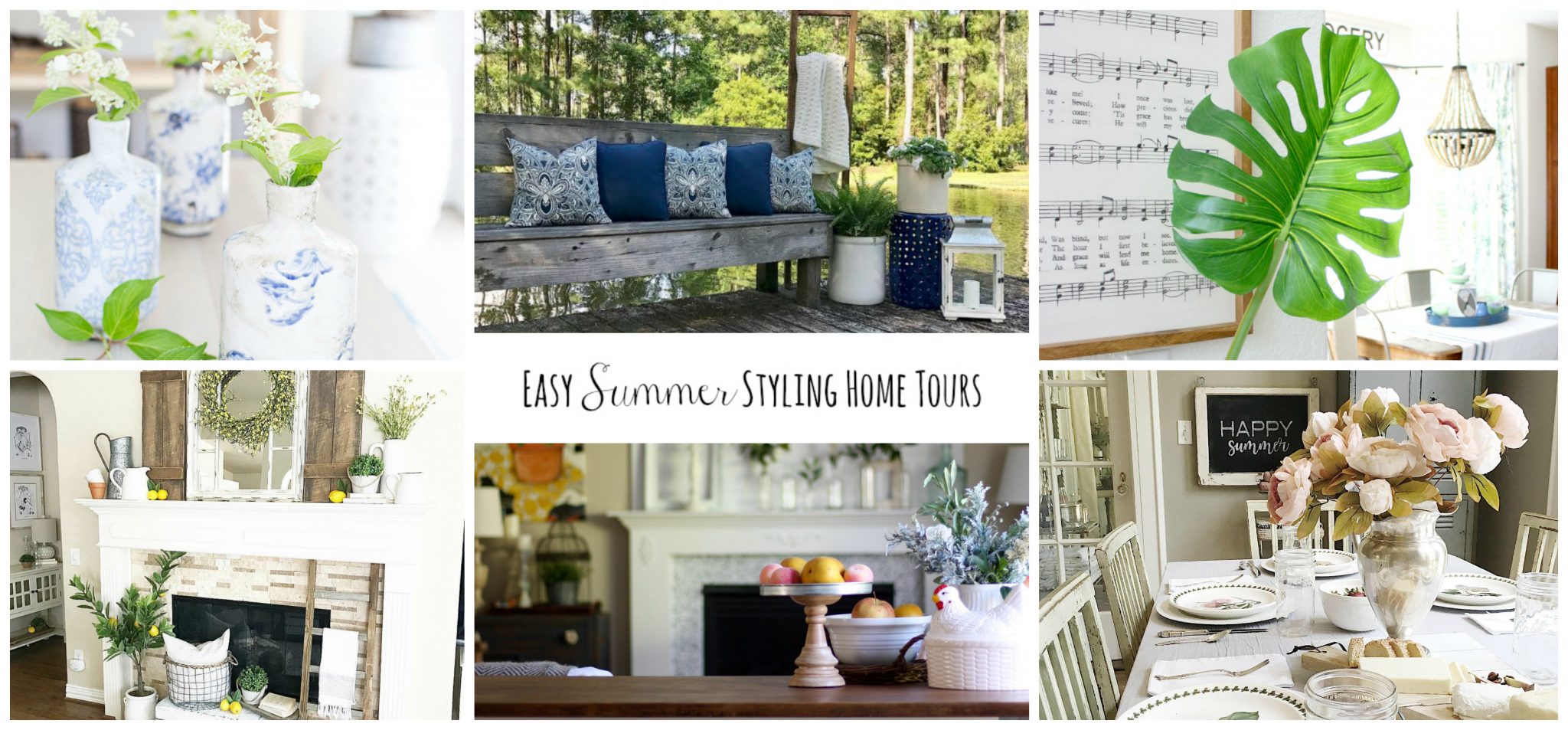 Crisp Collective * Bright Yellow Door * My 100 Year Old Home

Finding Silver Pennies * Cali Girl in a Southern World * 
The Tattered Pew * Cotton Stem