I'm back from HAVEN 2014 and I have sooo much to tell you!  So get cozy on your couch with a cuppa because I'm going to fit a whole 4 days into one tiny blog post.  Well, maybe not tiny, but hopefully by the end of this you'll feel like you were there (if you didn't get to come this year).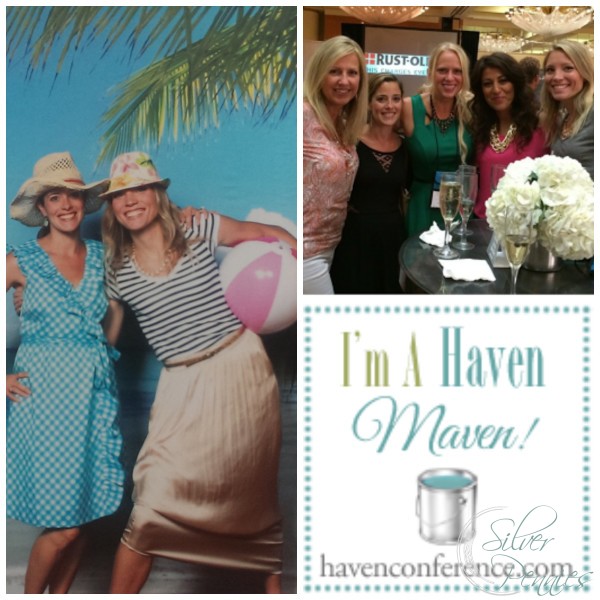 My journey started in Boston.  Luke and the boys dropped me off and I met Jen from The Chronicles of Home.  We flew down together and talked non-stopped the whole flight there.  Jen is super creative and talented and does amazing home projects and upholstry.  We were supposed to be flying down with Kristin from Bliss at Home but there was a fatal accident on the route up from Connecticut.
So, we waited for her and Jennifer from Dimples and Tangles at the airport in Atlanta.  We had cocktails and salads while we waited –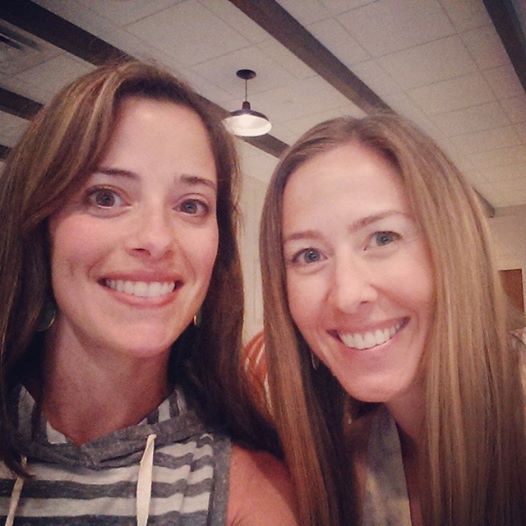 Can you tell we were so excited to be in Atlanta!  It was nice to have a catch up at the airport before going the hotel.
Oh, I guess I should admit here that the photos in this post (mainly are from my phone).  I just didn't want lug my big camera around.  I also didn't get a chance to take LOADS of photos because I was so busy chatting away.
Anyway, we got to the hotel and quickly changed for a cocktail reception to meet everyone. I found my dear friend Lucy from Craftberry Bush and Rachel from Shades of Blue Interiors and were pretty much inseparable –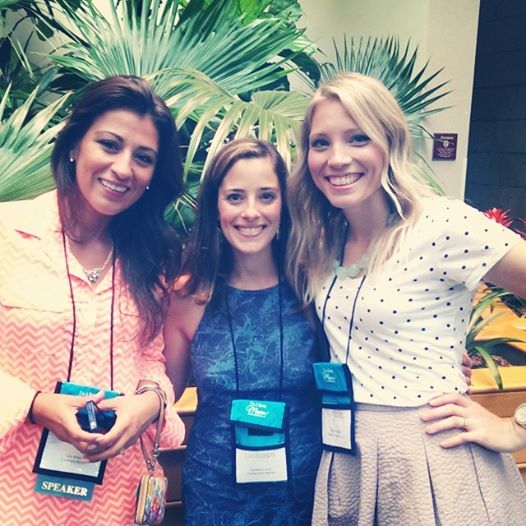 I love these ladies! They are beautiful on the inside and out!  So lucky to have them as friends.
After the reception, we went out to Maggiano's for some yummy Italian with some lovely ladies I made friendships with at the last conference – there was a whole gang of us 13 in all but I caught up mostly with Wendy from Front Porch Mercantile, Daune from Cottage in the Oaks and Heather from Setting for Four.  Dinner took quite a while…
Once I got back to the hotel, Rachel (my roommate) and I stayed up soooooo late.  I mean really late.  2:30am late talking about what else?!?  Paint!  She loves painting and staining and refinishing just as much as I do.  I think she's the only person who can talk about painted furniture as long as I can and not get bored.  We both fell asleep mid-sentence.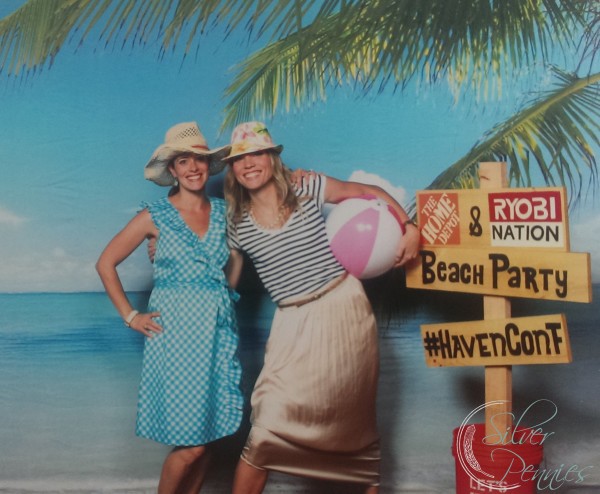 Morning and the first day of Haven was here before we knew it!  Chip Wade from HGTV's Elbow Room was the keynote speaker and he started the conference off with a pivotal question, one he always asks when designing "What If?"
What if we could make this possible?  Or using our skills and talent what if we could do ___________?  The sky is the limit, right?
The first day I went to four sessions – including a furniture building workshop, working with brands and a tiling workshop.  Oh, you guys are going to be so proud of me because I used the tile saw!  I did!  I don't even have a photo, but I did it so now I know I can tile our kitchen when we get to it.
We also went around and met so many fun sponsors and vendors.  Here we are taking a shower: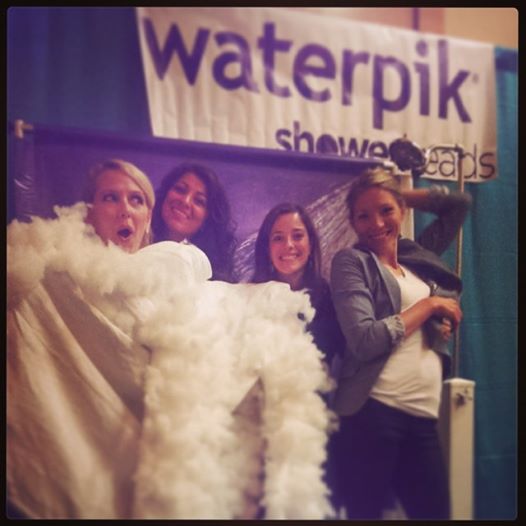 That is Daune, Lucy, Rachel and I in the "shower".  So funny! And here is the shower head Waterpik gave me in our shower.  As soon as I unpacked my bags, Luke put it up.  My boys love taking showers now and so do I!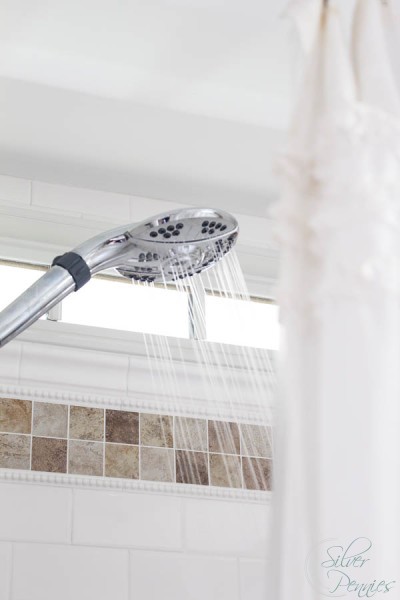 The last session I went to on Friday was taught by my friend Lucy from Craftberry Bush and Kristen from The Hunted Interior.  Kristen's beautifully staged photos and Lucy's artistic heart and soul made this class amazing.
I loved hearing Lucy's process on how she tells a story through her photography. Every project Lucy shares on her blog is beautiful and full of meaning.  I guess what doesn't come across in these photos or my writing, is just how genuine and loving and sensitive Lucy is.  Like any true artist she wears her heart on her sleeve and her passion is apparent in all she does!
This beautiful feather is a very good example.  She gave this watercolor feather to me when I arrived: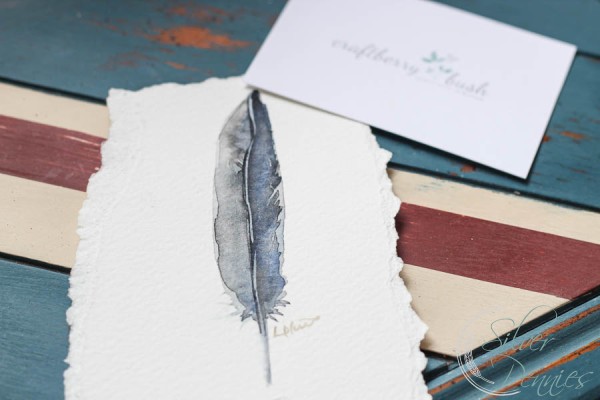 Hand written on the back:
"The meaning of life
is to find your gift.
The purpose of life
is to give it away."
-Pablo Piccaso
This is such a beautiful gift and so full of meaning.  I will treasure it and her friendship always!
That night was a fancy cocktail party hosted by Rust-oleum.  I enjoyed the prosecco, blueberries and St. Germain!  I only have these two photos (not taken by me) of that party.
We chatted lots with Beth (Home Stories A to Z) and Kim (Sand & Sisal).  Afterwards we spent some time in the Southern Living Garden with Wendy, KariAnne (Thistlewood Farms), Daune, Heather and Suzanne (Shop at Blu).
Saturday morning started with a photo on top of this GMC Yukon 2015 with Daune.  Wendy took it of us (we couldn't stop laughing) and then we went to Hobby Lobby.  My first time ever in the shop!  I had fun looking around the knobs and pulls.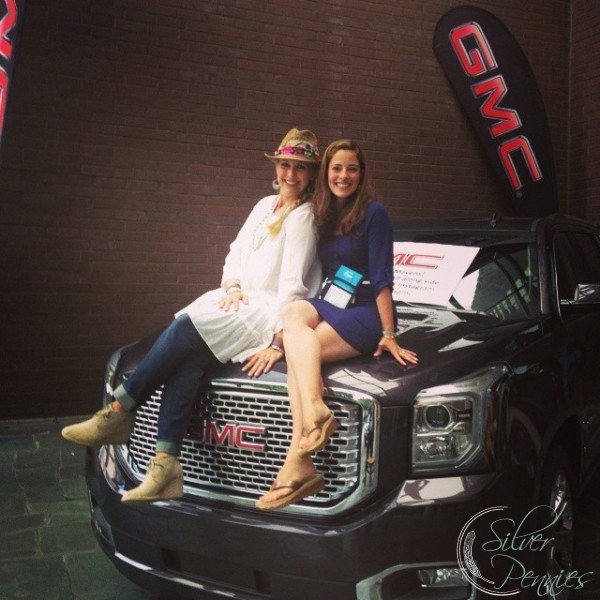 Then I met Lucy and Rachel over at Anthropologie.  If you saw me over there, I was the one touching and taking photos of furniture! Ha! Ha!  I always think their staging and antique pieces are amazing.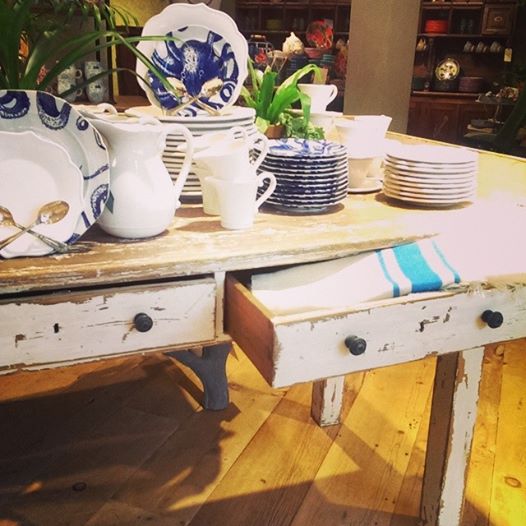 I wish this table and all the blue and white plates fit into my suitcase (but they didn't).
I also would have happily brought home any of these pieces: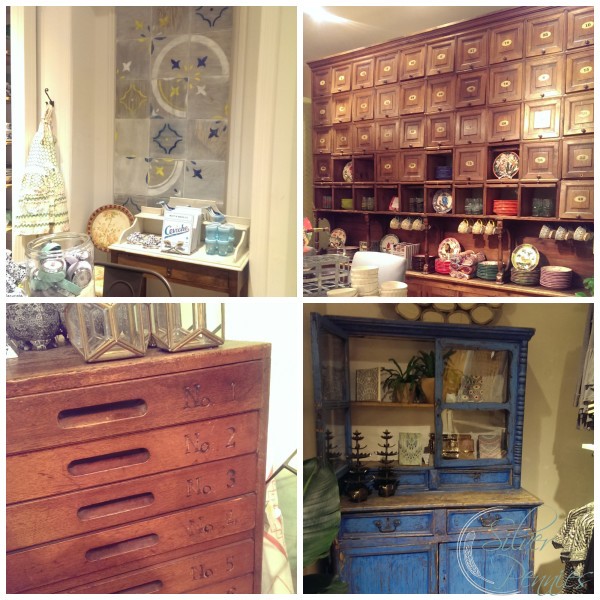 Rachel and I both thought you could achieve the bottom cabinet by doing Greek Blue over a custom mix of Napoleonic Blue mixed with Greek Blue or Aubusson Chalk Paint®.  I guess we'll see!
Then it was time to go back to the conference.  On the last day, I took some a-maz-ing classes. The first was Adobe Lightroom with Beth from Unskinny Boppy.  She is amazing.  She is so down to earth and made it all look so easy!  Well, I must tell you I edited a few of the photos in this post (the ones taken at my home) with Lightroom.
Another example on our landing with a pillow I won from Online Fabric Stores.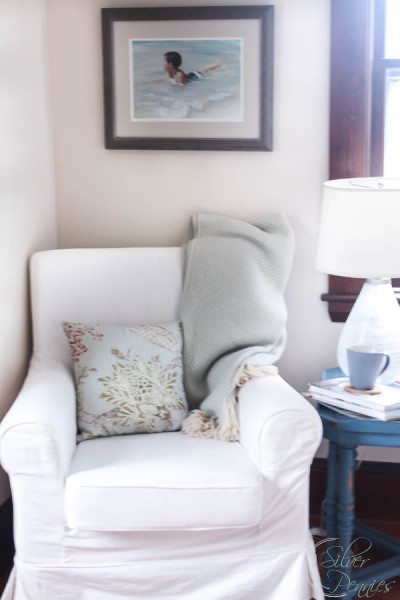 I still have a lot to learn but her class was wonderful.  Here is a link to her tutorial from the class.
Then I took Let's Make a Book Deal.  This class was wonderful giving different options on self-publishing and the more traditional way to publish.  I took this class because one day I hope to have a book.  Right now it is a pipe dream but listening to the panel it made me feel it might be possible one day…  As you know, lately I've been feeling like I need to know what I'm doing.  Putting pressure on myself to know what the next step is.  Jen Rizzo said, "Think of your blog as a marathon.  It takes a lot of work.  It is a journey with a long path."  Along the way you find your voice, your style and your brand.
That night we enjoyed an awesome party hosted by Ryobi and Home Depot.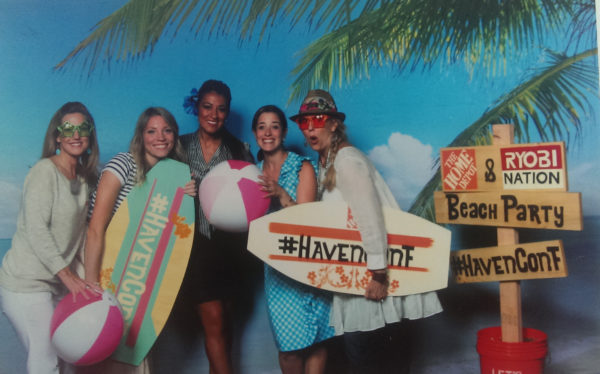 We didn't want the party to end.  We didn't want to say good bye in an elevator.
So we stayed up a little bit longer…
We (Lucy, Rachel, Beth and I) sat in the solarium and enjoyed a bottle of champagne until 3:30am.  I got 2 1/2 hours of sleep before it was time to get on a plane back to Boston.
At the airport, Kristin got to see the Better Homes and Gardens she's in!  I know that feeling!  We had to take a photo after going through security!  We talked all the way home and it was so wonderful to reflect on the conference and also our few years of blogging together.  Looking forward to her visiting while she's staying in Connecticut this summer.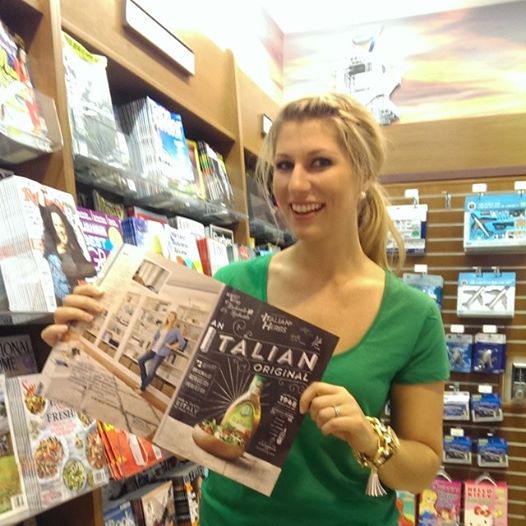 So that was my weekend at Haven.  I learned to much and made so many friendships.  I wish I could fit it all into one blog post, but I can't.  I tried!  I feel so blessed to have spent the weekend with so many talented women.  Women who lift each other up and cheer them on.  True friends.
I was happy to come back home to my own haven.  My husband, one of the greatest in the whole world, had cooked and cleaned and played with our little guys so I could go away. I feel blessed to have this blog, to have this creative community and to have so much love in my home.