I partnered with World Market for this post.  I'm so excited to share with you all their fun Halloween products.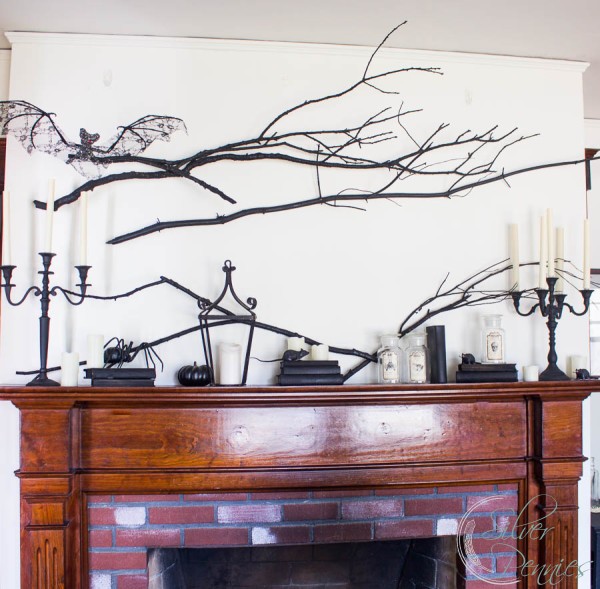 Halloween has always been a favorite holiday of mine. I have such fond childhood memories.  My mom used to make my costumes and I'd always be too excited to eat before trick or treating.  I try to bring this same excitement into our home with Halloween decor.  My boys LOVE this holiday just as much as I do.  This year we're going for a spooky black and white Halloween Mantel.  It plays nicely with the white walls in our living room and the dark woodwork.
My boys love it.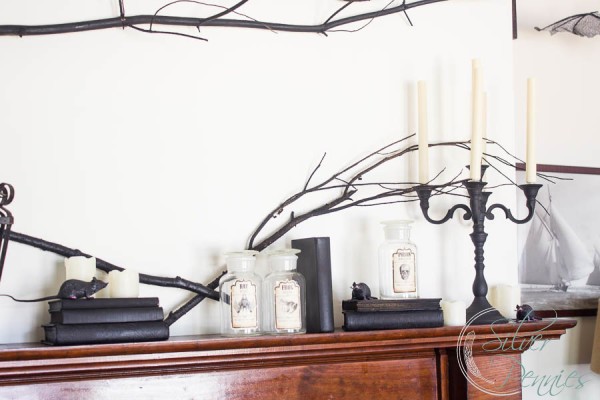 The first thing we did was collect branches in the woods while we were walking the dog.  Really it was a win win. Poppy was happy. The boys were happy and I got some decorative elements needed for the mantel.  I wanted gnarled looking, haunted branches and we left the woods with lots of great ones.
I spray painted the branches and vintage books with matte black spray paint.
We used command strips and fishing wire to hang the branches.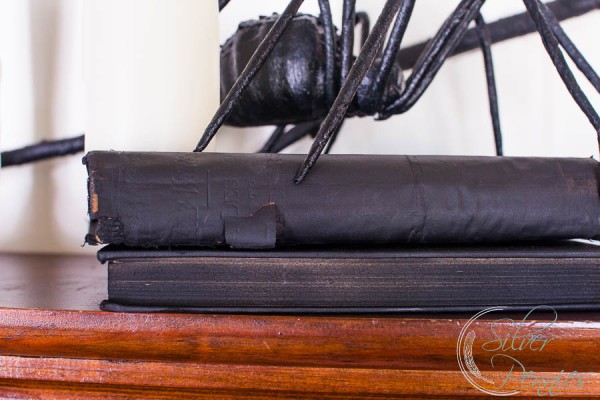 Then I layered in antiques mixed with some fun finds from World Market.  These apothecary jars are a favorite: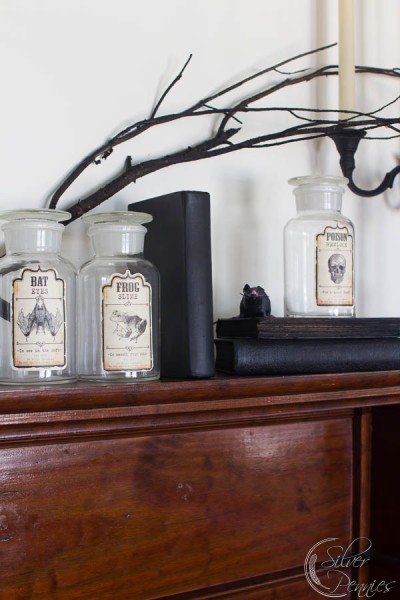 I left them empty for our mantel because I really wanted black and white but they'd be amazing filled with treats or cake decorating supplies for a Halloween party.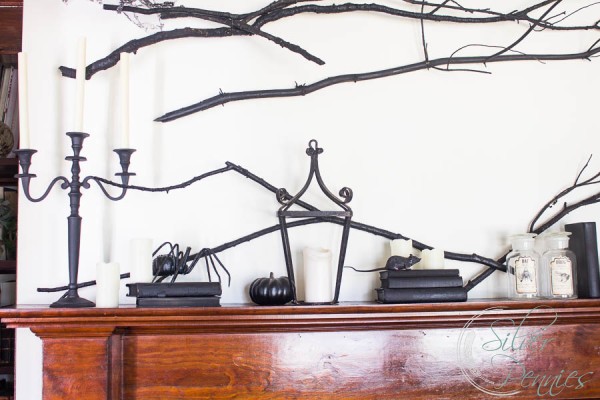 I also used a lot of candles. The candelabras from World Market were perfect for this.  They are matte black so are great for Halloween but also just look old world and could be used for year round decorating.  I chose the three armed and five armed to balance the mantel.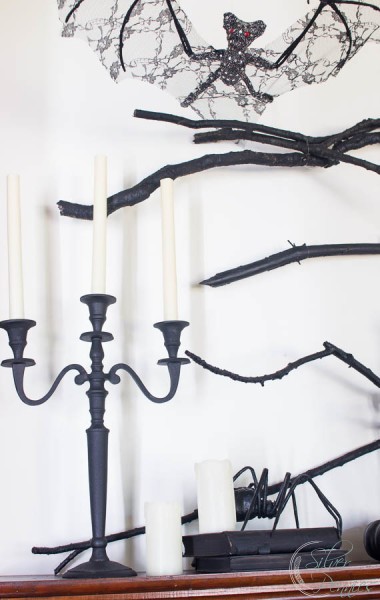 Fabric bats were also added.  I thought they'd be great for height but also thought my little boys would love them.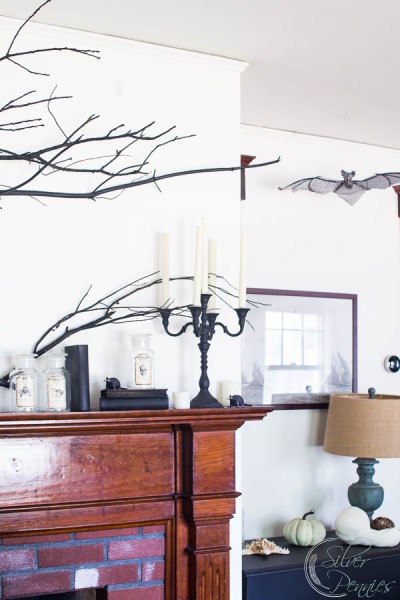 I was right!  John, my nine year old, thought we needed more bats. Ha! Ha!
I also used a lot candles for this mantel, you might be surprised that only one of the candles is real.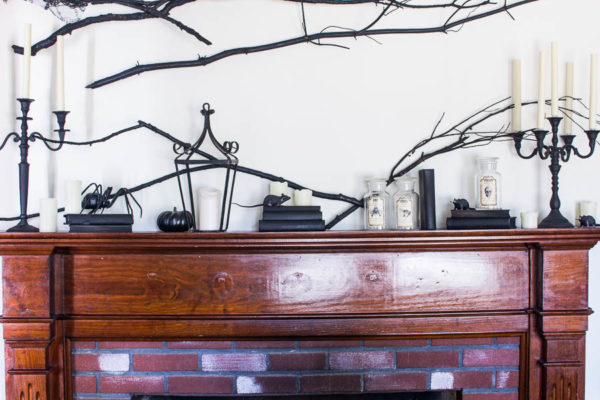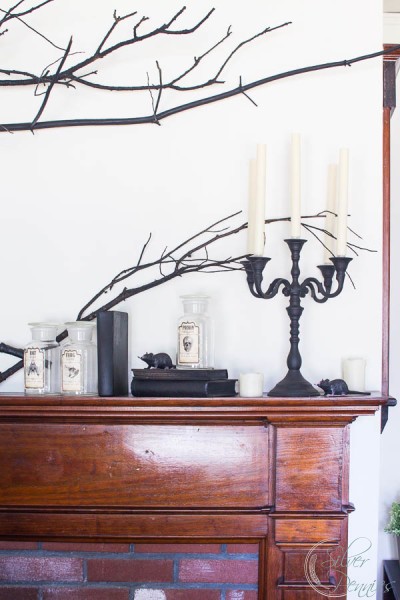 The tapers and the mini melt candles are all from World Market and are made out of real wax.  I like this because I don't have to worry about the safety aspect of real candles and I know you can't tell from the photos but these candles flicker when lit, just like real ones.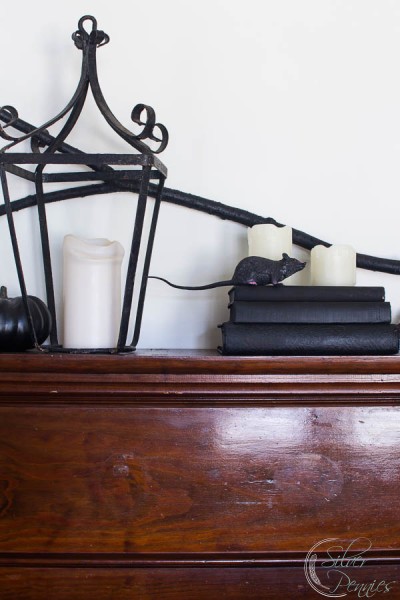 Here's how the mantel looks with the candles lit: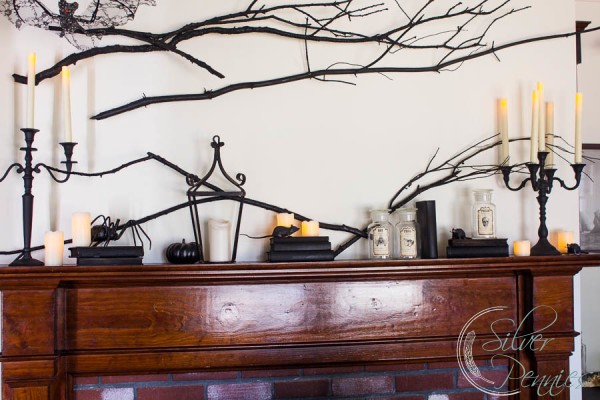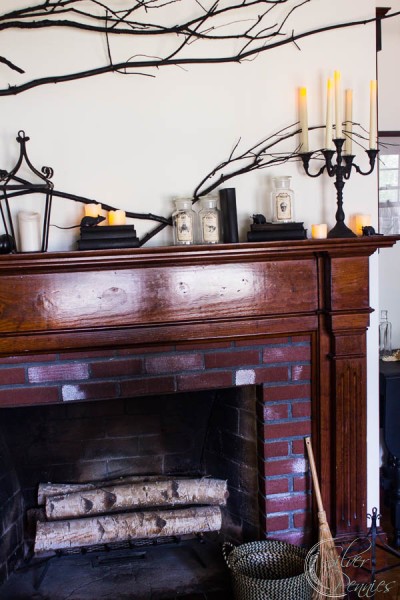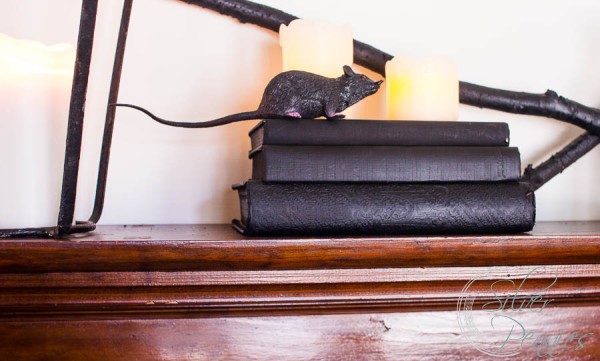 On the floor by the fireplace are these lovely woven baskets, an antique lantern and a "witches" broom from my childhood. The broom was actually handmade and my mom always used to prop it up next to our fireplace or a stuffed witch outside our home.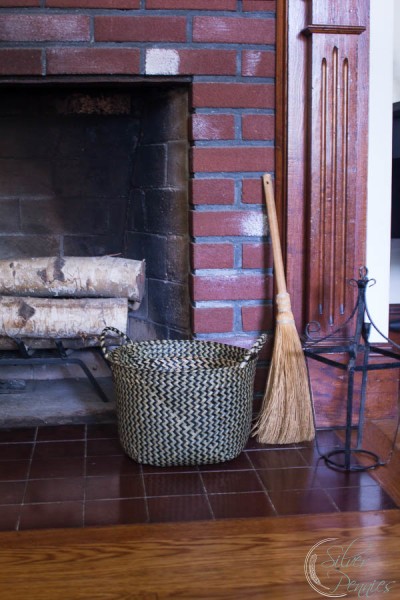 I hope our Halloween mantel gave you some Halloween decorating ideas. Now I have to figure out how to make the boys' costumes for this year!  We are so excited to get ready for trick or treating in the harbor again this year.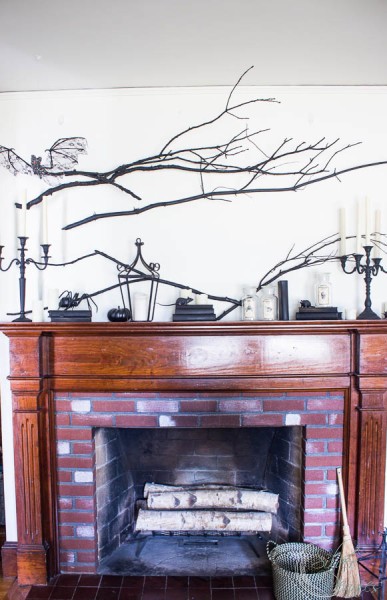 If you'd like to see our mantel from last year click here.  I'll be sharing more fun ideas for Halloween decorating and recipes soon.
Check out the other great Halloween posts from these amazing bloggers:
Halloween Porch: Capturing Joy
Halloween Mantel: Finding Silver Pennies
Halloween Dessert: The Celebration Shoppe
Halloween Kids Party + Snacks: Make Life Lovely
Halloween Drink Recipes: Baked by Joanna
Halloween Murder Mystery Party: Giggles Galore
Halloween Dining: Lauren McBride
Halloween Porch: House of Five
Halloween Porch: Fry Sauce and Grits