I'm so glad you all liked our DIY Bar Console that I shared last week.  Click here if you missed it.  I'm so excited because this DIY was so easy and affordable.  Like I said, last week, I LOVE the look of Carrara marble but I don't have the budget.  If you're in the same boat you're gonna love today's post.  Today, I'm sharing how to fake marble with paint.  You probably already have everything you need laying around your house.

Well, I guess you might not have the MDF, in which case you'd need to get that, but that was only $6 at Home Depot.
Here's the Materials you'll need:
Materials to Create Marble with Paint
Primer (Benjamin Moore water based)
Chalk Paint® in Pure White, Paris Grey, Graphite (I have tons of chalk paint but you can also use acrylic paint)
Roller for Smooth Surface
Plastic Cups
Feathers
Sea Sponge
Spray Bottle
Clear Wax or Protective Top Coat of your Choice
Paint Brushes
Wax Brush or rag
Buffing Brush or cloth
Paper Towels (no texture)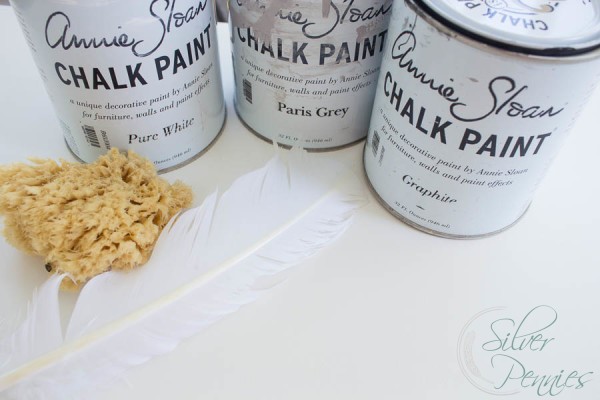 Before I started my project I used these tutorials from my friend Diane over at In My Own Style and this one from Jewish Latin Princess as a jumping off point for inspiration.  I practiced my method several times on scrap wood just to make sure I had my technique down.  I recommend practicing before starting on your piece of furniture that way you can play with the paint before actually working on your finished piece of furniture.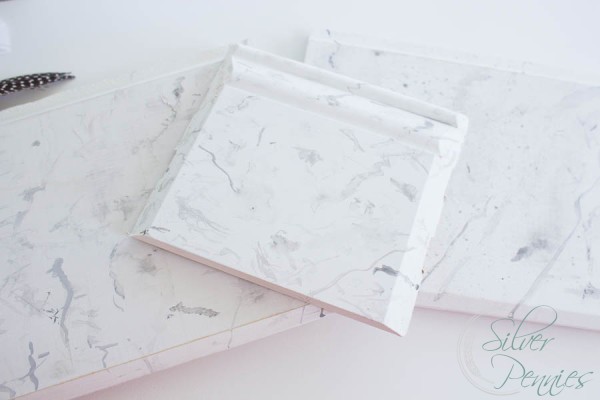 Method
Step 1 – Gather your materials.  I started with some MDF and Pretty Pegs legs that I shared with you last week. The MDF has a beveled edge which is what I wanted to give it more of a marble look.  The Pretty Pegs are table legs made in Poland and were super easy to attach to the MDF.  They come in all shapes and colors but I chose the Siri style for our dining room console.  I looked at many samples of marble around my house (threshold of the bathroom, board from Target and an antiqued dresser in our entry way) before beginning. I recommend having some marble with you, even if you buy a bathroom tile from the hardware store, just so you have a reference point for your faux finish.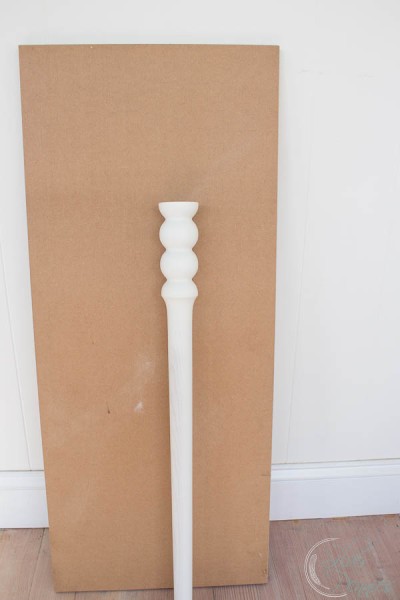 Step 2 – Priming surface. If creating a table like I did, use two saw horses to support you MDF.  Apply two coats of water-based primer and allow to dry in between.  I rolled the primer on to have as smooth as finish as possible.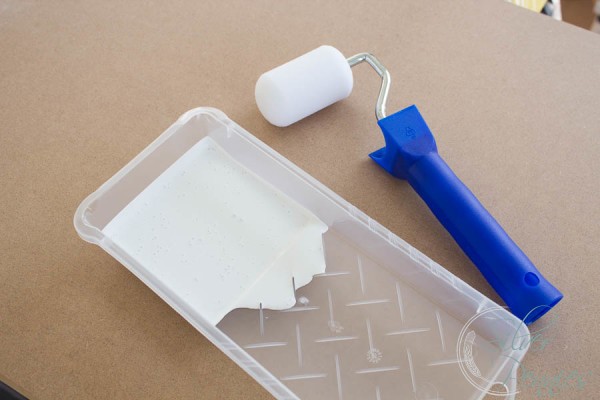 Step 3 – Applying white base coat. Once dry, apply white paint with a fine roller.  I used Pure White Chalk Paint® but you can use any white paint you have. I recommend a stark white rather than an antique or off white.  I applied three coats of the Pure White.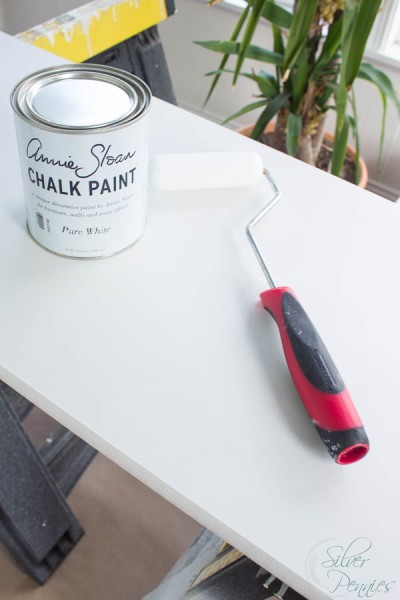 Step 4 – Create custom colors for the veins.  If you look at marble you'll see veins going through the white stone. These veins vary in color, texture, length etc so I wanted to create this same look. My dining room is light and bright so I didn't want my veins to be very white or dirty looking.  I wanted to give a hint of veins.  To create my colors I did this:
Custom Colors for Veins:
Dark Gray – 2 parts Graphite to 1 part Paris Grey
Medium Gray – Paris Grey
Ligth Gray – 1 part Pure White to 1 part Paris Grey
I watered all these paints down to create almost a wash so the paint would give a watery light texture. Here you can see the colors and consistency.  If you don't want to mix your own you can also get varying shades of acrylic gray paint at the craft store.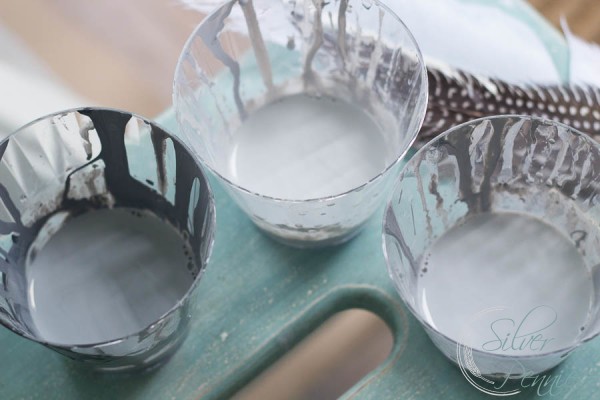 Step 5 – Creating the veins. To achieve this look.  I dragged a feather in wisps and haphazard lines across the MDF.  Make sure you don't make it too uniform or straight.  The more random the better.  I used two different feathers and found that the brown turkey feathers were easier to get the look I wanted because they were smaller and the feather bent a little easier.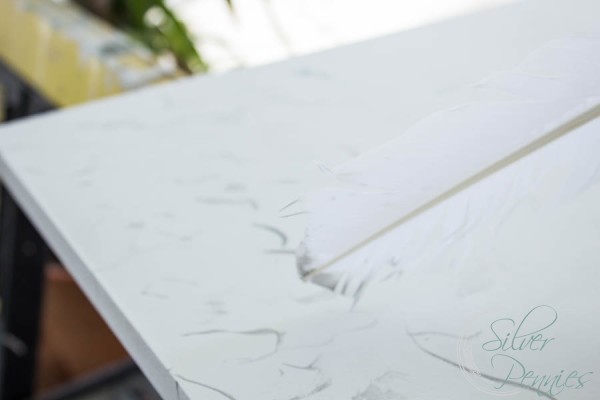 The paint will also dry a little lighter than it appear, which is important to remember.  I also dabbed just the tip of the feathers to create splotches too.  John captured me working on it (don't mind me with no make up on):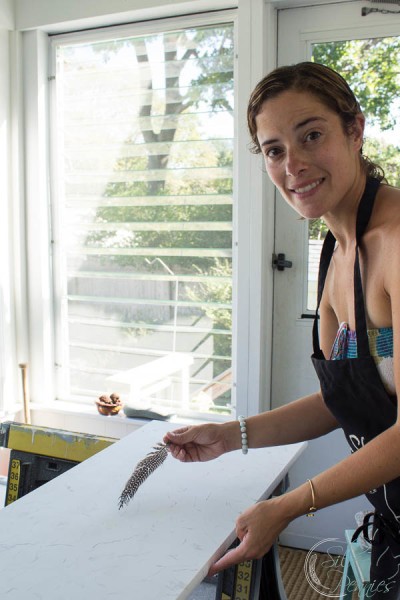 I think I'm going to have to put all my sundresses away soon.  It was very cool here in Scituate this weekend. I found that spritzing some lines with a spray bottle and then blotting made for a nice effect – almost a blurry look to the veins.  I also dipped a sponge into the pure white and sponged over the veins. But don't sponge too much or you may get that sponged look that was popular in the 80s.  I don't think that is the look you're going for….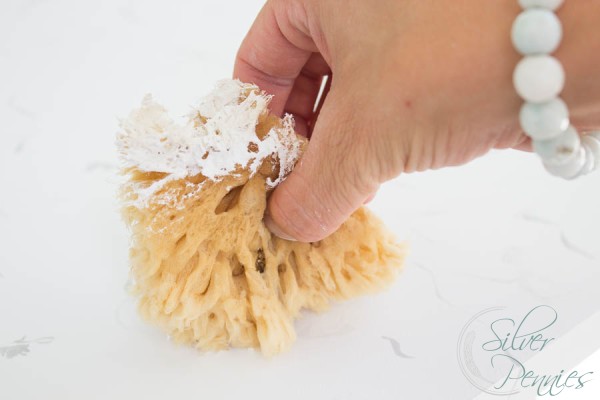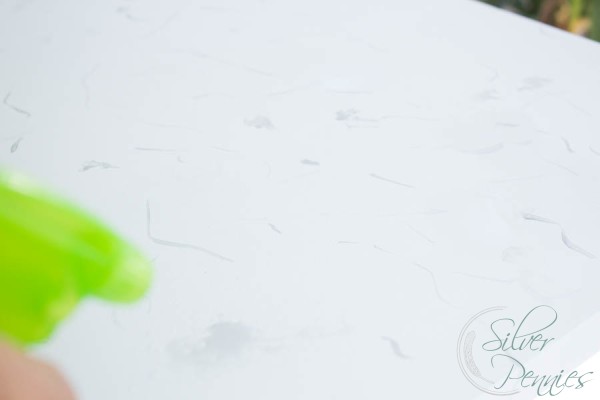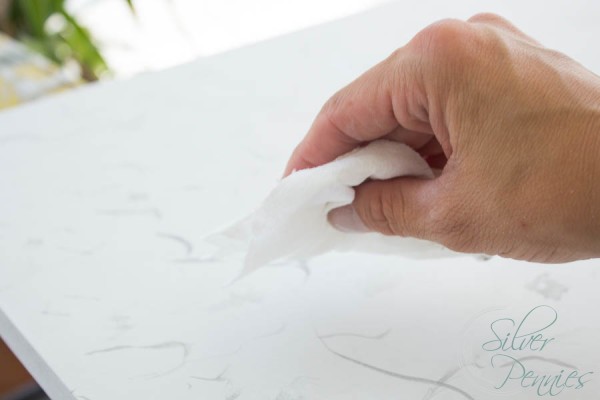 I fiddled quite a bit with this step.  I kept adding more veins then would stand back and spritz them until it looked right to my eye.  I would blot water with a towel or trace the vein on and blot right away.  I actually did more dark gray veins which looked too heavy so sanded the surface with 320 grit sand paper very lightly until super smooth, then I cleaned off sanding dust and I decided to roll on a coat of Pure White paint.  This made the veins appear under the surface (as if in layers, like real marble – a happy accident).
Once dry I added more veins as described in the above method.
Here you can see the marble veins in process: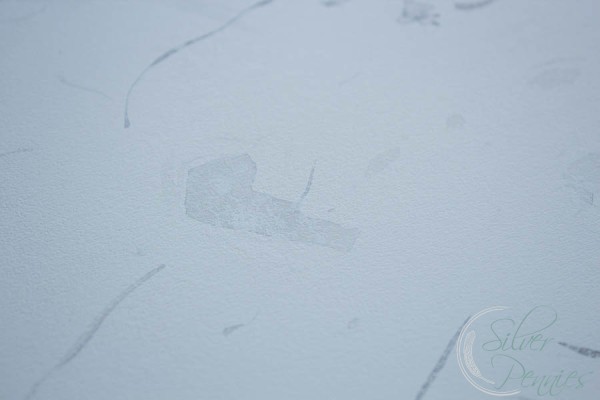 Step 6 – Wash over your veins. Then I did a wash of Pure White once I was completely happy with the "marble effect"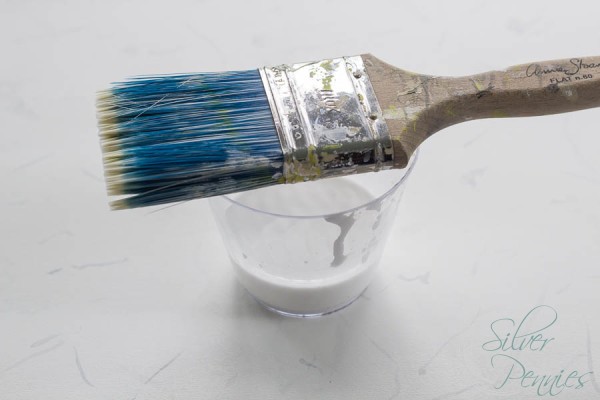 I applied the wash in long even strokes with Annie Sloan's Modern Finish Brush. These allow for a super smooth finish.
Step 7 – Seal your piece with a protective coating.  I really love using wax and I thought about using poly but was worried that it might yellow.  I had read that someone used resin but haven't used that before and thought I should stick with what I know.  Apply two coats of clear wax, allow to dry 24 hours between coats. I get many questions about clear wax.  I know it can be tricky. The key is to NOT use too much.  I think most people slather it on and then there is too much wax and it will be sticky. The wax should just feel cold, if it isn't drying or is sticky you added to much. Apply wax in sections and wipe excess with cheesecloth.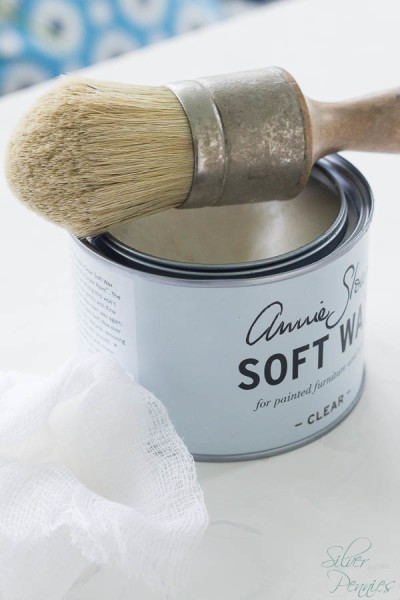 I adore my Annie Sloan Wax brush and always find it enjoyable to wax with it.  If you don't own one you can also use cheesecloth to appply the wax.  I sometimes recommend this way if you're just starting out because you can feel how much wax your applying.
Step 8 – Buff your wax. If you look at marble it has a nice sheen to it. I wouldn't say it is a high gloss finish but it does have a nice sheen to it.  To create this look you can buff your clear wax to get a light shine.  I usually use a clean white cloth and buff in a circular motion.  My friend Lauren who owns Veronica Lane recommended this brush. It is a Siff Brush.  She gave it to me to try out and I LOVE it.  Seriously, I strapped it on and lightly buffed and a nice shine came up with hardly any effort.  Phew. I was worried that with a matte finish it wouldn't give the effect I wanted. This brush worked great.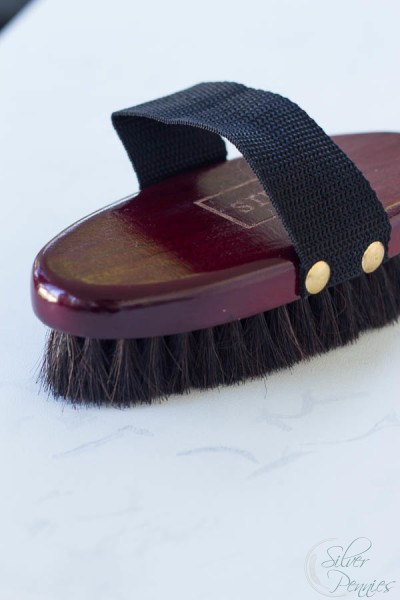 We're so happy with our new "marble" bar console.  It is perfect in our dining room and I was so surprised how easy it was to fake marble with paint.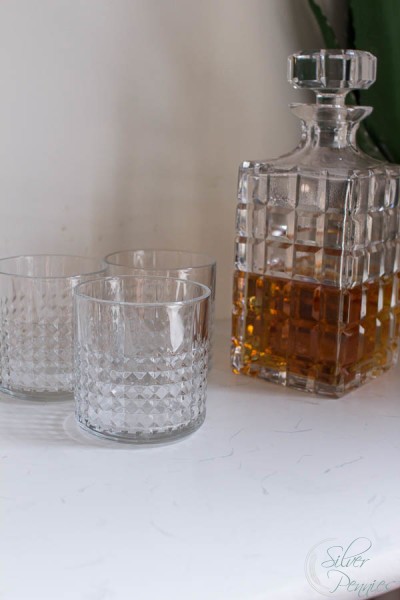 This little bar console is such a fun addition to our home.  I'm so happy I took the time and created this finish faux finish.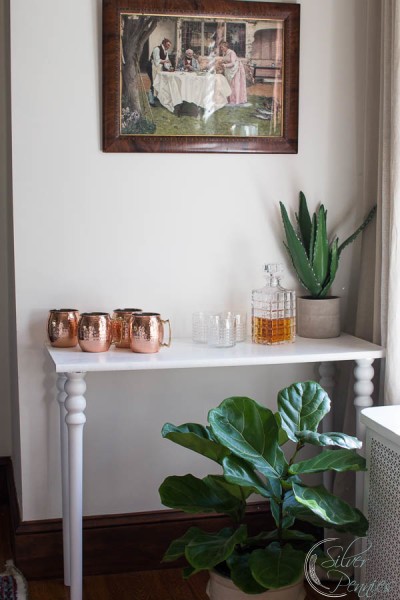 I know I shared many steps but the end result was so worth it.  If you have any questions please let me know. Please feel free to email me with any questions about this project or others of shared on my blog.  I love hearing from you.  I know some of you know that I will be sharing an ebook on painted furniture real soon.  I didn't have much time to write this summer with the kids home but I plan on dedicating some time to it this fall and hope to have it done for you soon.  Feel free to leave questions for that book in the comments section here.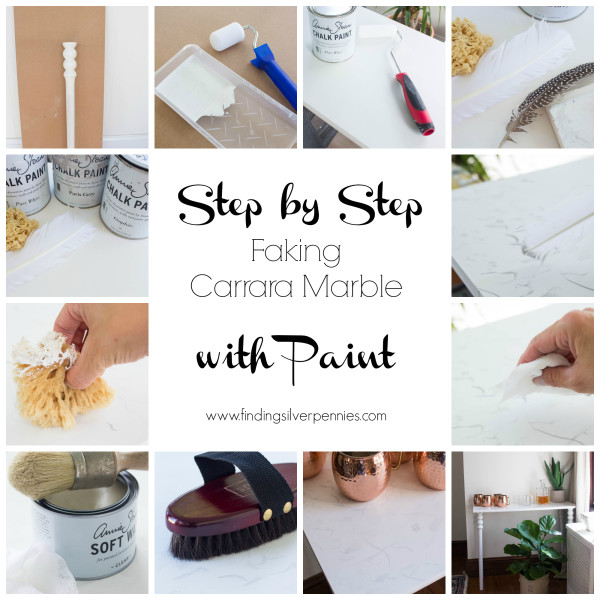 Do you think you'll try this at home? I hope you will! The great thing about paint is if you're not happy you can always get more paint out and paint over it as I did and add more veins. Everything is a work in progress.
Sharing with: