Meet Callista –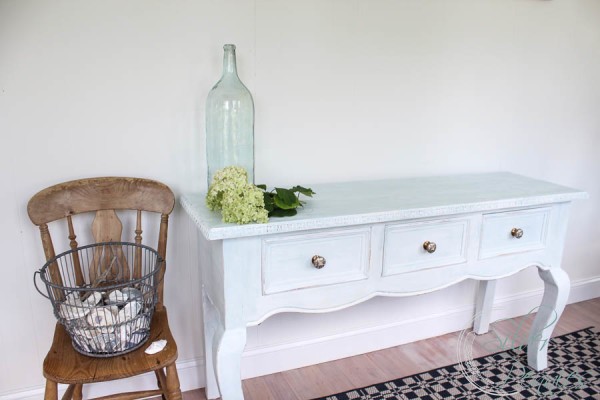 She's soft, beautiful and every inch siren of the sea.  Her soft round legs, like that of the waves in the sea, her soft muted blue reminiscent of the perfect day to search for treasures in the surf.  As I'm sure you can imagine, Callista, didn't look like this when I first saw her.
A friend in Duxbury (a seaside town close to Scituate) emailed me and said she wanted something more coastal for this piece: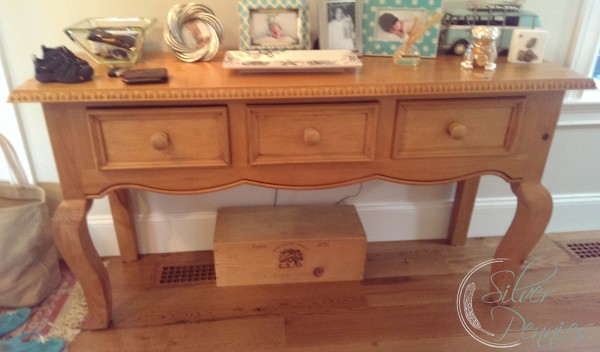 You can see it was that yellow pine and there were lots of knots.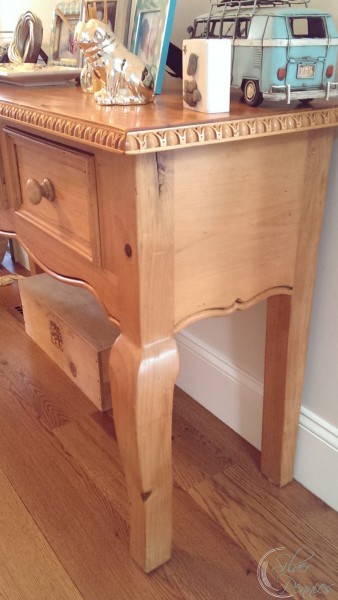 I did my usual prep for this piece, washing it down and two coats of shellac. Then I did two coats of Annie Sloan's Pure White.  BUT I could still see a light bleed  through of some yellow in certain areas.  Arrrggggg!!!  I hate bleed through AND I hate wasting paint!  So to remmedy this I got some Zinnser BIN Shellac Based Primer.  This stuff is fabulous and tinted white.  From now on, I'm using it with any white pieces.  I simply sprayed two coats and carried on with the painting.
Ruta wanted a hint of blue on this piece and I, of course, loved this idea being partial to blue, but she wanted it very subtle.  She showed me some sea glass tiles in her kitchen that she liked the color of.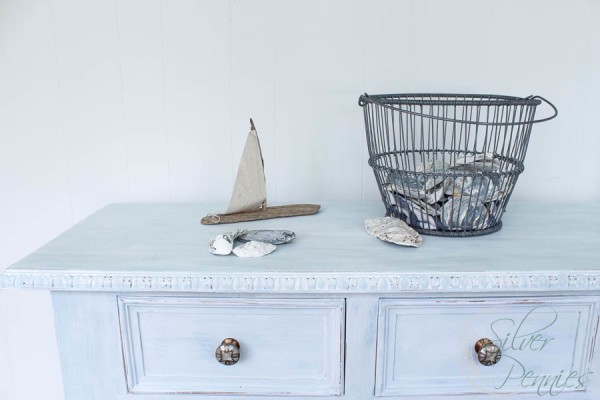 The tiles and the soft blues in the oyster shells I've been collecting this summer became my inspiration.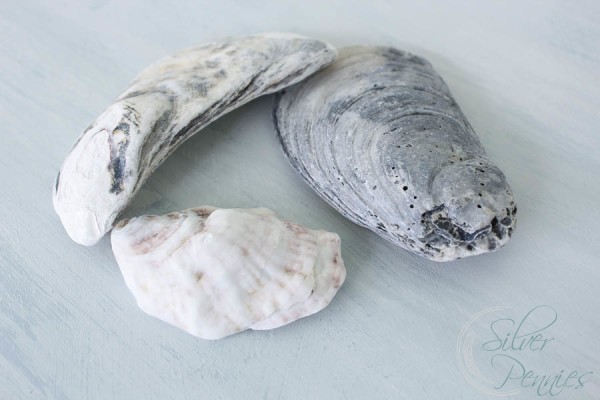 After the white, I created a custom blue using three parts Pure White to one part of Louis Blue and added lots of water.  I washed this over the entire piece.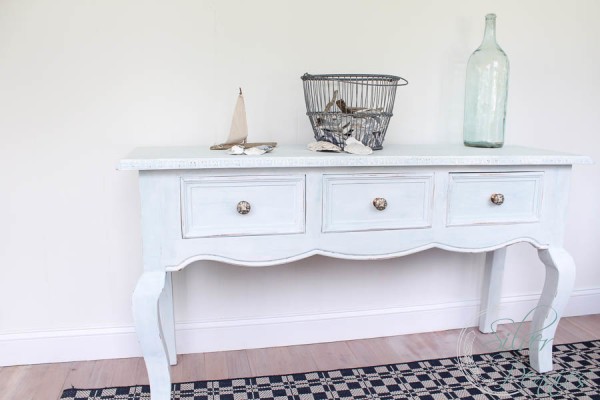 I thought it still needed a bit of texture.  So I dry brushed this same color over the piece and it accentuated the detailing. Then I distressed around the high points and the moulding.
You can see here the detailing: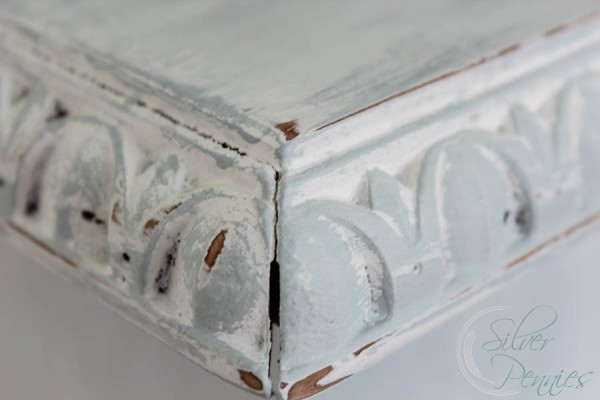 The muted blue and white, has changed the entire feel of the piece.  It is now coastal and shabby chic.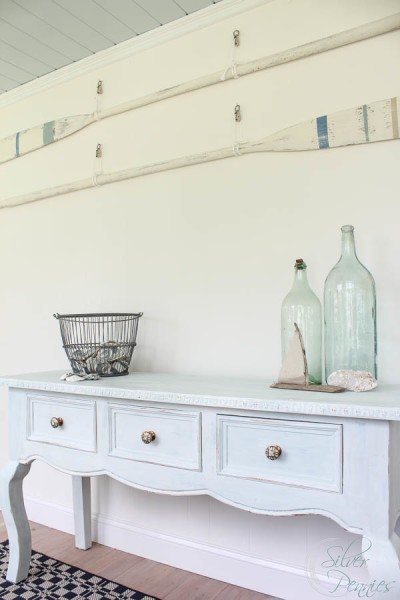 The whole piece got several coats of Annie Sloan's clear wax to protect it and I buffed it for a light gloss.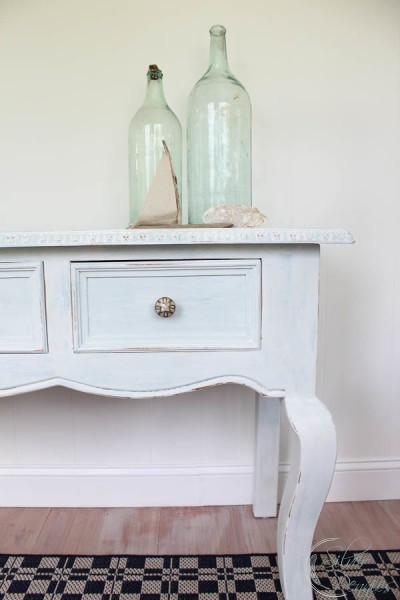 Oh, and I almost forgot, the knobs.  We decided on these gorgeous knobs from Anthropologie! They are mother of pearl and brass and I LOVE them.  I actually think I want them for the vanity in our bathroom….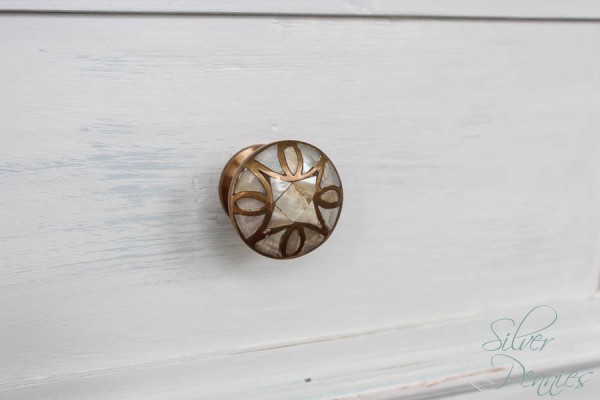 I love how they shimmer like sea glass in the sand.  I think the brass also gives this table an elegance that was missing before with the pine knobs.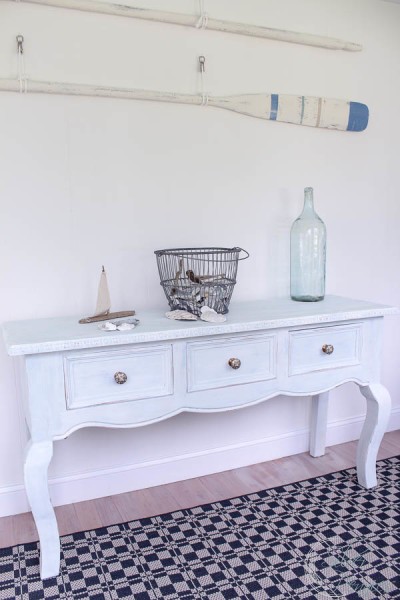 My friends loved her new look!  She's welcoming visitors in the entryway!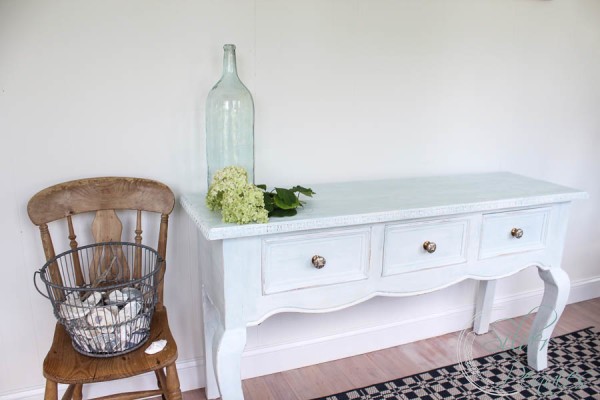 What do you think of the Callista Console?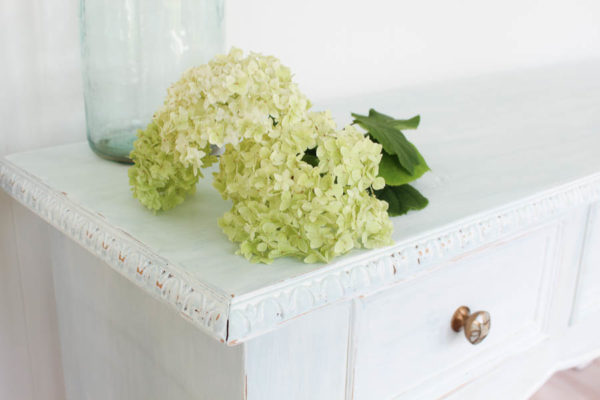 Sharing with: