Thank you all for following our journey along the Route 127 yard sale!  Our Hidden Treasure Adventure was an adventure for sure!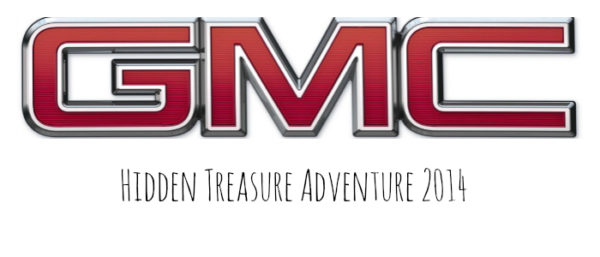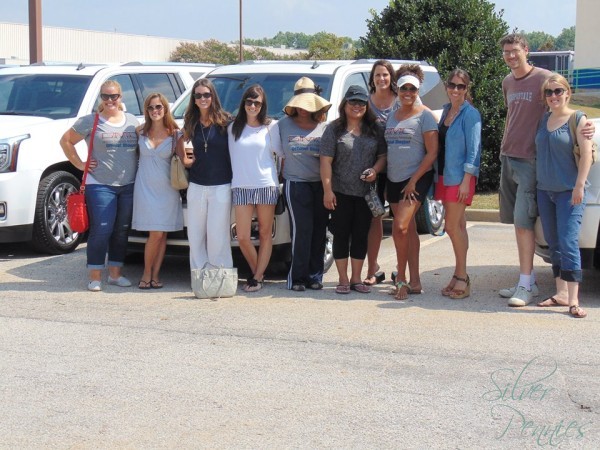 I travelled with our friends at GMC and all of these amazing people!  Our adventure included a stay at a haunted hotel, driving fabulous GMC Yukons which provided comfort and plenty of room for all the "treasures" we were finding, lots of laughs and a few wrong turns here and there and a mouse family!
The night before the reveal we were out in the hotel parking lot building and painting into the wee hours of the night.
Sealing…
Painting:
Oh, and laughing!  Who wouldn't be laughing at this sight.  12 bloggers all hard at work on furniture in the dark…
All of this, sweat, searching and driving was to decorate a home with Habitat For Humanity for a young family of two.  A single mother, TYC, and her son, Ishmael.  We spent all week trying to pick things and make things they would enjoy in their new home.
This is how the house was looking at 6am when we arrived (we'd only had three hours of sleep):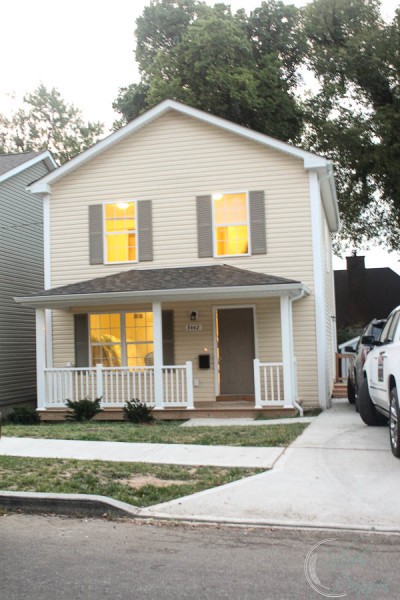 Then it was time to get busy and decorate our rooms for the big reveal at 2pm to surprise the family!
Here's how my room was looking before & after: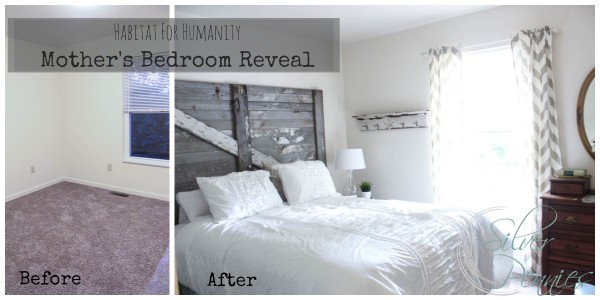 I decided I wanted TYC's bedroom to be restful and peaceful.  TYC has had many obstacles in her young life.  She came to the US from Sierra Leone when she was just 13 and did not even speak English.  At the age of 18 she left the foster care system and lived on the street.  She has pulled herself and her son out of despair and has so much possibilities ahead of her.  A new job, a marriage coming up and, thanks to Habitat For Humanity, a new home to call her own.
I found the bedding on our first stop in Chattanooga at the Serenity Thrift Store.  I also found the amazing barn door in Tennessee!  Isn't it beautiful? I bought it from a dealer – Estey, who was very active in his work with Habitat.  The door actually came from a barn in Texas.  You all know how much I love that chippy look! I knew this door would make a great headboard!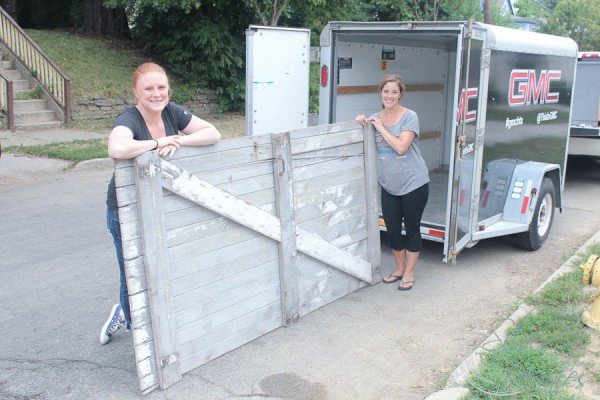 A big thank you to Abbey from The Cards We Drew who stopped by the house and helped me get it off the trailer.  We actually needed some stronger lifters to get it into the the house.
It was a pretty heavy door.  I also need to thank Amy from The Idea Room and Taryn from Design Diapers and DIY for helping me hang this up.  We used D Hooks to secure it onto the wall into the studs.  Here it is before we got it up: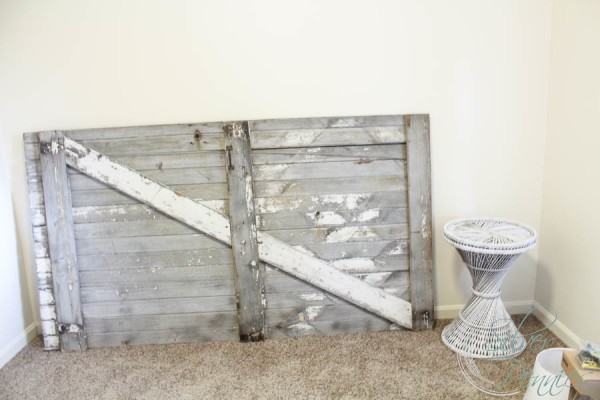 A big thank you to Rust-oleum for furnishing us with Home Depot gift cards to buy supplies.  I used a Rust-oleum sealer on the door to prevent any chipping and white spray paint on the wicker table.  It looks so much better white!
The family arrived at 2pm.  They were only expecting a little house ceremony…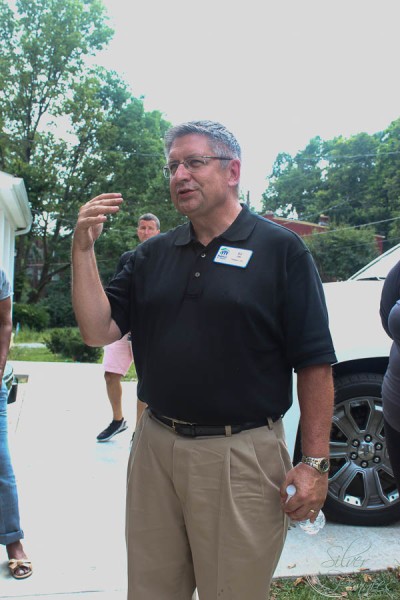 TYC and Ishmael were very surprised when they stepped inside: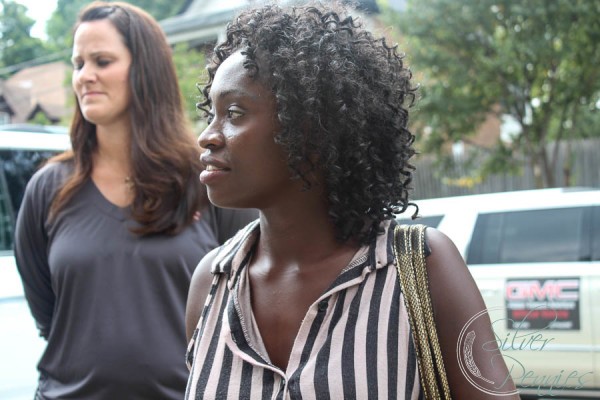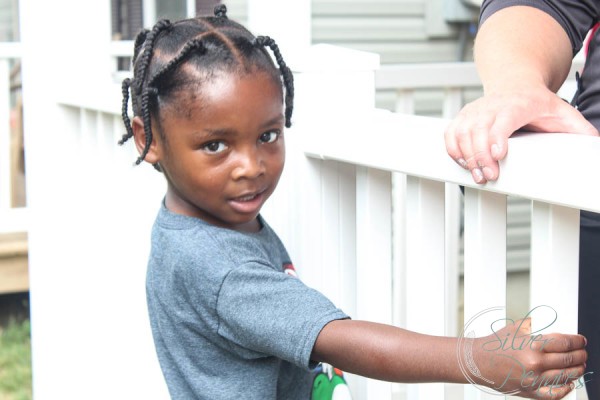 We each had a limited budget to work with… So without further ado here is what they saw in the TYC's bedroom: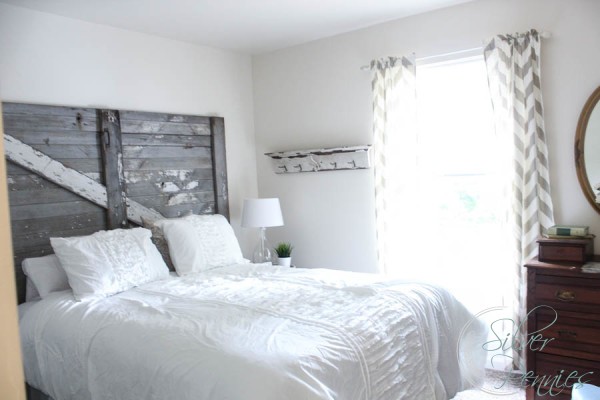 I used a step ladder and an orange crate turned on its side as a bookshelf –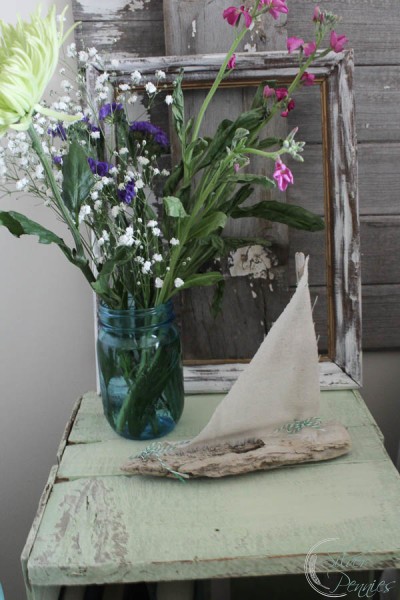 You may recognize the driftwood sailboats as the ones I make with my boys from driftwood we collect on the beach here in Scituate.  I told her that is a little piece of our home.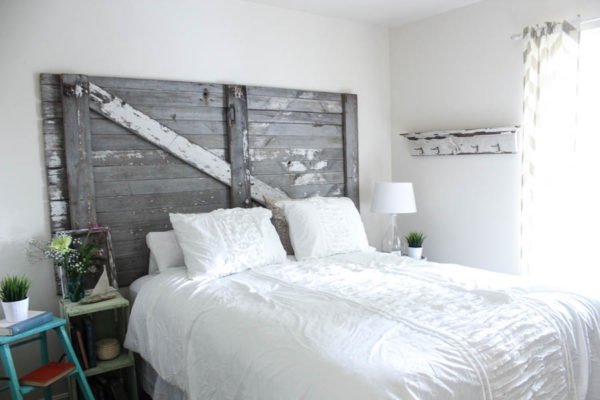 The prints on the wall bring in her favorite color red but also lend themselves to the relaxed atmosphere of the beach.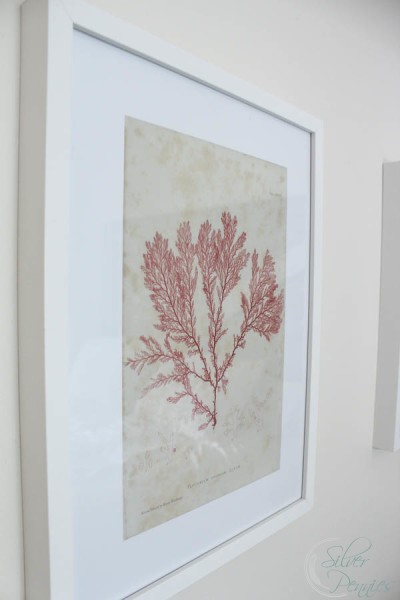 Here's how the other side of the bed looks: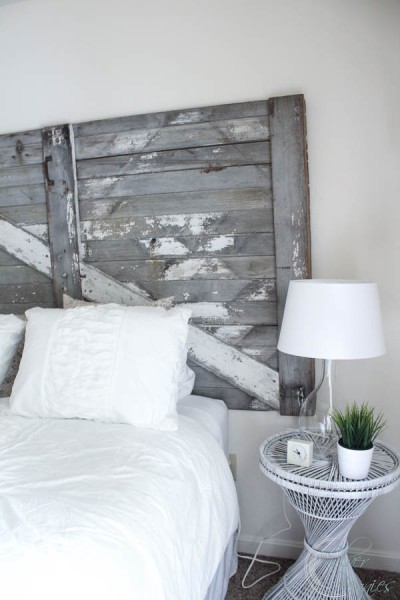 I think I drove my partner Allison, from Two Thirty Five Designs, crazy looking for the perfect dresser.  I found it in Camden, OH.  It is the kind of piece you can pass down in your family.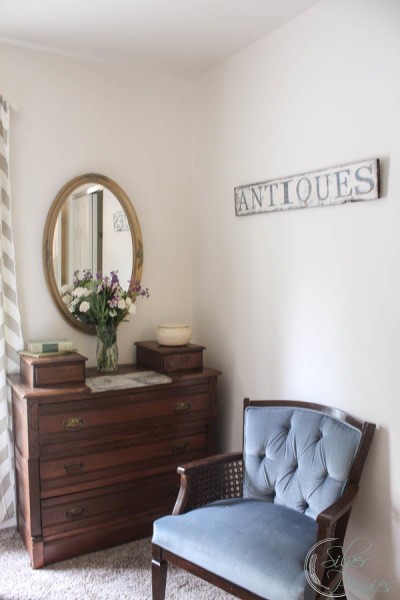 It is an exquisite piece and was in great condition!  I think it is from the 1800s and has a lovely marble piece on top.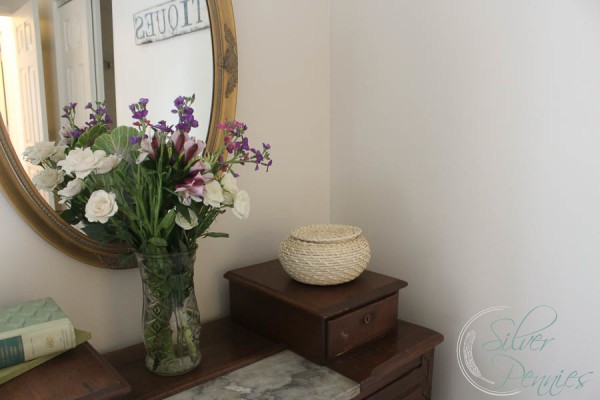 The mirror, books, vase and French style chair were all from the Cincinnati Restore.
The hardware on this dresser was also fantastic: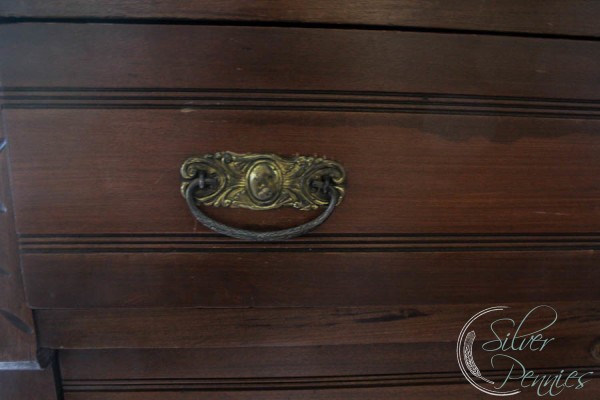 The beautiful "Antiques" sign was donated by Bonnie from Paint Misbehavin' and I also found her booth in the same field in Camden, OH!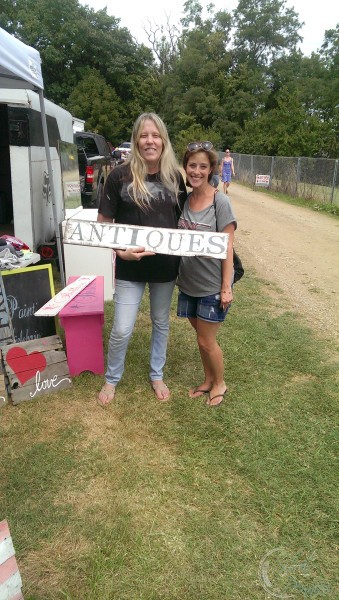 Thank you, Bonnie, doesn't your sign look perfect here?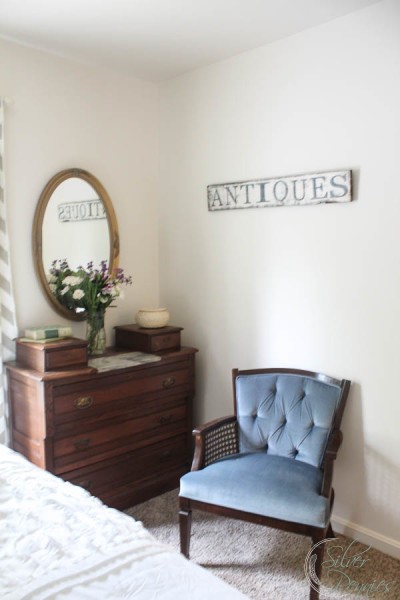 TYC loved the room –
She gave me a squeeze and it was so nice to see her big smile.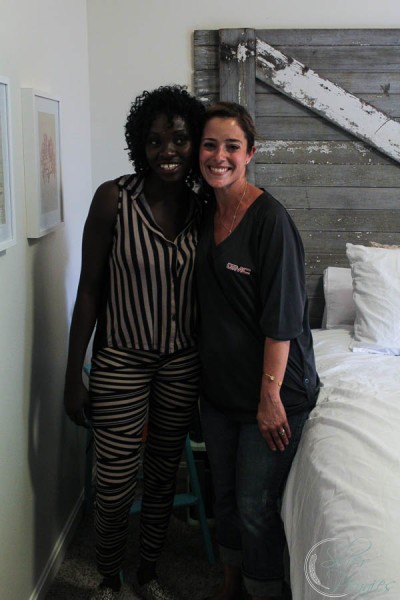 I'm so happy she'll have a comfy bed to rest in at night.
I'll be sharing the rest of the house on Friday and show you what Amy, Taryn, Allison, Beth and Nick all got up to!  This truly was a team effort and we couldn't have done it without the support of so many people – Chris, Kelly, James, Stephanie, Lesley and Vivian from GMC, the other group of bloggers – Brooke, Courtney, Zondra, MJ and Rene, all of those at Habitat, you, dear readers, for cheering us on, all the lovely vendors and people who gave us great deals or items for free on our yard sale adventure and finally Habitat for creating such amazing homes!
Stop back on Friday for more, but first here's one more look at the room: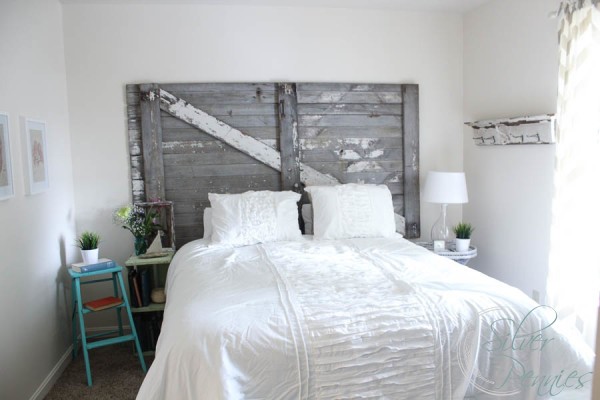 You can following along with this hashtag #gmchta to see other posts and pictures from our trip on Instagram, Facebook, Twitter and Pinterest.
You might also be interested in these posts:
Hidden Treasure Adventure Days 1 & 2
Hidden Treasure Adventure Day 3
Sharing with: